I Tried Domino's New Loaded Tots and One Flavor Is a Definite Winner
These cheesy appetizers are heavy on flavor and nostalgia.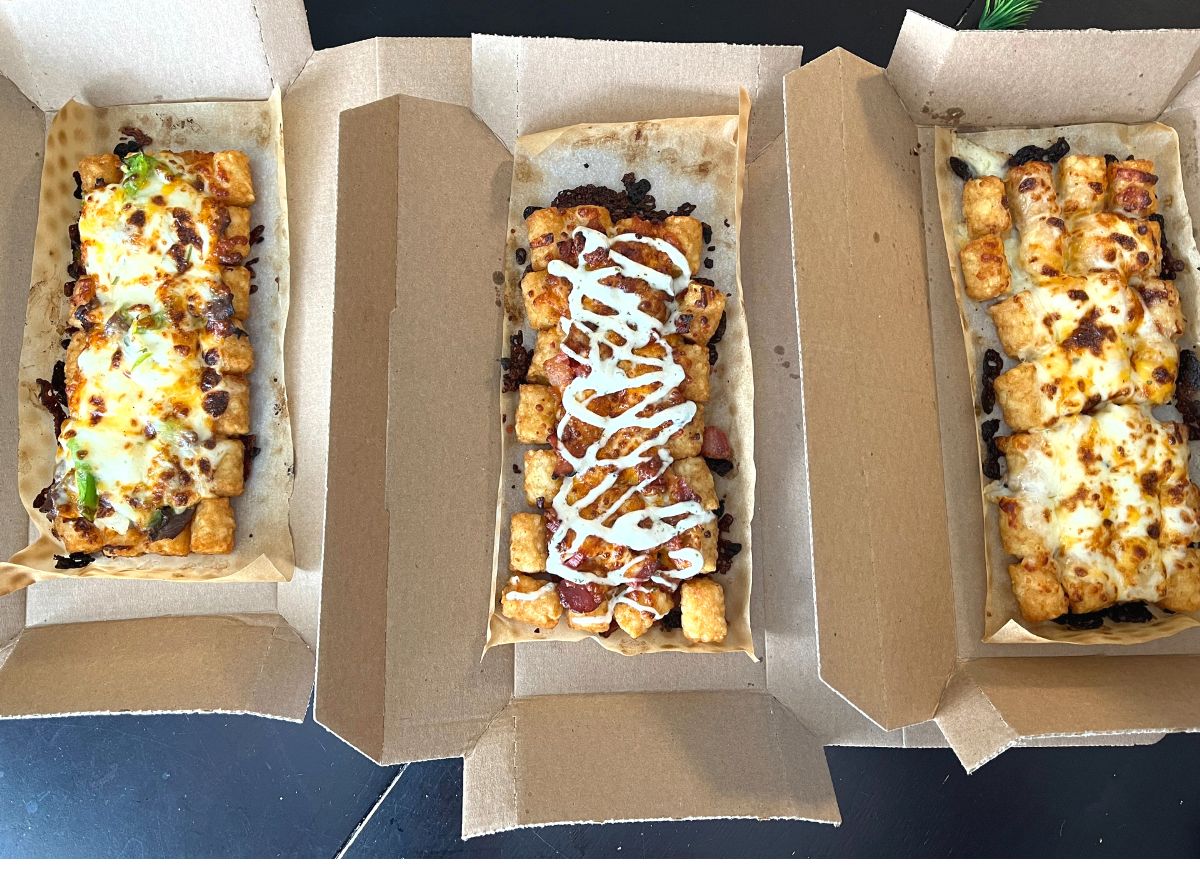 Many restaurant forecasters predicted that nostalgia would be big in 2023 when it comes to restaurant menus, and so far, they aren't wrong. Pizza Hut brought back its NY-style pizza, Burger King its iconic Stackers, and KFC re-introduced a version of its famous wraps. This week Domino's joins the party with its Loaded Tots, which have three tasty over-the-top cheesy options. Of course, I had to taste them for research purposes.
Tater tots hearken back to the ultimate spot for food nostalgia: the school cafeteria. Kids everywhere would flip for these toasty little potato creations when they graced that divided tray. But Domino's Loaded Tots aren't your regular tater tots, these are kicked up several notches with three variations packed with tasty ingredients: Melty 3-Cheese, Cheddar Bacon, and Philly Cheese Steak.
I enlisted one other taster to take on the tough job of tasting and ranking the three flavors. Here's what we thought of them from really, really good to best.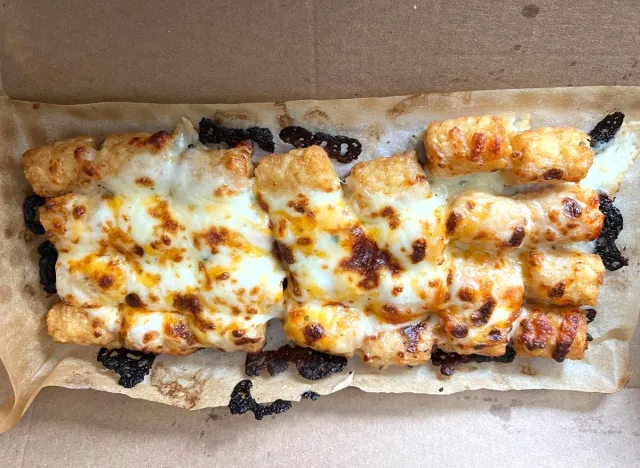 Per 1/4 serving
: 210 calories, 13g fat (6g saturated fat), 510mg sodium, 17g carbs (1g fiber, 1g sugar), 6g protein
The Melty 3-Cheese Loaded Tots certainly deliver on the cheese with a topping of melted mozzarella, cheddar, and provolone. A creamy Alfredo sauce completes the dish.
The look: Before I talk about the look, I want to mention the aroma of these three boxes. They smelled so good as I carried them into the house, I couldn't wait to try them. I wasn't surprised that they were a virtual smorgasbord of cheese from the smells wafting out of them. They looked amazing, too, with crispy cheese bits and hints of golden brown tots sticking out.
The taste: Cheese, cheese, and more cheese. Amazingly all of these cheeses played well together and the Alfredo sauce offered a break between layers of cheese. The crispy tots on the outside of the dish gave a bit of texture, but in the middle of the molten cheese, everything was a big tasty mess. Domino's says to add these to a pizza but honestly, you might get ill from all the cheese and carbs. Something fresh like a sprinkling of green onions could help lighten this heavy dish. The final word was that these were good, but they didn't have enough of a break in between all the cheese.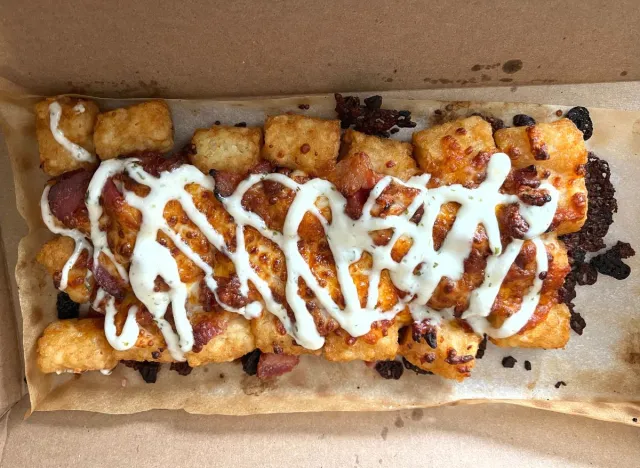 Per 1/4 serving
: 240 calories, 16g fat (5g saturated fat), 590mg sodium, 17g carbs (1g fiber, 1g sugar), 7g protein
This dish starts with the same layer of toasty tots and is topped with bacon, cheddar, mozzarella blend, and garlic Parmesan sauce.6254a4d1642c605c54bf1cab17d50f1e
The look: Again, these smelled amazing, plus they had the added element of smoky bacon mingling with the cheesy scent. This one looked very well put together, too, with crispy tots poking out the sides and then a judiciously placed heavy layer of bacon. The Parmesan drizzle was spread in a fun manner which showed care to how these would look to the customer. I honestly didn't expect this type of attention to detail from Domino's.
The taste: If you like bacon, this is the dish for you. Domino's isn't using meager little slices of bacon for this. These are substantial chunks of bacon with some crispy bits and other rendered chunks that melted in our mouths. The cheddar gave that bacon cheeseburger taste to the dish and the mozzarella held everything together. The Parmesan sauce was the little pop of coolness that provided a nice finishing touch.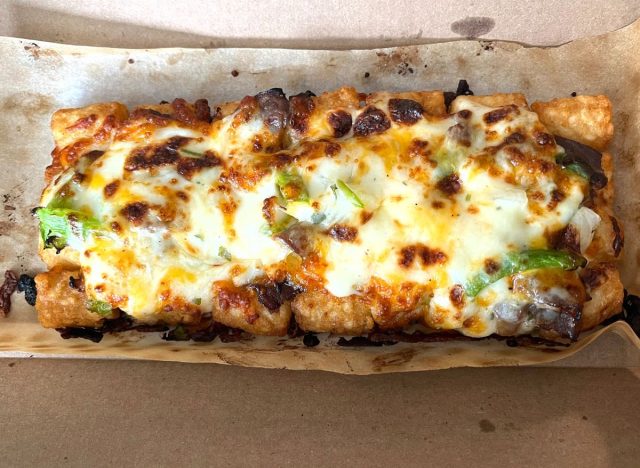 Per 1/4 serving
: 200 calories, 12g fat (5g saturated fat), 530mg sodium, 18g carbs (1g fiber, 1g sugar), 6g protein
The Philly Cheese Steak version of the tots had thin slices of steak, Alfredo sauce, onions, green peppers, and mozzarella and cheddar cheese.
The look: Yes again, Domino's really came through with the presentation. The tots were thoughtfully placed, not tossed haphazardly, and that really set the stage for the toppings. The same toasty bits from the other dishes peeked through but also some refreshing green from the peppers. And, yes, these smelled amazing too.
The taste: I cannot say enough good things about this dish. The thin strips of steak were a perfect size so there was no wrestling with chewy bits. The peppers and onions added the fresh element that was missing in the other tots. The cheese held everything together and the cheddar and mozzarella were the perfect combo.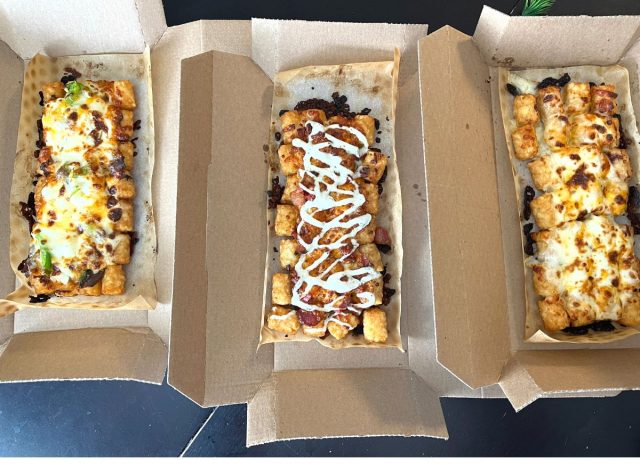 The tater tots played the perfect foil to these toppings, however, if you expect to be able to eat these with your hands, you'll quickly find it isn't possible. Even though these are definitely an appetizer that needs to be eaten with a fork, they are still very much worth it as a party platter.
If you are going to try one of these Loaded Tots dishes this weekend, go with the Philly Cheesesteak because it is definitely the tastiest of the three. However, we did have fun sampling each one and going back and forth trying to decide which we liked best. Your guests will 100% love doing this, too. Go on, splurge for game day, and conduct your own tasting.