Dua Lipa Stuns at Barbie Premiere. Here's How She Gets Fit.
Seven ways Dua Lipa stays in shape. 
The movie of the summer is almost here! Barbie hits theaters July 21st and the Greta Gerwig film starring Ryan Gosling, Margot Robbie, Issa Rae, America Ferrera, Will Ferrell, and Helen Mirren is one of the most anticipated movies of the season and is already generating sell-out crowds. The fantasy comedy has an A-list cast that delivers award-winning performances, but also a star-studded soundtrack that includes Billie Eilish, Nicki Minaj and Dua Lipa's anthem "Dance the Night."
The singer also has a cameo as mermaid Barbie and at the premiere of the movie this week, she channeled her character in her a head-to-toe glitzy fishnet sheer Bottega Veneta gown in Los Angeles, and another by Versace in London. "It's very sparkly and fun," she told Vogue of her slinky silver dress. "I just thought it would match my mermaid character in Barbie, so I just went with that." Between her jaw-dropping stage performances and media appearances, the Albanian-English singer's life is a busy one, but she still finds time to keep in shape. We've rounded up the ways the 27-year-old stays fit and what experts think about her workout routine. 
One way Lipa gets her lean and toned physique is by doing yoga, but she takes it up a few notches by doing super hard headstands and poses, which she shows off on Instagram. "I've been doing yoga for about seven years and I'm absolutely hooked, she said in the Summer Series Episode 1: Yoga – Dua Lipa: At Your Service Podcast. "What I love about yoga is that it really grounds me, and makes me feel really, really good physically," she added. 
What the Expert Says: "Yoga has incredible benefits for the mind and body," Jarrod Nobbe, a USAW National Coach says. "It's an incredible way to recenter your focus and find balance in your body, along with providing an awesome low-intensity workout. Focusing on breathing techniques and harnessing the meditative qualities of yoga allows the body to enter a parasympathetic state, which provides recovery benefits for the body and mind." He adds, "For staying in shape, yoga keeps you moving. Many of the poses challenge your core and stability, holding poses for minutes at a time. These isometric holds are proven to increase muscle and tendon strength, allowing the body to become more resilient."
Although the singer travels frequently, when she's home, she enjoys cooking. "I love cooking and being surrounded by my favorite people," she told Refinery29. "With all the running around I do for work, it's nice to come home, slow down, and connect with the food that nourishes my body and life."
What the Expert Says: "When you cook at home you can control what goes in the food," Sheri Berger, RDN, CDCES, says. "You have no way of knowing how salt or added fat is in a dish when you eat out and it can vary from chef to chef."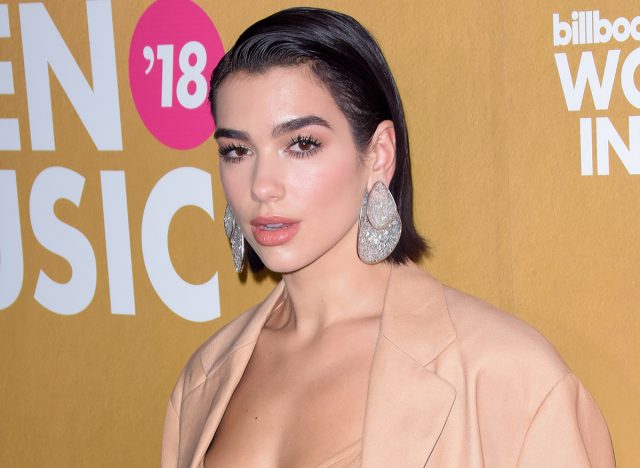 Don't underestimate what you can do in just 15 minutes. Before Lipa begins her busy day, the singer squeezes in a quick workout. "I love doing something that's really fast and quick, like a 15-minute HIIT session which I can do before I start my day," she told The Urban List. 
What the Expert Says: "High-intensity exercise burns many more calories than low intensity," personal trainer Kathryn Alexander M.Ed., Clinical Exercise Physiology, UT, tells us. "It will drive a positive cardiovascular response, meaning a stronger heart, lungs, and vessels, and it will improve conditioning." Sports performance dietitian Destini Moody, RD, CSSD, LD, adds, "HIIT is a phenomenal form of physical activity because it is more effective at burning fat than steady-state cardio. Some studies show it may be more effective to perform it in the morning before breakfast. HIIT also operates as a form of cardio conditioning and can help one stay in shape by improving their endurance when the HIIT is done consistently. 15-20 minutes of HIIT at least 3-4 times weekly."
4
She Switches Up Her Workouts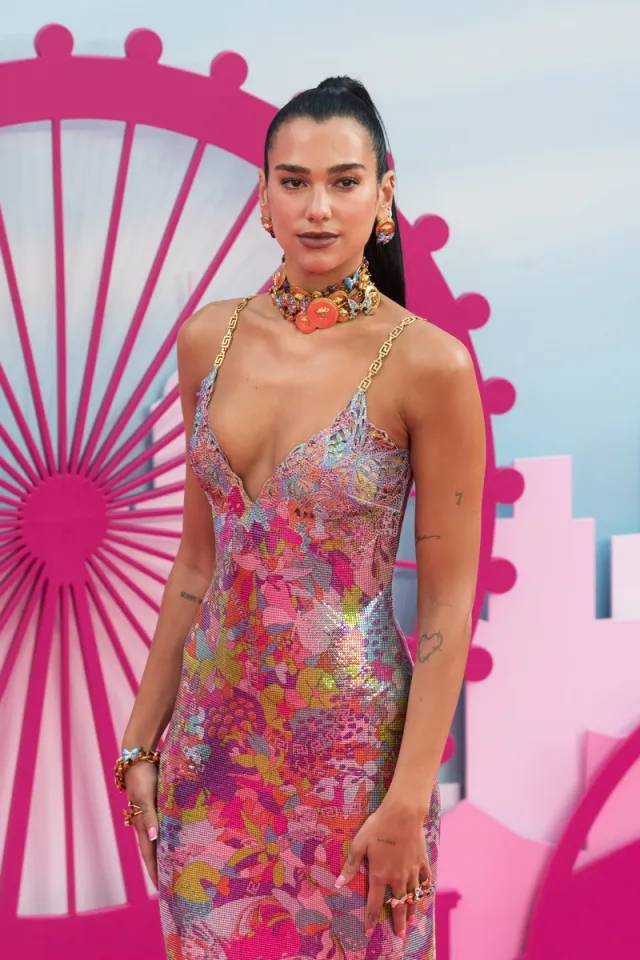 Lipa mixes up her workout regime constantly and does a variety of exercises so she doesn't get bored. "When I have a tiny bit more time on my side I love mixing up lots of different training, finding different workouts in whatever city I'm in, whether it's yoga, Pilates, boxing or spinning," she told The Urban List. "Whatever it is, I try to change it up every day to keep things interesting." 6254a4d1642c605c54bf1cab17d50f1e
What the Expert Says: "Switching up workouts may create a level of adaptation that allows the body to grow stronger and create more mobility when a professional programs the workout," Moody explains. "Furthermore, switching up your exercises can make working out more exciting and help you maintain motivation to stay consistent in the gym."
Lipa eats a clean diet most of the time but allows herself treats. "I try and stay as healthy as possible whenever I can," she told The Urban List. "I'm never one to stop myself having naughty treats, but I try and limit it to days when I'm not as busy because if I do eat a donut it usually puts me in a food coma!"
What the Expert Says: "I have been counseling clients for more than 30 years and I can absolutely say that those people who keep themselves from indulging in foods they love while they're 'on a diet,' will surely, at some point be 'off a day' and over-indulge instead," Bonnie Taub-Dix, RDN, creator of BetterThanDieting.com and author of Read It Before You Eat It – Taking You from Label to Table, tells us. "Unless there is some sort of medical reason why you should be avoiding certain foods (for example, gluten-free foods if you have celiac disease), even those who follow particular diets should be able to indulge occasionally and appreciate the deliciousness that food can bring without having guilt as a side dish." She adds, "The key is having confidence in yourself not to overindulge if that is a practice that could make you feel ill or throw you into a cycle of negative self-talk and punitive behaviors. So much of why, when and how we eat has little to do with hunger, but instead, rests on emotional cues. Learning about ourselves and establishing a trusting relationship with food can welcome indulgences without any regret."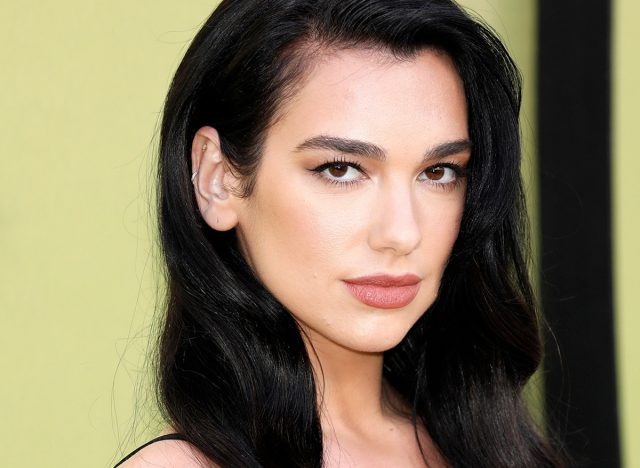 Boxing is another activity Lipa does to stay healthy. "I like that it's definitely a full-body workout," she told The Urban List. "Since starting boxing, I've probably been in the best shape ever. It's also a great stress reliever."
What the Expert Says: "Boxing is a wonderful strength, power, and cardiovascular exercise," Jesse Feder, RDN, CPT, with My Crohns and Colitis Team says. "It can help increase muscle size, improve metabolic health markers, and promote weight loss."
Lipa doesn't deprive herself, but she sticks to a healthy diet most days and snacks on fruit like watermelon. 
What the Expert Says: "Fruit contains high amounts of precious fiber that is good for gut health, satiety, and the immune system," Registered dietician Vira Lemaire-Havrylova says. "Also, fruits are loaded with vitamin C and antioxidants that can help you reduce the risk of diseases like heart conditions and certain cancers. By having 2-3 portions of fruit per day, you can get the most benefits without getting too much fructose (sugar)."
Heather Newgen
Heather Newgen has two decades of experience reporting and writing about health, fitness, entertainment and travel. Heather currently freelances for several publications.
Read more about Heather