Eating Habits to Look a Decade Younger, Say Dietitians
Want to look younger? Nutritionists share exactly what to eat.
Yes, genes play a role in aging. So do lifestyle choices like whether you smoke or drink. Another factor in aging? Your diet. And if you're looking to support smoother, more hydrated skin and/or lower the risk of inflammatory conditions (which can manifest as skin problems like acne), help may be a plate away with these nutrition stars.
Below, registered dietitians weigh in on their top eating patterns to follow and foods to reach for if you're looking to have a radiant visage. Read on, and for more on how to eat healthy, don't miss The #1 Best Juice to Drive Every Day, Says Science.
Add more plant-based protein sources to your diet.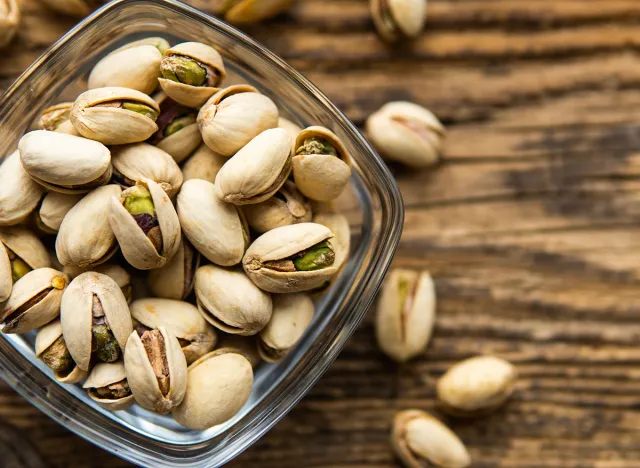 Not only will plant-based protein help you build muscle, but it may also make you appear younger. "While protein is essential for building and repairing cells and tissue, it's also a critical component of collagen, an important building block in skin that helps keep it firm, elastic, and looking youthful," say medical expert board members Lyssie Lakatos, RDN, CDN, CFT and Tammy Lakatos Shames, RDN, CDN, CFT, The Nutrition Twins, founders of The 21-Day Body Reboot.
Mitchelle Wright, RDN, a registered dietitian nutritionist and the founder and editor at Kitchenvile.com expands on the importance of collagen: "Collagen occurs naturally in the body but is broken down and produced less effectively with age," she says. "Therefore, eating protein-rich foods that help collagen synthesis can promote healthy skin that looks younger."
Plant-based proteins also support healthier-looking skin as you age thanks to their antioxidant levels. "While [some] animal-based protein options create inflammation and damage the skin from their saturated fat content, plant-based protein sources, such as pistachios, contain antioxidants that help to keep the body youthful by preventing inflammation that harms the skin and causes it to look weathered," add The Nutrition Twins.
Eat tomatoes.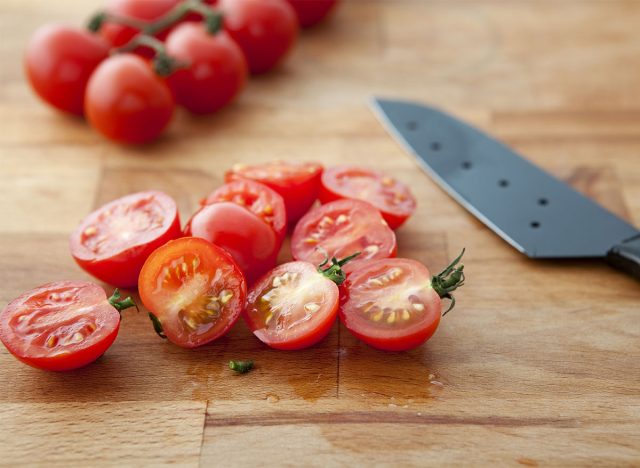 A tomato a day keeps the plastic surgeon away? When coupled with a healthy diet and solid lifestyle choices, perhaps it does so. "These red gems boast lycopene, an antioxidant that helps protect your skin from UV damage. You'll get the most out of your tomato consumption by reaching for tomato products such as tomato paste or tomato sauce," says Amy Gorin, MS, RDN, an inclusive plant-based registered dietitian and owner of Master the Media.
"Here's why: A study in the British Journal of Dermatology of 20 healthy women had these women eat 55 grams (about 2 ounces) of tomato paste in olive oil daily for about three months. These women experienced protection against acute effects of photodamage [which refers to skin changes over time from the sun or other UV sources], as well as potentially from longer-term effects of UV damage as well."
Make extra virgin olive oil your oil of choice.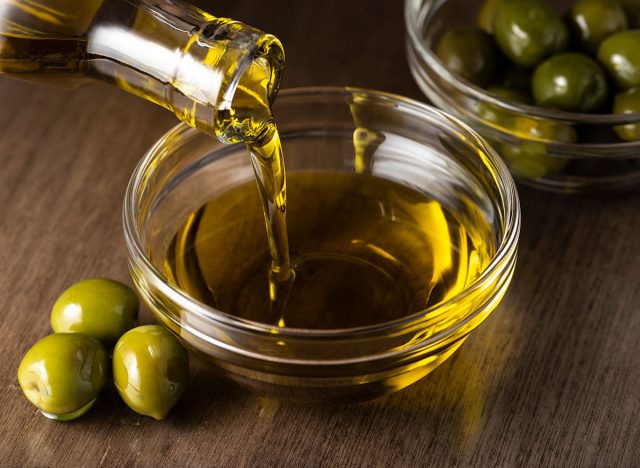 Not only is EVOO part of a heart-healthy Mediterranean diet, but it's a stellar ingredient to incorporate into your daily life and quest for the fountain of youth. "Packed with antioxidants like tocopherols, beta carotene, and phenolic compounds that help reduce oxidative damage and inflammation caused by free radicals, [extra virgin olive oil] may protect skin elasticity and help to keep skin looking younger," say The Nutrition Twins.
"Olive oil is made up of 73% monounsaturated fat, and research has shown that a diet rich in monounsaturated fat can help reduce skin aging. Olive oil has also been shown to protect against the aging effects of the sun." They recommend that you replace refined vegetable oils like corn, canola, and soybean oil with EVOO and use it to cook with and on in dressings, sauces, and marinades.
Aim to eat five prunes daily.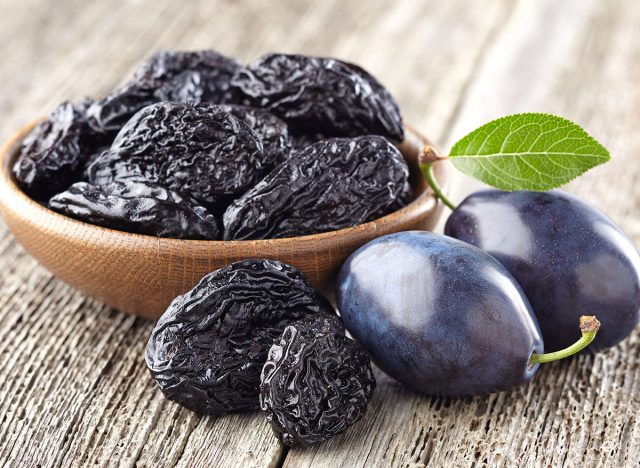 Buy those prunes in bulk, friends. "Prunes are one of the best foods for helping you look younger. There's nothing that looks more youthful than having great posture and not being hunched over as is typically seen with age. Thanks to prunes' nutrients that influence bone health—including boron, potassium, vitamin K, and antioxidant-rich phenolic compounds— research has shown that eating just five-to-six prunes per day positively impacts bone mineral density and bone strength," say The Nutrition Twins. "Plus, strong, healthy bones are necessary to support healthy toned muscles and a fit body which also makes you appear younger."
For younger-looking skin, it's also important to avoid processed, sugary foods that create inflammation and age the skin, so grab a few prunes instead to satisfy your sugar cravings.6254a4d1642c605c54bf1cab17d50f1e
Eat at least one serving of fatty fish a week.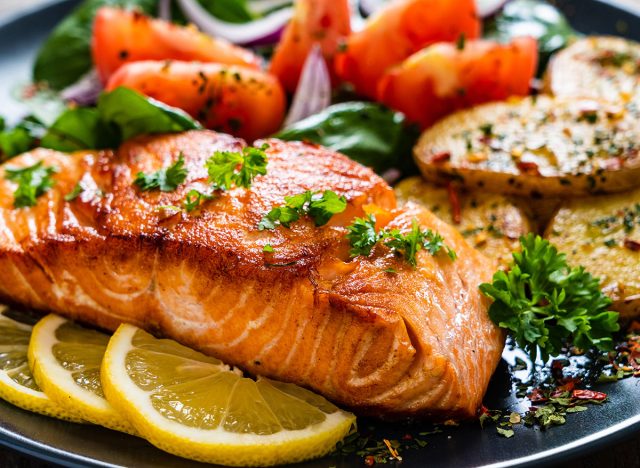 "Fatty fish such as salmon help in making people look younger," comments Wright. "The omega-3 fats help in reducing inflammation that might damage the skin. Additionally, fatty fish contain high protein levels that are important in forming collagen and elastin, which are essential in maintaining the plumpness and elasticity of the skin."
Need some dinner inspiration? Here are our favorite healthy salmon recipes for weight loss.
Stock your pantry with avocados.
As if you have to tell us twice. "Avocados are high in unsaturated fats and fibers that promote skin health," explains Wright. "The monounsaturated fats in avocados promote the formation of a healthy skin membrane. At the same time, the high antioxidant levels fight radicals that promote skin damage and aging, which overall results in younger-looking skin," she adds, pointing us towards this research on avocados' potential health effects. For more on this amazing fruit, check out these eight amazing secrets about avocados you never knew.