25 Weight Loss Hacks Perfect for the Fall
'Tis the season for food, football, and pumpkin spiced everything—and none of it needs to affect your waistline!
The transition from summer to fall is always the roughest. Summer is prime time for eating light, being active, and spending lots of quality time outdoors. It's easy to slim down and stay on track without putting in very much effort. And then fall comes around and things just feel, well, slower. The air chills, the food gets heavier, and the motivation to get moving—especially outside—is at reduced levels.
But before you lose your mojo, we're here to remind you of all the amazing things that fall brings (hello changing leaves, football Sundays, root veggies) and how you can use them to your advantage to stay on track, stay healthy, and not let the never-ending PSL temptations get the best of you! Find your new favorite flat belly hacks below and then check out these 25 Awesome Ways to Lose Weight With Oatmeal to keep your momentum going!
Cube Your Butternut Squash or Sweet Potato
To ensure that those fall veggies get used and don't just sit on your counter, Monica Heather Auslander, MS, RD, LD/N of Essence Nutrition, LLC has a perfect hack. "Spend the extra money on pre-cut butternut squash cubes or sweet potato cubes; they'll make you more likely to just empty them onto a cookie sheet, coat with avocado oil and cinnamon, and bake. I find that if I buy the actual squash or sweet potato, I'm too lazy to actually chop them up!" Peek at these 20 Healthy Butternut Squash Recipes for some fresh new ideas, too!
Go For the Canned Pumpkin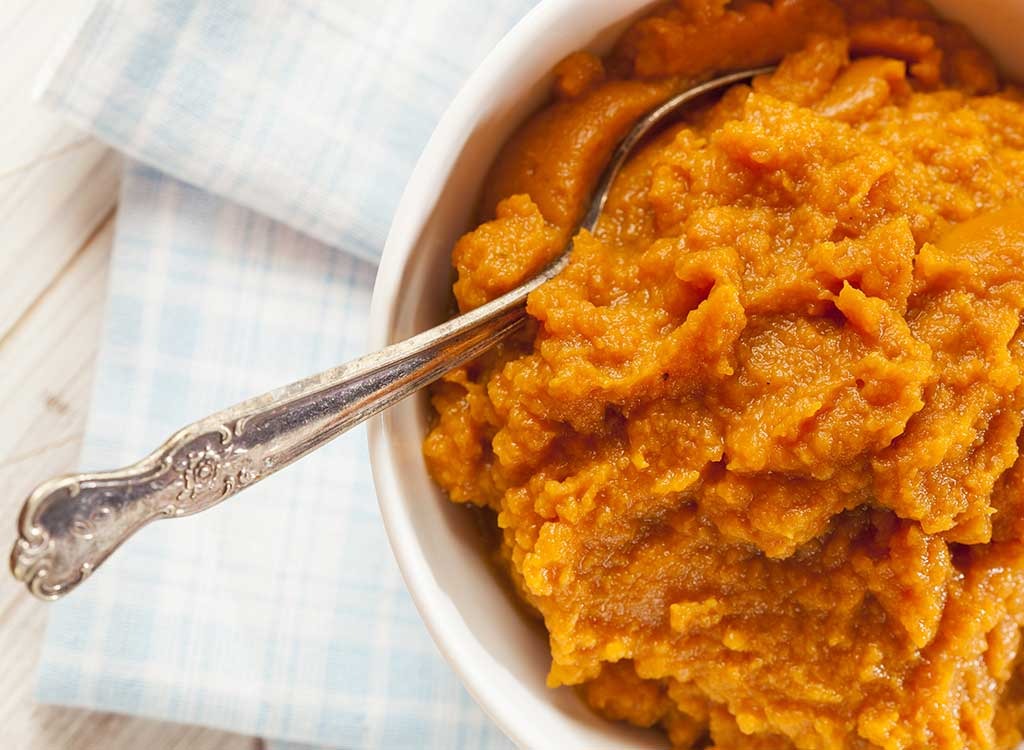 We know that fall means that pumpkin season has commenced. A great way to get your fix? "Canned pumpkin is a fabulous source of potassium and Vitamin A," says Auslander. "Add it to oatmeal, pancakes, overnight oats, and soup to add that signature pumpkin flavor."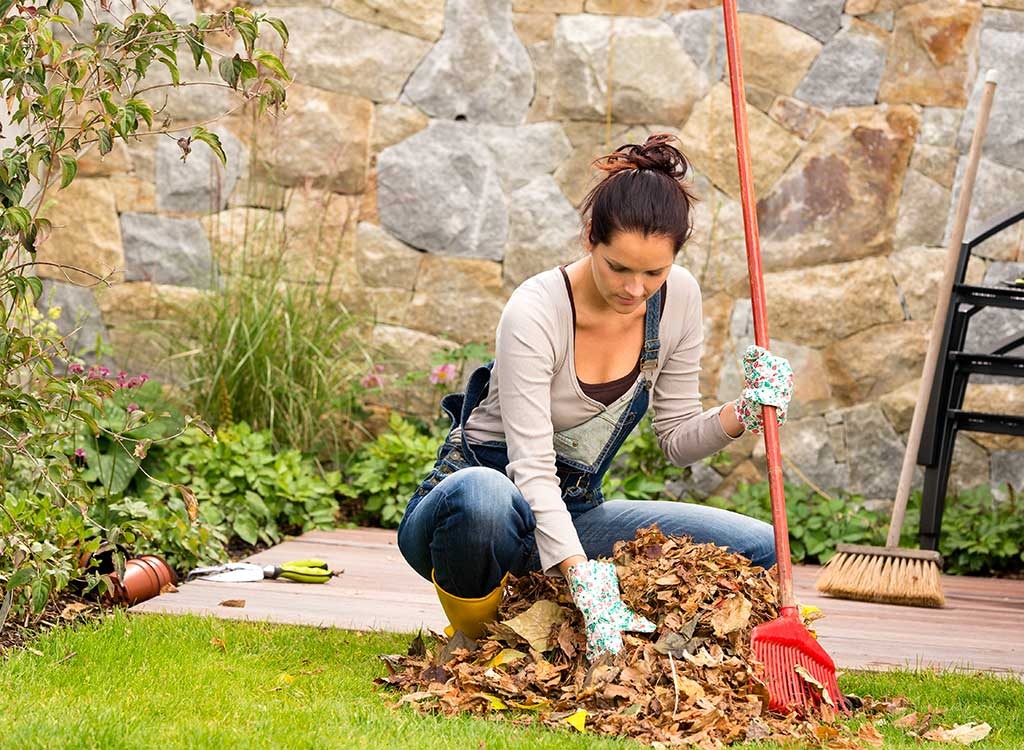 The concept of NEAT means "Non-Exercise Activity Thermogenesis." Basically, it's the way to sneak exercise into your day without actually exercising," explains Auslander. And the perfect way to stay NEAT this fall? Raking up those leaves! Bonus: Squeezing in regular exercise—instead of being so sedentary—is one of the top 100 Ways to Live to 100!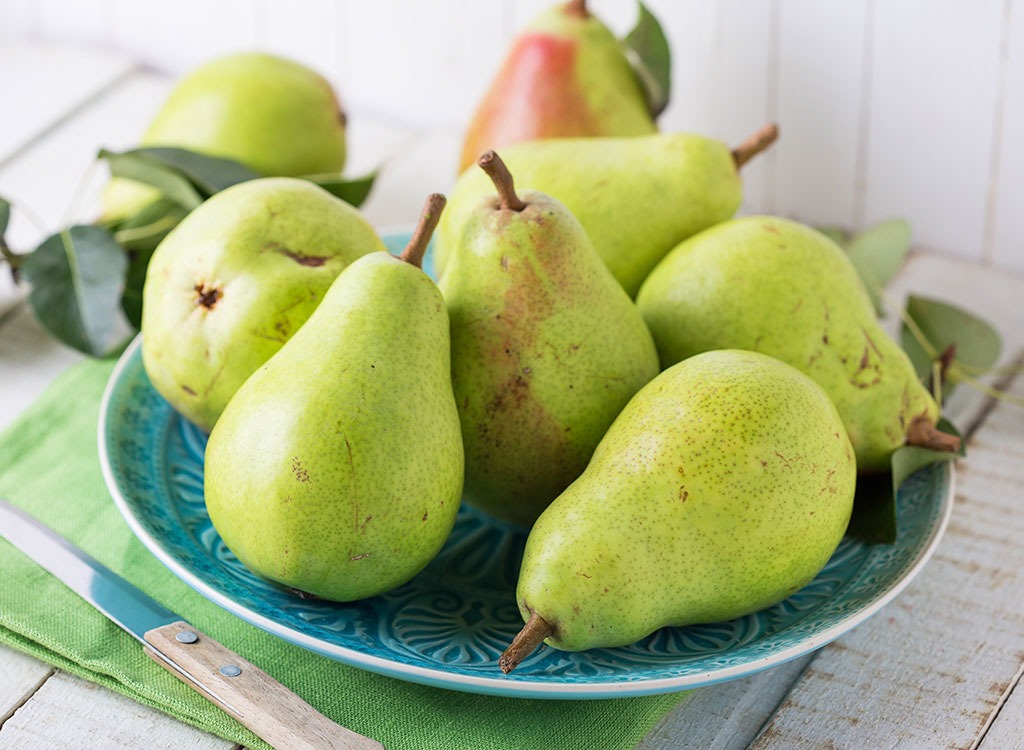 Fall fruit is delicious when baked—especially pears. "Baked pears are a scrumptious, light treat. Halve pears, scoop out the core, stuff with walnuts and figs and cacao nibs, coat with Manuka honey, and bake in the oven," suggests Auslander. Then, top them with full fat organic Greek yogurt and cinnamon. Delish! For more sweet, guilt-free tricks, don't miss these 25 Healthy Ingredient Swaps for Baking.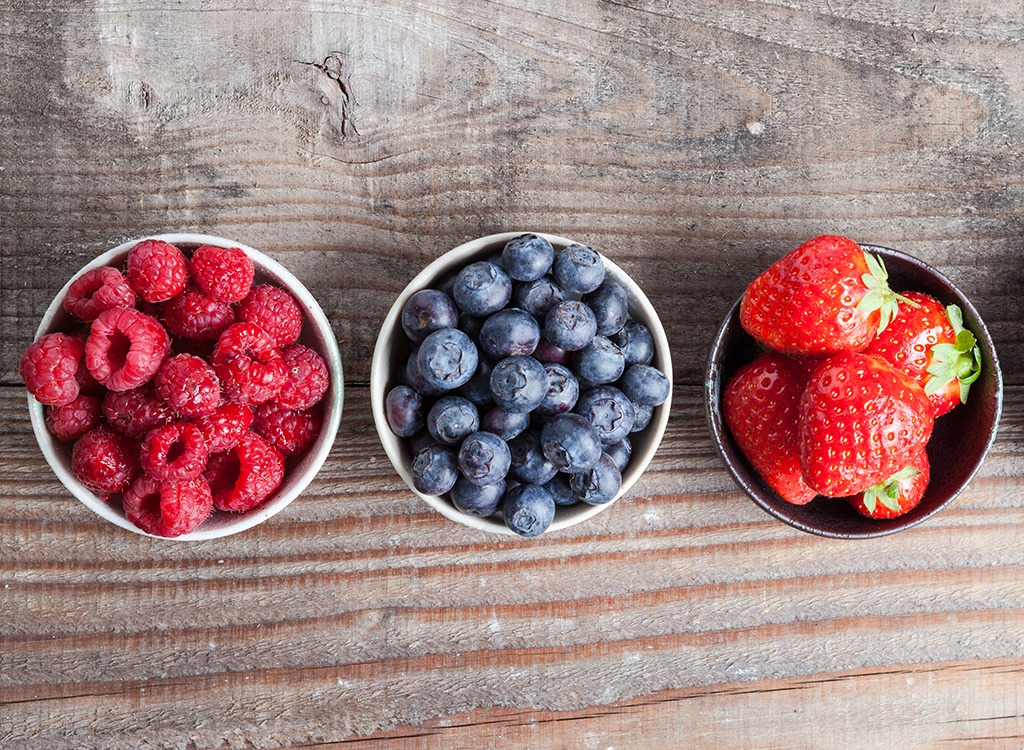 "Take advantage of berries being cheap and in season by buying them in bulk when they're on sale and freezing them immediately. Only some of the vitamin C may degrade and then you have them ready and on hand for smoothies or to melt into oatmeal like a compote," says Auslander.6254a4d1642c605c54bf1cab17d50f1e
Get In On the Trick or Treating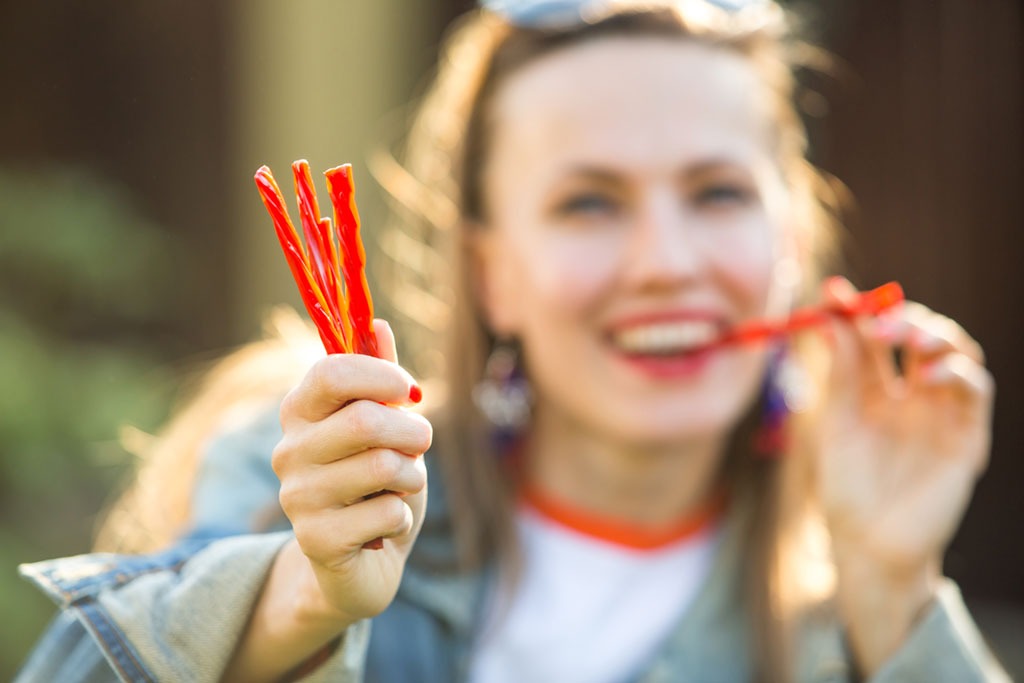 Fall means Halloween—and, of course, that means candy, candy, candy. But guess what? You don't have to stay away! "Allow yourself one to two pieces of your most favorite candies per day for a specified amount of time so you don't feel deprived," recommends Auslander. Speaking of, don't miss our exclusive list of 52 Best and Worst Halloween Candies—Ranked!
Pre-Pay for Exercise Classes
Keep the momentum of summer activities going. "Pre-pay for your exercise pack or ClassPass into the Fall—you'll be much more motivated to stick with it after an active summer," says Auslander. "Grab a friend so that the two of you will support and motivate each other."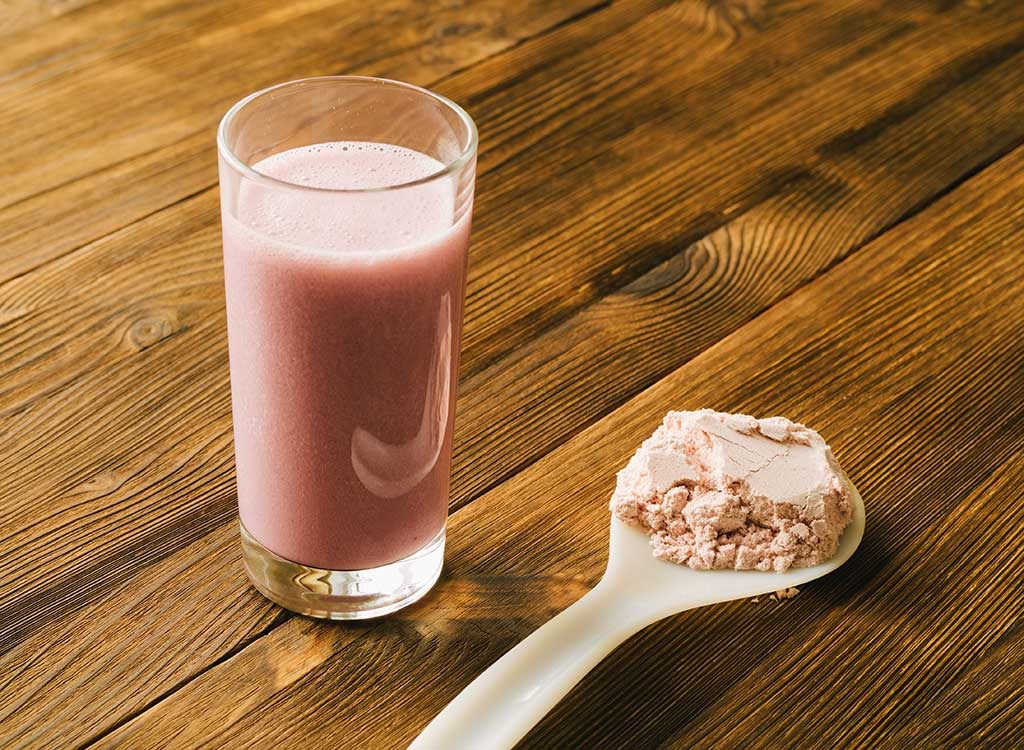 "One of the most common healthy breakfast choices these days are smoothies and juices. Unfortunately, as it gets colder, those look less and less appealing. Most people don't realize that if you have a high powered blender, particularly a Vitamix or Blendtec, you can make warm smoothies in just a few minutes. Just keep the blender on for approximately four minutes or until your smoothie is the desired temperature," recommends Staci Shacter, MS, RD, LDN, and nutritionist for Carillon Miami Beach.
One idea is a Hot Chocolate Oat Smoothie. To make it, combine 2 tablespoons cocoa powder with 1-1.5 cups of almond milk, 1 small banana, 1/3 cup of rolled oats (soaked overnight will make it creamier), 1 tablespoon almond or cashew butter (or a scoop of organic grass-fed protein powder. Not sure if your protein powder is good enough? Find out in our exclusive report on The Best and Worst Protein Powders!
Get Your Veggie On In Advance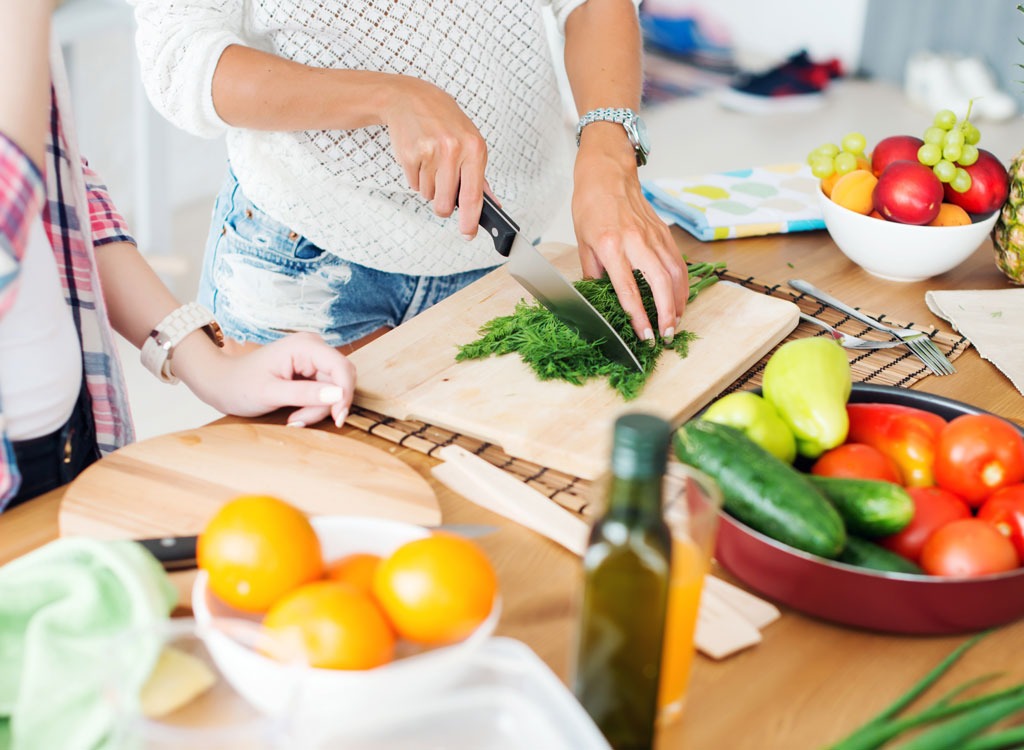 Cook your veggies in one big batch on one day of the week. "With the root veggies being our seasonal ones right now, it's easy to bake or steam some acorn squash, zucchini, butternut squash, and whatever your favorite veggies are, and then keep them stored in the fridge," suggests Stephanie Mansour, weight loss coach and health and fitness expert for women. "Just pull them out and re-heat, and add your favorite protein for a complete meal!"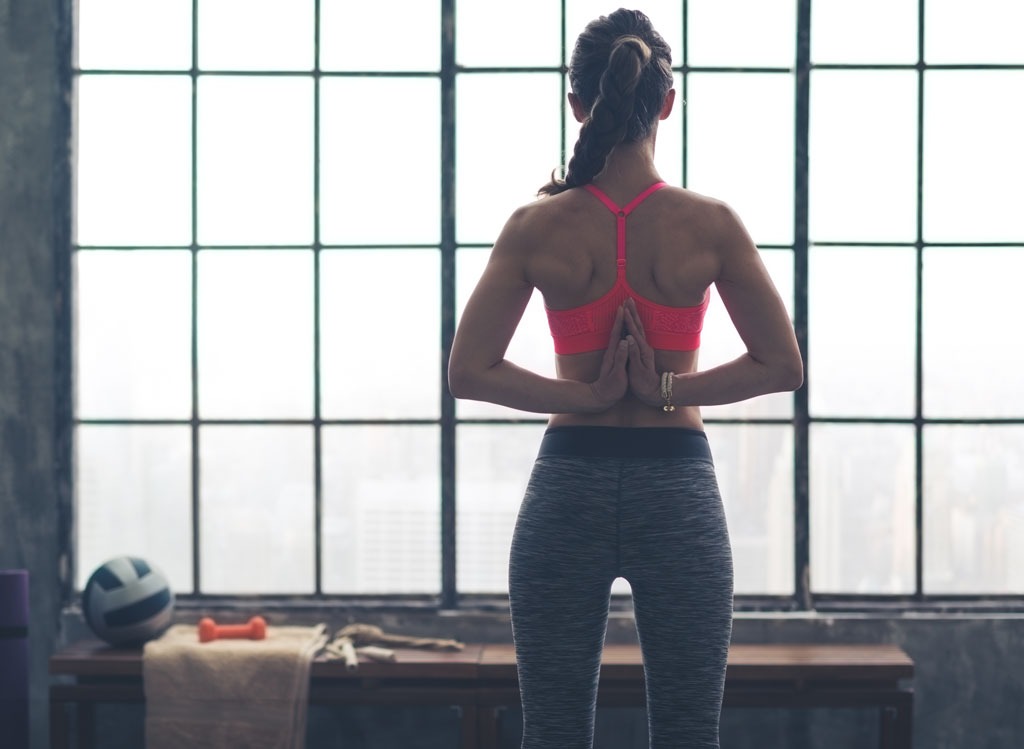 Now that the weather may be forcing you to take your workouts inside, take advantage by checking out all the gyms in your area—including the ones that may have opened up over the summer. "Try out new locations with free passes. Ask the front desk at your gym or fitness studio for a trial membership," suggests Mansour. "With the temps getting lower, you'll be thankful that you have somewhere indoors to exercise!"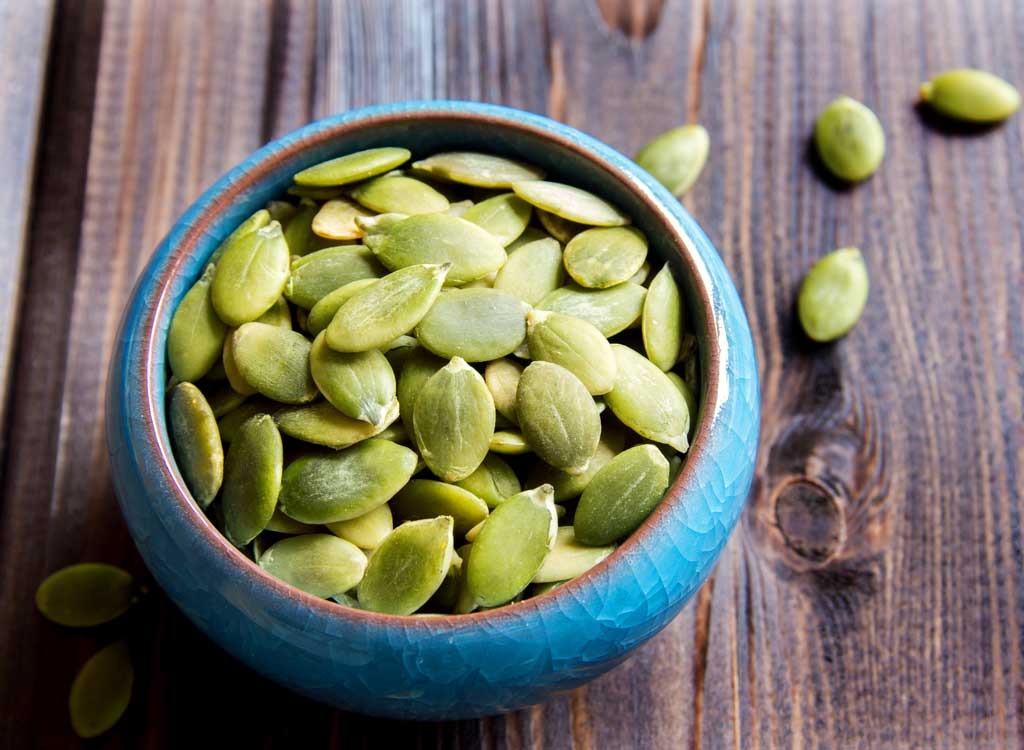 Pumpkin seeds are brimming with benefits that range from being packed with protein, loads of dietary fiber, magnesium, potassium, and they hold L-tryptophan for a good night's sleep, "Add them into your Greek yogurt or cottage cheese for an added nutritional boost," suggests James Shapiro, M.S. & president of Primal Power. Discover other ways to get more nutrition into your life with these 25 Ways to Add Superfoods to Your Diet.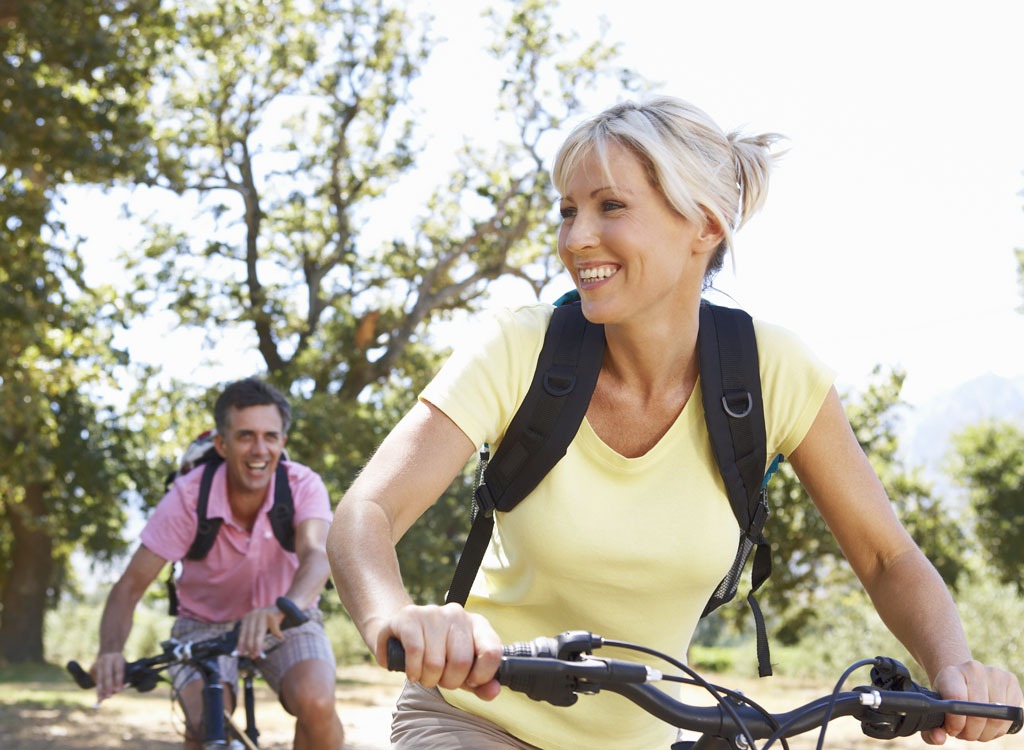 Before it gets too frigid outside, consider outdoor activities that get your blood pumping. "Hiking can be maximized by hilly terrain and the brisk air. It provides a good strengthening workout your leg muscles, glutes, and abs," says Dempsey Marks, creator of PreGame Fit. "Another exercise I love is cycling. The fall season offers the ideal conditions to push to another level in your cycling routine. I reset my training to embrace longer rides to maximize my endurance. Plus, the cooler air is exhilarating and burns extra calories."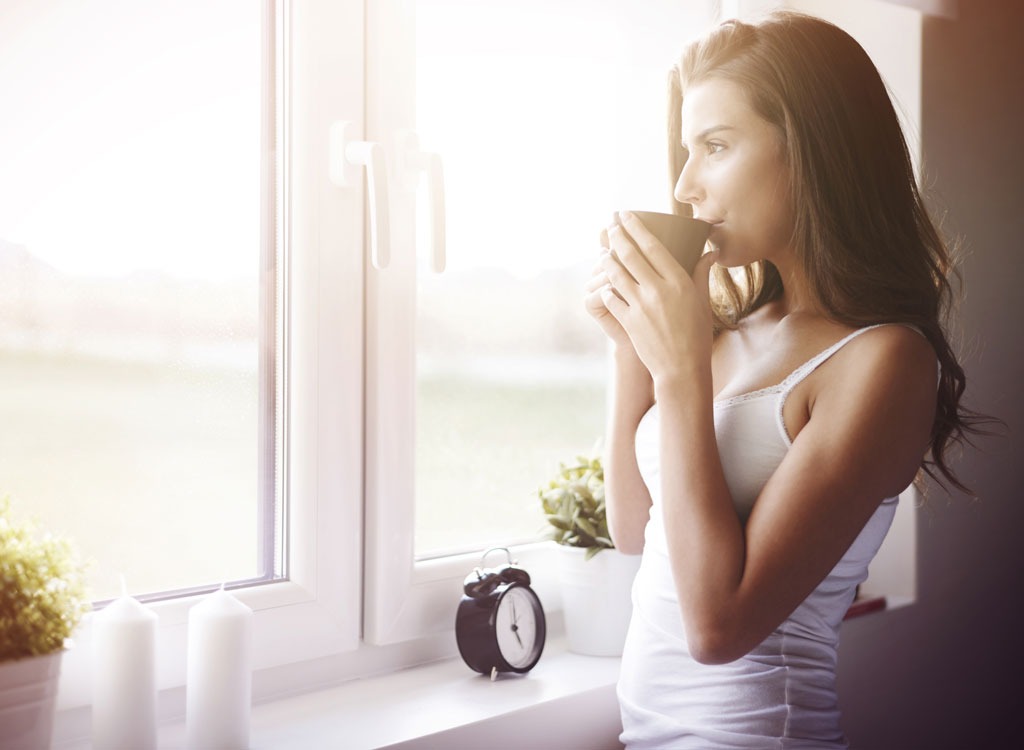 Autumn begs for warm tea—like possibly drinking green during the day and herbal concoctions in the evening. Another idea? "A homemade ginger and turmeric brew will boost the immune system as well as help digestion," suggests Jennifer Galardi, star of several "Dance Off the Inches" DVDs.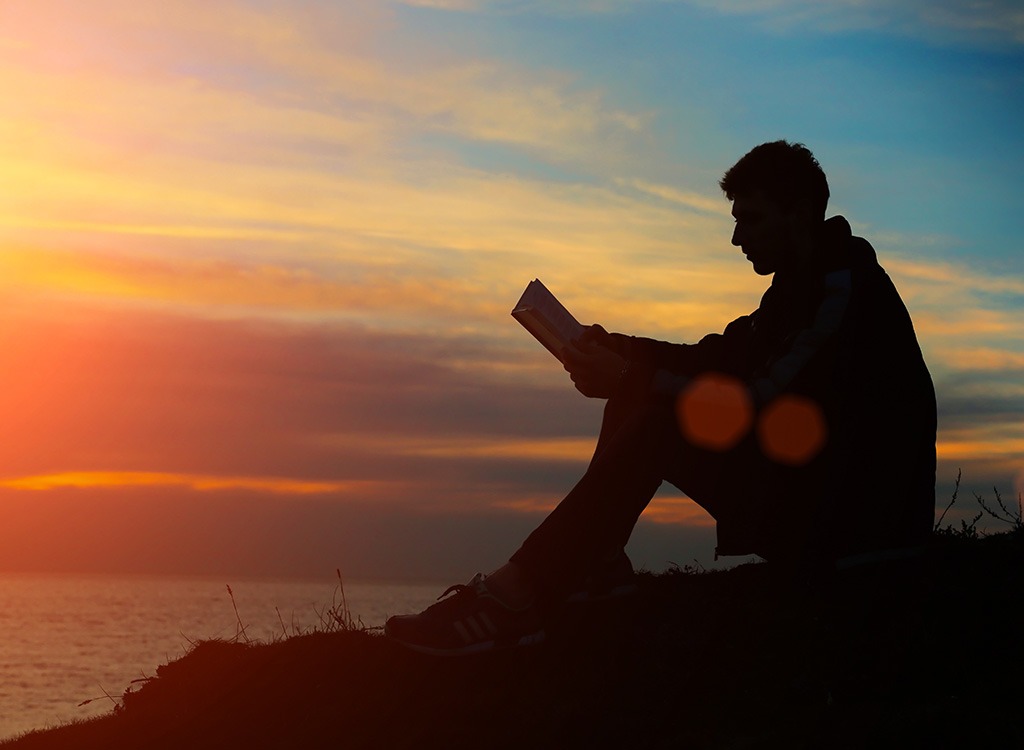 Get yourself some vitamin D during daylight hours and begin to set your fall/winter clock by retiring a bit earlier. "Self-care is paramount as the cooler months roll around. Make sure you take time to nurture yourself," says Galardi. "Practice more restorative types of yoga and use a richer, more nurturing oil, such as sesame oil, for self-massage or after a shower or bath."
Drink Up Apple Cider Vinegar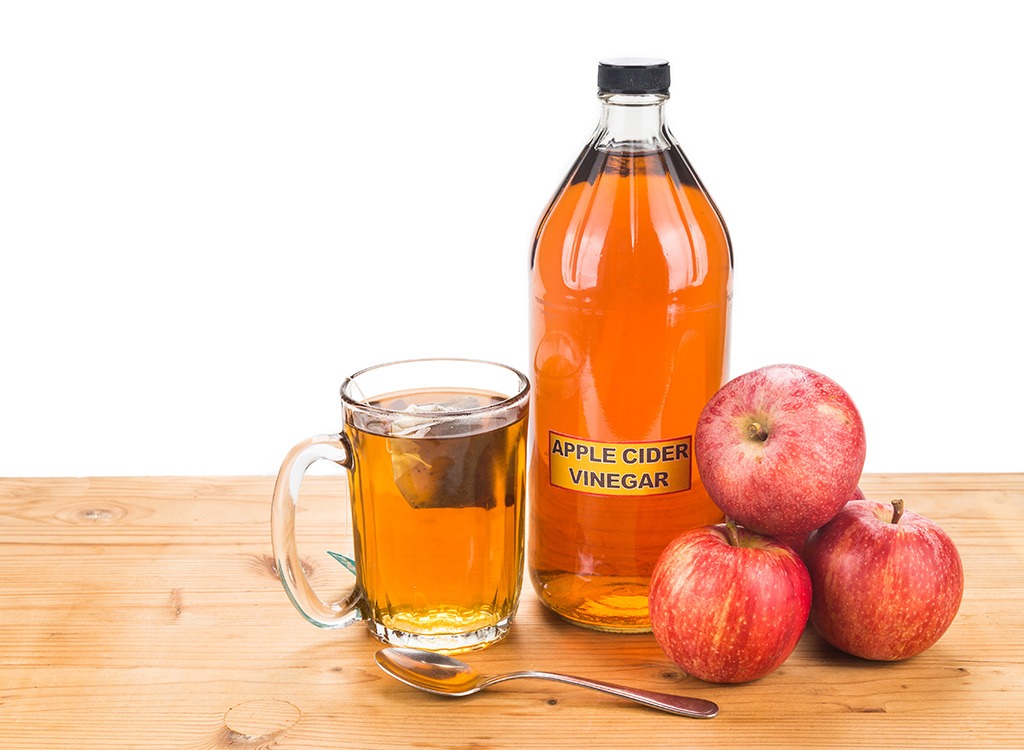 Tis the season for apple cider—but the best way to get your fix is in the super ACV form. "Apple cider vinegar promotes weight loss by speeding up metabolism, reducing water retention, balancing your body's pH balance, and aiding in digestion," says Dr. Daryl Gioffre, nutrition expert and certified raw food chef. "And when the inevitable fall cough comes around, a spoonful of apple cider vinegar can help coat your throat and fight off bacteria." Bookmark these 8 Awesome Apple Cider Vinegar Detox Drinks for some delish ideas!
Salad-ify Your Fall Flavors
Get all the flavors of fall without the acidity of cookies, pies, stuffings and such. "Adding butternut squash to your spinach salad is much more filling and just as delicious," says Dr. Gioffre. "Throw in some pumpkin seeds, almonds, chia seeds, and extra-virgin olive oil, and you will feel energized instead of bloated from bread and carbs."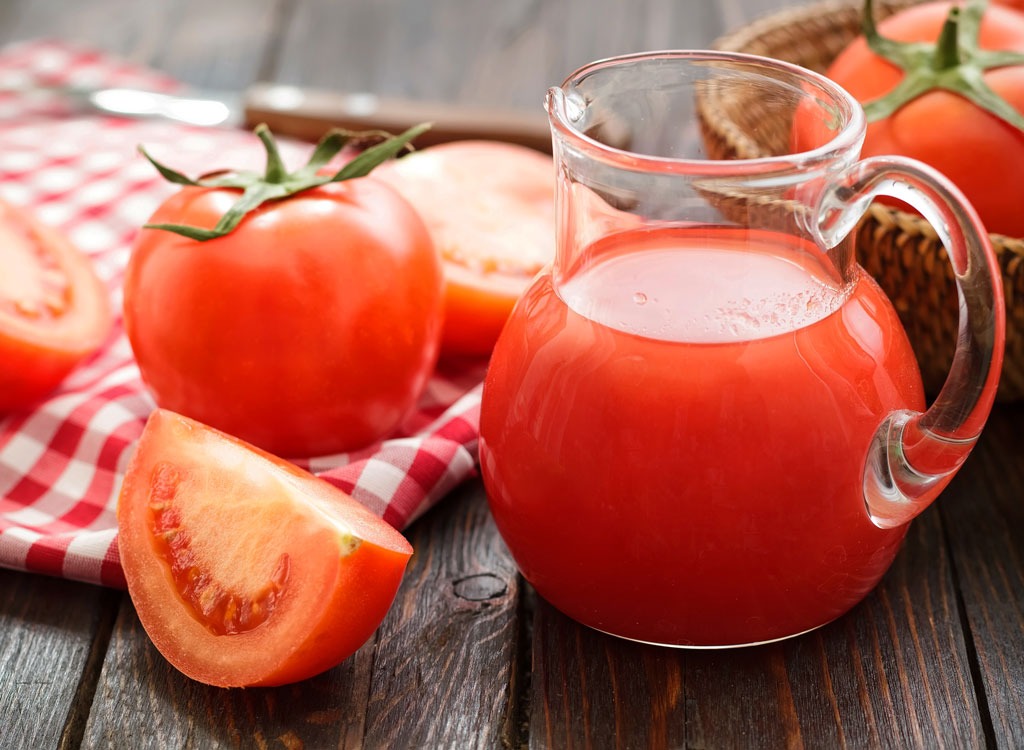 "Try sipping a carrot-ginger juice for a mineral-heavy drink with an autumn feel. Studies suggest that people often mistake thirst for hunger, so a vegetable juice can help fill your stomach, leaving less room for calorie-heavy foods," recommends Dr. Gioffre. "Just make sure you're either making your juice at home or looking closely at the ingredients to make sure it isn't loaded with sugar like many store-bought brands."
Rather than feel weighed down by traditional heavy stuffing as a Thanksgiving staple, why not start a new tradition this holiday season? "Replace the traditional stuffing side dish with an autumn quinoa medley full of kale, butternut squash and other fall favorites," says Dr. Gioffre.
Get Your Body Weight Going in the A.M.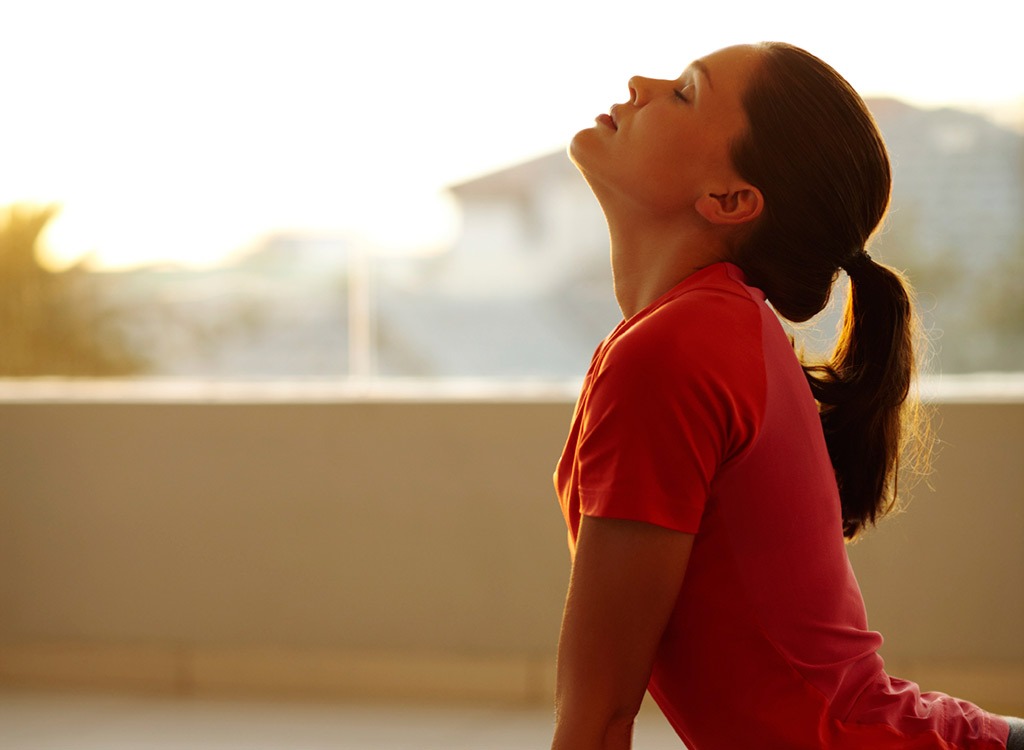 Shaun Nunes, who recruits and hires other personal trainers at Crunch Blackhawk in California says to do a variety of body-weight movements "in all planes" once you wake up. "For example, do power squats, jumping jacks, seal jacks, flings, toe touches, arm circles, and wraparounds," he says. "The idea is to increase neuro-muscular stimulation and mitigate injury during the cold weather that's coming soon. When you begin your day this way, you'll notice more natural energy and a vibrant pep in your step. You'll notice you process information more rapidly and become more efficient in the workplace. Since you've started your day with a healthy mindset, there is a lesser chance you will want to indulge in poor food choices as well."
The second summer started to drift away, we were instantly bombarded with pumpkin spice lattes at every coffee shop. But rather than drink all those calories, there are plenty of other ways to get your fix, like these 15 Pumpkin Spice Products to Try This Fall. You can also try roasting pumpkin seeds with cinnamon and nutmeg instead. "With more zinc than any other seed, pumpkin seeds help the body burn fat and balance your pH levels," says Dr. Gioffre.
Use Football Days as Workout Days
If your Sunday and Thursdays are all about taking in the latest NFL game—while of course downing beer and game day snacks—you need to take advantage to get in a game time workout. Sahmura Gonzalez, personal trainer at Crunch USQ, suggests the following workout:
– Pass of 20 yards = 25 squats
– Touch down = 10 burpees
– Timeout = 20-second wall sit
– Personal Foul = 10 Reverse lunges on each leg
– Interception = 10 push ups
– First down = 15 situps
– Beer commercial = 1 Minute plank
Find a New Way to Stuff Your Pie Face
Save the pie for special occasions. When your craving strikes at other times. go straight to oatmeal-stuffed baked apples. Gonzalez recommends the following recipe: "Preheat oven to 350 degrees. Cut two large apples in half and remove the cores and seeds with a small pairing knife or spoon. In a small bowl, combine two tablespoons of butter, one tablespoon of brown sugar, four tablespoons of quick oats, and a pinch of cinnamon. Spoon on top of the apple halves and sprinkle with cinnamon. Place on a cookie sheet and bake in the oven for 30 minutes." And while you've got the cookie sheets out, why not try one of these 20 Sheet Pan Suppers You'll Love, too?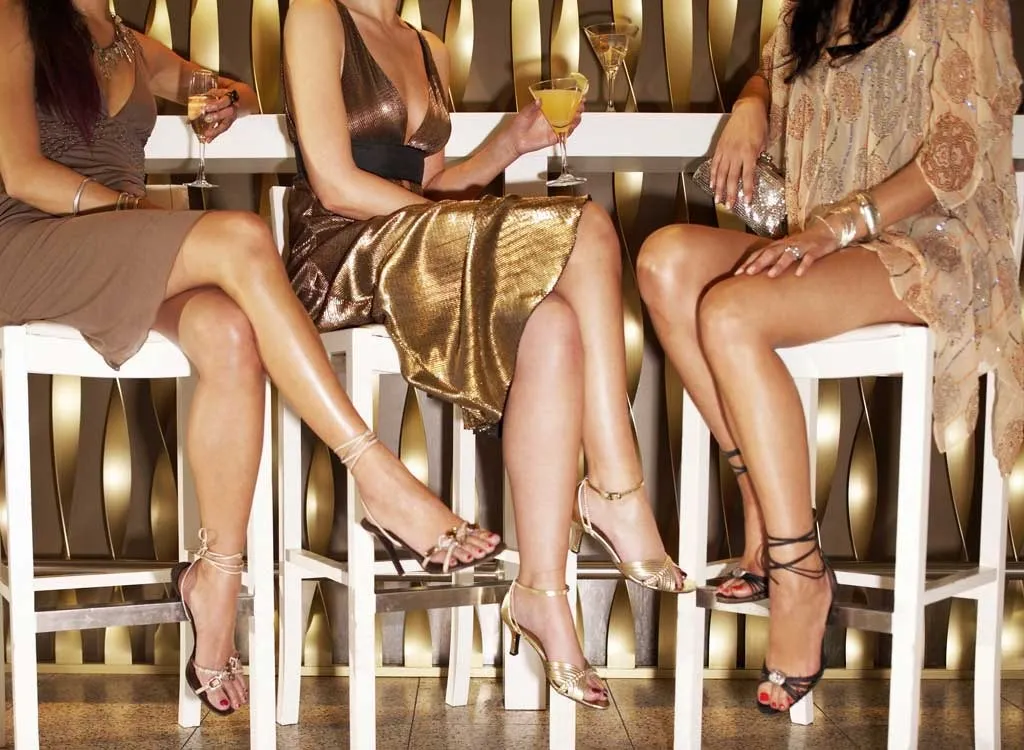 "If your skin is getting drier and chapped, buy some smelly lotion that you like and put it on your hands at night or whenever you have a craving for junk food!" suggests Mansour. "This may prevent you from eating unhealthy food because your hands will smell good and you won't want to eat food that touches your freshly lotioned hands."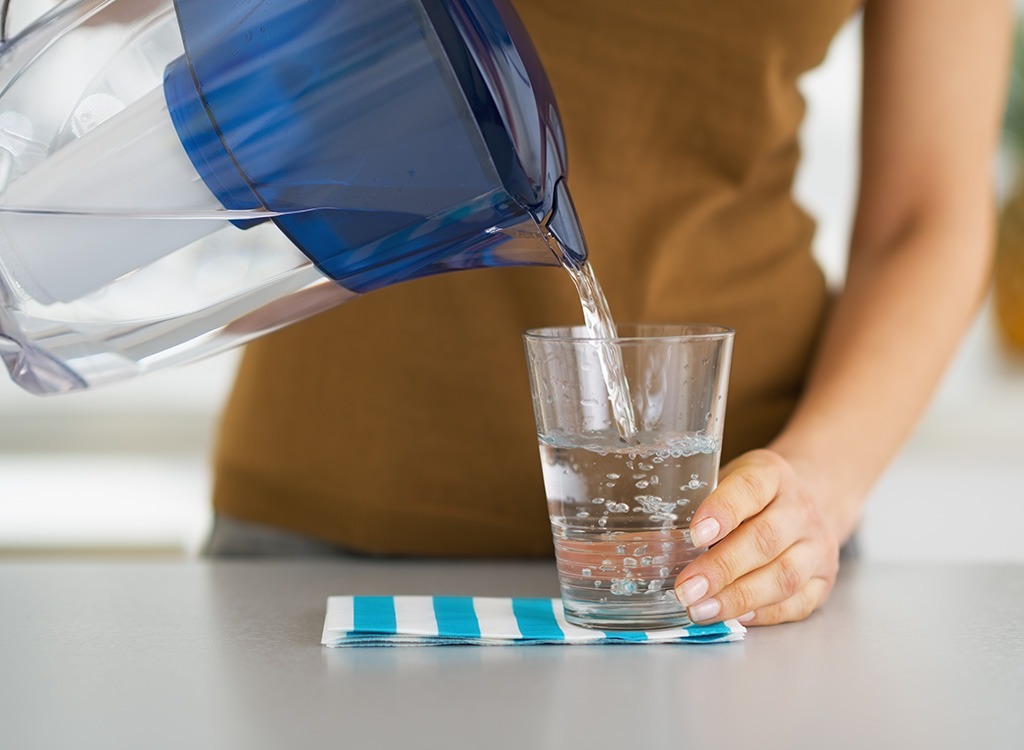 Drink your water at room temperature. "Again, thanks to the temps dropping outside, your body may be fighting to stay in homeostasis even more than usual," says Mansour. "In the summertime, a glass of ice cold water cools us down, but in the fall and winter, a room temperature water can be less of a shock to our system because we may already be cold."
Enjoy the Fall Colors Outside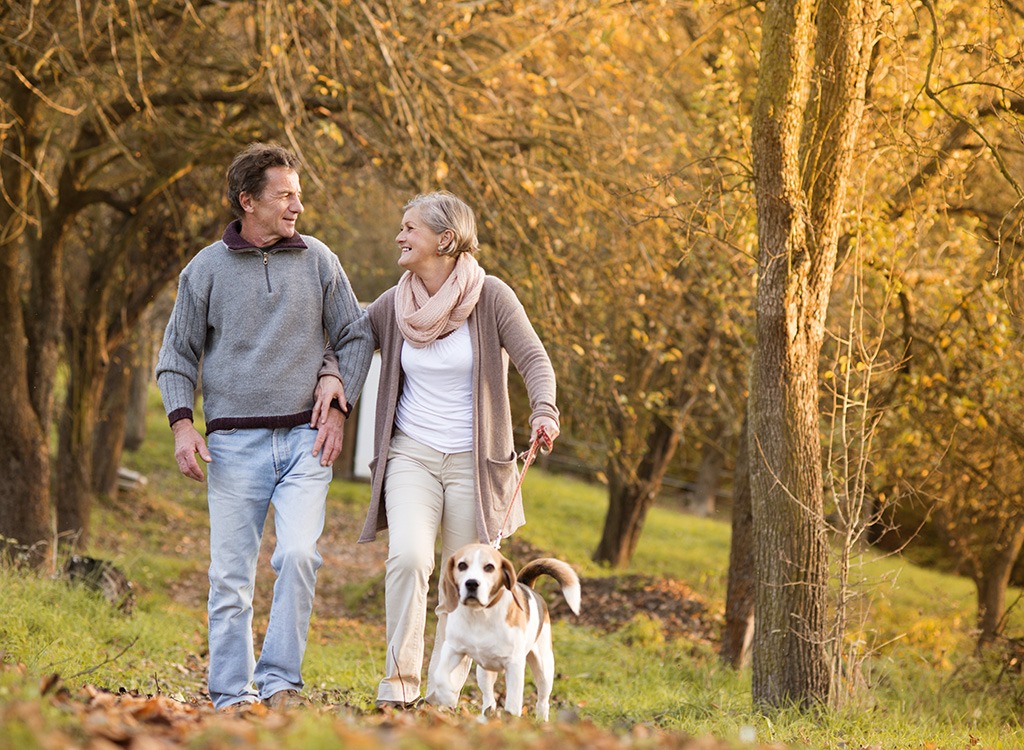 Take time each week to enjoy nature and the changing leaves and walk in your local park. This will help with reducing the amount of stress in your body, which lowers your level of cortisol. "This specific production from the adrenal gland, if produced consistently, has been shown to hold onto fat," says Shapiro. "In addition to lowering cortisol levels, low-intensity levels of cardio can be beneficial for faster recovery times from your workouts and even improve cardio capacity." On a similar note, make it easier on your body to trim your waistline and be in a better mood with these 15 Superfoods That Balance Your Hormones!