7 Fast-Food Chains That Serve the Best Tuna Sandwiches
Tired of the same old burger? Grab a freshly made tuna sandwich at one of these great spots.
The product recommendations in this post are recommendations by the writer and/or expert(s) interviewed and do not contain affiliate links. Meaning: If you use these links to buy something, we will not earn a commission.
Whether it's the creamy texture, the tangy flavor, or the fact that it is a great source of omega-3 fatty acids, tuna sandwiches are a popular meal of choice at your local fast-food chain. While deli meats are widely sought-after sandwich ingredients, having tuna on the menu offers something for seafood lovers, too.
There are plenty of healthy recipes out there that use canned tuna as its base, so ordering a tuna sandwich can often be a good option for those looking to stick to more nutritious lunch and dinner orders than, say, a hamburger or a meatball grinder.
No matter if you prefer your tuna sandwich hot or cold, there is a fast-food chain ready to serve you. Keep these spots in mind the next time you have a craving for a freshly made tuna sandwich.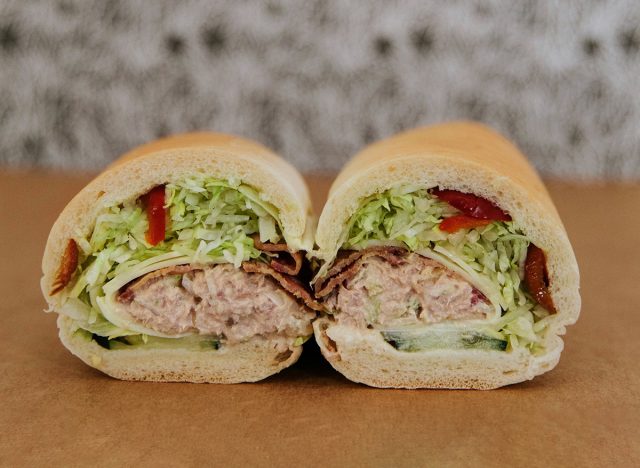 Jimmy John's knows how to serve up classic sub sandwiches. Its Totally Tuna sandwich is made with house-made tuna salad, lettuce, cucumber, and tomato. And, of course, customizations beyond those standard ingredients are available as well. Customers can choose whether they want theirs served on eight-inch or 16-inch French bread, wheat bread, or a lettuce wrap. Or, try its Club Tuna, which comes with the same house-made tuna salad along with provolone cheese, lettuce, and tomato.
Many of those who enjoy an occasional tuna sandwich are in on the fact that Jimmy John's serves some legitimate tasty options. Redditors are quick to suggest Jimmy John's as their tuna sandwich spot of choice, noting that they are "fantastic."
If Quizno's is in your area, you owe it to yourself to try its Tuna Melt. It comes with tuna salad, melted cheddar cheese, pickles, and tomatoes, served toasted for that oh-so-satisfying crunch. Tuna sandwich fans seem to be in agreement that Quizno's is a far better option than its main competitor, Subway.
You may be hard-pressed to find a Quizno's in your area, as one Redditor shared: "I live in the northeast. Unfortunately no Quiznos anymore. I went to Denver a couple weeks ago and had a Quiznos tuna melt at the airport it SLAPPED." So, if you happen to spot one on your travels, consider making a pit stop to try the Tuna Melt.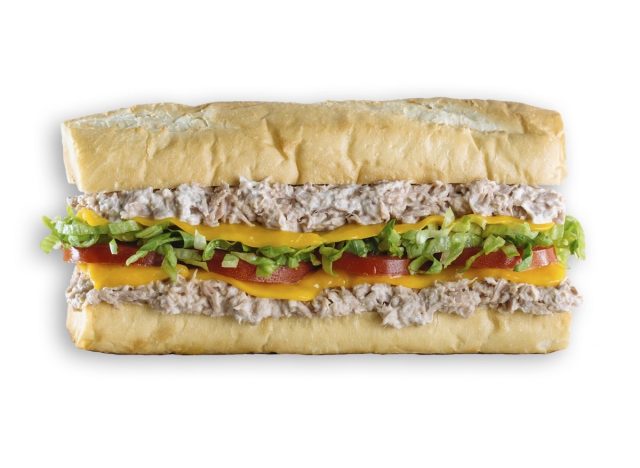 Known for its unique system of writing your sandwich order on the paper bag it comes served in, Which Wich comes with a touch of novelty with every sub it makes. Its Tuna Salad Sandwich is one example of the wide range of options customers have. Beyond the tuna and mayonnaise used to make the base of the sandwich, you have over 40 different other ingredients you can add to your sub. Or, try something truly unique and order the Tuna Crunchwich, made with tuna salad, cheddar cheese, 1000 Island dressing, tomatoes, pickled red onions, and Doritos. You can make any sandwich into a BowlWhich sans bread, and one Redditor pointed out that ordering that with tuna is their go-to choice when visiting Which Wich.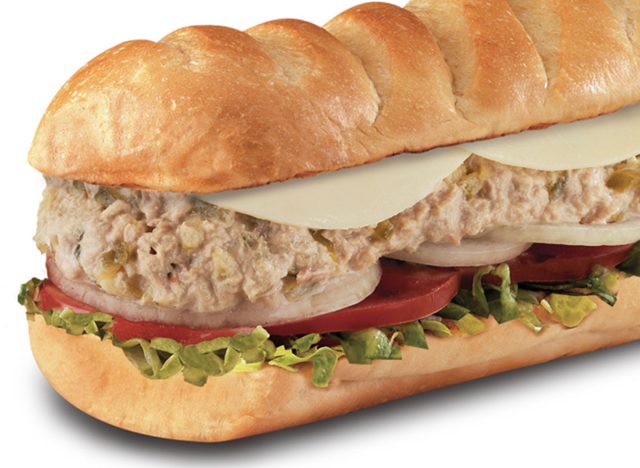 When it comes to hot subs, Firehouse Subs is one of the best. With a name that includes 'fire' in it, after all, you would expect to find an array of sandwiches that are fresh out of the oven. If you are craving a cold sandwich for lunch, however, there is one singular option: the Tuna Salad Sandwich. It starts with the house blend of tuna, relish, mayonnaise, and black pepper, then adds provolone cheese, lettuce, tomato, onion, mayo, and deli mustard.
Do not dismiss the Tuna Salad Sandwich simply because it is served cold, however. This is a standout on the menu. "Today I had the tuna sub, and it was delicious," wrote one reviewer on Tripadvisor.  "Most places mix a little mayo together with a low-grade tuna, and that's it. Not here. The tuna was freshly made, had mayo and sweet relish mixed in, and was perfect."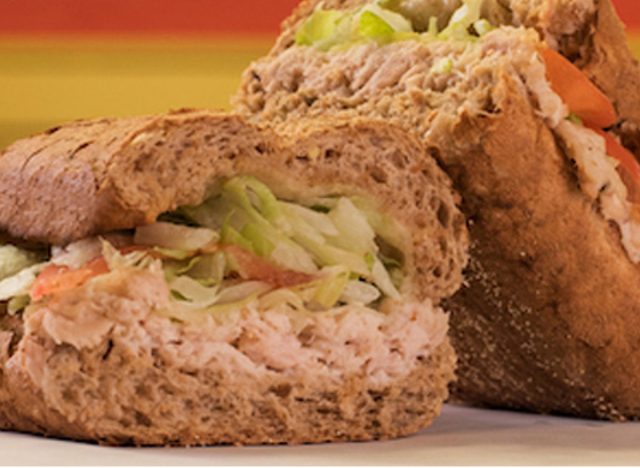 Growing sandwich chain Potbelly is beloved by its customers for its fresh ingredients, all the way to its hand-scooped milkshakes and cookies that are baked daily in-house. That commitment to freshness extends to the Tuna Salad, made with 100% albacore tuna and topped with Swiss cheese. From there, the customizations are all up to your imagination. Some customers have found their way onto Potbelly's secret menu over the years, like one Redditor who mentioned the "Merman" as their sandwich of choice, which comes with tuna and bacon.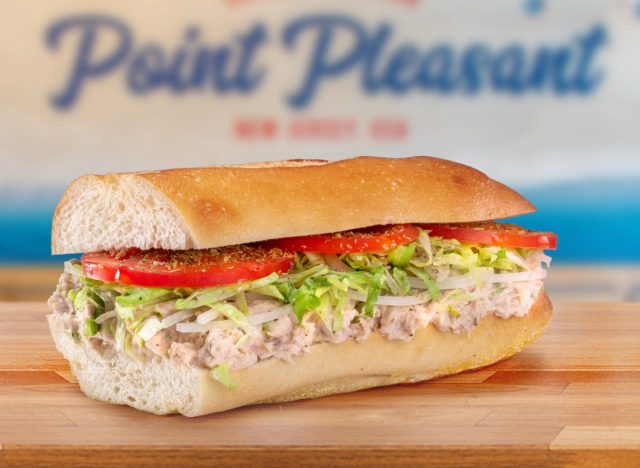 Jersey Mike's is a top choice when it comes to sandwich chains. Maybe that's because of its hand-sliced deli meat or freshly baked bread, but whatever the reason, customers cannot get enough. No matter your preferred flavor, you are likely to find a sub at Jersey Mike's that you will enjoy, even if that's tuna. Its Tuna Fish cold sub is made fresh on-site daily, with freshly chopped celery, mayonnaise, and pepper.6254a4d1642c605c54bf1cab17d50f1e
One Redditor noted that "the tuna was solid – not too dry, not too wet, not too much, not too little." Another Redditor shared their thoughts on Jersey Mike's, adding that its version of the classic sub is "[o]ne of the best Tuna Fish sandwiches out there, to be sure."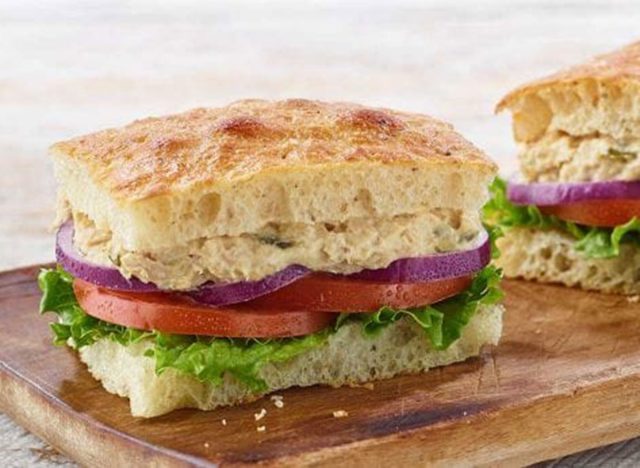 While many sandwich chains make a solid tuna sub, a lot of them feel like the same collection of ingredients: tuna salad, lettuce, and tomato. At Panera Bread, things get more interesting with its Tuna Salad Sandwich. It is made with tuna salad, emerald greens, vine-ripened tomatoes, red onions, salt, and pepper on Black Pepper Focaccia. Customers can order it by itself or as part of Panera's famous You Pick Two specials. It is so popular with some customers that folks have taken to Reddit to try and figure out copycat recipes to recreate the tuna salad at home.
Carly Neil
Carly Neil is a freelance writer specializing in all things food, travel, Disney, and theme parks.
Read more about Carly