6 Fast-Food Coffees With More Sugar Than a Pint of Ice Cream
You're better off grabbing a spoon and going to town on a carton of your favorite ice cream.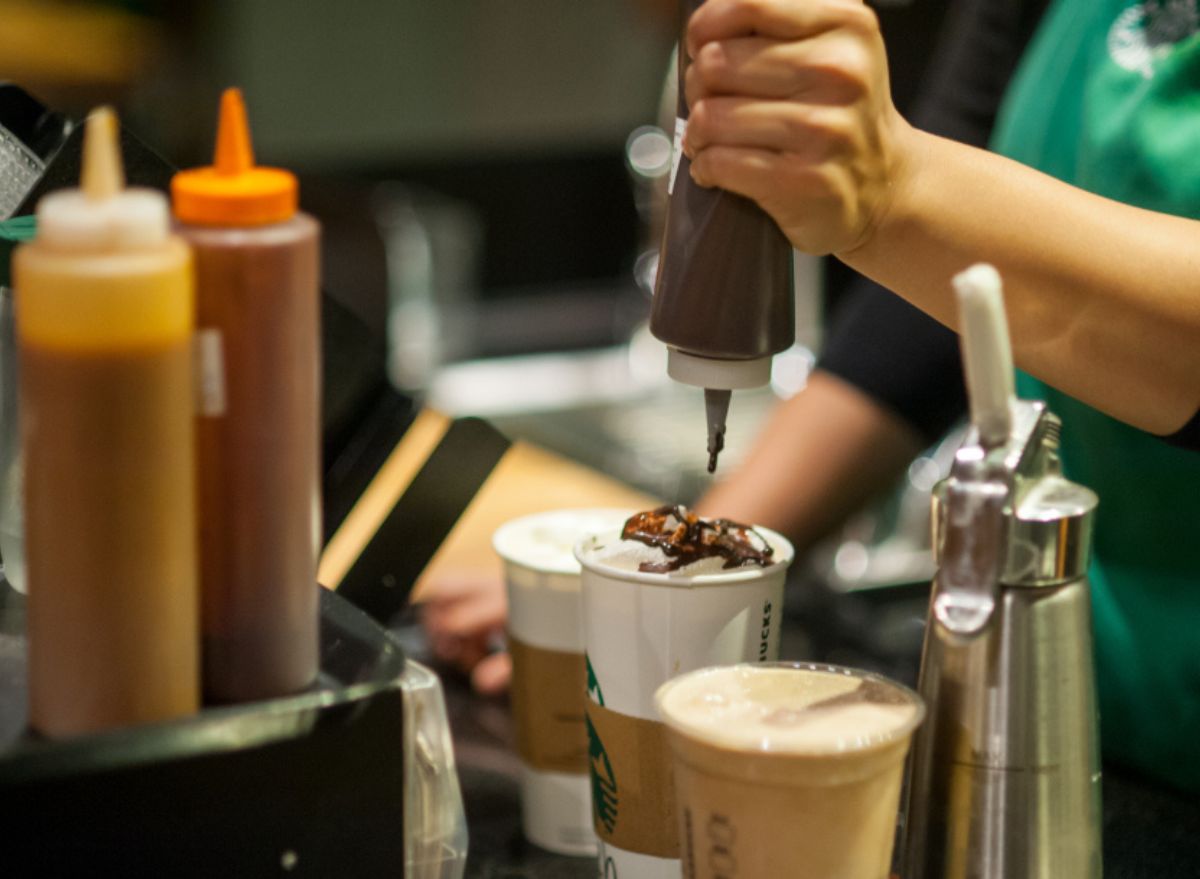 Those who can get themselves showered, dressed, fed, and make a delicious cup of coffee, all before they leave the house on time in the morning, are superheroes in my eyes. For me, and I'm sure many other normal folks, I oftentimes barely get myself out the door in time, and on many days, I'm popping into a coffee shop to grab my morning cup of Joe that I didn't have time to make at home. Usually, the cheapest and quickest places to go for coffee are fast-food joints, but these restaurants don't always sell the "healthiest" coffee options. In fact, we discovered recently that there are some fast-food coffees with more sugar than an entire pint of ice cream.
Yes, you read that correctly, places like Starbucks, McDonald's, and Dunkin' Donuts all carry certain coffee drinks that contain more sugar than the 57 grams you'll find in a pint of Breyer's Natural Vanilla. Of course, it's OK (and encouraged) to treat yourself to your favorite sweet drinks from time to time because let's face it—life is short. But unfortunately, research shows that excess consumption of added sugar may be making your life even shorter. For example, a study published in Circulation found that higher levels of sugary drink consumption were associated with a greater risk of death from cardiovascular disease and a higher risk of mortality from multiple causes.
According to the CDC, the recommended limit of sugar in one day is around 50 grams (or 10% of their total daily calories). The Breyer's pint of ice cream, as well as the drinks listed below, exceed this daily limit by just one cup. Read on to find out which fast-food coffees you may want to only consume every once in a while. And for more health tips, check out 5 Drinks Secretly Increasing Inflammation in Your Body.
Dunkin' Donuts Caramel Swirl Frozen Coffee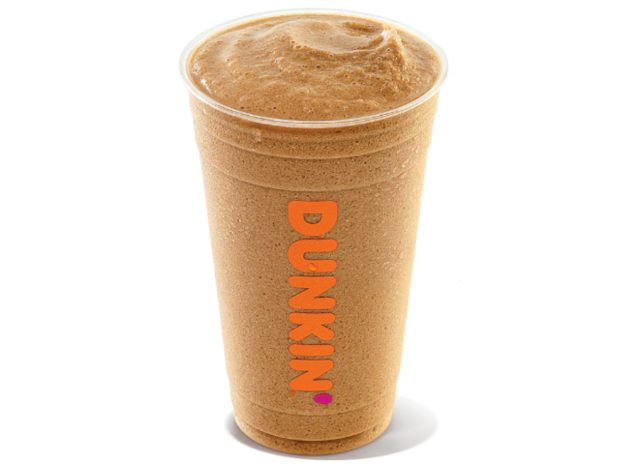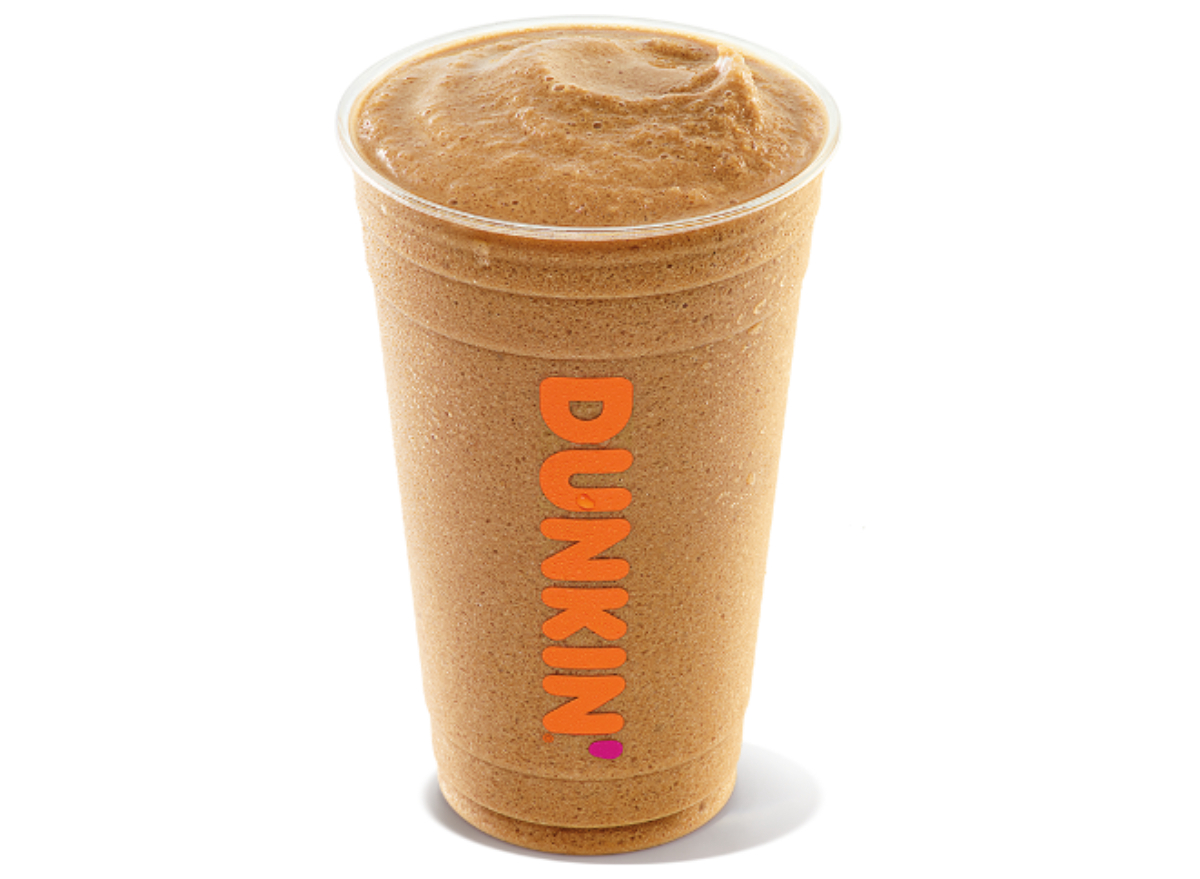 Per medium size
: 680 calories, 9 g fat (6 g saturated fat), 180 mg sodium, 141 g carbs (0 g fiber, 134 g sugar), 8 g protein
If you're going to swoop into a Dunkin' drive-through for a frozen coffee on your way to work tomorrow, you may be better off grabbing a spoon and digging into a pint of ice cream at your desk. In fact, you could eat two pints of Breyer's vanilla ice cream and still wouldn't consume as much sugar as a medium frozen caramel coffee from Dunkin' Donuts.
We aren't saying you have to avoid this drink forever, but this drink gives you 244% of the recommended daily amount of sugar, which may not be the best way to start your morning.
Starbucks Peppermint White Chocolate Mocha Frappuccino
6254a4d1642c605c54bf1cab17d50f1e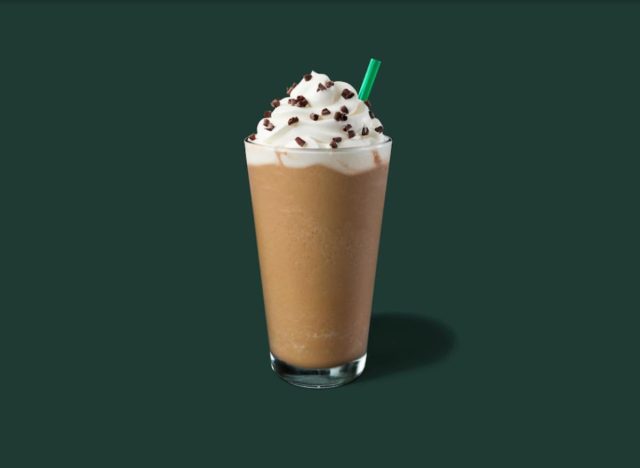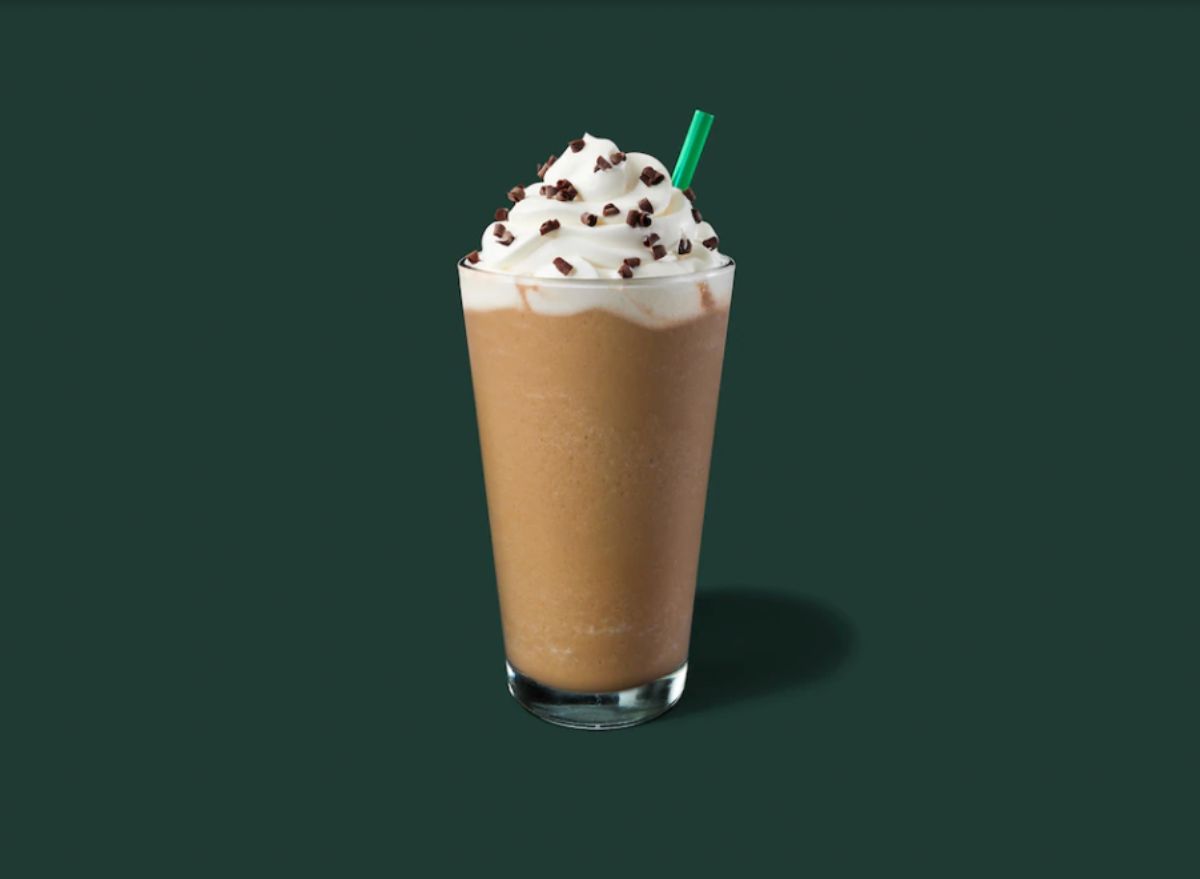 Per grande size
: 470 calories, 17 g fat (11 g saturated fat), 280 mg sodium, 73 g carbs (0 g fiber, 73 g sugar), 6 g protein
A Starbucks Peppermint White Mocha is a deliciously sweet way to feel festive year-round, but it may be helpful to leave this beverage as a special treat to enjoy every once in a while. A 16-ounce grande size is packed with 73 grams of sugar, is 16 more grams than an entire pint of ice cream, and if you were to splurge on a 24-ounce venti size, you'd be consuming a whopping 88 grams of sugar in one cup.
If you love the flavor of Starbucks' Peppermint White Mocha but want less sugar, you can try a short size (8 ounces) Peppermint White Mocha latte instead, which comes in at 37 grams of sugar.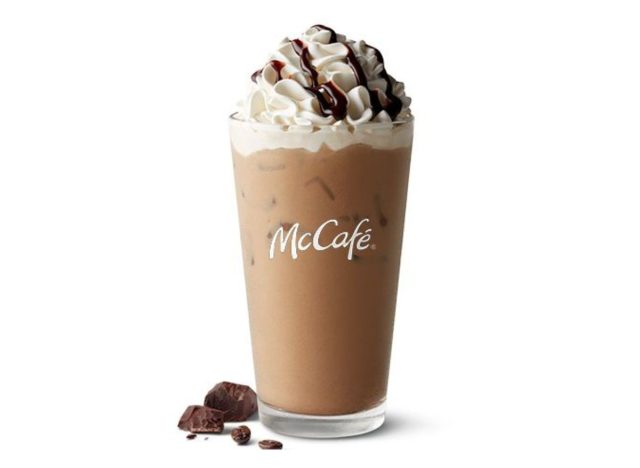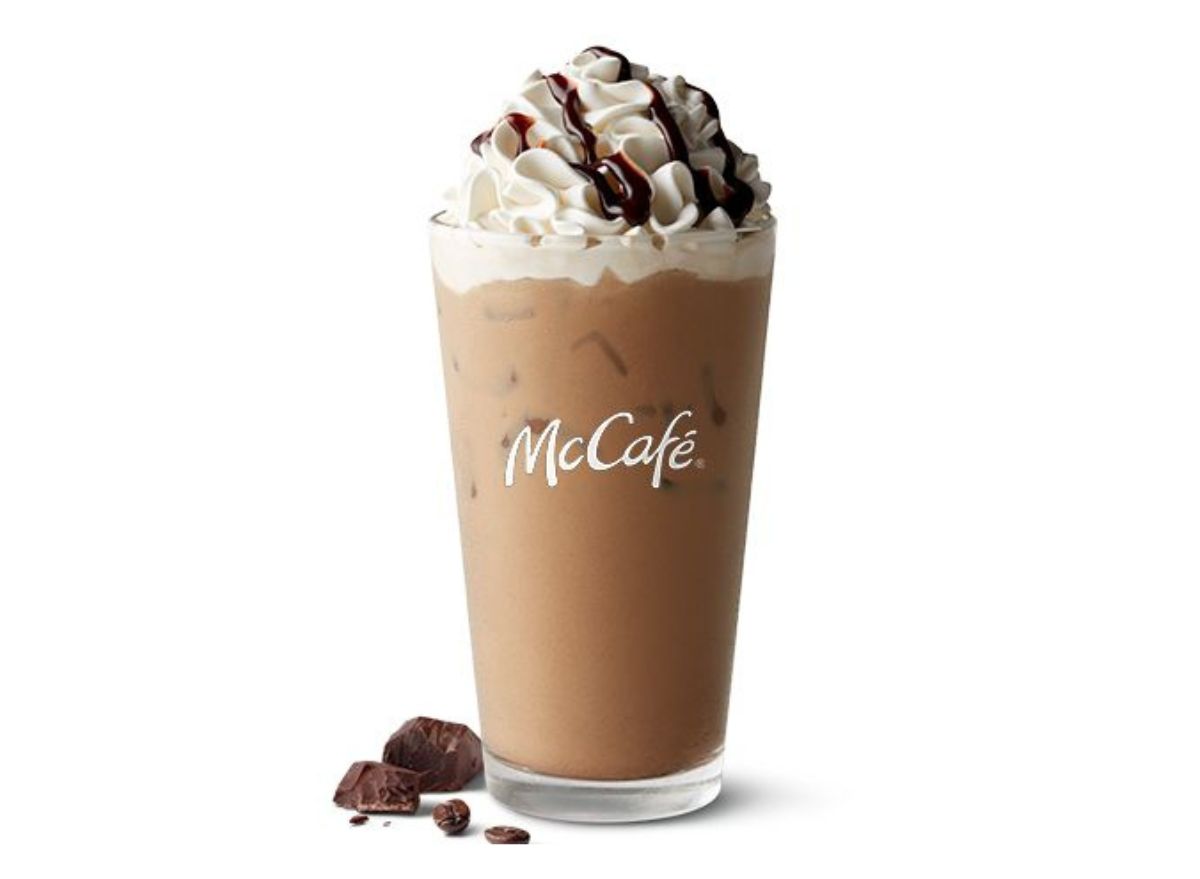 Per large size
: 450 calories, 15 g fat (9 g saturated fat), 180 mg sodium, 69 g carbs (2 g fiber, 62 g sugar), 11 g protein
On our busiest mornings, pulling into McDonald's for a quick coffee and breakfast is sometimes the perfect solution. However, you may want to try something other than the Iced Mocha, because a large size of this drink weighs in at 62 grams of sugar. Not only does this drink carry more sugar than a pint of vanilla ice cream, but it also has 9 grams of saturated fat, which is 44% of your daily value. If you pair your iced mocha with a breakfast item like a Bacon, Egg & Cheese Biscuit, your saturated fat content will add up quickly and could easily exceed your recommended daily amount.
Starbucks Mocha Cookie Crumble Frappuccino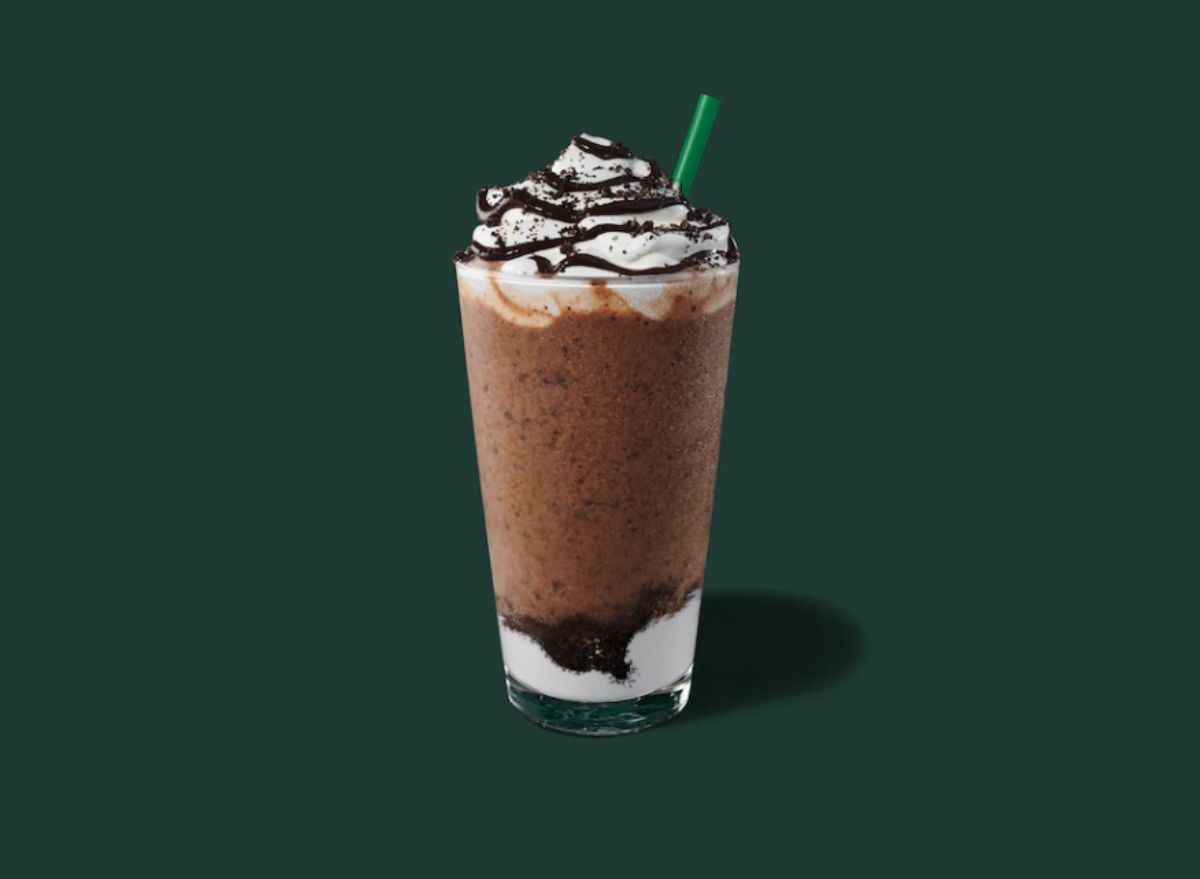 Per venti size
: 590 calories, 27 g fat (17 g saturated fat), 360 mg sodium, 82 g carbs (3 g fiber, 75 g sugar), 8 g protein
For our chocolate lovers out there, the Starbucks Mocha Cookie Crumble Frappuccino can satisfy your caffeine and sugar cravings in one sip. Unfortunately, a 24-ounce venti size has 75 grams of sugar, which is almost 20 grams higher than an entire pint of ice cream. Not only that, but this drink has the same amount of fat and saturated fat as a pint of Breyer's vanilla, making it trouble in both the sugar and fat department.
To be clear, we aren't saying to kick your Mocha Cookie Crumble habit for good, because we know the importance of a chocolatey treat. But if you're looking for something on a more consistent basis that you can enjoy with less sugar than a whole carton of ice cream, maybe try a tall size Caffè Mocha instead.
Dunkin' Donuts Caramel Craze Signature Latte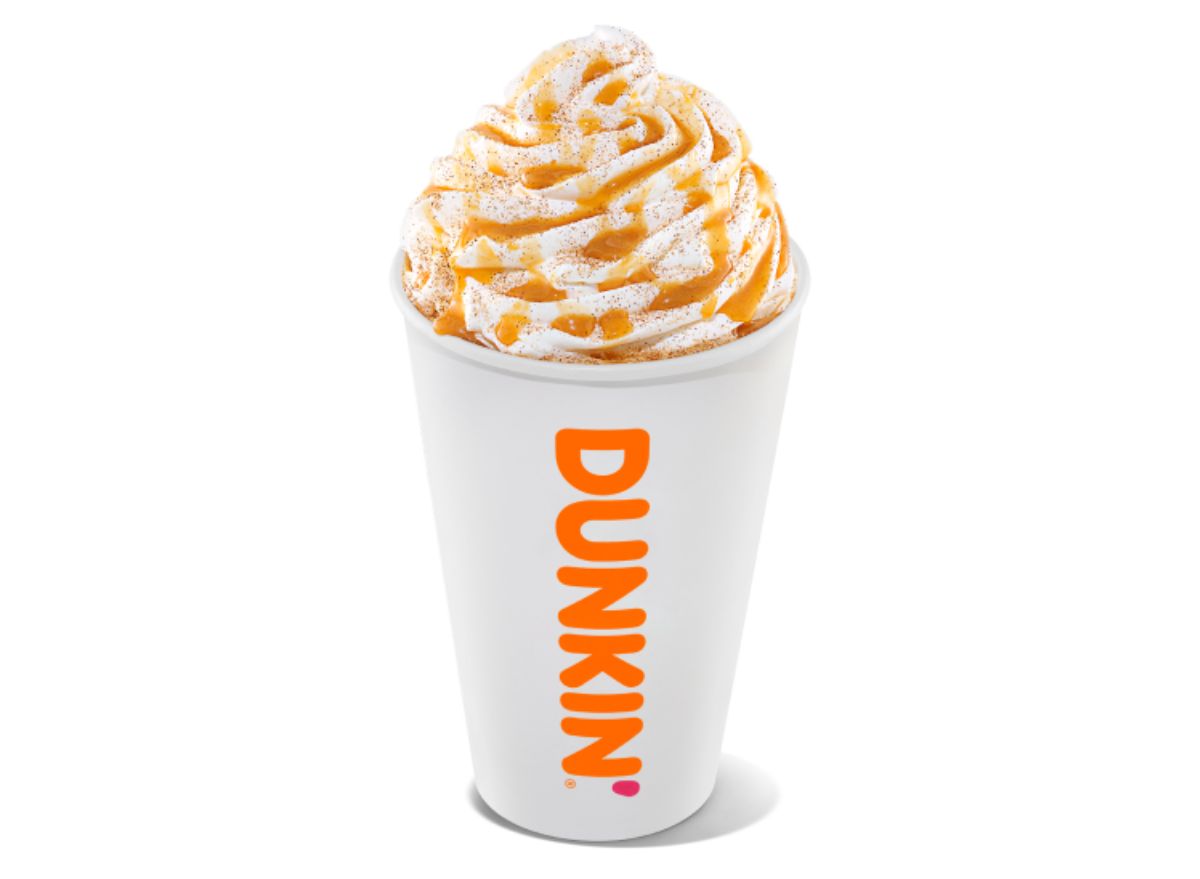 Per medium size
: 410 calories, 14 g fat (8 g saturated fat), 190 mg sodium, 61 g carbs (0 g fiber, 57 g sugar), 11 g protein
Although the Dunkin' Caramel Craze Signature Latte is a better option than their Frozen Caramel Coffee, a medium size still has the same exact amount of sugar as the vanilla pint of ice cream. If you choose their Cafe Mocha option instead, you'll be getting a little bit less with 52 grams of sugar, but both of these latte flavors come with more sugar than is recommended to have in an entire day.
Starbucks Iced Toasted White Chocolate Mocha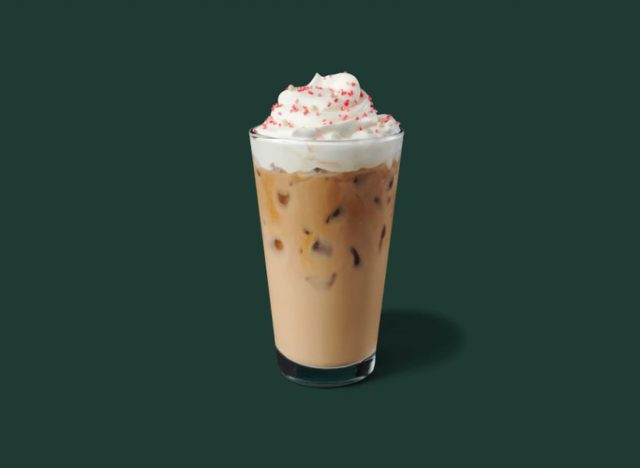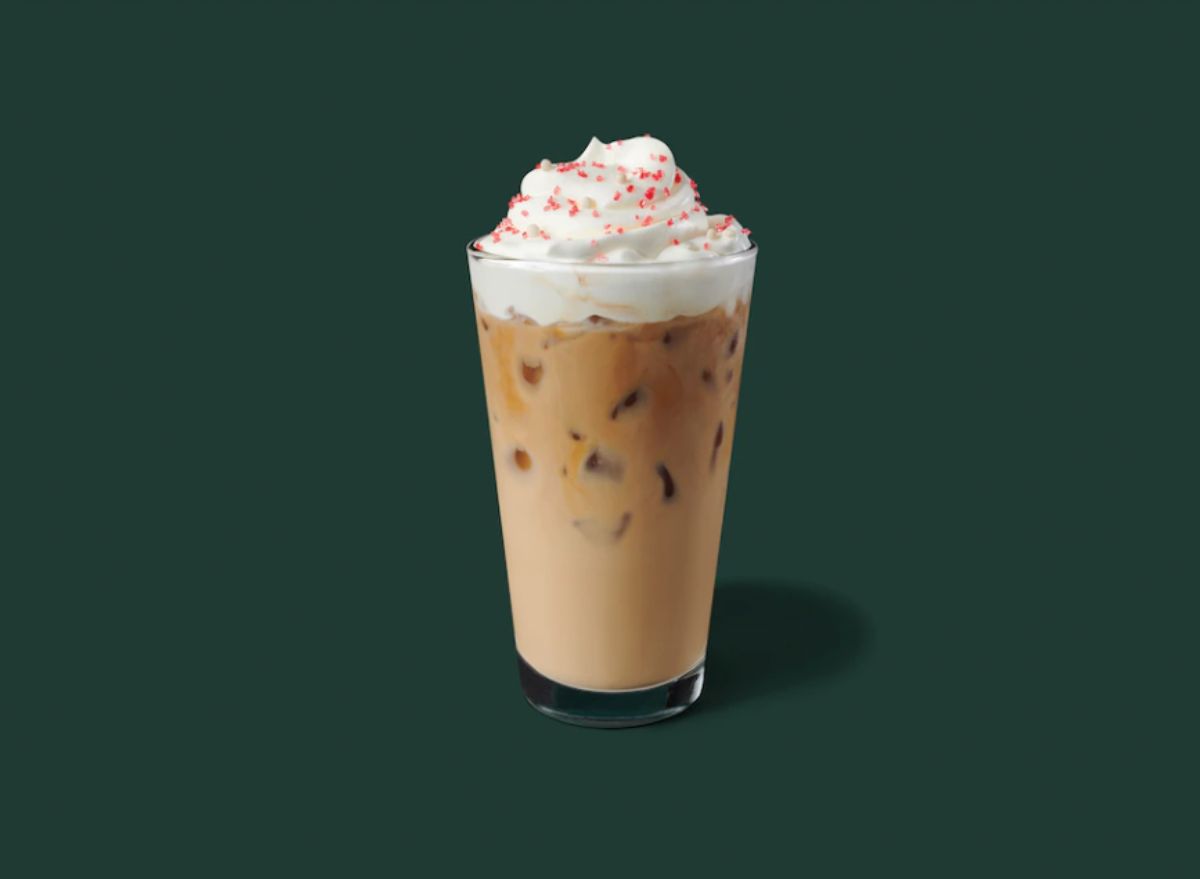 Per venti size
: 530 calories, 20 g fat (12 g saturated fat), 490 mg sodium, 74 g carbs (0 g fiber, 72 g sugar), 15 g protein
The Toasted White Mocha from Starbucks is a spin off of their classic White Mocha, except this one has "caramelized white chocolate." Although this fancy take on the classic adds a delicious flare, you're better off leaving this one behind, or at least saving it as a once-in-a-while treat. Coming in at 72 grams of sugar, this drink just may not be worth the sugar crash that will come later. Plus, this drink also contains 60% of the recommended saturated fat intake for a day, which is a lot for just one cup of morning coffee.
Sources referenced in this article