Should You Eat Fast Food During the Coronavirus? Here's What the Experts Say
Your favorite fast-food chains are still open during the pandemic, but does that mean you should be eating there?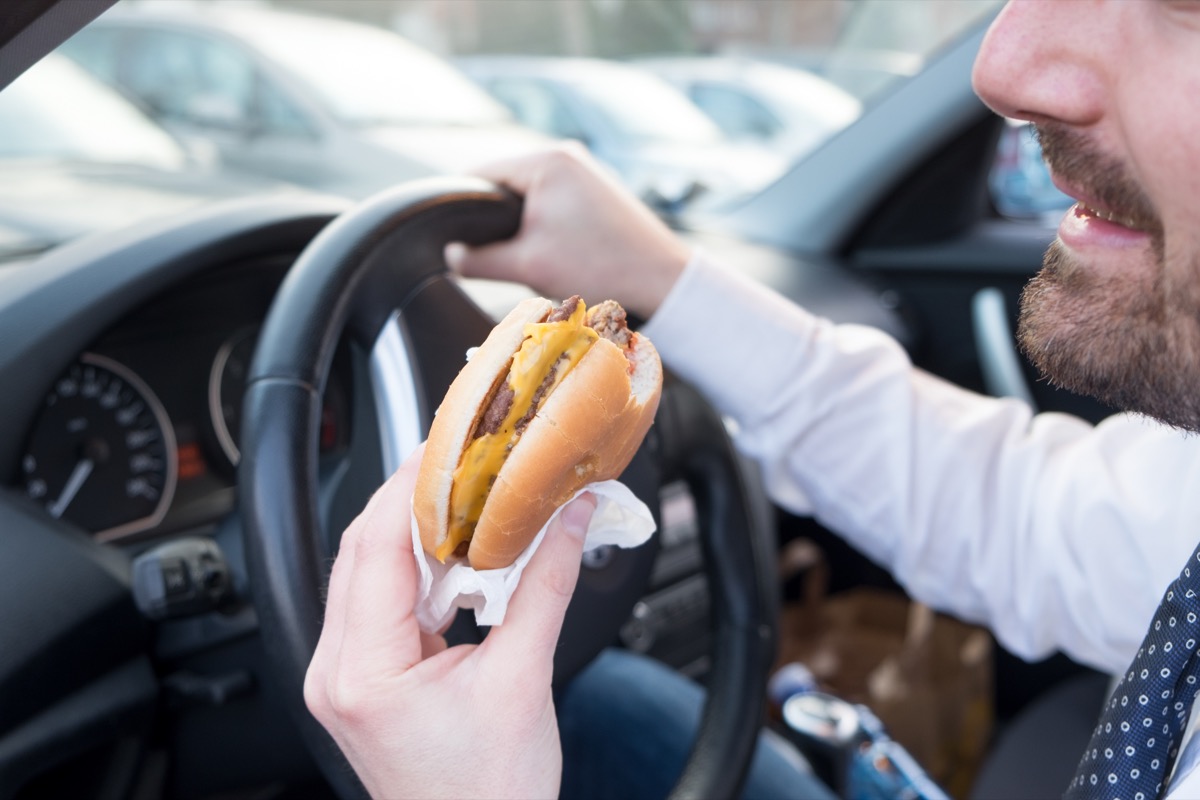 The coronavirus pandemic has turned our world upside down. And when it comes to food and feeding ourselves and our families, it's spurred an increase in home cooking and massive grocery trips as restaurants have had to close their dining room doors. While they've had to cut their dining room capacity, restaurants are still open for delivery and takeout — and business is booming. Fast-food restaurants are also staying open with drive-thru options, as the Department of Homeland Security has deemed food service workers as "essential".
But is it safe to eat food from the drive-thru right now, or should you hold off? We asked food safety experts and doctors for their advice.
Give it to me straight… can I still eat food from the drive-thru right now?
"We have no data or evidence that food or food packaging are risk factors in COVID-19 illnesses," says Benjamin Chapman, PhD, professor and food safety specialist at North Carolina State University. "Based on epidemiology coming out of China, South Korea, and the Diamond Princess, food is not a likely transmission route."6254a4d1642c605c54bf1cab17d50f1e
Should I wipe down my fast food bag?
"The Centers for Disease Control and Prevention report that the coronavirus may remain viable for hours to days on surfaces made from a variety of materials," says Samantha Heller, MS, RD, host of Nutrition and Exercise on SiriusXM's Doctor Radio and Senior clinical nutritionist at NYU Langone Health.
With that in mind, it may not be a bad idea to wipe down anything that another person has touched.
And this includes the transaction of paying for your meal. "COVID-19 can survive on the surface of money," says Lynette Charity, MD, board-certified anesthesiologist, and Keynote Speaker.
With that in mind, the most important thing is to sanitize your hands before eating anything.
"Speaking from experience, I have gotten drive-thru and takeout recently. The most effective step I can take to reduce my risk of transmission is handwashing," says Dr. Chapman. "Wash your hands after handling things people touch, and of course wash your hands before you eat."
According to the CDC, you should wash your hands with soap, lather the backs of your hands, between your fingers, and under your nails, for 20 seconds.
If you're in the car and can't possibly wait, be sure to use hand sanitizer (one that is at least 60 percent alcohol, according to the CDC.) But another reason to wait if you want to be extra cautious is to toss the bag altogether.
"Since coronavirus may survive on surfaces, you may want to avoid eating food directly from the bag. Before eating, or even taking a little nibble of french fries, wash your hands with soap and water or use hand sanitizer," says Cordialis Msora-Kasago, MA, RDN, registered dietitian nutritionist and spokesperson for the Academy of Nutrition and Dietetics. "If possible, take the food out of the bag and use a plate and utensils."
Is there anyone who shouldn't be eating fast food from a drive-thru?
If you're sick yourself, stay away from the drive-thru.
"Given the social distancing requirements at this time, anyone who is sick should really avoid going through the drive-thru. They should stay home to reduce the risk of infecting the food service workers who are interacting with dozens of people every hour," says Msora-Kasago.
Instead, have the food delivered to you, but you should also practice smart steps to protect yourself.
"Pay for the food online, including tip, so there's no need to hand over cash and receive change. COVID-19 can survive on the surface of money," says Dr. Charity. "Do not answer the door when the food arrives, and wait until the deliverer leaves."
The bottom line
Hitting the drive-thru is a relatively safe option, but you should still be cautious.
"It's all about decreasing the amount of interaction we have with others. It's not really about the food or food packaging. The fewer people you're around, the safer you'll be," says Dr. Chapman.
Adds Dr. Charity, "We all need a break from preparing our own meals. Eating your favorite take-out gives you comfort in these challenging times. Do it, but protect yourself."