9 Best Fast-Food Deals That Feed the Whole Family
These easy, drive-thru family bundles might come in handy on busy weeknights.
Fast-food restaurants can offer some of the simplest, cheap eats that most of everyone in a family can agree on—chicken nuggets, cheeseburgers, tacos, pizza—making them a great choice on the days that cooking doesn't feel like an option. However, buying each person their own individual meal can add up a big tab. Luckily for medium-big families, many fast-food chains now offer family bundle options so you can get all the food you need at a reasonable price.
Even though ordering a bucket of chicken from KFC and feasting like Vikings has always been somewhat of an option, these bulk meals are made for large groups and are more well-rounded. You'll find that many chains allow you to choose and customize what your family is in the mood for. Plus, some even offer a variety of their most popular sides and a sweet treat for dessert, in addition to the main dishes of your choosing.
Now that your mouth is watering thinking about mountains of food, read on to find the 9 best fast-food deals that can feed the whole family.
Disclaimer: these meals are made with the intention of being shared between multiple individuals, in no way does Eat This, Not That! recommend consuming these high calories meals as a party of one. 
Panera Family Feast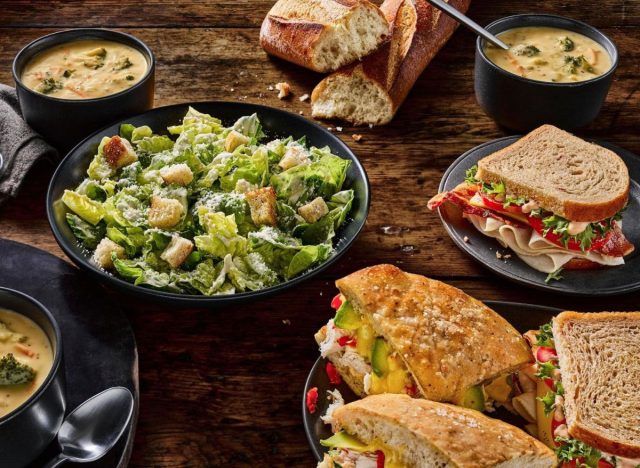 If your family is willing to share a quality take-out meal, Panera offers both a healthy and filling option. The Family Feast feeds about four to six people and includes four half sandwiches, a shareable salad, a large soup, plus, a French baguette and four chocolate chip cookies for $35.
Chick-Fil-A Family Bundle
One of the most popular fast-food chains in the market, Chick-Fil-A, not only offers a meal bundle for the whole family, but it's customizable to every family's liking. Your bundle will be made up of your favorite choice in entreé, four medium sides, four desserts, and an entire gallon of the Freshly-Brewed Iced Tea (either sweetened or unsweetened).
The entreés offered: a 30-count of Chicken Nuggets or any 4-count combination of the Original Chicken Sandwiches and the Spicy Chicken Sandwiches.
The sides offered: Waffle Potato Fries, Mac & Cheese, Waffle Potato Chips, Fruit Cups, or Kale Crunch.
The desserts offered: Chocolate Fudge Brownies or Chocolate Chunk Cookies
McDonalds 40-Chicken Nugget Meal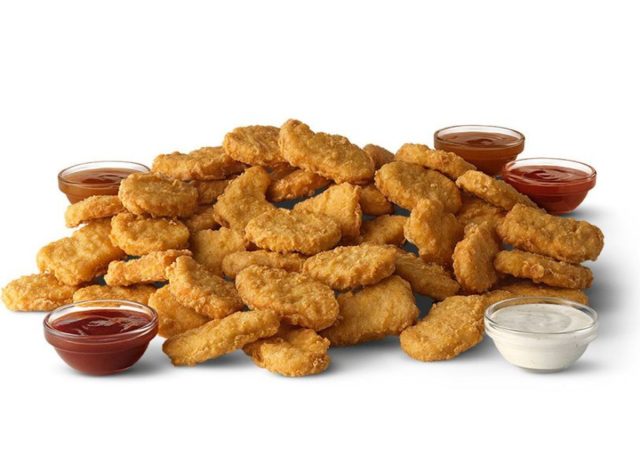 McDonald's chicken nuggets are iconic for many reasons, but this deal allows the whole family to share them all together. The average serving size of McDonald's chicken nuggets, according to the official site, is 10 pieces with 830 calories per serving. Therefore, the 40 to 50-piece McNuggets can serve up to four to five people for only $14.99 (prices may vary at different locations). And don't worry, there will be plenty of dipping sauces thrown in the bag to go around.
Taco Bell Group Meals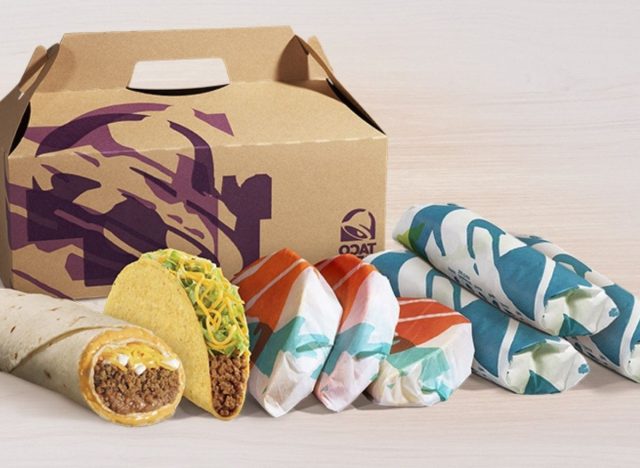 When you feel like having a fiesta from home, there's no more need to dirty up the kitchen while you make it happen. Taco Bell now offers a variety of large Party Pack options that can feed the many family members that need to be fed for $12-$18, depending on what you order.
For families who want it all, try the Taco & Burrito Cravings Pack— it includes four Crunchy Tacos and four Beefy 5-Layer Burritos. For families who strictly go for a good taco night, you have tons of options, with each pack having up to 12 tacos. These packs can include a combination of Supreme Tacos, Soft Tacos, Supreme Soft Tacos, Supreme Crunchy Tacos, and Variety Tacos (Doritos).
Burger King's Family Bundle Classic
Burger King offers a three-course meal deal on its menu, that you'll want to get the family any night you have the chance. This Family Bundle Classic is made up of two Whoppers, two Original Chicken Sandwiches, 16-piece Chicken Nuggets, two medium fries, two medium drinks, and two Hershey Sundae pies all for $30 (for take-out / delivery at select stores).
KFC Bucket Meals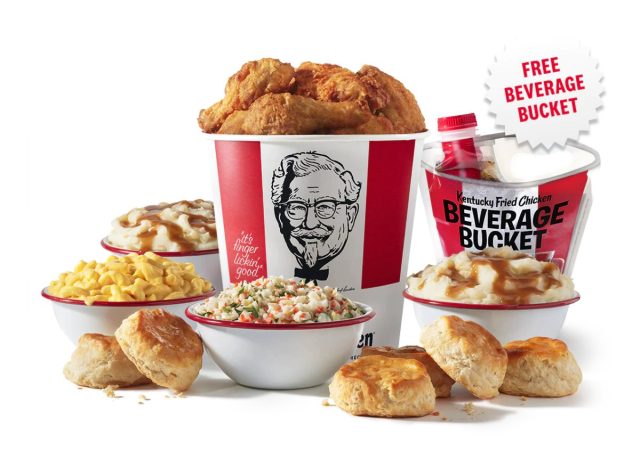 Fried chicken is the widely known staple at KFC, but that's not what makes this family meal really shine. When you order one of the "free beverage bucket" meals, you get an assortment of KFC classics as well as a reusable beverage container designed to look like a fried chicken bucket!
Within these bucket meals, you can choose from 8, 12, or 16-piece of the original recipe chicken (fried or grilled), four large sides, and a load of biscuits for all.
Note: This is available until September 11th at participating locations.
Boston Market Family Combo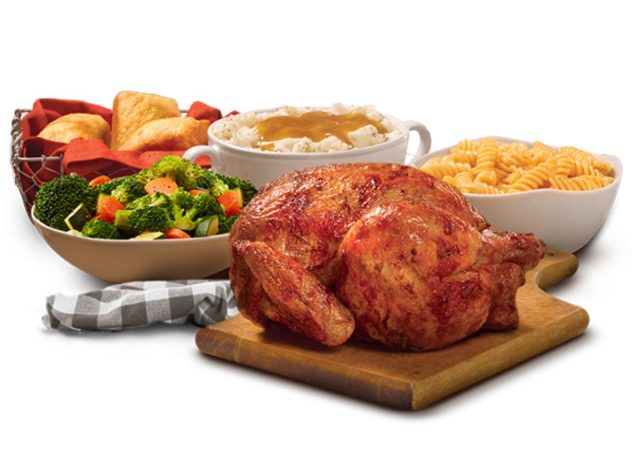 It doesn't have to be Thanksgiving for the family to share a nice, hot turkey dinner. Catering to three to six people, this Family Combo brings home-style cooking to the table with little to no effort at all.
First, you get to choose a main—between home-style meatloaf, roasted turkey, rotisserie chicken, and barbeque ribs—which is served with cornbread and sides—such as mashed potatoes, mac & cheese, sweet corn, sweet potato casserole, creamed spinach, and so many more.
Panda Express Family Meal Deal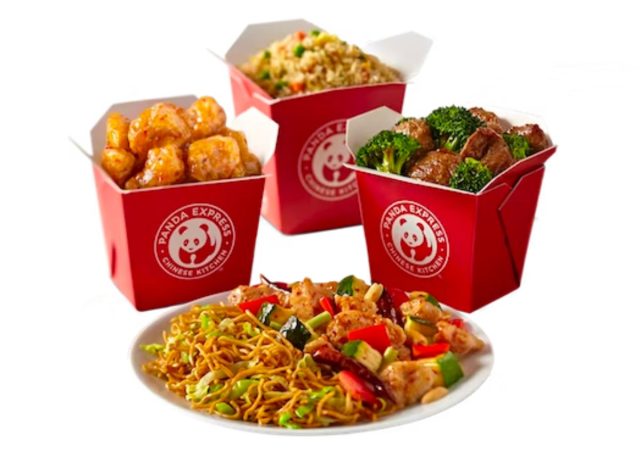 Ordering this huge Family Meal Deal on your way home from work can be super easy and affordable for a tight budget. For just $36 you get three large entrees, two large sides, and a whole lot of fortune cookie fun for a big family. You pick a variation of classic dishes from this popular American-Chinese food chain, so no one's cravings get left unfed.6254a4d1642c605c54bf1cab17d50f1e
Pizza Hut Big Dinner Box
A box full of cheesy pizzas and delectable side dishes equals a box of fun for the whole family.
You get three different choices when picking what comes in your Pizza Hut Big Dinner Box:
Two medium 1-topping pizzas, five breadsticks, and your choice of a pasta dish.
Two medium 1-topping pizzas, five breadsticks, and your choice of either eight boneless or six traditional wings (availability varies).
Three medium 1-topping pizzas.
Jordan Summers-Marcouillier
Jordan Summers-Marcouillier was born and raised in San Jose, California and now works as a writer in New York, NY.
Read more about Jordan