The Healthiest Fast-Food Chicken Nuggets, According to Dietitians
Despite being a food that's traditionally breaded and deep fried, certain fast-food chicken nuggets can be a healthy option.
It can be really tricky to find healthy fast-food options, especially if the fast food you're craving is chicken nuggets. Since chicken nuggets (this includes tenders, fingers, and whatever else they go by) is chicken meat that is breaded or battered and then typically deep-fried, they're not exactly considered nutritious. However, some chicken nuggets are healthier than others, and in light of people's changing eating habits, several fast-food chains have added chicken nugget-esque dishes to their menus that are better for you than the standard fried fare.
According to several dietitians and nutritionists we consulted, there are five chicken nugget options that stand out among their fried and greasy counterparts as being the healthiest of the bunch.
"Most of the fast-food chains carry breaded or fried chicken nuggets. Breading and being fried can add substantial calories, fat, and sodium. If you can somehow find naked, unbreaded nuggets, go for those," says Amanda A. Kostro Miller, RD, LDN, who serves on the advisory board for Fitter Living. "Portion size matters too. Even eating 20 unbreaded nuggets can make you overload on calories! Try to keep your chicken nugget portions small, like around 3-6 pieces. Don't think you'll feel full enough? Then grab a side salad, fruit, or yogurt to round out your meal."
We asked three dietitians for their top picks of the healthiest fast-food chicken nuggets you should order at your next stop at your favorite fast-food restaurant. Read on, and for more on how to eat healthy, don't miss 28 Unhealthiest Fast Foods of 2020.
Chick-fil-A's Grilled Nuggets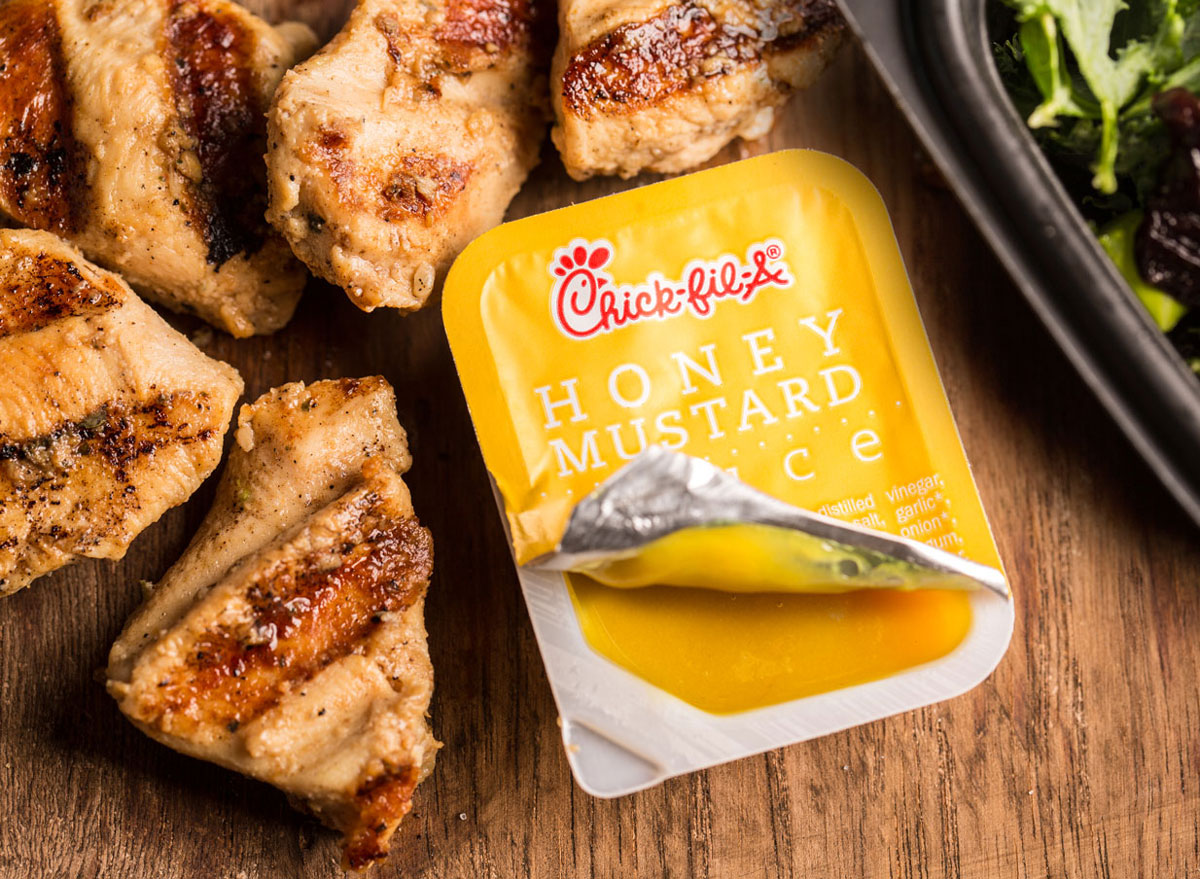 PER 6-PIECE ORDER
: 100 calories, 2 g fat (0 g saturated fat), 330 mg sodium, 1g carbs (0 fiber, 1 g sugar) 19 g protein
In addition to preferring grilled nuggets over their fried counterparts, Kostro Miller is also a fan of chicken nuggets that are made with whole meat as opposed to pulverized bits, which is why she likes this option that's made with whole chicken breast pieces. "Whole meat is preferred since it has less processing than pulverized meats. It depends on the brand, however. Some pulverized chicken nuggets may contain fatty tissue with the muscle/meat of the chicken. Others may be pulverized, but still only put white meat in the nugget," she explains. "These nuggets from Chick-fil-A are grilled rather than fried, which is a healthier cooking method for fewer calories and fat. They're also unbreaded!"
Popeyes Blackened Chicken Tenders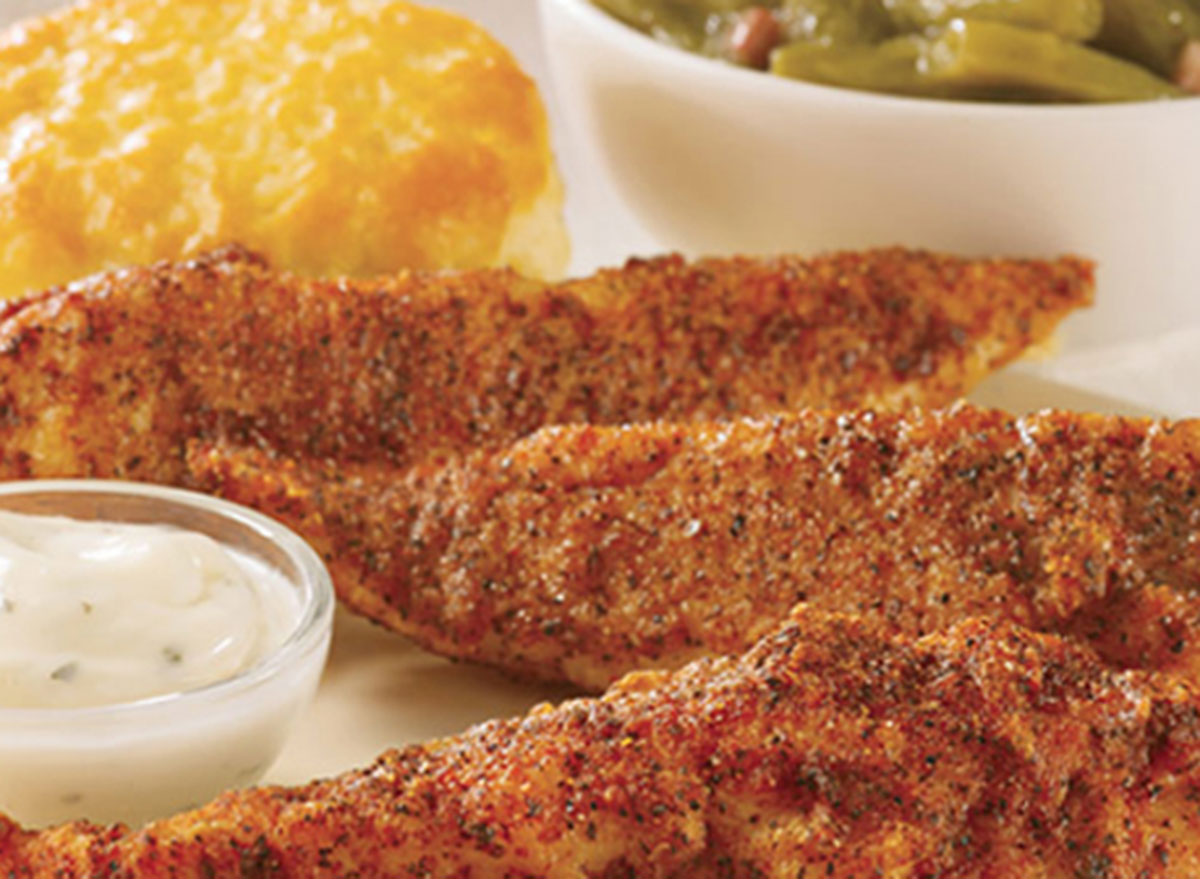 PER 5-PIECE ORDER
: 283 calories, 3 g fat (0 g saturated fat), 917 mg sodium, 3g carbs (0 fiber, 0 g sugar) 43 g protein
Trista Best, RD a registered dietitian at Balance One Supplements, environmental health specialist, and adjunct nutrition professor looks for chicken nuggets or tenders that are made with white meat as opposed to dark meat. "Dark meat is higher in fat making chicken nuggets made from white meat the ideal option," she says. The nuggets from Popeye's are made from white meat and have excellent texture without added fillers to achieve it."
SaVanna Shoemaker, MS, RDN, LD, also likes this flavorful option. "My favorite fast-food chicken nuggets are Popeyes blackened tenders, which are fried in a (fairly salty) blackening seasoning, but free of breading," she notes. If sodium makes you tummy expand, don't miss these 24 Ways to Get Rid of Bloating in Less Than 24 Hours.
Buffalo Wild Wings' Naked Tenders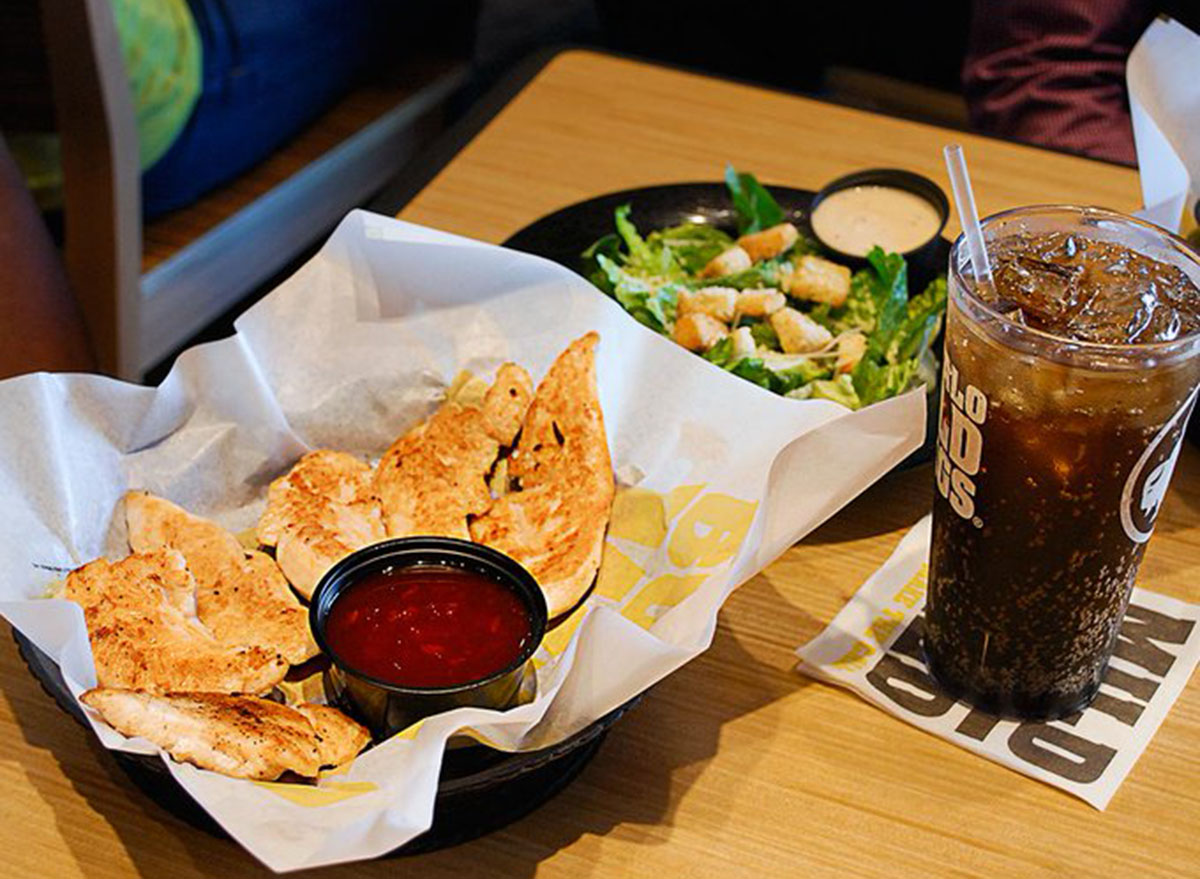 PER 5-PIECE ORDER
: 260 calories, 2 g fat (0.5 g saturated fat), 1910 mg sodium, 0g carbs (0 fiber, 0 g sugar) 61 g protein
"It's generally understood that chicken nuggets are at the bottom of the nutritional totem pole when it comes to their health value. However, there are some characteristics that make some fast-food chicken nuggets better than others," says Best. Like Kostro Miller, she's a proponent of grilled nuggets, "which significantly reduces the saturated fat and carbohydrates they provide."
Aside from the Chick-fil-A option, which Best also approves of, there are these Naked Tenders that are grilled and come with a choice of sauce or dry seasoning. Though a tad salty, they're much healthier than Buffalo Wild Wings' fried options. If you feel like your naked tenders need more flavor, your best bet is to order them with the dry lemon and pepper seasoning, which adds just 10 calories to your order.
A&W Hand-Breaded Chicken Tenders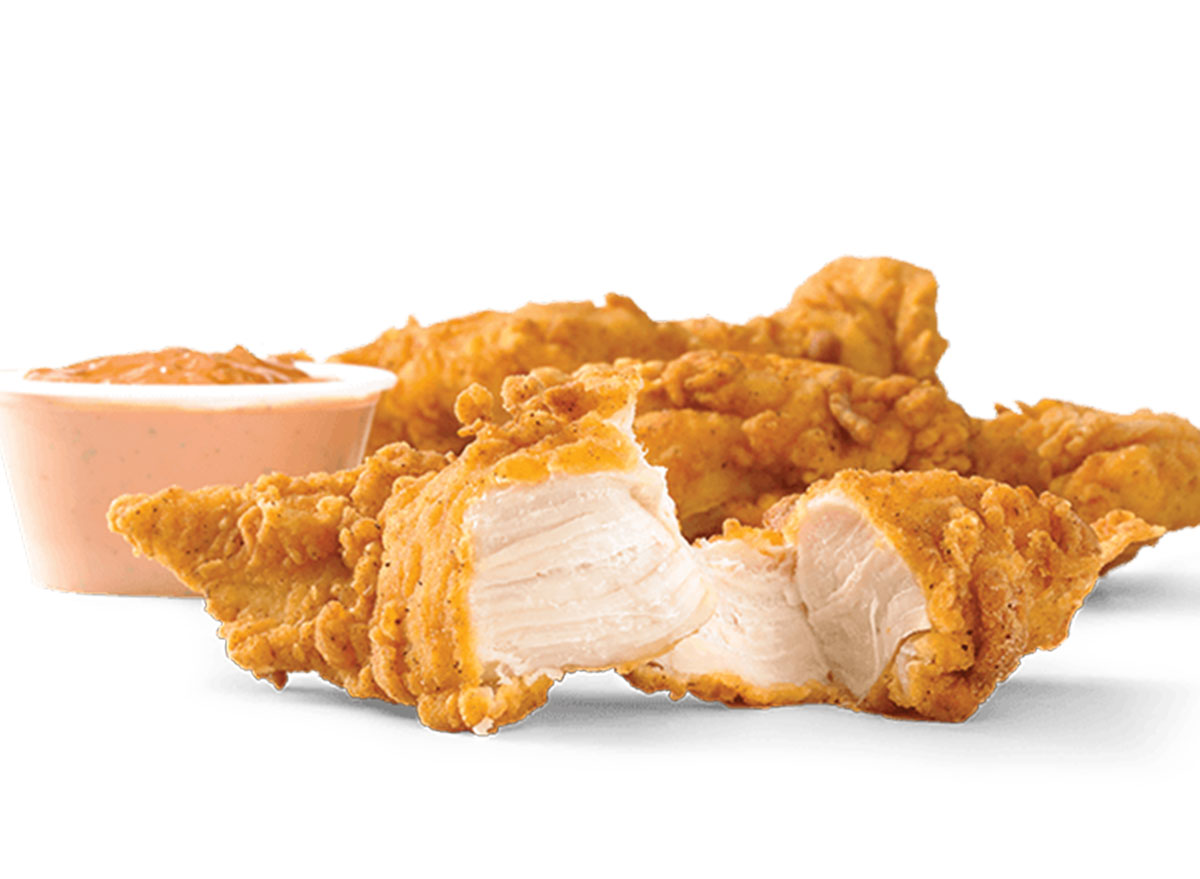 PER 3-PIECE ORDER
: 260 calories, 9 g fat (2.5 g saturated fat), 1,100 mg sodium, 5 g carbs (1 g fiber, 0 g sugar), 40 g protein
Though again a bit heavy on the salt, these chicken tenders pass muster because they are made with whole pieces of white meat chicken. In this case, it's whole chicken tenderloins. While they are breaded, these tenders are made with only a handful of ingredients and don't contain any harmful dyes or other additives. Believe it or not, that's a rarity in the chicken nugget world!6254a4d1642c605c54bf1cab17d50f1e
McDonald's Chicken McNuggets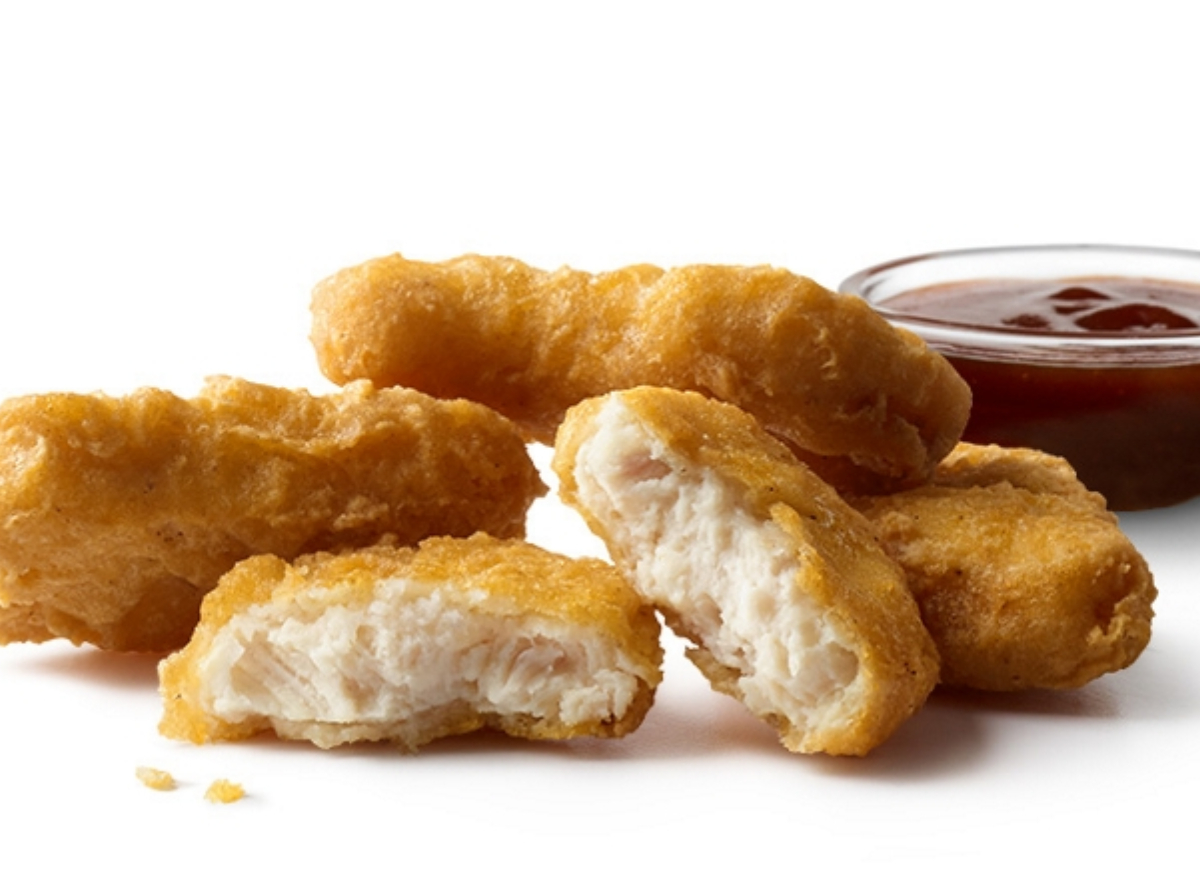 PER 4-PIECE ORDER
: 170 calories, 10 g fat (1.5 g saturated fat), 330 mg sodium, 10g carbs (0 fiber, 0 g sugar) 9 g protein
The Golden Arches proudly states that its McNuggets are made with 100% white meat chicken and contain no artificial colors, flavors or preservatives, which according to the criteria laid out by the dietitians, was enough to nab them the final spot on this list. Just be sure to follow Kostro Miller's advice and order the 4-piece meal, because once you get into the 10, 20 and 40-piece meals, the calories and saturated fat starts to add up. For more on what to order (or avoid) at the golden arches, don't miss The Best & Worst Menu Items at McDonald's, According to RDs.