The Worst Fast-Food Fish Sandwiches
If you're looking for something besides the standard burger or chicken sandwich, here's what you need to know about the fish offerings.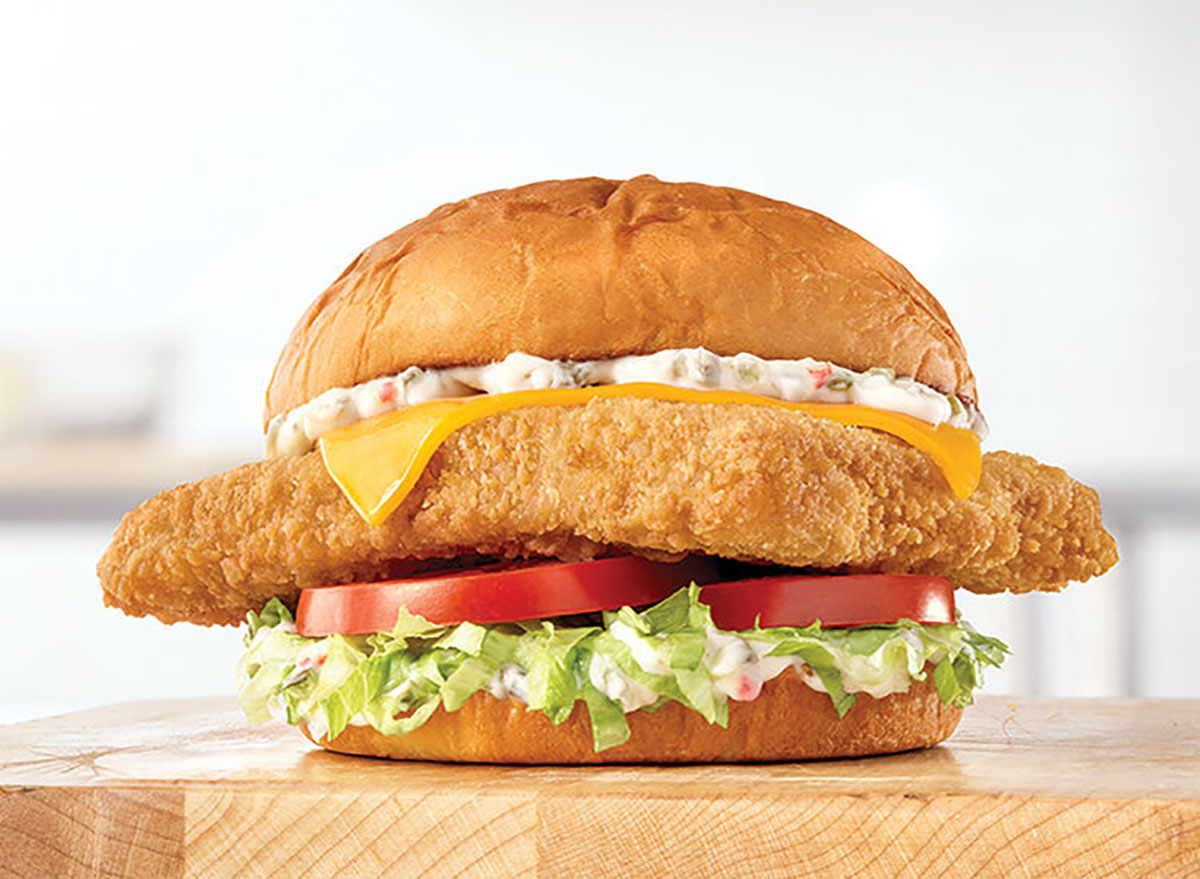 The fast-food fish sandwich is always a hot topic. People tend to feel very strongly about these menu options—either you love them, or don't really have much of an interest in ever trying them. But fast-food fish sandwiches do get customers talking and spike in popularity during the 40-day season of Lent. So we decided to take a closer look at the current options and see which fish sandwich is the worst of the bunch that you're much better off skipping.
That's right, we rounded up the fish sandwich options from some of the most popular fast-food restaurants and ranked them from the not so bad to the absolute worst. You would think choosing a fish-based entrée is healthier for you than a burger, but that's not always the case!
Uncover which fast-food fish sandwich is the one you should skip ordering, and instead, stock up on The 7 Healthiest Foods to Eat Right Now.
White Castle Panko Fish Slider with Cheese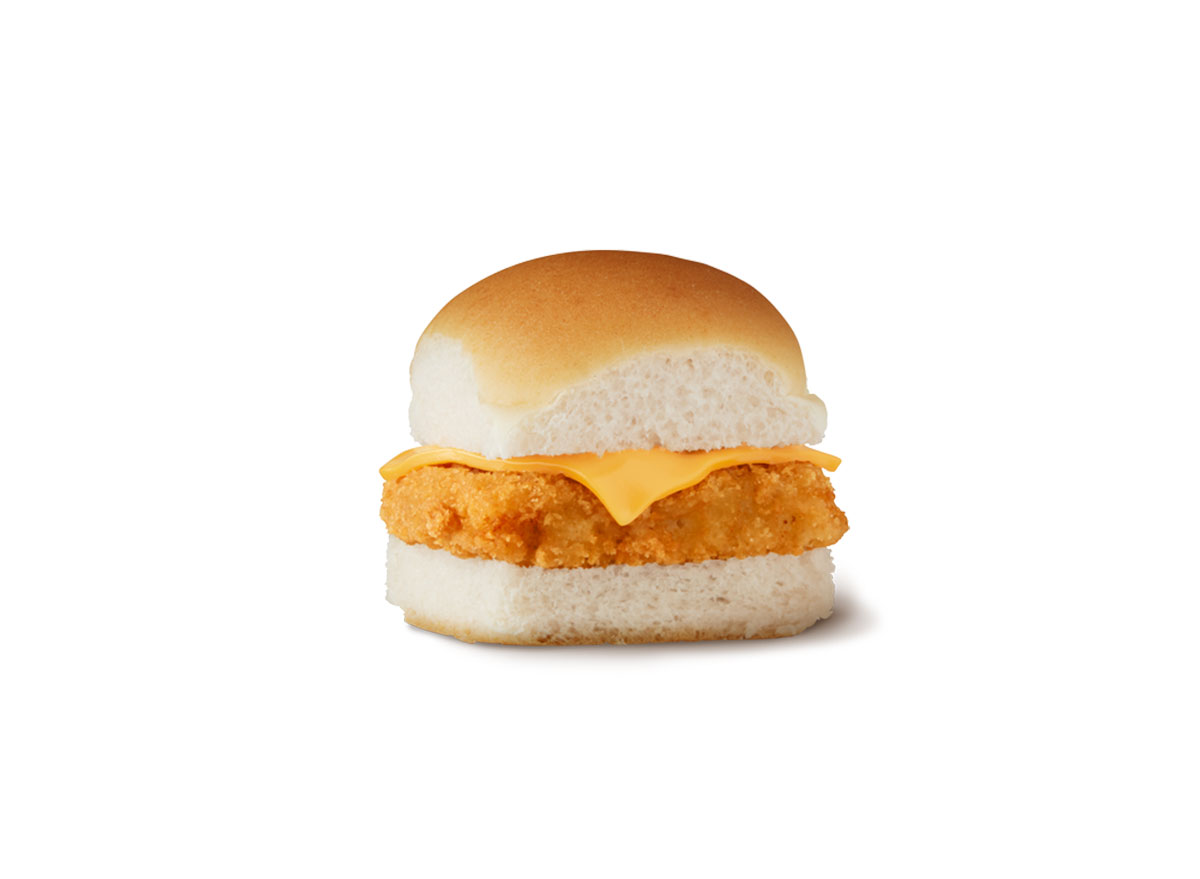 340 calories, 22 g fat (4.5 g saturated fat, 0 g trans fat), 460 mg sodium, 25 g carbs (1 g fiber, 3 g sugar), 11 g protein
What sets apart White Castle's take on the fish sandwich? The size. As you most likely already know, White Castle's burgers and sandwiches are sliders, so they're much smaller than the standard options you'll find at other fast-food restaurants. The Panko Fish Slider with Cheese comes in at 340 calories, making it the least caloric option. Keep in mind that it's still rather high in fat and saturated fat, so just eat one of these at a time!
380 calories, 18 g fat (4 g saturated fat, 0 g trans fat), 580 mg sodium, 39 g carbs (2 g fiber, 5 g sugar), 16 g protein
We can't talk about fast-food fish sandwiches without McDonald's Filet-O-Fish. Overall, this sandwich isn't that bad compared to other options. It has fewer calories than the McDouble burger and doesn't have nearly as much sodium compared to most Mickey D's burgers. Just one of these sandwiches actually has half the amount of the salty stuff that you would get from the Quarter Pounder with Cheese.
Jack in the Box Fish Sandwich
410 calories, 19 g fat (2.5 g saturated fat, 0 g trans fat), 900 mg sodium, 69 g carbs (2 g fiber, 4 g sugar), 34 g protein
At Jack in the Box, the fish sandwich is made with 100% Wild-Caught Alaska Pollock that is covered in crispy panko breadcrumbs and drizzled with a creamy tartar sauce. It's said that customers will "fall for this sandwich hook, line, and sinker. Because it's reel good." While we commend the clever puns, you do want to keep in mind that this sandwich contains 900 milligrams of sodium. That is rather high, as The American Heart Association recommends the average adult should have no more than 2,300 milligrams per day, with the hopes of moving toward an ideal limit of no more than 1,500 milligrams per day. And this is without any side dishes!
Arby's Crispy Fish Sandwich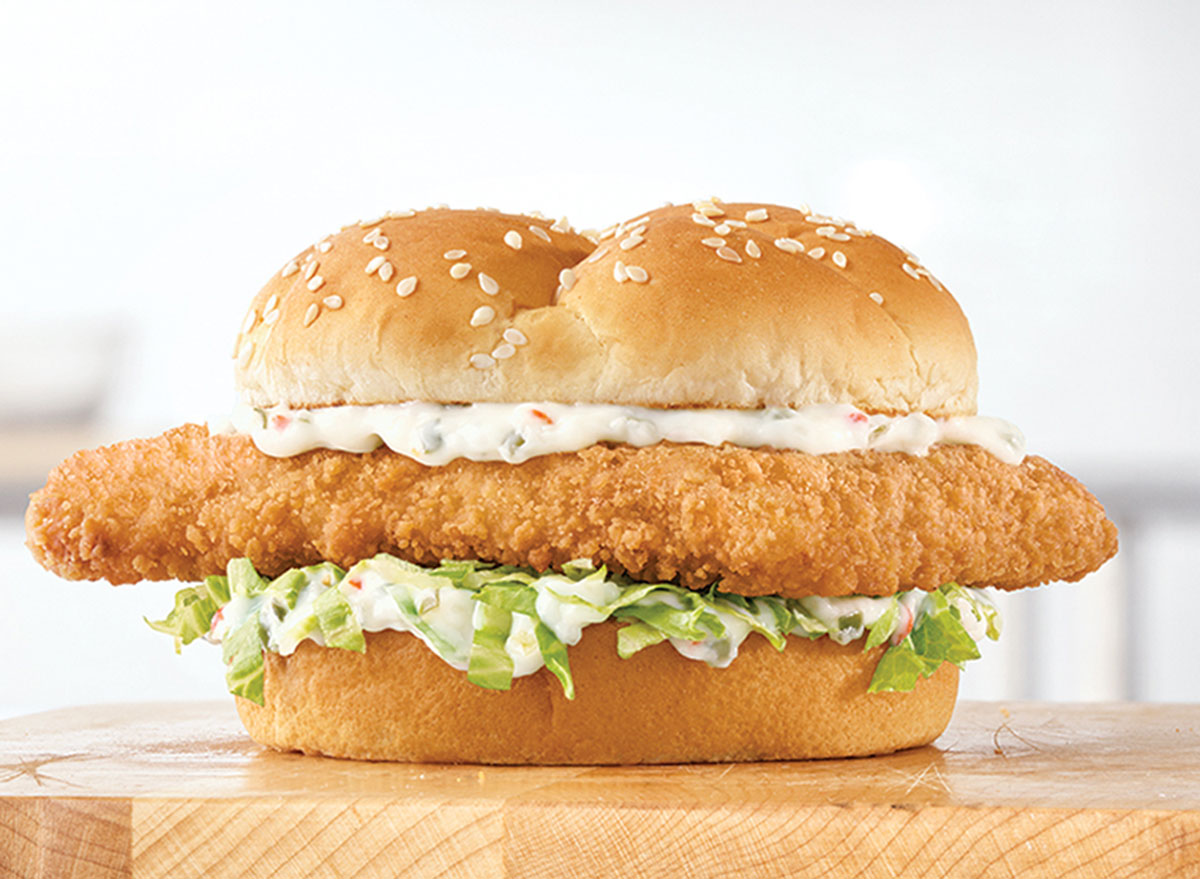 570 calories, 25 g fat (4 g saturated fat, 0 g trans fat), 990 mg sodium, 65 g carbs (3 g fiber, 9 g sugar), 20 g protein
The wild-caught Alaskan Pollock sandwich from Arby's is described as being "crispy-fried to golden-brown perfection." So you already know anything that is breaded and fried up is going to be trouble. This sandwich is proof, as it contains more than 900 milligrams of sodium. Big yikes.6254a4d1642c605c54bf1cab17d50f1e
Looking for more tips? Your ultimate restaurant and supermarket survival guide is here!
Burger King Big Fish Sandwich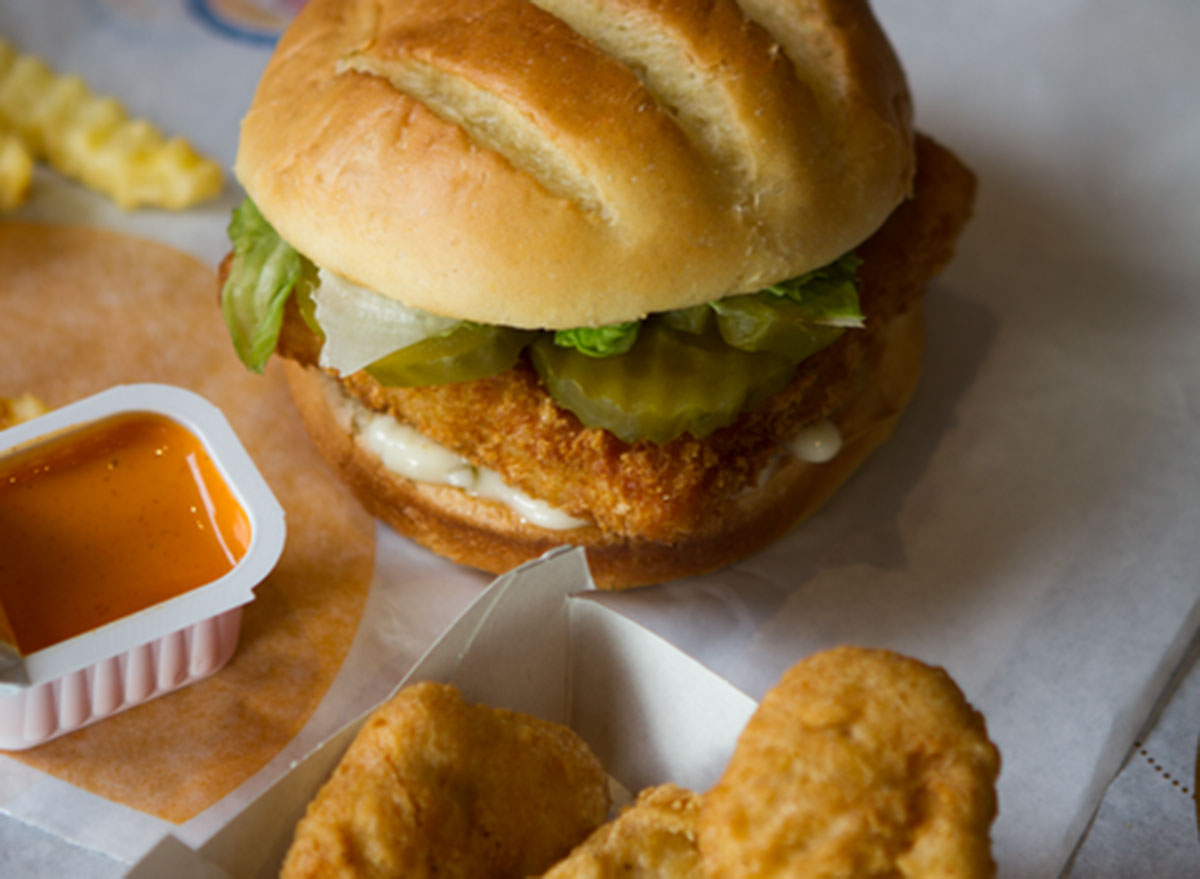 510 calories, 28 g fat (4.5 g saturated fat, 0 g trans fat), 1,180 mg sodium, 51 g carbs (2 g fiber, 7 g sugar), 16 g protein
At Burger King, all of the burgers and chicken sandwiches tend to be drowning in sodium. The same can be said here about the Big Fish Sandwich! If you happen to eat salty foods often, you'll likely notice not only weight gain and more headaches, but you're setting yourself up for serious health issues, as high sodium intake is associated with a higher risk of developing high blood pressure.
Wendy's Wild Caught Alaskan Fish Sandwich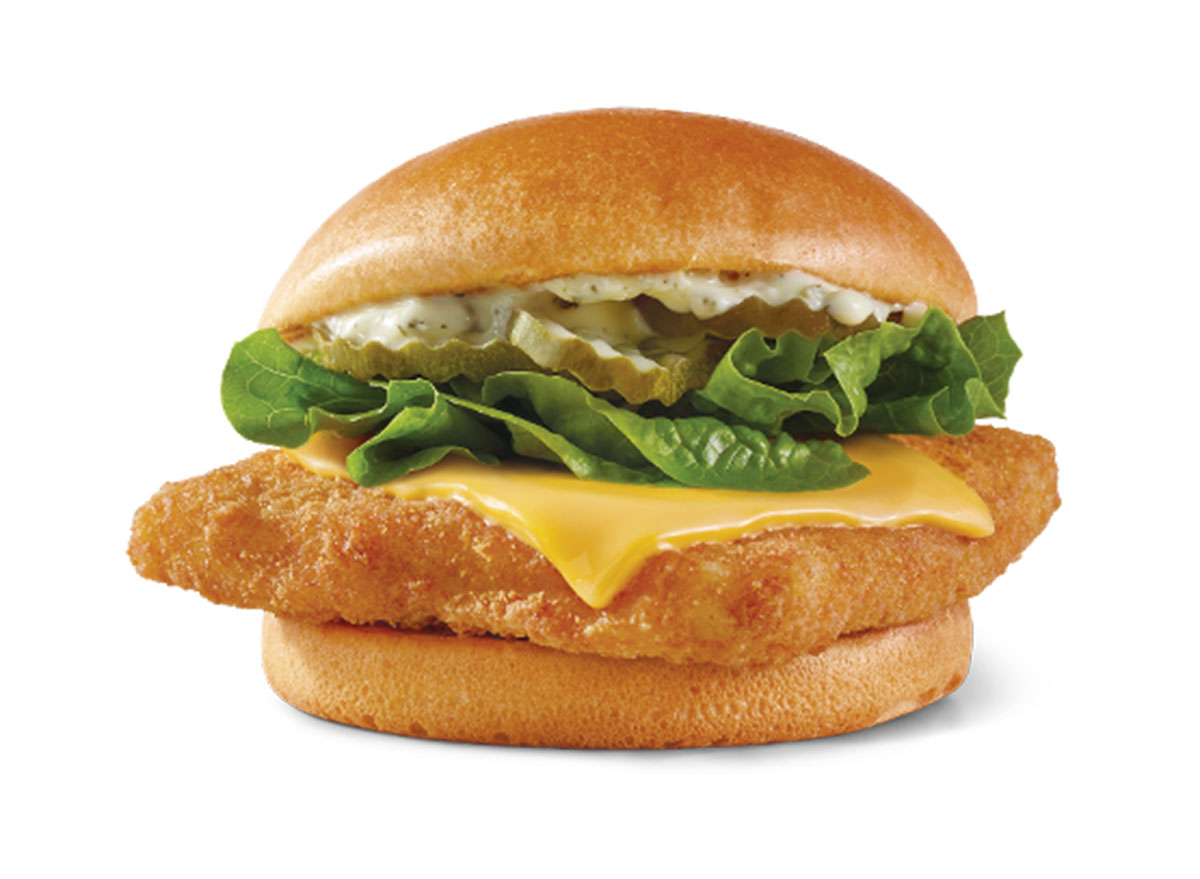 530 calories, 26 g fat (6 g saturated fat, 0 g trans fat), 1,190 mg sodium, 51 g carbs (2 g fiber, 5 g sugar), 22 g protein
As you've likely noticed by now, most of these fast-food fish sandwiches are pretty much the same—fish that is breaded and fried is then topped with tartar sauce, pickles, lettuce, and cheese. Wendy's actually went ahead and revamped their fish offering in 2021. They switched from offering up a cod fillet to Wild Alaska Pollock, which is said to be more buttery and flaky. Still, this sandwich is packing quite a bit of sodium compared to the others.
Popeyes Cajun Flounder Sandwich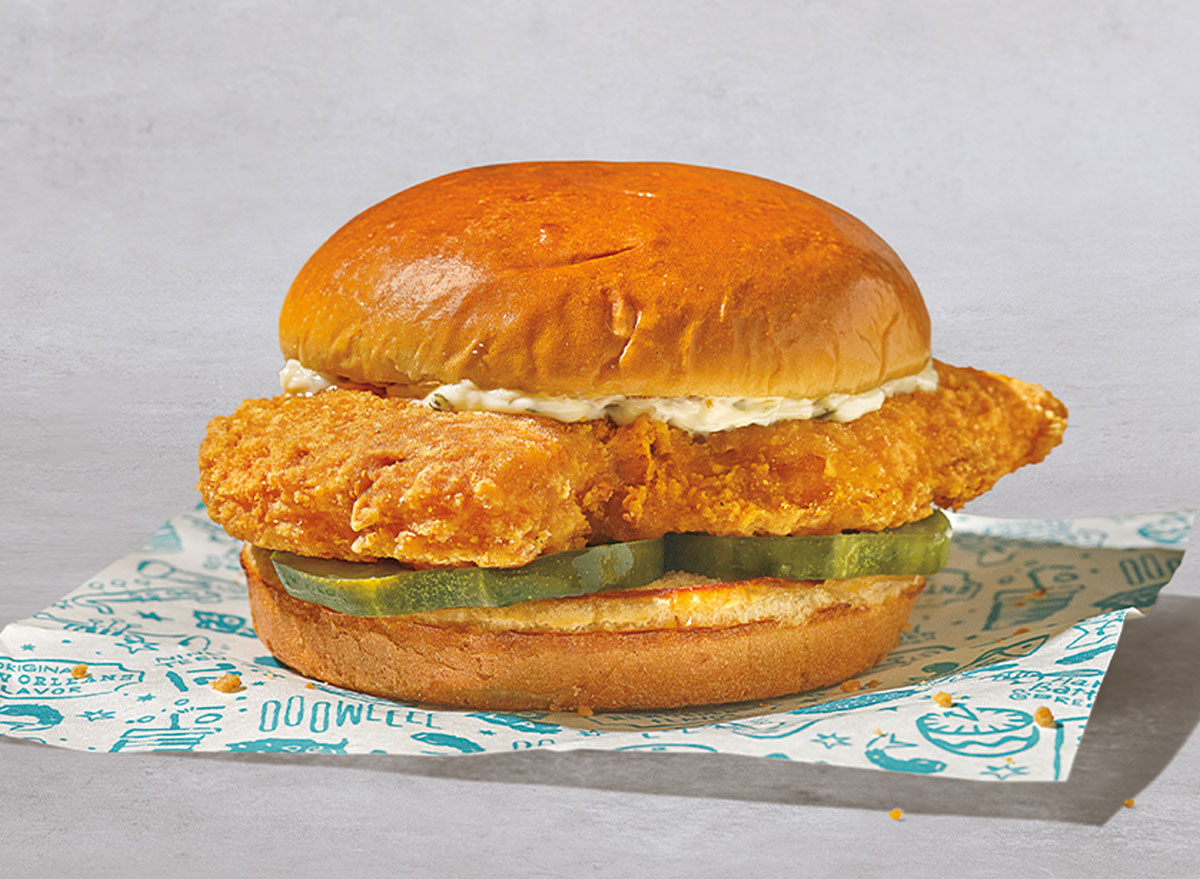 670 calories
Popeyes just entered the fish sandwich game in 2021 and the Cajun Flounder Fish Fillet has earned rave reviews based on its taste. However, the only nutrition information available is the number of calories and it's coming in at 670. This makes it one of the fast-food fish sandwich options with the most amount of calories. Perhaps it's best to split it in half and share with a friend!
Arby's King's Hawaiian Fish Deluxe
690 calories, 34 g fat (10 g saturated fat, 0.5 g trans fat), 1,000 mg sodium, 74 g carbs (2 g fiber, 19 g sugar), 25 g protein
Arby's went the extra mile on the King's Hawaiian Fish Deluxe sandwich, and not in a good way. Here, a fried wild-caught Alaskan Pollock fillet is slathered in tartar sauce and covered with cheese, lettuce, and tomatoes, between two sweet buns. While this deluxe sandwich does sound delicious, it's coming in at nearly 700 calories and is packing as much sodium as you would get from 10 pretzel rods. It's not only high in fat but even has heart-harming trans fats, too. This is the one you're going to want to avoid ordering!  ​​
Jennifer Maldonado
Jennifer Maldonado is a senior editor at Eat This, Not That!, specializing in food and health content.
Read more about Jennifer