21 Best Low-Sodium Fast-Food Orders, According to Dietitians
If you're following a low-sodium diet, you can still hit up the drive-thru—if you know what to order.
There are many reasons you may want to consider reducing your sodium intake, especially if you have high blood pressure. Truth be told, the fast-food counter probably isn't the best place to start, and it certainly doesn't deserve a regular spot in your healthy eating rotation. But that doesn't mean you have to avoid the drive-thru altogether—as long as you know what to order. We reached out to nutrition experts and registered dietitians to compile a list of 21 low-sodium fast-food orders, so you can stick to your heart-healthy diet even when McDonald's and Taco Bell are the only options.
What is considered low sodium?
According to the FDA, "The Dietary Guidelines for Americans, 2020-2025 recommends limiting sodium intake to 2,300 mg per day for people 14 years and older; and even less for those 13 years and younger." However, if you know you have a propensity for high blood pressure or are among the 116 million Americans living with hypertension, you may want to cut back on your sodium even more, especially if your healthcare provider has recommended it.
"The FDA considers a food product 'low-sodium' if it contains 140 milligrams of sodium or less per serving; however, it isn't realistic for fast-food entrées to go that low," advises Ysabel Montemayor, MS, RD.
"With that being said, [if you're looking for low-sodium fast-food], I'd choose items that are less than 20% of the FDA's 2,300-milligrams daily value (DV) recommendation based on a 2,000 calorie diet."
That comes out to 460 milligrams of sodium per serving.
Why should you pay attention to your sodium intake?
It's particularly important that those with high blood pressure, hypernatremia, hypertension, and/or heart failure pay attention to their sodium intake. People with kidney disease should also be mindful of sodium, as over-consuming the nutrient can put additional strain on your kidneys. Above all, stick to your doctor's guidelines.
Even if you aren't currently experiencing any of these health issues, it can also be beneficial to reduce your sodium intake.
Most Americans significantly overshoot the FDA's sodium guidelines. In fact, the average American consumes more than 3,400 milligrams of sodium every day, according to the American Heart Association (AHA).
The AHA notes that "cutting back just 1,000 milligrams of sodium a day can significantly improve blood pressure and heart health." (In fact, the AHA recommends an ideal limit of no more than 1,500 milligrams of sodium a day.) And there is more than enough opportunity to make that thousand-calorie cut when you pull up to the drive-thru, where orders of burgers and fries easily climb upwards of 3,000 milligrams of sodium.
What are the best low-sodium fast food orders?
Of course, we all crave fast food from time to time. Barring serious medical conditions, if you're traveling, in a hangry SOS-mode, or just craving a break from the slow-cooker, here are the 21 best low-sodium fast food finds that dietitians recommend.
Panda Express Sweet & Sour Chicken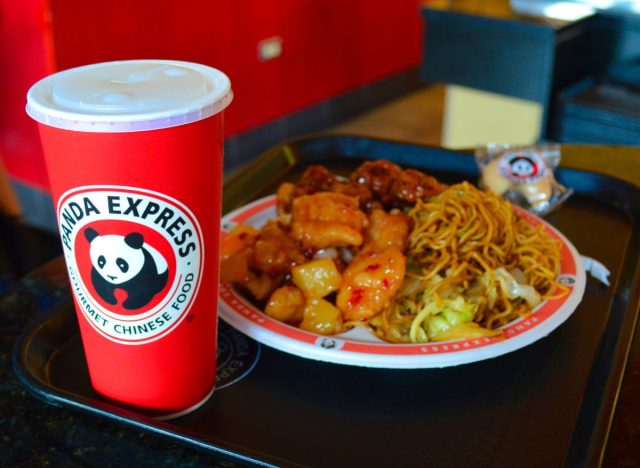 Sodium: 260 mg
You might assume that sodium-conscious takeout Chinese food does not exist, considering the amount of salt and other sodium-infused ingredients like MSG that can be found in many dishes. But actually, Panda Express offers some tasty dishes that are relatively low-sodium.
"Surprisingly, the Panda Express Sweet & Sour Chicken is a relatively low sodium option at 260 milligrams of sodium per serving," Sheri Berger, RDN, CDCES, tells Eat This, Not That! "It contains only 300 calories per serving, making it a weight-loss friendly option, too."
"However, since it does contain a higher amount of sugar, 24 grams per serving," she adds. "It is not something I would recommend choosing regularly, [but] consider it a treat that won't raise your blood pressure!"
McDonald's 4-Piece Chicken McNuggets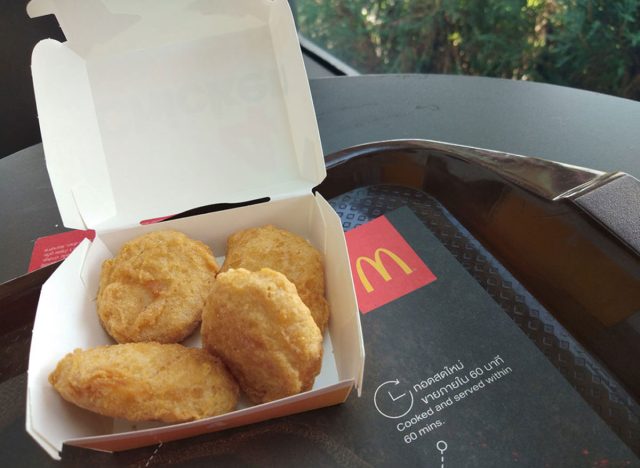 Sodium: 330 mg
"A four-piece chicken McNugget [order] from Mcdonald's will have 330mg of sodium," says Amanda Sauceda, MS, RD, a gut health nutritionist based in Long Beach, CA. Though this choice may not be as filling as a full meal, Sauceda says it can make for a hearty, protein-rich bite to tide you over till your next meal. "I would choose this if I needed a snack because the nuggets will give you some protein which will help you feel full," she says.
Starbucks' Strawberry Overnight Grains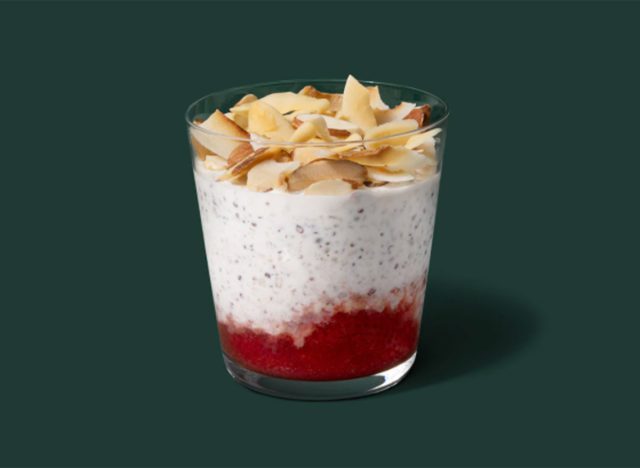 Sodium: 15 mg
"Starbucks' Strawberry Overnight Grains is an excellent grab-and-go breakfast option that contains just 15 milligrams of sodium," says Catherine Karnatz, RD, a registered dietitian based in Hampton, VA. "Packed with steel-cut oats, quinoa, almonds, and chia seeds, this menu item provides 4 grams of fiber, 5 grams of protein, and an ample amount of energy to get your day started on the right track.
Taco Bell's Crunchy Taco With Beef, "Fresco Style"
Sodium: 270 mg
One Crunchy Taco with Beef ordered in the "Fresco Style"—which leaves off the cheddar cheese (30 calories/40 milligrams sodium) and replaces it with zero-calorie/zero-sodium tomatoes—has 140 calories, 6 grams of protein, and 3 grams of fiber. "This taco is lower in sodium compared to other tacos, and can be a satiating snack due to its decent amount of protein and fiber," says Montemayor. "If looking for a more filling meal, eating two of these beef tacos will provide less sodium (540 milligrams) than one of the Taco Bell Beef Burrito Supreme (1,110 milligrams)—something to consider if sodium intake needs to be limited."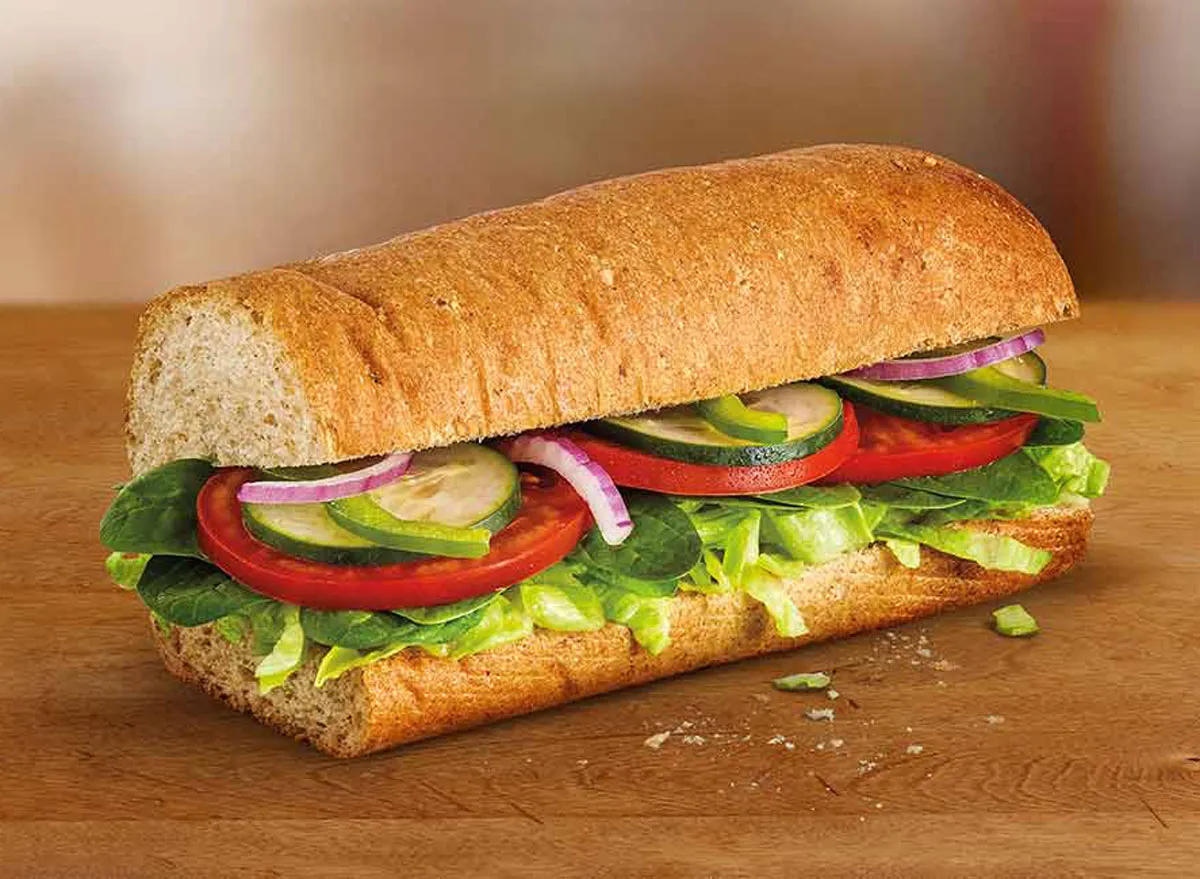 Sodium: 320 mg
Subway certainly isn't a wealth of low-sodium choices, but you'd be hard-pressed to find a better option than this Veggie Delite sandwich. If you order it on Subway's 9-Grain Wheat bread, "this sandwich is one of the lowest sodium items on the Subway menu, making it a great option for those on a sodium restriction," says Montemayor.
If you are looking to add a bit more protein to the sandwich without overloading on the high-sodium cold cuts, Montemayor suggests adding Swiss cheese. This addition will bring up the protein to 13 grams while keeping sodium fairly low.
"A great benefit of the sandwich is that it provides two servings of vegetables, is high in vitamins A and C, and is a good source of iron," she adds. Kimberly Gomer, MS, RD, LDN, director of nutrition at Pritikin Longevity Center, a world-renowned lifestyle health resort program, recommends you pair your sub with "a nice big apple or another piece of fruit you've brought from home, and you're not only eating well, but you're also feeling full."
Wendy's Plain Baked Potato
Sodium: 40 mg
"My favorite thing to order when I'm on the run and have no better options is a plain baked potato from Wendy's, with only 40 milligrams of sodium. You can add sour cream and chives for an extra 15 milligrams of sodium," shares Karen Z. Berg, MS, RD, CDN. "I like it because it's a whole food and you know what you're getting. It's only 270 calories and also has 1,560 milligrams of potassium for an added bonus."
Smoothie King's Vegan Pineapple Spinach Smoothie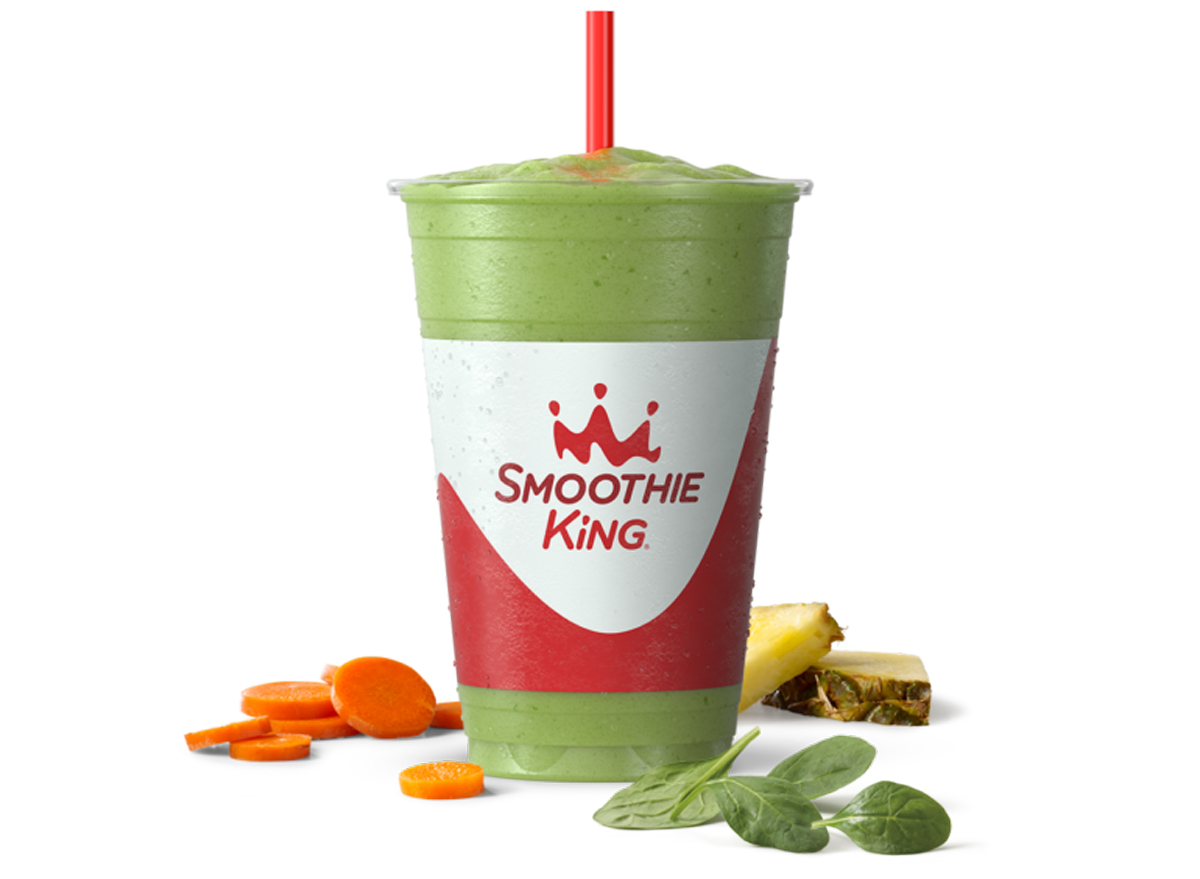 Sodium: 200 mg
With 200 milligrams of sodium, consider this 320-calorie shake a light meal or a solid post-workout protein shake treat. "The Vegan Pineapple Spinach blend has organic spinach and carrots to help you get much-needed veggies. Plus, it's a good source of protein and supplies more than 30% of your daily fiber requirements," says nutrition and weight loss expert Samantha Cassetty, MS, RD. "For those who need a little more, you could always customize your blend with more protein (and more veggies!)." Bonus: Many of Smoothie King's blends have no added sugar or artificial colors, flavors, or preservatives.
Chick-fil-A's 8-Count Grilled Chicken Nuggets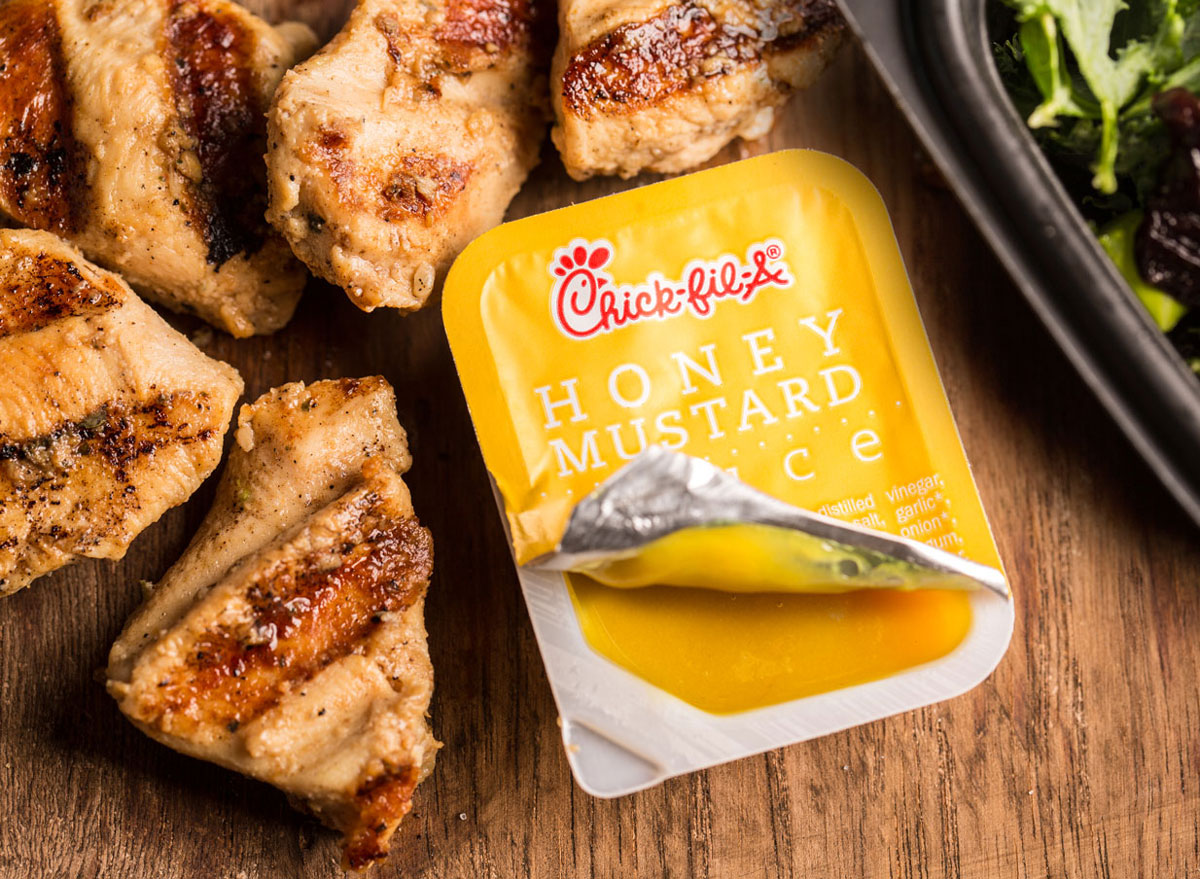 Sodium: 440 mg (515 mg if paired with half a packet of honey mustard sauce)
This menu item packs in a whopping 25 grams of protein for only 140 calories and 19% of your sodium DV. Pair it with their Fruit Cup (0 mg sodium), and if you'd like, use half a packet of Honey Mustard Sauce (75 mg sodium) for dipping for a total of 515 milligrams sodium.
"Chick-fil-A's grilled chicken nuggets are a good source of lean protein while being significantly lower in sodium (540 milligrams sodium less) than an 8-count order of the original Chick-fil-A nuggets (980 milligrams sodium)," says Montemayor. "I'd still feel full and satisfied while avoiding excess sodium, especially if I use the dipping sauce in moderation. Adding a fruit cup to the order provides a variety of nutrients and fiber with no added sodium."
Starbucks' PB&J Protein Box
Sodium: 630 mg
"I like this grab-and-go lunch box because it is a well-balanced variety of healthy foods with different flavors and textures to keep your taste buds interested," comments Maggie Moon, MS, RD, Los Angeles-based dietitian and author of The MIND Diet. "You get rich protein-packed peanut butter, soft whole grain bread, tart calcium-rich yogurt dip, and cheese, plus crisp fruits and veggies. The PB&J Protein box has what it takes to keep you satisfied for hours, including 20 grams of filling protein."
Chick-fil-A's Greek Yogurt Parfait With Granola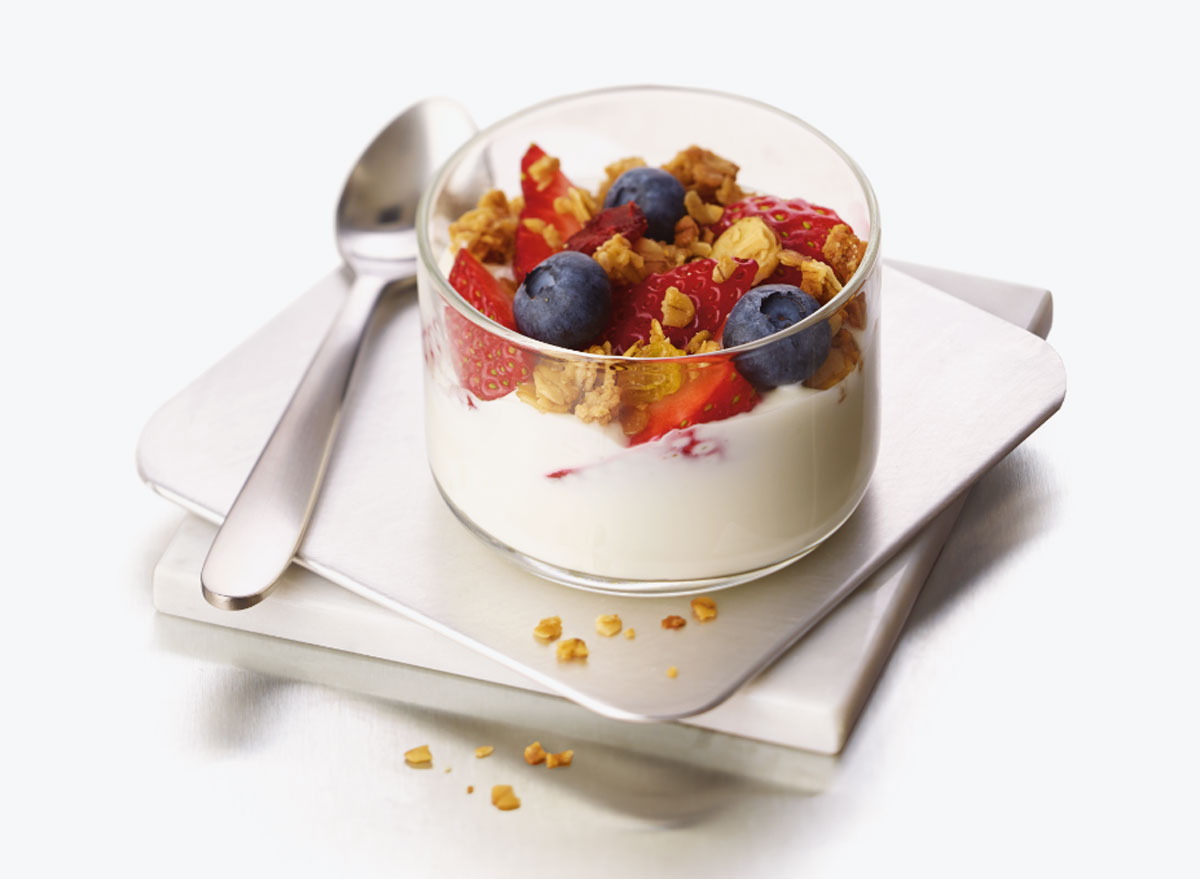 Sodium: 80 mg
Chick-fil-A's Greek Yogurt Parfait With Granola is a solid bet if you're looking to limit your sodium intake. "This item is a little higher in sugars than a savory dish, but that is mostly due to the fruit and the dairy in this item," notes Yule. "The parfait offers 13 grams of protein, 15% DV calcium, and riboflavin from the dairy, and phytochemicals from the fruit. It is one of the few items at this restaurant that is low-sodium." Plus, this item fits the FDA's standardized definition for a low-sodium item, which is less than 140 milligrams of sodium per serving.
Panera's ½ Napa Almond Chicken Salad Sandwich + ½ Seasonal Greens Salad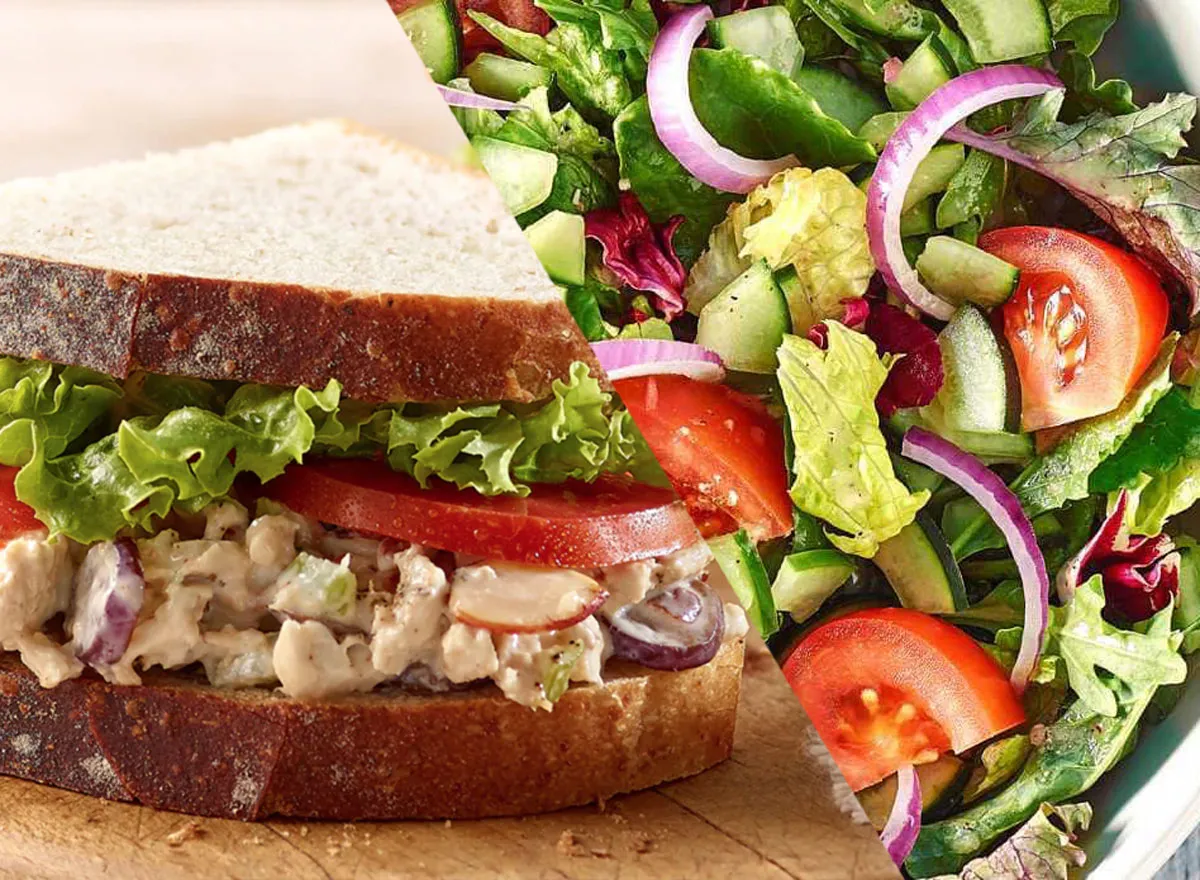 Sandwich sodium: 490 mg. Salad sodium: 160 mg
"I like that you can order half items in combinations at Panera Bread and usually opt for half of a Napa Almond Chicken Salad Sandwich and half of a seasonal greens salad with reduced-fat balsamic vinaigrette," says Lindsey Toth, MS, RD, of Swanson Health. This combo comes out to around 650 milligrams of sodium. "Plus, [the] almonds are rich in skin-loving vitamin E," adds Toth. "This fast-food salad provides healthy carotenoids like lutein and zeaxanthin, which help protect eyes from blue light exposure due to our devices and computer screens."
Au Bon Pain's Greek Vanilla Yogurt & Blueberry Parfait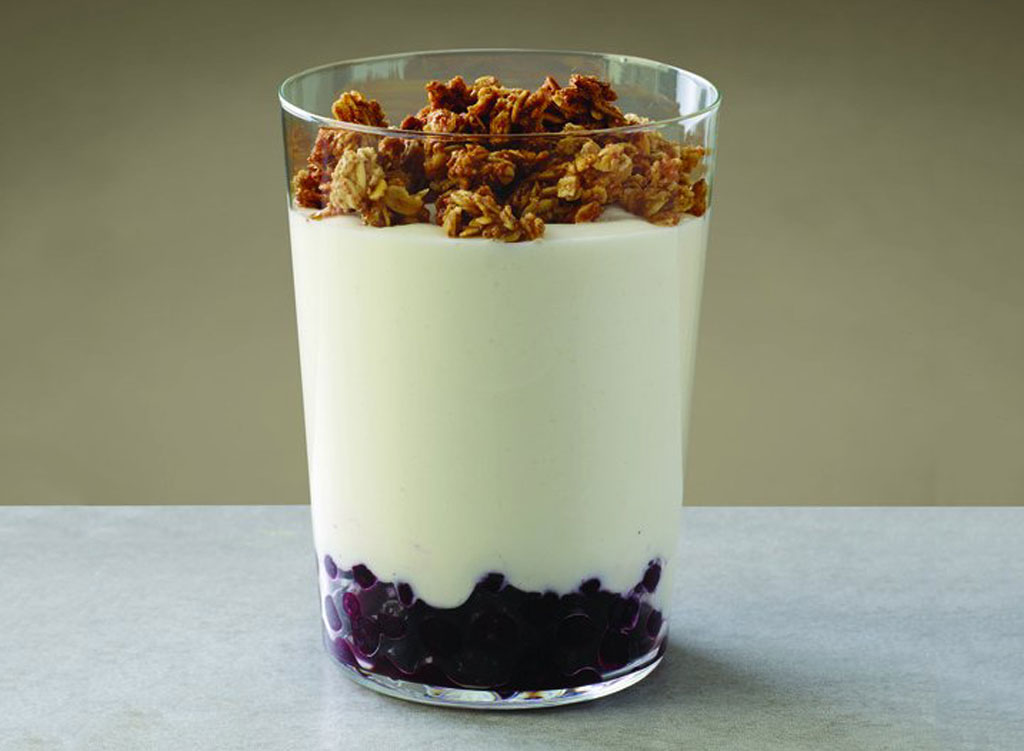 Sodium: 115 mg
Bring on the Greek yogurt. "At only 115 milligrams of sodium for the entire meal, [Au Bon Pain's Greek Vanilla Yogurt and Blueberry Parfait] sweet and creamy and it hits the spot for breakfast or lunch with 24 grams of satisfying protein and 5 grams of fiber," say The Nutrition Twins (aka, Lyssie Lakatos, RDN, CDN, CFT & Tammy Lakatos, RDN, CDN, CFT), founders of the 21-Day Body Reboot. "And with only 340 calories and 6 grams of fat, you can feel good about yourself for finding something healthy at a quick-serve restaurant."
McDonald's Fruit & Maple Oatmeal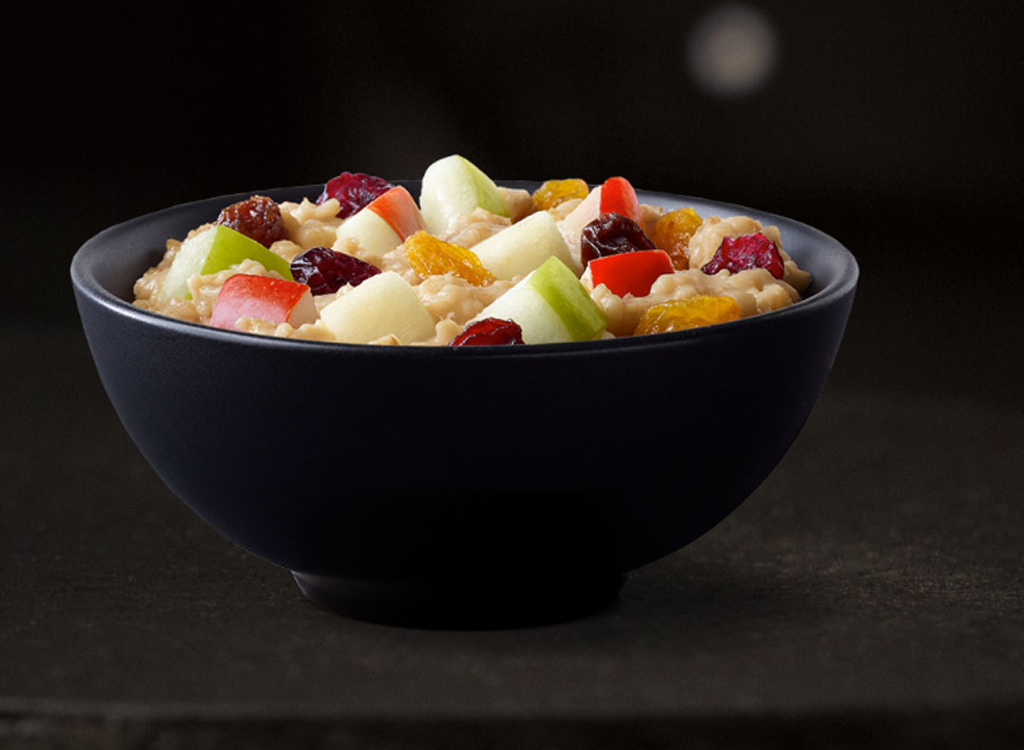 6254a4d1642c605c54bf1cab17d50f1e
Sodium: 150 mg
"At McDonald's, it's very difficult to eat a low-sodium fast-food order—even when you think you're making a healthier choice like a salad with chicken. Now that they offer all-day breakfast, I'll order breakfast items no matter what time of day it is," says Christy Brissette, MS, RD, president of 80 Twenty Nutrition. "I'll get the Fruit and Maple Oatmeal (without the brown sugar) for 140 milligrams of sodium. To get more protein, "I'll also get a side order of two scrambled eggs which contain 120 milligrams of sodium," she adds, a move which brings the total meal to 260 milligrams of sodium.
In-N-Out Burger's 'Protein Style' Hamburger
Sodium: 370 mg
This selection uses lettuce instead of the bun and comes in at 370 milligrams of sodium and 240 calories. "Ordering your burger 'protein-style' can significantly reduce its sodium content, while retaining most of the flavors of a standard one," shares Montemayor. "A hamburger with the bun contains 650 milligrams sodium while without the bun has 370 milligrams sodium—which saves you 280 milligrams if you order protein-style." Going sans-bun will also save you 150 calories and 18 grams of carbs. And—yes—this suggestion applies to the hamburger only. Adding a single slice of cheese raises your sodium count to 720 milligrams.
Panera's Steel-Cut Oatmeal With Almonds, Quinoa & Honey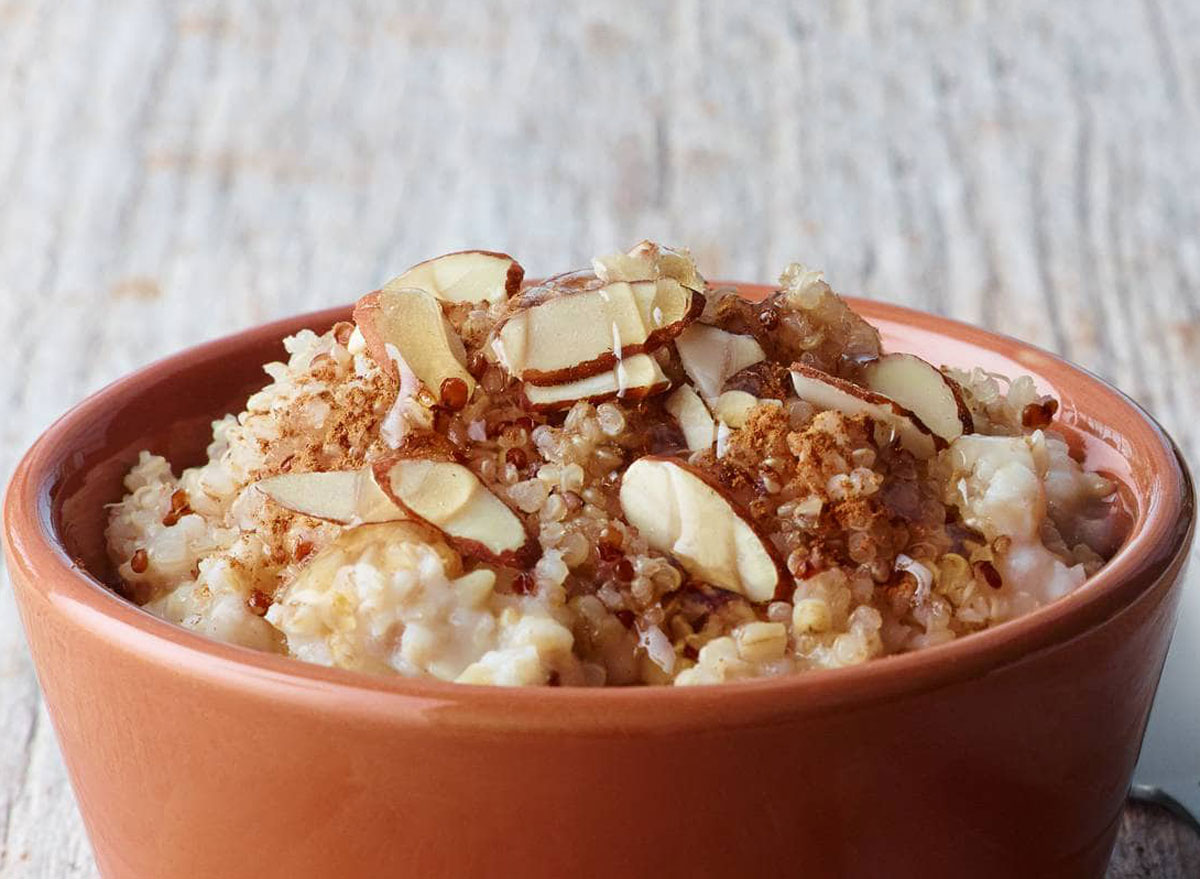 Sodium: 150 mg
Looking for a low-sodium fast-food breakfast option at Panera? This Steel-Cut Oatmeal with Almonds, Quinoa, and Honey is a stellar choice, "[It has] only 150 milligrams of sodium, contributing to only 9% of the daily value of sodium recommended per day," says Chef Julie Harrington, RD. "I love the addition of quinoa to the steel-cut oats to not only add a nutty flavor and texture but also introduce ancient grains in new ways." Plus, the combination of protein- and fiber-rich quinoa and almonds help this bowl climb up to 10 grams of protein and 8 grams of fiber per serving for just 320 calories and 7 grams of sugar.
Chipotle's Burrito Bowl With Chicken & Fajita Vegetables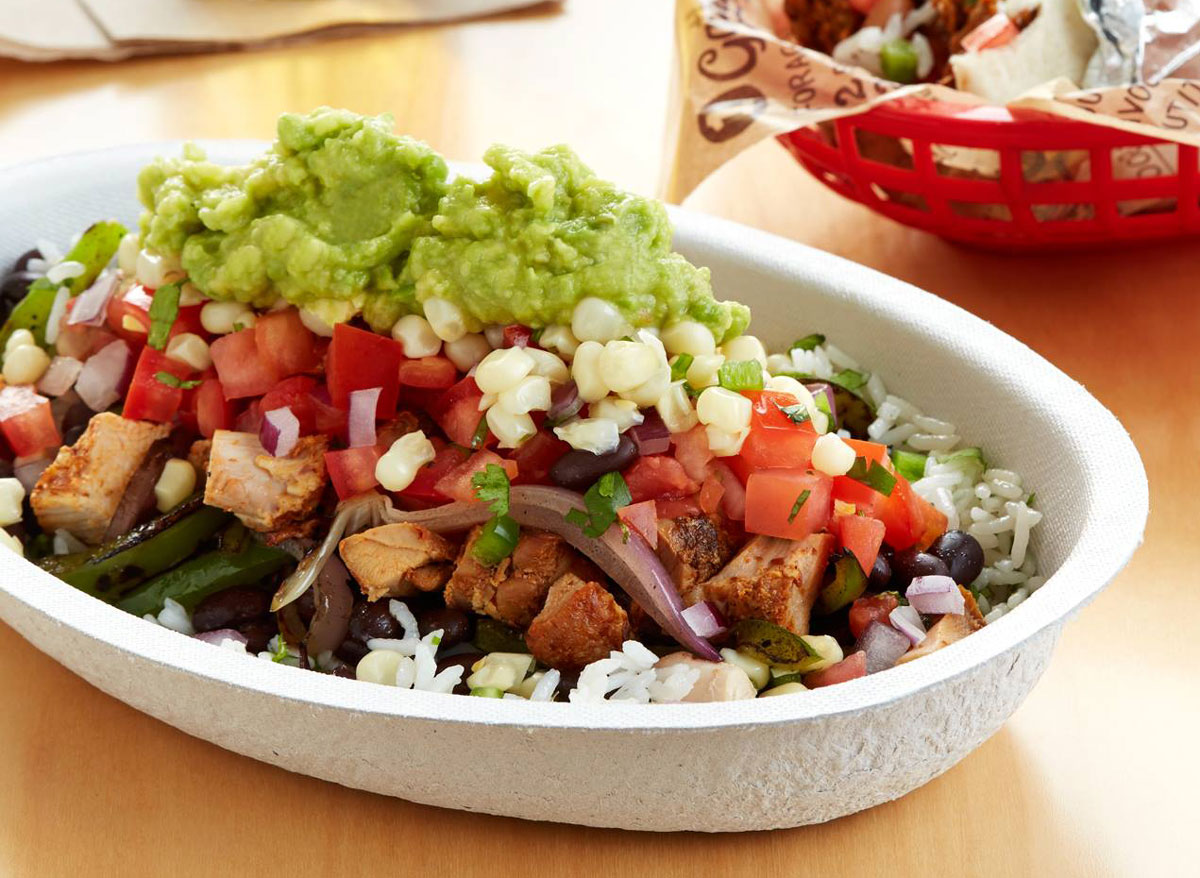 Sodium: 490 mg
Not every dish at the popular Mexican chain has to be a salt bomb. "When I get a craving for Chipotle, I opt for a Burrito Bowl with chicken and fajita vegetables, then top it off with lettuce and sour cream," says Toth. "This combination works out to 490 milligrams of sodium, which is much lower than other menu options, plus it gives me 35 grams of protein, which supports healthy muscles and keeps me feeling fuller longer."
Starbucks' Protein Bistro Box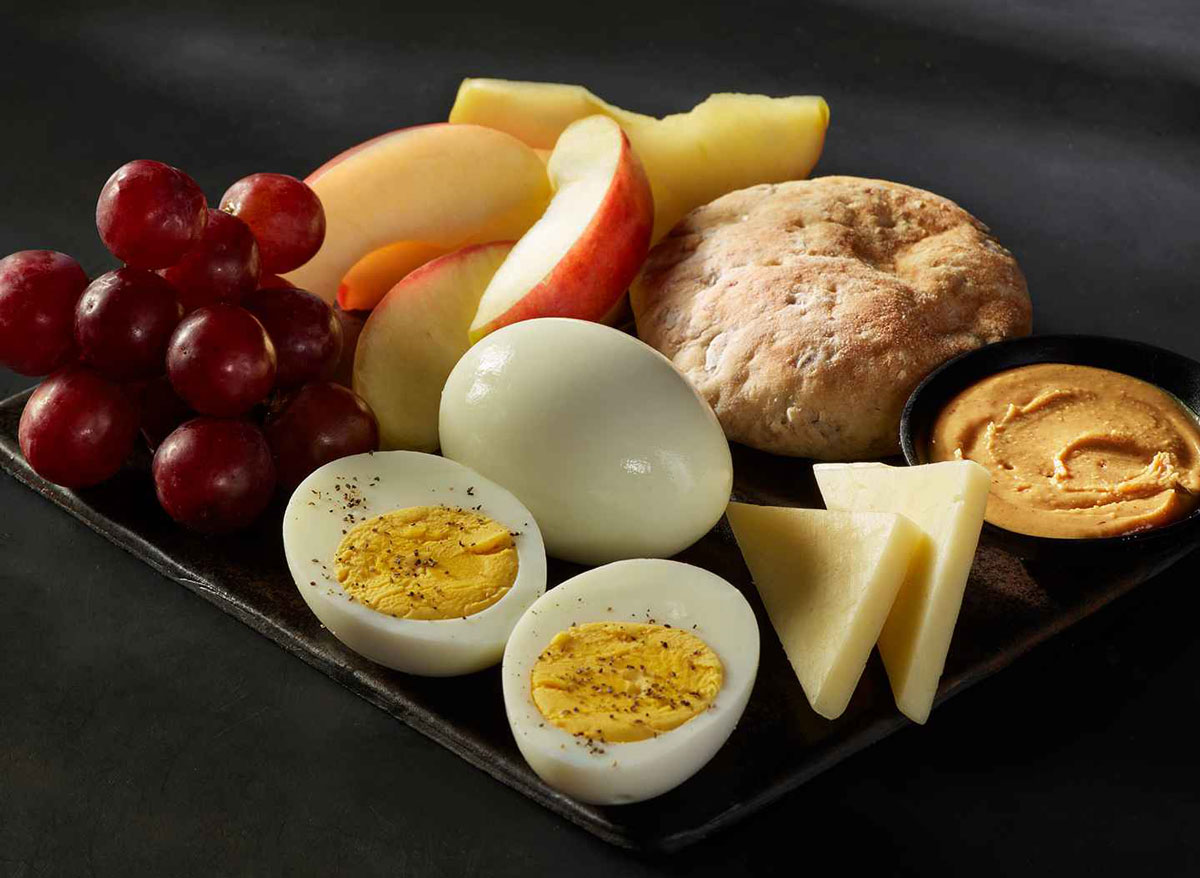 Sodium: 540 mg
Need some fuel? Avoid the pastry options and go for this low-sodium fast-food Eggs & Cheese Protein Box with 470 calories and 23 grams of protein per box. "This box is prepacked with whole unprocessed foods including a hard-boiled egg, natural nut butter, fruit, cheese, and a small raisin muffin for the nut butter to go on," says Dr. Keith Kantor, who has a Ph.D. in Nutritional Science and is CEO of the Nutritional Addiction Mitigation Eating and Drinking (NAMED) program. "The other boxes available at Starbucks are also significantly lower in sodium than traditional fast food options which normally run about 1,000 milligrams or more per serving. I recommend these options because they contain higher quality ingredients and fresh fruit and vegetables in portion-controlled containers."
Pizza Hut's Veggie Lovers Small Thin 'N Crispy Slice
Sodium: 250 mg
When you're craving a slice, you know all too well can lead to befriending an entire pie on your couch a few days later. Instead, embrace your hankering and go for a slice of veggie-filled pizza from Pizza Hut. Most people assume that pizza will break the sodium and the calorie bank, but at just 100 calories per slice, you get a health bonus in addition to the lower calorie and sodium load—antioxidants from the veggies," say The Nutrition Twins. "Plus, with 3.5 grams of fat, and only 1.5 grams of saturated fat, you can enjoy a slice without worrying that it will sabotage your health or your waistline."
Arby's Jalapeño Roast Beef Slider (Without Cheese)
Sodium: 470 mg
"Bread, cheese, and seasoned chicken and meat are all high in sodium, so ordering a low-sodium fast food meal at Arby's can be a challenge. This is where size matters," cautions Brissette. "Instead of ordering a regular sandwich or gyro, I recommend ordering one of Arby's sliders and holding the cheese. The Jalapeño Roast Beef Slider without cheese is 470 milligrams of sodium (which saves you 200 milligrams of sodium if you order it with the Swiss). Pair it with a side salad and ask for some lemon or vinegar to squeeze on top."
You can also order the lowest sodium salad dressing option they have, their Dijon Honey Mustard Dressing, but since the whole packet is 230 milligrams of sodium, try to only use half of it.
Five Guy's Little Hamburger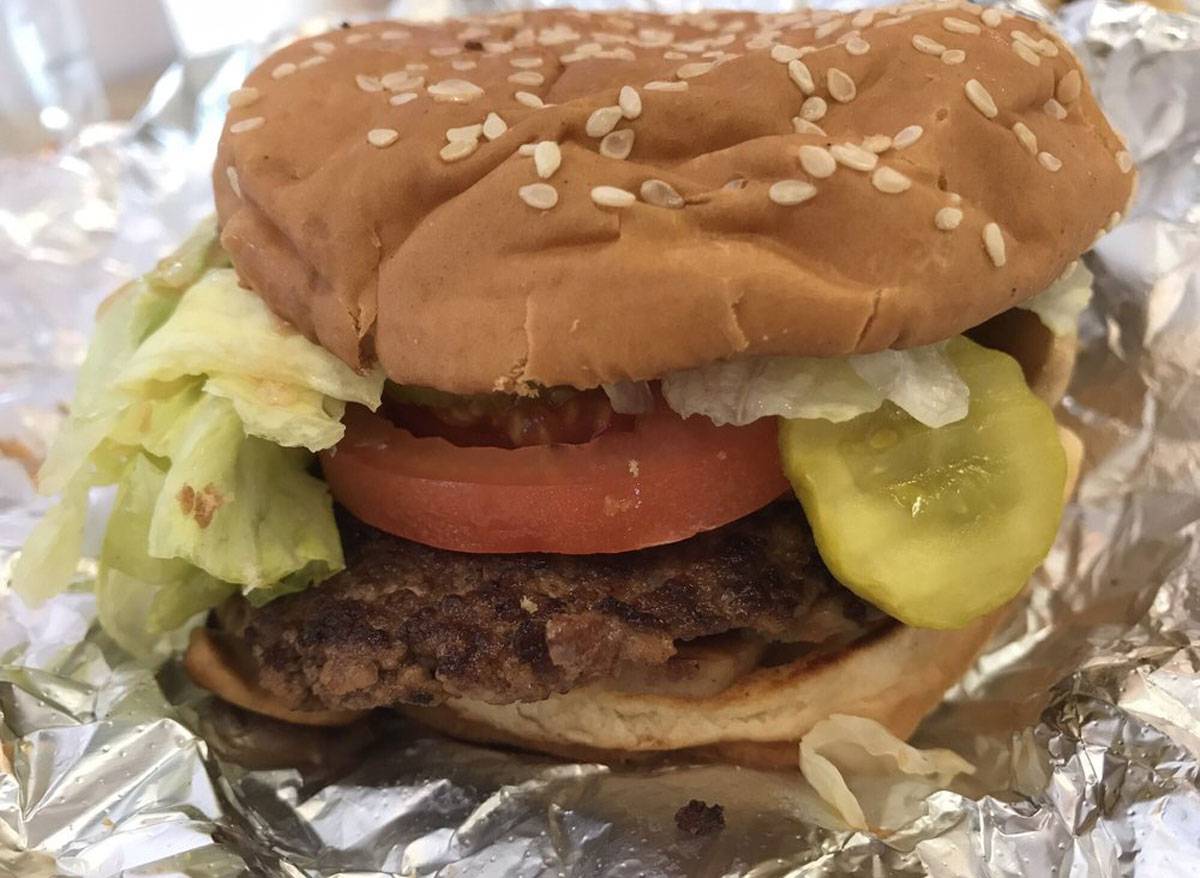 Sodium: 380 mg
"A Little Hamburger from Five Guys has 380 milligrams sodium, which is fairly low (17% DV), however, that only accounts for the bun and one patty," advises Montemayor. "Adding toppings can increase sodium levels significantly, so it may be beneficial to look up nutrition information of each to avoid going overboard." To keep sodium within a good range, try mustard, tomatoes, grilled/chopped onions, jalapeños, green peppers, and lettuce, Montemayor suggests.
Panera's Half-Size Fuji Apple Salad With Chicken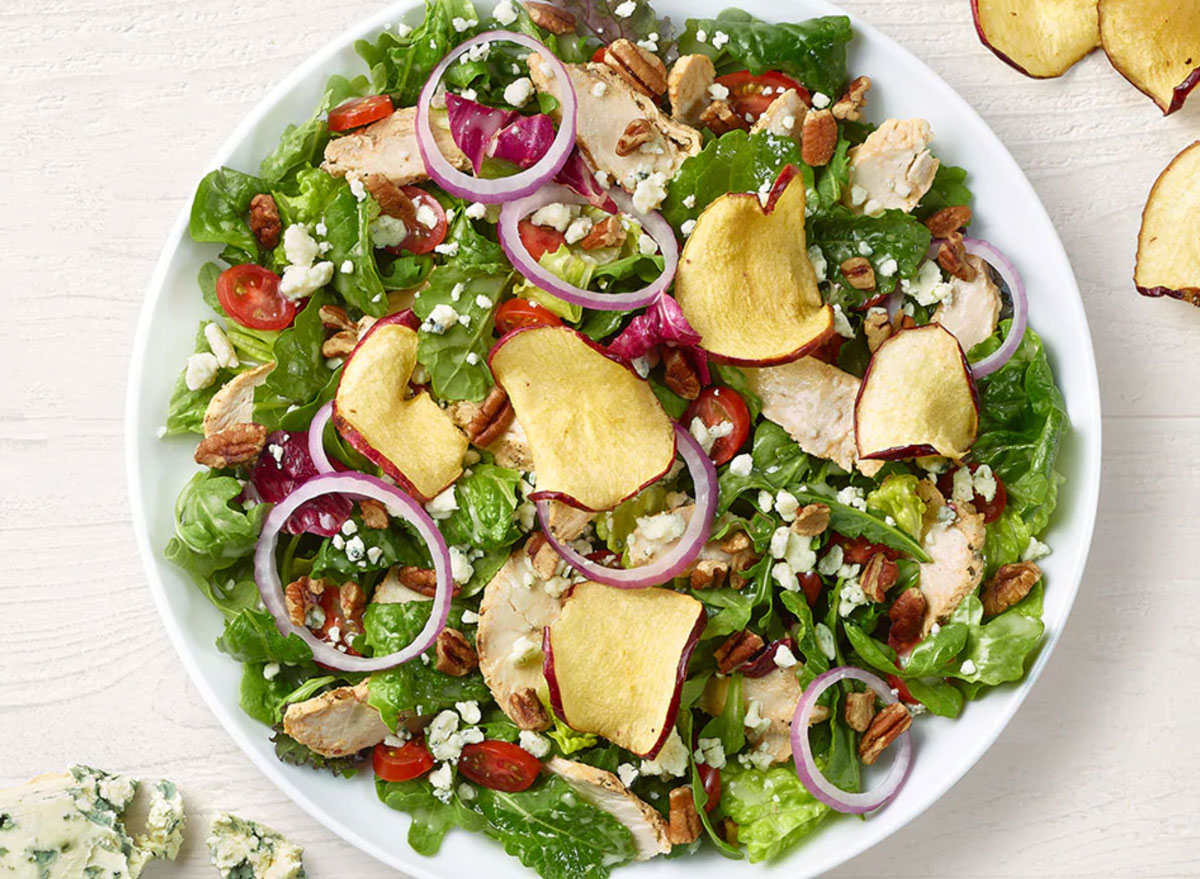 Sodium: 370 mg
When ordering a half-portion, this low-sodium fast food order only has 370 milligrams of sodium per serving . "In addition," says Summer Yule, MS, RDN, "this salad offers three grams of fiber and 15 grams of protein for only 285 calories."
A previous version of this story was originally published on January 4, 2019. It has been updated to include additional entries and proofreading revisions, research, and updated contextual links.
Sources referenced in this article