The 16 Best High-Protein Fast Food Meals
Even if you're trying to eat healthy, you can still hit up these popular fast food joints for a protein-packed meal.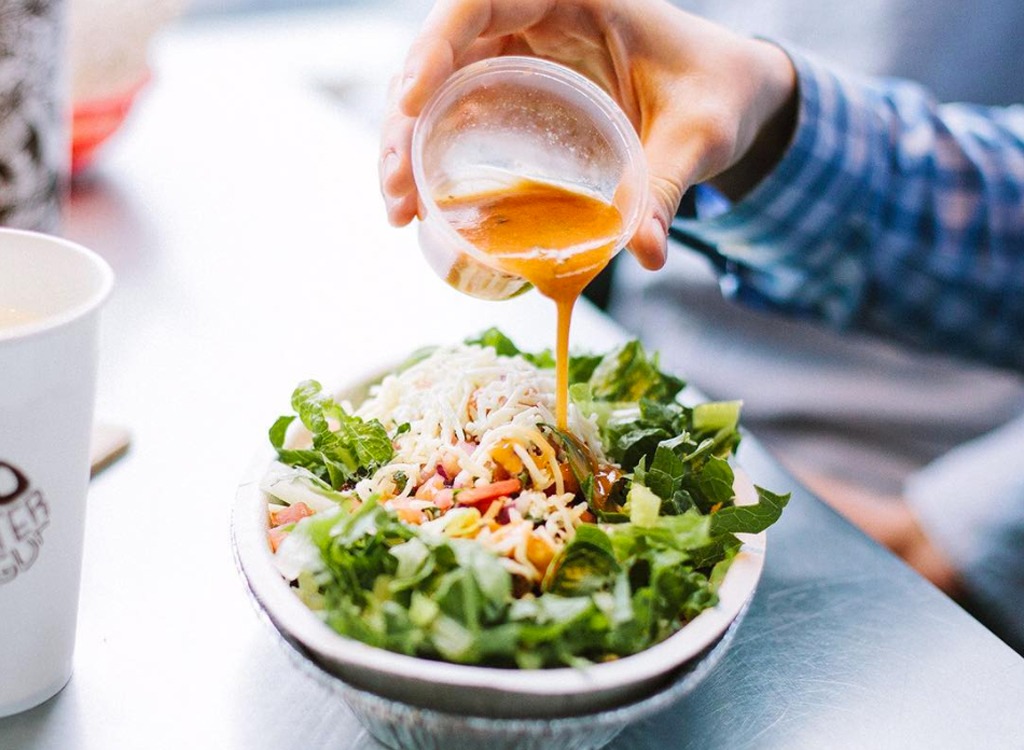 When you're looking for a post-workout meal, the last place you'd think to pick up protein foods from is well, at a fast-food drive-thru. But believe it or not, you can actually have a pretty healthy meal at most of these chains if you order right. These fast-food entrees are actually great sources of protein, which is important for building lean muscle and keeping hunger at bay. Since muscle burns more calories at rest than fat, it's important to incorporate more protein into your diet if you're looking to slim down.
"In order to gain muscle for athletes and lose weight, it is recommended by the Academy of Nutrition and Diabetics to consume 1.2-1.7 grams per kilogram of body weight," Jim White, RD, ACSM, and owner of Jim White Fitness Nutrition Studios told us. So load up with these meals that have at least 20 grams of protein instead of ordering any of the unhealthiest dishes at every restaurant chain the next time you head to the drive-thru.
390 calories, 18 g fat (8 g saturated fat), 850 mg sodium, 33 g carbs (2 g fiber, 7 g sugar), 22 g protein
There's a good reason why we put the McDouble at the top of our list McDonald's menu items ranked. For such alow-caloriee count, it has a pretty high protein content. It's also a very filling burger since it has two patties, yet is low-fat for its single slice of cheese.
Burger King Whopper, No Mayonnaise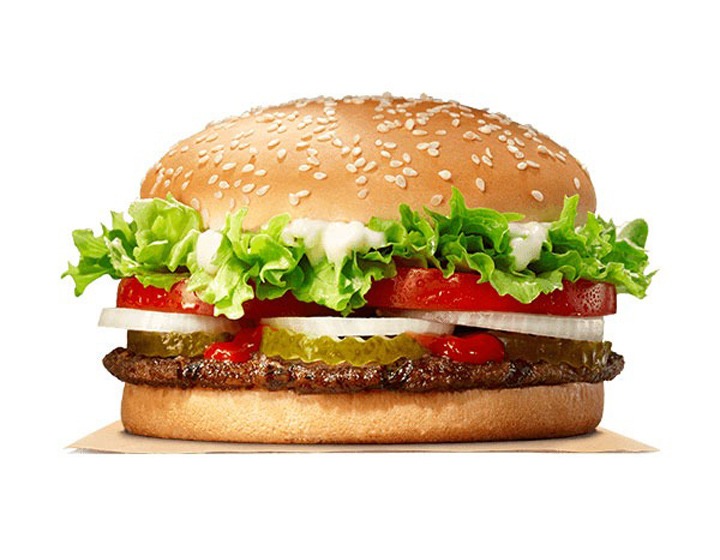 500 calories, 22 g fat (9 g saturated fat), 840 mg sodium, 49 g carbs (2 g fiber, 11 g sugar), 28 g protein
If you cut out the mayonnaise, this delicious burger packs an impressive nutritional profile. For 500 calories, which is about the average calorie count for any meal, you get 28 grams of protein.
Starbucks Reduced-Fat Turkey Bacon & Cage Free Egg White Breakfast Sandwich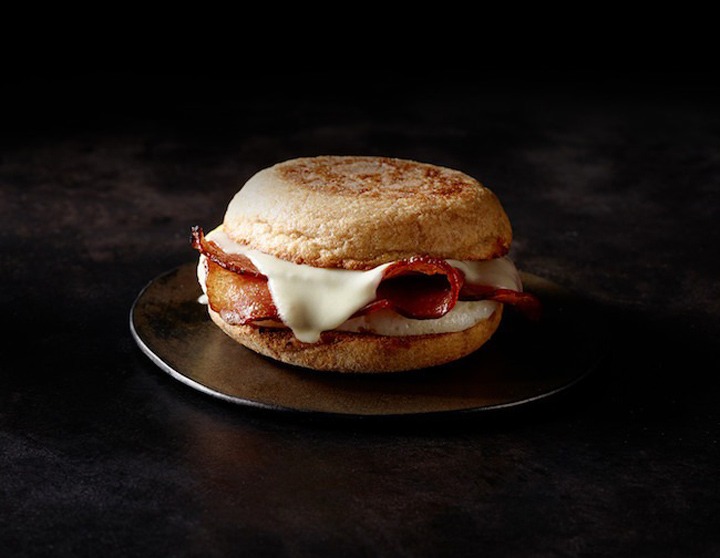 210 calories, 5 g fat (2 g saturated fat), 560 mg sodium, 26 g carbs (3 g fiber, 2 g sugar), 18 g protein
This sandwich is a great alternative to a regular bacon, egg, and cheese. It's low-calorie and its egg whites and turkey bacon pump up the protein count to 18 grams.
Arby's Roast Turkey Farmhouse Salad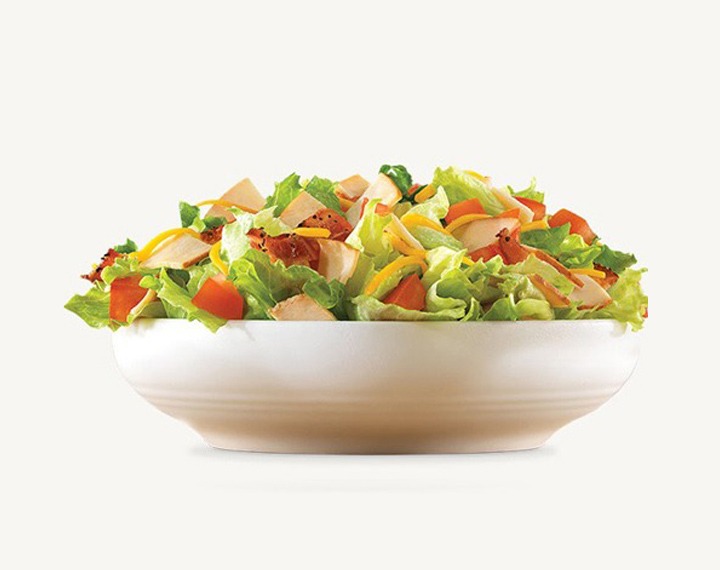 240 calories, 13 g fat (7 g saturated fat), 940 mg sodium, 8 g carbs (3 g fiber, 5 g sugar), 23 g protein
Poultry is a lean meat, so it will give you tons of protein at little cost in the fat and calorie departments. This is also a great item to order to stray from the rest of the many fat-filled options on this chain's menu.
Carl's Jr. Low Carb Charbroiled Chicken Club, No Bacon, No Mayo
240 calories, 12 g fat (4 g saturated fat), 580 mg sodium, 7 g carbs (1 g fiber, 3 g sugar), 24 g protein
You'd expect this bunless chicken sandwich to already be healthy on its own, but you still have to make a few modifications for a truly healthy meal. Get rid of the mayo and the bacon and you have a perfectly tasty and satisfying meal to get your daily protein fix.6254a4d1642c605c54bf1cab17d50f1e
Chick-fil-A Grilled Market Salad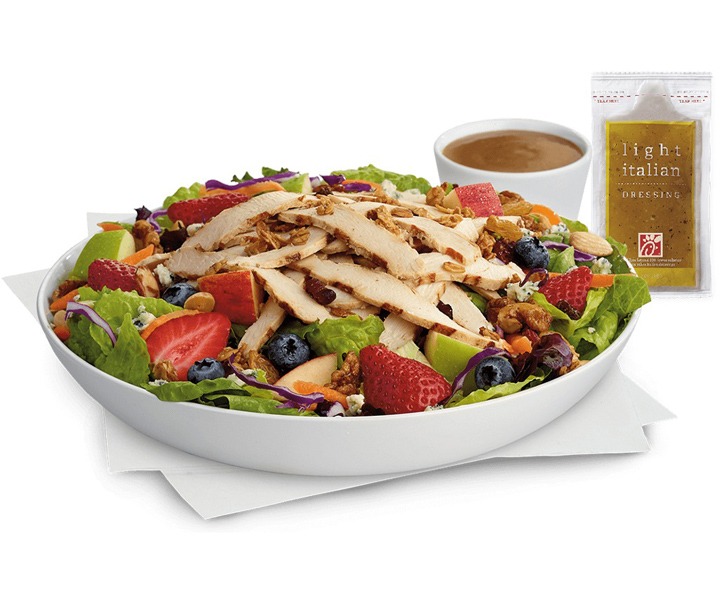 330 calories, 14 g fat (2.5 g saturated fat), 670 mg sodium, 27 g carbs (6 g fiber, 12 g sugar), 28 g protein
This salad is packed with flavor and protein. At only 330 calories, its 27 grams of protein will keep you well energized and ready to take on the rest of the day.
Subway Carved Turkey Sandwich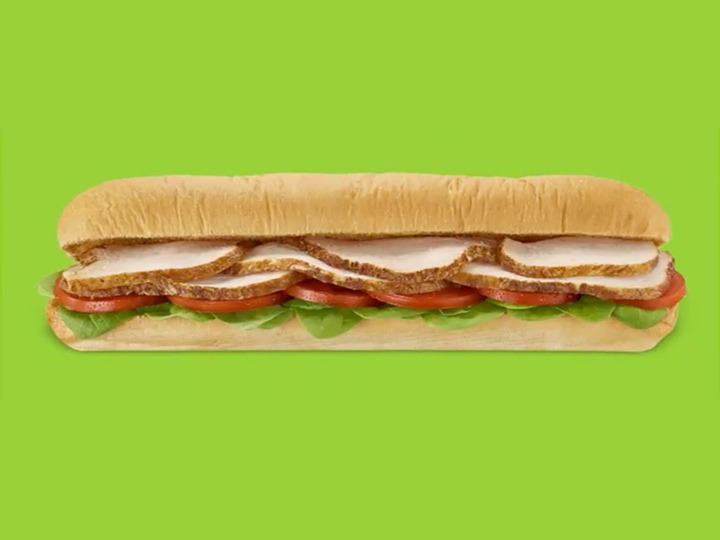 330 calories, 5 g fat (0.5 g saturated fat), 890 mg sodium, 45 g carbs (5 g fiber, 8 g sugar), 25 g protein
This Subway sandwich is so good that you don't even need the excess calories and fat that comes from adding on any spreads or sauce. With 25 grams of protein, you'll be happily filled with this 6-inch sub serving until dinnertime.
Chipotle Steak Salad with Lettuce, Fajita Vegetables, and Roasted Chili-corn Salsa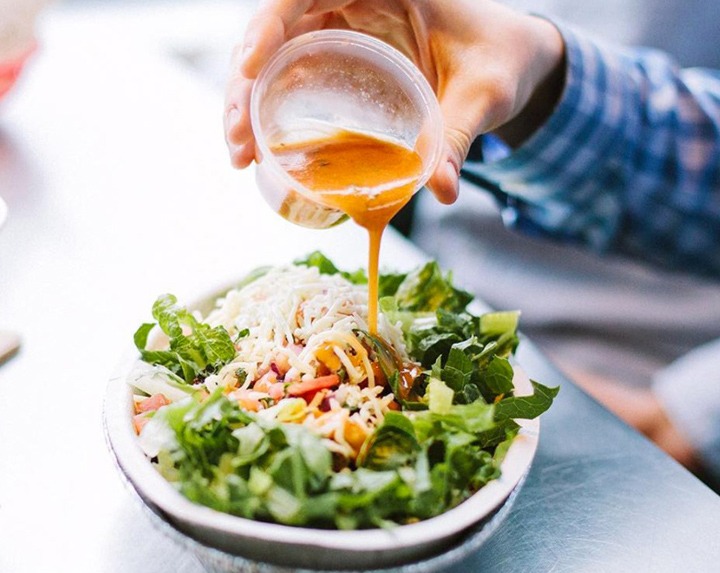 255 calories, 7.5 g fat (2.5 g saturated fat), 810 mg sodium, 23 g carbs (6 g fiber, 7 g sugar), 25 g protein
Instead of getting a burrito bowl, ditch the extra carbs from the rice and get a salad. Steak has one of the highest protein contents of all meats and the fajita vegetables give this salad a flavorful kick without boosting up the calorie count.
Taco Bell Chicken Fresco Burrito Supreme, No Red Sauce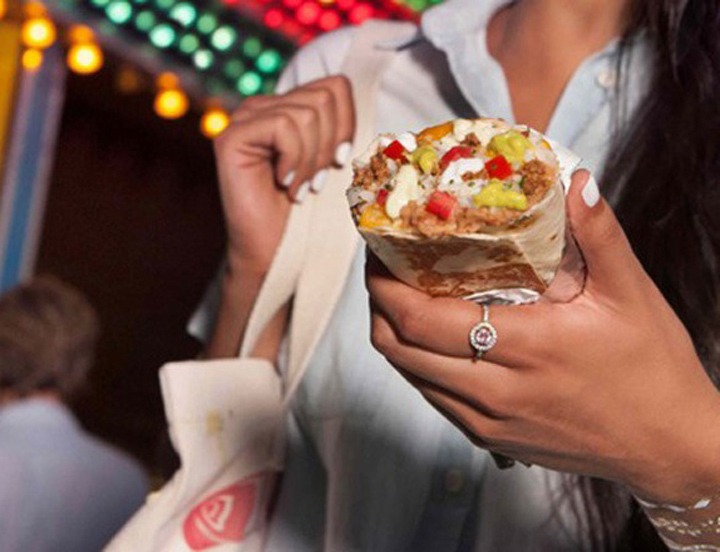 340 calories, 8 g fat (2.5 g saturated fat), 920 mg sodium, 46 g carbs (6 g fiber, 4 g sugar), 18 g protein
This supreme burrito will fill you up without ingesting too many calories. If you get rid of the red sauce, it's actually not too bad: 360 calories and 8 grams of fat. We'll definitely be ordering this on our next T-Bell trip.
Wendy's Grilled Chicken Wrap
270 calories, 11 g fat (3.5 g saturated fat), 650 mg sodium, 24 g carbs (2 g fiber, 3 g sugar), 20 g protein
Picking grilled chicken over crispy is always the wiser choice when it comes to watching your weight. At only 260 calories, you get a high-protein and low-sodium meal that has much less fat in comparison to other Wendy's menu items.
Panera Steak and Arugula Sandwich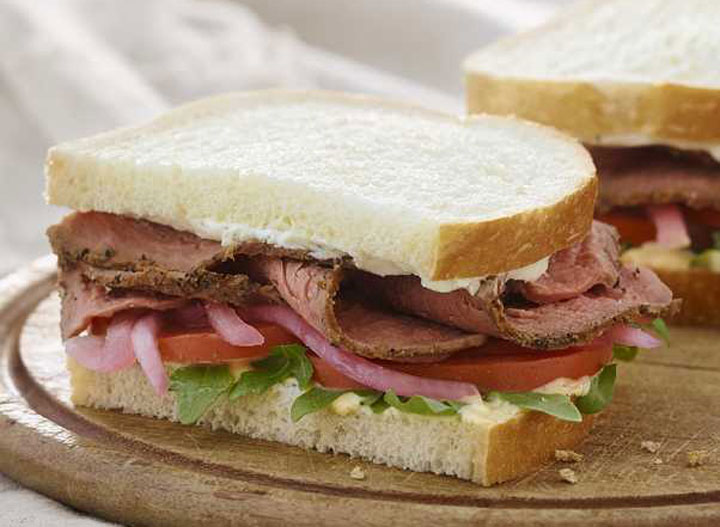 470 calories, 16 g fat (7 g saturated fat), 880 mg sodium, 50 g carbs (8 g fiber, 8 g sugar), 33 g protein
The combination of steak and arugula is not only tasty, but it's also a great source of protein. This sandwich has 33 grams of protein under 500 calories, which is a much better option for those who want a healthy meal without chowing down on a salad.
KFC Kentucky Grilled Chicken Breast with Green Beans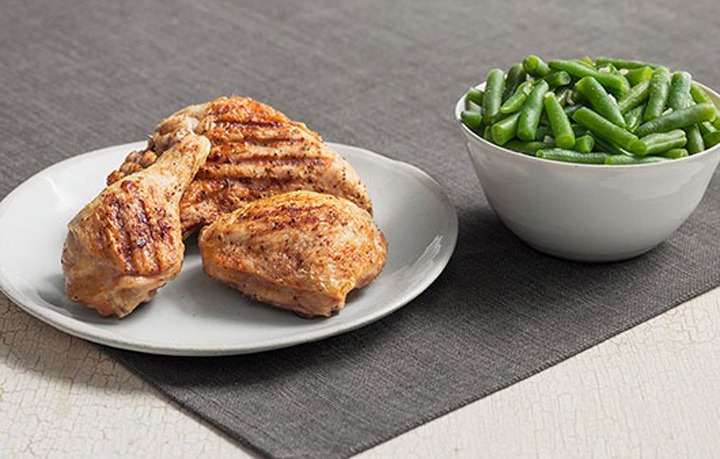 235 calories, 7 g fat (2 g saturated fat), 970 mg sodium, 4 g carbs (2 g fiber, <1 g sugar), 39 g protein
It may seem impossible to eat healthy at KFC with all the fried chicken meals. But now, their grilled chicken option is actually an amazing source of protein without all of the fat and grease of their fried menu items.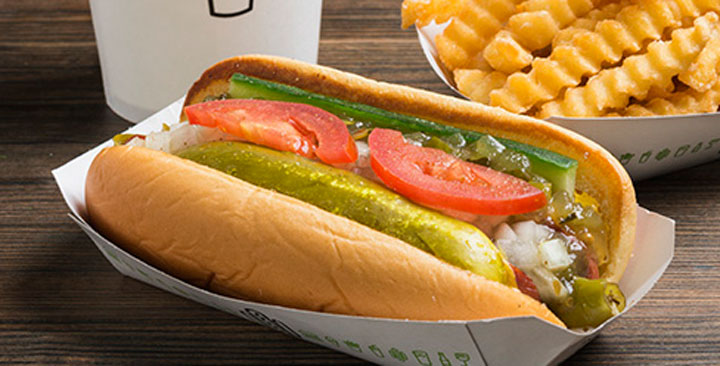 310 calories, 13 g fat (6 g saturated fat), 930 mg sodium, 27 g carbs (0 g fiber, 8 g sugar), 24 g protein
Hot dogs usually aren't considered a health food, but Shake Shack switches things up with a chicken dog that has less fat but is still high in protein.
Boston Market Quarter White Meat Rotisserie Chicken with Steamed Vegetables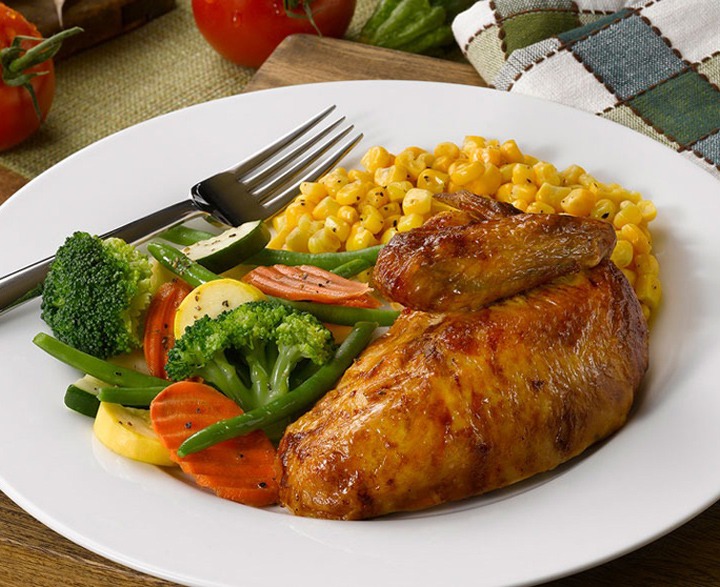 330 calories, 15 g fat (3.5 g saturated fat), 630 mg sodium, 7 g carbs (3 g fiber, 3 g sugar), 45 g protein
Boston Market's rotisserie chicken is an amazing source of protein, and it tastes like you cooked this yourself at home (without having to do any actual cooking). Instead of grabbing Boston Market's fattening sides like mac and cheese or mashed potatoes, their medley of steamed vegetables will keep hunger at bay without putting on the pounds.
Au Bon Pain Chicken Margherita Sandwich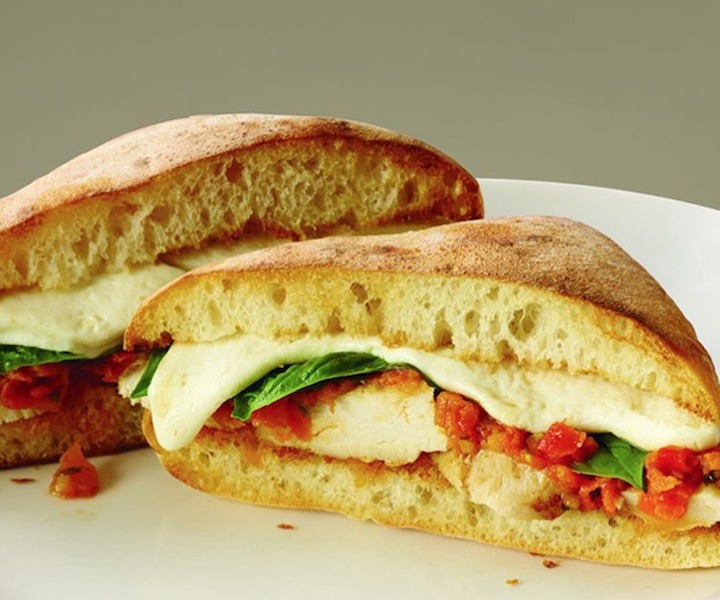 600 calories, 25 g fat (9 g saturated fat), 950 mg sodium, 53 g carbs (3 g fiber, 3 g sugar), 38 g protein
This light and filling sandwich is perfect for your next lunch break. With a combination of grilled chicken, low-fat mozzarella cheese, tomatoes and basil, this meal packs in the protein.
Popeyes Handcrafted Blackened Tenders, 5 Pieces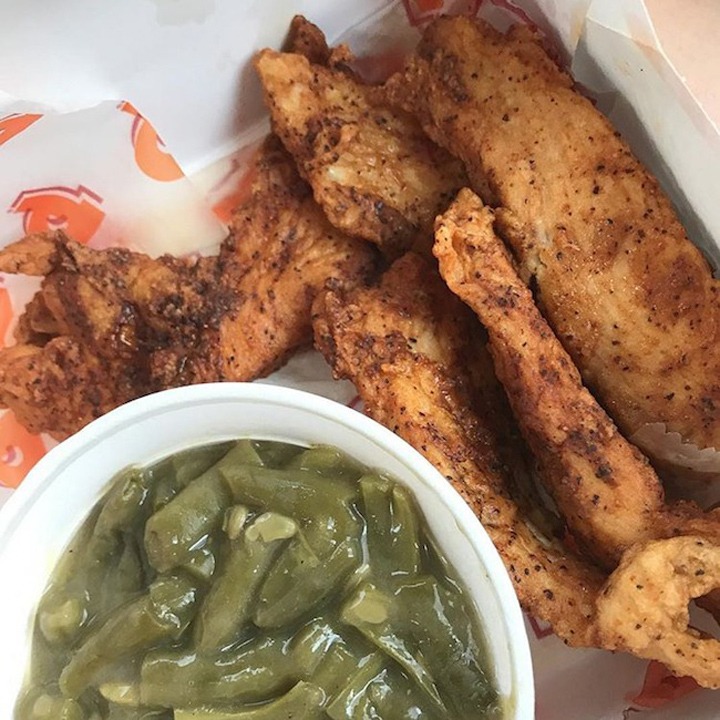 283 calories, 3 g fat (0 g saturated fat), 917 mg sodium, 3 g carbs (0 g fiber, 0 g sugar), 43 g protein
These chicken strips still have all of the amazing flavors of regular tenders without the fattening grease and breading. And, it has some of the highest protein on the Popeye's menu with 43 grams. Make sure to get this next time instead of their regular tenders, which we put on our list of the worst restaurant meals in America.