20 Ways to Get 20 Grams of Protein at Every Meal
Upgrade your favorite dishes with these high-protein tweaks to boost your metabolism.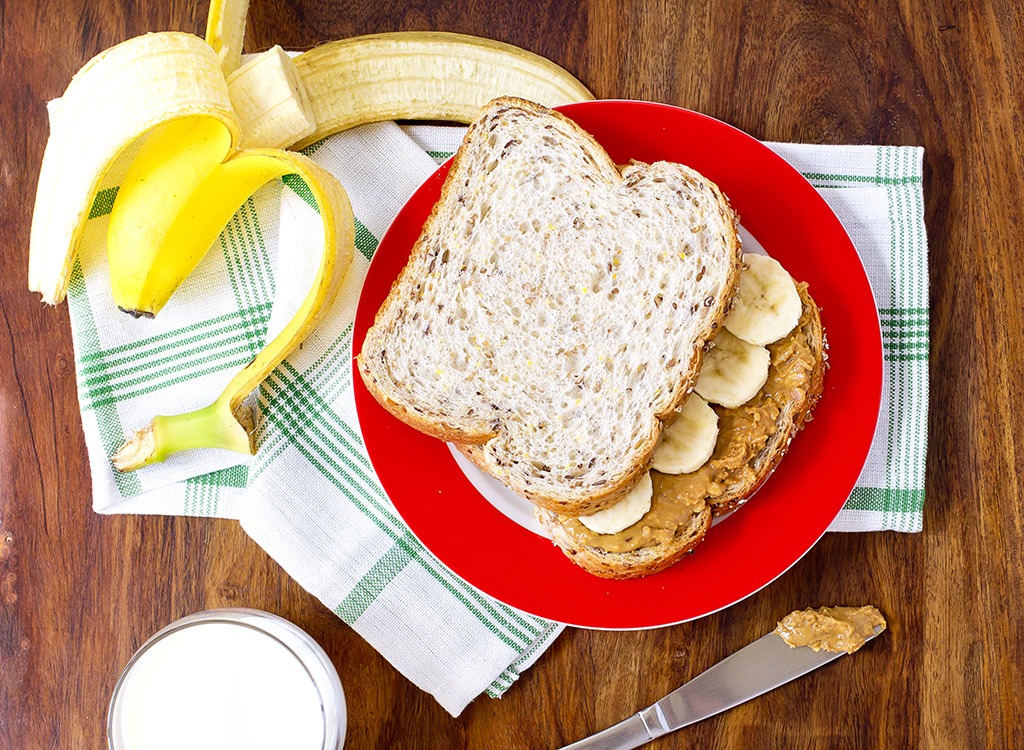 How much protein do you need per day? The Dietary Reference Intake is 0.8 grams of protein per kilogram of body weight or 0.36 grams per pound. That means the average 170-pound American woman and the average 198-pound American man should take in 62 or 72 grams of protein per day, respectively. If you're eating three meals a day, you should have at least 20 grams of protein per meal to meet these recommendations.
Are you eating enough protein per meal?
Protein fuels the muscle-building process, dulls hunger, and can help prevent obesity, diabetes, and heart disease. And while most of us know about at least some of these benefits, few of us are eating the proper amount. While some of us are eating too much protein (which can actually lead to weight gain), those who adhere to vegan and vegetarian diets may actually be suffering from a protein deficiency.
To help you get at least 20 grams of protein per meal, we've rounded up 20 easy ways to hit the 20-gram mark at breakfast, lunch, and dinner. To fit in even more protein, you can also munch on these high-protein snacks between meals.
How to get 20 grams of protein at breakfast.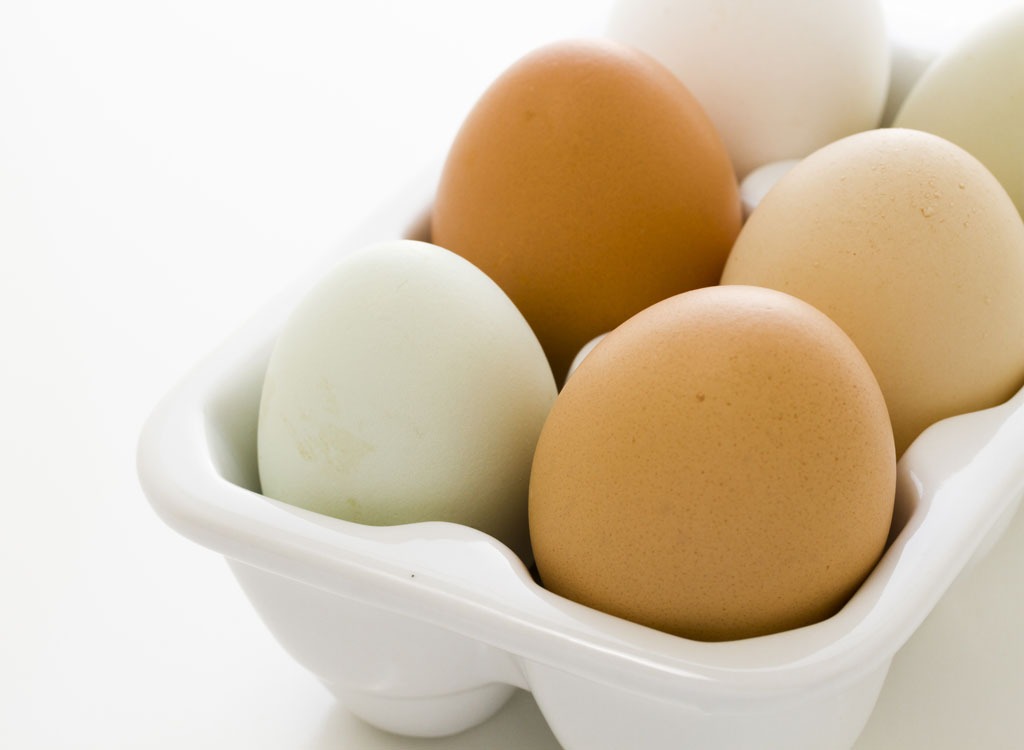 In every large egg, you'll find six grams of protein. So, if you crack three of them into a pan with a quarter cup of shredded American cheese, you'll get a total of 23 grams of protein before you even polish off your daily cup of java!
If you're not a fan of cheese, add a few tablespoons of Greek yogurt to the cracked egg mixture to make extra fluffy scrambled eggs. Still hungry? Nosh on some berries or an apple (skin on!) to get a hit of fiber to keep you full and satisfied until lunch time.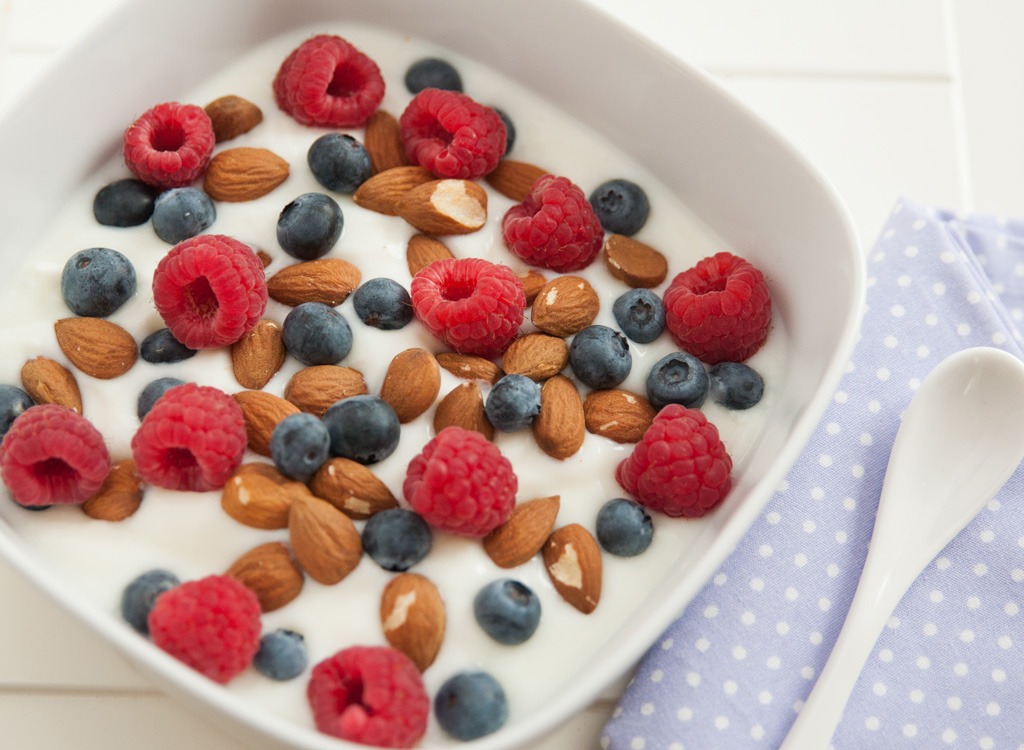 A serving of 2% Greek yogurt carries 150 calories and packs an impressive 20 grams of protein. Top off your container with some fresh fruit and nuts for some added sweetness and crunch.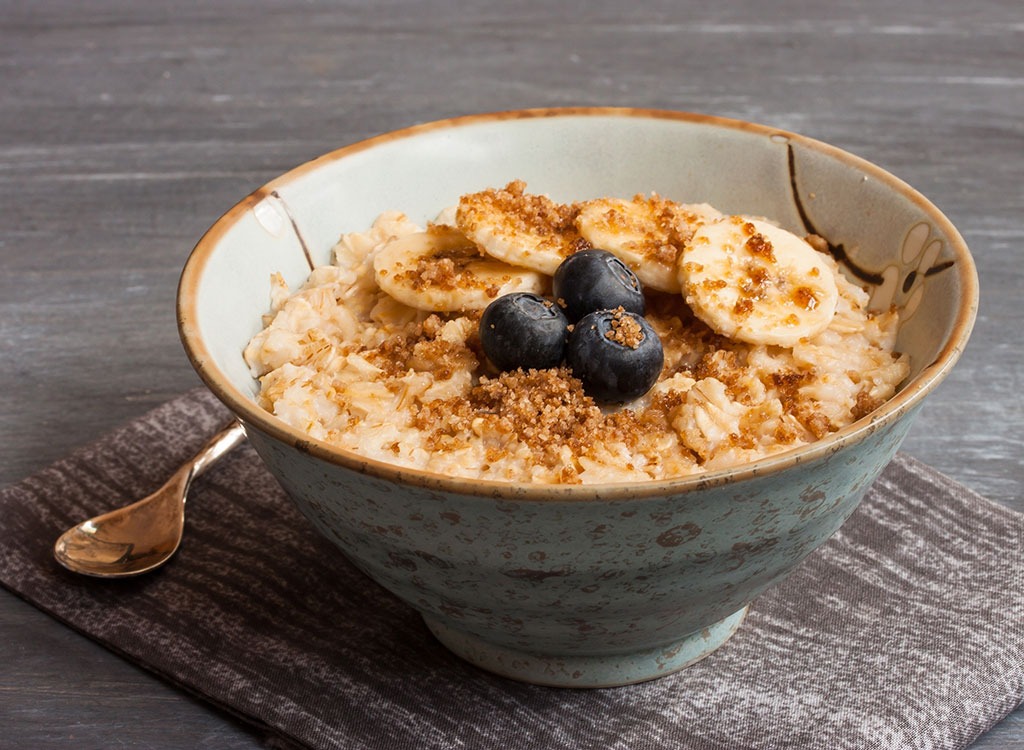 When prepared with water and topped with fruit, a cup of oatmeal will serve up about 7 grams of protein. To hit the 20-gram mark, use a ¾ cup of 1% milk (6 g/protein) instead of H20 and top off the bowl with a ½ cup of slivered almonds (6 g/protein). For added sweetness and flavor use a small drizzle honey and a few shakes of cinnamon.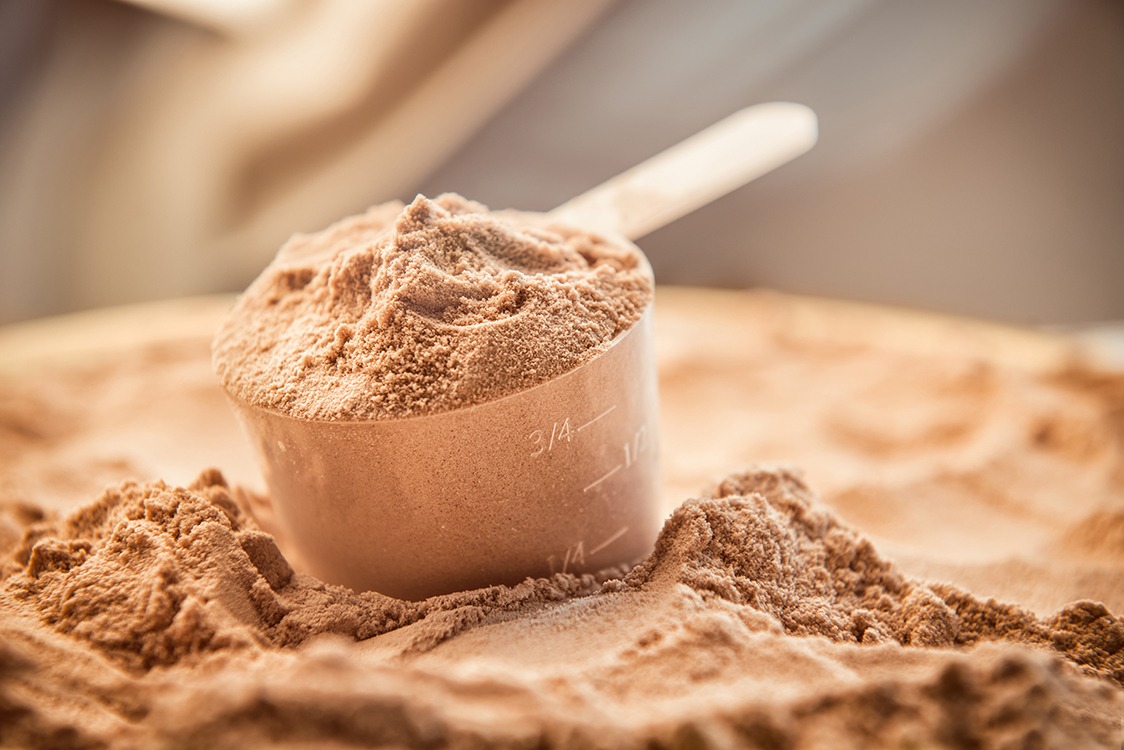 Whether you're making smoothies, oatmeal, pancakes, or waffles, protein powder can help you make your meal healthier and more filling. A standard scoop has about 18 to 35 grams of protein, so you can rest assured you'll hit the nutritional mark.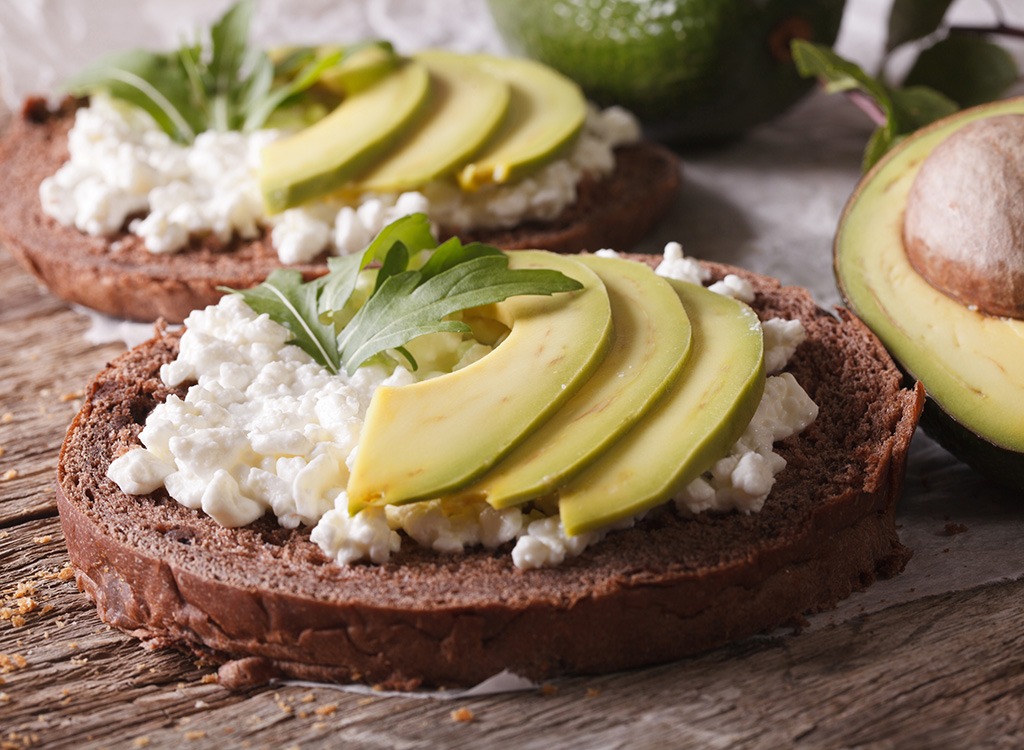 If you love avocado toast you'll go gaga for this protein-packed upgrade. To make the dish pictured above, lay two bread slices of Ezekiel bread out on a plate, top each one with a quarter-cup of low-sodium cottage cheese, and then sprinkle with a ½ tablespoon of chia seeds and ground pepper to taste. Top the cheese with a quarter of an avocado then season with another dusting of pepper. That's it! Talk about an easy way to hit your morning 20-gram protein quota.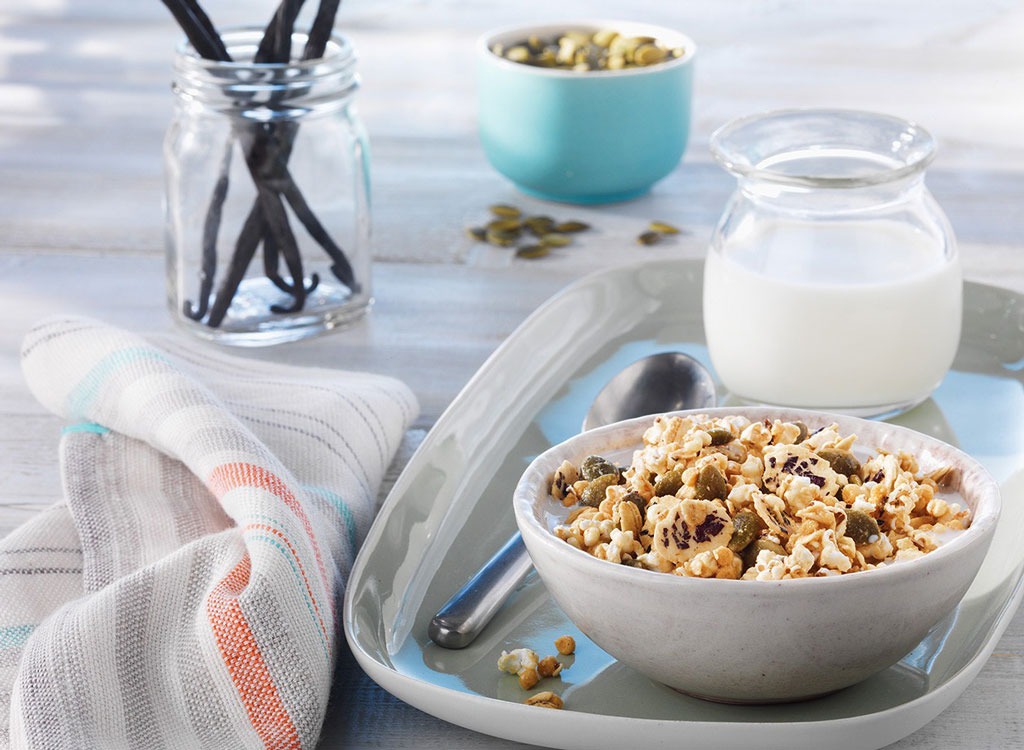 Even if you sit down to a bowl of low-sugar cereal every morning, you're likely not consuming more than 10 grams of protein—and most of it's probably coming from the cow's milk. However, assuming us use about a cup of milk, a simple swap to a high-protein cereal like Kashi Go Lean (12 g protein/ 1 ¼ cup) can get you to the 20-gram target. Talk about an easy and healthy breakfast idea!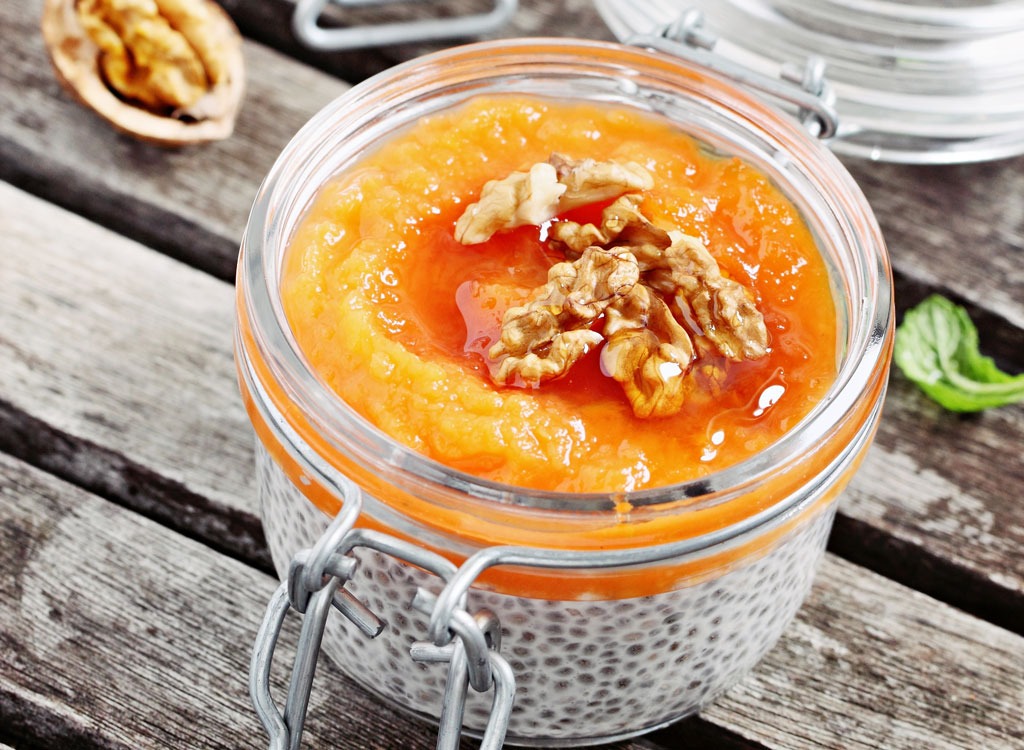 Sick of yogurt? Try chia seed pudding. The dish provides an easy, spoonable way to get tons of protein and healthy fats. And not to mention, there are a ton of different ways to flavor a basic recipe which practically guarantees you'll never tire your taste buds. To whip up a serving, combine 3 tablespoons of chia seeds, a ¾ cup of cow's milk, 1 tablespoons of maple syrup, and a ¼ teaspoon of vanilla in a jar with a lid. Cover the container, shake it up, and let it chill overnight. In the morning top off the pudding with a ¼ cup of slivered almonds and your choice of fruit. The resulting dish will be one that packs 375 calories, 17 grams of protein and 11 grams of satiating fiber. To kick the protein count up to 22 grams, add a ¼ scoop of protein powder.6254a4d1642c605c54bf1cab17d50f1e
Have Lox on Ezekiel Toast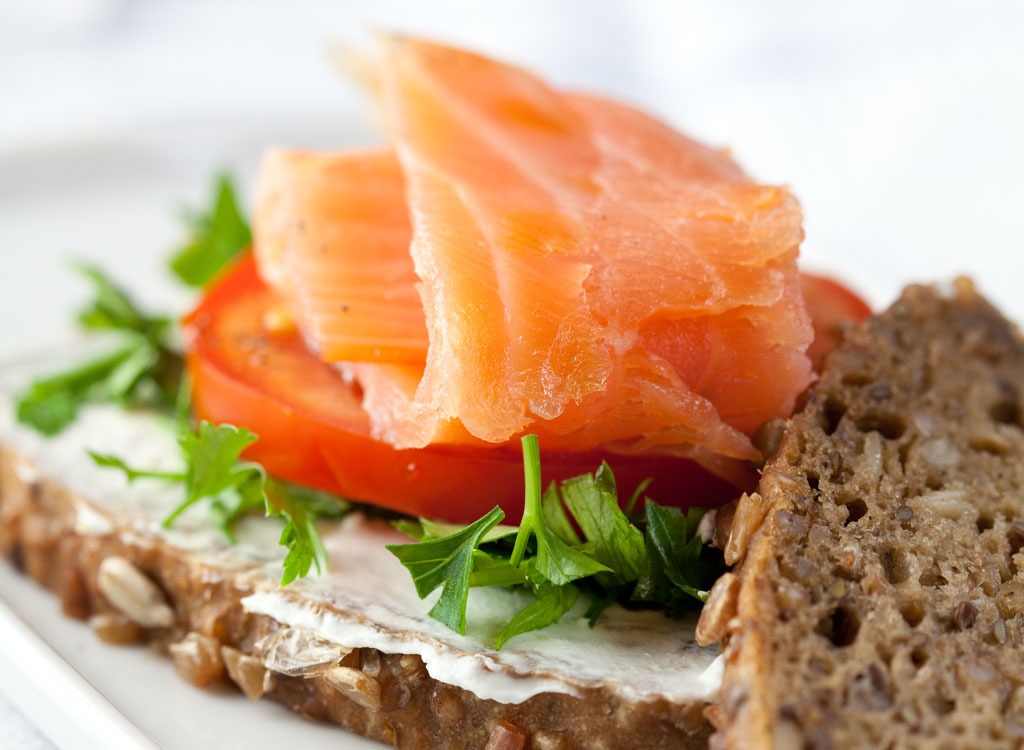 Instead of scarfing down a bagel with cream cheese for breakfast, switch to two slices of protein-filled Ezekiel Bread, smother it with a tablespoon of whipped cream cheese (since it's filled with air you can get away with using less), and top it off with 3-ounces of lox. This simple yet tasty combo will give you 24 grams of protein and 6 grams of filling fiber all for 285 calories! It doesn't get much better than that.
If you frequent Starbucks, you've likely seen their Protein Bistro Box. (It's the one that's filled with a hard boiled egg, cheddar cheese, muesli bread, apples, grapes, and peanut butter.) While we love the protein-rich combo, one box costs $5.75. Plus, it falls a bit beneath the 20-gram goal. To amp up the protein and save some cash, make your own smorgasbord at home. Our go-to combination—which includes 2 hard-boiled eggs, 1 slice of Ezekiel bread topped with 1 tablespoons of natural peanut butter, and 1 mini Babybel cheddar cheese—hits the nutritional mark, serving up 23 grams of protein and tons of satiating healthy fats. Still hungry? Tack on a piece of fruit for some additional fiber and nutrients.
Ways to get 20 grams of protein during lunch.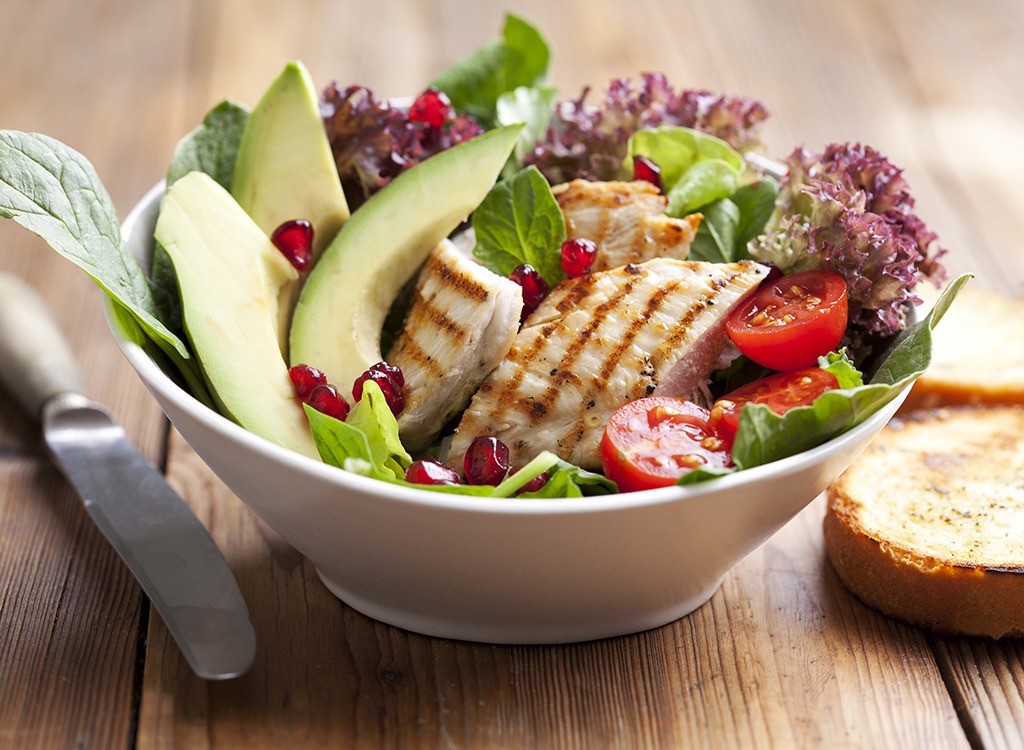 If a garden salad and a cup of soup is your go-to lunch combo, you may or may not be getting enough protein to stay full and satisfied through your mid-afternoon meetings. To get more protein during your afternoon meal, add some bulk to your salad. Every ounce of animal protein (which includes everything from fish and chicken to turkey and steak) contains between 5 and 10 grams of protein, while vegetarian sources of protein like hard boiled eggs and beans have about 8 and 11 grams per half cup.
A typical PB&J on white bread will give you about 9.5 grams of protein and a measly 2 grams of fiber. A few simple tweaks, however, can seriously elevate the nutritional quality of your lunch. Simply swapping white bread for Ezekiel provides 7 grams of protein and 6 grams of fiber! Trade in the jam for fresh strawberry slices, add a sprinkle of chia to two tablespoons of nut butter, and spread it between the bread. In the end, your sammy will contain just under 20 grams of protein and nine grams of fiber. That's not too shabby for a playground staple! Still hungry? While a 390 calorie nutrient-filled sandwich should be enough to fill you up, you can always pair the dish with a Horizon Organic String cheese for an additional 80 calories and 8 grams of protein.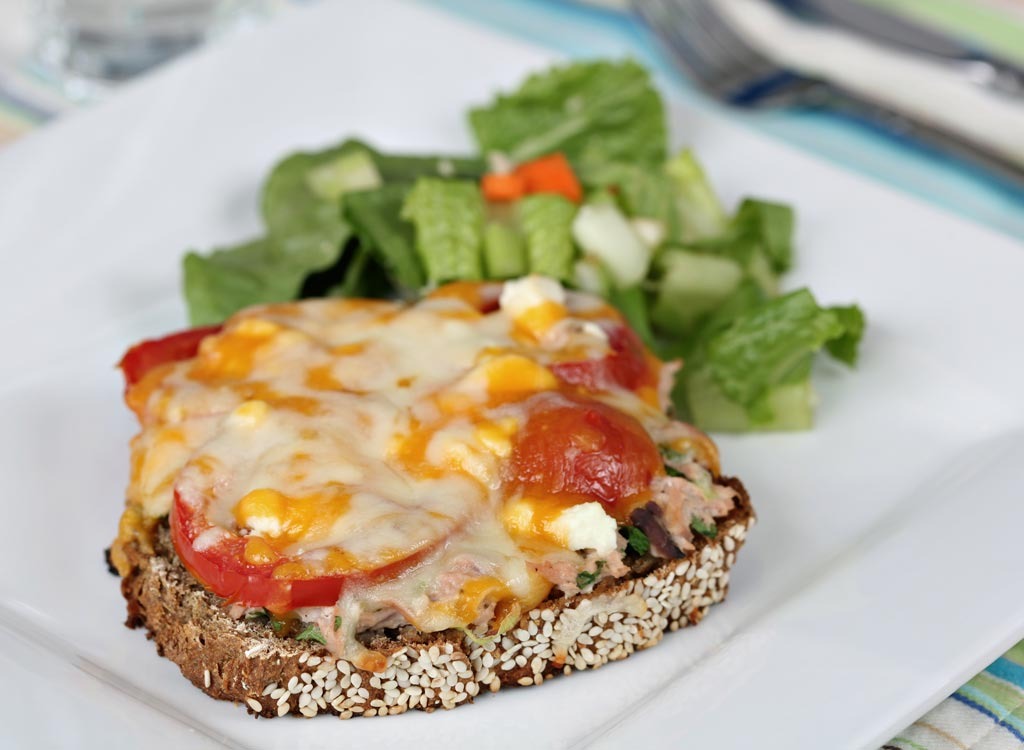 When made smart, this late-night diner staple is teeming with protein. To craft a sammy with 23 grams of the muscle-repairing nutrient, put 2-ounces of tuna (sans mayo!) and two slices of tomato on a slice of toasted Ezekiel bread and zap it in the microwave for 15 to 20 seconds to get the cheese all melty. Pair the open-faced sandwich with a piece of fruit or a side salad for some additional fiber and vitamins.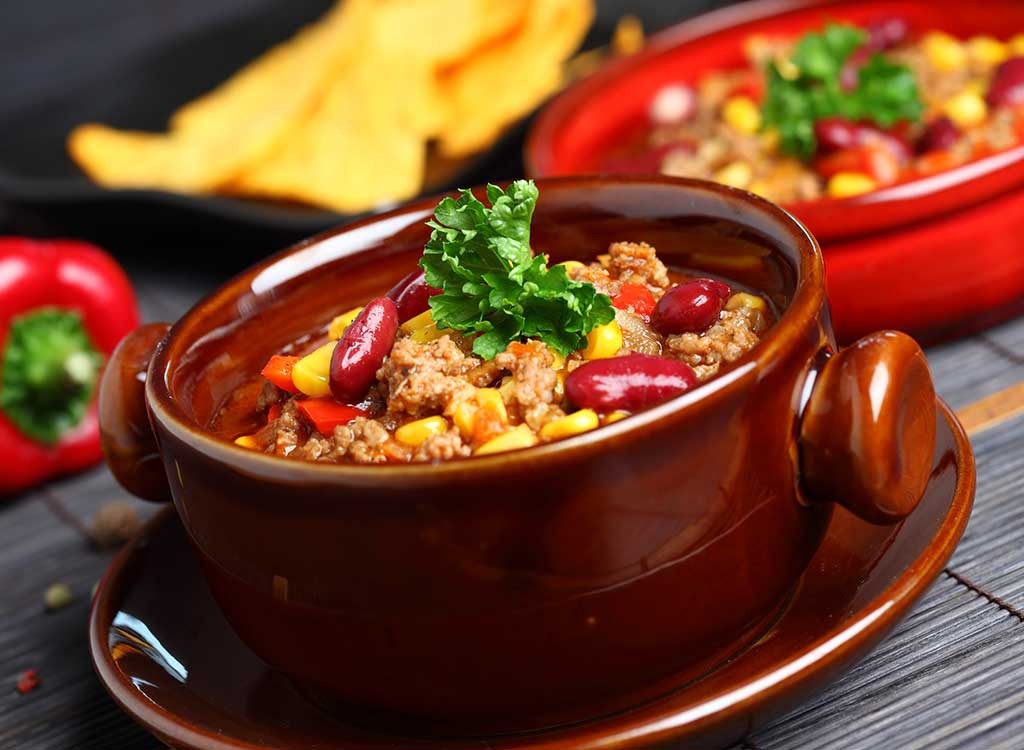 A standard serving of chili has between 30 and 40 grams of protein, making it one of the easiest—and coziest ways to get your daily dose of protein. Want to dig your spoon in during the week? The safest way to get your chili to and from the office is in a thermos. To ensure your toppings and add-ins don't get soggy, pack them on the side.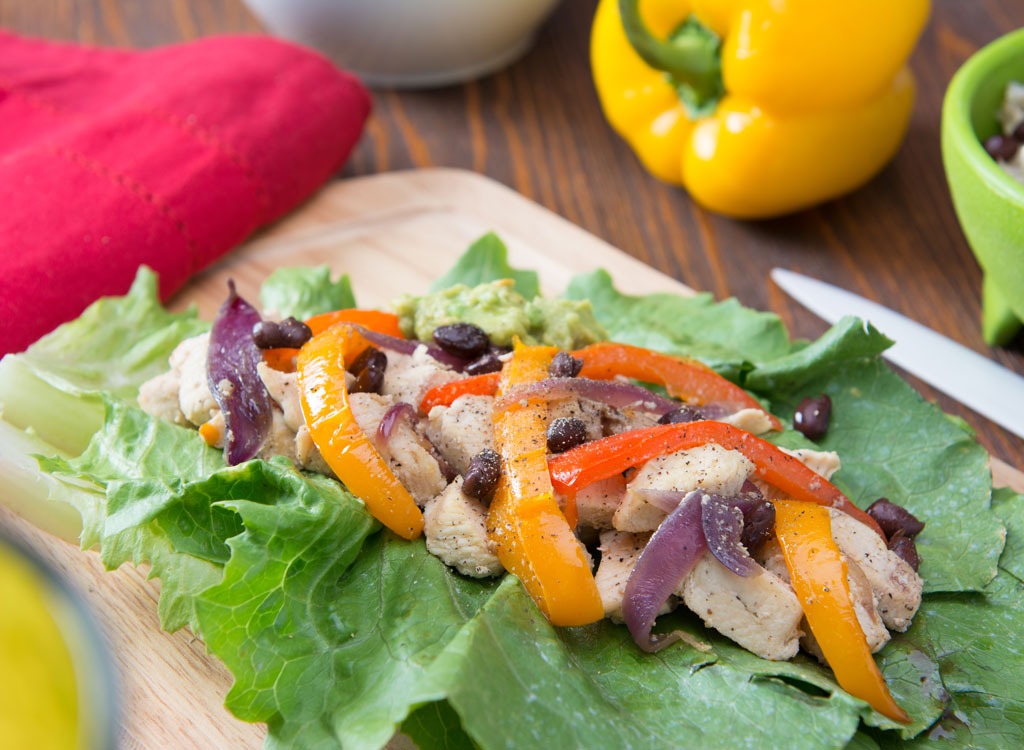 To get a solid fit of flavorful protein—without breaking the calorie bank—make a fajita-inspired lettuce wrap. Simply spoon 2-ounces of grilled chicken, 2 tablespoons of black beans, slices of peppers and onions, and a tablespoon of salsa into a large romaine lettuce leaf or two— and enjoy! You can also toss a few slices of avocado on top for an extra dose of healthy fats.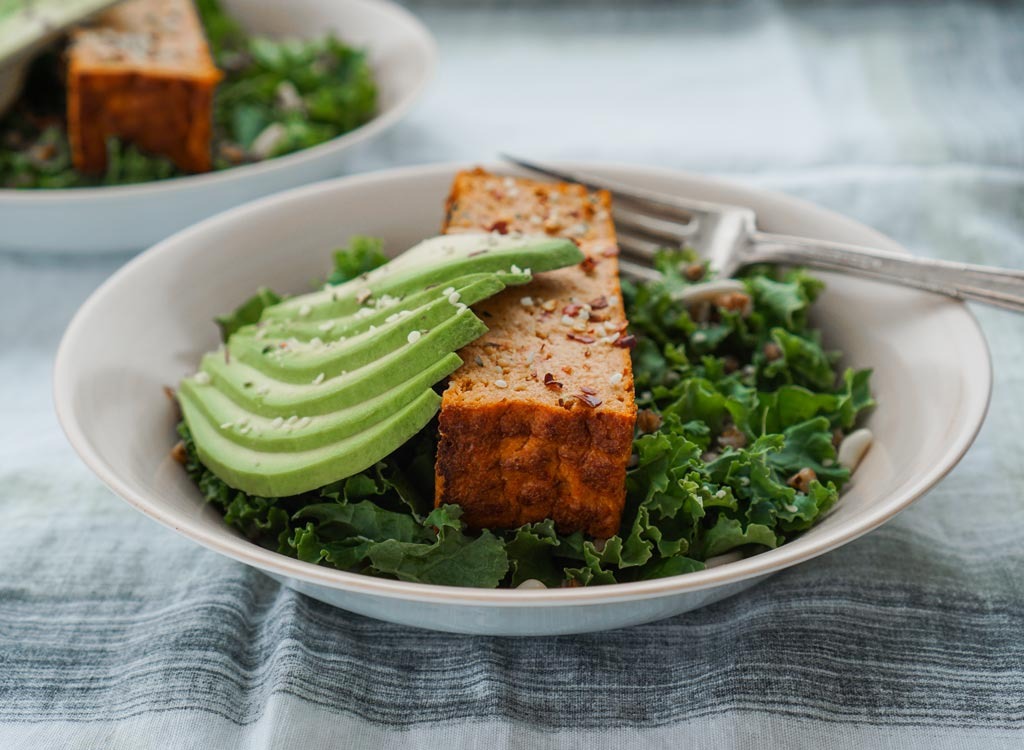 If you're trying to cut back on meats and animal by-products but don't want to fall short on your protein take, consider adding a tempeh (a fermented soy product that absorbs any flavor it's handed) to your weekly lunch line-up. One of our favorite tempeh dishes is a salad that combines the diced meat alternative with kale, grapefruit, avocado, and chopped almonds. If you use 1.5 cups of greens, 4-ounces of cooked tempeh, and ¼ cup of almonds you'll hit your 20-gram goal, no problem.
Get at least 20 grams of protein for dinner.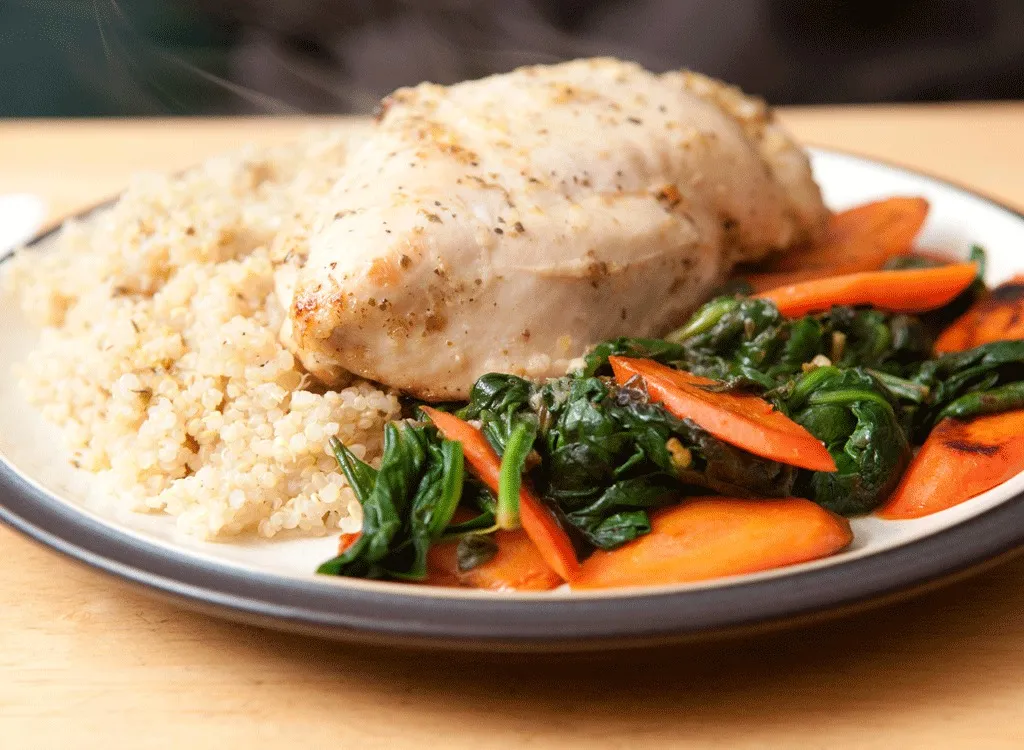 No matter how you flavor it, adding a 3-ounce piece of chicken to your dinner plate it one of the easiest ways to hit your protein quota. Pair it with a whole grain (like quinoa or brown rice) and some veggies for a well-rounded dinner.
Get Creative with Quesadillas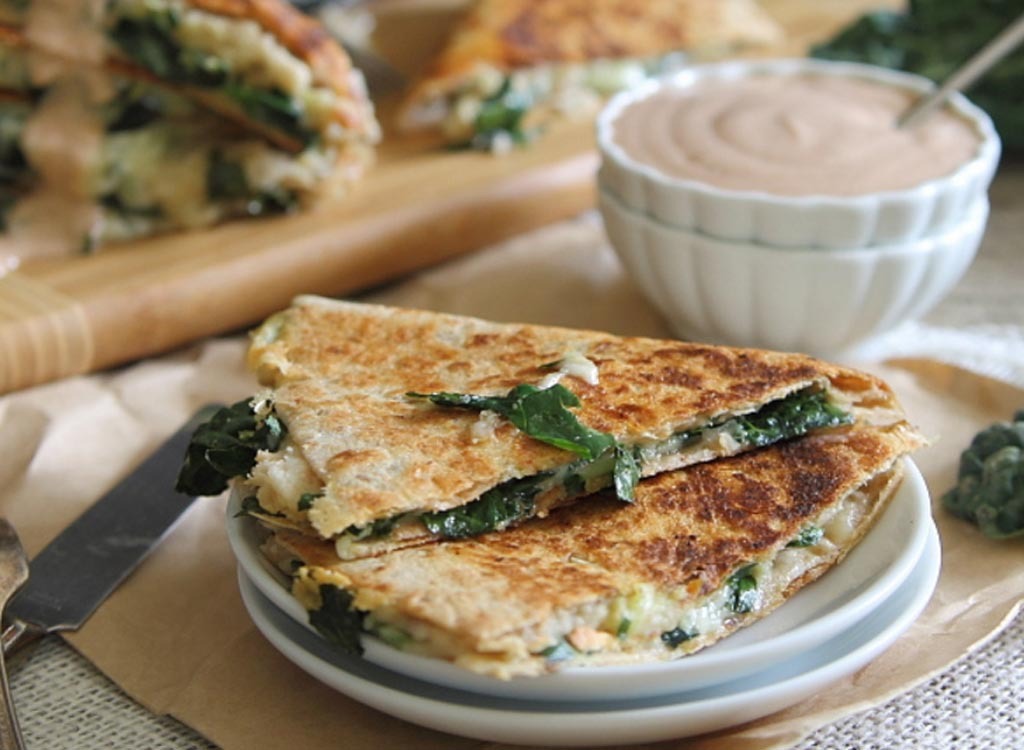 If you're a big fan of Tex-Mex eating, you're sure to love this creative, protein-rich twist on the always-pleasing quesadilla. To make our go-to recipe, place a 6-inch Ezekiel or whole grain tortilla on a skillet and allow it to warm up a bit. Then, add 1-ounce of white cheddar, 3 tablespoons of cannellini beans, and ½ cup shredded kale. Fold the tortilla in half, press down and cook for 1 to 2 minutes per side or until golden brown. While the quesadilla is cooking on the stove, combine 4 tablespoons of plain Greek yogurt with 2 tablespoons of low-sugar barbecue sauce in a small bowl. The combo makes a killer protein-rich dip for your dinner.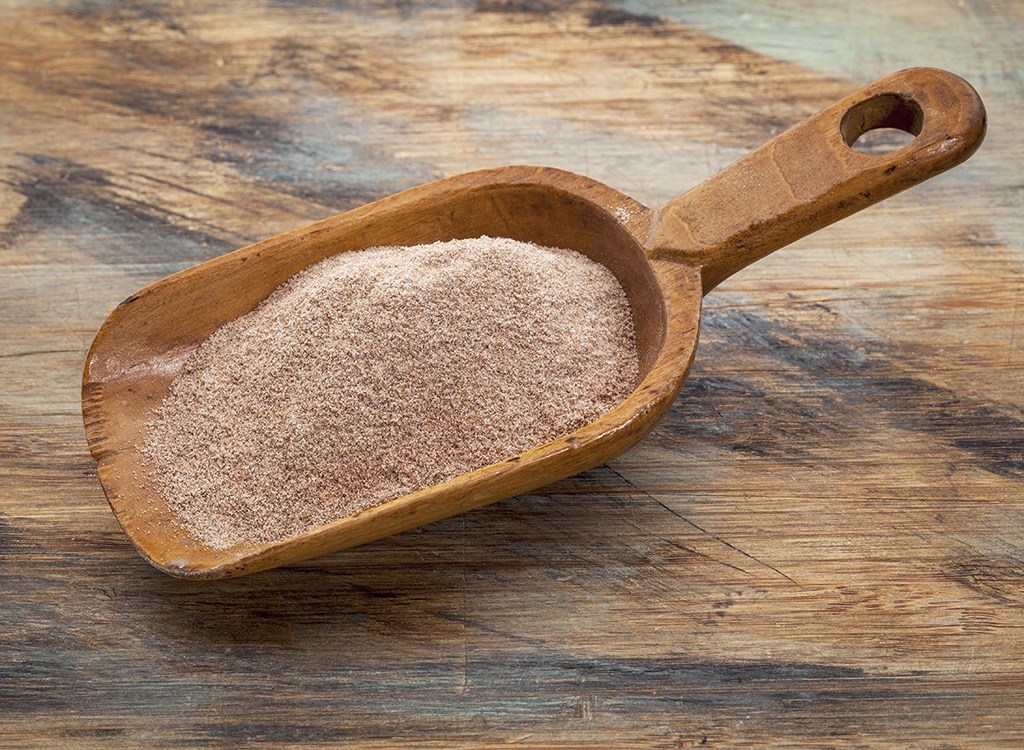 While brown rice is healthier than white rice, teff is the grain you should be eating if you want to hit some lofty protein goals. While brown rice only has 5 grams of protein per cup, teff carries 10 in the same serving size. And not only that, the mild, nutty whole grain contains 30 percent of the day's iron, and four times as much calcium as quinoa. Diets rich in calcium have been associated with lower body weight and reduced weight gain over time, so that's definitely good news! Since a serving of teff will get you halfway to the 20-gram mark, all you'll need to figure out is how you'll want to take in the additional 10 grams. Here are a few meat and veggie combos that hit the target: 1 cup of cooked spinach with an ounce of grilled chicken (13 grams); 1-ounce of steak with 1/2 cup broccoli (11 grams); or 2-ounces of shrimp with a ½ cup of sauteed zucchini.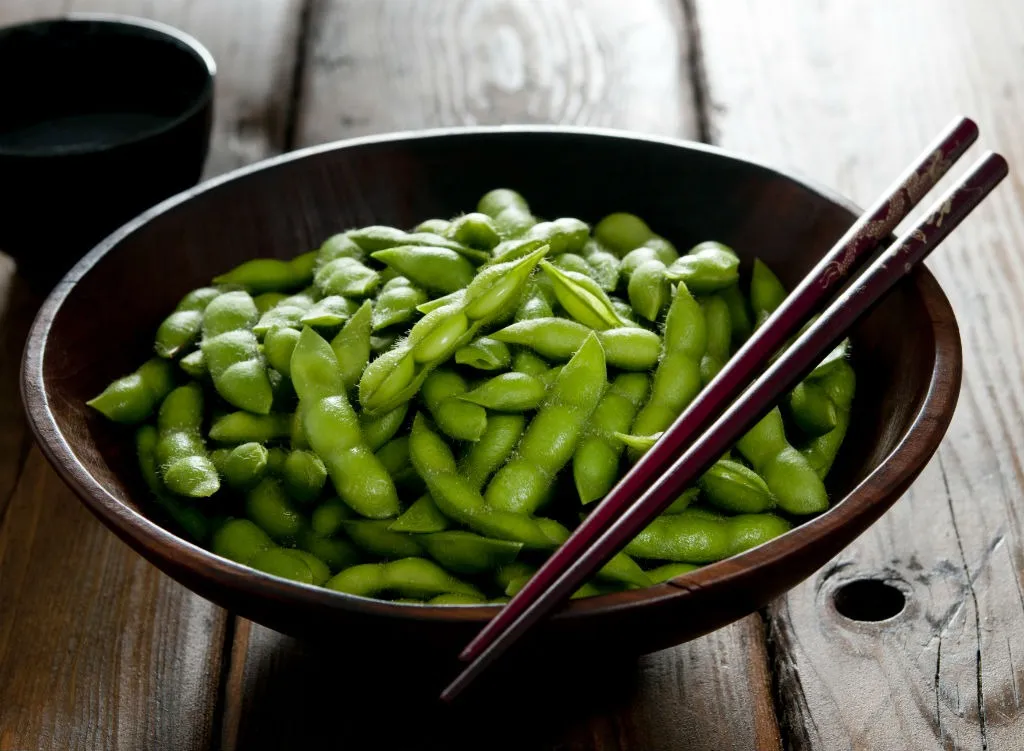 While the phrases "protein packed" and "takeout" are not typically thought of as synonymous, it's easy to take in 20 grams of protein—without sacrificing your healthy eating efforts—if you know what to order. In the mood for sushi? Get the edamame and a shrimp and avocado roll. (Just make sure it's not shrimp tempura!) Or if they have it, spring for wild salmon sashimi. Chicken teriyaki (sans rice with the sauce on the side) is also a safe, protein-rich bet.
Craft a Better Mac & Cheese
With twice the protein and four times the fiber of the leading blue box brand, Banza's chickpea-based mac and cheese might just be the only comfort food on the market that can help your muscles grow. A serving has 18 grams of protein, so if you serve a bowl with a spinach-based side salad you can easily get to 20+ grams. A cup of the leafy green veggie packs 5 grams of the nutrient.