10 Fast-Food Items You Can Order for Your Dog, Vets Say
Treat your furry friend without any fear of ugly side effects.
You've probably heard of Starbuck's Puppiccino (if you haven't, it's a cup of cold whipped cream for your dog to enjoy), but did you know other fast food restaurants offer secret menu items for your fuzzy family members?  It's true! Many of them do offer sweet and savory treats for dogs, but are they safe to serve to your furry friend?
Yes, but in moderation, explains Dr. Jamie Whittenburg (DVM), veterinarian director at Senior Tail Waggers and director of Kingsgate Animal Hospital, "Yes, these fast food dog treats are safe in the fact that they are not toxic for dogs."
Whittenburg goes on to note, "However, being safe does not always mean it is a good idea for dogs to eat them. Many dogs do not tolerate lactose well and these treats may cause gastrointestinal upset and diarrhea. Diabetic dogs should also not ever be fed one of these treats due to the high sugar content."
Pet owners should also keep an eye on sweets as pups can get cavities, says Whittenburg, explaining, "The sugar in these treats is also not good for a dog's teeth. Though dogs typically only rarely develop cavities, this is mostly due to the fact that they don't consume excess sugars in their diets."
That all said, just like humans, dogs can enjoy a treat from a fast food restaurant every once in a while. Below, find some treats you may not know about at some of your favorite spots. 
RELATED: 7 Weirdest Things You Can Buy at Costco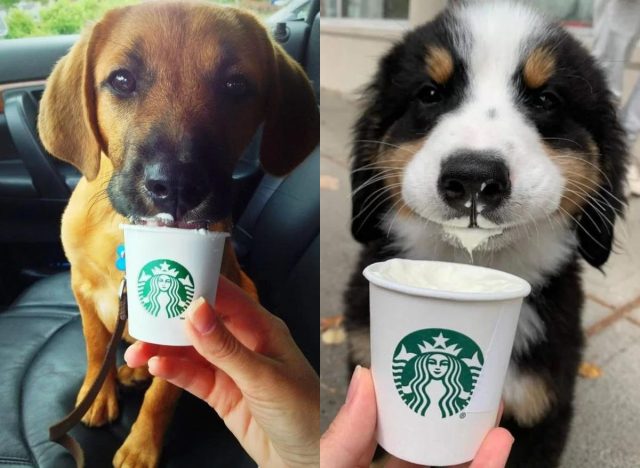 Possibly the best-known off-menu item at the coffee chain, the Puppiccino is whipped cream in an espresso cup for your doggie to slurp up. Whittenburg says, "If your dog's gastrointestinal system easily tolerates dairy, then you could give them a Puppuccino daily. However, as mentioned above, the sugar may cause cavities with this amount." 
The treat is free, and you just have to ask when you go into the store or hit the drive-in, but you can't order it in advance on the app. 
Johnny Rockets Dog Burger
This one is location specific, but some Johnny Rockets locations—especially the ones with outdoor seating —offer cut-up plain burger patties for dogs. They'll also give your pup a bowl of water. 
If you're on the West Coast, this burger spot is a must-visit. The chain's secret dog treat, called a Pup Patty, is a plain, unseasoned burger patty with no salt.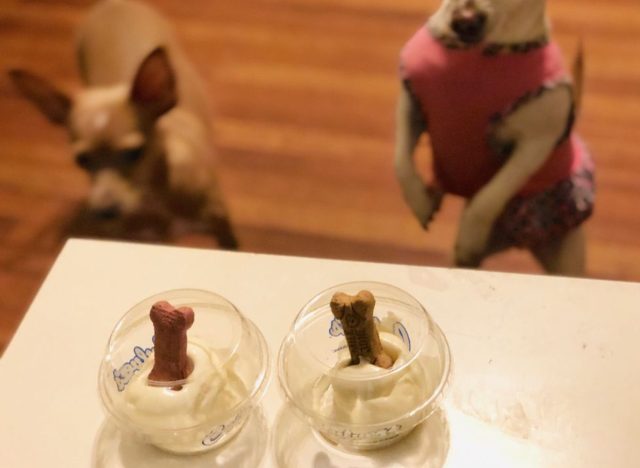 Another regional burger favorite (we love a butter burger), Culver's offers dog biscuits (Milk-Bone type) in its drive-thru. At some locations, the biscuit will come with a scoop of vanilla frozen custard, too. Just be mindful of the calories, says Chyrle Bonk, DVM of  Hepper.com, "Eating a small cup of ice cream for a small dog is proportionally very high in calories."
A mini sundae with Dairy Queen's vanilla soft serve and topped with a dog biscuit, this treat will probably be your dog's favorite, but remember "Dogs that are lactose intolerant or have a milk allergy should not eat ice cream or whipped cream," says Bonk.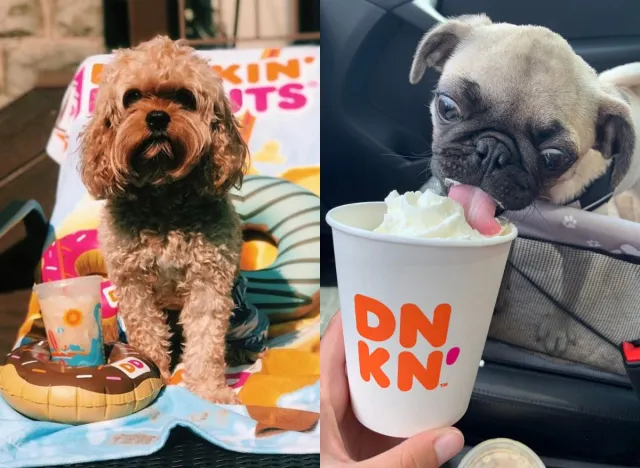 Just like Starbucks, some Dunkin' locations offer puppy lattes, which is a four-ounce cup of whipped cream served without any additional flavoring. You'll have to ask at the drive-thru or counter to find out if your Dunkin' serves doggies. 
Sprinkles Doggie Pupcakes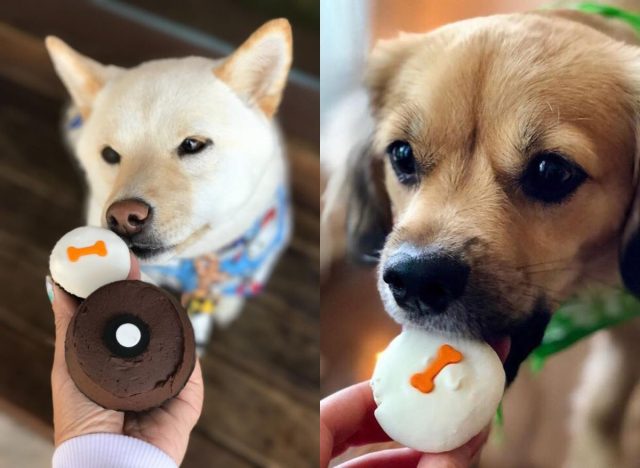 The home of the massive, delightfully decorated cupcakes makes an adorable Pupcake for your four-legged friends. The treat is made with "premium" ingredients, according to Sprinkles, and topped with a yogurt frosting. However, give these treats in moderation, reminds Dr. Rebeca Oliveira, DVM at NHV Natural Pet. "If they eat too much fast food dog treats, they may skip their healthy meal, or have a tummy ache," Oliveira explains. "They can, indeed, get obese if too many treats, of any kind, are given."
Sonic Wag Cup with Dog Treat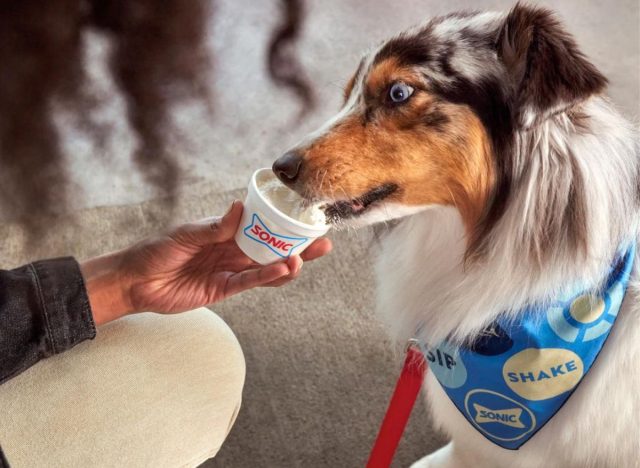 The drive-in restaurant—which is obviously doggie friendly since you stay in your car the whole time—will often bring out dog biscuits to surprise your pup.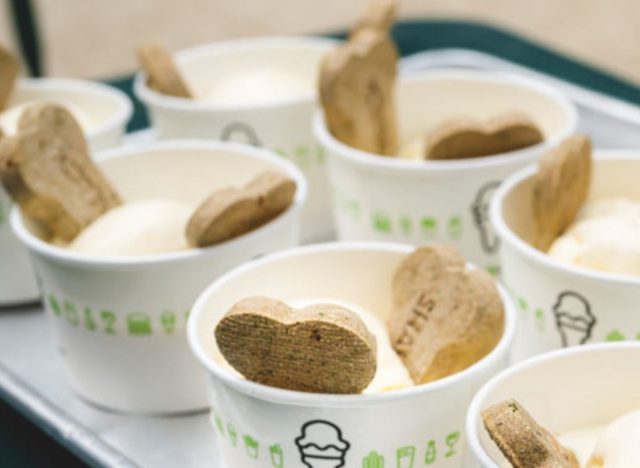 If you're an East Coaster, you're probably already a Shake Shack enthusiast, and your dog will be too after they try their first treat. The Pooch-ini is a custom-made dessert consisting of dog biscuits, peanut butter sauce, and vanilla custard.6254a4d1642c605c54bf1cab17d50f1e
Tim Hortons Sugar-Free Tim Bits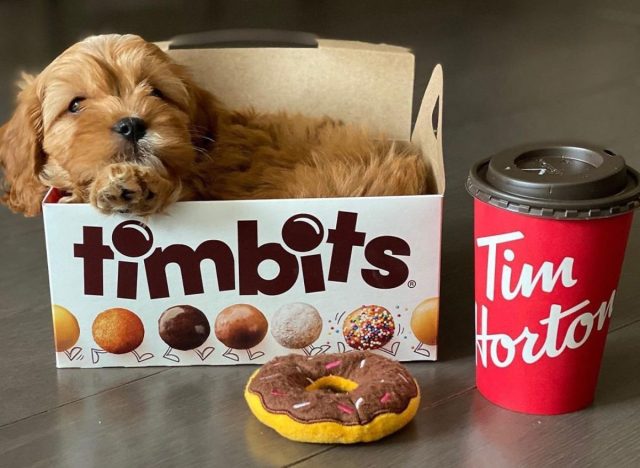 The Dunkin' of the North—you'll find Tim Hortons all over Canada and the Northern U.S.—offers its famous Timbits (doughnut holes) to hungry doggies as a plain, sugar-free doughy treat. Again, give in moderation.
Tanya Edwards
Tanya Edwards is a seasoned food and health journalist, who has held roles at Yahoo Health as Managing Editor and at Food Network as Programming Director.
Read more about Tanya