10 Fat-Burning Smoothie Recipes Nutritionists Always Drink
Trying to shed some stubborn pounds? Sip your way slim with these tasty, fat-burning smoothie recipes.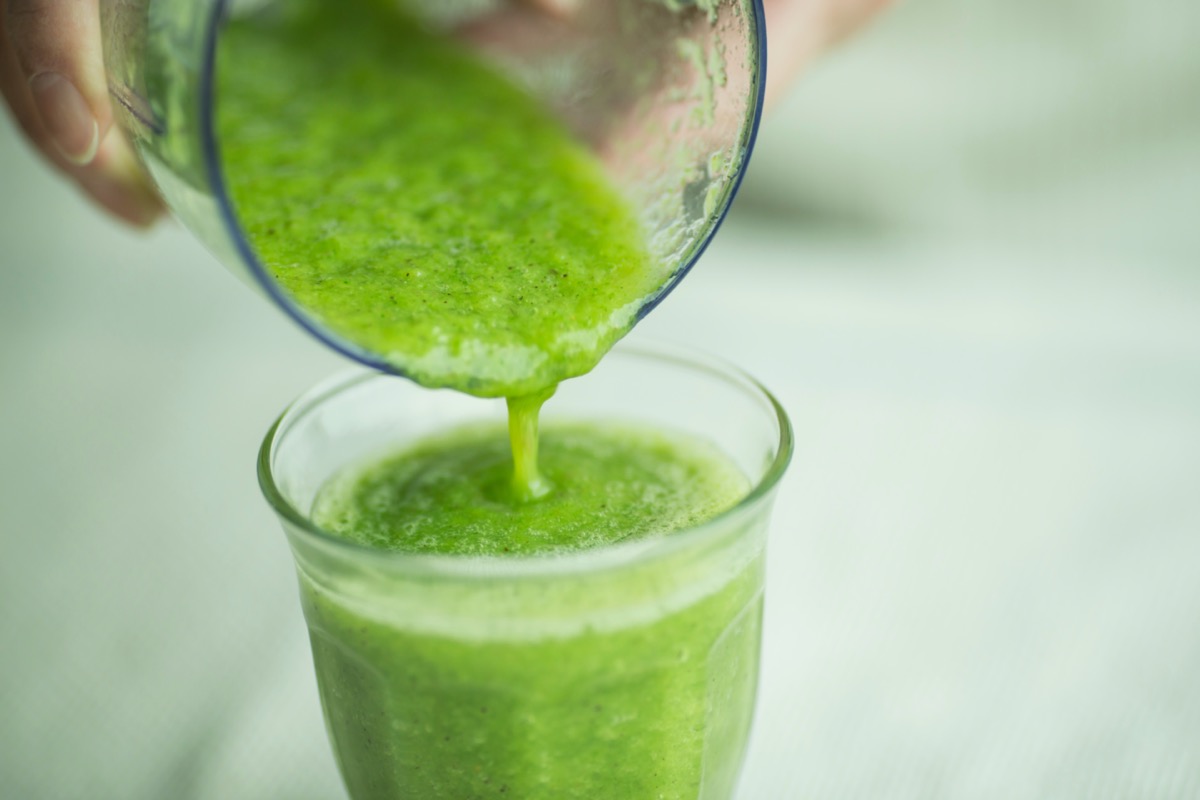 Smoothies can be very hit or miss if you don't know how to make them right. While many of the prepared smoothies from the grocery store or juice bar can contain enough sugar to equal a can of soda, homemade smoothies and shakes can actually be a nutritious substitute for meals. (Especially when they're high-protein smoothies.)
Thanks to these nutritionist-approved recipes from our book, Zero Belly Smoothies, we now have the most nutritious (and tastiest) smoothies that will help you shed those stubborn pounds instantly. For more ways to lose weight in the morning, don't miss 37 Best Healthy Breakfast Foods for Weight Loss.
Nutrition
: 230 calories, 2.5 g fat, 20 g carbs (5 g fiber, 7 g sugar), 26 g protein
This smoothie is a favorite of Kristin Reisinger, MS, RD, CSSD, and founder and owner of IronPlate Studios. It's only 230 calories and is packed with 26 grams of protein to help you get energized for the day. "Combining a low-calorie, non-dairy smoothie first thing in the morning with a roughly even portion of high-quality protein and good carbs is a great start to anyone looking to lose weight and be healthy," Reisinger says.
"Starting the day off with a smoothie like this will pull your body out of its overnight fasting state, and the carbohydrates from healthy, mixed berries combined with high-quality protein will give you the quick energy and protein uptake your body needs first thing in the morning without being too much," she adds.
INGREDIENTS

½ cup frozen mixed berries
Handful of spinach
8 oz unsweetened Silk almond milk
1 scoop plant-based vanilla protein powder

Creamy Chocolate Peanut Butter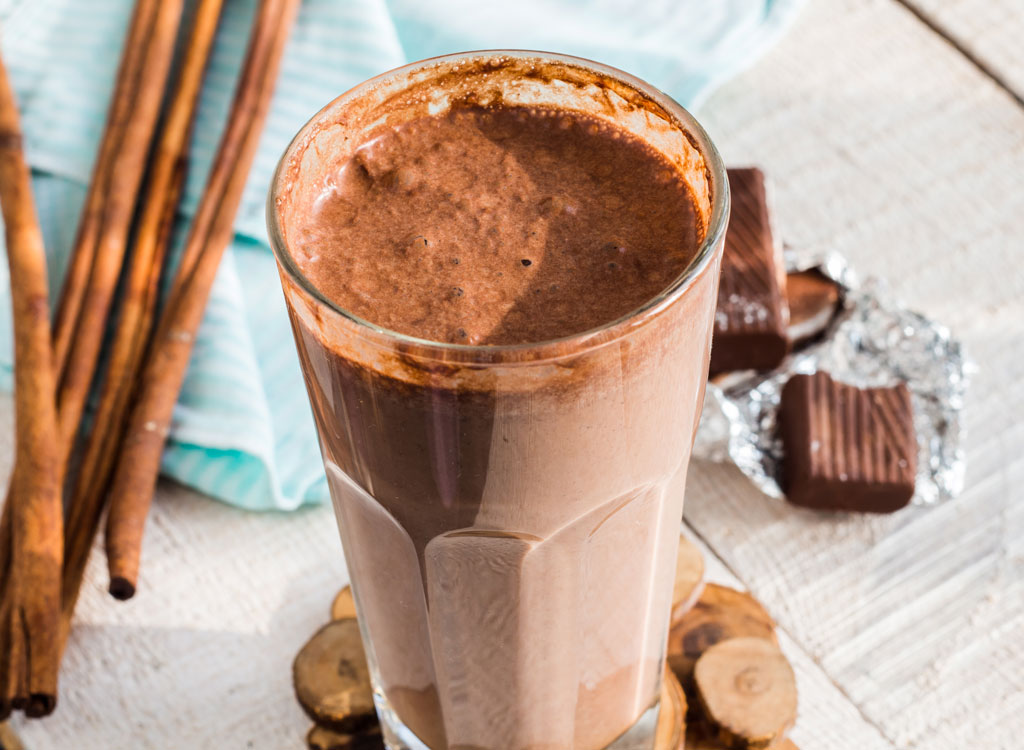 Nutrition
: 300 calories, 19 g fat, 36 g carbs (12 g fiber, 16 g sugar), 15 g protein
If you're a chocoholic, you'll love this smoothie. This sweet recipe, created by Stephanie Clark, RD, and Willow Jarosh, RD of C&J Nutrition, will easily cure your sweet tooth without increasing your waistline. It has all of the smooth and delicious flavors of a chocolate peanut butter cup, without all of the fat and sugar. This smoothie has 300 calories and 16 grams of sugar, which is less sugar than a pack of Reese's peanut butter cups.6254a4d1642c605c54bf1cab17d50f1e
INGREDIENTS

8-10 oz unsweetened almond milk
¾ of a medium banana, very ripe
1 tablespoon peanut butter
¼ cup cubed soft tofu
1 heaping cup steamed and cooled cauliflower florets
½ tablespoon cocoa powder (use more if you want it to be super chocolatey)
1/16 teaspoon cinnamon
Small handful ice cubes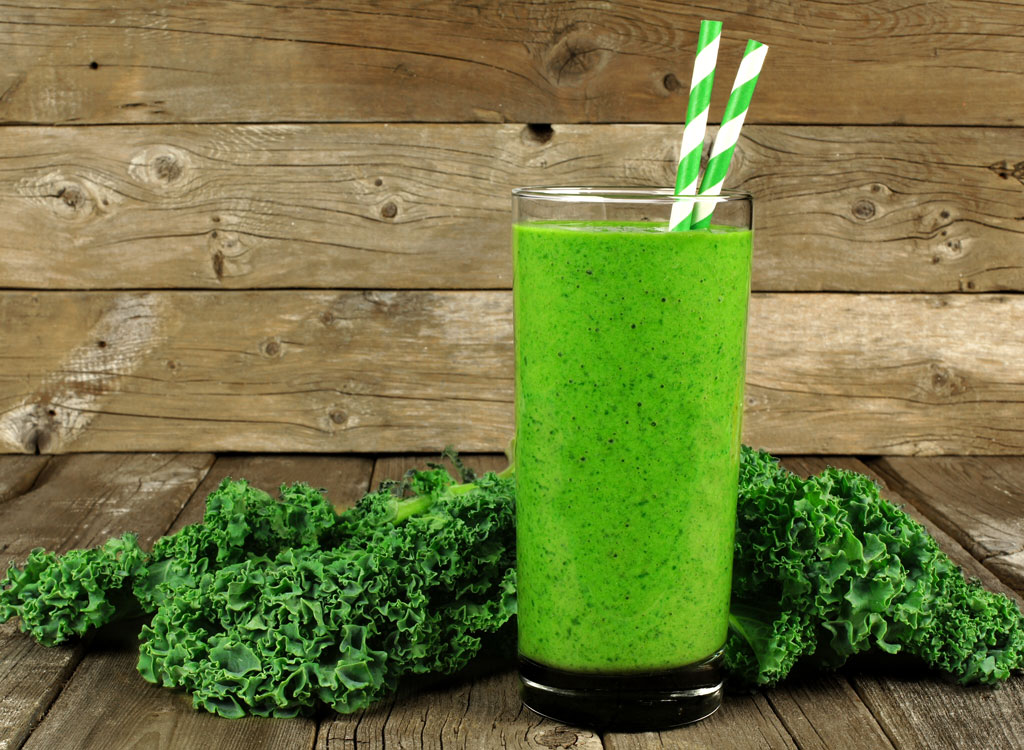 Nutrition (per serving)*
: 58 calories, 0 g fat, 14 g carbs (3 g fiber, 5 g sugar), 2 g protein
If you're looking for a low-calorie drink to sip on, this smoothie is definitely for you. Per serving, it only has 58 calories, contains no fat, and has as little as 14 carbs (this recipe makes three servings, so make sure you're not chugging the whole batch!). However, nutritionists Lyssie Lakatos, RDN, CDN, CFT, and Tammy Lakatos Shames, RD, CDN, CFT, noted that due to this smoothie's low protein content (only 2 grams per serving), this smoothie should not be considered a meal replacement, and the nutritionists recommend having it alongside a protein-packed meal like an omelet.
INGREDIENTS*

1 frozen, very ripe banana
¾ cup spinach, loosely packed
¾ cups curly kale, stems removed, loosely packed
½ cup carrots, chopped
1 teaspoon ginger, grated
1 tablespoon fresh parsley (or cilantro)
1 teaspoon lime juice
8 ounces water
4 ice cubes

*Recipe makes 3 servings
Nutrition
: 300 calories, 4.5 g fat, 40 g carbs (8 g fiber, 21 g sugar), 28 g protein
This smoothie is basically an apple pie in a glass, without all of the excess carbs and sugar. This 300-calorie smoothie is the perfect breakfast substitution since it's filled with 28 grams of muscle-building protein and contains 8 grams of fiber from the apple. "The cinnamon balances blood sugar levels, curbing the appetite and preventing aimless snacking throughout the morning hours," Miriam Jacobson, RD, CDN, says. "Plus, the matcha powder contains catechins like EGCG that help to stimulate fat loss from storage sites." We'll gladly sip on this, then!
INGREDIENTS

1 apple
Handful of kale, deveined
1 teaspoon matcha powder
1 cup unsweetened almond milk
1 scoop plain plant-based protein powder
Cinnamon and nutmeg to taste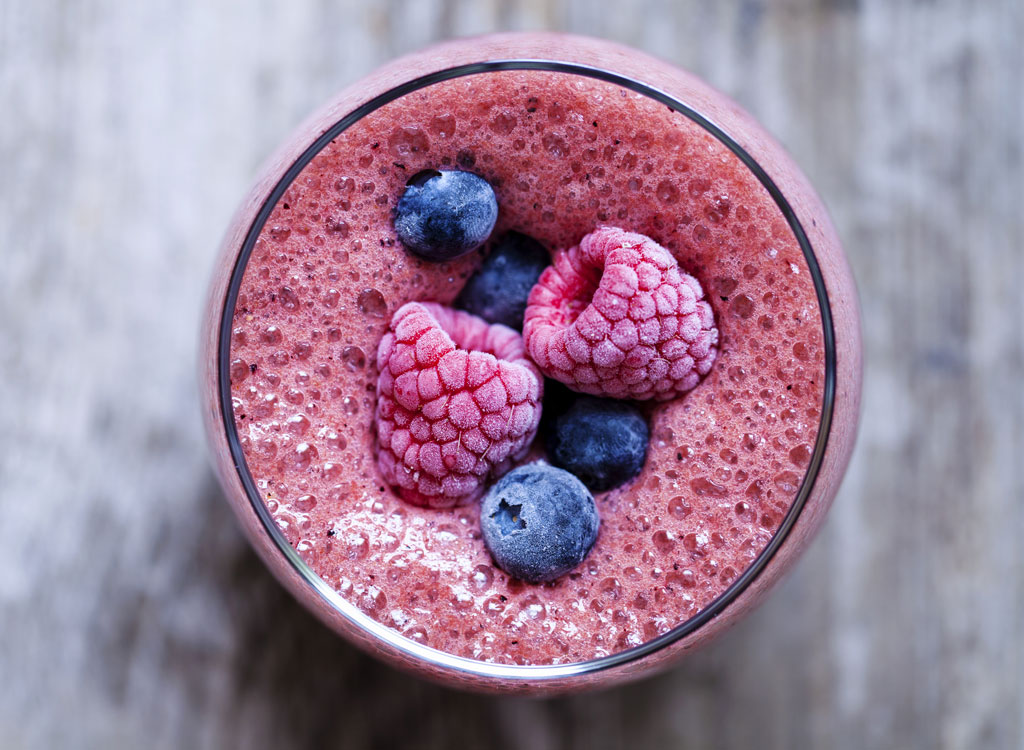 Nutrition
: 267 calories, 7 g fat 24 g carbs (9 g fiber, 10 g sugar), 29 g protein
Cutting carbs has never been easier with this smoothie. It only contains 24 grams of carbs, with 9 grams of fiber from the berries. Its superfood combination of spinach and chia seeds with the plant-based protein powder boost the muscle-regulating protein content of this drink to 29 grams. "I love this protein shake because it's loaded with nutrients but void of excess calories and sugar," Amy Shapiro, MS, RD, CDN, creator of this super-smoothie, says. "I recommend berries as they are high in fiber, low in calories, and loaded with disease-fighting antioxidants—and chia seeds add 'staying power' as they help keep you full and provide tons of omega-3 fatty acids." Shapiro also noted that the cinnamon in this smoothie helps regulate blood sugar levels, and almond milk should be used instead of regular milk because it has a lower calorie count.
INGREDIENTS

¾ cup frozen berries
½ cup frozen spinach
1 tablespoon chia seeds
Dash of cinnamon
Dash of turmeric
1 cup unsweetened almond milk
1 scoop vanilla plant-based protein powder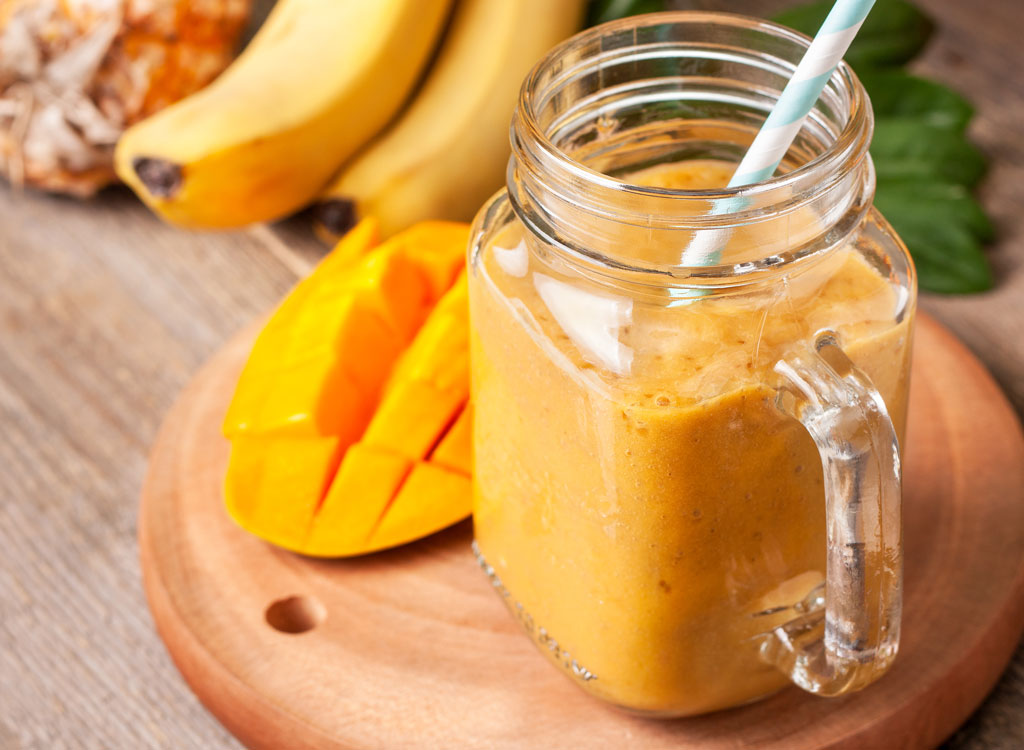 Nutrition
: 148 calories, 1 g fat, 34 g carbs (7 g fiber, 20 g sugar), 4 g protein
Sipping on this smoothie, which was created by Leah Kaufman, MS, RD, CDN, will transport you and your taste buds to a tropical island beach, even if it's really the middle of winter. And, this smoothie will help you get your best each body: it's only 148 calories, and the coconut water in this drink has been proven in a study by the Department of Biochemistry at the University of Kerala to contain diabetes-fighting antioxidants.
INGREDIENTS

½ cup spinach
½ banana
1 cup frozen fruit (mangoes, pineapple, strawberries)
1 cup coconut water

Nutrition
: 307 calories, 11 g fat, 54 g carbs (13 g fiber, 26 g sugar), 6 g protein
"I love this smoothie because it's refreshing, yet packed with nutrients like vitamin C, heart-healthy potassium, and antioxidants like quercetin, beta-carotene, and gingerol," Isabel Smith, MS, RD, CDN, says. "And because it's got anti-inflammatory and heart-healthy avocado, I love to have it for breakfast because the fat helps to slow digestion, keeping me fuller for longer."
INGREDIENTS

1 small pear, cored
1 kiwi, peeled
1 cucumber, chopped
¼ avocado
1-inch ginger, peeled
½ lemon, juiced
1 handful spinach
4 oz water (can be replaced for unsweetened, plain coconut water)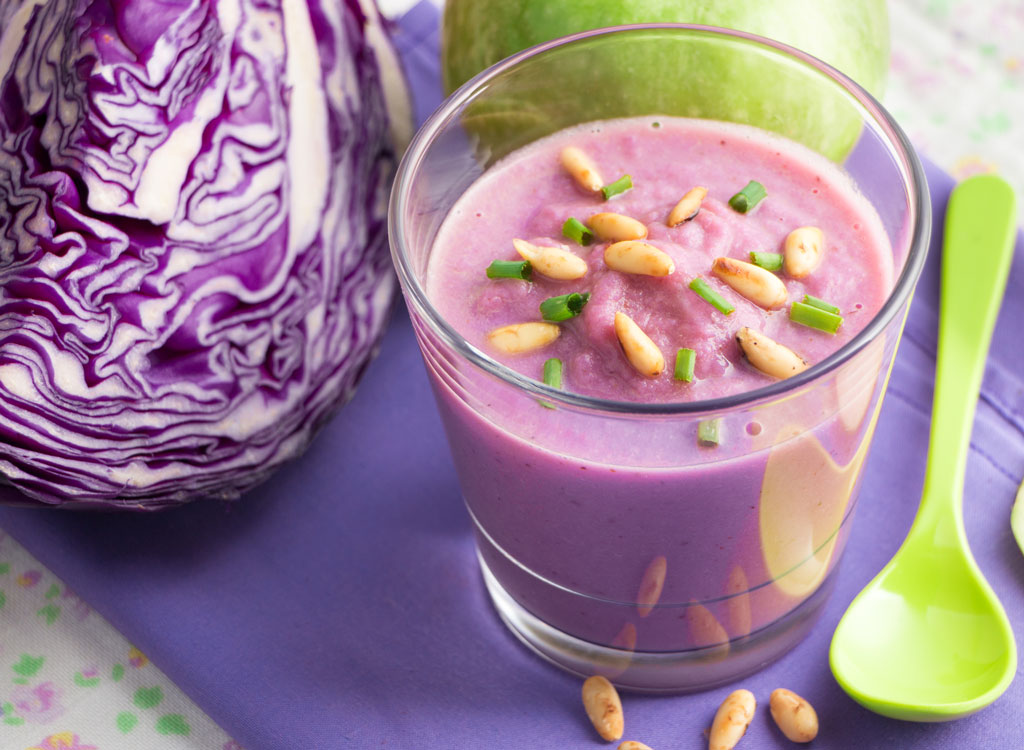 Nutrition
: 245 calories, 5 g fat, 45 g carbs (13 g fiber, 27 g sugar), 7 g protein
Sometimes, the most unusual pairs can be amazing in both nutrition and taste. Sarah Koszyk, MA, RDN, Registered Dietitian/Nutritionist and founder of Family. Food. Fiesta. noted that this smoothie is filled with immune-boosting vitamin C from the fruit and cabbage as well as cholesterol-lowering omega-3's from the chia seeds, which make this an optimal super drink for your health.
INGREDIENTS

1 small green apple (cored and cubed)
¾ cup purple cabbage (roughly chopped)
½ cup frozen blueberries
1 tablespoon chia seeds
½ cup coconut water or regular water

Raspberry Chocolate Smoothie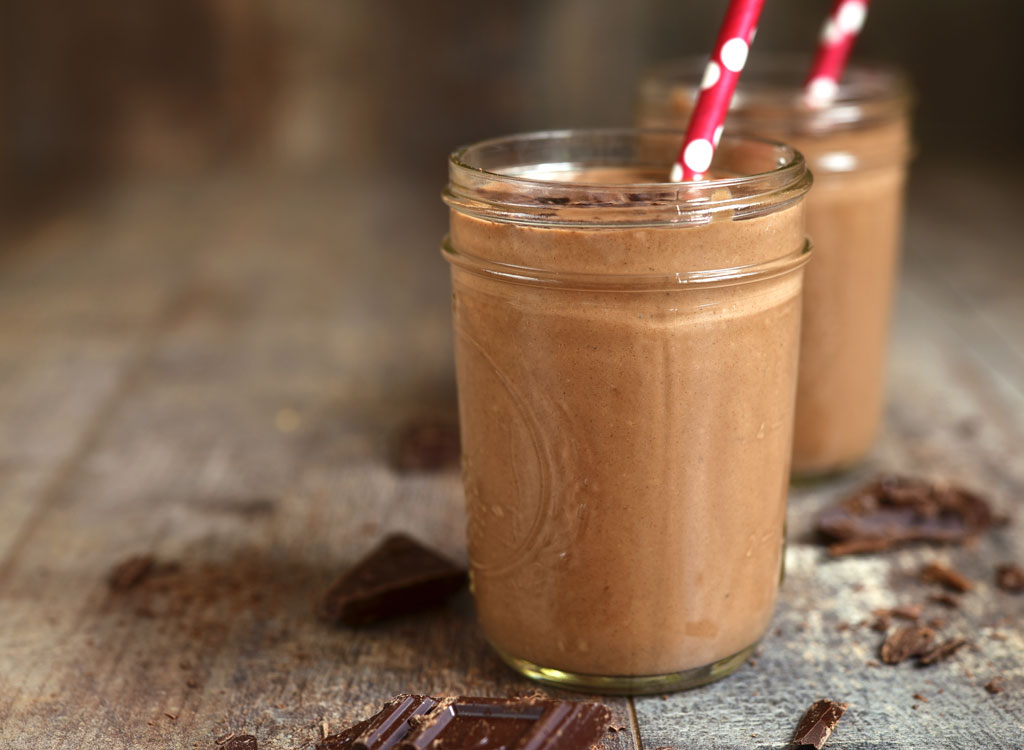 Nutrition (without protein powder)
: 257 calories, 15 g fat, 32 g carbs (11 g fiber, 10 g sugar), 8.6 g protein
Nutrition (with protein powder)
: 391 calories, 15 g fat, 38 g carbs (12 g fiber, 12 g sugar), 34 g protein
If you want to indulge (in moderation) without any consequences, this should be your go-to smoothie. This fruity and chocolatey concoction may seem like just a sweet treat, but in reality, you're getting a more nutritional bang for your buck. Isabel Smith, MS, RD CDN, created this smoothie with "natural, unprocessed and healthful ingredients" like fiber-filled raspberries, nut butters that add protein, and antioxidant-rich cocoa powder.
INGREDIENTS

½ banana
1 handful spinach
½ cup raspberries
1 tablespoon almond or cashew nut butter
2 tablespoons raw cocoa powder
10 oz unsweetened almond, hemp or coconut milk
1 scoop or serving of plant-based protein powder (optional)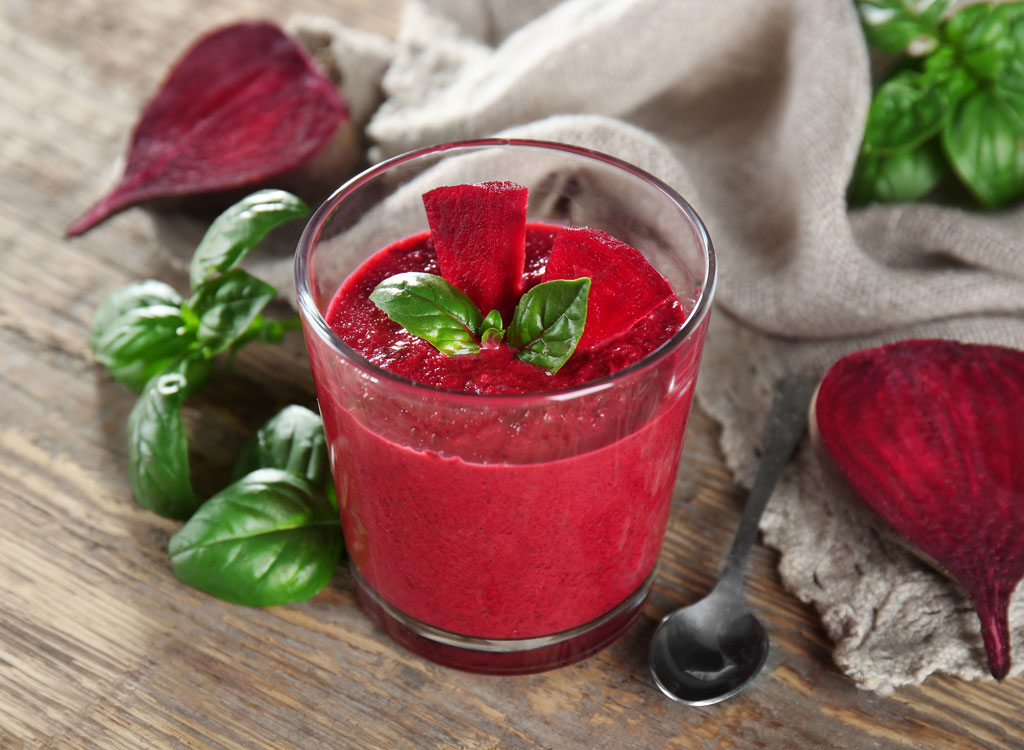 Nutrition
: 239 calories, 6.5 g fat, 35 g carbs (8.6 g fiber, 23 g sugar), 15 g protein
According to Dana James, MS, CNS, CDN, BANT, AADP, and founder of Food Coach NYC & LA, the "earthiness juxtaposed against sweetness" in this beet and cherry combination work perfectly in terms of taste. This smoothie is also filled with a bunch of nutrients to keep your body in top shape: at only 239 calories, this smoothie has 8.6 grams of fiber to keep your digestive system on track and 15 grams of protein to help build muscle strength.
INGREDIENTS

10 oz unsweetened almond milk
1 raw beet
1 cup frozen cherries
1 teaspoon hemp seeds
3 tablespoons Beauti-Fuel brand protein powder
Dash of Bulgarian rose water