The 7 Best Bottled Smoothies You Can Buy, According to Dietitians
Give your blender a rest and grab one of these healthy store-bought smoothies for on-the-go fuel.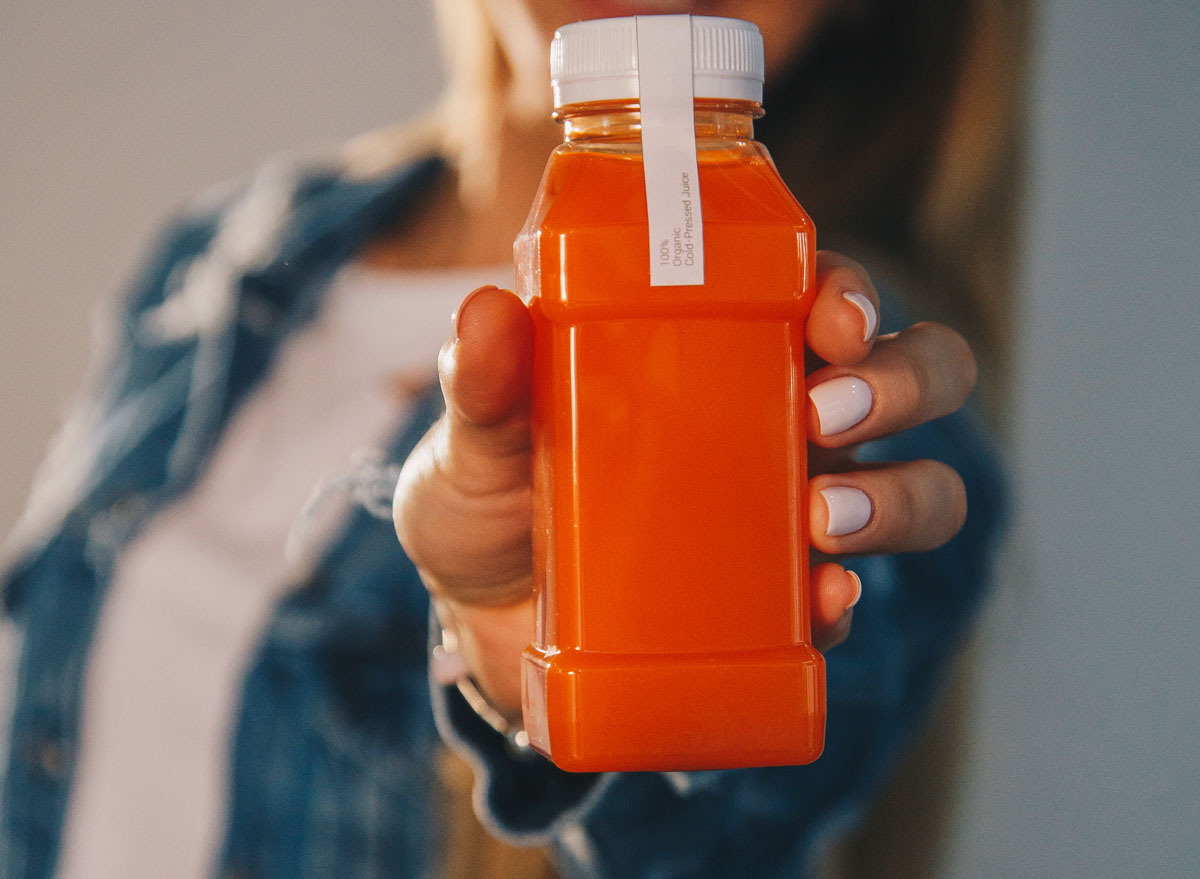 Unless you're Gwyneth Paltrow or that glowing, plant-based blogger you enviously follow on Instagram, you may not have the time to whip up homemade, healthy smoothies from scratch every day. We stand with you in solidarity. But when it comes to buying store-bought smoothies instead, it's important to scan the label thoroughly.
Many bottled smoothies can be carb or added sugar bombs with almost no redeeming qualities.
Luckily, even if you don't have time to shop for ingredients and blend up a DIY glass of green goodness, that doesn't mean you have to down a dessert. Healthy store-bought smoothies do exist.
With some general nutrition savvy—knowledge is power, friends—and a bit more awareness, you can avoid these bad-for-you smoothies and pick a win for your waistline and palate with the best bottled smoothies.
How to pick a healthy smoothie at the store.
When perusing the grocery store, take the guidance of Maggie Moon, MS, RD, Los Angeles-based registered dietitian and best-selling author of The MIND Diet to choose the best bottled smoothies. She recommends prioritizing:
whole ingredients
balance of healthy carbohydrates, protein, and fat
presence of micronutrients, like potassium or iron
What to avoid:
filler juices
added sugars ("unless the rest of the nutritional profile looks great and even then, I want it to be under five grams," Moon says)
What makes some smoothie options unhealthy?
Even Moon admits it is no easy feat to pick the best store-bought smoothies: "Honestly, most of what you find on grocery shelves includes a lot of filler juices, and it's challenging to find smart options."
Sugar, in particular, can be a big concern when selecting a bottled smoothie.
"While smoothies can usually be a great way to get in nutritious micronutrients like vitamins and minerals, the main distinguisher here is sugar content," states Rachel Fine, MS, RD, CSSD, registered dietitian, and owner of To The Pointe Nutrition.
"Many bottled smoothies contain a heaping dose of sugar (whether it be from natural sources like fruit or from added sugar sources). While we definitely want to reduce the overall consumption of added sugar throughout our day, a large dose of sugar (whether natural or added) can lead to blood glucose spikes soon after consumption."
The 7 best bottled smoothie brands you can buy.
Of course, you can't beat the ease of picking up a bottled smoothie, since it can save you precious time in the kitchen whipping a smoothie up (not to mention, the blender-and-counter clean up sitch). "Convenience is a major plus when it comes to these smoothies. With many of us battling on-the-go schedules, it can be hard to get in a truly balanced meal or snack. These convenient smoothies make for reliable options on the busiest of days," adds Fine.
Below, nutritionists share their favorite healthy bottled smoothie picks and some of the worst offenders in Smoothieville. Read on and gulp up.
1. Noka Organic Sweet Potato/Goji Superfood Smoothie
1 pouch (120 g)
: 110 calories, 2 g fat (0.5 g saturated fat), 15 mg sodium, 20 g carbs (2 g fiber, 11 g sugar [0 g added sugar]), 5 g protein
"These 4.2-ounce Noka pouches have wholesome ingredients like actual sweet potato, dates, flaxseed, goji and cinnamon, to name a few. You get an excellent source of iron (20% DV), a good source of potassium (10% DV), a respectable two grams of fiber and five grams of plant protein, all for 110 calories, 11 grams of total sugars and zero added sugars," says Moon. "These don't need refrigeration, so they're great to keep on hand for when I'm rushing from work straight to a dance class and need a small snack that won't weigh me down or ruin dinner."
2. Daily Harvest Ready-to-Blend Smoothies, Mint + Cacao
1 package
: 240 calories, 8 g fat (3.5 g saturated fat), 35 mg sodium, 37 g carbs (8 g fiber, 19 g sugar [0 g added sugar]), 6 g protein
Ok, we know, we know. This isn't technically "bottled," but if you want a low-effort, at-home smoothie that's delicious and brimming with nutrients, you'd be hard-pressed to find a better option than Daily Harvest. (And did we mention that ditching that plastic bottle is good for the environment, too?) "Daily Harvest is one of my favorites, though a bit pricier. These smoothies are incredibly balanced with a wider variety of ingredients like seeds, nut butters, cacao, and avocado," says Fine. "I prefer these smoothies after a workout, as the mixture of macronutrients plays a major role in muscle repair and recovery." Our favorite flavors? Mint + Cacao and Banana + Greens.
To "make" each smoothie, all you have to do is pick a base liquid like water, coconut water, or almond milk; fill the cup to the line with your base of choice; blend; pour your smoothie back into the cup.
3. Evolution Fresh Organic Super Fruit Greens Smoothie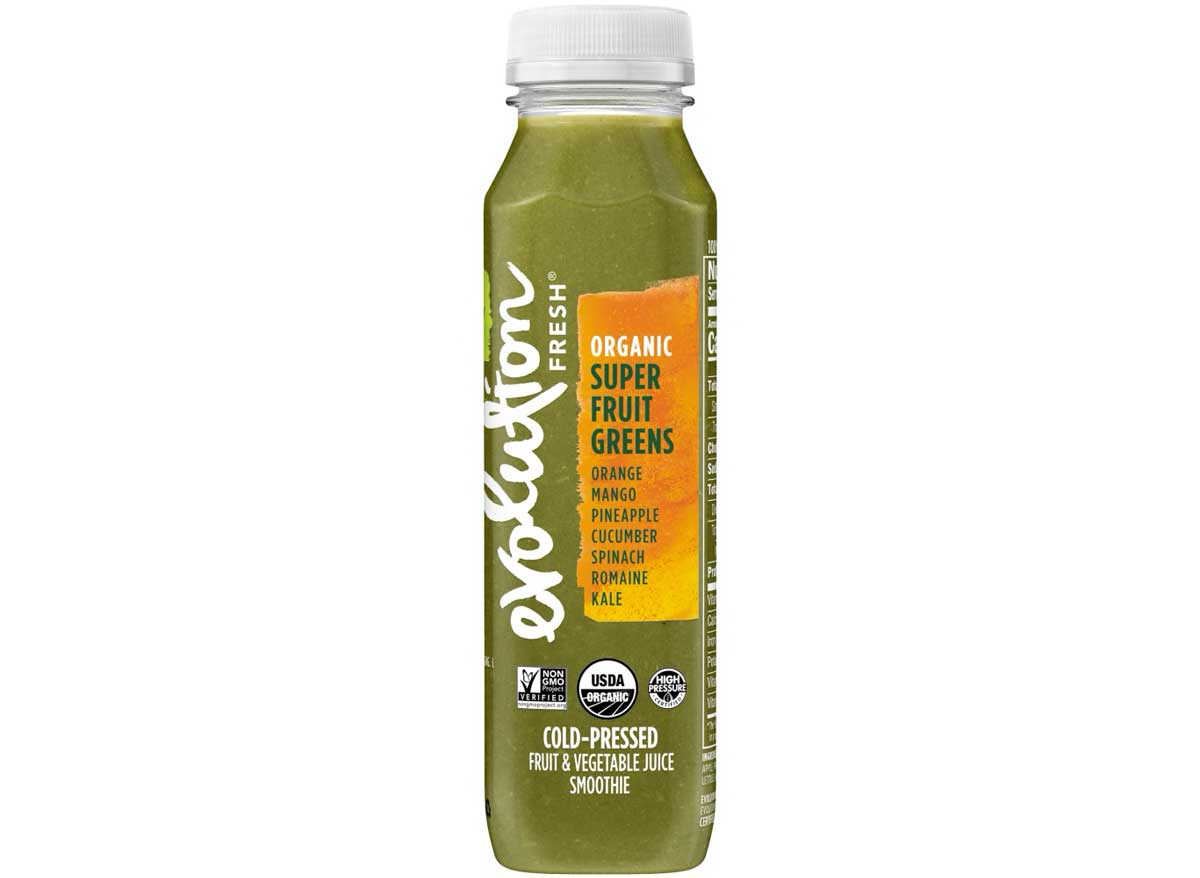 8-ounce bottle
: 130 calories, 0 g fat (0 g saturated fat), 120 mg sodium, 30 g carbs (2 g fiber, 26 g sugar [0 g added sugar]), 2 g protein
"It's not often that you'll find a green smoothie that's not sweetened with any added sugar. This smoothie is made with all fruits and veggies—including kale and romaine lettuce—and contains spirulina and chlorella for a natural color boost," explains Amy Gorin, MS, RDN, owner of Amy Gorin Nutrition in the New York City area.
4. Suja Vibrant Probiotic Smoothie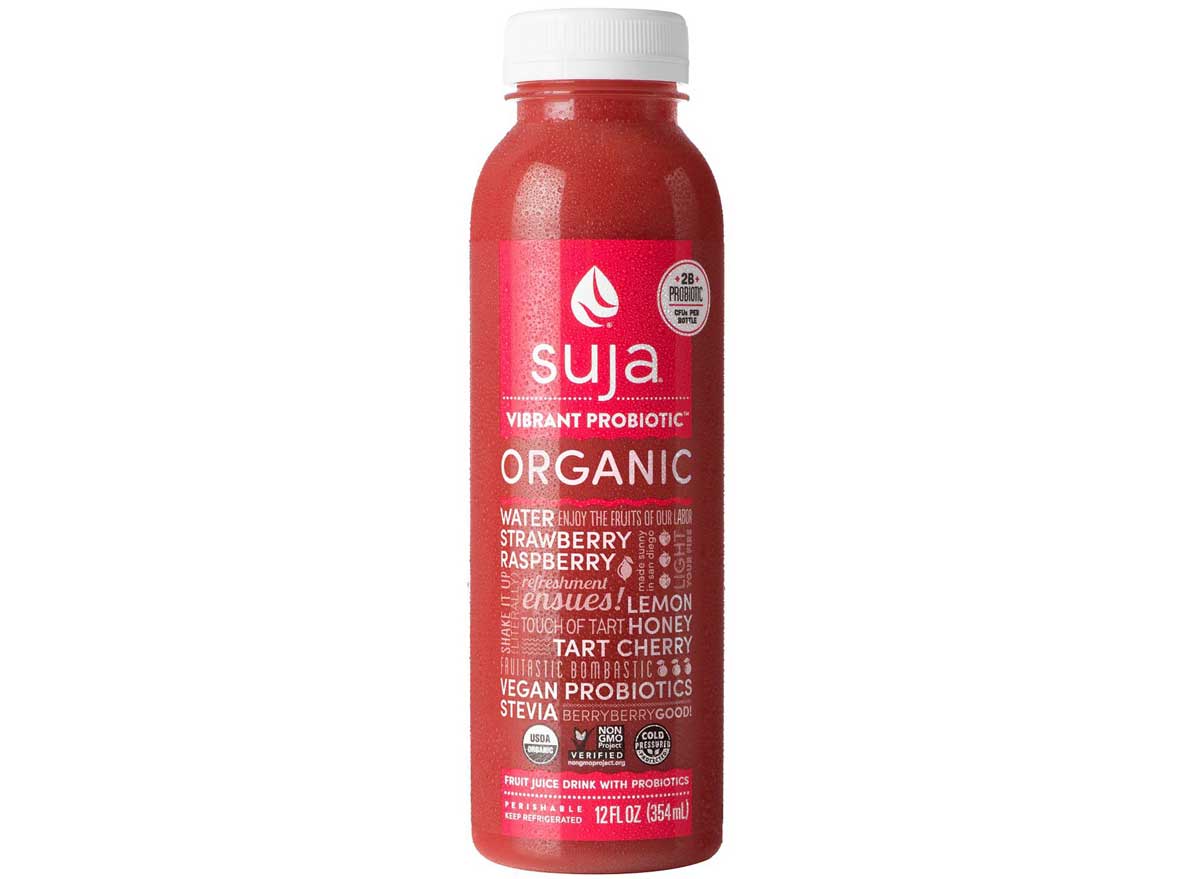 12-ounce bottle
: 60 calories, 0 g fat (0 g saturated fat), 7 mg sodium, 15 g carbs (2 g fiber, 12 g sugar [4 g added sugar]), 2 g protein
"It's organic and with only 40 calories [per 8-ounce serving], it is sweet and delicious and won't break the calorie bank. This smoothie also contains 2 billion CFUs of probiotics per serving for a healthy gut. And with only eight grams of sugar per serving, it's far lower in sugar than most other smoothies," say Lyssie Lakatos, RDN, CDN, CFT and Tammy Lakatos Shames, RDN, CDN, CFT, The Nutrition Twins, co-founders of Nutrition Twins.
5. Naked Fruit and Veggie Smoothie Kale Blazer
1 bottle
: 180 calories, 0 g fat (0 g saturated fat), 180 mg sodium, 40 g carbs (0 g fiber, 34 g sugar [0 g added sugar]), 4 g protein
"Naked Kale Blazer is more of a green juice, but without any added sugar, is a great way to pack in a punch of nutrition especially when on-the-go," offers Fine. "I like that it gets in juices from both veggies and fruit, which helps to reduce the overall sugar content as compared to other competitive options."
6. Koia Chocolate Banana
6254a4d1642c605c54bf1cab17d50f1e
12-ounce bottle
: 190 calories, 7 g fat (2 g saturated fat), 280 mg sodium, 14 g carbs (6 g fiber, 6 g sugar), 18 g protein
Yes, this offering from Koia is technically on our list of best protein shakes, but because it has fruit in it—just like your average smoothie—we're bending the rules a little. "[This smoothie] has a good balance of heart-healthy unsaturated fats, carbs, including an impressive seven grams of dietary fiber (25% DV), and 18 grams of plant protein," advises Moon."It's also a good source of iron (10% DV). Its nutrients come from food, not supplements, including almonds, brown rice, peas, and chickpeas. There are only four grams of added sugar, which is pretty reasonable in the context of the whole package of goodness you're getting."
7. Medlie Veggie Drink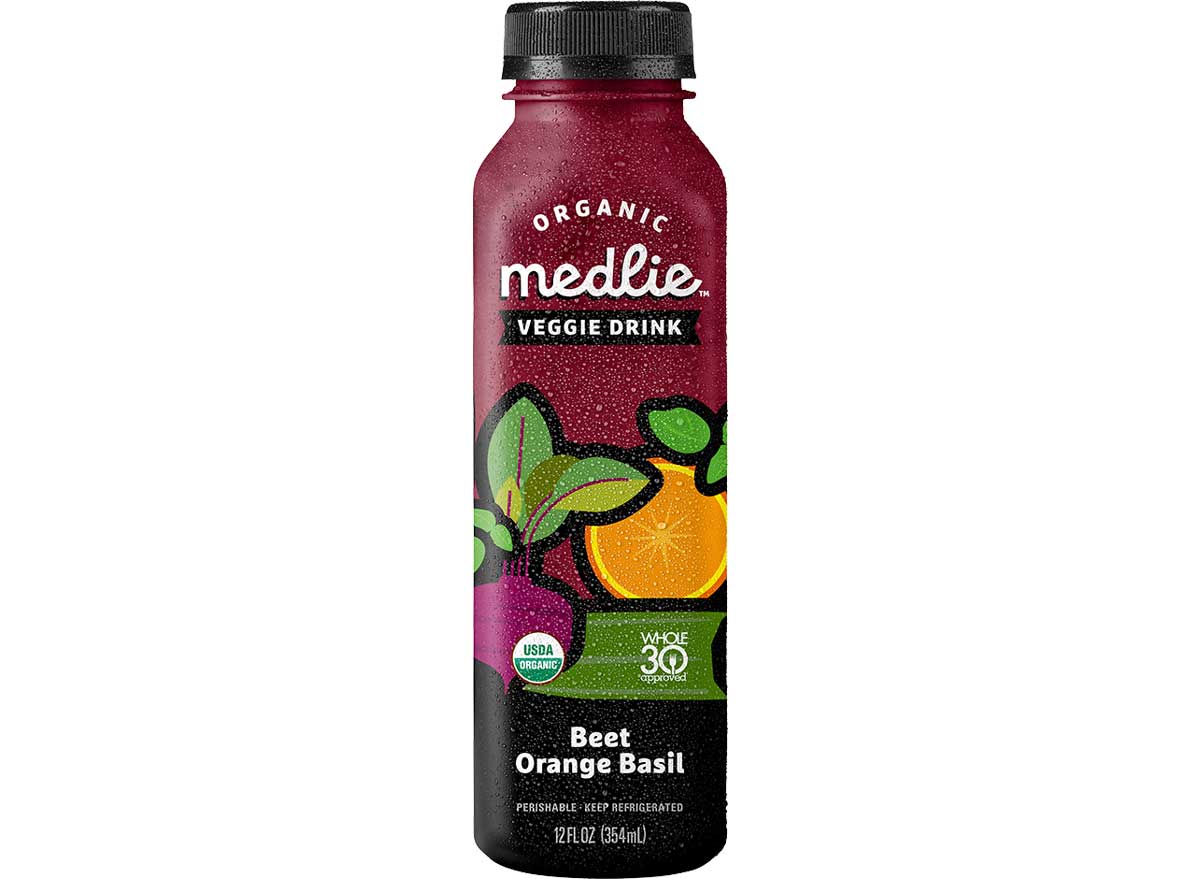 1 bottle
: 100 calories, 4 g fat (0.5 g saturated fat), 250 mg sodium, 15 g carbs (3 g fiber, 9 g sugar [0 g added sugar]), 2 g protein
Though Bonnie Balk, RD, dietitian and Health & Wellness Expert for Maple Holistics, doesn't advocate for drinking bottled smoothies on a regular basis, she admits that "when short on time or craving something sweet, smoothies can come in handy if chosen correctly."
Balk recommends looking for a smoothie brand with vegetables and antioxidant-rich fruits, like Medlie's Beet Orange Basil. This smoothie-like veggie drink is brimming with nutrient-dense produce. "Try it as a mid-afternoon snack, to curb your hunger between meals in order to prevent overeating at dinner, or use the smoothie as a replacement for a less healthy snack choice."
The 4 worst bottled smoothies
What bottled smoothies to avoid? "Everything else. Just kidding. It's hard to pick just one to avoid because so many bottled smoothies are full of filler juices," concedes Moon. Below, smoothies that may seem misleadingly healthy but are actually loaded with sugar, empty calories, and more non-nutritious fillers.
1. Naked Boosted Smoothie Blue Machine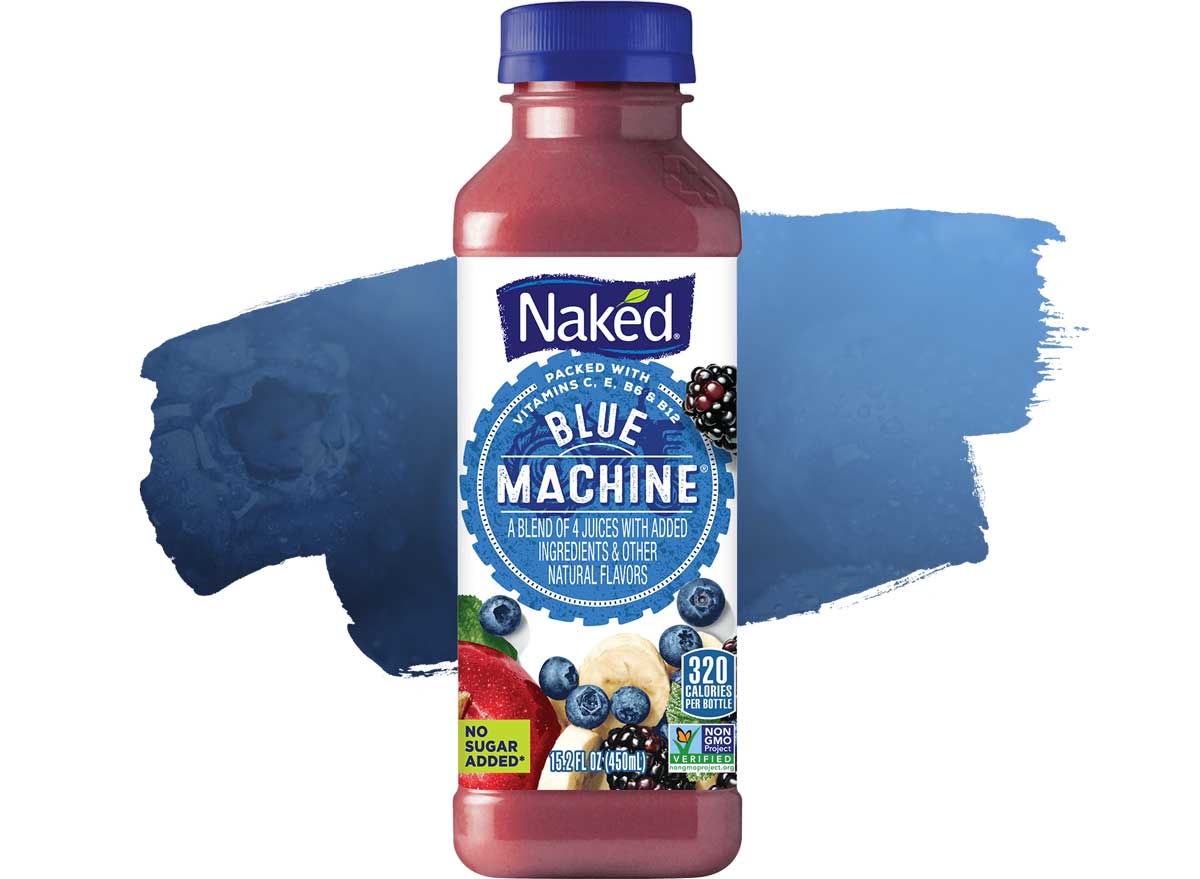 1 bottle
: 320 calories, 0 g fat (0 g saturated fat), 0 mg sodium, 76 g carbs (3 g fiber, 55 g sugar [0 g added sugar]), 2 g protein
We'll pass on this sugar bomb. "In a fairly small 15.2 fluid ounce bottle, there are nearly as many calories that many people should get in a meal. Unfortunately, it won't keep you feeling satisfied since there are only two grams of protein to slow down digestion," note The Nutrition Twins. "The kicker is that there are 55 grams of sugar, which is almost 14 teaspoons of sugar. This is more than double the six grams maximum of added sugar that women should get in an entire day and five teaspoons more than the maximum nine teaspoons of sugar men should get daily. Although the sugar is mainly from fruit, it's just too much in a concentrated form—three-and-a-third apples, one banana, 27 blueberries and three blackberries."
2. Odwalla's Original Superfood Fruit Smoothie
15.2 fl-oz bottle
: 240 calories, 0 g fat (0 g saturated fat), 30 mg sodium, 58 g carbs (<1 g fiber, 51 g sugar [0 g added sugar]), 2 g protein
Think twice before you pick up this tempting bottle. "One that I find particularly misleading is Odwalla's Original Superfood Fruit Smoothie, which is green and covered in imagery of whole fruits and vegetables," says Moon. "The first ingredient is a filler juice filler juices refer to juices like clarified apple and grape juice. They dilute the more expensive ingredients, and they don't offer much positive nutrition. Plus, anything that makes it green, when all combined, makes up less than 1% of the smoothie. It's fat-free, and has minimal protein or fiber—so it's not going to be very satisfying. For all these reasons, I'd avoid this smoothie brand's bottle, even though it's high in potassium, vitamin A, and vitamin C (from added ascorbic acid)."
3. Bolthouse Farms Protein Plus Strawberry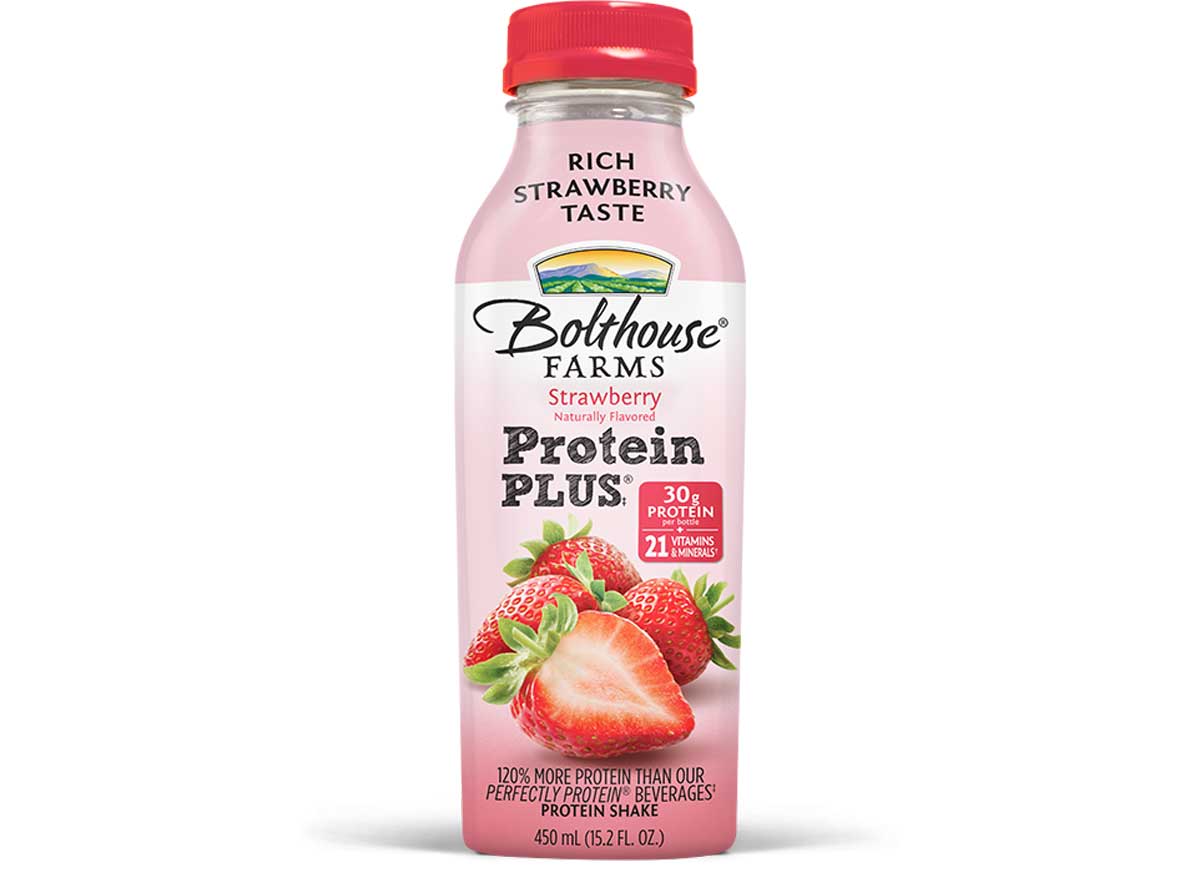 15.2 fl-oz bottle
: 330 calories, 5 g fat (3 g saturated fat), 360 mg sodium, 41 g carbs (0 g fiber, 39 g sugar [26 g added sugar]), 30 g protein
"Make sure you always read the back where the label and ingredient list are located. For example, Bolthouse Farms' 'Protein Plus' line, a well-known smoothie brand in the smoothie section of the pharmacy or grocery store, may seem like a smart choice," says Lisa Moskovitz, RD, CDN, CEO of NY Nutrition Group. "Before you grab-and-go, stop and flip it over to the back. Your jaw will hit the floor. There may be strawberries and the word 'protein' on the front, but there are a whopping 39 grams of sugar per bottle. And 26 grams of which are purely added." For reference, that's basically the amount of sugar you'll find in a 10-ounce chocolate milkshake. No thanks! In this case, it's probably best to make your own high-protein smoothie recipe at home.
4. Naked Power-C Machine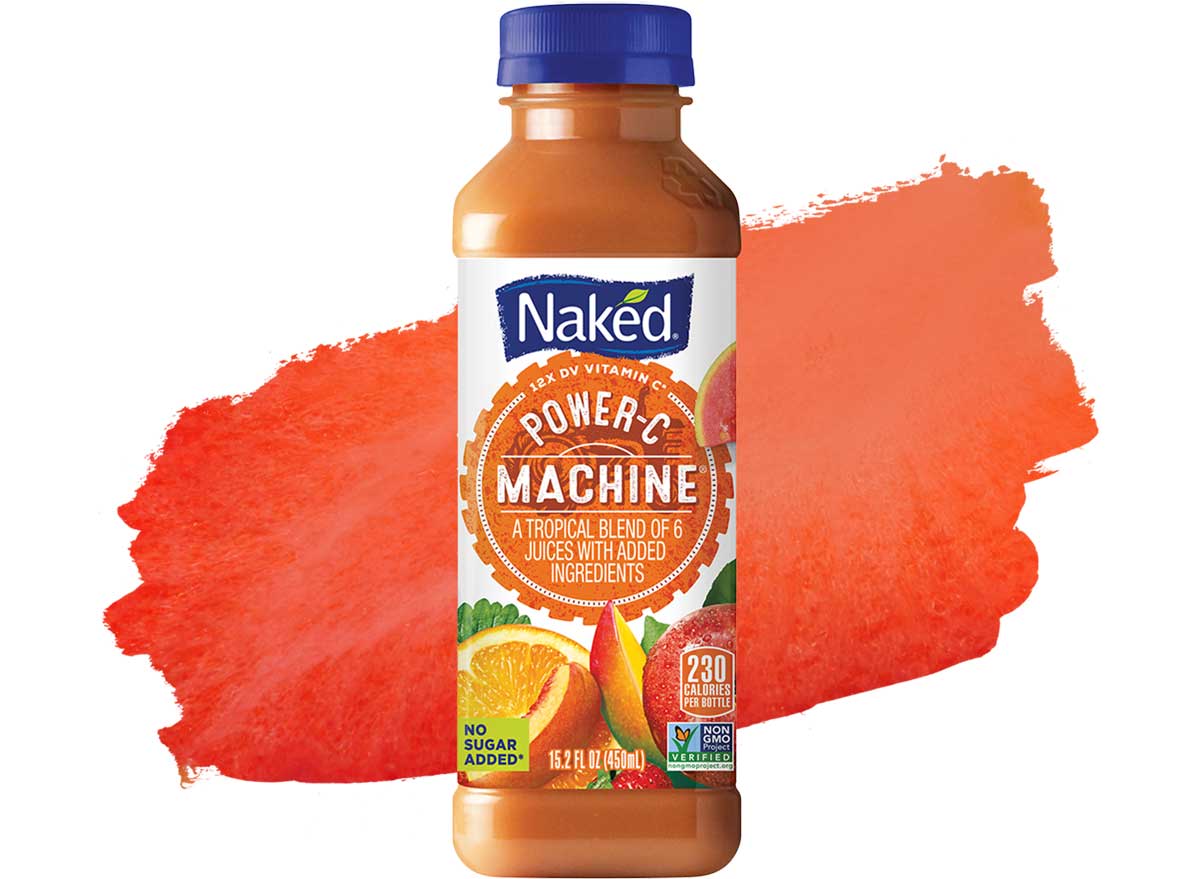 1 bottle
: 210 calories, 0 g fat (0 g saturated fat), 25 mg sodium, 55 g carbs (0 g fiber, 44 g sugar [0 g added sugar]), 2 g protein
"I don't like that the first ingredient is a filler juice. What's worse to me is that [this smoothie's] claim to fame is it's vitamin C, so imagine my surprise when I looked at the label and saw there's added ascorbic acid (the supplement form of vitamin C)," says Moon. "Its 1,270% of the Daily Value for vitamin C is quite high, and excessive vitamin C sometimes isn't well-tolerated. At best, it leaves the body as expensive pee." We'll save our money for that Daily Harvest, thank you very much.
A final smoothie suggestion:
"Another in-store option besides bottled brands is from the store itself—some retailers like Whole Foods and Bristol Farms have in-store smoothie bars where they'll let you build your own smoothie," says Moon.
There, you can craft more nutrient-dense delights. This way, you'll know exactly what goes into the blend and can ask the employee to swap out or remove certain ingredients that should never be in your smoothie (like agave or honey).