The Unhealthiest Restaurant Smoothies
The amount of sugar in some of these options is truly jaw-dropping.
If you think you're making the smart choice by ordering a smoothie, you might want to think again. The issue? Sugar.
See, even the healthiest smoothies at major chains contain a worrisome amount of sugar. While most of that sugar comes from real fruit, you want to be aware of having too much, which happens all too easily. There are plenty of smoothie options that are packing tons of added sugar, too. It's important to keep in mind that The American Heart Association recommends men should consume no more than 36 grams of added sugar per day, and women shouldn't have more than 25 grams.
What you'll uncover is that many of the smoothies you think are good for you are packed with sugar, and that's just going to lead you to crashing not too long after. So in order to help you out, we looked at the large size of overly sweet smoothies you should avoid. Instead, try out any of these 21 Best Healthy Cooking Hacks of All Time.
Dairy Queen Tripleberry Premium Fruit Smoothie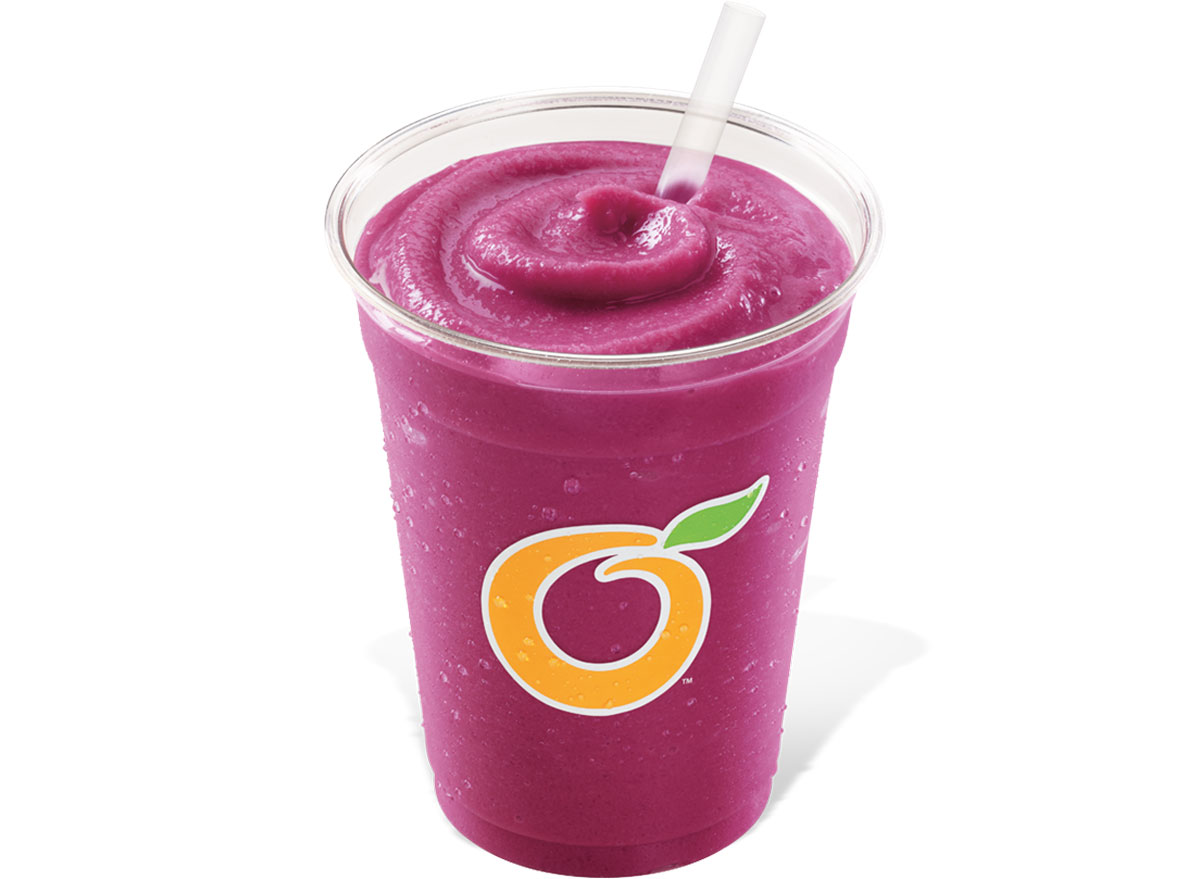 Per large
: 470 calories, 0 g fat (0 g saturated fat, 0 g trans fat), 170 mg sodium, 111 g carbs (2 g fiber, 102 g sugar), 6 g protein
Think that choosing a smoothie over a Blizzard from DQ might be the better option? Well, this smoothie has more than 100 grams of the sweet stuff. And since there's hardly any protein to counteract the effects, you're bound to suffer a major crash soon after you finish slurping.
Jamba Juice Peanut Butter Moo'd Smoothie
Per large
: 910 calories, 28 g fat (5 g saturated fat, 0 g trans fat), 420 mg sodium, 144 g carbs (7 g fiber, 119 g sugar), 29 g protein
A smoothie that has more than 900 calories and enough sugar to compete with nearly 12 Original Glazed Krispy Kreme Donuts? Big yikes. When you add frozen yogurt to the mix of a smoothie, it instantly ventures into "not the best" territory, as fro-yo isn't that much better for you than ice cream..
Smoothie King 'The Hulk' Strawberry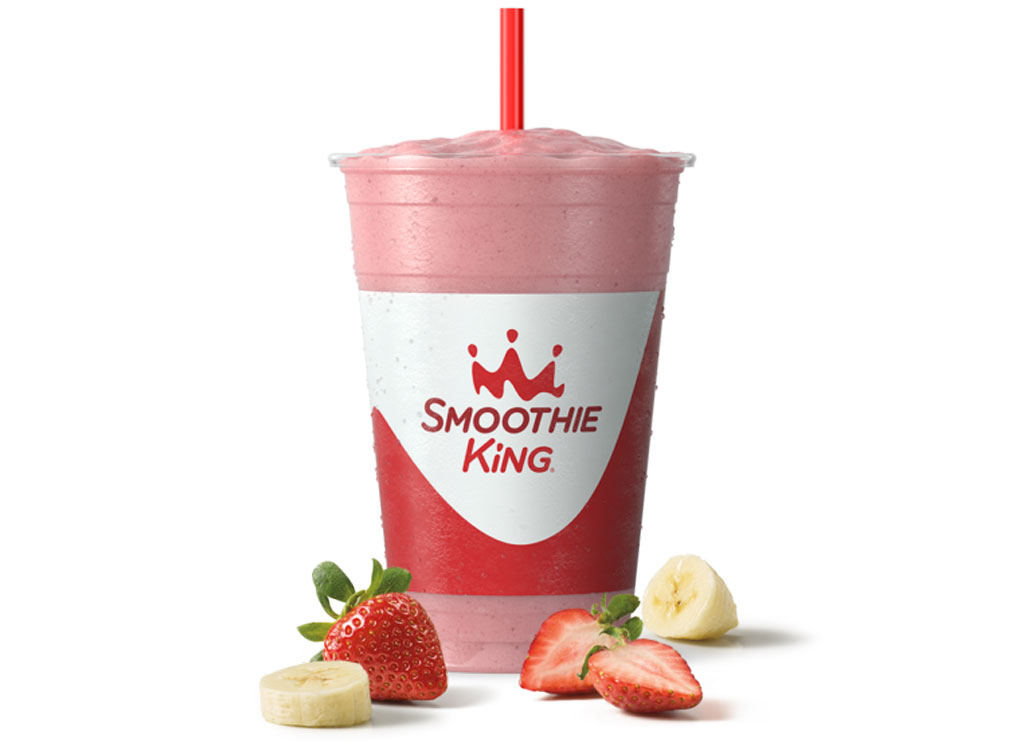 Per large, 40-oz
: 1,770 calories, 64 g fat (32 g saturated fat, 0 g trans fat), 780 mg sodium, 295 g carbs (14 g fiber, 256 g sugar), 49 g protein
The amount of sugar in this smoothie is shocking, to say the least. Especially when you take a closer took and see that 183 grams of the sweet stuff here are added sugars. You're in for a true sugar rush that will send you flying!
Baskin Robbins Mango Banana Smoothie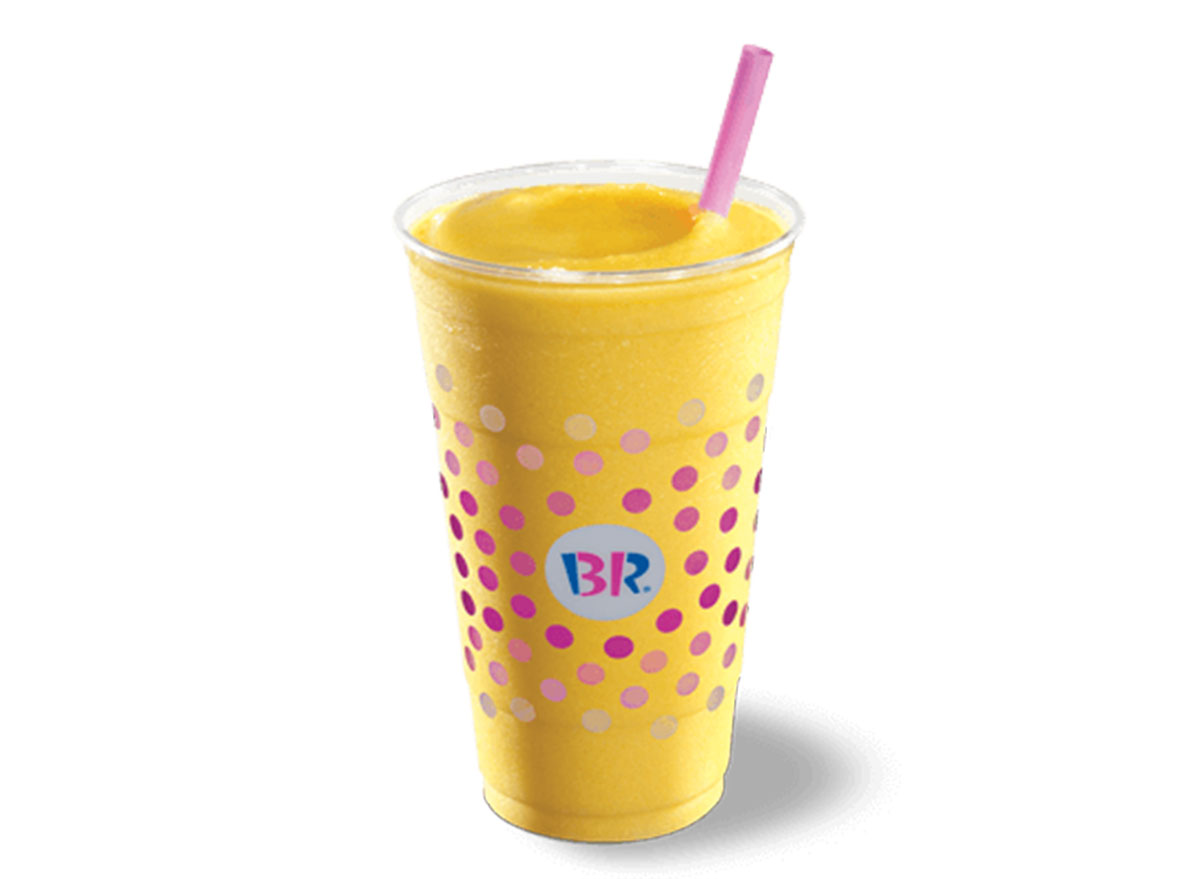 Per large
: 840 calories, 1 g fat (1.5 g saturated fat, 0 g trans fat), 180 mg sodium, 202 g carbs (6 g fiber, 181 g sugar), 9 g protein
In this Baskin Robbins smoothie, mango fruit is blended with nonfat vanilla frozen yogurt and banana,"for a refreshing taste of the tropics," according to its official description. The second ingredient in this healthy sounding sip is sugar, which explains why it contains more of the sweet stuff than seven full-size Hershey's chocolate bars.
Planet Smoothie Captain Immunity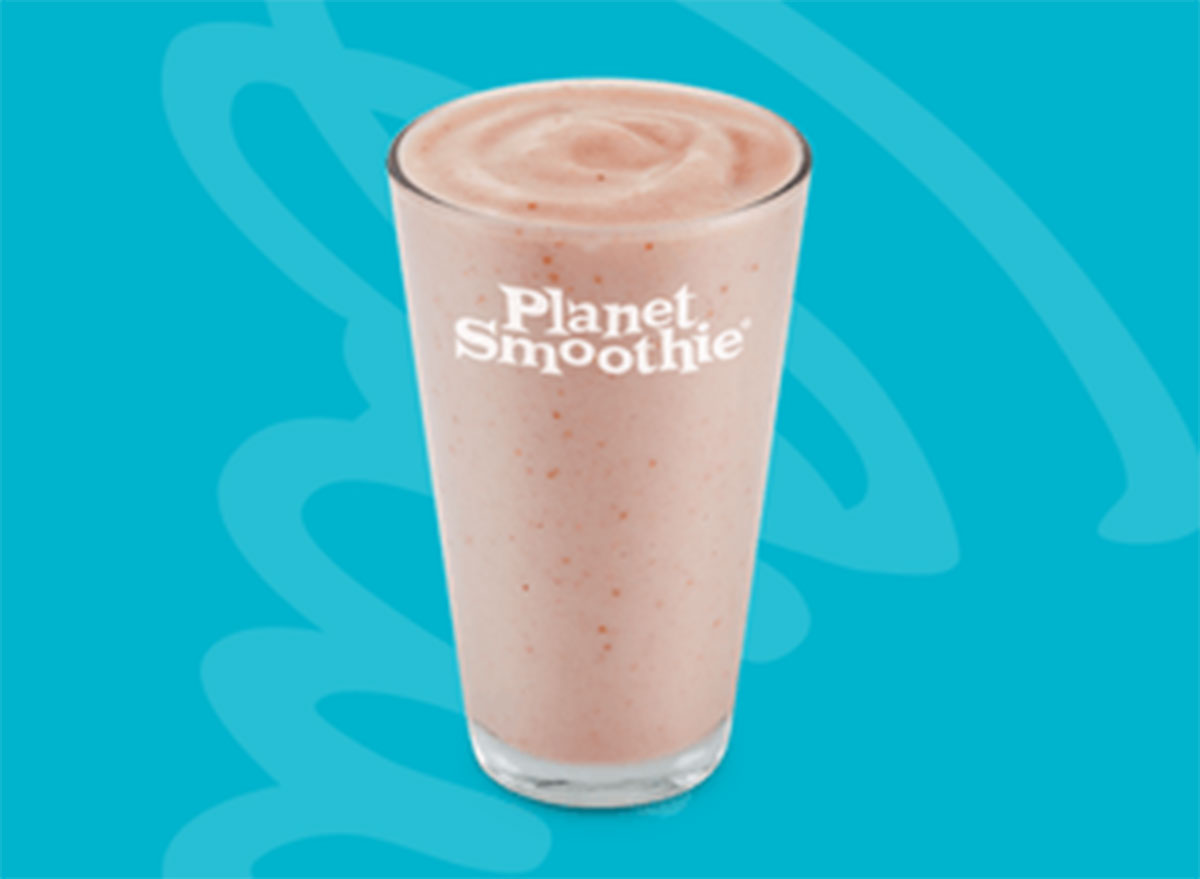 Per large, 44 oz
: 760 calories, 1 g fat (0 g saturated fat, 0 g trans fat), 280 mg sodium, 176 g carbs (10 g fiber, 125 g sugar), 25 g protein
The idea behind this smoothie is one to be excited about—it's serving up a nice dose of vitamin C. And while it might taste great, there is non-fat frozen yogurt in the mix, along with strawberries, mango, non-fat milk, and whey protein. Plus, that 125 grams of sugar doesn't seem ideal when it comes to loading up on something that is meant to strengthen your immune system. If you really want to try this smoothie, go for the small size!6254a4d1642c605c54bf1cab17d50f1e
Jamba Juice Orange Dream Machine
Per large
: 550 calories, 2.5 g fat (1 g saturated fat, 0 g trans fat), 160 mg sodium, 120 g carbs (0 g fiber, 111 g sugar), 9 g protein
Perhaps the "dream" in the name is induced by the sugar crash you have shortly after riding this "Machine." Built on a base of orange juice, orange sherbet, and nonfat frozen yogurt, this smoothie is a collision of sugars.
McDonald's Mango Pineapple Smoothie
Per large
: 340 calories, 1 g fat (0.5 g saturated fat, 0 g trans fat), 60 mg sodium, 78 g carbs (0 g fiber, 72 g sugar), 4 g protein
Don't let this McDonald's smoothie fool you. While it's the lowest in sugar on this list, that doesn't mean sipping on a large one of these is the move. The Mango Pineapple Smoothie is made of a "sweet combination of fruit juices and purees" and is "blended with creamy low fat yogurt." We're not seeing any actual fruit in the mix, though!
Eat This, Not That!
Inspired by The New York Times best-selling book series, Eat This, Not That! is a brand that's comprised of an award-winning team of journalists and board-certified experts, doctors, nutritionists, chefs, personal trainers, and dietitians who work together to bring you accurate, timely, informative, and actionable content on food, nutrition, dieting, weight loss, health, wellness, and more.
Read more about Eat This