I Tried Five Guys for the First Time Ever—Here's What I Loved
If you've never eaten at this fast-casual chain, here's what to expect.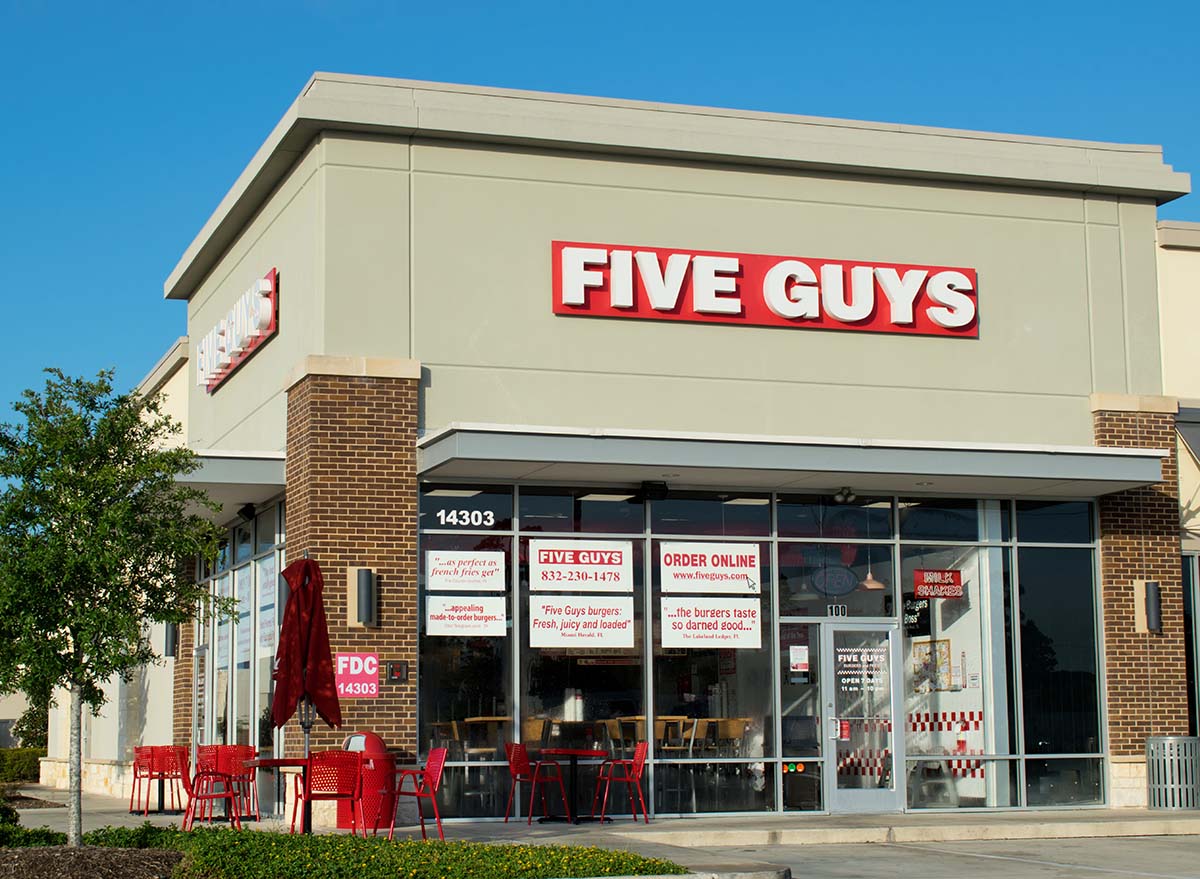 It seems like it's become more common that I hear the phrase, "We're going to Five Guys for lunch." At first, I didn't think much of this. The only thing I knew about this restaurant was that their building display had a generic red background with "Five Guys Burgers and Fries" written in white block letters. But the more I heard people raving about this QSR, the more interested I became. That's why I recently decided to finally give the fast-casual chain a shot, and try what they're known for: fresh grilled burgers and fries.
I should mention that I don't tend to eat lots of fast food or dine at fast-casual restaurants often, especially when it comes to burgers. Typically, I prefer to grill my own at home or get a burger from a sit-down restaurant or pub. But if the chain's name includes "burger," you clearly have to try what they're known for. (Like, does anyone really go to Burger King for chicken?)
Five Guys has been around since the first little shop opened in 1986 in Arlington, VA. After being in operation for over 30 years, the franchise has expanded to over 1,700 locations across the globe. In a report from Statista, The Sales of the Leading Fast-casual Restaurant Chains in the United States in 2021, Five Guys Burger and Fries even beat out Shake Shack, another popular burger chain, reportedly raking in over $2 million.
With those facts in my brain, I of course had to check out what the hype was all about—and I'm so glad I did. Here is what I loved about my Five Guys dining experience that I think every burger lover might appreciate.
Expect your Five Guys order to be made fresh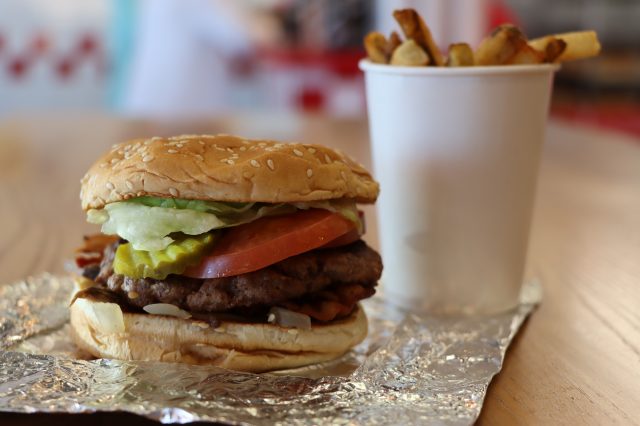 In the past, people have had complaints about Five Guys' prices and food quality. However, I was pleased in both areas. I enjoyed a tasty burger with tons of flavor. Additionally, I knew not to expect low prices similar to that of fast-food chains like McDonald's. My order came out to be $17 for a largely portioned cheeseburger and their smallest size—the "little"—French fries, which I didn't even finish because there was so much. Plus, the restaurant uses only fresh ground beef and coolers in lieu of freezers in all of their locations, two things the company has patted itself on the back for since the start of its business.
But aside from the controversial quality for price debate, what stood out most to me the most was that each burger is made fresh to order. That's right—no pre-wrapped burger sitting underneath a heat lamp waiting to be served. Whenever an order comes in, the staff goes and preps the order, and hands it to you hot off the grill. There's even a clear divider in front of the counter where you can watch them make your order, which is much more satisfying and less nerve-wracking than watching a burger get progressively soggier as it sits out.
Customize your order with an assortment of toppings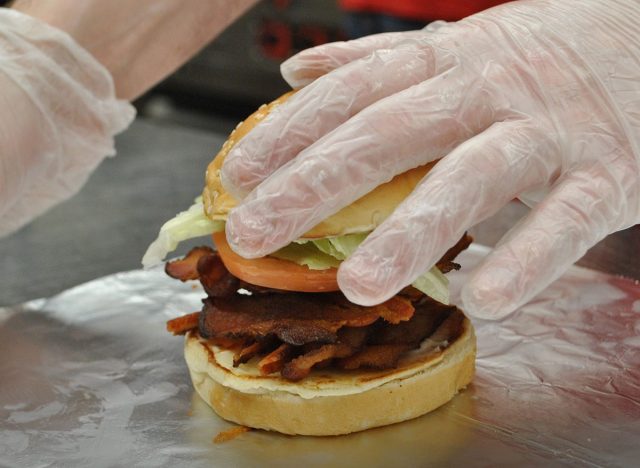 Although Five Guys offers standard hamburgers or cheeseburgers, you also have the power to add toppings from their large assortment of condiments, veggies, and meats. In terms of condiments, you can choose anything from mayo to steak sauce to hot sauce. You can also add jalapeños, pickles, mushrooms, and even another patty (if you want to count that as a topping).
Five Guys' unlimited mix-ins don't stop with lunch or dinner service. Customizable milkshakes with unlimited mix-ins. While this may not be the first menu item you think of when hearing the name, but that's easy to overlook and get hung up on while you're busy combining coffee, Oreo cookies, banana, and chocolate all into a decadent dessert treat.
Truthfully, low-calorie options are fairly limited at Five Guys. Although the beef is fresh, the only food items under 500 calories are the veggie sandwiches (with and without cheese) and grilled cheese. However, this is also where Five Guys' customization options can work to your benefit. Though some tactics to tailor-make your meal may cost an extra few cents, it might be worth it if you are trying to be more mindful of your diet. Not only do you have your pick of veggies to pile on top, but also you can hold the bun to transform your sandwich into a "bowl" or swap it out entirely for a lettuce wrap.
You can snack while you wait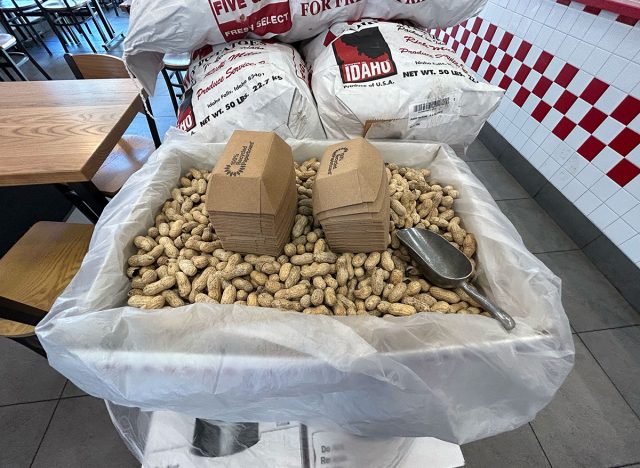 Similar to how Texas Roadhouse serves complimentary peanuts by the bucket, Five Guys offers this legume as something to munch on while your order is being prepared. While some chain locations did away with the "scoop and bag" method due to enhanced safety precautions, other ones brought it back or now offer pre-packaged boxes.
The Five Guys location I visited had the scoop-it-yourself method. The peanuts were located in the middle of the waiting area, placed by bags of potatoes. It's great to bring back to your table if you're dining in or stuff it in your to-go bag.
Those with nut allergies, beware! In addition to the chain offering customers free peanuts, it also solely uses pure peanut oil to prepare all the food. Although the use of this oil is great for frying, it also means it's not the most allergy-friendly burger joint. Those who have a severe nut allergy should steer clear.
Even if you order a smaller size of fries, you still end up with a full bag 
When I say I got a bag full of fries, I mean I was literally given a brown paper bag stuffed with delicious fries. While I only ordered the "little" size, that did not stop Five Guys from exceeding the contents of the white cardboard French fry cup as they generously threw more and more fries directly into the bag. There were so many fries that I couldn't even see my burger underneath them.
As much as I appreciate the extra fries with my meal, the idea of throwing freshly-fried potatoes directly into a thin, brown paper bag screamed "a mess waiting to happen." However, some might consider it a worthwhile mess to endure for this yummy bang for your buck!
Visit if you love retro decor 
While I probably have a smidge of unconscious bias when it comes to my love of their decor because my favorite color is red, I must say I love the chain's signature red-and-white color scheme. The checkered patterns and overall vibe almost reminded me of an old-school '50s diner combined with a quick-service pizza place. So if you're hoping to find a nostalgic escape, this sea of red and white is a fun way to feel like you're traveling back in time.6254a4d1642c605c54bf1cab17d50f1e
Order ahead for pickup using the Five Guys app
When picking up any coffee or food at a fast-dining establishment, I prefer the "grab and go" method. It's very rare for me to visit quick-service locations without ordering ahead of time. You get to skip the line of patrons waiting to order, and you can just take your food and leave. (Who doesn't love that?!)
With the Five Guys app, you can easily order your food before you arrive—so it's hot, fresh, and ready to go as soon as you walk through the door. The app saves your previous orders and your payment method to make future purchases much easier. Aside from that, it keeps things very simple without too many extraneous features, allowing you to place an order ahead of time or request delivery, which is perfect for when I don't want to make the drive.

Kayla Garritano
Kayla Garritano graduated from Hofstra University, where she majored in Journalism and double minored in Marketing and Creative Writing.
Read more about Kayla