I Tried Texas Roadhouse for the First Time Ever—Here's What I Loved
If you're a newbie to the "legendary" chain, here's what to expect.
I've always wondered what all the hype was about Texas Roadhouse since first spotting the glowing red sign. There always seemed to be people crowding outside, but unlike Outback, which I'd seen commercials for, I had no idea what this place was about. This weekend, I finally decided to try the "legendary" steak dinners that the chain is known for.
Full disclosure, I am not the chain restaurant type, especially when it comes to steakhouses. I guess I never thought a chain steakhouse could live up to the private steakhouses or the big chains like Ruth's Chris and Morton's. After all, steak should cost an arm and a leg, right?
But Texas Roadhouse is the most popular steakhouse in America. With nearly 2.7 billion in sales in 2020, Texas Roadhouse is what most people look for when they want a steak dinner that delivers but won't break the bank. In terms of total sales, the chain beats out bargain steakhouses Outback and LongHorn, and the more upscale Ruth's Chris and Morton's. As a connoisseur of all food, I wanted to see what the fuss was about. And, wow, was I shocked.
Here is what I loved (and didn't like so much) about Texas Roadhouse, and some tips for making the most of the uber-popular steakhouse chain. Plus, don't miss 10 Secrets About Texas Roadhouse You Never Knew.
Plan ahead and put your name on the waitlist via the app.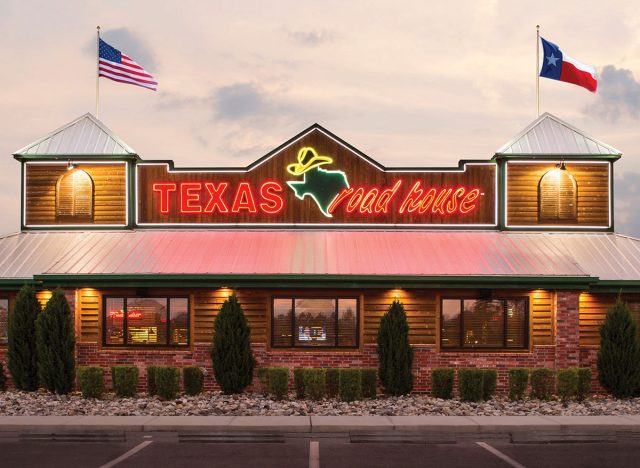 Our first attempt to eat at Texas Roadhouse was a bust. I had heard anecdotally that it was difficult to get into, but I came anyway on a Friday night at 7 pm. We were put on a waiting list and they would conveniently text when the table was ready. We were quoted 15-25 minutes but after 45 minutes we gave up and went to eat somewhere else.6254a4d1642c605c54bf1cab17d50f1e
Come early or put your name on the waiting list through the website or app. The location we were at did at least have Cornhole to play while you waited. We ended up coming back Sunday afternoon, one of their lighter times. But don't look for lunch during the week, the chain doesn't serve it to cut costs.
You can choose your own steak.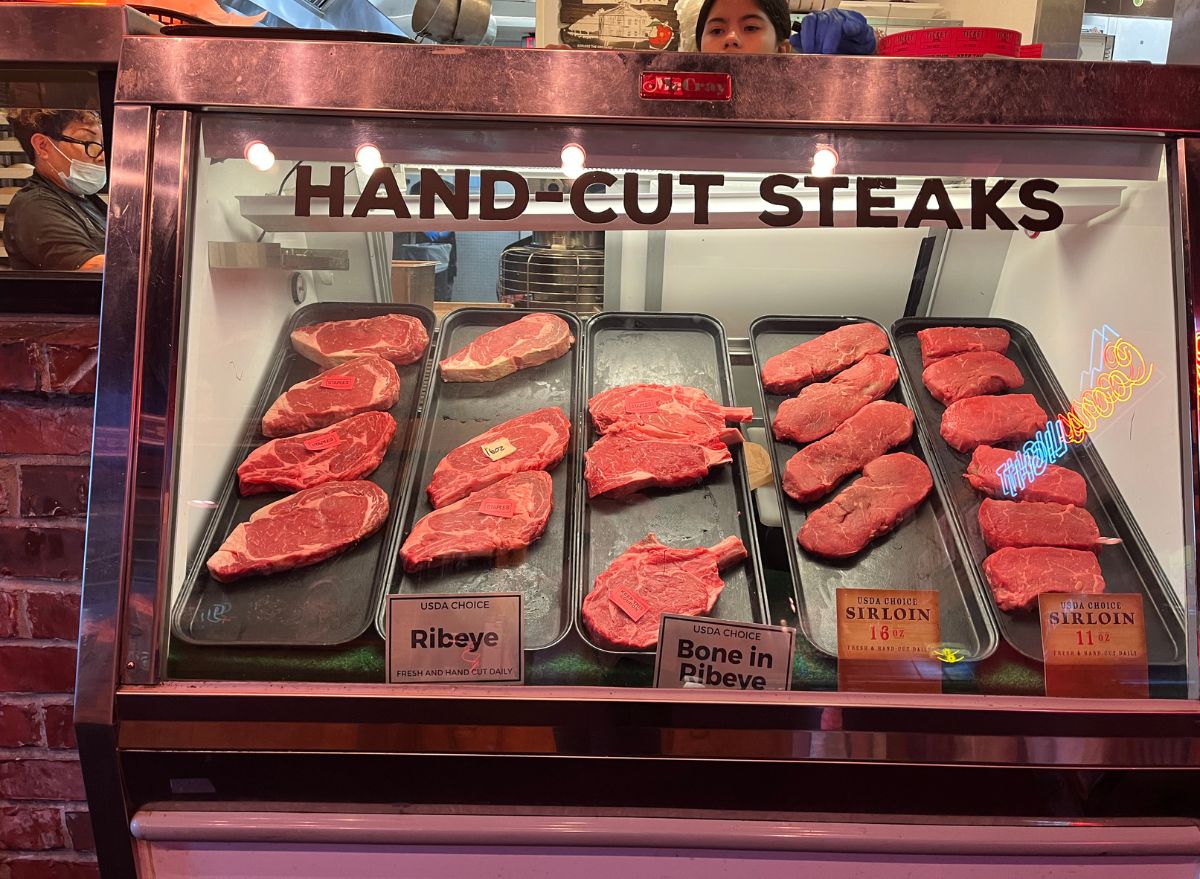 One of the great options Texas Roadhouse offers is the chance to look at the raw steak and choose the one you want. I have seen this at high-end steakhouses but not at a chain like this. It's a nice visual as you walk in, and it probably gets people to buy more expensive steaks. However, you won't veer into mortgaging-your-house territory with the prices as you would at other steakhouses…more on this below.
You can bring your kids.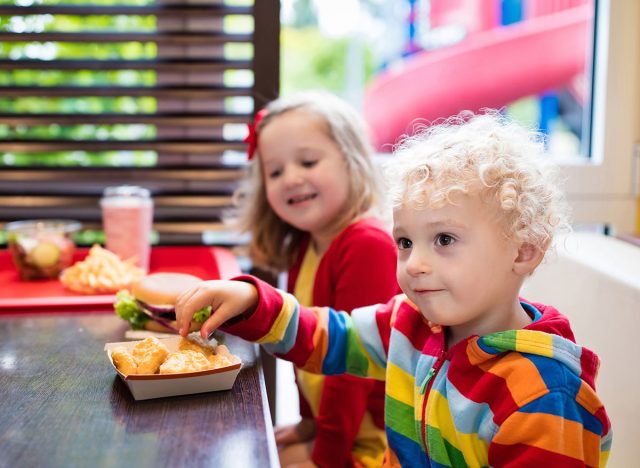 Most steakhouses aren't the place for kids. Texas Roadhouse is very welcoming. Kraft Mac and Cheese is on the menu after all. They have an extensive kids' menu and, to put it bluntly, it's pretty loud in the restaurant. No need to worry about the kiddos annoying adjacent diners.
Admire the savings, not the presentation.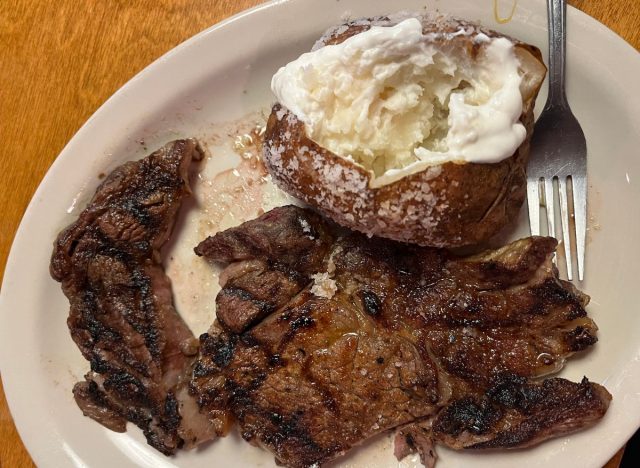 Look, the presentation isn't going to be like a high-end steakhouse. That's an actual photo of the 12-ounce Fort Worth Ribeye above. There are no white table clothes and fancy wine glasses. Your ribeye isn't going to be lovingly piled on top of creamed spinach with adorable Merlot-sauteed button mushroom and a blue cheese crust. But it will be cooked right, and it will be hot.
The 16-ounce ribeye at Texas Roadhouse is $27, compare that to Ruth's Chris' at $65, that's 140% more. And at Texas Roadhouse you can get a 12- or 14-ounce steak too. Is anyone really going to eat a pound of steak!? Plus, as mentioned, your steak includes two sides, at Ruth's Chris every side is $13+ and that includes a baked potato which, let's face it, costs pennies.
For two steaks, a kid's meal, and two appetizers we spent just over $100 with tip! The bill would easily have been three times higher at a high-end steakhouse and that's not even including drinks.
Don't fill up on that delicious bread or fall for upselling.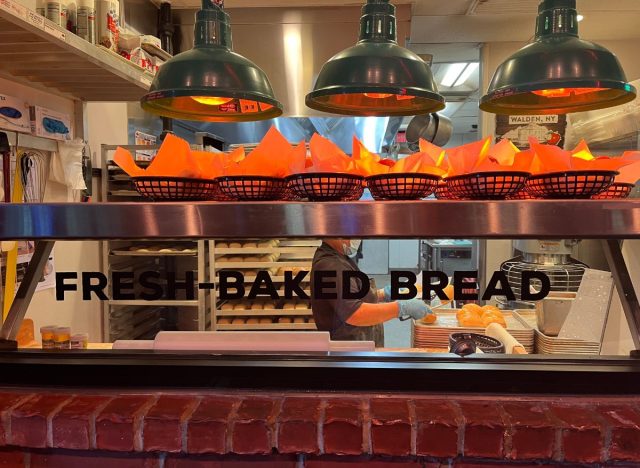 Your meal at Texas Roadhouse begins with their hot, fresh-baked rolls with their signature cinnamon butter. A cool thing about Texas Roadhouse is you don't have to wait for the rolls, you are seated with them. As I followed the server to the table, entranced by the delicious-smelling hot bread, I noticed her shirt said, "I love my job." In an interview with Investor's Business Daily, Texas Roadhouse CEO Kent Taylor said he borrowed the idea for the shirt from a Southwest Airlines training seminar that he snuck into. All employees wore pins that had the phrase.
Does the shirt motivate workers? Well, our server was fantastic—and very good at her job. She seamlessly upsold toppings for the steak and other extras without me even really noticing. If I hadn't been a server for years, I might have missed these subtle upcharges until the final bill came. Apparently, Texas Roadhouse servers are trained to aggressively upsell and have gotten flack for this in the past.
Choose your sides wisely.
Your steaks include two sides so choose wisely or you will end up eating too much. Skip the stunning baked sweet potato topped with torched marshmallows. Get a salad, which will be a nice fresh element served before your steak, and a baked potato or veggie. But watch out because they'll fill your house salad up with eggs, cheese, and croutons and your potato with butter, sour cream, cheese, and bacon if you want. You don't need that extra fat and protein when you're eating a pound of meat for dinner.
You aren't pressured to stay for dessert.
We were too full for dessert, and when I looked around, I didn't see any flashy menu cards with overflowing chocolate lava cakes. Turns out, there's a sneaky reason for that. In the same interview mentioned above, the CEO was asked about the three "mediocre" desserts that the chain sells. "We don't want our guests to stay for dessert," he said. "We like the table turns." I could have used that speed Friday night!
Don't go if you don't like Country music.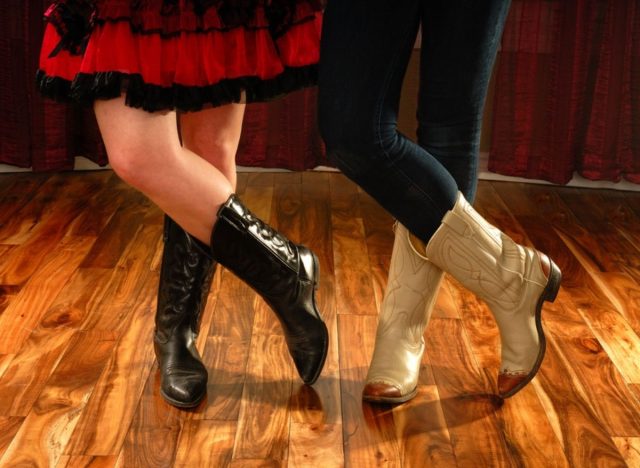 There's Country music blasting the whole time, inside and outside. In our second attempt to try the restaurant we came at around 3 pm, the music was lower but got turned up around 4:30 pm. If you don't like Country you will not like it here. Period. The staff even does line dances during service which was halted during the pandemic but has gradually been coming back.