10 Best Fast-Food Burgers In America
The GOAT burgers with the greatest mass appeal.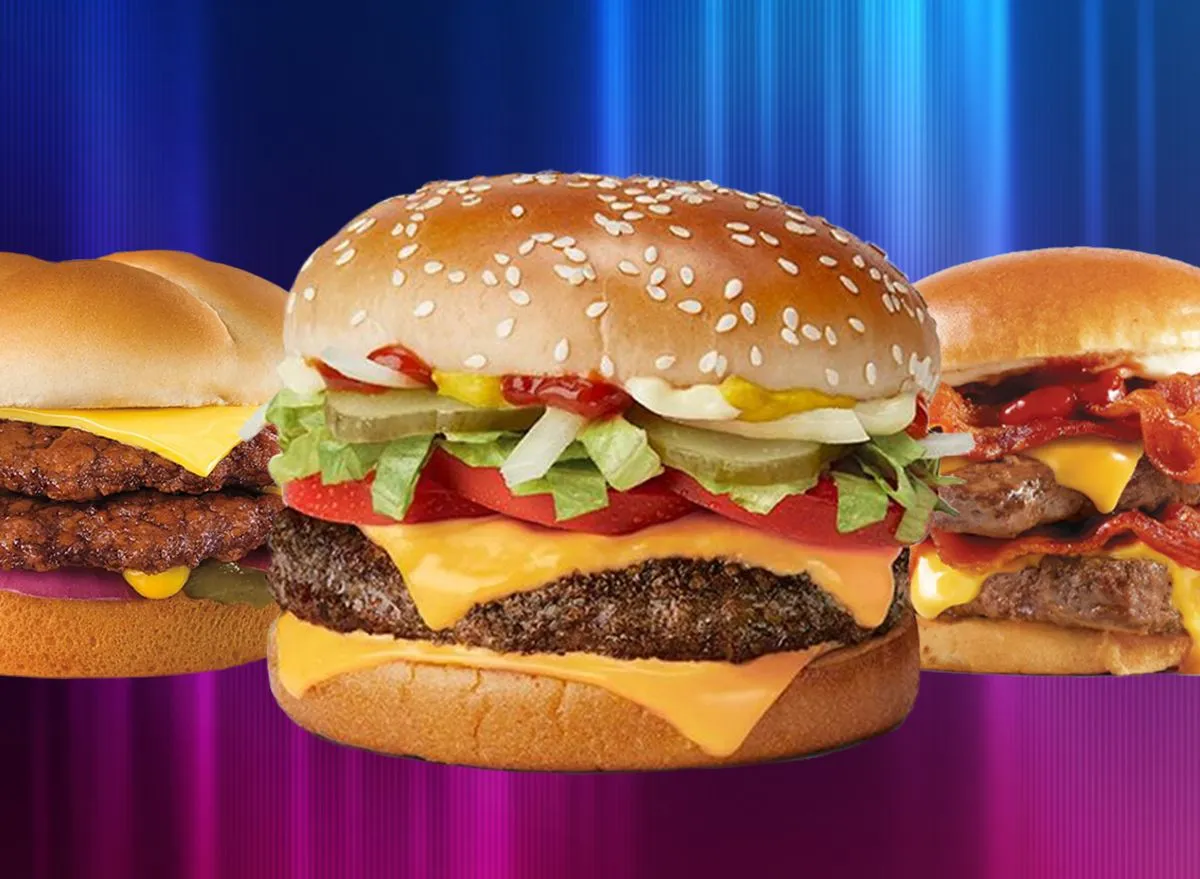 The jury is still out on whether or not Americans invented the burger, although one thing is sure—we've certainly perfected it. Serving a minced-meat patty between two pieces of bread sounds rudimentary, but mass-producing hot, juicy burgers on a major national scale is perhaps our country's biggest culinary legacy and one that's on display at hundreds upon hundreds of fast-food restaurants daily. While there's a sea of burger options out there, some fast-food chains have honed their craft better than others.
So what makes a good burger? Personal preferences aside, there are several elements that will make or break it. The quality and flavor of the meat are paramount—after all, the main ingredient should be able to shine on its own, without hiding behind toppings and sauces. A lot of this comes down to the preparation technique, which runs the gamut of grilling fresh, never-frozen patties to order to steaming frozen ones atop a pile of onions en masse. Then there's the bun, which, grilled or not, has to be able to bear the weight of all the sauces and toppings without crumbling (quite literally) under pressure.
When it comes to the toppings, less is more. The most successful burgers out there are often stripped down to the basics—maybe a few slices of cheese or bacon, a sauce, and some lettuce or a pickle—and that's what makes them most memorable. If a burger can stand out on the merits of several simple ingredients, it's truly a winner in our book.
For this shortlist of the very best fast-food burgers in America, we've reviewed the offerings at dozens of the most popular restaurant chains. These picks were made based on taste and quality of each burger, as well as its omnipresence and availability. We included the most delicious burgers that a significant number of Americans, if not all of us, have within arm's reach. This list foregoes the more niche regional chains (which undoubtedly have strong contenders of their own) and focuses on national darlings, the burgers that millions of us dream about on a regular basis. We'll call this category Mass Gourmet—the burgers that appeal to the broadest possible audience, consistently deliver, and are the answer to our unyielding appetite for comfort.
McDonald's Double QPC
It's only right to kick our list off with this classic. The Quarter Pounder, in all its simple, meaty glory, has been around since 1971, but the Double wasn't introduced to the McDonald's menu until 1992. Its two quarter-pound patties make for a decently hefty burger, and one that was meant to compete with the growing American appetites and growing competition from the likes of Burger King and Wendy's. Clearly, McDonald's has done something right here, since this burger is still on the menu, and is still one of the best mass-produced burgers around.6254a4d1642c605c54bf1cab17d50f1e
So why do we love the Double QPC so much? For one, it's made with fresh beef, which makes all the difference in the flavor. For another, it has a great ratio of bun, beef, cheese, and condiments. And let's face it, we are creatures of habit that embrace familiarity. It's kind of great that this burger is available at the vast majority of McDonald's locations around the world, and you can expect a pretty reliable experience each time you order it. It's almost like the QPC is a cultural ambassador, representing American cuisine around the globe.
Wendy's Baconator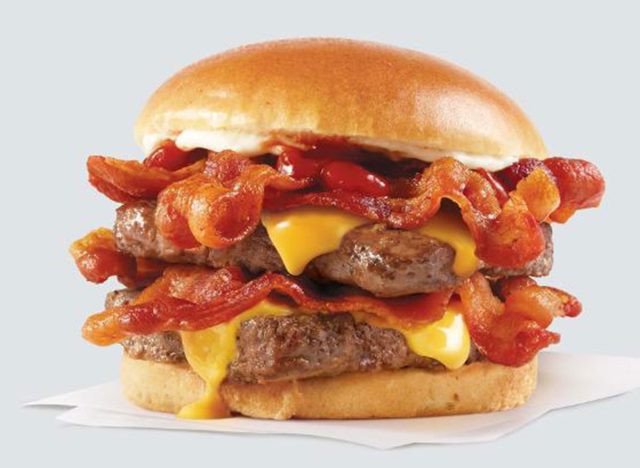 Ah, the Baconator! If McDonald's QPC is America's cultural ambassador, then this creation from Wendy's is surely its younger, hipper Vice. Maybe the very best example of a bacon-adorned cheeseburger, the Baconator has two signature quarter-pound beef patties, melty American cheese, and a whopping six pieces of crispy Applewood smoked bacon. The sauces are simple: a combo of ketchup and mayo, which perfectly ties the whole thing together.
Besides being a carnivore's delight, this burger is also one of the best representations of Wendy's as a major national chain that still manages to make its burgers feel a little elevated, a little extra. And kudos to all of their fancy limited-time options, like the Pretzel Bacon Pub or the Bourbon Bacon Cheeseburger, but the Baconator is where we'll comfortably park all of our meat yearnings forever.
Hardee's/Carl's Jr. Super Star with Cheese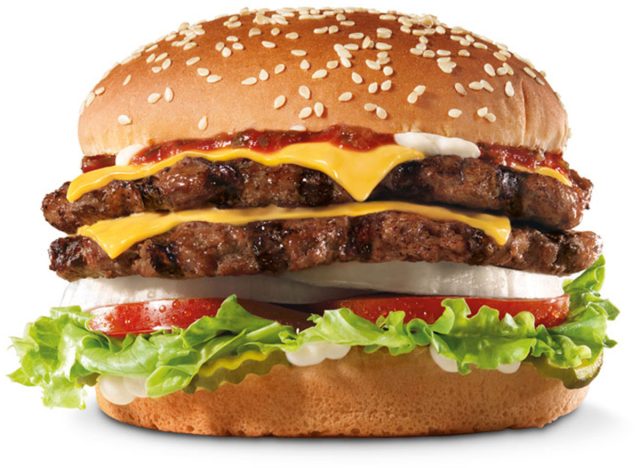 Sibling chains Hardee's and Carl's Jr. both have this burger on their menus, which means it is available from coast to coast, and is a low-key favorite everywhere. It's another oldie but goodie, launched in the '70s when everyone just wanted bigger, more premium burgers with more flavor. And flavor it delivers—the combination of two juicy, charbroiled beef patties, cheese, and special sauce, topped off with the usual deluxe-style veggies, is something fans rave about.
Another thing that works in its favor? Its size! While it certainly isn't a Monster Burger (and not everyone can handle that thing), the Super Star is a substantially sized creation. It feels like an adult burger as opposed to something that came from the junior menu. Those in the paper sleeve vs. cardboard box camp love the fact that its old-school wrapper conveniently captures all the drippings while preventing the burger from falling apart, which can make or break the enjoyment of eating one.
Culver's Double ButterBurger With Cheese
Midwestern staple Culver's has become so much more than a regional chain since its inception in 1984. Not only has it established itself in other parts of the country, but it's also become known for making one heck of a burger. Or rather several of them, all served on buttered grilled buns—a genius move that gave them their ButterBurger name. We're going to call out the most classic one of them all, the Double ButterBurger with Cheese, made with fresh Wisconsin-raised beef patties, Wisconsin-made American cheese, and the simple sauce and veggie fixin's. This burger is truly a hometown hero, repping its origin in every delectable bite.
Particularly lauded for being consistently tasty and well-made, the ButterBurger is that much more impressive when you consider the chain operates some 900 locations across 25 states.
Five Guys' Cheeseburger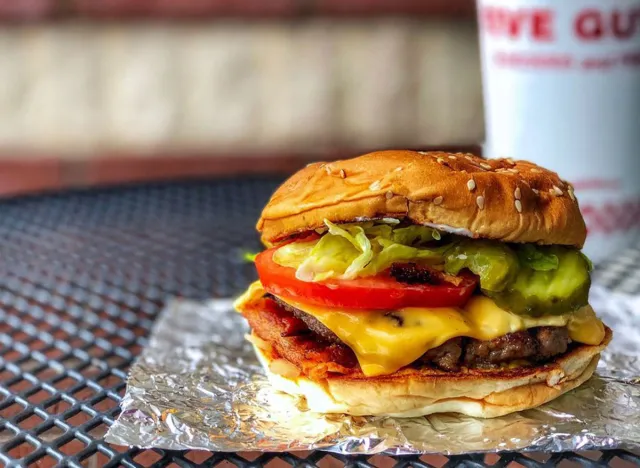 No list of best burgers in America would be complete without Five Guys, one of the chains that kicked off the better-burger movement. They're best known for highly customizable and highly addictive burgers that have both homemade quality and restaurant-level craveability. And let's not forget those famous peanut oil fries, too.
It's probably the fresh beef patties, the super soft bun, and the cornucopia of toppings—from classics like pickles and mayo to more unique offerings like grilled mushrooms and A1 sauce—that make these burgers so darn delicious. While the best version depends on everyone's personal taste, we are highly partial to grilled onions.
Shake Shack's Shack Burger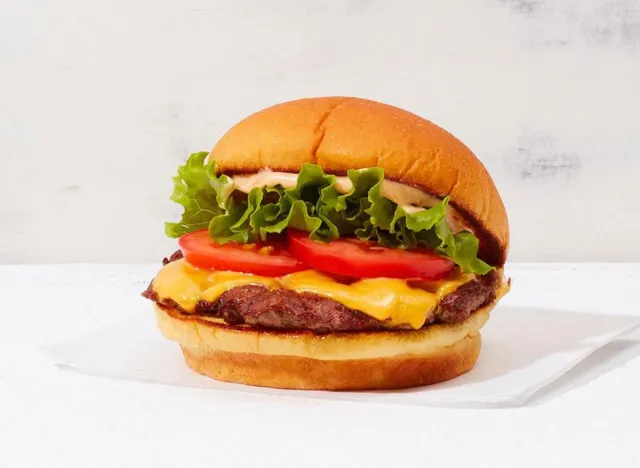 Shake Shack is a New York City-born brand and often described as East Coast's answer to California's untouchable In-N-Out. The foodie destination made waves when it opened its first location in Madison Square Park in 2004, thanks to burgers that were quickly dubbed some of the best in the city. Shake Shack is now actively expanding into the suburbs, which means that the famous ShackBurgers could soon become a household name.
Served on a soft potato bun, the Shack Burger keeps things simple with basic ingredients elevated to near perfection through quality. Sure, it isn't the largest burger in fast food, but the best things in life come in small packages, anyway.
In-N-Out's Animal Style Double Double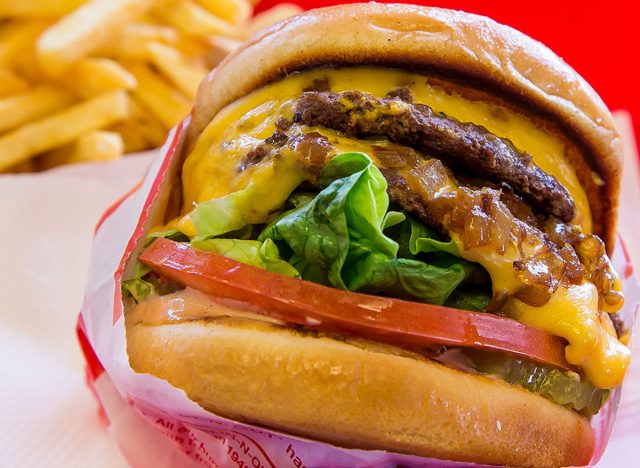 Although In-N-Out's operations are mostly limited to the West Coast, the chain needs no introduction among fast-food lovers nationwide. If you haven't tried it, then surely you've heard of the legendary burgers that may or may not be the best fast-food burgers of all time.
While they can get stacked with up to four beef patties, we'll call out the Double Double, which has two and seems to be the perfect creation for an average but hungry customer. When ordered "Animal Style", the beef is cooked in mustard, which makes it juicy and flavorful, and the burger is topped with the addition of grilled onions, pickles, and extra sauce—which is the way to go. It's one of those burgers that can get pretty drippy and messy, but that's a major point of its appeal.
Whataburger's Double Meat Whataburger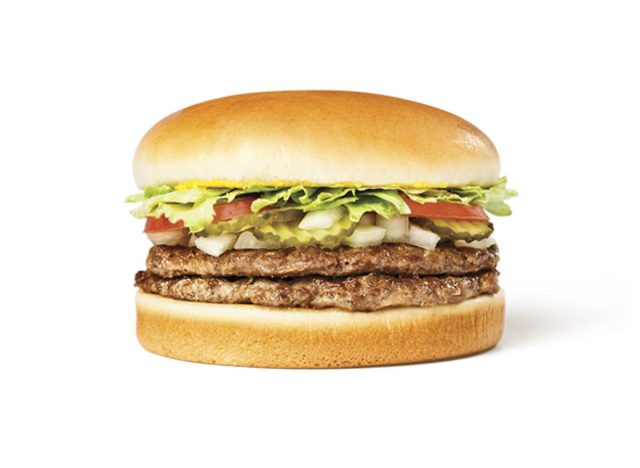 Everything's bigger in Texas, and the state's favorite burger chain certainly follows suit. Whataburger's burgers are heavy and as big as your face, their perfectly cooked beef patties measure 5 inches in diameter, with each weighing about 2.75 ounces, which means you're eating a third of a pound of beef with this double. It comes standard with tomato, lettuce, pickles, diced onions, and mustard, but can be customized with other things like cheese, bacon, grilled jalapeños, green chiles, and avocado. And no matter what you decide to put on it, you can't go wrong—the toasted bun and the ratio of ingredients is unbeatable.
White Castle's Sliders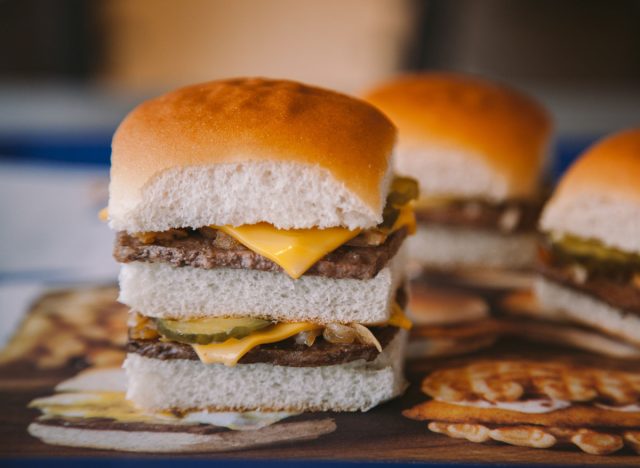 America's favorite slider definitely punches above its weight and is an icon in more ways than one. It was launched more than 100 years ago, which makes it the oldest fast-food burger around. Pair that with the fact that it still holds an undying appeal, both in terms of nostalgia and craveability, and it's clear that White Castle figured out the mass-produced burger formula way before anyone else.
The chain uses frozen beef patties and the unique way they're cooked makes for a truly special burger experience. They come with five pre-punctured holes and are placed on the grill over a pile of diced onions. This method steams the meat rather than grilling it and infuses the patties with incredible flavor. They're also never flipped but are covered with the little buns while still on the grill, to ensure that all the ingredients just kind of soften and melt into each other. The cheese and other condiments are added later.
White Castle has stuck to this formula for success for so long, it would be sacrilegious to question its methods or its eternal spot in American pop culture. Just enjoy that steamed little slider!
Freddy's Original Double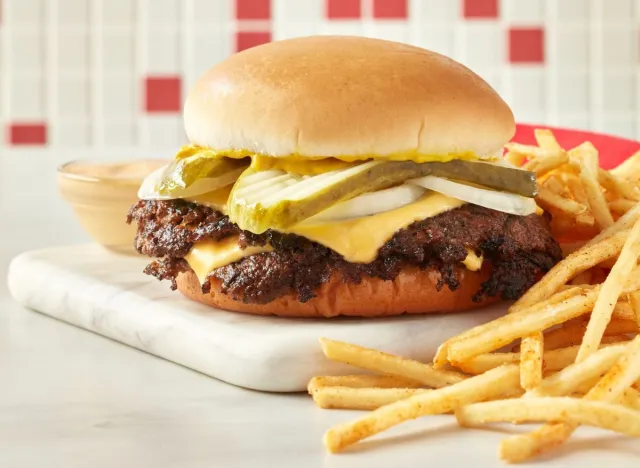 Let's be real, few things in fast food are as good as the crispy edges of a properly executed smash burger, and Freddy's delivers in that department. Their Original Double is an exercise in simplicity elevated to perfection: the lacy, crispy meat hangs over the bun, the toppings include cheese, two oversized pickle slices, onions, and mustard. The bun is soft and welcoming to the crispiness of the meat. It all just works.
Freddy's may not be well-known outside of its native South, but the chain does have a presence in 32 states, which means it's more than just a regional darling.
Mura Dominko
Mura is ETNT's Executive Editor, leading the coverage of America's favorite restaurant chains, grocery stores, and viral food moments.
Read more about Mura