10 Best and Worst Things About Five Guys
Planning a visit to Five Guys? Here's everything you need to know about the popular burger chain.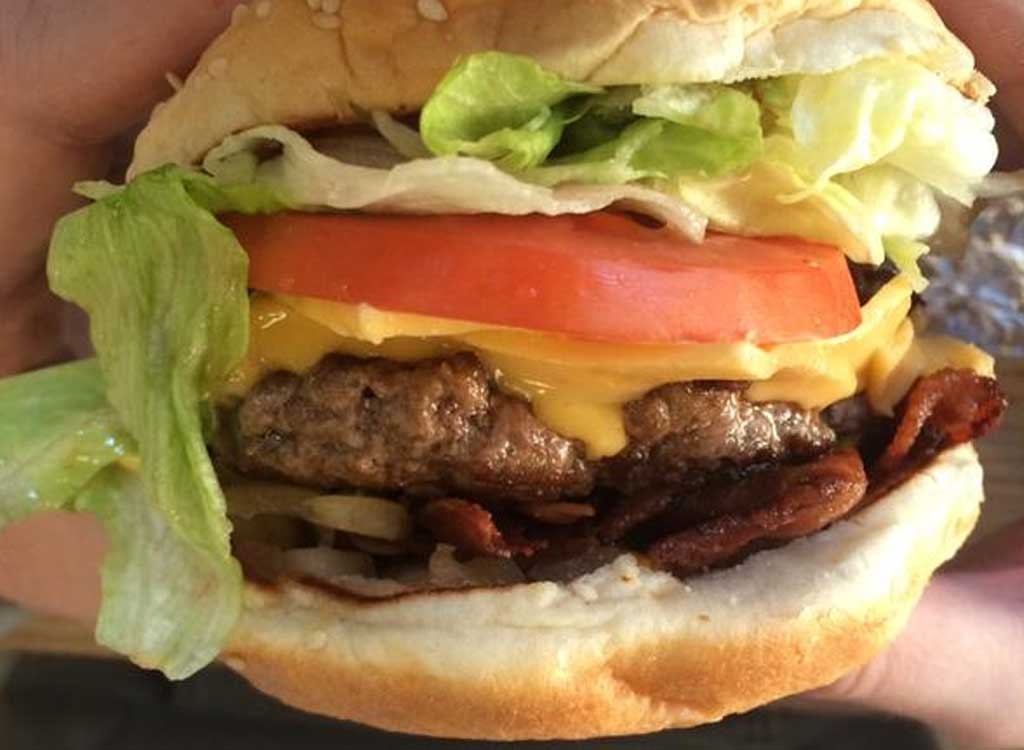 Five Guys Burgers & Fries began back in 1986 as a family affair: husband-and-wife team Jerry and Janie Murrell in Arlington, Virginia. Now 30 years later, the multi-million dollar company has hundreds of franchises around the country—including a bunch owned by athletes like Shaquille O'Neal.
Five Guys is definitely successful, but it has its good side and its bad side. Get familiar with both before the next time you get a burger craving!
The Good: The Menu is Simple But Flexible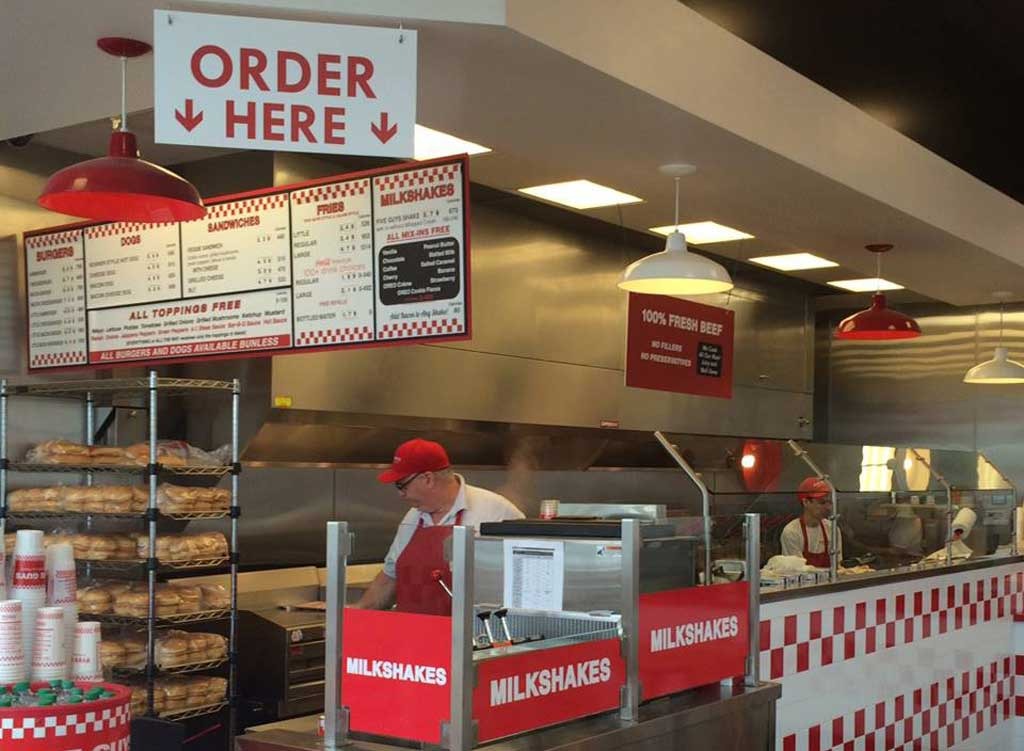 The Five Guys menu is pretty simple: Burgers and fries (of course), along with hot dogs and a couple of other options, depending on the store. The official website says there are over 250,000 possible ways to order your burger at Five Guys, though—so you still have plenty of options.
The Bad: But the Choices Aren't Healthy
Burgers and French fries aren't known for being super healthy anyway, but Five Guys really packs a calorie punch in little packages. A "little hamburger" with just one patty rocks 480 calories with 26 grams of fat while a bacon cheeseburger has over 920 calories with an astounding 62 fat grams—almost 30 of those from saturated fat. A large fry will set you back nearly half your daily calories at 953 for a normal serving—and that's if it's the correct portion. Five Guys is known for heaping them on your basket without paying much attention to serving size. In fact, Five Guys ranked very poorly (we'll let you see for yourself) in our exclusive report on the most popular burgers in America—ranked!
The Good: Everything is Super Fresh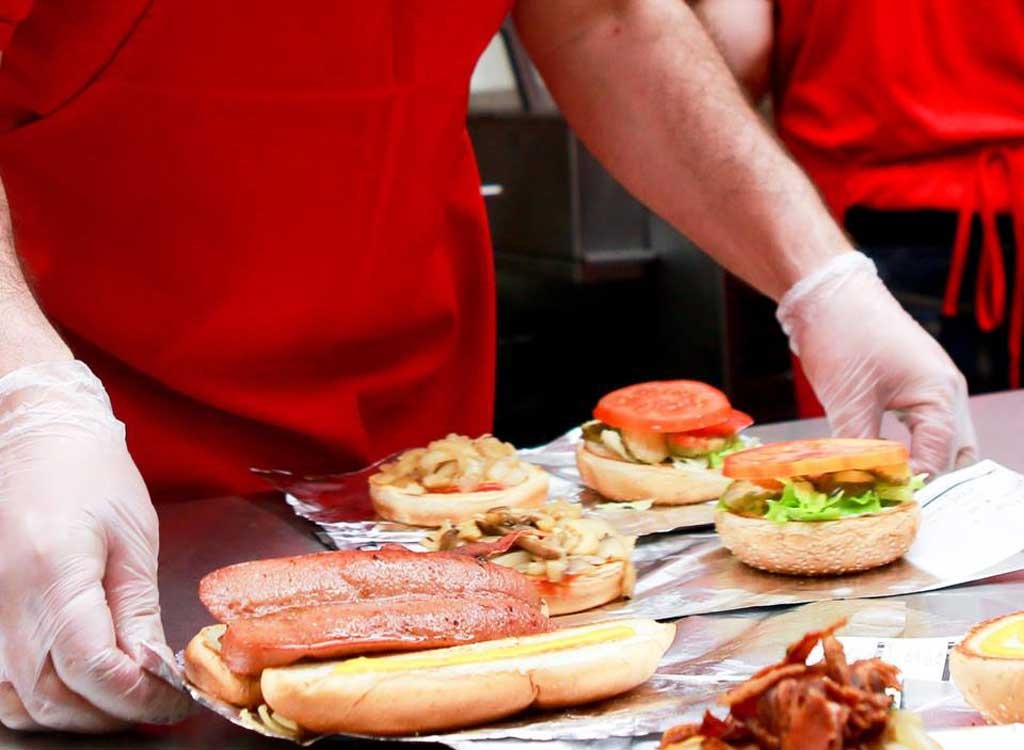 Fast food restaurants—and even some sit-down places—ship in pre-made food that's simply warmed up in the store and served to customers. Gross, huh? Not at Five Guys: The owners refuse to install freezers in restaurants and will reportedly only do coolers. Potatoes serve as "decorations" around the store because there's simply no space available to put them in other places. Five Guys is so focused on freshness that it takes three hours to open the restaurants each day since everything—including meat and produce—is prepared that day.
The Bad: But People With Peanut Allergies Can't Eat There
6254a4d1642c605c54bf1cab17d50f1e
People with peanut allergies basically have to stay out of Five Guys. Everything is cooked in 100 percent peanut oil and the restaurants offer free bins of peanuts to help customers stay calm and avoid hanger while waiting for their food.
"It is rare that a casual encounter with peanuts will cause an allergic reaction, but we want to limit the risk of someone unknowingly coming into contact with peanuts," the restaurant says on its corporate website.
The Good: Ingredients Are Real and Not Chemical Concoctions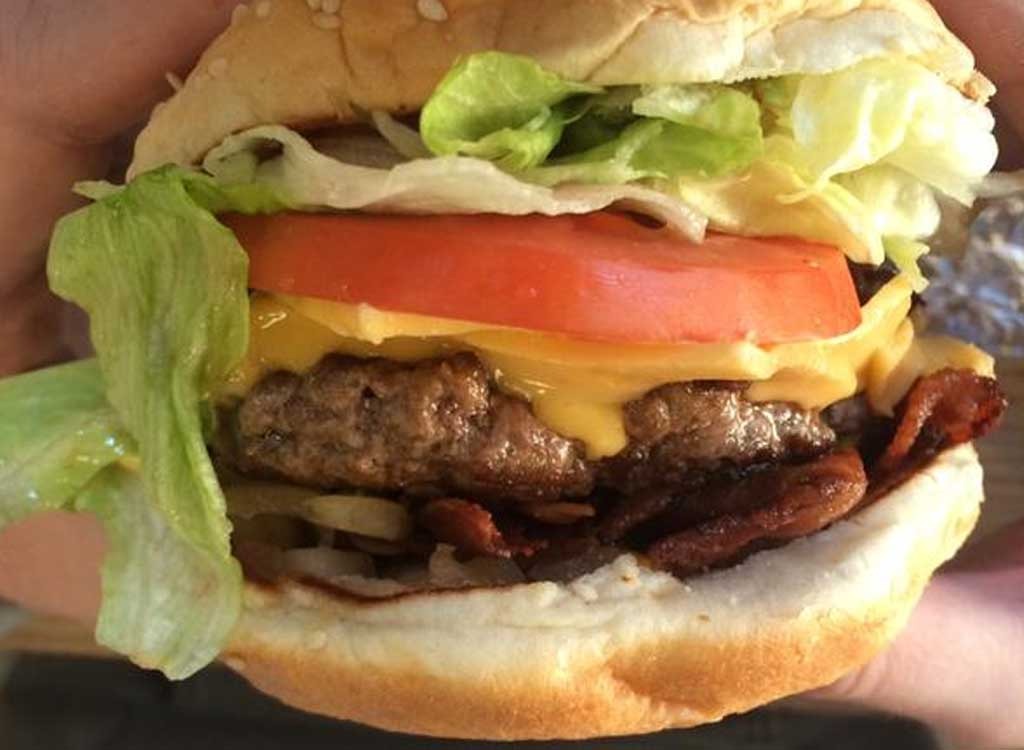 You know the old saying "Don't eat what you can't pronounce," right? Five Guys believes that mantra, too. The restaurant's hamburger buns contain fresh, simple ingredients: eggs, flour, milk, sugar, water, salt, yeast, oil, and sesame seeds. No fake colors, no preservatives, no crap.
The Bad: But That Doesn't Mean It's All Healthy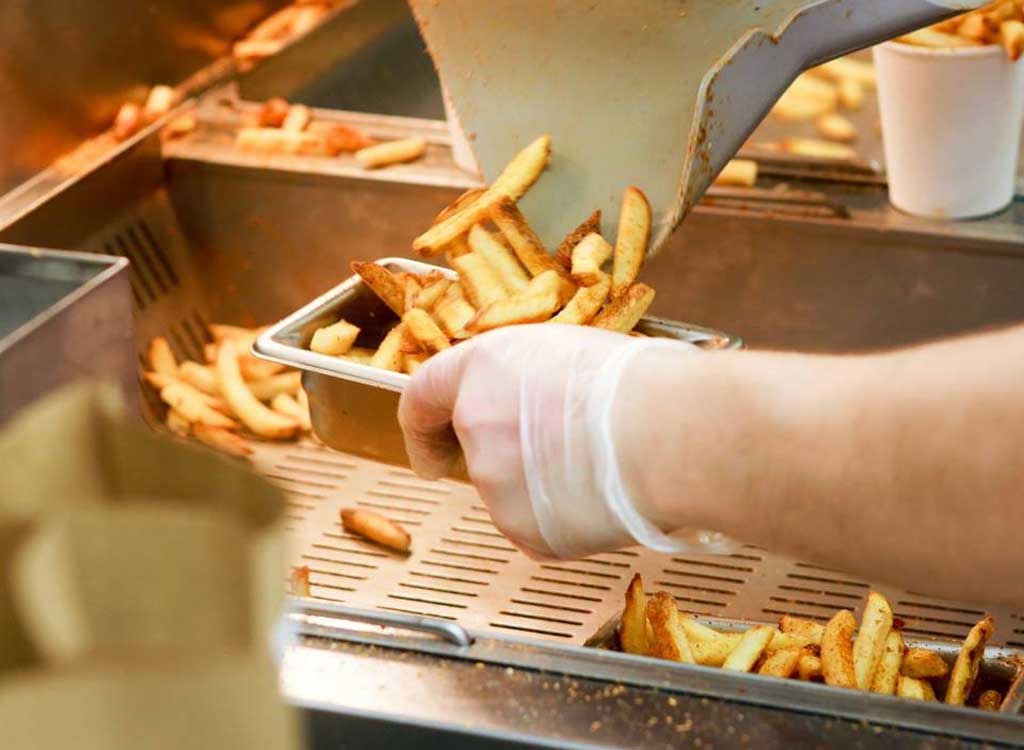 It's not that surprising that hamburgers and fries are full of calories. But what about typical "healthy" fare like veggie burgers? Those are calorie bombs, too—a veggie burger at Five Guys is 440 calories with 15 grams of fat, according to the official restaurant nutrition information. Not to mention, plenty of customers say the food is extra greasy.
"None of this food is good in any way, shape, or form," one customer wrote on Yelp. "At least [it isn't] frozen," he concludes.
The Good: They Pay Close Attention to Food Safety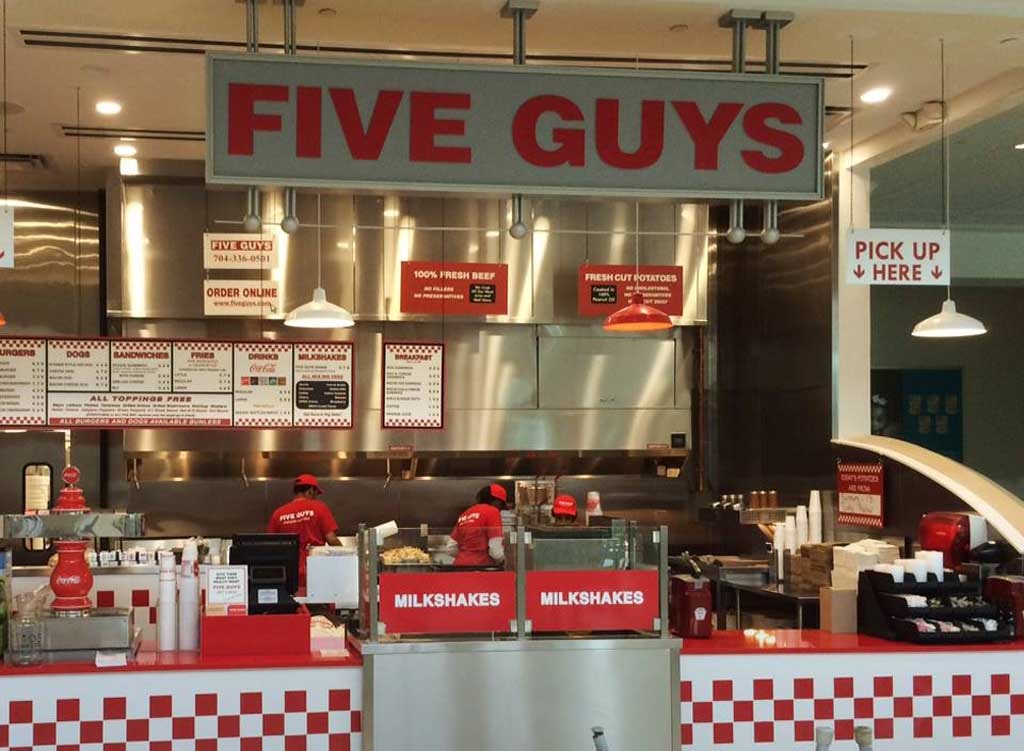 "How would you like your burger cooked?" That's a question you'll never hear at Five Guys. The store is committed to food safety, so all burgers are cooked well done—no medium rare, rare, or even medium burgers are served at the store. Chances are good you'll never realize they're well-done, though, since the freshness of the bun and other ingredients will be more than a welcome distraction.
The Bad: But They Don't Use Timers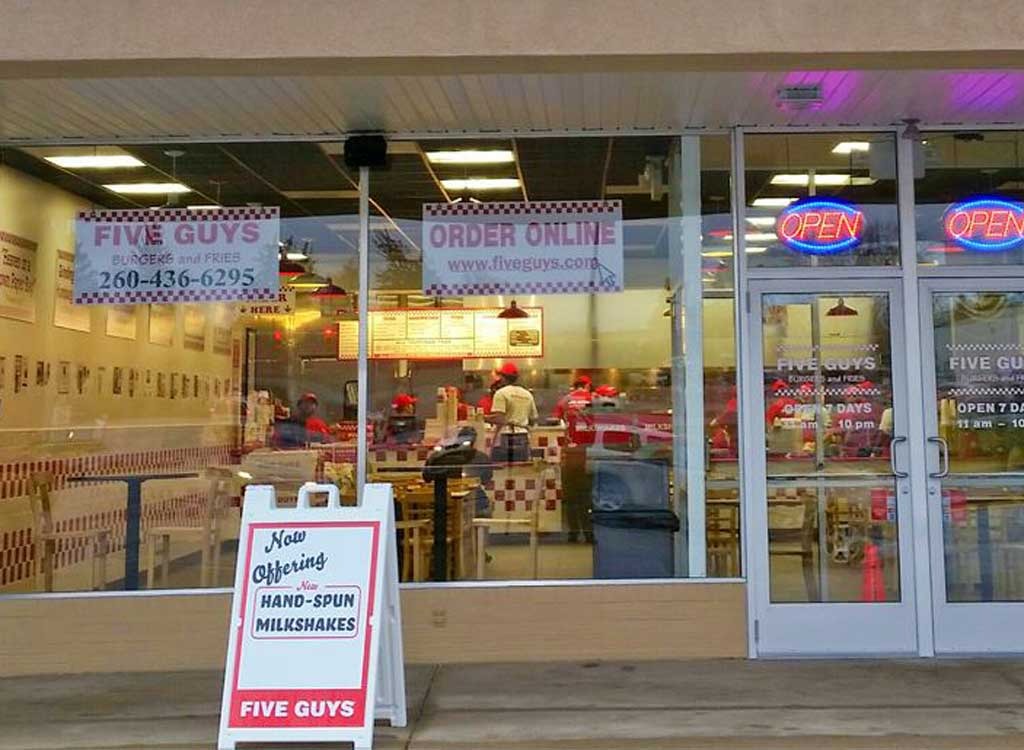 Five Guys insists on thoroughly cooking burgers, but one of their other practices raises some eyebrows around here. The store doesn't believe in using timers in the kitchen because "good cooks should know when the food is done." That's all well and great, but no one is perfect and things happen. Timers take some of the guesswork out of cooking and help ensure everything is cooked and done—which is important when you're feeding mass amounts of people. That said, we're sure they use thermometers since most health departments require foods to be cooked to a certain temperature.
The Good: They Treat Their Employees Well
Quick: Name your favorite Five Guys commercial. Stumped? You should be. Five Guys doesn't invest a penny in common advertising techniques. Instead, the company puts it toward secret shopper programs that test employees for quality service and fine food. Restaurants and employees that score high get bonuses—and that makes the employees happy and ensures customer service is tops.
The Bad: But the Food is Kinda Expensive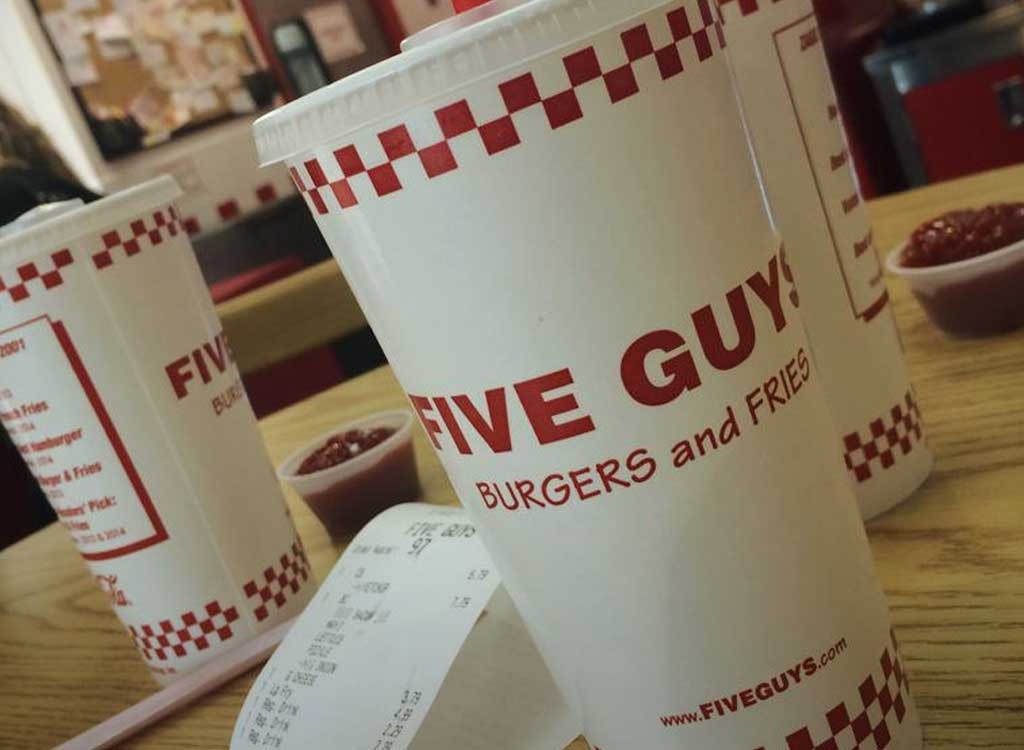 Five Guys might need to change how they do things soon because millennials are abandoning the chain for cheaper and healthier fare at chains like Shake Shack, according to a Business Insider report. They're hoping that the long-awaited introduction of shakes at stores will help lure customers back.