3 Quarantine-Perfect Recipes From Chef Tom Colicchio
A famous restauranteur and food activist shows us how to incorporate food scraps in new dishes.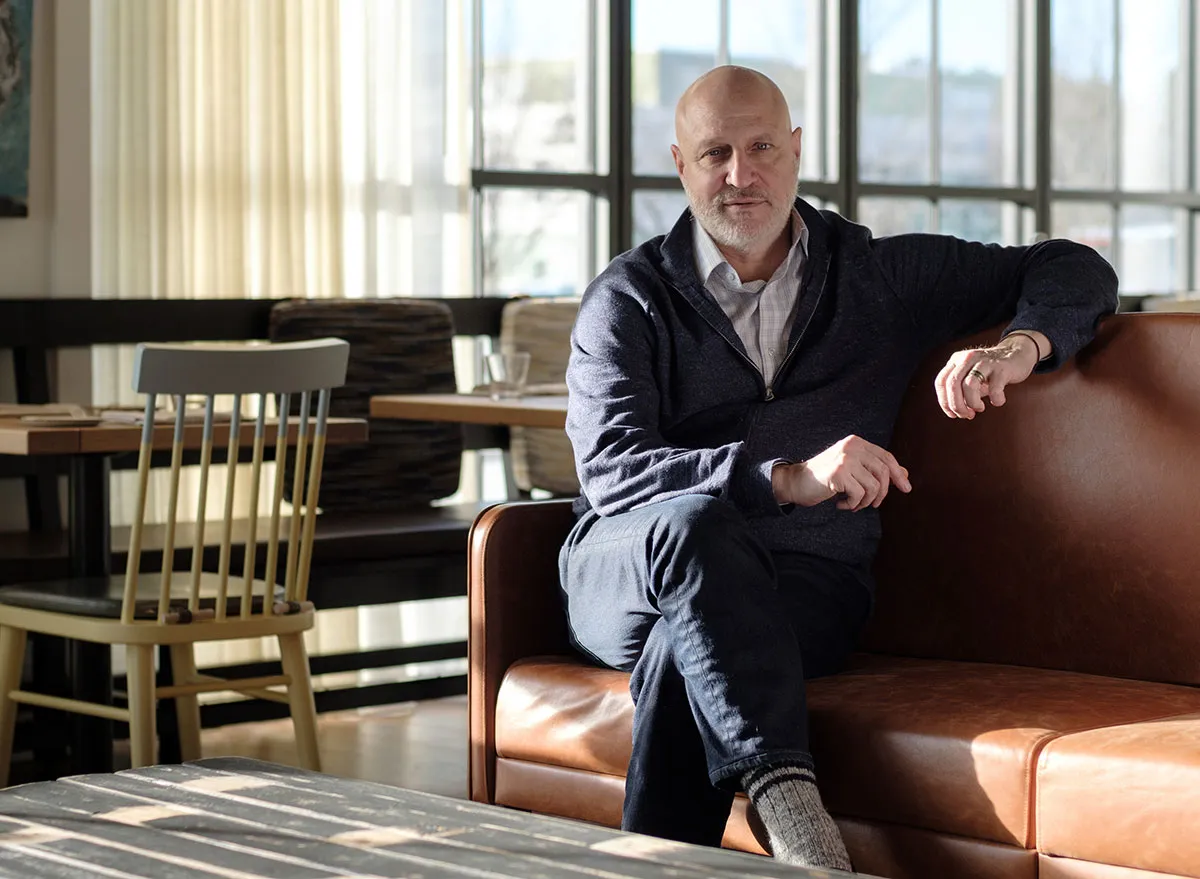 Food waste is a serious issue here in the United States. Most recent data from the USDA estimates that between 30 and 40 percent of the country's food supply goes straight in the trash. And amid the COVID-19 pandemic, where many people are finding themselves without a stable income, the need to make the most out of each and every meal is that much more significant.
Award-winning restauranteur, chef, and food activist Tom Colicchio felt compelled to teach people how to stretch the life out of every ingredient in their fridge so that nothing goes to waste. He teamed up with Two Good Yogurt and, together, they created the #MakeFoodGoFurther campaign, where he will be sharing a series of cooking videos on his Instagram this week, demonstrating how you can incorporate leftover yogurt in a variety of savory dishes.
"For me, I am not much of a pastry chef, so I want to focus on the savory side when cooking with yogurt," says Colicchio.
So, why Two Good Yogurt? The company is donating 100 percent of its profits (up to $100,000) from both in-store and online and purchases this week to food recovery organizations, City Harvest in NYC and We Don't Waste in Denver, both of which help make food access more available to those in need in their respective local communities. Organizations such as these two achieve this by rescuing food that didn't sell from large retailers such as Kroger, Walmart, and ShopRite and then redistributing them to individuals who struggle to put food on the table.
Yogurt is one of those items in your fridge that you can easily forget about, especially if you purchase it in large quantities. Colicchio, for example, prefers to buy plain yogurt in a larger container over an individual cup because, not only is it more economical, but he also uses it in a variety of dishes. Yogurt is often associated with sweet dishes, but Colicchio says "I like the unexpected" side of yogurt, which is that it pairs harmoniously with savory foods.
"I think yogurt is a great vehicle because it has a natural acidity," he adds.
Colicchio emphasizes the need to cook with intention, so when he buys that large container of yogurt, he intends to use all of it—not just for his son's breakfast.
Here are three ways Chef Colicchio makes fresh food go a little further.
Yogurt Chutney with Asparagus & Salmon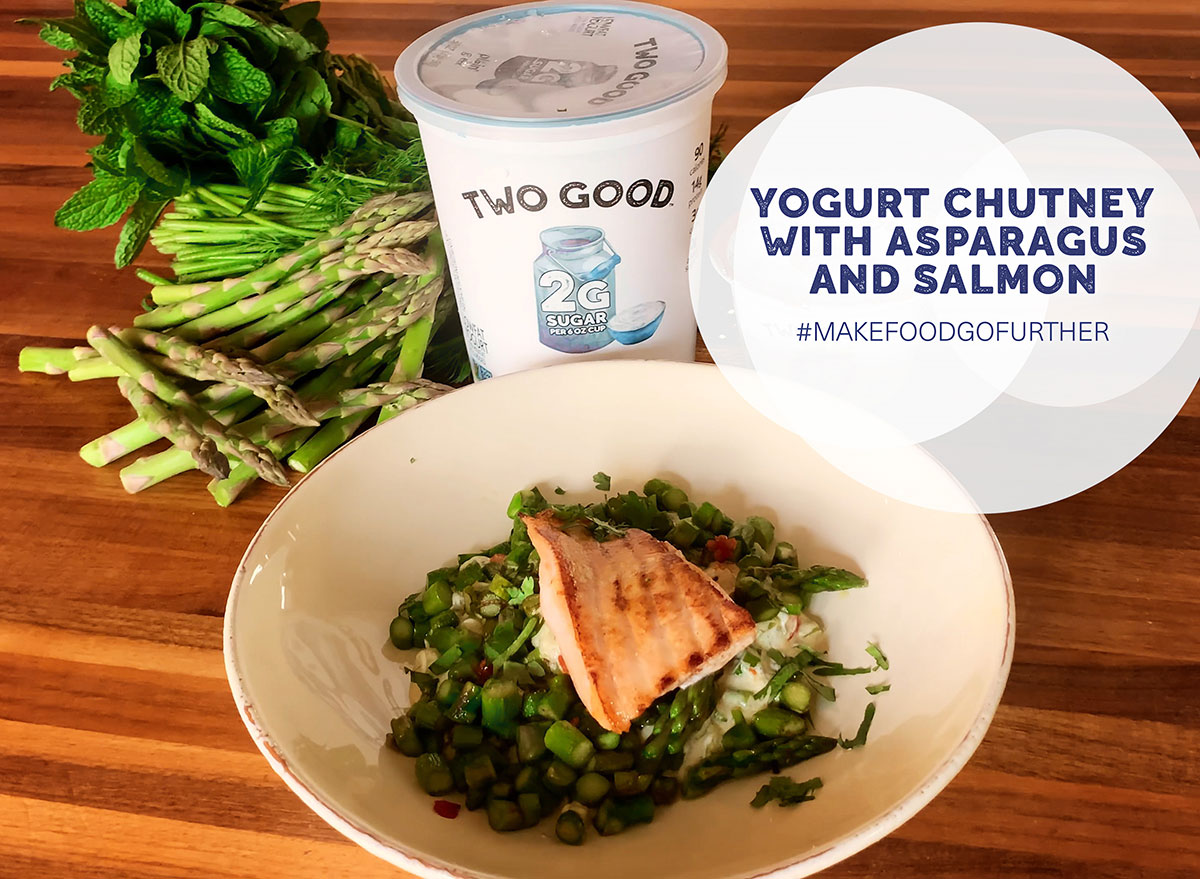 Salmon Marinade:
1 cup Two Good Greek Plain Lowfat Yogurt
Juice of 1 lime
1 tsp mustard seed
1 tsp ground cumin
1 tsp ground coriander
2, 4-6 oz. salmon filets
Yogurt Chutney:
2 tbs coconut oil
1 bunch asparagus—chopped
1 bunch scallion—white & light greens chopped*
2 leeks—trimmed & whites chopped*
1 chili pepper—chopped (optional)
1 tsp mustard seeds
1 tsp ground cumin
1 tsp coriander seeds
3/4 cup plain Two Good Greek Plain Lowfat Yogurt
4 tbs olive oil
Instructions:
To make the marinade – whisk yogurt, lime juice, and spices together in a shallow bowl. Add salmon and coat on all sides. Allow it to marinate for 1 to 2 hours in the fridge.
In a medium sauté pan, melt 1 tbs coconut oil. Add mustard seeds, cumin, and coriander seeds and heat until they start to pop. Lower heat.
Add scallions, leeks, and chili to the pan. Add additional coconut oil as needed. Cook until vegetables are soft.
Add 1 cup water** to the sauté pan and bring to a simmer. Simmer for 5 minutes.
Remove pan from heat and add 3/4 cup plain Two Good yogurt. Mix with vegetables. Season with salt & pepper and remove the pan from heat.
In a new medium sauté pan, heat 2 tbs olive oil. Add asparagus and sauté until heated through approximately 5-8 minutes. Remove cooked asparagus from the pan into a bowl.
Heat an additional 2 tbs olive oil in the sauté pan over medium heat. Remove the salmon from the marinade and sear salmon filet – approximately 3 minutes per side.
To serve, spoon the chutney into a shallow plate or bowl. Top with asparagus and seared salmon filet. Season with salt & pepper
*save unused tips for future recipes
**you can use vegetable or chicken stock if available
Lamb & Eggplant with Yogurt Relish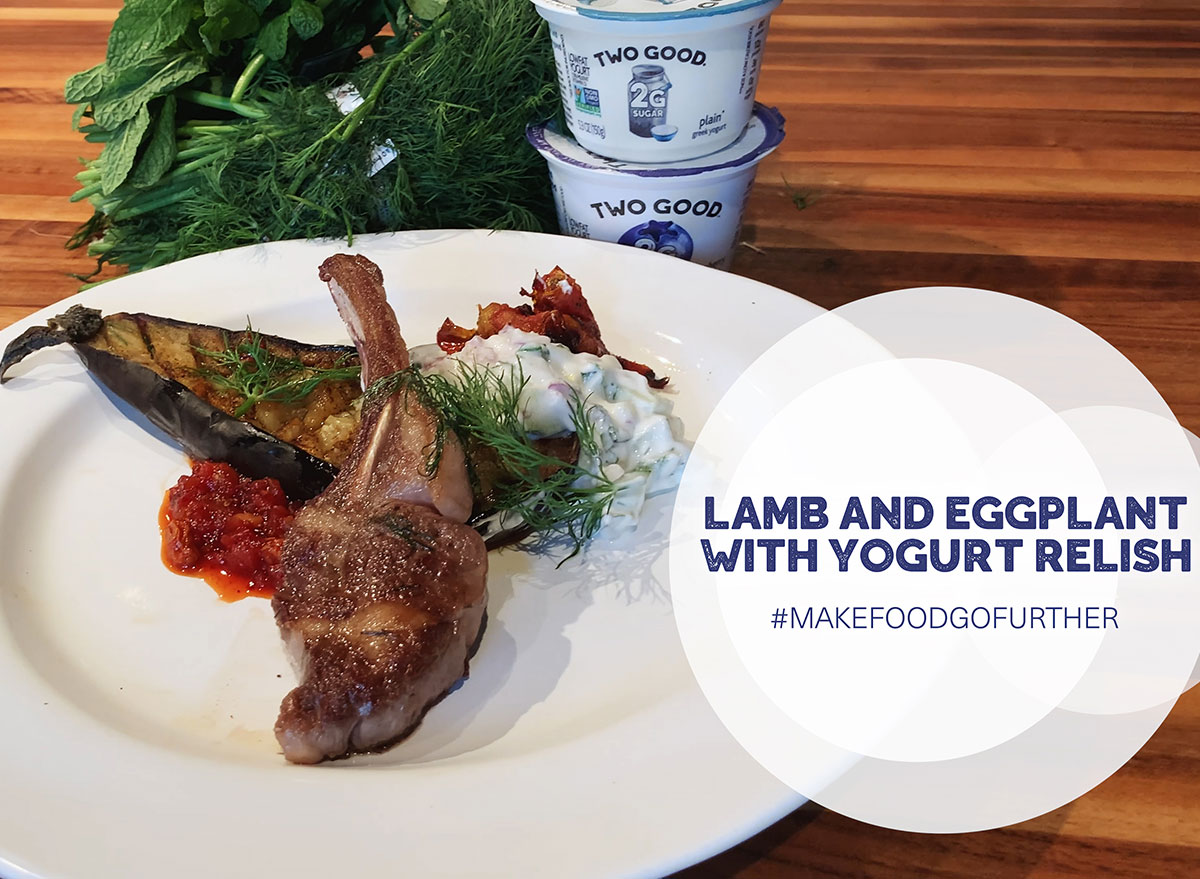 1 eggplant, cut in half
2 garlic cloves, sliced
3 tbs olive oil
1 tbs chili powder
1, 5.3 oz container of Two Good Greek Plain Lowfat Yogurt
1/2 cucumber—chopped
1/2 red onion—chopped
1/2 lime—juiced
4-6 lamb chops
3 tbs olive oil
Instructions for Yogurt Relish:
Heat oven to 350 F degrees.
Cut eggplant in half. With the tip of a knife, score the flesh deeply in a diamond cross-hatch pattern. Arrange eggplant on a baking sheet, flesh side up. Season generously with salt and 3 tbs olive oil over the surface and into the cuts. Placed sliced garlic throughout the cuts.
Roast the eggplant in the oven for 20 minutes. After 20 minutes, remove from the oven and season with 1 tbs chili powder. Place back in the oven for an additional 20 minutes or until eggplant is soft and has a deep brown caramel color.
Spoon yogurt into a large mixing bowl. Add chopped cucumber and red onion. Season with salt and lime juice. Mix all together.
Instructions for Lamb:
Heat olive oil in a medium sauté pan. Season lamb chops with salt & pepper and sear for 2-3 minutes per side until done.
To plate, put 1/2 eggplant on a plate. Mash the insides a bit and season with an additional 1 tsp of olive oil. Spoon yogurt mixture on to the plate. Top with 2-3 lamb chops.
Crispy Chickpea Croutons with Yogurt Dressing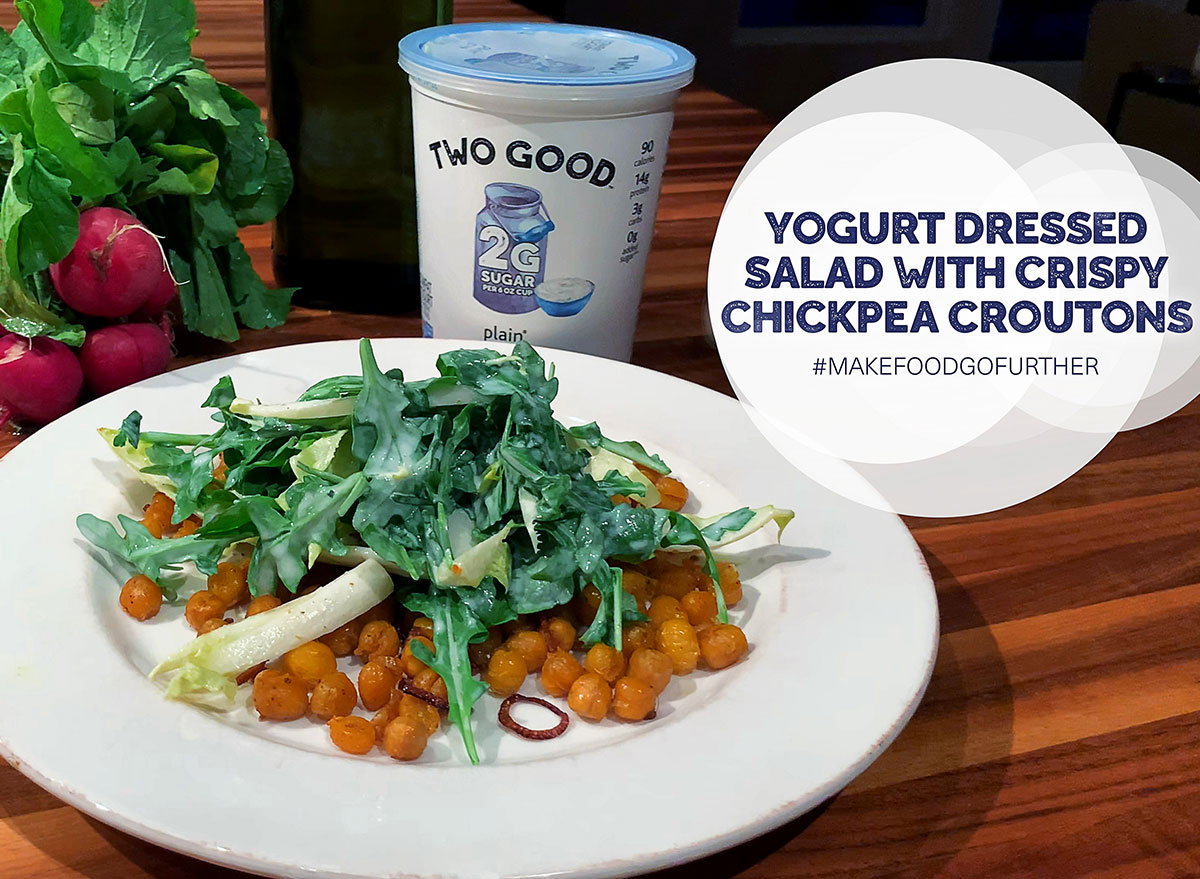 Crispy Chickpea Croutons:6254a4d1642c605c54bf1cab17d50f1e
1 cup dried chickpeas (or 2 cans chickpeas)
3 tbsp olive oil
3 shallots – sliced
2-inch ginger knob – chopped
2 tsp. Turmeric
1 tsp. Chili Powder
1 tsp. Ground Fennel Seed
1 tsp. Ground Coriander
1/2 tsp Thai Chili powder (optional)
Yogurt Dressing: 
1 cup Two Good Greek Plain Lowfat Yogurt
1/4 cup white wine vinegar
1 cup chopped fresh herbs—parsley, or cilantro or dill
Salad
2 cups arugula
1 endive—sliced
Instructions:
In a bowl, cover chickpeas by at least 2 inches of cold water. Add 1 teaspoon baking soda and let soak at room temperature overnight. Drain and rinse.
In a medium pot, cover soaked chickpeas by at least 4 inches of water. Add the remaining teaspoon baking soda and bring to a boil over high heat. Reduce heat to medium-high and let cook at a vigorous simmer until chickpeas are quite soft, 1 to 1 1/2 hours. Drain. (Can be made a day ahead)
In a sauté pan, heat 3 tbsp olive oil. Add drained chickpeas to the pan. Add shallots, ginger, and spices. Season with salt & pepper. Cook over medium-low heat for 20 minutes.
To make yogurt dressing, mix yogurt, white vinegar, and herbs together. If the mixture seems thick, add a bit of water. Season with salt & pepper.
Toss salad and yogurt dressing. To plate, place chickpeas in a shallow bowl or plate. Top with salad.
READ MORE: Click here for all of our latest coronavirus coverage.