Authorities Just Seized 1,000 Pounds of Fruit Roll-Ups In an International Smuggling Crackdown
The fruity, sugary treats have exploded in popularity thanks to a recent TikTok trend.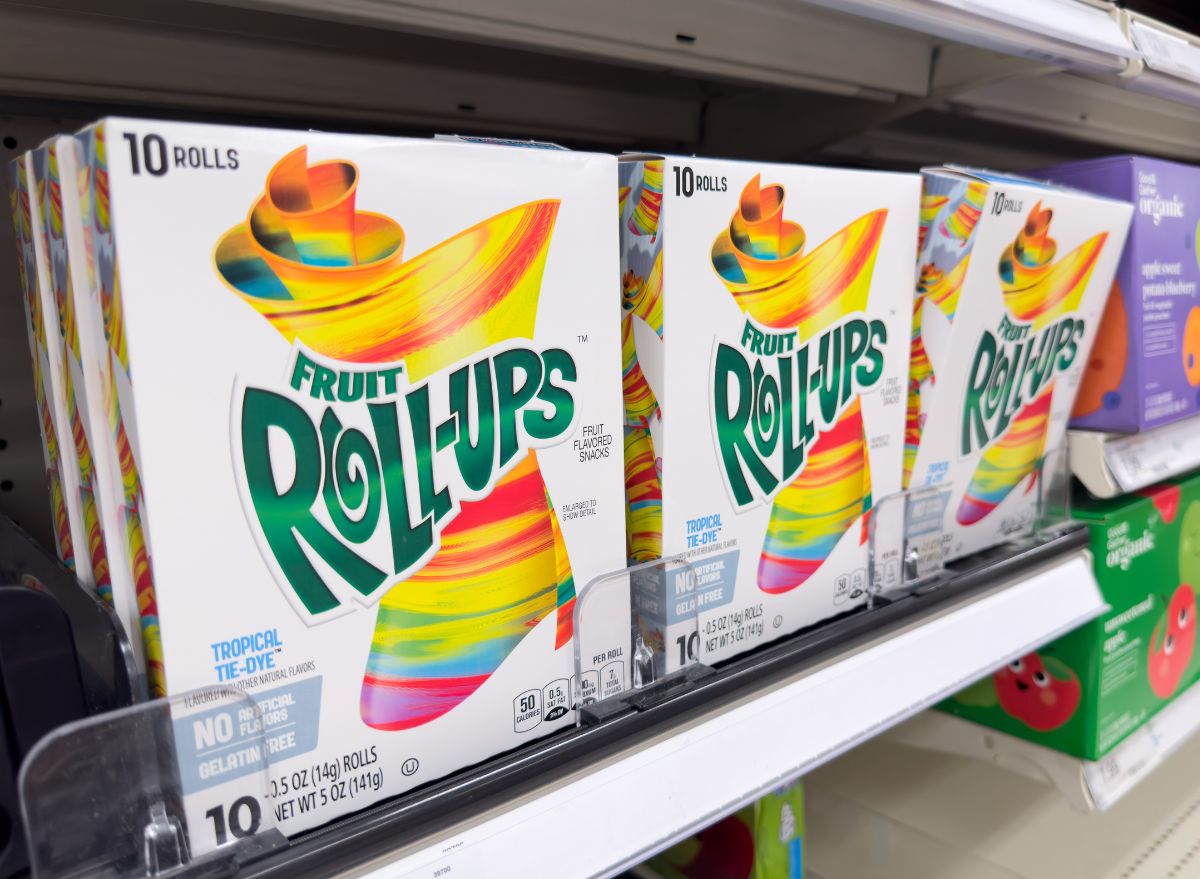 CORRECTION: Thursday, May 11, 2023 at 9:15 a.m.:
The original version of this article published on May 9 incorrectly referenced an article from The Jewish Telegraphic Agency as an article from The Times of Israel. It has been corrected to cite The Jewish Telegraphic Agency instead.
For most people, the black market likely conjures thoughts of prohibited drugs and illegal wildlife. However, the latest botched smuggling attempt to make international headlines revolves around a decidedly less controversial but still unexpected product: Fruit Roll-Ups.
Authorities have reportedly seized more than 650 pounds of the sugary, nostalgic snack at one Israeli airport alone. One of these smuggling crackdowns was reported by the Israeli news outlet Mako on May 1. When an American couple arrived at the Ben Gurion International Airport in late April, customs officials discovered a whopping 375 pounds of Fruit Roll-Ups in their luggage.
Footage shared on Twitter showed what looked like hundreds of individually-packed Fruit Roll-Ups–and nothing else–filling the couple's overpacked suitcases. The Jewish Telegraphic Agency, citing the Israeli Tax Authority, reported that officials discovered and confiscated 661 pounds of Fruit Roll-Ups in total at the airport in a period of just one week.
In another recent but separate incident, Israeli authorities seized roughly 347 additional pounds of Fruit Roll-Ups they discovered in shipments from the United States, Israeli news outlet Ynetnews reported on May 4. These shipments were so large that they were considered to be commercial quantities of the treat, which makes them subject to certain taxes and fees under the law, per Ynetnews.
We're talking about 1,000 pounds of fruity contraband in total—and that's just what officials have discovered so far. Who knows how many roll-ups have passed through security undetected!
So, why are Americans suddenly attempting to smuggle this familiar snack into Israel? The answer likely involves a recent viral TikTok trend that caused Fruit Roll-Ups to explode in popularity.
It all started when TikToker @golisdream posted a video in February sharing her favorite "sweet guilty pleasure," which turned out to be a small scoop of ice cream sandwiched inside a Fruit Roll-Up. The cold ice cream hardens the Fruit Roll-Up just enough so that you can hear an audible, satisfying crunch upon biting into the treat. The video has now racked up more than 14 million views and inspired countless TikTokers to recreate and eat their own fruit leather-ice cream creations on their pages.6254a4d1642c605c54bf1cab17d50f1e
Israel evidently hasn't been immune to the massive trend. Local consumers who spoke with Mako reported trouble finding Fruit Roll-Ups in grocery stores, or seeing elevated prices for the snack when they're able to find them.
The Fruit Roll-Up and ice cream mashup has even caught the attention of Israel's Health Ministry. The government agency issued a warning earlier this month about the potential consequences of consuming too much sugar, including weight gain, hypertension, and cardiovascular diseases.
Zoe Strozewski
Zoe Strozewski is a News Writer for Eat This, Not That! A Chicago native who now lives in New Jersey, she graduated from Kean University in 2020 with a bachelor's degree in journalism.
Read more about Zoe