The Genius Way to Grab Your Takeout Food You Never Would've Thought Of
It's incredibly safe, and keeps everyone involved perfectly healthy!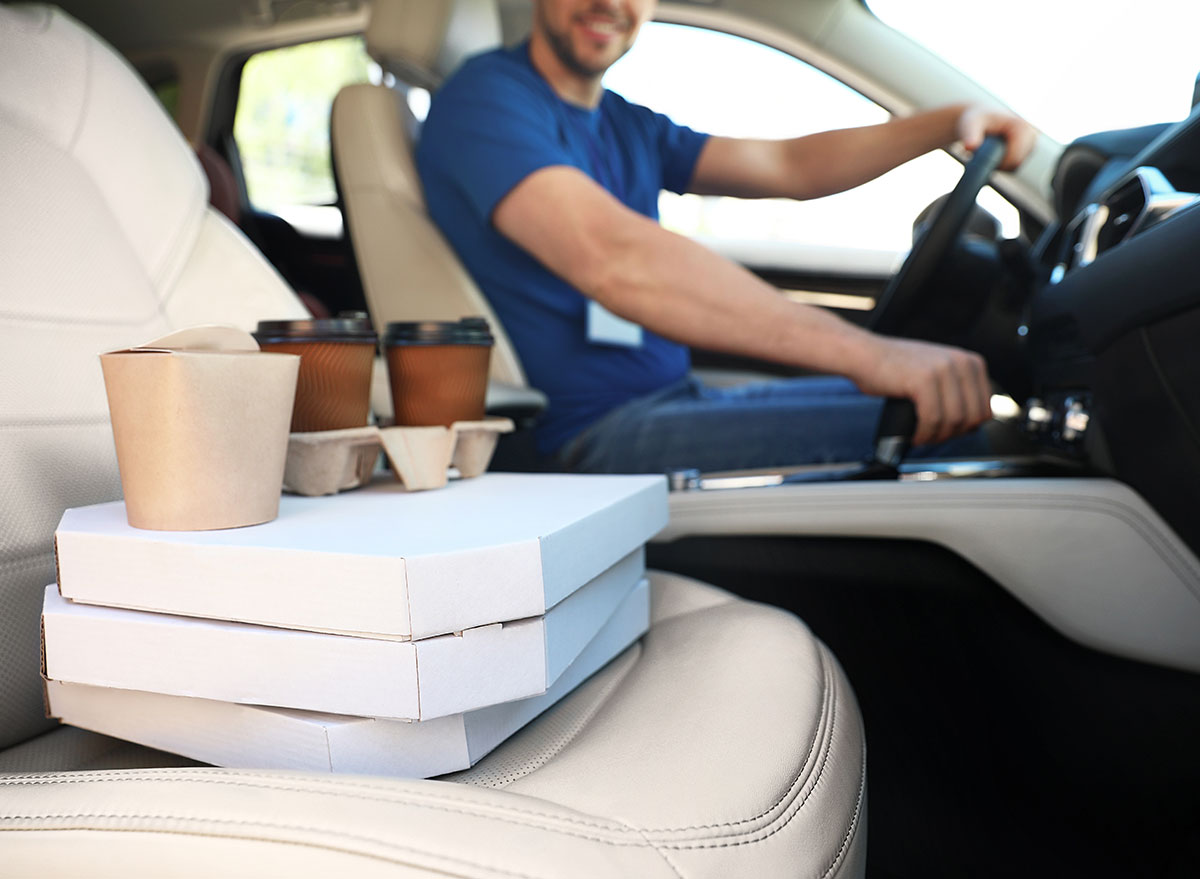 I spent the first three months of quarantine in my little apartment in Brooklyn and typically would have any food I ordered delivered. In my head, this seemed like the safest way to order food and support local restaurants, until recently when I came across a genius way to grab takeout.
Here's the story: I drove up to Connecticut to spend a few weeks with my family. Our goal is to try and support our favorite local restaurants by ordering food two or three times a week. This week we ordered from Alforno Trattoria, a delicious Italian restaurant located in Old Saybrook, Connecticut. It's a bit far for us to order delivery, so we drove over to the restaurant to pick up our takeout. When we got there, I was pleasantly surprised by the safe ways they have arranged their curbside takeout. Needless to say, they take curbside very seriously.
Drive-thru takeout? Genius!
Drive-thru obviously isn't a new concept, especially for chains like McDonald's or Starbucks. But for a local Italian restaurant, they aren't exactly equipped for this kind of service. So instead, Alforno's decided to make their own.6254a4d1642c605c54bf1cab17d50f1e
When we arrived at the restaurant, we were advised to pull the car up to the front of the restaurant. One of the waitresses came to us with a mask on, so we covered our faces and rolled down the car window. She asked our name for the order and then went into the restaurant to grab our food.
At this point, we figured we would have to get out of the car so we could load up it up with our dinner. But instead, she came back with our bags of food (and yes, two bottles of wine) and asked us, "would you like this in the trunk, or in the back seat?"
We were a bit dumbfounded at first, but my mother soon responded in the back seat. This waitress opened our back door with gloved hands, loaded up the car, and closed the door. The car kept us socially distanced.
She then came back with a credit card reader where we paid—still sitting in the car.
When we arrived at home with the food, we couldn't help but rave about the service. Not only were we able to nibble on our favorite Italian dishes that night from one of our beloved eateries, but they even had a system that kept us feeling safe and content. Our only regret? We probably should have tipped them more.
Ask your local restaurant if they'll do the same
While not every restaurant out there offers this kind of service, you could always ask them to do something similar. It's a genius way to grab takeout that keeps everyone involved safe and healthy, where you don't have to bring extra germs into the restaurant at the time. Even if those restaurants are opened with limited capacity, you could lower the risk of spreading the virus by not even entering the restaurant and asking them to literally bring the food curbside.
For more restaurant and grocery shopping tips during the pandemic, sign up for our newsletter.