How to Eat Gluten-Free at Your Favorite Chain Restaurants
Here are some gluten-free restaurant orders to try next time you're at one of these 10 popular places.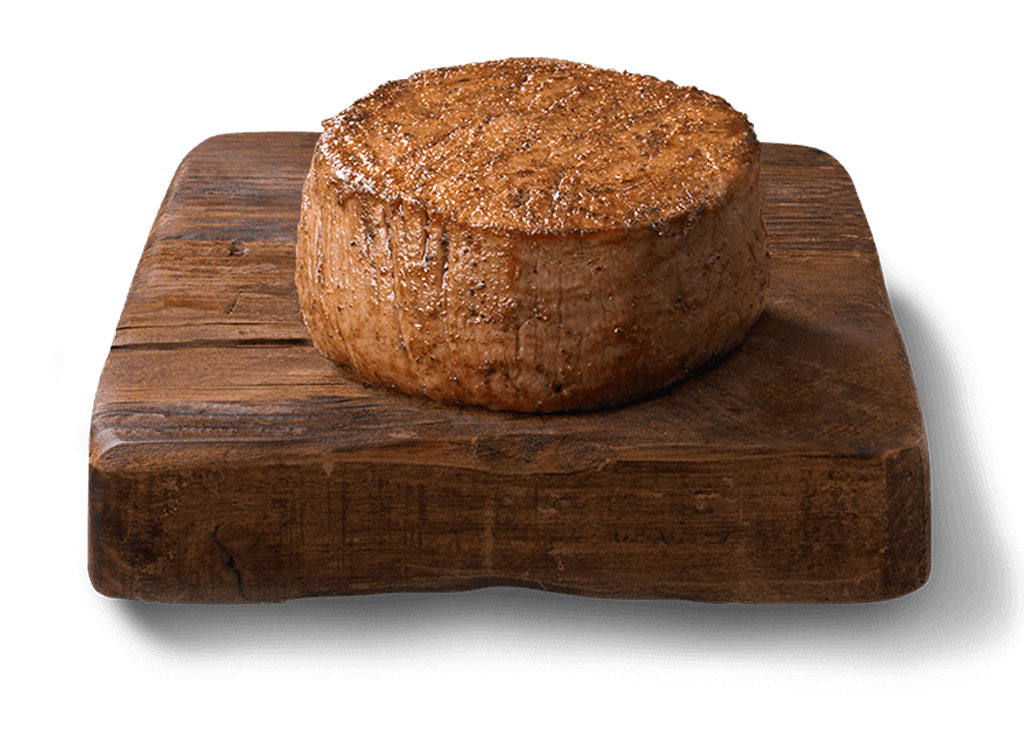 Going out to eat on a restrictive diet can be tricky, and that's especially true if you're following a gluten-free diet. Whether you have Celiac disease, a gluten sensitivity, or are just trying to cut back on foods that contain gluten, there are a few things you should know about eating gluten-free when you dine out. You can actually eat gluten-free at fast-food restaurants and chain restaurants—if you know what to order.
Eating gluten-free involves more than just avoiding items on the menu that have bread. You'll also want to look out for things made with malt vinegar, or heavy sauces where flour might be used as a thickening ingredient. It's never a bad idea to tell your waiter you're gluten-free, too—they've probably served other customers with dietary restrictions and can help guide you toward items on the menu that work with your diet.
To get a better idea of how to eat gluten-free at restaurants, we talked to Sandy Wolner, RDN and Pampered Chef food and trend expert, about what to look for on a menu.
"Start with options that you know have naturally gluten-free ingredients," Wolner says. "Eggs and salads are easy go-tos, as long as diners double-check with croutons or other breaded options."
And if you're at a restaurant that offers gluten alternatives, know what to look for there, too. You might find recipes made with chickpea flour, for instance, or you could eat corn tortillas or lettuce wraps.
"Cauliflower/quinoa/chickpea are good gluten-free alternatives for pasta and pizza," Wolner says. "Some people are surprised to know that potatoes and rice are completely safe for those avoiding gluten. Diners can also go for un-breaded meat, corn tortillas, or lettuce wrap options. A great one is a salmon sandwich with lettuce instead of a bun."
Here are some great gluten-free options at 10 popular restaurant chains.
What's gluten-free at Texas Roadhouse?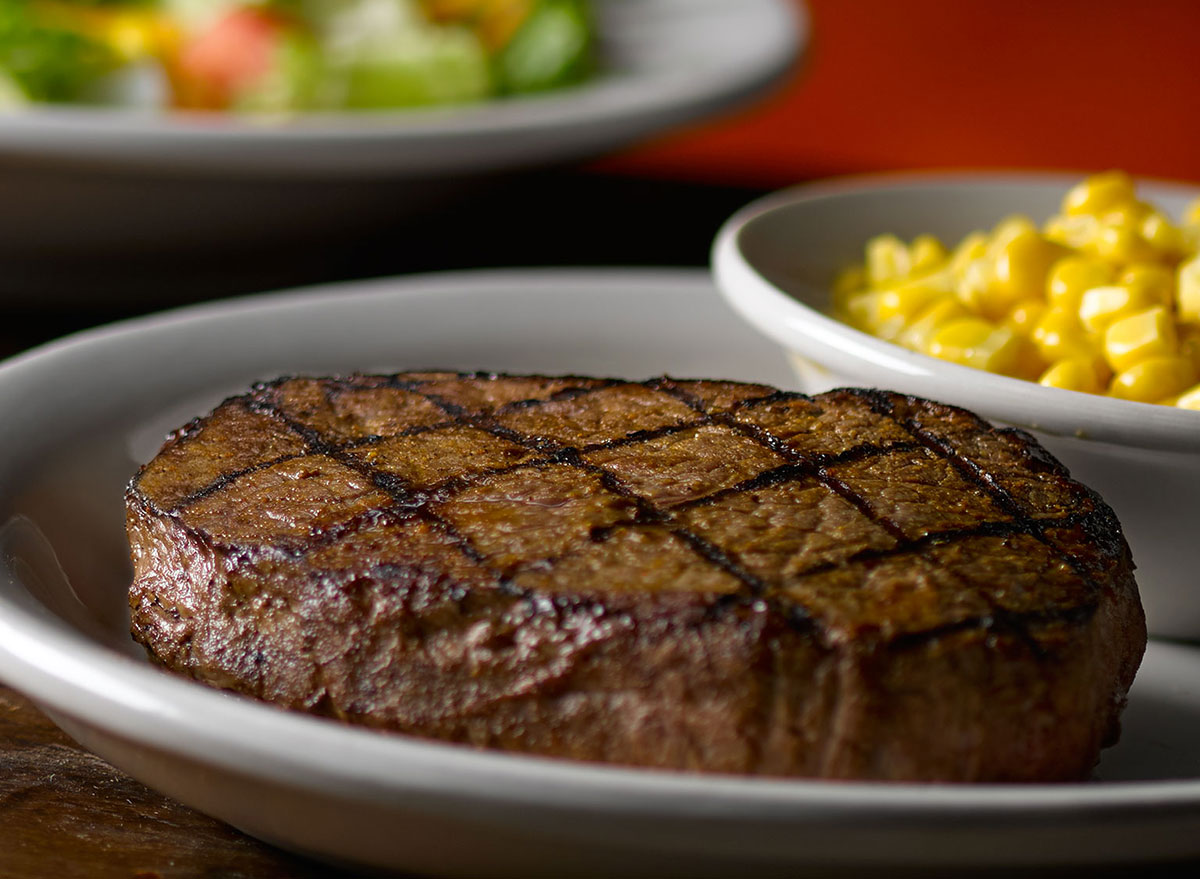 Many of the menu items at Texas Roadhouse are fried and may contain gluten in the breading, but you can find some gluten-free options there, too. On the appetizer list, for instance, you can take Wolner's advice and choose a naturally gluten-free potato. And if you stick with steak, rather than the breaded chicken, you can have a nice gluten-free dinner. You just won't be able to enjoy the chain's signature breadbasket.
One major caveat to this list: You'll want to ask your server how the food you're ordering is prepared. The Texas Roadhouse website notes that the chain's "gluten-friendly" items aren't necessarily gluten-free, so you'll want to double-check how they're prepared before ordering anything, to avoid cross-contamination. You're always better off being safe, rather than sorry, when it comes to food allergies.
Salads
Grilled chicken salad, without croutons and chicken marinade, oil and vinegar dressing
Steakhouse filet salad, without croutons, no seasoning on filet, oil and vinegar dressing
House salad, no croutons, oil and vinegar dressing
Steaks and Ribs
Fort Worth ribeye, no seasoning, no butter
Dallas filet, no seasoning, no butter
USDA Choice sirloin, no seasoning, no butter
New York strip, no seasoning, no butter
Bone-in ribeye, no seasoning, no butter
Porterhouse T-bone, no seasoning, no butter
Steak kabob, no seasoning, no butter, substitute rice with baked potatoes or mashed potatoes
Roadkill, no seasoning, no butter
Filet medallions, no seasoning, no butter
Prime rib, no seasoning, no butter
Combos
Grilled chicken with sirloin, no seasoning, no butter, no marinade
Chicken Specialties
Grilled chicken, no marinade
Country Dinners
Country vegetable plate
Grilled pork chops, no seasoning, no peppercorn sauce
Dockside Favorites
Sides
Sweet potato, seasoned only with salt and pepper
Fresh vegetables, seasoned only with salt and pepper
Baked potato, seasoned only with salt and pepper
What's gluten-free at Red Robin?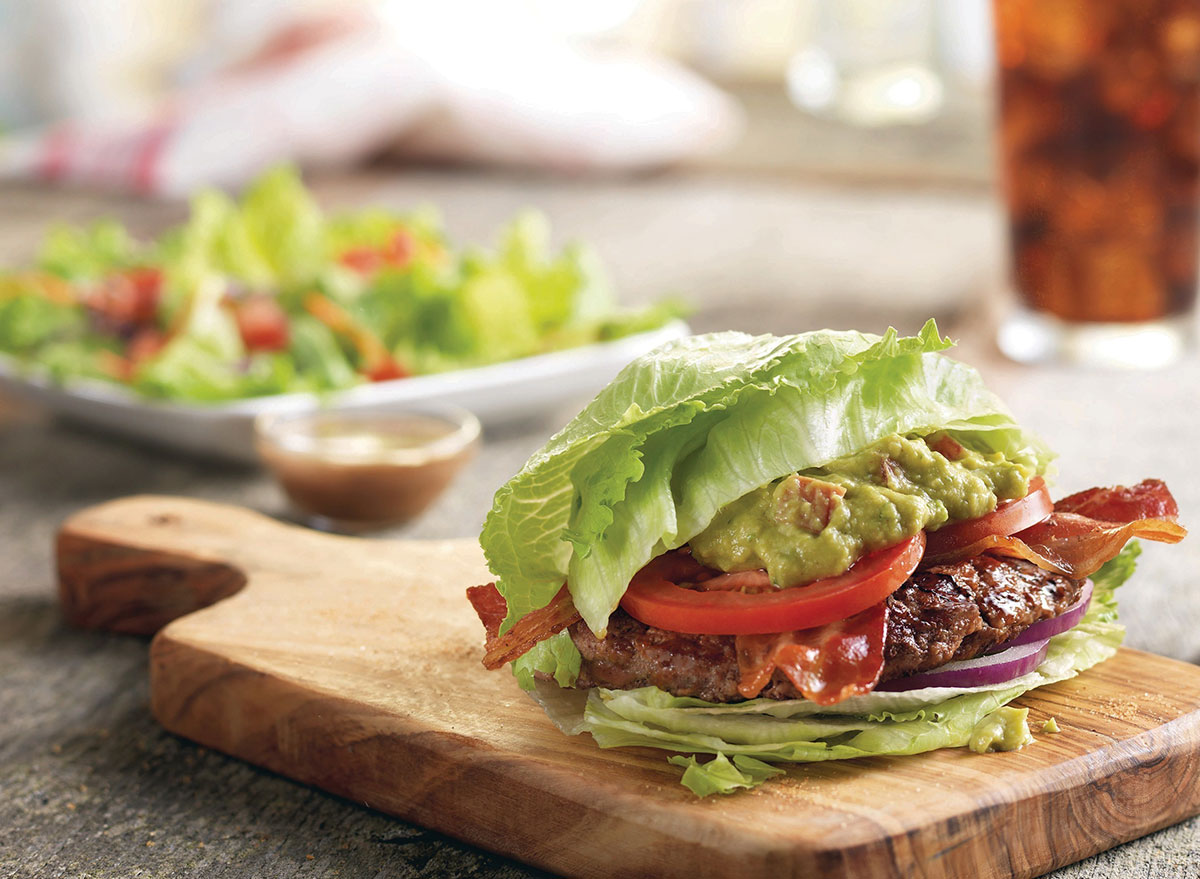 Red Robin's website has an option to view menu items sorted out by allergens, including gluten. So you won't have to second-guess what's really gluten-free here. Just know that if any of the burgers catch your eye, you'll have to order them without the bun.
Appetizers
Chili Chili cheese fries
Sweet potato fries jump starter
Creamy spinach and artichoke dip, no white corn tortilla chips
Nacho.m.g., no white corn tortilla chips, no queso cheese sauce
Gourmet Burgers
The Wedgie burger
Bacon cheeseburger with American cheese, no bun
Banzai burger, no teriyaki sauce, no bun
Bleu Ribbon burger, no onion straws, no Heinz 57 sauce, no bun
Burnin' Love burger, no jalapeno coins, no whole fried jalapenos, no bun
Burnin' Love chicken, no jalapeno coins, no whole fried jalapenos, no bun
Chili Chili cheeseburger, no bun
El Ranchero, no BBQ ketchup, no onion straws, no jalapeno ranch dressing, no bun
French Onion Ringer, no breaded onion rings, no onion straws, no bun
Guacamole Bacon Burger, no bun
Impossible Gourmet Burger with American cheese, no bun
Keep It Simple burger, no bun
Keep It Simple veggie burger, no bun
Monster burger with American cheese, no bun
Red Robin cheeseburger with American cheese, no bun
Royal Red Robin burger, no bun
Veggie burger, no bun
Tavern Burgers
Big Pig Out tavern burger, no bun
Big Taco tavern burger, no bun
Four cheese melt with rustic Italian bread
Red's Tavern Double, no bun
Taco Tavern Double burger, no bun
Finest Burgers
Master Cheeseburger, no bun
Smoke & Pepper, no bun
The Madlove burger, no bun
Tuscan salmon, no bun
Other Fun on a Bun
California Chicken Burger, no bun
Grilled Turkey Burger, no bun
Simply Grilled Chicken Burger, no bun
Entrees
Wraps, Sandwiches, & Soups
Chili bowl
Clamdigger's clam chowder soup bowl
Bruschetta chicken burger, no bun
Salads
Avo-cobb-o salad, no croutons
Bottomless house salad, no croutons
Mighty Caesar salad, no croutons
Simply grilled chicken salad, no croutons
Southwest chicken salad, no croutons
What's gluten-free at Bonefish Grill?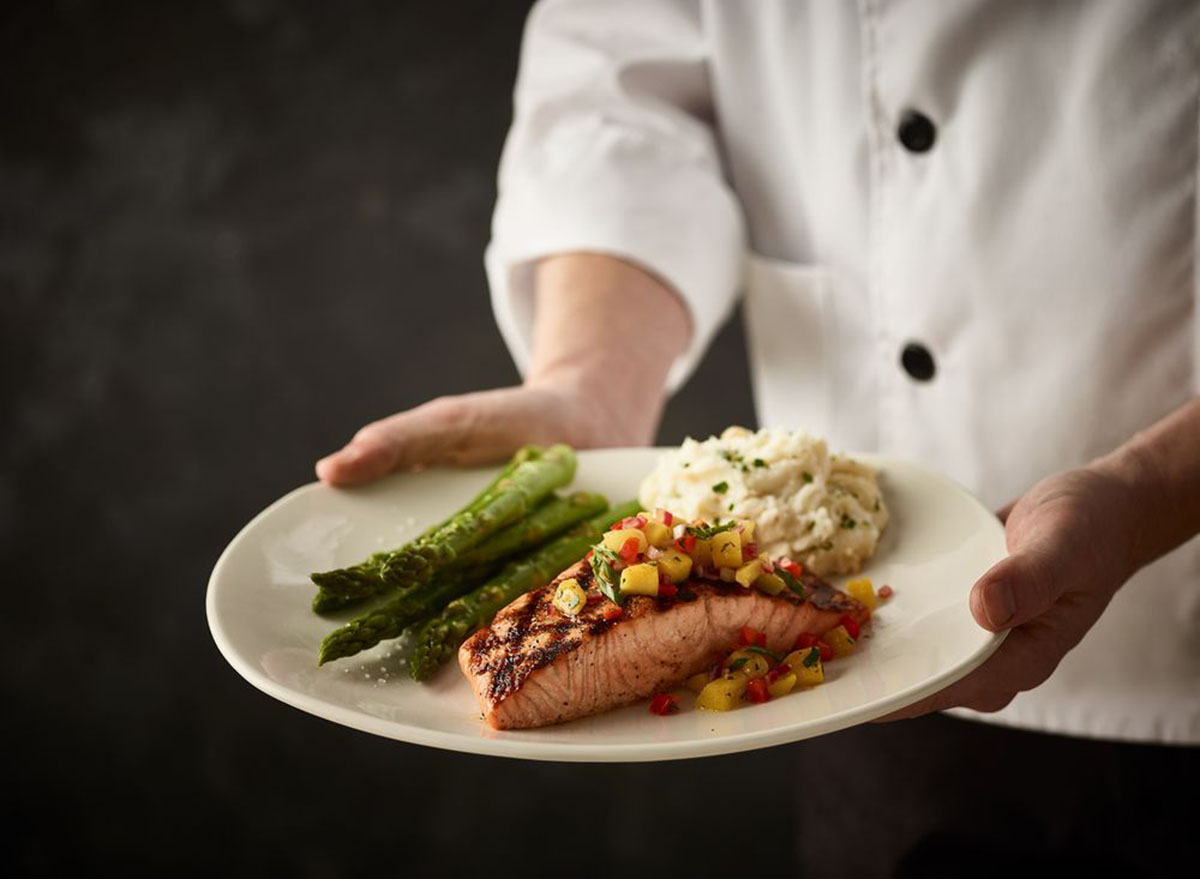 Like Red Robin, Bonefish Grill offers a gluten-free menu for customers to peruse.
Appetizers
Prince Edward Island Mussels Josephine
Soups and Greens
Bonefish Cobb salad, no croutons
Classic Caesar Salad, no croutons
Bonefish house salad
Grilled salmon superfood salad, without farro or ancient grains
Grilled Fish
Chilean sea bass
Baja striped bass
Atlantic salmon
Rainbow trout
Georges Bank Sea Scallops and Shrimp
From the Land
Filet Mignon
Bone-in ribeye steak
Lily's Chicken
The Angler's sirloin steak
Seafood Specialties
Dynamite-style shrimp
Coldwater lobster tails
Brunch
Saucy Shrimp & Grits
Oscar Omelet
California Omelet
Signature and Premium Sides
Garlic whipped potatoes
Seasonal vegetables
Jasmine rice
Desserts
Macadamia nut brownie, flourless
Seasonal creme brulee
What's gluten-free at Yard House?
Again, this is one restaurant where you'll want to consult your server if you have Celiac disease. The chain's website states that while there is a gluten-sensitive menu option available, this is "not a gluten-free environment," and there may be cross-contamination in the kitchen. But if you let your server know you have celiac disease, the restaurant should be able to accommodate you.
Soups & Starters
Tomato bisque, no crackers, no fried basil garnish
Chopped Salad
Classic ranch salad, no croutons
Snacks
Deviled eggs
Chilled edamame
Guacamole and chips, sub fresh veggies for chips
Hummus served with romaine leaves, no tahini sauce, no pita croutons
Hummus Topping—Lamb
Hummus Topping—Veggies
Roasted beet salad
Appetizers
Spicy tuna roll, no wasabi soy sauce
Spinach cheese dip, no pita, sub fresh veggies
Queso dip, no flour tortillas and chips, sub fresh veggies
Bacon chorizo Queso dip
Entree Salads & Bowls
Chicken kale Caesar, no croutons
Shrimp kale Caesar, no croutons
Salmon kale Caesar, no croutons
Ahi kale Caesar, no croutons
Chicken Cobb
Shrimp Cobb
Salmon Cobb
Red quinoa salad
Red quinoa salad with chicken
Red quinoa salad with shrimp
Red quinoa salad with salmon
BBQ chicken salad, no tortilla strips, no fried onions
Sandwiches & Burgers
With each of these options, you'll want to order a lettuce wrap in place of bread, and mixed greens instead of fries.
Grilled chicken and avocado sandwich
Seared ahi steak sandwich
Roasted turkey club
Classic cheeseburger
BBQ bacon cheddar burger
Kurobuta pork burger
Black truffle cheeseburger
House lamb burger
Pepper jack burger
Mediterranean lamb burger
Mediterranean beef burger
Beyond Burger with salad
Street Tacos
Instead of the flour tortillas, sub in two corn tortillas for each taco.
Asada taco
Tropical chicken taco
Blackened shrimp taco
Entrees
Ribeye
Ribeye and shrimp
Pepper-crusted filet
Roasted halibut, no soy-miso broth
Mediterranean salmon, no tahini sauce
Pan-seared ahi, no soy vinaigrette
Shrimp zoodle bowl
Caprese chicken
Spicy Beyond Sausage with Zoodles
Sides
Mixed greens, no croutons
Chilled edamame
Steamed mixed vegetables
Fresh fruit
Jasmine rice
Brown rice
Sauteed asparagus
Garlic mashed potatoes
Wasabi mashed potatoes
Parmesan mashed potatoes
Spinach mashed potatoes
What's gluten-free at Outback Steakhouse?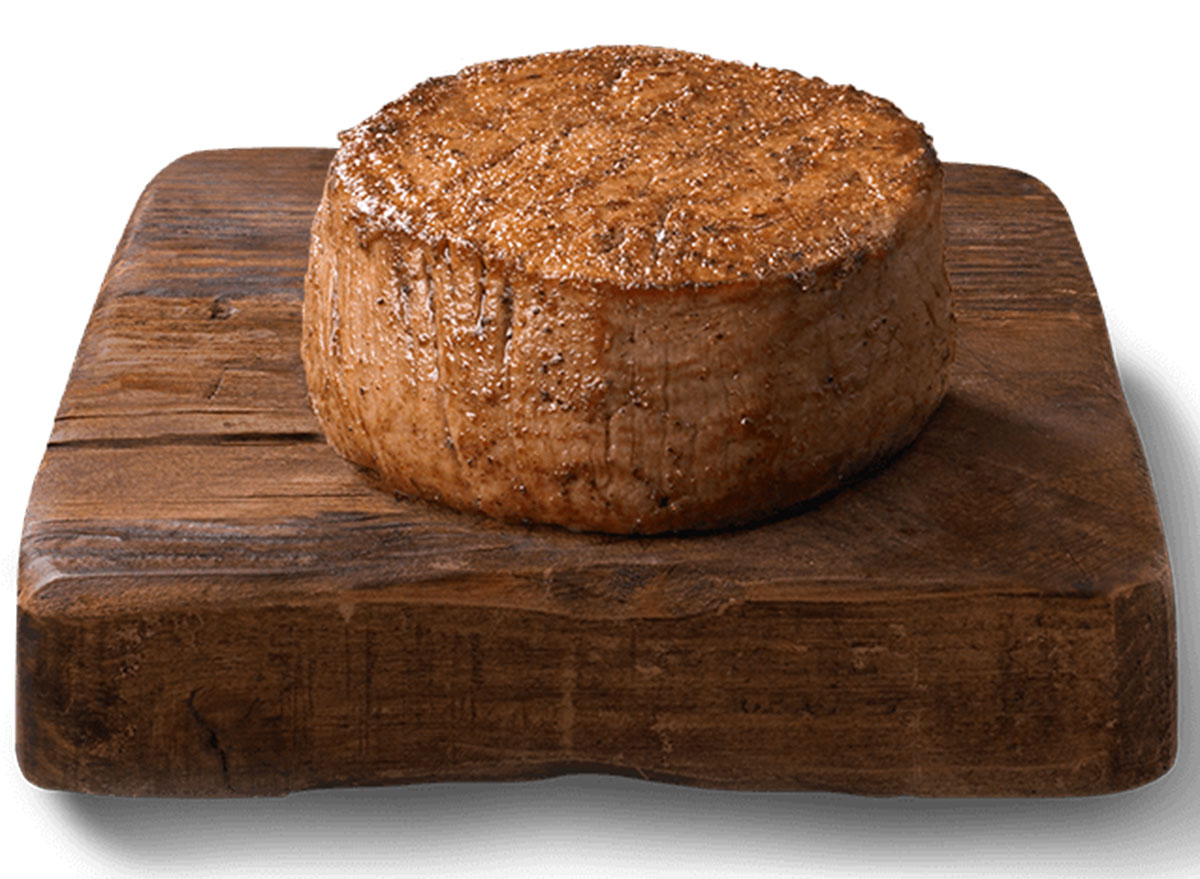 6254a4d1642c605c54bf1cab17d50f1e
Outback's gluten-free menu includes a variety of options, from steaks to salads. You won't be wanting for options at this chain.
Entree Salads
Aussie Cobb Salad, no croutons
Brisbane Caesar salad, no croutons
Signature Steaks
Outback Center-Cut Sirloin
Victoria's Filet Mignon
Ayers Rock NY strip
Ribeye
Bone-in natural cut ribeye
Melbourne Porterhouse
Sirloin & grilled shrimp on the barbie
Filet Mignon and Lobster
Straight from the Sea
Perfectly grilled salmon
Simply grilled tilapia
Lobster tails
Chicken, Ribs, & More
Alice Springs Chicken
Grilled chicken on the barbie
Pork porterhouse
Baby back ribs
Drover's ribs and chicken platter
Freshly Made Potatoes & Sides
Homestyle mashed potatoes
Baked potato
Sweet potato
Fresh mixed veggies
Fresh seasonal veggie: broccoli
House salad, without croutons
Caesar salad, without croutons
Broccoli and cheese
Loaded mashed potatoes
Grilled asparagus
Blue cheese wedge salad
Dessert
Chocolate Thunder from Down Under
What's gluten-free at Carrabba's?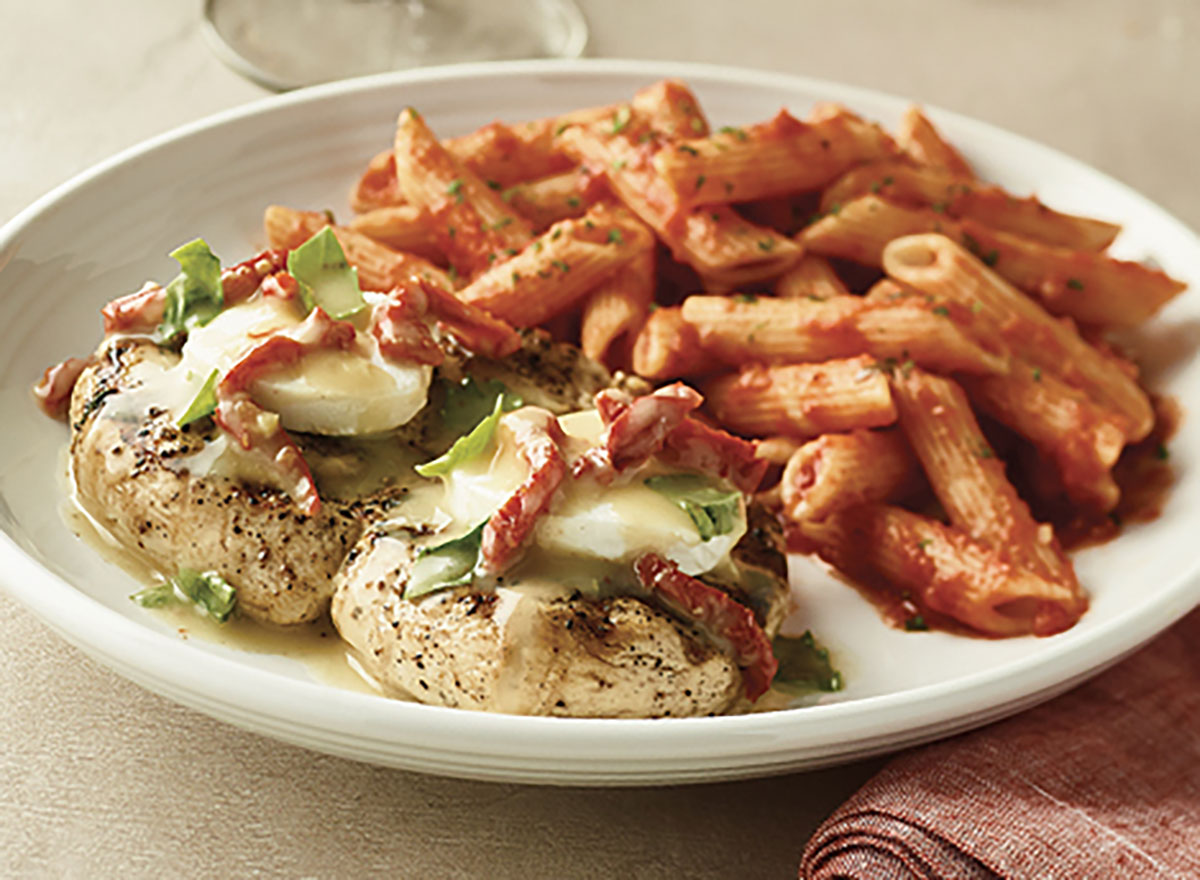 You might not think gluten-free meals and Italian cooking can mix. But Carrabba's has a wide variety of options on its gluten-free menu, including some pasta.
Small Plates & Appetizers
Grilled asparagus with prosciutto
Tomato Caprese with fresh burrata
Soups & Salads
Mama Mandola's Sicilian chicken soup
Minestrone soup
Soup and salad combo
Italian salad
Johnny Rocco salad
Italian side salad
House side salad
Pasta
Linguine Positano
Shrimp & Scallop Linguine Alla Vodka
Fettuccine Carrabba
Spaghetti Pomodoro
Spaghetti Bolognese
Fettuccine Weesie
Chicken, Pork, & Veal
Tuscan Grilled Chicken
Tuscan-Grilled Ribeye
Chicken Bryan
Chicken Marsala
Pollo Rosa Maria
Steaks & Chops
Tuscan-Grilled filet
Tuscan-Grilled pork chop
Seafood
Wood-Grilled tilapia
Tomato basil salmon
Simply grilled Mahi
Combinations
Sides
Sauteed broccoli
Grilled asparagus
Garlic mashed potatoes
What's gluten-free at Maggiano's?
Another classic American chain, Maggiano's is famous for its family-style pasta dishes. Fortunately for gluten-free diners, the chain does offer gluten-free pasta. Maggiano's doesn't have a gluten-free menu on its website, though, so you should double-check that any salad dressings or cream sauces you might order are truly gluten-free, just in case. And if you have Celiac disease, it's also worth asking your server if the crispy pancetta is made in the same fryer as gluten-containing dishes, because you don't want to risk cross-contamination.
Starters
Prince Edward Island Steamed Mussels
Tomato Caprese
Sausage & Peppers
Salads
Maggiano's salad
Caesar salad
Spinach salad
Chopped salad
Italian tossed salad, no croutons
Grilled salmon salad, no croutons
Grilled Chicken Caprese salad, no croutons
Steak & Veal
Beef Tenderloin medallions, without crispy onions
Denver steak
Filet Mignon and asparagus risotto
Center-cut filet mignon
Prime ribeye
Braised beef contadina
Sides
Garlic spinach
Roasted garlic broccoli
Fresh-grilled asparagus
Classic Pasta
Spaghetti with gluten-free pasta
Baked Ziti with gluten-free pasta
Fettucini alfredo with gluten-free pasta
Chef's Features
Chicken
Chicken Piccata with gluten-free pasta
Chicken Marsala with gluten-free pasta
Chicken Francese
Chicken Saltimbocca with gluten-free pasta
Seafood
Salmon lemon and herb, without orzo
Shrimp Fra Diavolo with gluten-free pasta
Linguine and clams with gluten-free pasta
Linguine di Mare with gluten-free pasta
Tuscan Shrimp and Chicken with gluten-free pasta
Shrimp Scampi with gluten-free pasta
Dessert
What's gluten-free at Cracker Barrel?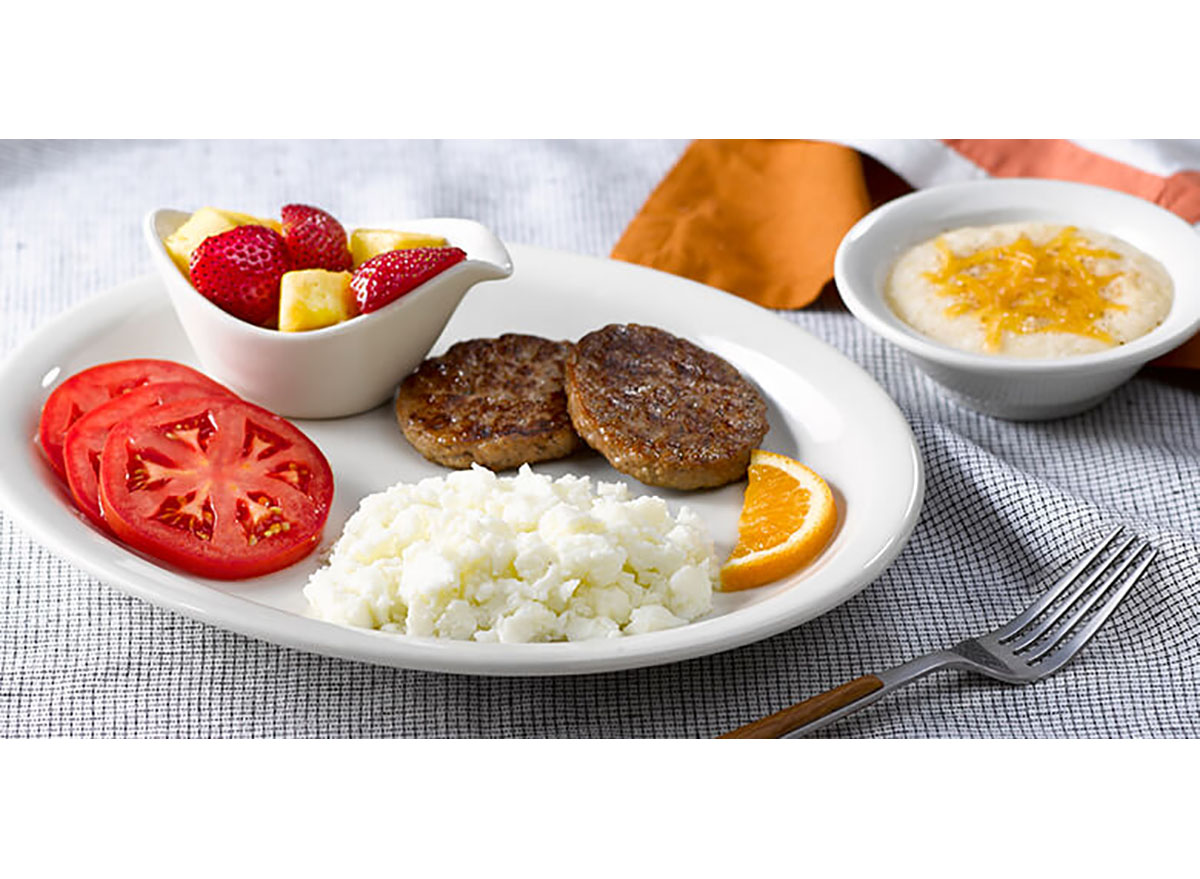 With a menu that includes options like dumplings and pancakes, Cracker Barrel isn't the best place to go if you have a gluten-sensitivity. But if you order foods that are naturally gluten-free and inform your server of your food allergies—especially if you have Celiac disease—they should be able to accommodate you.
And while Cracker Barrel's list of food allergens is helpful, you should still take this list in stride. It's always best to check with your server (and the chef, if possible) to make sure these items are truly gluten-free.
Breakfast
Southwestern Sausage Hash n' Eggs
Southwestern Scramble
Good Morning Breakfast
Fresh Fruit 'n Yogurt Parfait Breakfast, no granola
Fried Apples
Fresh Seasonal Fruit
Fresh Apple Slices
Two Eggs
Two Scrambled Egg Whites
Turkey Sausage Patties
Smoked Sausage Patties
Thick-Sliced Bacon
Sugar-Cured Ham
Country Ham
Grilled Pork Chop
Grits
Lunch/Dinner
Grilled Country Pork Chops
Lemon Pepper Grilled Rainbow Trout
Ribeye Steak
Farm-Raised Grilled Catfish
Farm-Raised Fried Catfish
Grilled Sirloin Steak
Grilled Chicken Tenderloins
Sugar-Cured Ham
Hickory-Smoked Country Ham
Apple Cider BBQ Chicken Breast
Country Vegetable Plate
Sides
Baked Potato
Baked Sweet Potato
Bowl of Pinto Beans
Bowl of Turnip Greens
Beans n' Greens
Mashed Potatoes
Homestyle Fries
Sweet Whole Baby Carrots
Whole Kernel Corn
Country Green Beans
Mixed Green Side Salad, Plain
Brussel Sprouts n' Kale Salad
Cole Slaw
Fresh Seasonal Fruit
Fresh Apple Slices
Fried Apples
Boiled Cabbage
Lima Beans
Sweet Potato Casserole
What's gluten-free at LongHorn Steakhouse?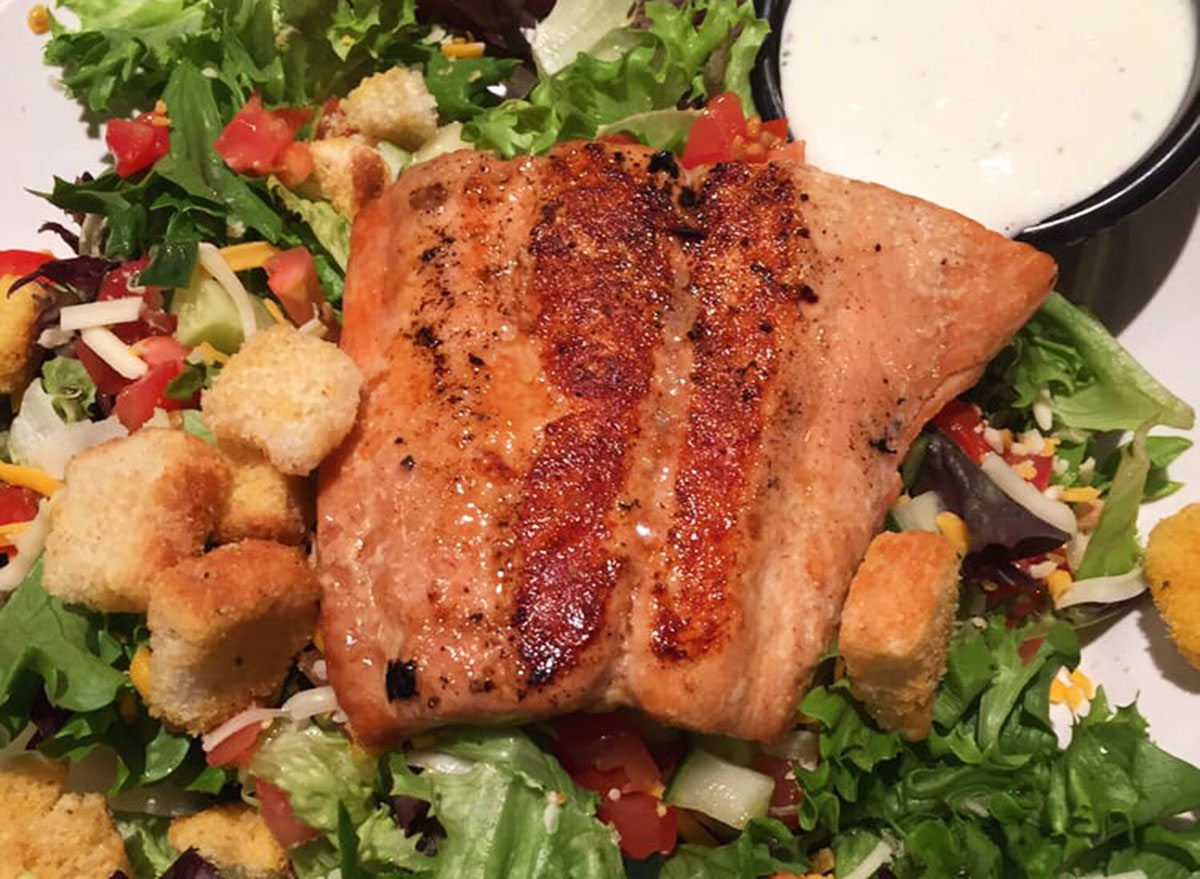 As with some of the other restaurants on this list, LongHorn Steakhouse's menu is aimed toward gluten-sensitive guests, as the kitchens aren't gluten-free. But if you have Celiac disease, you can tell your server, and they'll help make sure your meal is prepared safely.
Salads
Blue Ridge Wedge Salad
Farm Fresh Field Greens with Chicken, Shrimp, or Sirloin
LongHorn Caesar Salad with Chicken, Shrimp, or Sirloin
Grilled Salmon Salad (mixed green or Caesar, without marinade)
7-Pepper Salad
Mixed Green Salad
Caesar Salad
Grilled Chicken and Strawberry Salad with Vinaigrette
Strawberry and Pecan Salad with Vinaigrette
Burgers/Sandwiches
Steakhouse Bacon Burger, without bun
Grilled Chicken Sandwich, without bun
Chicken
Parmesan-Crusted Chicken, without breadcrumbs
Ribs & Chops
Baby Back Ribs
Country Pork Chops
Seafood
LongHorn Salmon, without marinade
Flo's Filet and Lobster Tail
Renegade Sirloin and Redrock Grilled Shrimp
Redrock Grilled Shrimp
Lobster Tail
Legendary Steaks
Flo's Filet
Outlaw Ribeye
NY Strip
The LongHorn
Prime Rib
Flat Iron Steak
Ribeye
Renegade Sirloin
Fire-Grilled T-Bone
Delmonico
Sides
Baked Potato
Loaded Baked Potato
Sweet Potato
Sauteed Mushrooms
Sauteed Mushrooms & Onions
Mashed Potatoes
Fresh Steamed Asparagus
Seasoned Rice
Fresh-Steamed Broccoli
Fire-Grilled Corn on the Cob
Loaded Potato Soup
Shrimp and Lobster Chowder
Parmesan-Creamed Spinach
Dessert
What's gluten-free at Bob Evans?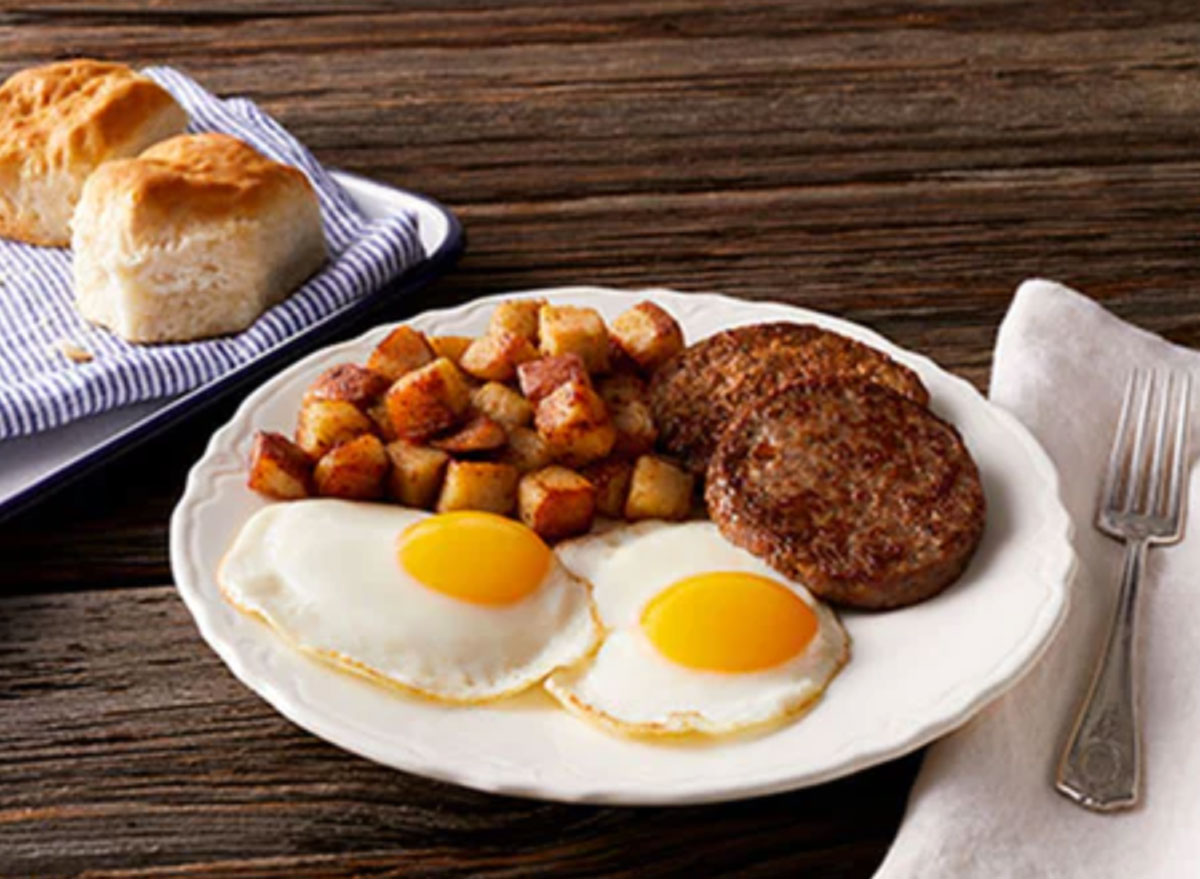 It's not easy, but you can find gluten-free menu items at Bob Evans. As always, let your waiter know you're gluten-free, especially if you're not sure about a certain sauce or fried item.
Breakfast
Steak Omelet
Border Scramble Omelet
Goat Cheese Veggie Omelet
Western Omelet
Pot Roast Hash
Golden Cornmeal Mush
Bacon
Bacon Bits
Ham
Sausage Links
Sausage Patties
Turkey Sausage Links
Fruit
Grits
Hashbrowns
Homefries
Oatmeal
Entrees
Lemon Pepper Sole
Chicken Cobb Salad
Cranberry Pecan Chicken Salad
Wildfire Grilled Chicken Salad
Burger Patty
Pot Roast
Grilled Chicken
Slow-Roasted Chicken
Grilled Salmon
Slow-roasted Turkey
Sliced Turkey
Sides
Buttered Corn
Cranberry Relish
Baked Potato
Loaded Baked Potato
Buttered Broccoli
Glazed Carrots
Cornmeal Mush
French Fries
Grits
Hash Browns
Home Fries
Mashed Potatoes
Beef Vegetable Soup
Dessert
Vanilla Ice Cream
Caramel Sundae
Chocolate Fudge Sundae
Whipped Cream
Chocolate Whipped Cream
Now that you know a little more about what to expect, you can order gluten-free at restaurants with ease.
Meghan De Maria
Meghan De Maria is a senior editor at
Eat This, Not That!
, specializing in food, product, and restaurant coverage.
Read more about Meghan