60 Healthy, Low-Calorie Fast-Food Meals Under 500 Calories
Watching your weight and on the go? Enjoy these healthy low-calorie fast-food meals.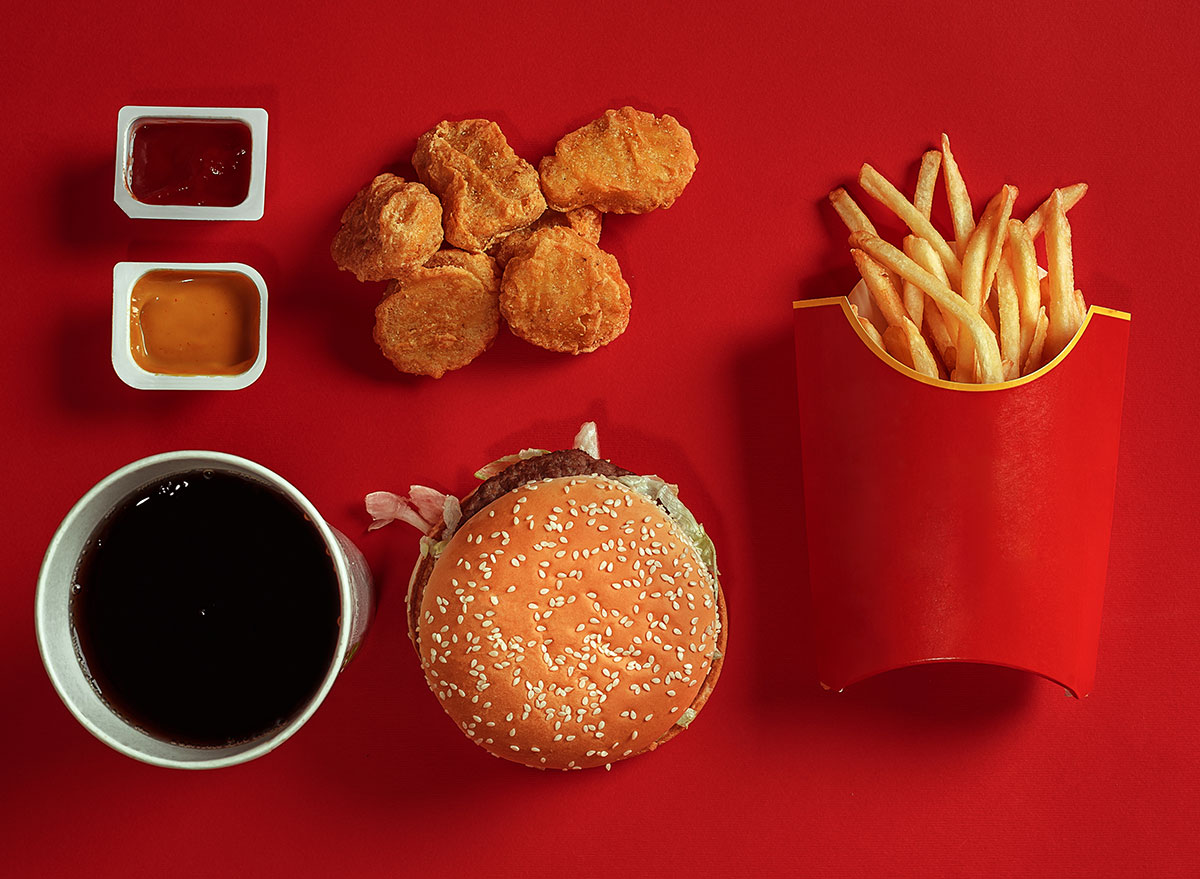 When you're not in the mood to cook and decide to make your day a little easier by swinging by your favorite fast food joint, do you tend to grab a burger or do you prefer fried chicken? Maybe your go-to meal is a sub, a hoagie, a hero, a grinder, or a footlong depending on where you're from and what you happen to call the sizable sandwiches. Whatever you choose, you likely focus on things like the price, the portion size, and, of course, the oh-so-yummy taste. You might not be as concerned about how many calories are in each option, or even realize that low-calorie fast food menu items are even a thing. However, considering the fact that keeping an eye on your calorie intake can help you stay healthy, it might be something that you want to start keeping in mind—yes, even when you want to enjoy some quick takeout.
Fortunately, pretty much every fast-food restaurant now offers a range of options that boast as much taste as you want but not as many calories as you might assume. You just need to know what to look for and what to order.
What qualifies as a 'low-calorie' fast-food option?
There are seemingly endless food terms that are meant to give you an idea of what you're consuming especially when it comes to what are meant to be healthier options. For instance, you might spot items that claim to be "sugar free" and "fat free" as well as "low sodium," "low cholesterol," and "low calorie."
When it comes to the latter, this specifically refers to food that contains no more than 40 calories per serving, according to the U.S. Food and Drug Administration (FDA). The same applies to similar terms such as "low in calories," "few calories," "contains a small amount of calories," or "low source of calories." However, this doesn't exactly apply to fast food. Frankly, anything that's under 400 or 500 calories is relatively reasonable if you're picking up something from Subway, Jack In The Box, or McDonald's.
"I wouldn't classify fast foods as healthy by any means, but there are certainly choices we can make that are superior to others," Julia Zumpano, RD, LD, told the Cleveland Clinic. On top of that, she pointed out that "fast food has come a long way which is why "[t]here are some more varieties of fast foods these days that can offer some healthier options."
Tips for ordering low-calorie fast food options
Kate Patton, RD, LD, offered a tip when it comes to ordering fast food and not feeling guilty about it, explaining to the Cleveland Clinic that "[k]nowing what you'll order ahead of time or how you'll order can give you a better attitude toward fast food." She added that "[i]t doesn't have to derail your whole day."
Indeed, there are various ways to feel good about your fast food meal by ensuring that you're not eating more calories than necessary. For instance, you can forgo the sugar-filled soda and stick with hydrating water. You can also swap out white burger buns for a type of bread that's not as loaded with calories.
Of course, the main tip for cutting down on extra calories is taking it easy on certain toppings. While tomatoes, lettuce, and peppers can give you a boost of nutrients, you might want to scale back on excessive cheese, butter, and heavy sauces.
On top of that, you can opt for salad and grilled items as well as smaller portions and side dishes that are healthy and low-cal, according to the Mayo Clinic.
That's right, when it comes to making sure that you're sticking to a low-cal meal while you order fast food, you can choose how you want to cut back on calories and "have it your way," as they say.
The best low-calorie fast food options
Now that you're confident that you'll be able to find the perfect low-cal option to suit both your palate and your needs, you can grab your wallet, prepare your appetite, and get ready to fill your belly because we've gathered the best low-calorie options from 15 of the most popular fast-food restaurants around.
McDonald's
Over the years, McDonald's has taken the initiative when it comes to adding new items to its menu that aim to be healthier. At the same time, a few of their traditional and beloved options are relatively low in calories as well (no, not the Big Mac, sorry). Beyond that, you can cater to your particular calorie-related needs by opting for different portion sizes. For instance, while you can enjoy 10 Chicken McNuggets for less than 500 calories, the number obviously drops if you want 6 pieces (250 calories) or a 4-piece order (170 calories).
Under 400 Calories
Under 500 Calories
Burger King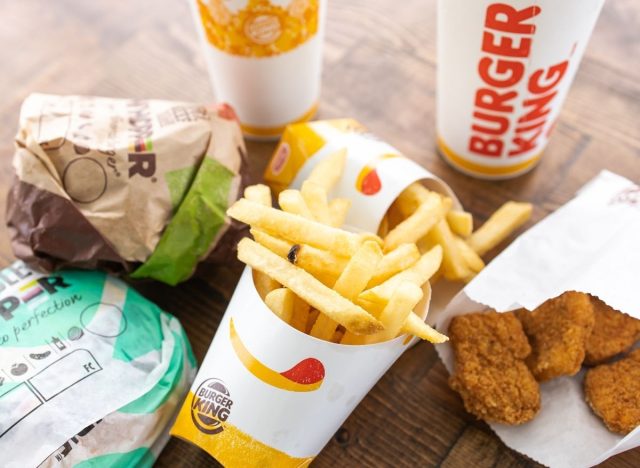 Thanks to the addition of ooey-gooey cheese and a range of scrumptious sauces, the food at Burger King tends to have quite a few calories. However, you can still find reasonable options if you select specific menu items such as classic burgers and slightly smaller Jr. versions.
Under 400 Calories:
Under 500 Calories:
Taco Bell
Taco Bell offers quite a few vegetarian items on its menu which can certainly help you to cut down on calories. However, even their meat-based food can be pretty darn low-cal. Whether you prefer a taco, a burrito, or the popular Mexican pizza, you'll definitely be able to find something that's delicious, satisfying, and a low-calorie option.
Under 400 Calories:
Under 500 Calories:
Wendy's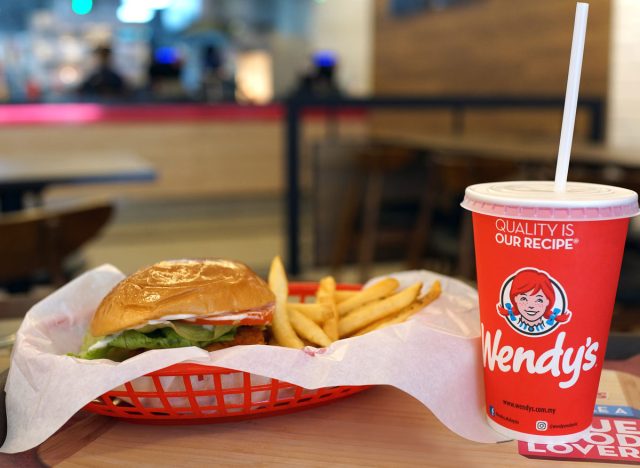 It's true that Wendy's menu includes a fair share of food with a whopping number of calories. Just consider the fact that Dave's Single has 590 calories, Dave's Double has 850 calories, Dave's Triple goes all the way up to 1,164 calories, and the Baconator boasts a massive 960 calories. Granted, there are quite a few low-calorie options as well that are just as delicious.
Under 400 Calories:
Under 500 Calories:
Dairy Queen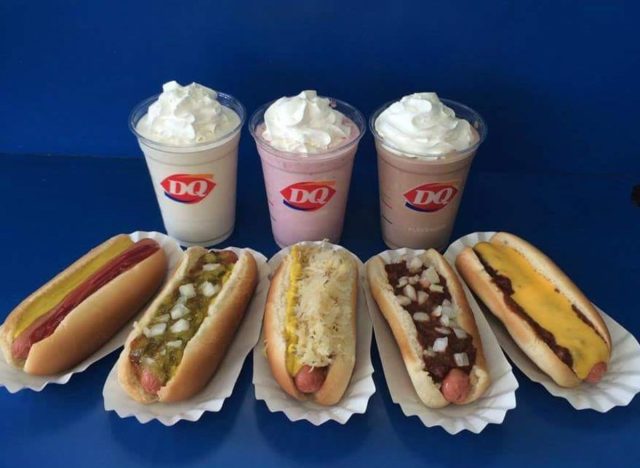 Dairy Queen can obviously offer you delightful desserts, however, they also have a few meal items that you should check out as well. Although the chicken sandwiches (550 calories) and chicken baskets (1,080 calories) aren't exactly ideal if you want something that's low-cal, you can still enjoy a salad, hot dog, or hamburger along with your ice cream.
Under 400 Calories:
Under 500 Calories:
KFC
KFC has a few low-calorie sides, like green beans, which is 25 calories, and a cob on corn, which contains 70 calories. However, if you need something that's a little bigger and are looking for a main for your meal, then you can still enjoy some of their signature chicken items that don't have quite as many calories.
Under 400 Calories:
Extra Crispy Chicken Drumstick: 170 calories
Popcorn Chicken (Individual Size): 170 calories
Under 500 Calories:
KFC Famous Bowl (Snack Size): 281 calories
5 Hot Wings: 380 calories
Sonic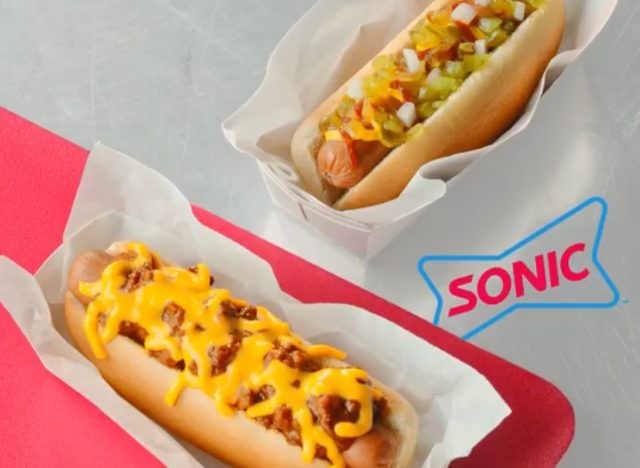 Sonic includes a number of items on their menu that are rather affordable which is ideal if you want to cut back on the money you spend on fast food. They also have a few low-calorie meals that will help you cut back on calories.6254a4d1642c605c54bf1cab17d50f1e
Under 400 Calories:
Under 500 Calories:
Arby's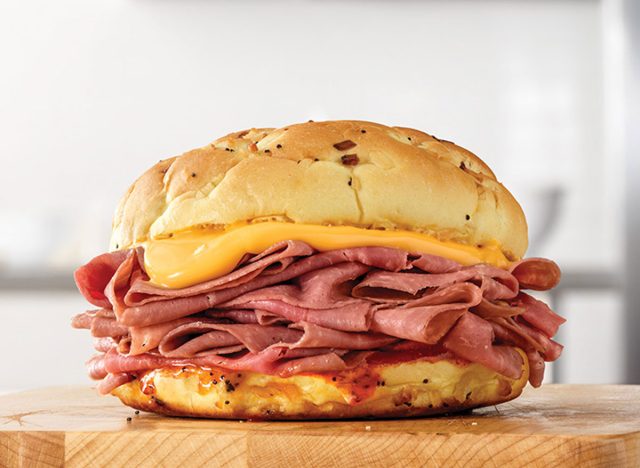 Arby's is famous for its roast beef and, luckily, you can indulge in its classic sandwich as well as its Beef 'N Cheddar while still keeping things under 400 or 500 calories. Just don't ask for extra cheese!
Under 400 Calories:
Under 500 Calories:
Chipotle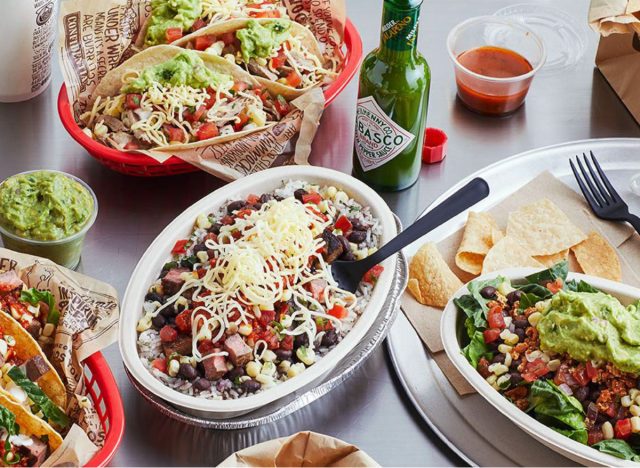 When it comes to the Chipotle menu, your best bet is to stick with the bowls if you want a low-calorie meal. If you're unsure of what toppings might put your item over the top when it comes to calories, they offer a handy nutrition calculator that will give you a good idea of how to personalize your order in just the right way to meet your needs.
Under 400 Calories:
Barbacoa Bowl: 200 calories
Chicken Salad Bowl: 205 calories
Under 500 Calories:
Paleo Bowl: 445 calories
Whole30 Salad Bowl: 495 calories
Popeyes
There are a few secrets about Popeyes that we can reveal to you which can make your eating experience even better. Beyond that, you can enjoy your meal while knowing you aren't consuming too many calories by choosing one of the tasty options below.
Under 400 Calories:
Under 500 Calories:
Chick-fil-A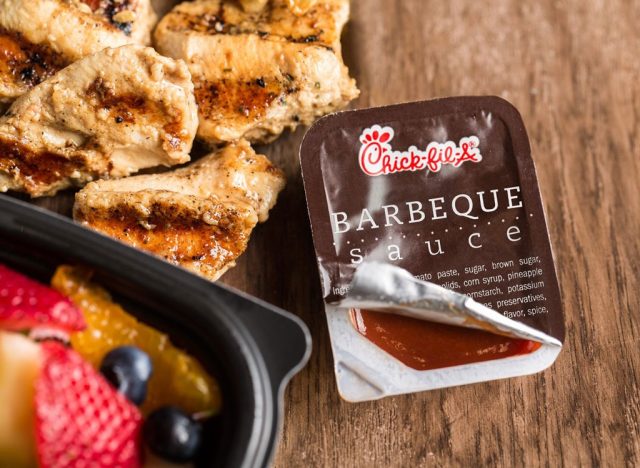 If you're not in the mood to pick out each item of your order, then you'll be happy to know that Chick-fil-A can offer entire meals that come out under 500 calories. For instance, you could order 8 nuggets (260 calories) with barbeque sauce (45 calories) as well as Buddy Fruits Apple Sauce (60 calories), and a medium sweetened iced tea (120 calories). Combined, the entire meal is just 485 calories. Granted, there are even more options to consider like the ones below.
Under 400 Calories:
Under 500 Calories:
Jack in the Box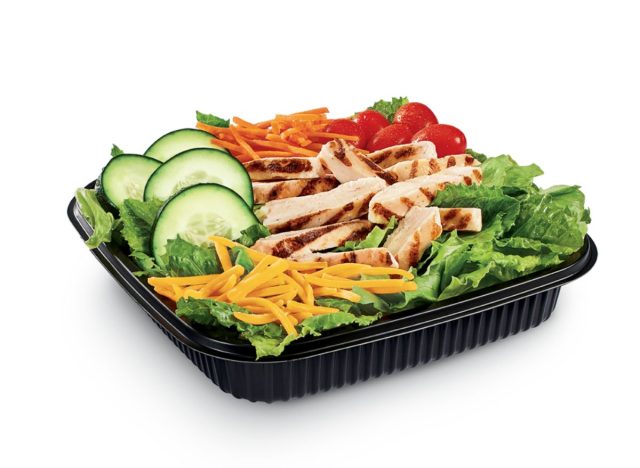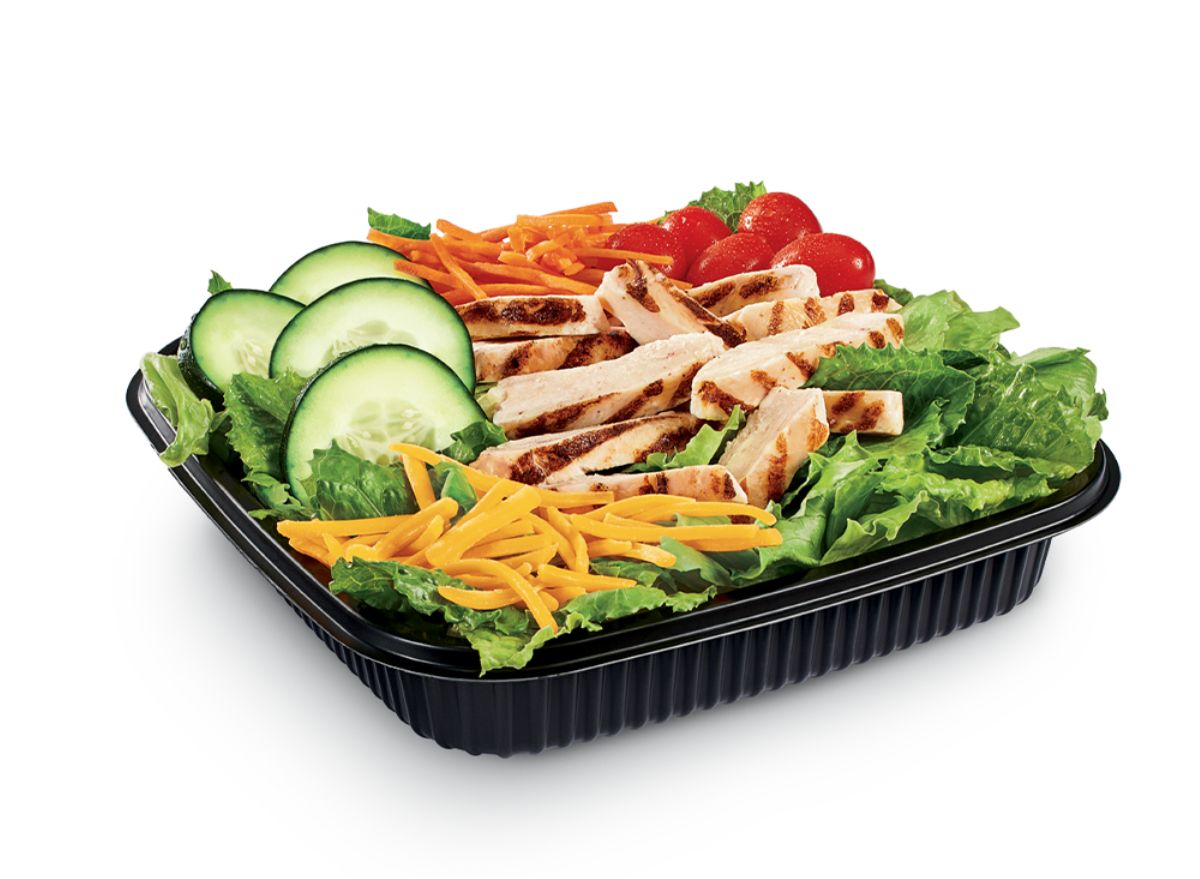 Jack in the Box is the kind of fast-food restaurant that has a large menu that features everything from salads to teriyaki bowls and burgers to chicken nuggets. They also keep the calories on the lower side for various dishes which may become your new favorite.
Under 400 Calories:
Grilled Chicken Salad: 250 calories
5-Piece Chicken Nuggets: 240 calories
Under 500 Calories:
Hamburger: 280 calories
Jumbo Jack: 490 calories
Hardee's/Carl's Jr.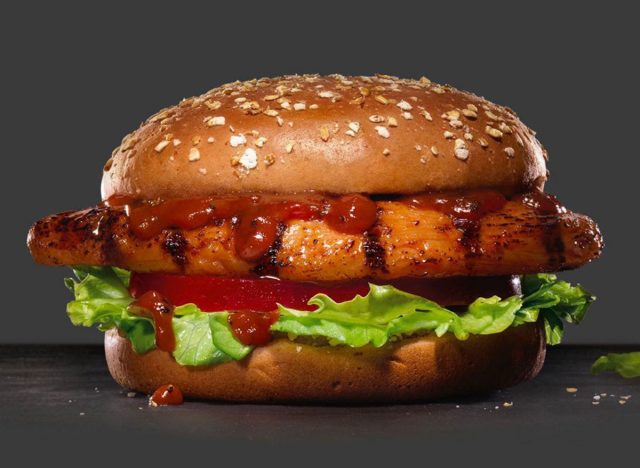 Although the main difference between Hardee's and Carl's Jr. tends to be where they're located, there are a few other differences. That includes their exact menu items. Fortunately, both offer food that's delicious and low-calorie.
Under 400 Calories:
Under 500 Calories:
Checkers/Rally's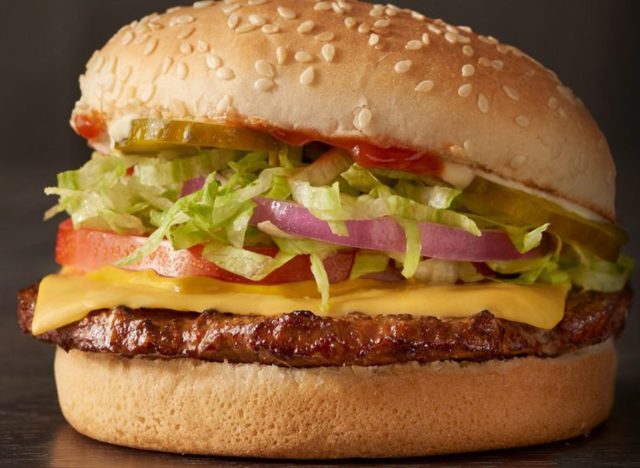 Checkers and Rally's are another pair of fast-food restaurants that have similar menus. In fact, these two have the exact same menu which includes a handful of tasty low-calorie choices.
Under 400 Calories:
B.L.T.: 470 calories
Checkerburger: 390 calories
Under 500 Calories:
Crispy Fish Sandwich: 360 calories
Chili Dog: 360 calories
Subway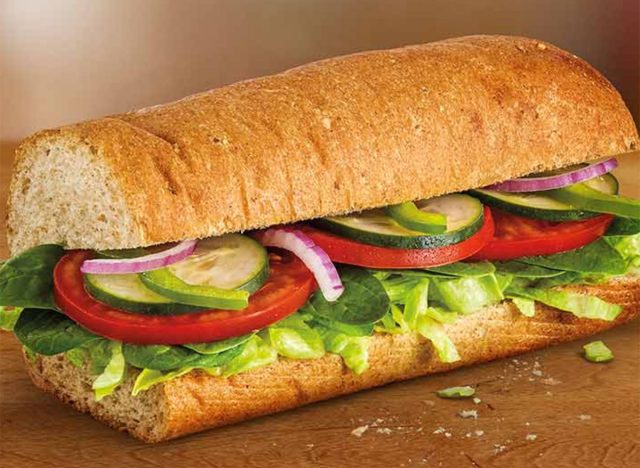 If you're craving Subway, then you can choose a sandwich, of course, as well as wraps, salads, and protein bowls not to mention different desserts. If you're hankering for a sub, you'll want to ask for multigrain bread and add veggies for toppings. You should also stick with a 6-inch option instead of the full footlong sandwich (if you do want the longer one, then you should double the estimated amount of calories). When it comes to the other items on the menu, the vegetable-based options are usually ideal, however, you can also try a salad with turkey or ham if you'd prefer.
Under 400 Calories
Oven Roasted Turkey Salad: 344 calories
6" Veggie Delite Sub: 162 calories
Under 500 Calories
6" Steak, Egg White & Cheese Flatbread: 217 calories
6" Spicy Italian Sub: 208 calories
Desirée O
Desirée O is a freelance writer who covers lifestyle, food, and nutrition news among other topics.
Read more about Desirée
Sources referenced in this article