Golden Mango Smoothie Bowl
This delicious mango smoothie bowl will brighten up your morning in no time!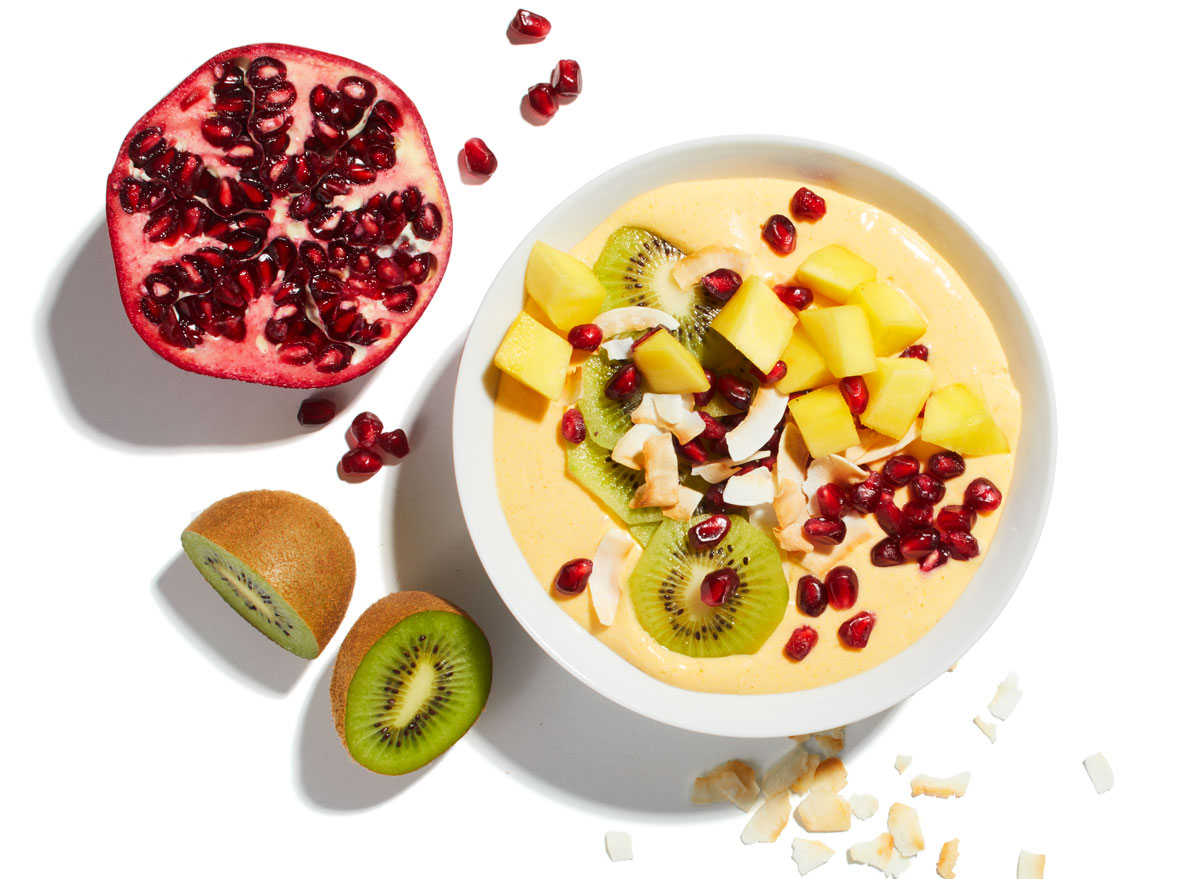 Sick of having regular old cereal with milk? Spruce up your usual breakfast bowl and blend up a mango smoothie bowl instead! Smoothie bowls are as versatile as smoothies—simply add what you want, blend, and sprinkle your favorite toppings on top. However, finding the best smoothie bowl combination isn't always the easiest—so we've done that for you, right here!
It's common to see smoothies made with milk, and sometimes even ice ream. However, you can make a smoothie extra tasty by simply trying a plant-based milk. Almond milk is a great alternative, or coconut milk, which is used in this mango smoothie bowl recipe. Plus, it will help reduce the overall calories of your smoothie without sacrificing the taste. In fact, having that extra coconut flavor is what makes a tropical smoothie bowl such as this one!6254a4d1642c605c54bf1cab17d50f1e
If you don't know how to make a smoothie bowl, don't worry, they're very simple to make! You simply make a smoothie like you normal would in a blender, but instead, pour it into a bowl. What may be especially helpful is adding in foods that will make the smoothie creamy and thick—like avocado, banana, or some yogurt.
Smoothie bowls can be topped with anything that your heart desires. This particular recipe includes kiwi, mango, pomegranate seeds, and coconut chips as toppings for the mango smoothie bowl. However, if you would like to get creative, there are many smoothie bowl recipes to work with! Are you a fan of adding nut butters to your smoothies? How about some seeds? Better yet, sprinkle on some of your favorite granola for an extra satisfying crunch to this easy smoothie bowl recipe!
Nutrition: 237 calories, 5 g fat (4 g saturated), 35 mg sodium, 5 g fiber, 41 g sugar, 2 g protein
Makes 1 servings
Ingredients
3/4 cup frozen mango chunks
1/2 cup refrigerated unsweetened coconut milk
1/2 tsp. ground turmeric
1 1/2 tsp. honey
1/2 of a fresh kiwi, peeled and thinly sliced
2 Tbsp. pomegranate seeds
1 Tbsp. raw coconut chips, toasted
How to Make It
In a blender combine frozen mango, coconut milk, turmeric, and honey. Blend until smooth, adding 1 tbsp water if needed. Pour smoothie into a bowl. Top with kiwi, fresh mango, pomegranate seeds, and coconut.
Eat This, Not That!
Inspired by The New York Times best-selling book series, Eat This, Not That! is a brand that's comprised of an award-winning team of journalists and board-certified experts, doctors, nutritionists, chefs, personal trainers, and dietitians who work together to bring you accurate, timely, informative, and actionable content on food, nutrition, dieting, weight loss, health, wellness, and more.
Read more about Eat This