11 Reasons You Should Use Grass-Fed Whey Protein Powder
It's better for the cows, for the environment, and for you.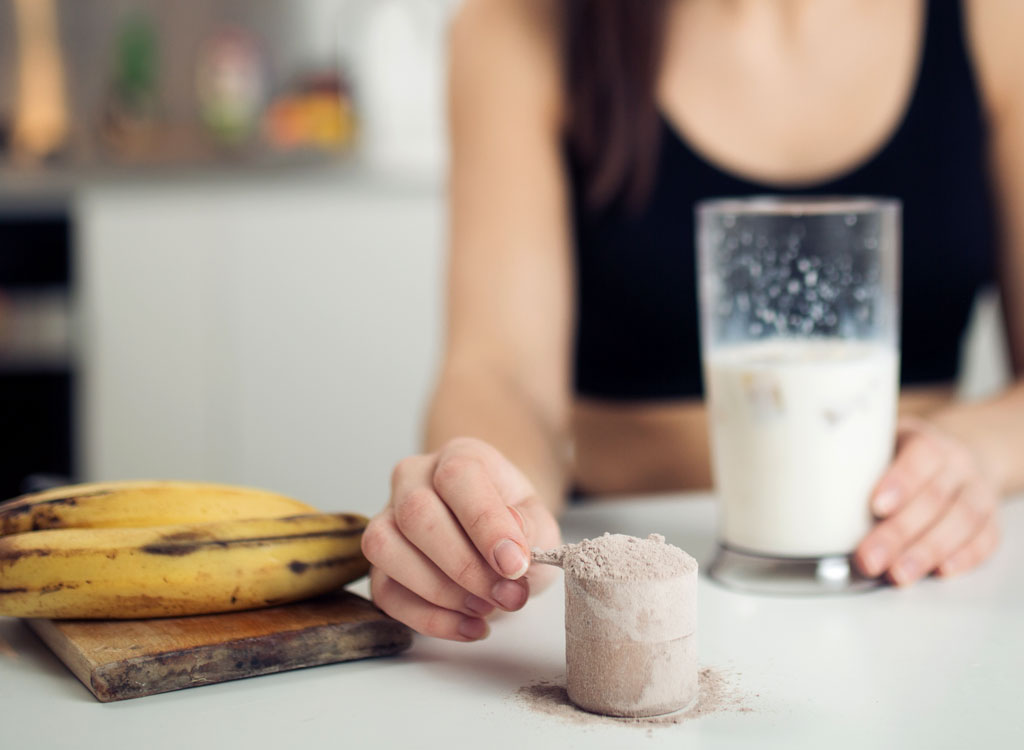 In partnership with Naked Nutrition
It curbs your appetite, boosts your energy, tones your muscles, and fires up your metabolism. No, we're not talking about a grueling gym regimen. We're talking about protein powder! If you're even moderately interested in living a healthy lifestyle, the supplement is likely a core tenet of your daily diet. You throw it in a shake, a smoothie—maybe you even bake with it. The thing is, not all protein powders are created equal, and one type stands head and shoulders above the rest: grass-fed whey protein powder.
"In the fitness community, whey is the gold standard," says registered dietitian Amy Shapiro, MS, RD, CDN, founder of Real Nutrition NYC. And any health-minded individual can tell you that grass-fed anything is better than the alternative. (Healthy cows, healthy you.) Putting the two together is a no-brainer.
Here are all the reasons you should pick up a container of grass-fed whey protein powder.
1. Grass-fed whey protein powder contains unique nutrients.
Shapiro says that any grass-fed product comes loaded with additional nutrients that aren't present in conventional whey powders. With grass-fed milk, for example, you'll get more omega-3 fatty acids (great for improving heart health and reducing inflammation), more vitamin D (great for boosting your mood), double the beta carotene (great for firming up your immune system) and an extra dose of conjugated linoleic acid, or "CLA" (great for aiding in weight loss), according to research.
2. Grass-fed whey is devoid of a lot of the "bad" stuff you find in conventional whey protein.
Make sure to check your protein powder's label—or just grab a trusted container—but grass-fed whey protein tends to be soy-free, gluten-free, and non-GMO. But best of all, it's non-hormonal. "Conventionally-raised animals may be subject to hormonal and antibiotic use, which can be stored in the human body," says Fine. If you're at all concerned about questionable additives, grass-fed whey protein powder is practically designed for you.
3. Whey is a complete protein.
Though whey-based powders can cause gas and bloating if you're lactose sensitive or intolerant, they're still the cream of the crop for maximizing your gains. According to Rachel Fine, MS, RD, CSSD, a registered dietitian and the owner of New York City-based nutrition counseling firm To The Pointe Nutrition, whey protein powder contains all of the essential amino acids required for muscle growth and repair.
Plant protein, on the other hand, generally tends to be fairly low in the essential amino acid leucine. And because leucine is known to stimulate muscle protein synthesis and anabolism, you may be missing out on this benefit if you've been opting for a single-source plant protein powder.
4. Whey protein powders have the optimal amount of protein for your needs.
If you're using protein powder in a meal replacement, Shapiro recommends looking for a powder with 15 to 20 grams of clean protein. For a post-sweat-session recovery shake, experts recommend getting between 20 and 30 grams of protein after a workout for optimal muscle recovery and strengthening. Naked Nutrition's grass-fed whey protein powder contains the perfect middle ground of 25 grams of protein per serving.
5. Unlike plant-based protein powders, grass-fed whey protein powder contains higher levels of BCAAs.
BCAA stands for branched-chain amino acids. These are a small class of amino acids which all share a common chemical structure. BCAAs are naturally found in protein-rich foods such as eggs, meat, and dairy products like whey protein. Why are these amino acids so important? Research is limited, but studies have shown that supplementing your exercise routine with BCAAs can increase energy during a workout and muscle growth post-workout as well as decrease soreness and reduce exercise fatigue.6254a4d1642c605c54bf1cab17d50f1e
In one study, people who consumed a drink with just over five grams of BCAAs after a resistance workout had a 22 percent increase in muscle protein synthesis compared to those who consumed a placebo. To reap the benefits, opt for a protein powder like Naked Whey, which contains about six grams of BCAAs.
6. Generally, they don't have added sweeteners.
Traditional whey protein powders might taste great, but, says Fine, that's generally all a result of one thing: added sweeteners. And all that additional sugar only serves as a roadblock to your fitness goals. But grass-fed whey protein powders, for the most part, are devoid of any extra sugar. Just look at the chief offering from Naked Nutrition. Its ingredient list contains just one item: whey protein concentrate! Beyond that, even Naked's flavored grass-fed whey proteins only contain three ingredients or less. (For comparison's sake, the standard-issue protein powder at GNC has a lengthy "extra ingredients" list full of wholly unnecessary additives. These can include additives like salt, sucralose, lecithin, caramel coloring, and "gum blend.")
"When looking for protein powders, the key is finding one without excessive additives, stabilizers, processed fibers," says Fine.
7. You can flavor it how you want.
The benefit of a protein powder that contains just one ingredient—whey protein concentrate—is the sheer flexibility and versatility you get. If you're in the mood for a fruity peach and kale smoothie recipe, but you only have a chocolate peanut butter protein powder, you're probably not going to make that recipe you wanted to try. "Our goal is to provide the highest quality ingredients that stand on their own," says Stephen Zieminski, the founder of Naked Nutrition. "We want you to decide the dominant flavor in your recipes."
8. You can bake with grass-fed whey protein powder.
When baking with protein powder, you really want to reap the benefits of an extra boost of protein without actually tasting the protein powder. If you've ever tried a high-protein recipe using vegan protein powder, you know this is almost impossible. However, grass-fed whey protein powder is the perfect blank canvas. It seamlessly works in every recipe you want to use it in. Want to whip up a batch of banana protein pancakes? Go for it! What about a protein coffee latte? Don't wait! And because protein powders like Naked Nutrition's Grass-Fed Whey Protein Concentrate don't have any added sweeteners, you won't have to do tricky math to figure out how to adjust your recipe.
9. Certain grass-fed cows are happier.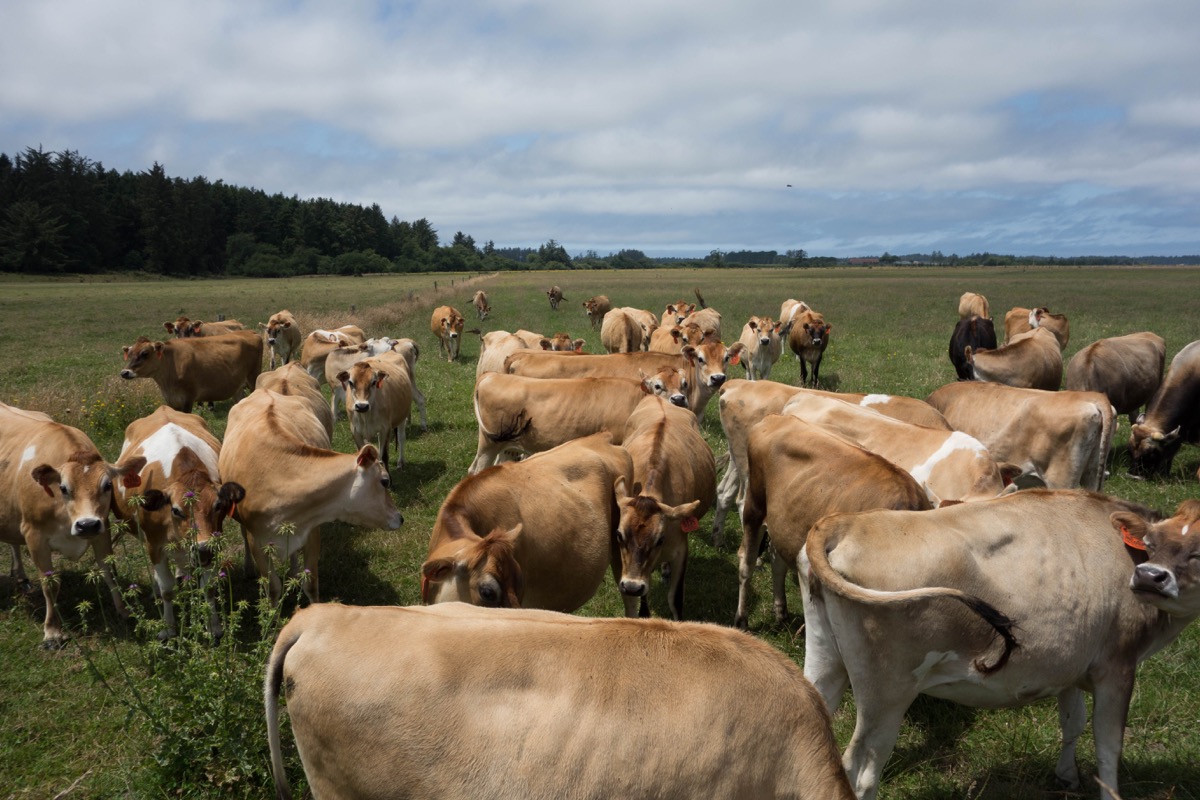 Now, this one is going to take a little digging into the label. Because the government doesn't regulate the claim "grass-fed," manufacturers can just about slap it on a product willy nilly. As a result, your grass-fed whey protein may actually come from cows raised in Minnesota. Why is that a bad thing? These cows spend a minority of the year grazing on pasture, but due to cold weather, they're likely confined in a barn for the majority of the year. By some estimates, Minnesota cows max out at around 100 pasture-grazing days per year.
To ensure your grass-fed whey protein powder is coming from happy cows that graze on pasture nearly year-round, you need to look for a brand with transparency. Naked Nutrition discloses that their whey concentrate comes from cows that live in places like California, where they're able to spend up to 300 days in the fields. The result is a truly grass-fed bovine.
10. It may boost your immune system.
"Another suspected benefit of whey protein is its content of the amino acid cysteine, which is a precursor to glutathione," says Fine. "Studies show glutathione may play a role in the maintenance of a strong immune system." Whey protein contains the highest levels of cysteine compared to other animal- and plant-based proteins.
11. Consuming grass-fed whey reduces your carbon footprint.
"Cows that are pasture-raised require fewer antibiotics and produce less of a carbon footprint," says Shapiro. "You don't need to package, grow, and transport their feed."
Eat This, Not That!
Inspired by The New York Times best-selling book series, Eat This, Not That! is a brand that's comprised of an award-winning team of journalists and board-certified experts, doctors, nutritionists, chefs, personal trainers, and dietitians who work together to bring you accurate, timely, informative, and actionable content on food, nutrition, dieting, weight loss, health, wellness, and more.
Read more about Eat This