12 Best Sugar-Free Protein Powders
Whether you dislike sweeteners or are cutting back on sugar, we have the perfect protein powder for you.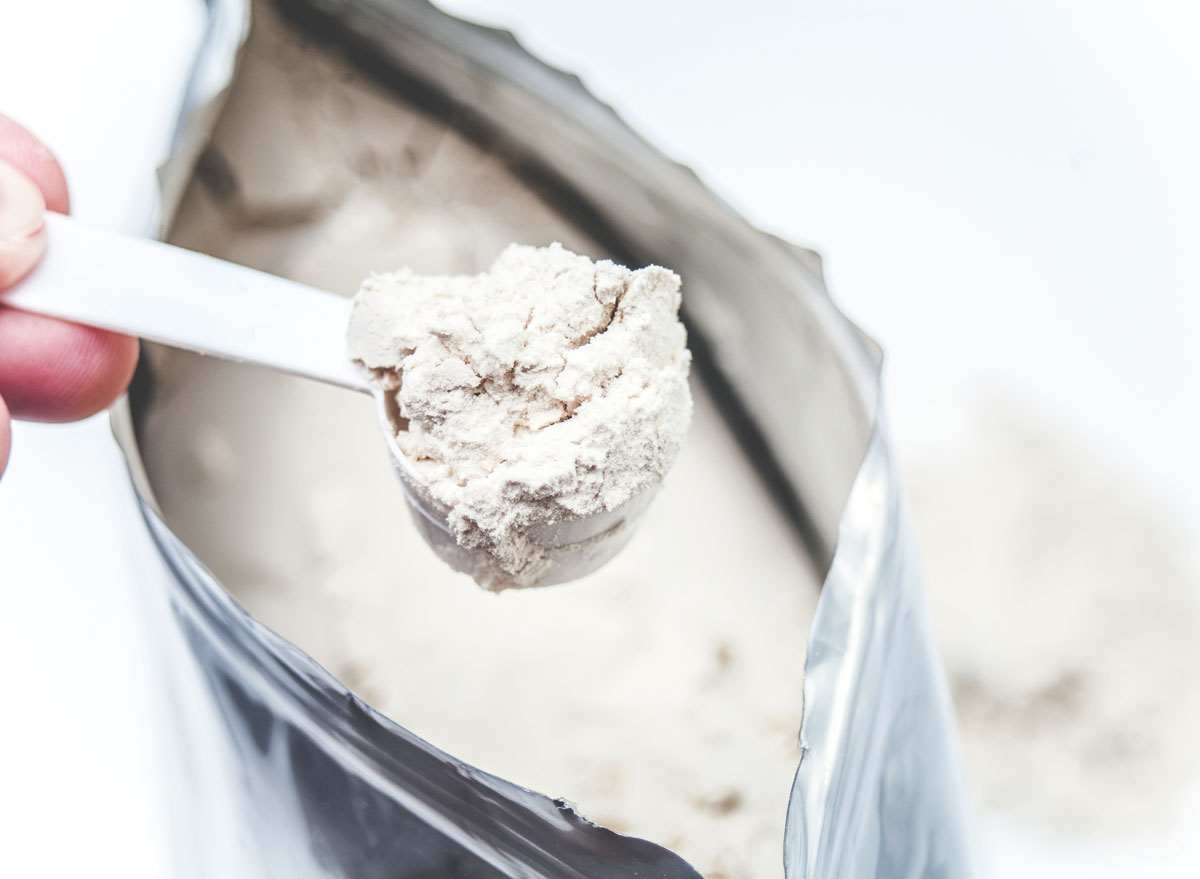 By now, you're probably familiar with protein powder; it's an affordable supplement that makes instantly adding 20 grams of protein to your meal as easy as grabbing a measuring spoon. But if you've tried protein powders before, you've probably noticed a common theme: most mixes are flavored and sweetened. While that's not necessarily a bad thing (it certainly makes them more palatable), you may prefer unflavored, sugar-free protein powder because of a taste preference or because of how you intend to use it.
Regardless of your use-case, unsweetened protein powder is a versatile staple in a healthy pantry. With the help of Eat This, Not That! Advisory Board members, The Nutrition Twins, Tammy Lakatos Shames, RD, CDN, CFT, and Lyssie Lakatos, RD, CDN, CFT, we identified the nutritional guidelines that qualify a product as one of the best, and we put together a list of the best unsweetened protein powder tubs and bags.
What is sugar-free protein powder?
Many brands have caught on that "people would prefer to not have certain (or any) sweeteners in their protein powder," explain The Nutrition Twins, which is why you'll see claims like "Unsweetened" on bags.
Technically, a brand can call their protein powder unsweetened as long as it's free of added sugars, such as cane sugar; however, our definition of sugar-free protein powder is that they are free from every kind of sweetener.
Besides sugar, there are other non-nutritive or low-calorie sweeteners that contain little to no calories. Natural non-nutritive sweeteners, for example, include monk fruit and stevia, which come from plants and contain no calories.
Brands may also use zero-calorie artificial sweeteners. "Although the FDA has approved six artificial sweeteners (acesulfame potassium [also called acesulfame K], aspartame, saccharin, sucralose, neotame, and advantame), if you can avoid them, you're probably better off," explain the Nutrition Twins. "There have been numerous studies showing that artificial sweeteners can have negative consequences in the body and our personal belief is that sticking with foods that are naturally sweet and not artificial is healthiest."
Why should you use sugar-free protein powder?
There are multiple reasons why someone may want an sugar-free protein powder. "Most people are mixing protein powder with fruit or other ingredients that naturally sweeten whatever they're mixing with the powder so they don't necessarily need added sweeteners," share The Nutrition Twins. For example, unsweetened protein powder is perfect if you want to add a scoop to a sugar-heavy smoothie or if you're baking with it (think: protein powder pancakes). In both cases, you don't want the extra sweetness from the protein powder to interfere with your recipe.
Another reason you may be looking for sugar-free protein powder is because you don't like the taste of non-nutritive sweeteners like stevia, monk fruit extract, artificial sweeteners, or sugar alcohols, which can often be bitter and leave a lingering off-flavor in your mouth after consuming.
And lastly, perhaps you've heard that sugar and sweetener alternatives are bad for you and you're looking to cut them out of your diet. "[People] try to limit sweeteners all together and would rather get their sweet flavors from whole foods with nutrients and fiber like fresh fruit," share The Nutrition Twins.
How to buy truly sugar-free protein powders.
While a bag or tub may stamp the "unsweetened" claim on the front label, always make sure to check the ingredients to be sure there are no non-nutritive sweeteners on the label.
Manufacturers can still claim "unsweetened" or "no sugar added" and use artificial sweeteners in their mix.
And while you might see "Stevia Free" plastered next to the brand name, this can often be a sign that a manufacturer has gone with another natural sugar alternative: monk fruit extract or "Luo Han Guo."
The Eat This, Not That!-approved List of Sugar-Free Protein Powders
Whether you're a protein powder connoisseur or a first-time buyer, you're just as likely to be overwhelmed and confused by the countless options and label trickery. That's why we've rounded up a list of the best sugar-free protein powder brands available to you.
To whittle down the list to the cream of the crop, the Nutrition Twins recommend going with the more simple protein powders with shorter ingredient lists because "there is less room for ingredients that could contain contaminants or pose an allergy threat and it allows our clients to mix in whatever they prefer."
The following protein powders are completely free of any sweeteners, including sugar, artificial sweeteners, non-nutritive sweeteners like stevia or monk fruit extract, or sugar alcohols.
NOTE: You may see that some powders list 1-3 grams of sugar. These are naturally-occurring sugars that are from the protein source. None of these grams of sugar are from added sweeteners.
We've split them up into plant-based/vegan and dairy protein, so you can pick according to your dietary preferences.
The Best Unsweetened Plant-Based, Vegan Protein Powders
Bob's Red Mill Protein & Fiber Nutritional Booster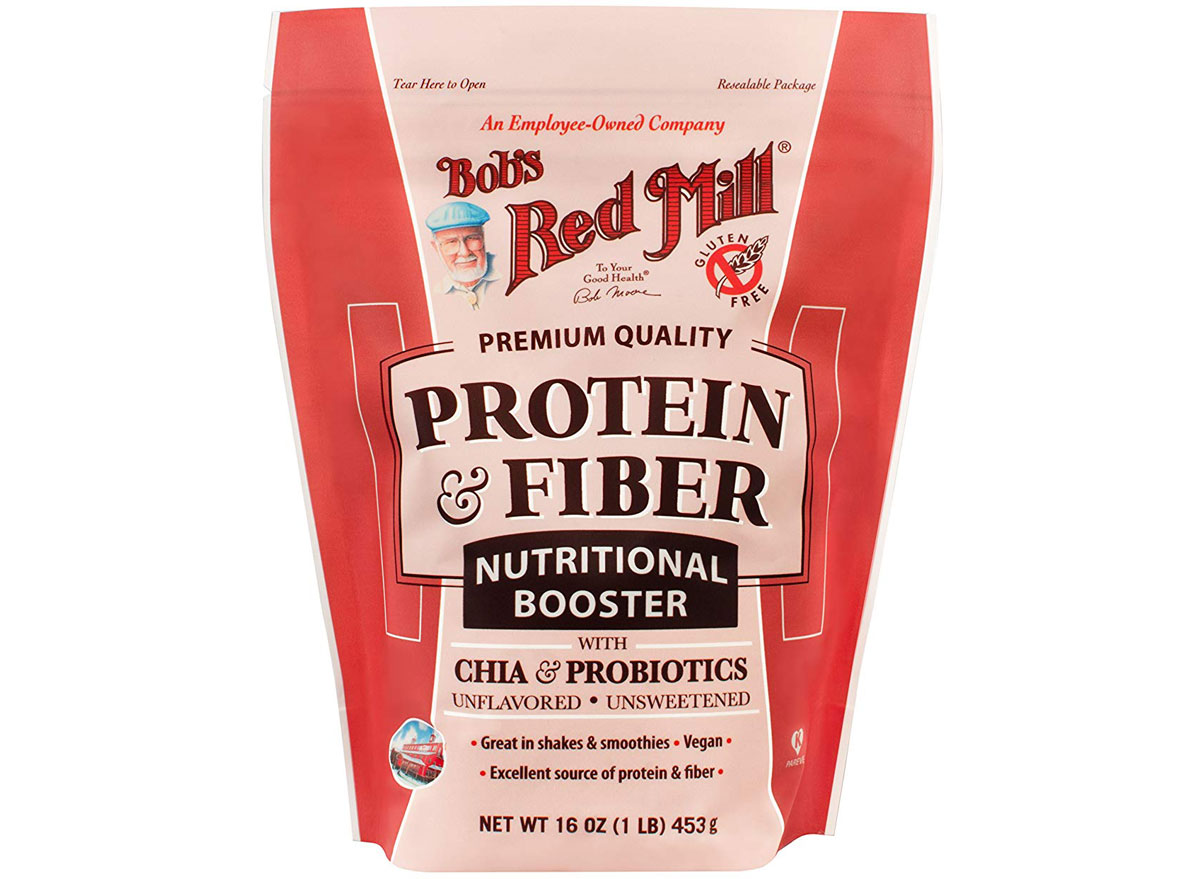 41-gram serving
: 160 calories, 12 g fiber, 1 g natural sugar, 20 g protein
"We really like Bob's Red Mill as a brand," share the Nutrition Twins, "and Bob's Red Mill Protein & Fiber Nutritional Booster is awesome because it is loaded with fiber (12 grams!) and protein." Plus, "unlike many other pea protein powders, there are no chemical solvents or artificial sweeteners used to make Bob's Red Mill Pea Protein Powder," they add.
And if you're looking to add vegetarian or vegan protein to your diet because you're on a plant-based diet, this blend is a great pick. "[Pea protein] is a great source of iron," explain the Nutrition Twins, which is a great bonus for the people who tend to pick plant proteins and are more likely to be low in this micronutrient. A serving of this nutritional booster contains 35 percent of your daily value of iron.
Garden of Life Raw Organic Plant Protein Unflavored Powder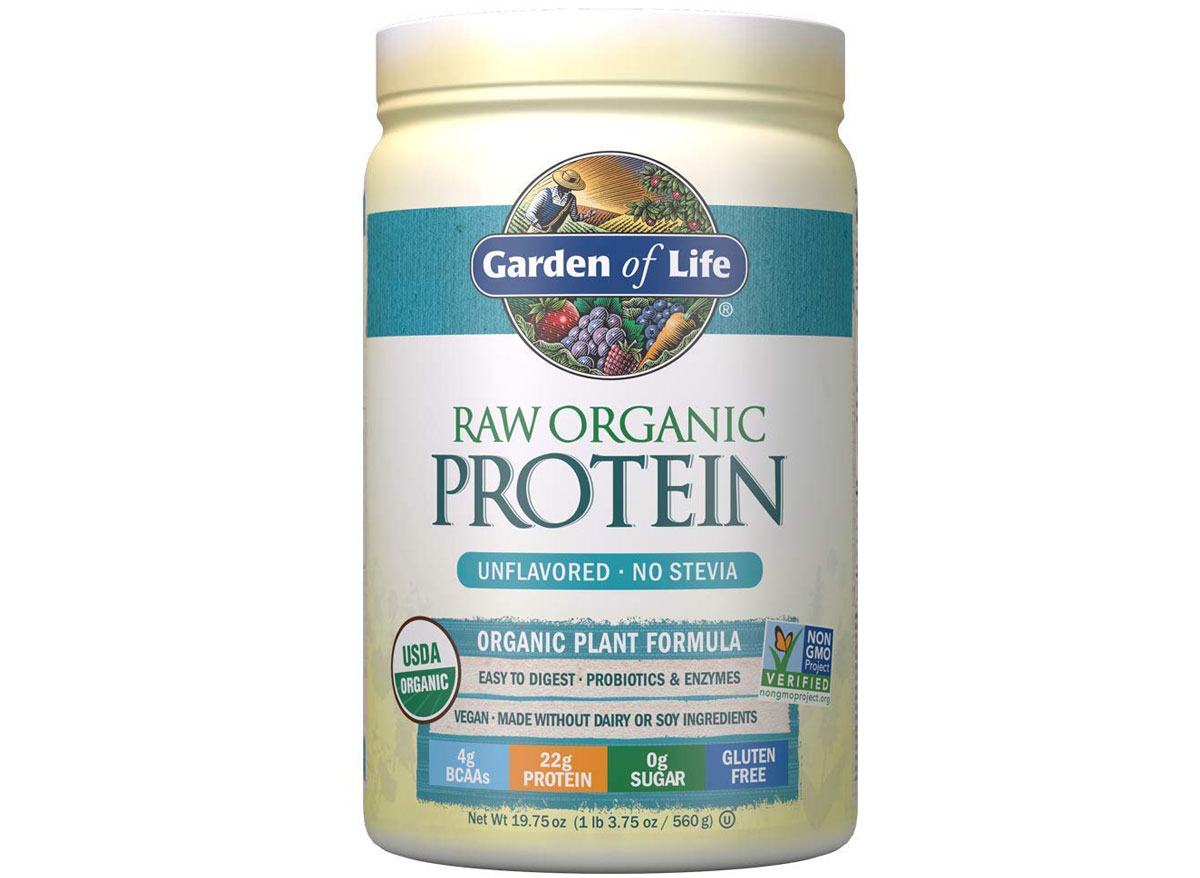 28-gram serving
: 110 calories, 1 g fiber, 0 g sugar, 22 g protein
This is one of the highest-protein plant-based protein powders that provides a protein punch in a reasonable serving size. Garden of Life's Raw Protein Powder is unique in that it harnesses the power of pulses (such as peas, chickpeas, lentils, and adzuki beans), grains (sprouted brown rice, amaranth, buckwheat, and millet), and seeds (quinoa, chia, flax, sunflower, pumpkin, and sesame seeds).
Note that although the brand touts that it's free of stevia on the label, you don't have to be concerned if you find a powder you like with this sweetener. "Stevia is considered safe by the major health organizations in the amounts people typically consume," explain the Nutrition Twins. "However, just like with any sweetener […] it should be used sparingly in the diet—whether or not it contains calories."
Nutiva Hemp Protein, 15G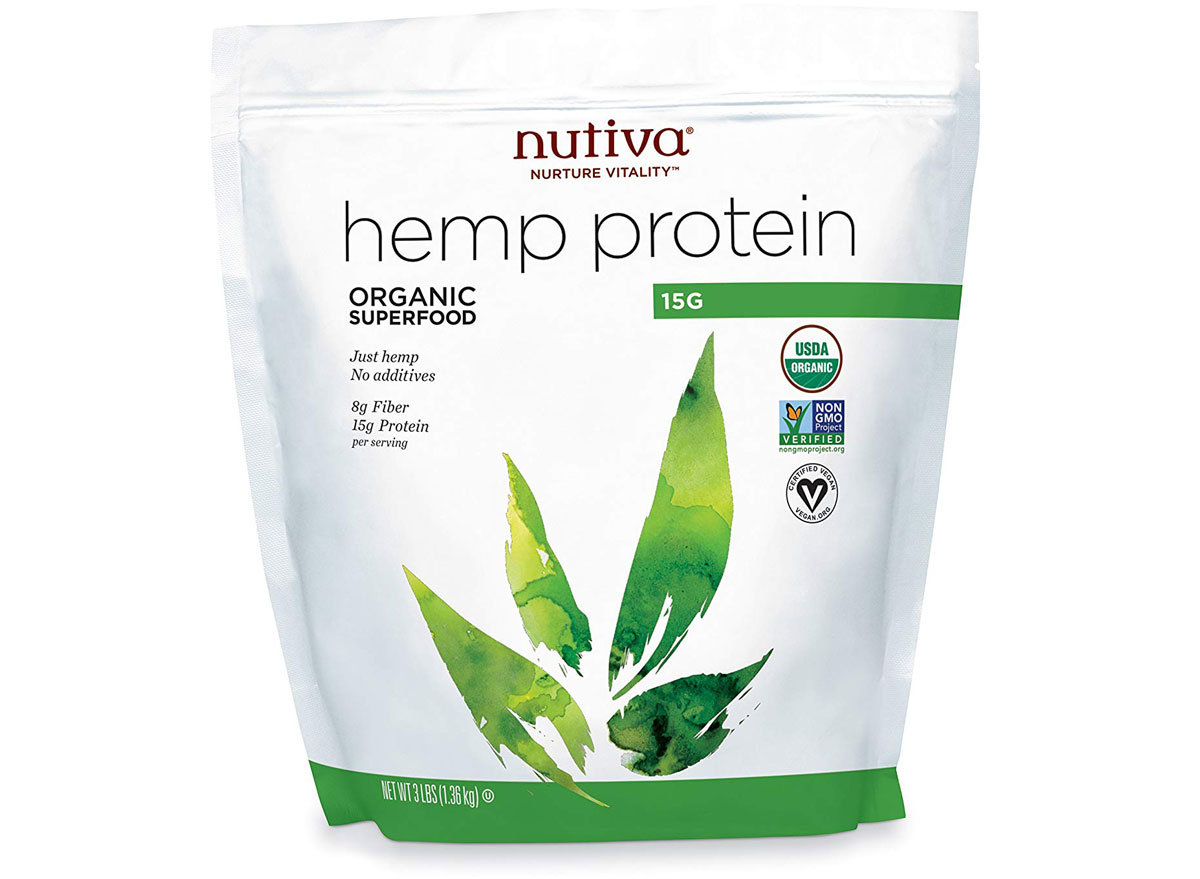 30-gram serving
: 90 calories, 8 g fiber, 1 g natural sugar, 15 g protein
For a near-perfect balance of dietary fiber and protein, a hemp protein might be your best bet. Hemp is naturally high in fiber, healthy fats, and protein. Depending on the way the company processes the hemp, they can preserve more fiber or more protein. This blend is a good balance of 8 grams of fiber for 15 grams of protein. If you're looking for a higher-fiber blend, Manitoba Harvest offers a bag with 13 grams of fiber per serving.
Amazing Grass Protein SuperFood, The Original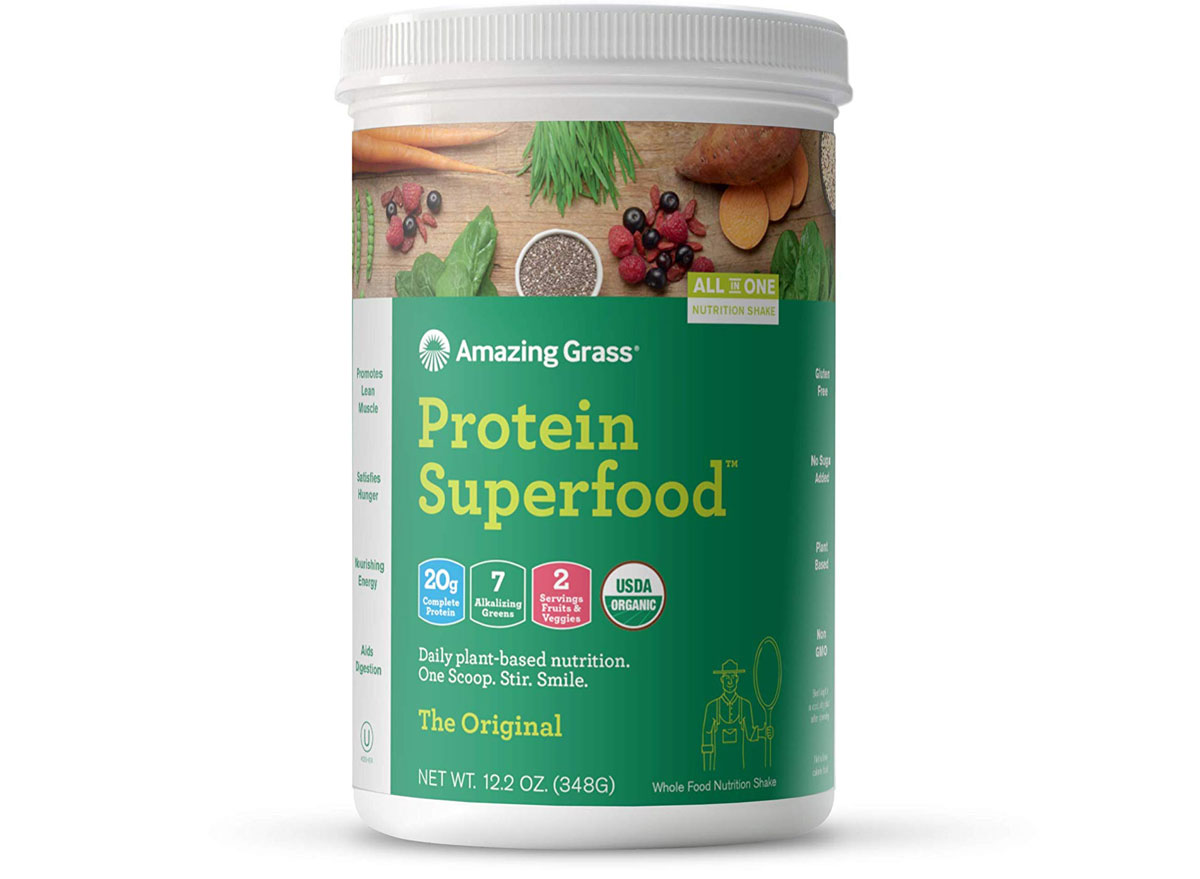 30-gram serving
: 110 calories, 3 g fiber, <1 g natural sugar, 20 g protein
If you're looking for an unsweetened protein powder but still want some flavor, Amazing Grass has this great offering that is free of all sweeteners but still contains natural vanilla flavor and organic Madagascar vanilla. This unsweetened protein powder has three components: a plant-based protein blend, a green food blend, and a fruit and vegetable blend. You'll get protein from organic peas, organic hemp, organic chia seeds, and organic quinoa. There are also 2.5 grams of healthy fats from the seeds.
Vega One Organic All-in-One Shake, Plain Unsweetened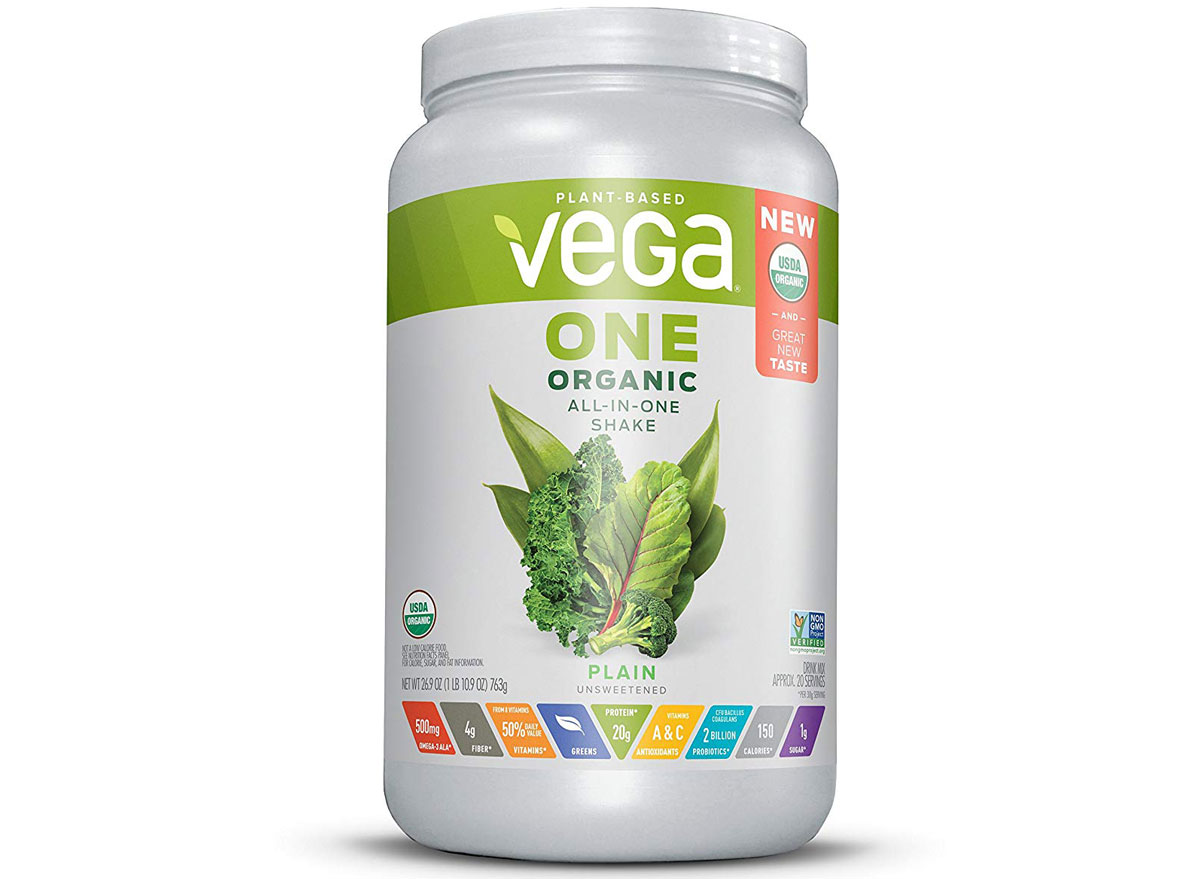 38-gram serving
: 150 calories, 4 g fiber, 1 g natural sugar, 20 g protein
Vega offers multiple different sugar-free protein powder tubs, but this one is our favorite because it's organic and contains a good amount of protein and fiber. It also contains probiotics, but the Nutrition Twins caution that you can consider this a bonus, and not a reason to choose this tub over another: "For probiotics, we recommend that people take a probiotic supplement to get probiotics, rather than trying to get it through a protein powder; however, if there is a probiotic or a prebiotic fiber in a plant- protein powder, we're not against it."
Sunwarrior Protein Warrior Blend, Natural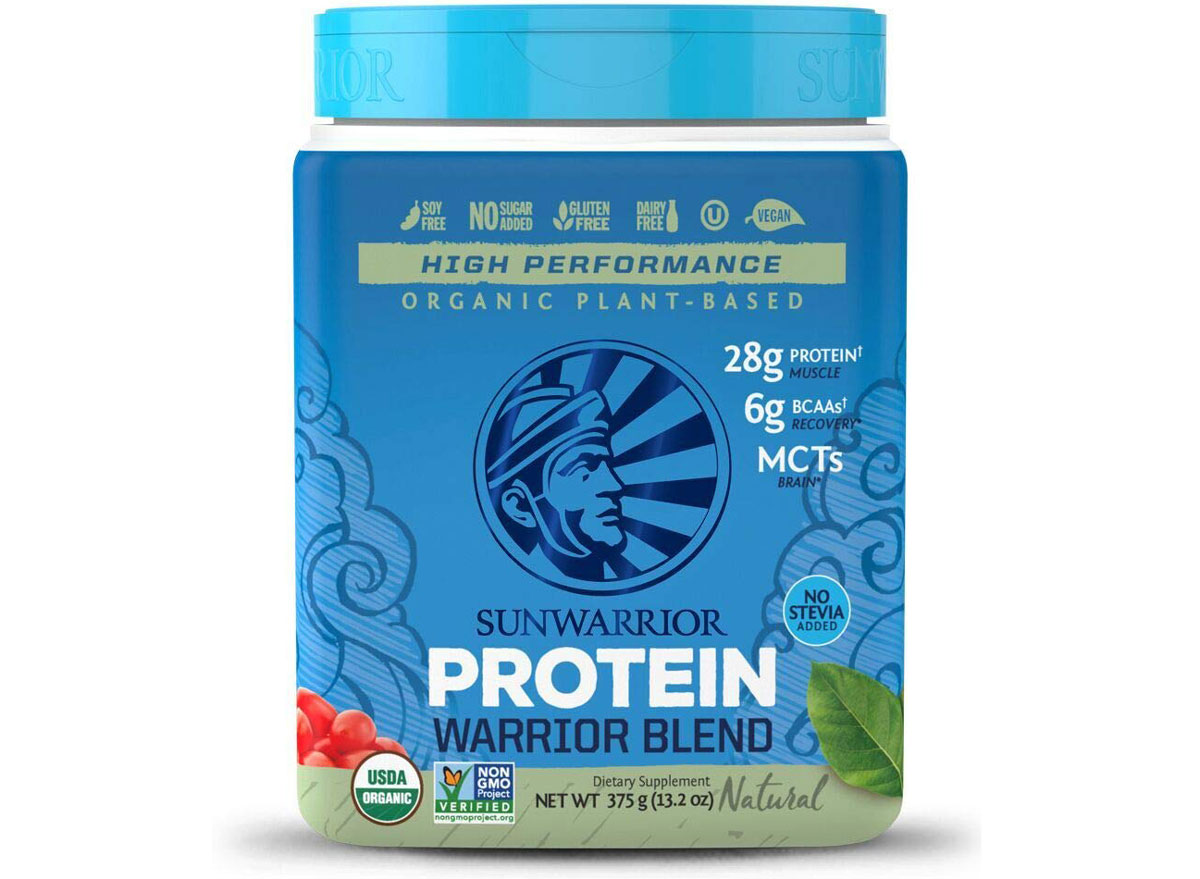 25-gram serving
: 100 calories, 1 g fiber, 0 g sugar, 19 g protein
If you're looking to bulk up and lean down, this blend is a great pick. A protein blend of organic pea protein, organic hemp protein, and organic goji berry come together with organic whole ground coconut for Sunwarrior's powerful raw plant-based blend. "Pea protein has been shown to build muscle just as well as popular dairy-based protein powders," share the Nutrition Twins. "Additionally, it's a good source of the branched chain amino acids which are important for muscle building," they conclude.
The Best Unsweetened Dairy-Based Protein Powders
Tera's Whey Grass Fed Organic Plain Whey Protein Concentrate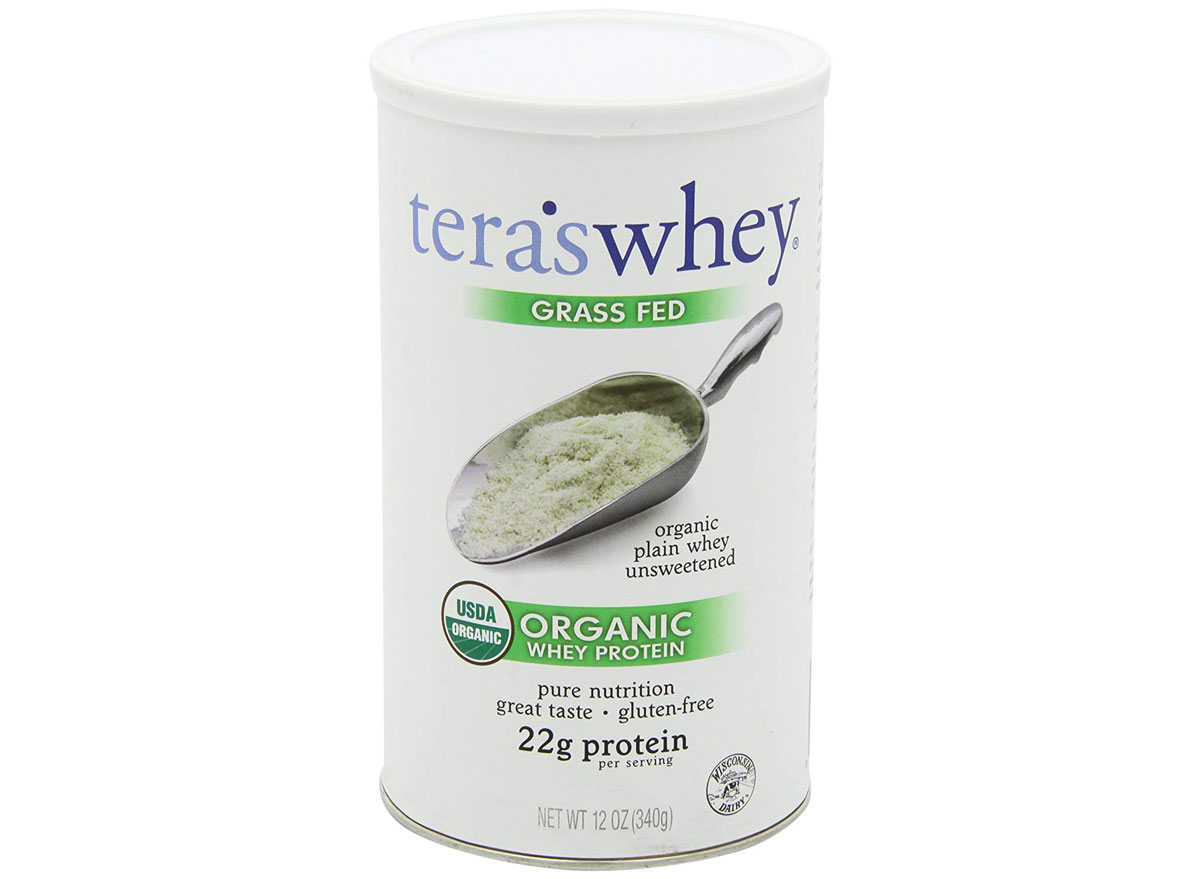 28.4-gram serving
: 110 calories, 0 g fiber, 3 g natural sugars, 22 g protein
"For whey protein, we typically buy Tera's Whey Organic," share the Nutrition Twins, who explain that they "always pick organic dairy to minimize exposure to chemicals."
John's Killer Protein Grass-Fed Whey Isolate Protein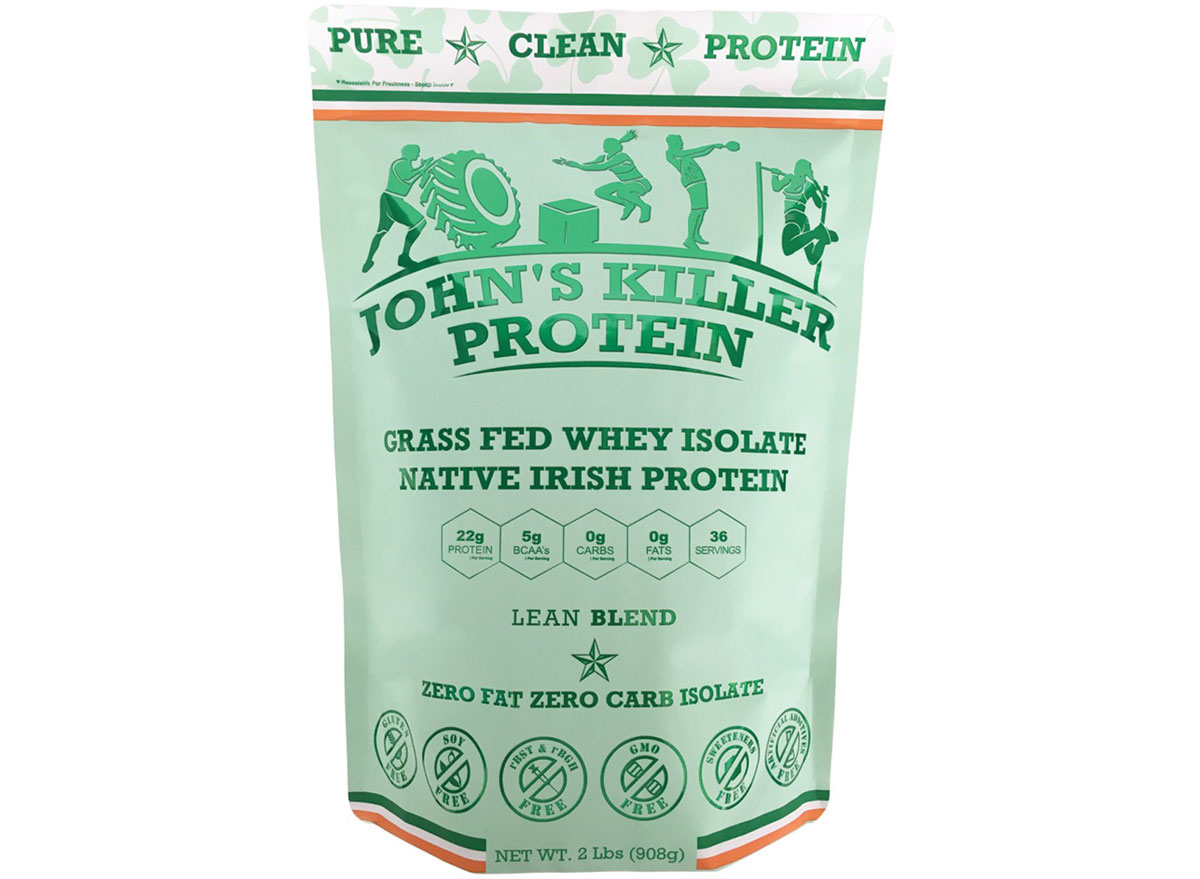 25-gram serving
: 90 calories, 0 g fiber, 0 g natural sugars, 22 g protein
It may not be USDA-certified organic, but John's Killer Protein is beyond organic, and simply just doesn't have the label. It's one of—if not the only—protein powder on the market that comes from 100 percent grass-fed and finished cows that graze on fields in Ireland. This isolate is the perfect pick if you want more protein for your calories and no residual sugars.
NorCal Organic Classic Whey Protein Concentrate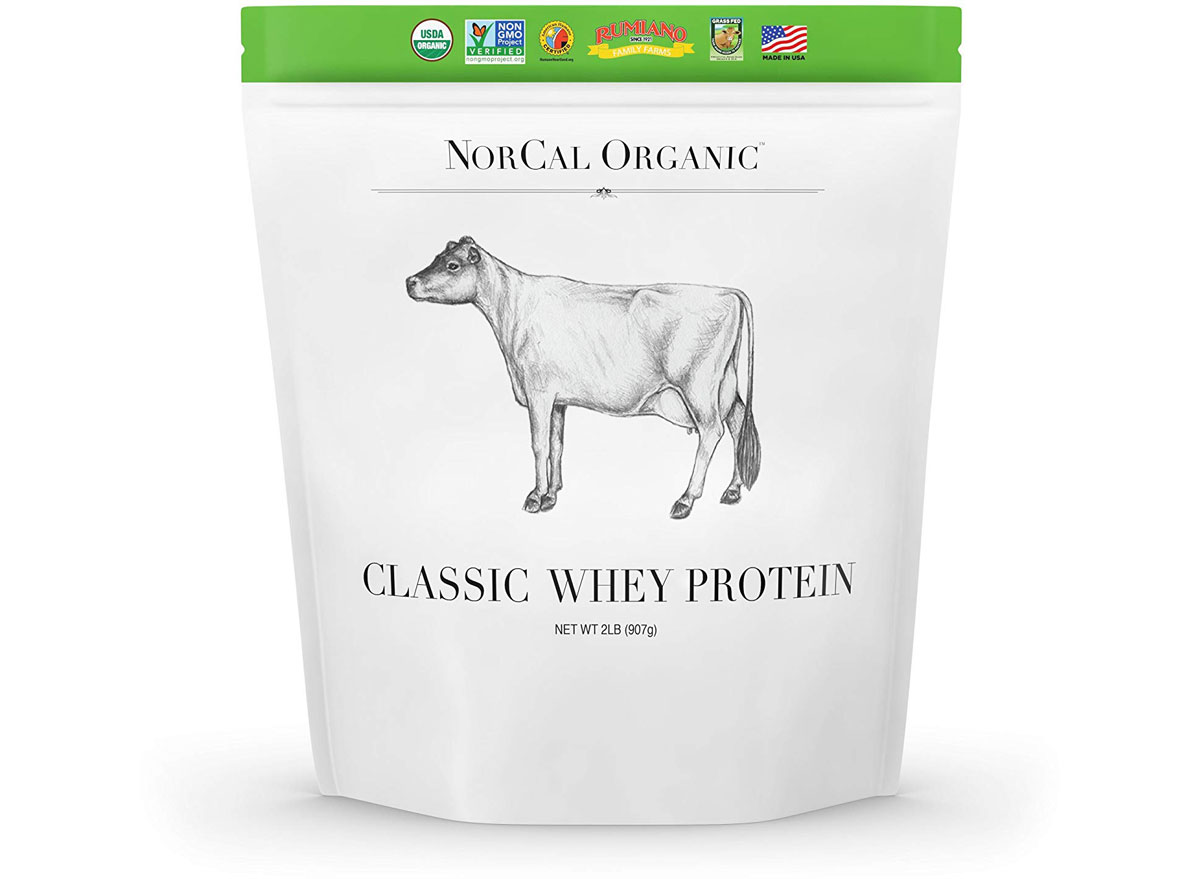 25-gram serving
: 100 calories, 0 g fiber, 0 g natural sugars, 21 g protein
NorCal Organic is one of the few brands that offers a whey protein concentrate without any lecithin in it. While you have nothing to worry about with sunflower lecithin (it simply helps you mix your protein powder if you use a blender bottle to make a water-based protein shake), if you plan on using a high-speed blender to mix your powder, you might not need the extra ingredient.
Vital Proteins Unflavored Collagen Peptides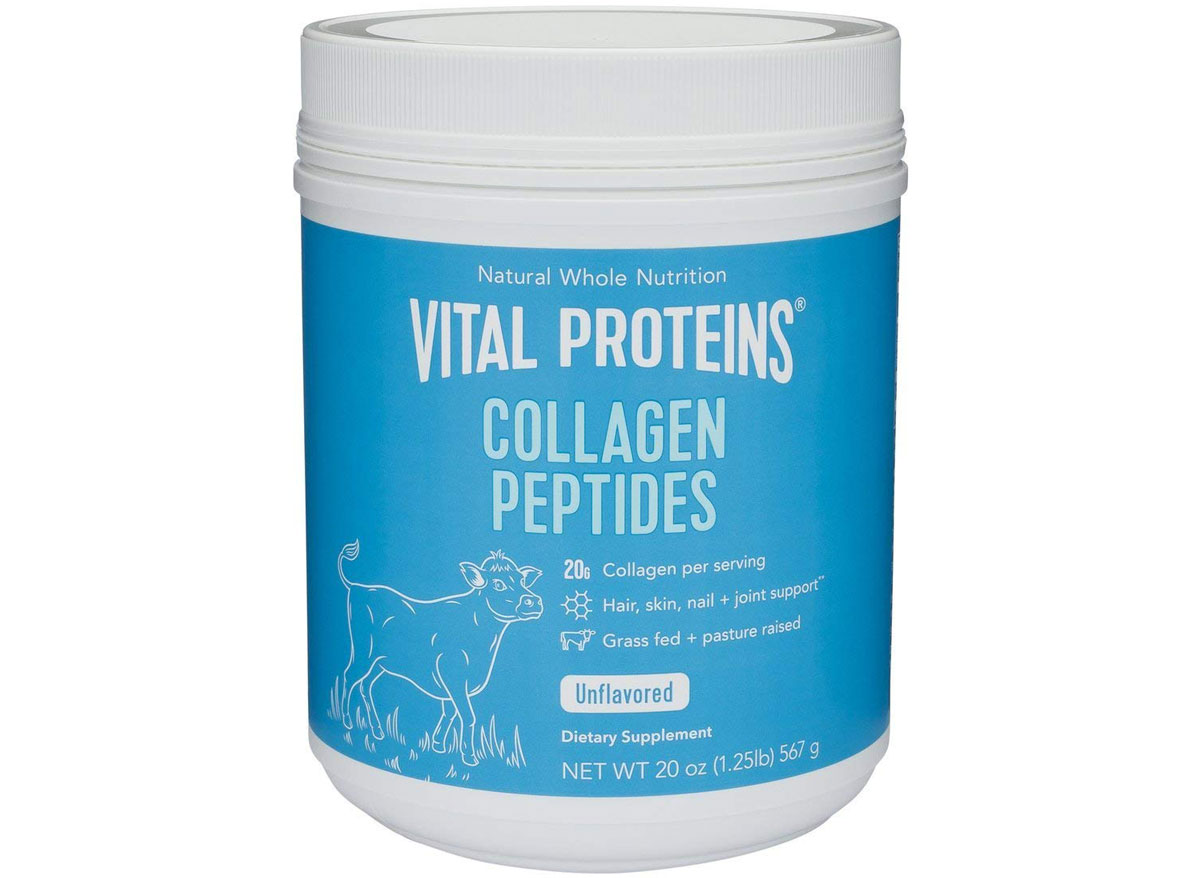 6254a4d1642c605c54bf1cab17d50f1e
20-gram serving
: 70 calories, 0 g fiber, 0 g natural sugars, 18 g protein
Collagen peptides are all the rage because collagen is an essential protein in healthy skin, hair, and nail growth. When one Eat This, Not That! editor drank collagen peptides for two weeks, she reported an improvement in her complexion and her fullness.
PROMIX Micellar Casein Unflavored Protein Powder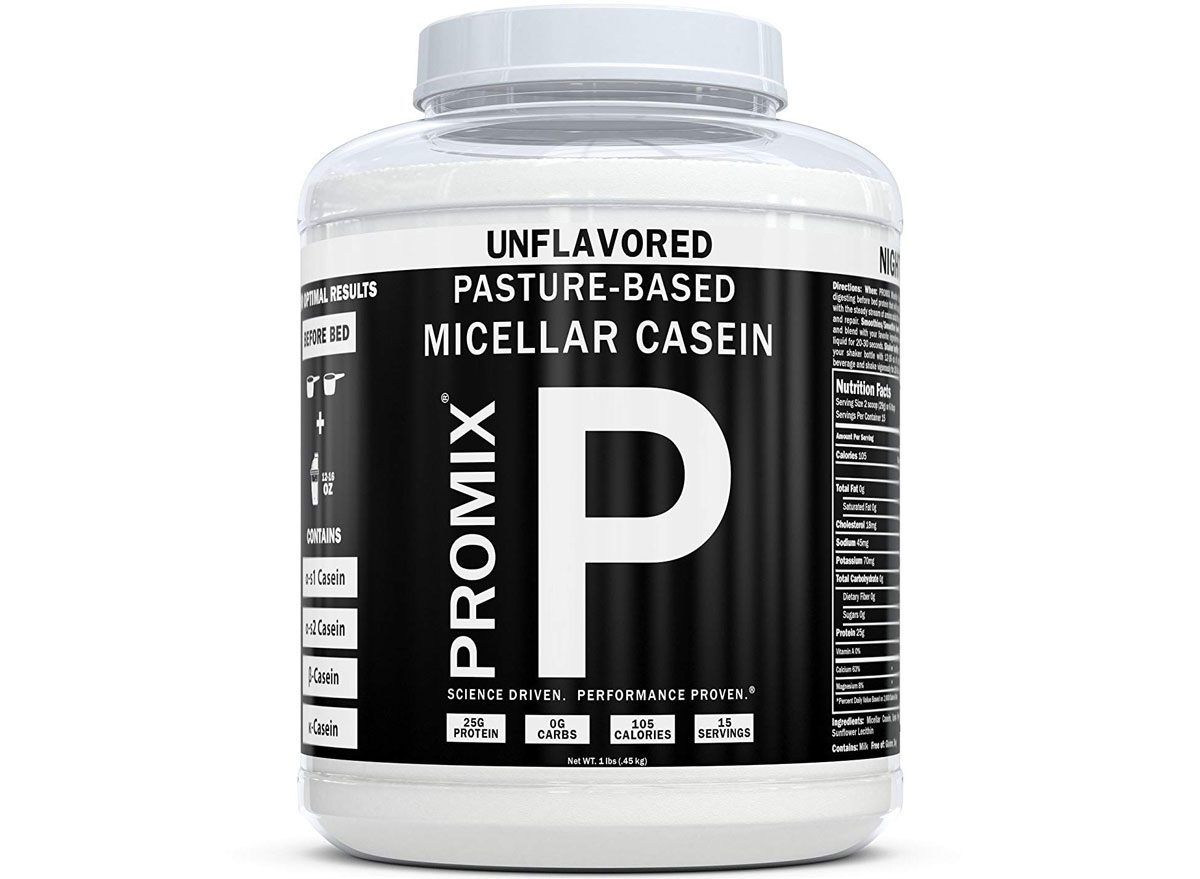 29-gram serving
: 105 calories, 0 g fiber, 0 g natural sugars, 25 g protein
This mix by Promix, in particular, is lower in heavy metals than other brands who offer casein protein. Because casein protein is larger than whey protein, your body takes longer to digest it, which can keep you fuller longer. That's one of the reasons why casein protein is a great food to eat before bed.
Designer Whey Natural 100% Whey Protein Concentrate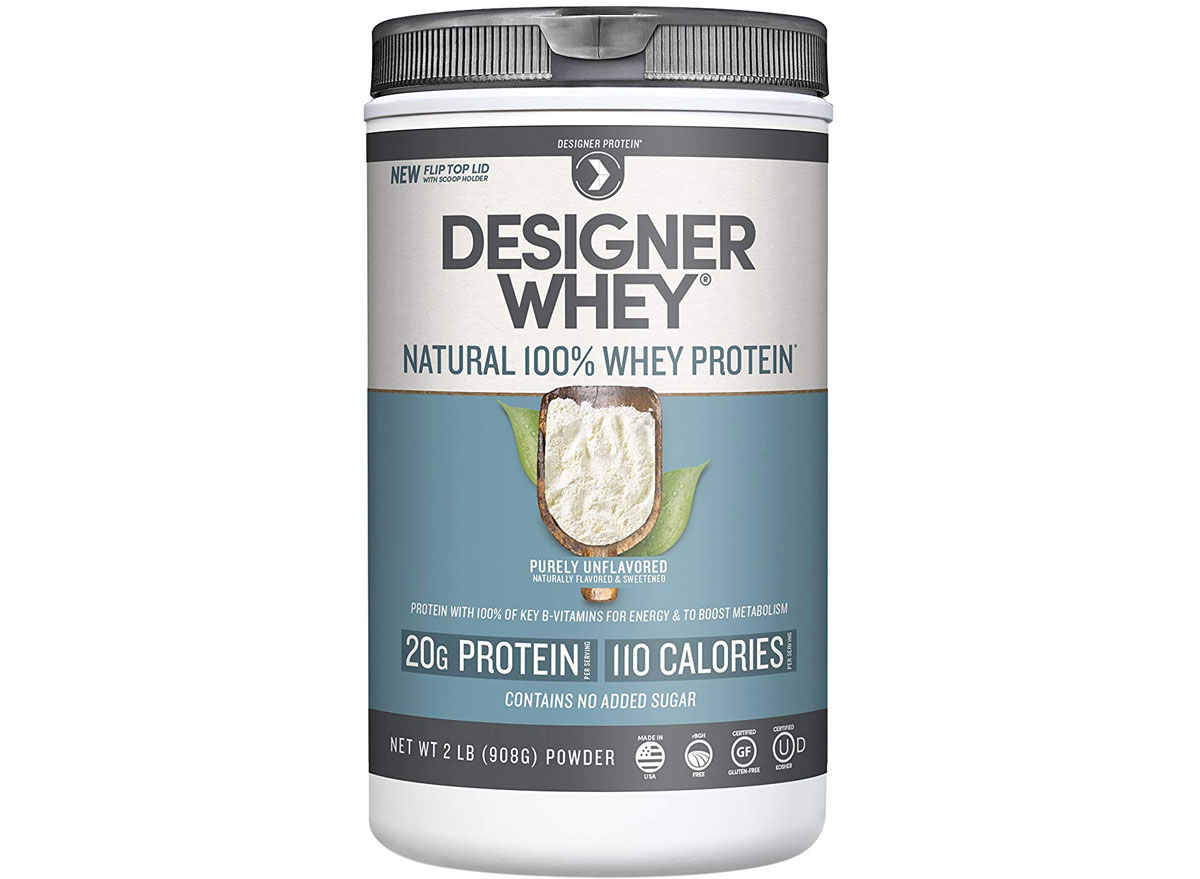 25-gram serving
: 110 calories, 0 g fiber, 0 g natural sugars, 20 g protein
This is the only dairy protein powder that doesn't use organic or grass-fed milk; however, it is also one of the only sugar-free dairy protein powder tubs that adds prebiotics, probiotics, electrolytes, and B-vitamins. The hydrating electrolytes and energizing B-vitamins will come in handy if you like to use protein powder in a shake after a workout.
Olivia Tarantino
Olivia Tarantino is the Managing Editor of Eat This, Not That!, specializing in nutrition, health, and food product coverage.
Read more about Olivia