24 Essential Grilling Tips from Top Chefs
These pro pointers will help you cook your food to juicy, charred perfection.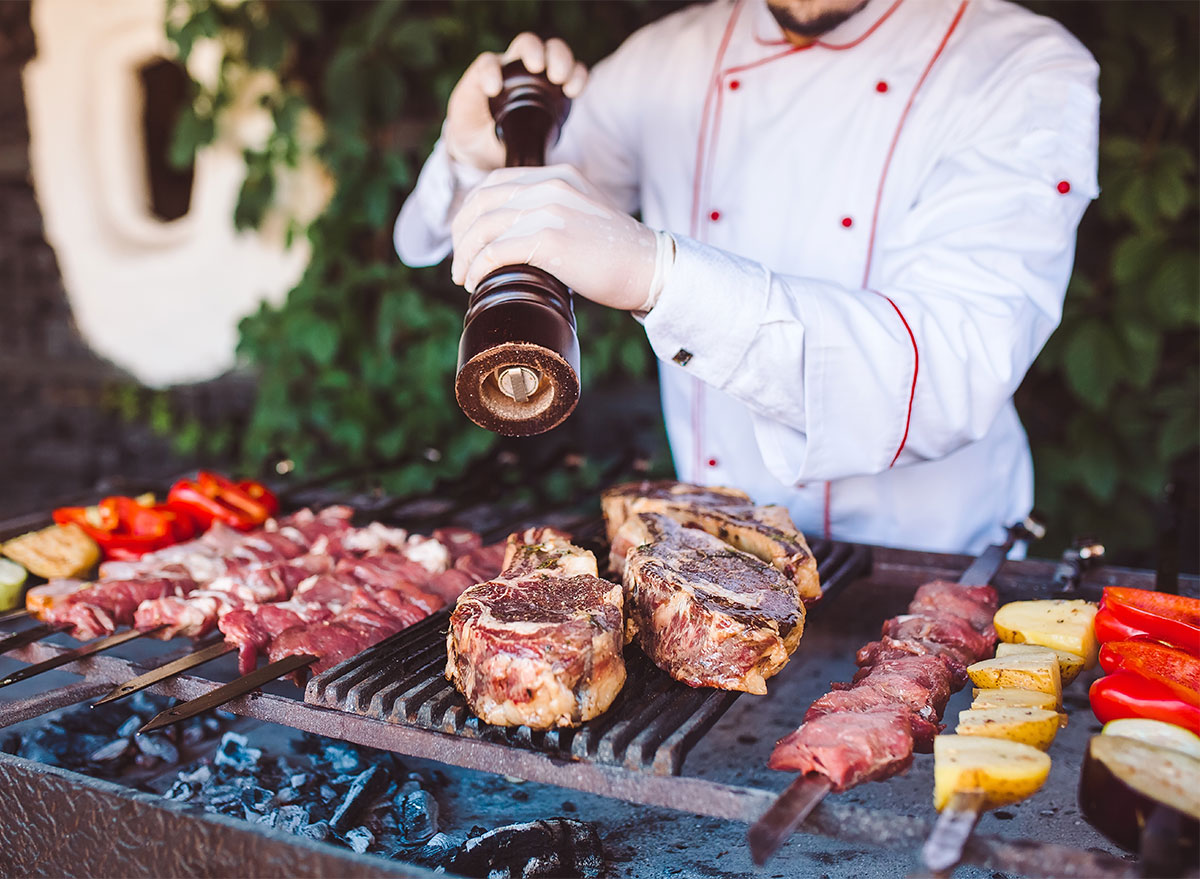 Whether you've worked a grill before or not, the backyard appliance can be overwhelming to use. How high should you heat the grill? How long does it take for your meat to cook? What kind of charcoal should you use? One small mistake can take your burger from bangin' to blah, so we consulted with top chefs, grill masters, butchers, and other professional cooks to bring you the best grilling tips that'll make you the star of your summer block party.
And as you cook outside this summer, be wary of these 13 Grilling Mistakes That Could Be Making You Sick.
Preheat the grill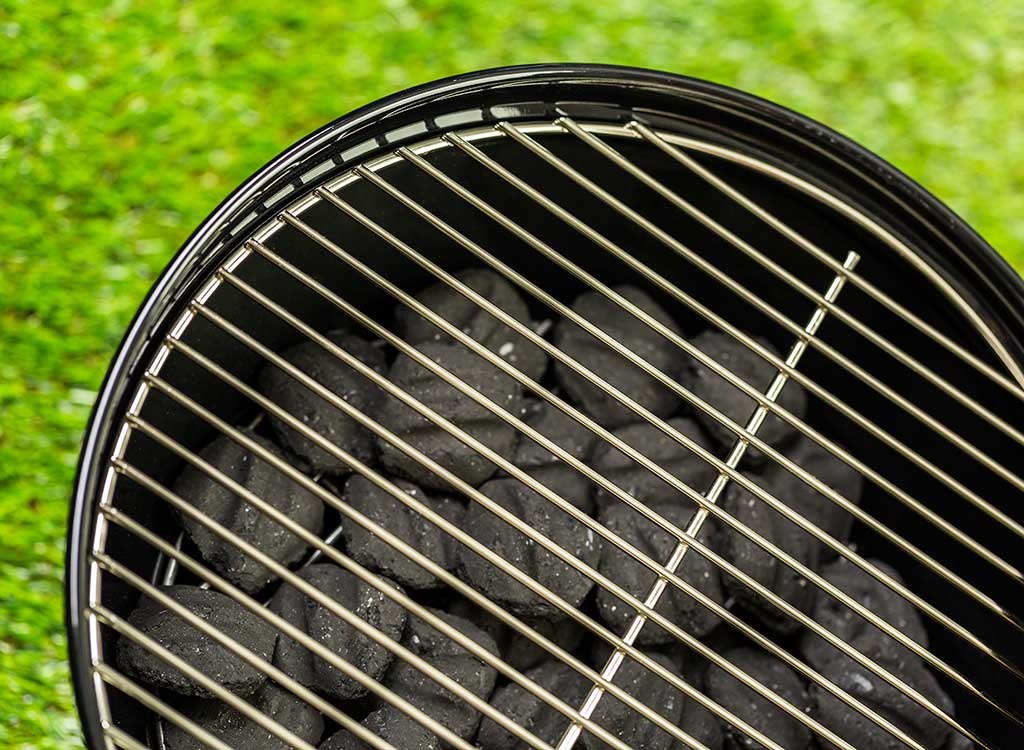 Just like ovens, grills need to be pre-heated to get the most out of your cooking. Chef Sean Brasel from Meat Market in Miami Beach says that charcoal grills tend to produce better overall flavor once the coals have reached optimum temperature and color. "Putting your grilled items on too soon will produce a gassy smell in your foods, so make sure your coals are ready before cooking."
How high should the heat be? According to Josh Thomsen, the executive chef at the Vue 1913 and Edison at the Omni Grove Park Inn, it should be at least 500 degrees Fahrenheit. "When using charcoal, let it burn until it's covered with a thin coat of gray ash. Hold your hand about six inches above the grate. After three seconds, the [temperature] of the heat should force you to snatch your hand away. When using a gas grill, preheat to high. This takes 10 to 15 minutes. When indirect grilling, preheat the grill to 350 degrees Fahrenheit," he says.
Need more grilling inspiration? Check out this fun list of 30 Surprising Foods That Taste So Much Better Grilled!
Use gas grills for optimal char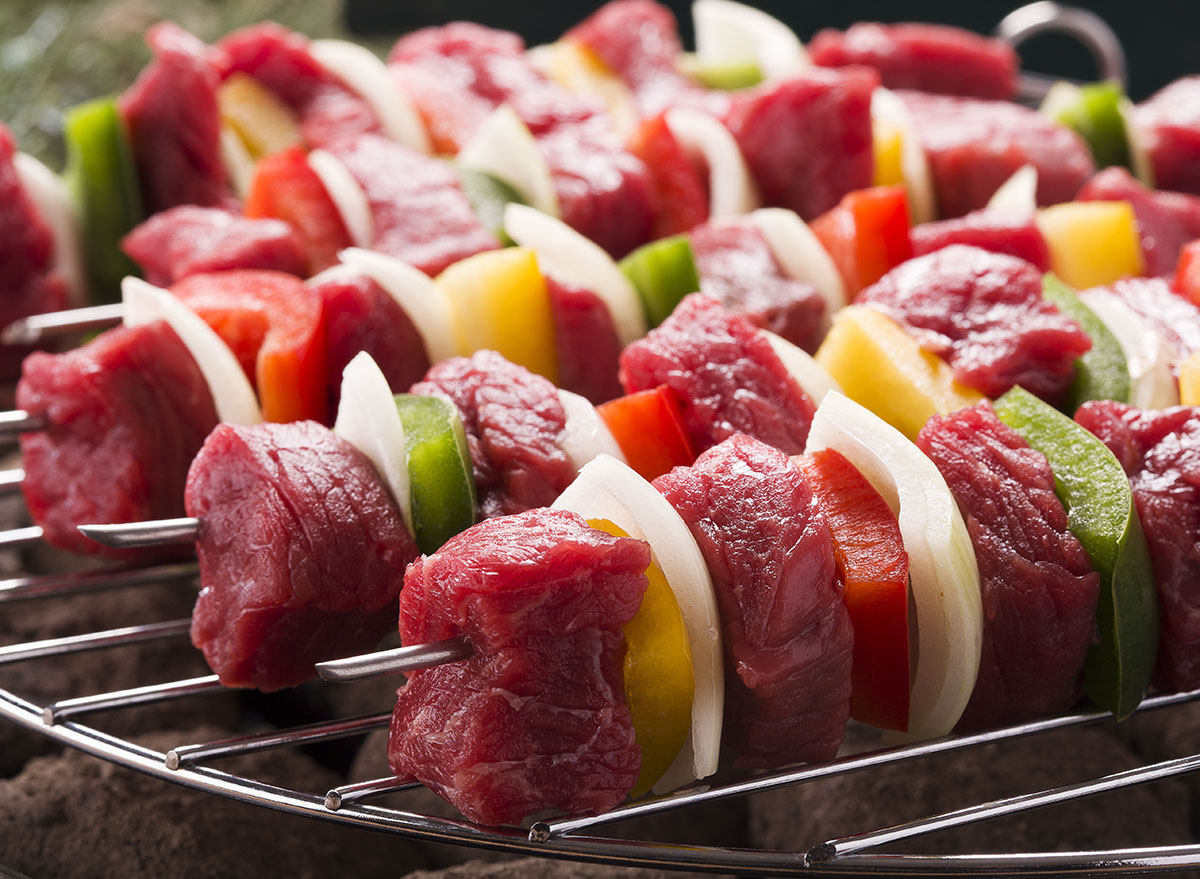 If you prefer a charred flavor, Chef Brasel says gas grills are better than charcoal ones. "Gas grills can produce a higher heat, enabling better sear and char flavor," he says. But if you're using a charcoal grill, it's important to avoid greasing the coals too much to prevent fires and burning. Chef Michael Gallina of Vicia in St. Louis says that vegetables often cook quickly on the grill, so even a moment spent away can take you from perfectly charred to burnt.
But if they end up burnt, don't throw your veggies away! "You can use them to prepare a charred vegetable stock, which adds a lot of great flavors to sauces and braises," Gallina says.
Put a lid on it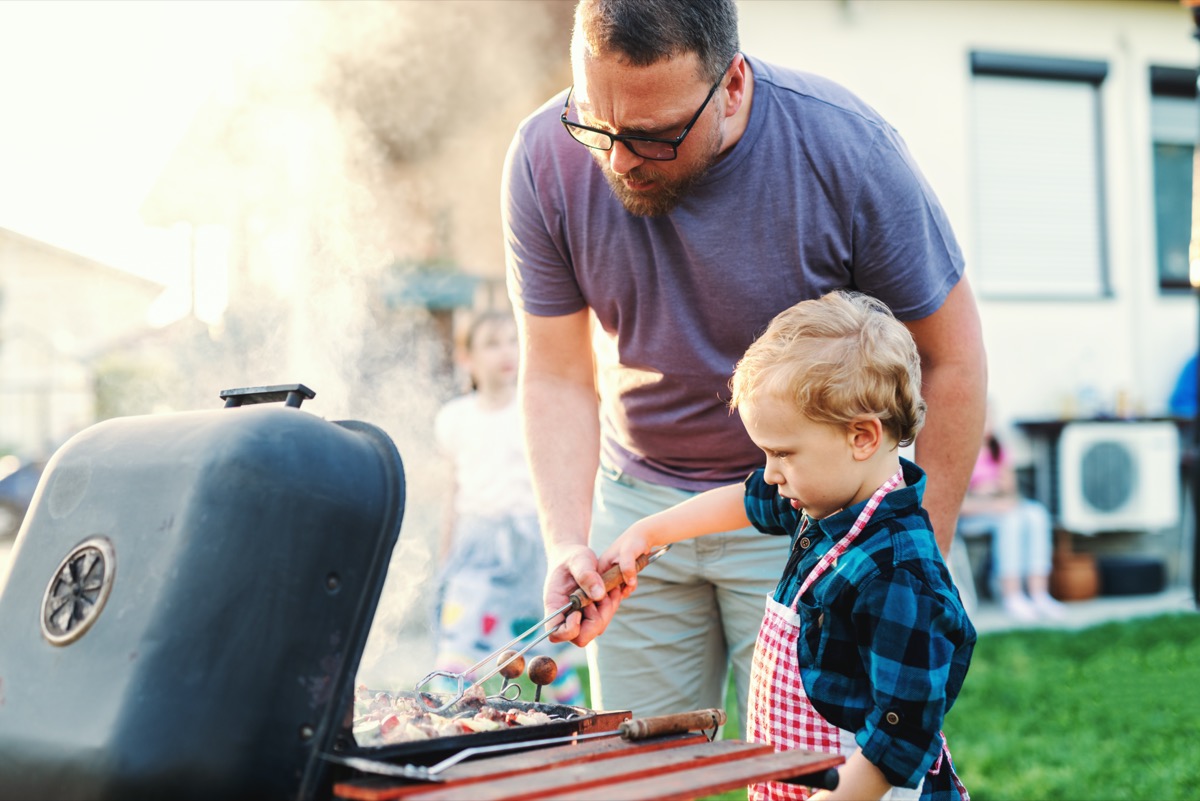 The lids aren't just there to protect the grills; using them strategically will help you produce smoky flavors. "What's neat about cooking on a charcoal grill is that different types of charcoal will produce different flavors in your foods. For example, mesquite and hickory charcoal produce a smoked flavor," Brasel says.
Take advantage of the smoker
Brasel says that charcoal grills with a smoker are great for preparing multiple dishes for long periods because they're designed with different sections and are optimal for slower roasted foods such as brisket and chicken. "Make sure there's enough water and humidity in your smoker before letting your food cook for hours. Brined and cured products work best in these conditions. Wrapping slow-roasted veggies in foil also produces an amazing confit effect on corn and sweet potatoes," Brasel says.
Select the right meats
Chef Samuel Hess at Grays Restaurant and Bar at the Hilton in Vancouver, Washington, tells us one of the most important steps before you even grill is choosing the right protein-packed meats. "Meats suitable for quick grilling will yield to the touch and not spring back. Think of the difference between raw chicken breast and pot roast," he says. "Meats that fit this description and have a little marbling are good choices for healthy grilling. Keep in mind that lean meats will overcook and dry out more quickly."
Learn more about how to enjoy meat healthily with the Best-Ever Proteins for Weight Loss!
Go for grass-fed meat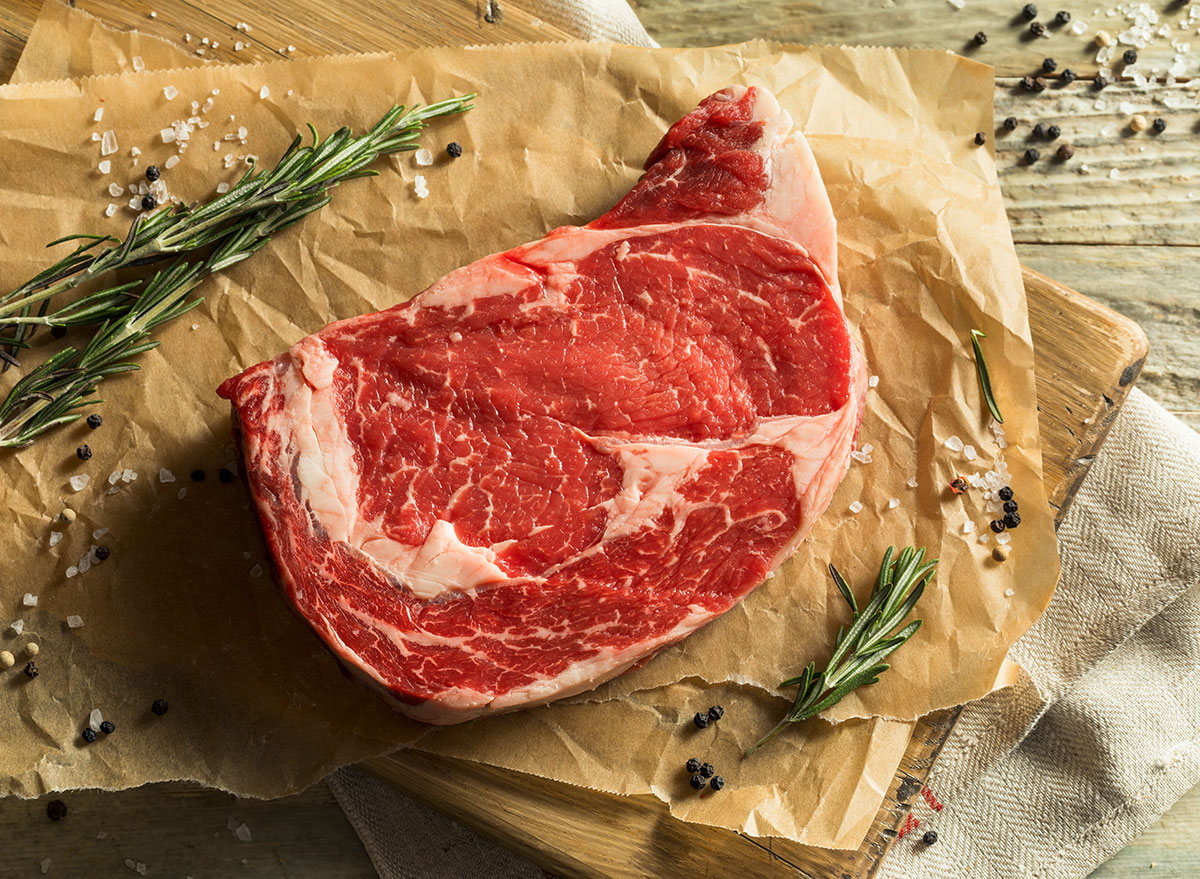 We're all for saving money and watching our wallets, but it pays to spring for high-quality meat if possible. "Free-range, hormone- and antibiotic-free and humanely-treated meat will always taste better than the Soylent Green factory meat most places serve," says Andy Harris, founder and owner of San Diego's Grand Ole BBQ y Asado. "Spend time doing your due diligence to ensure you are purchasing the best meat. Also, always use dry rubs and take your time to do it right."
Get acquainted with lesser-known cuts
Sirloin steak, beef tenderloin, and rib-eye steaks are exceedingly popular, but they're hardly the only tasty offerings around. Joe Heitzeberg, CEO of Crowd Cow, a marketplace that sources small-batch, craft meats from independent farms, says, "There are lots of lean cuts on a cow you may not have heard of, and they can be incredibly tender and delicious if you know how to prepare them right."6254a4d1642c605c54bf1cab17d50f1e
One of Heitzeberg's favorites is the petite tender, also known as the teres major. "The petite tender is a little-known muscle cut from the shoulder that's flavor-rich, lean, and second only to tenderloin in terms of tenderness. It's best grilled quickly over high heat," he says.
And if you're preparing a new-to-you cut of meat, Here's Exactly What Temperature Every Cut of Meat Should Be Cooked To.
Safety first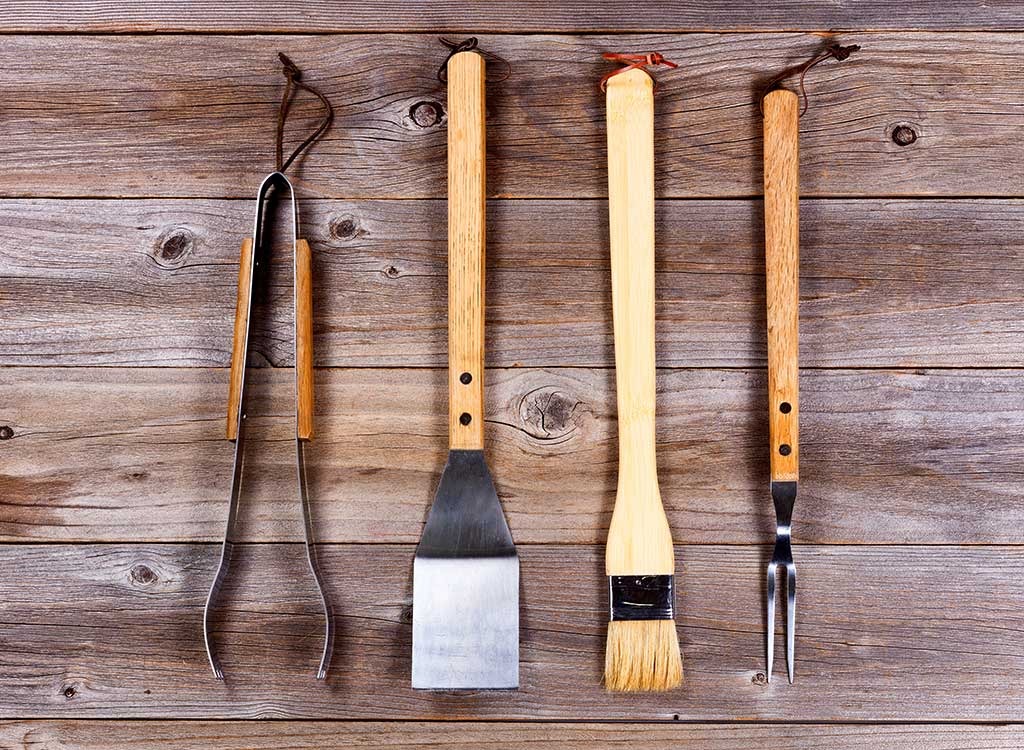 Executive Chef Cory Hoekstra of Disney Springs is a big proponent of staying safe while grilling, and that extends beyond watching yourself (and others) near an open flame. "If you're unsure about how to use the equipment, always read instruction manuals," Hoekstra says. And to avoid any kind of cross-contamination, Hoekstra recommends using different utensils with different types of proteins.
Cook on a clean surface
"The first step to achieving any kind of healthful grilling—or cooking for that matter—is to start clean," says Alex Benes, culinary director of Wood Ranch restaurants in California. "Use a wire brush to clean the grates and remove any food residue or char on them. Then, wipe them down with paper towels or cloth using some vegetable oil. This will also scoop up any broken-off brush bristles," he says.
Make the grill naturally non-stick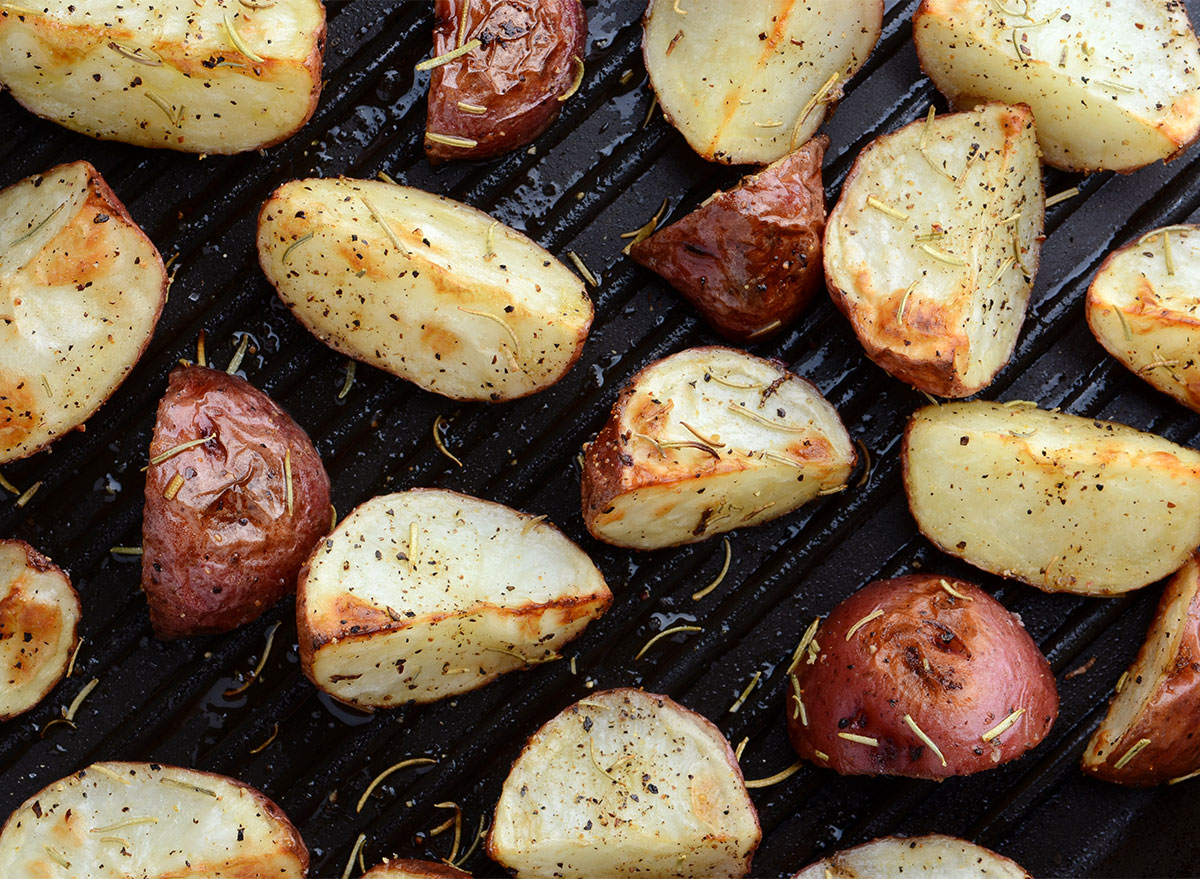 Many people coat their grills with oil to create a non-stick surface for food. But there's an easier way to create a non-stick surface, says Teddy Bricker, an award-winning chef and the owner of Soursop in Austin. "Halve a potato and rub the hot grates with them to avoid using a lot of oil. This will make the grill naturally non-stick," Bricker says.
Let your meat rest before grilling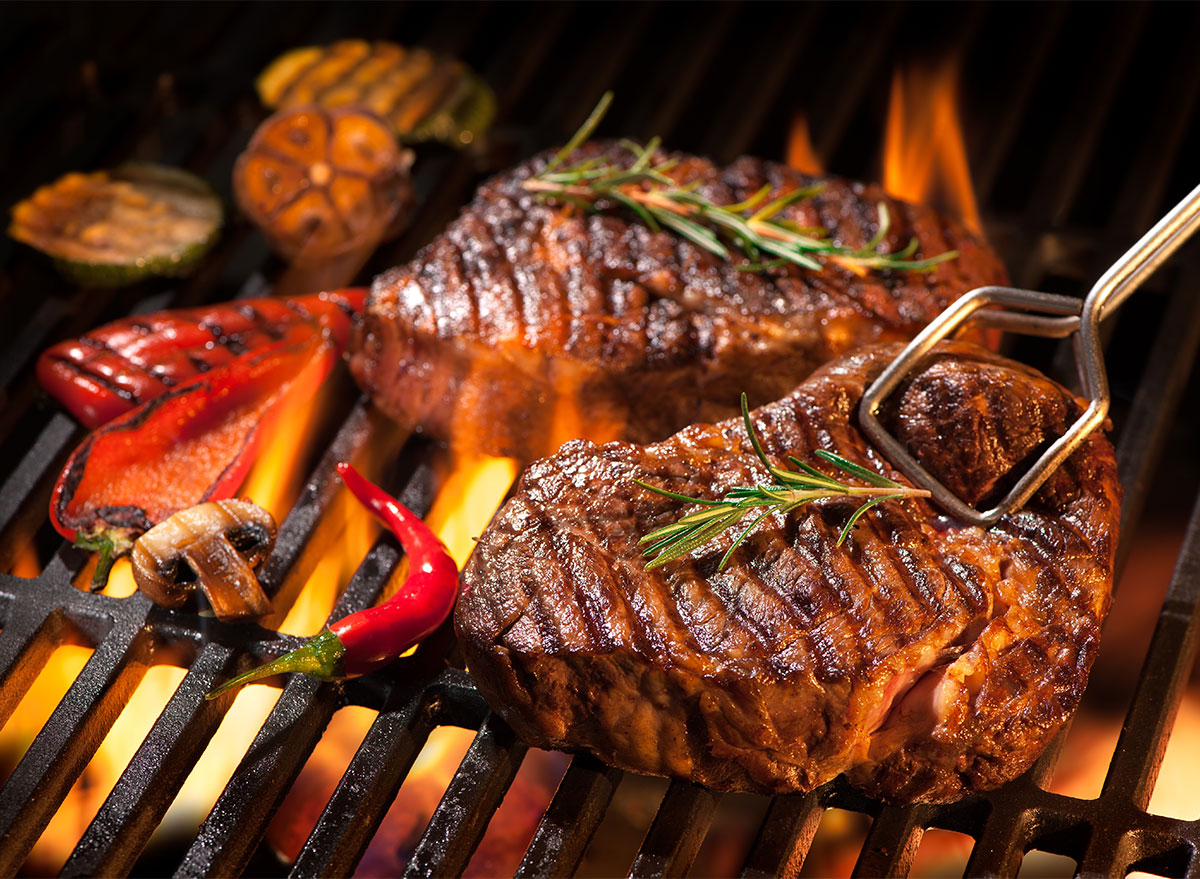 If you're going to grill some meat, don't take it out of the refrigerator just before you plan to throw it on the fire. "Let your steak rest out of the fridge for at least 30 minutes before cooking," says Josh Tanner of New York Prime Beef. "This is important for larger, thicker cuts like a porterhouse or a big, bone-in ribeye. If you throw a cold steak on the grill, it won't cook as evenly and will dry out much more easily."
Use your thumb for even cooking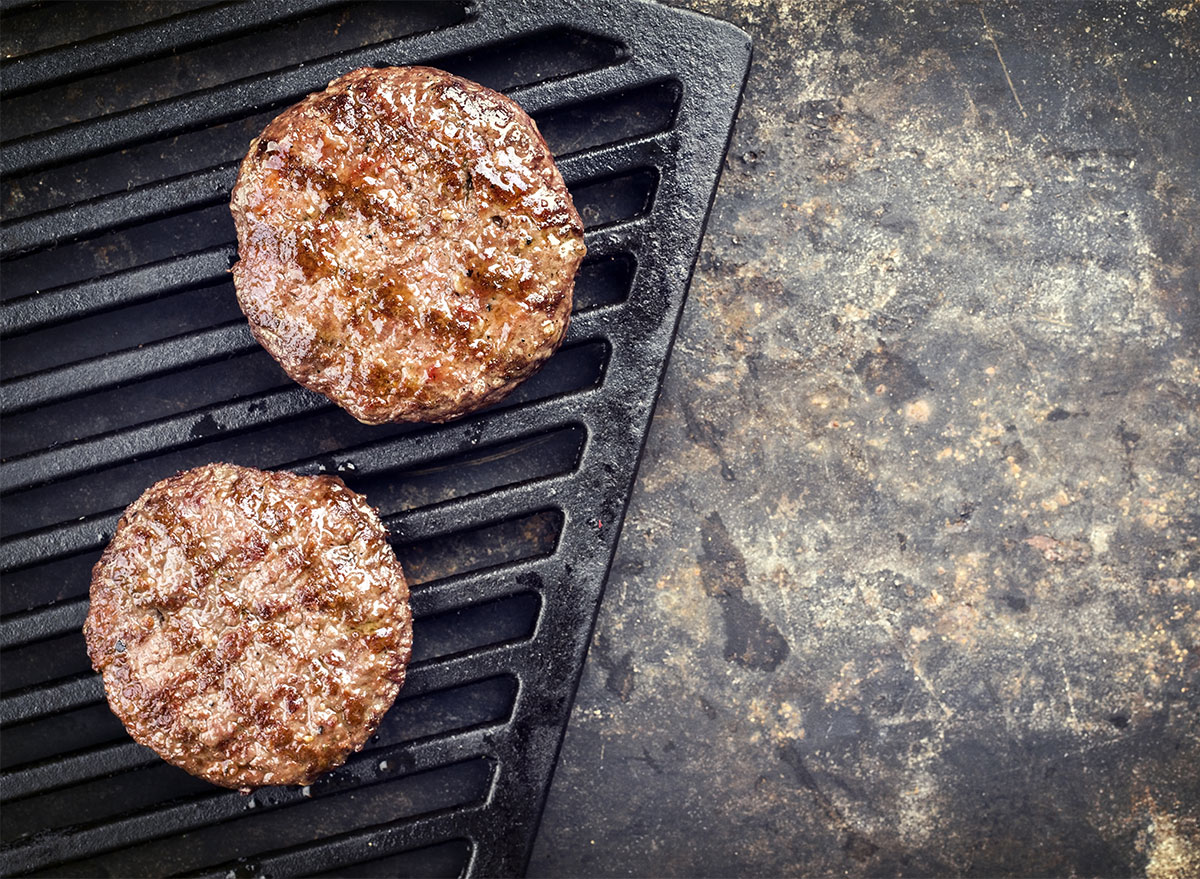 Grilling utensils will help you flip your meat and veggies to ensure even cooking, but sometimes all you need to get the job done is your thumb. "To ensure the meat cooks evenly, make a thumbprint indentation into each patty before it goes on the grill," says Chef Julie Harrington, RD and culinary nutrition consultant. "The indentation helps the patty hold its shape, rather than swelling, as it shrinks during the cooking process."
Invest in a meat thermometer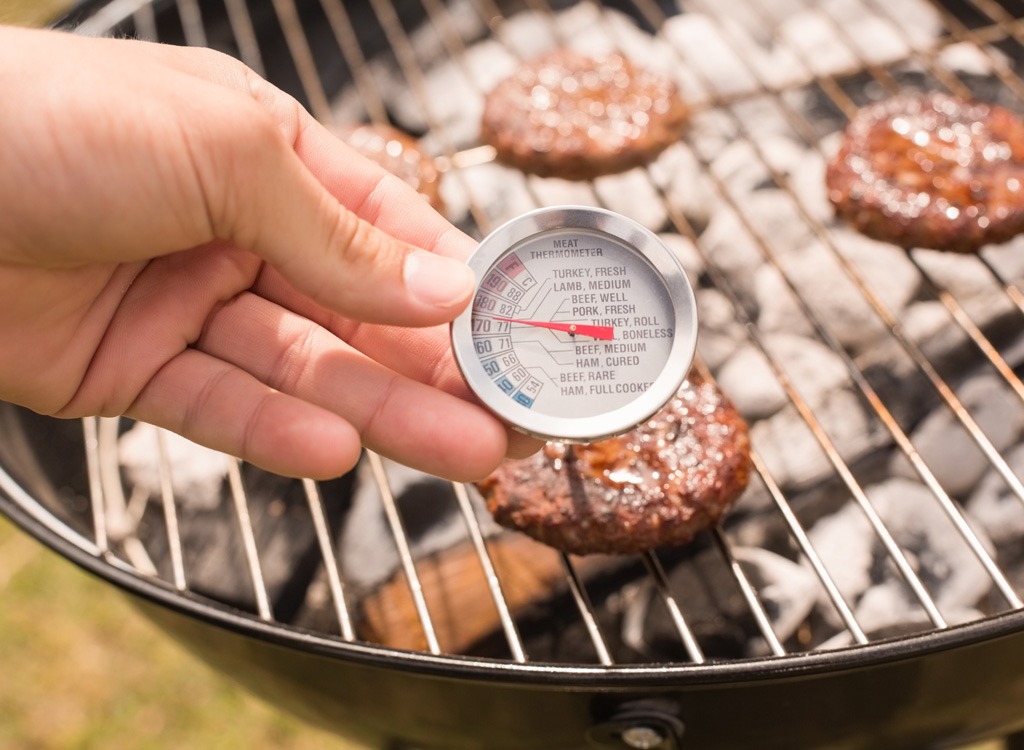 Thermometers are typically mounted on the grill lid because heat rises, but that also means that they can register 50 degrees hotter than they would if placed on the grill itself. "An instant-read thermometer is your best friend when it comes to grilling. Use it to check the internal temperature of your meat," says Donatella Arpaia, chef and partner at Prova Pizzabar in New York City.
Arpaia says that cooking times will vary slightly based on many factors, including wind, the thickness of the food, the starting temperature of the food, the grill preheating time, and the temperature of the fire.
Get a nice pair of tongs
Thomsen recommends investing in a good pair of tongs to put food on the grill and to also move it around while it's cooking. "Heavy-duty, long-handled, spring-loaded tongs act like an extra pair of hands," he says.
Establish different grilling "zones"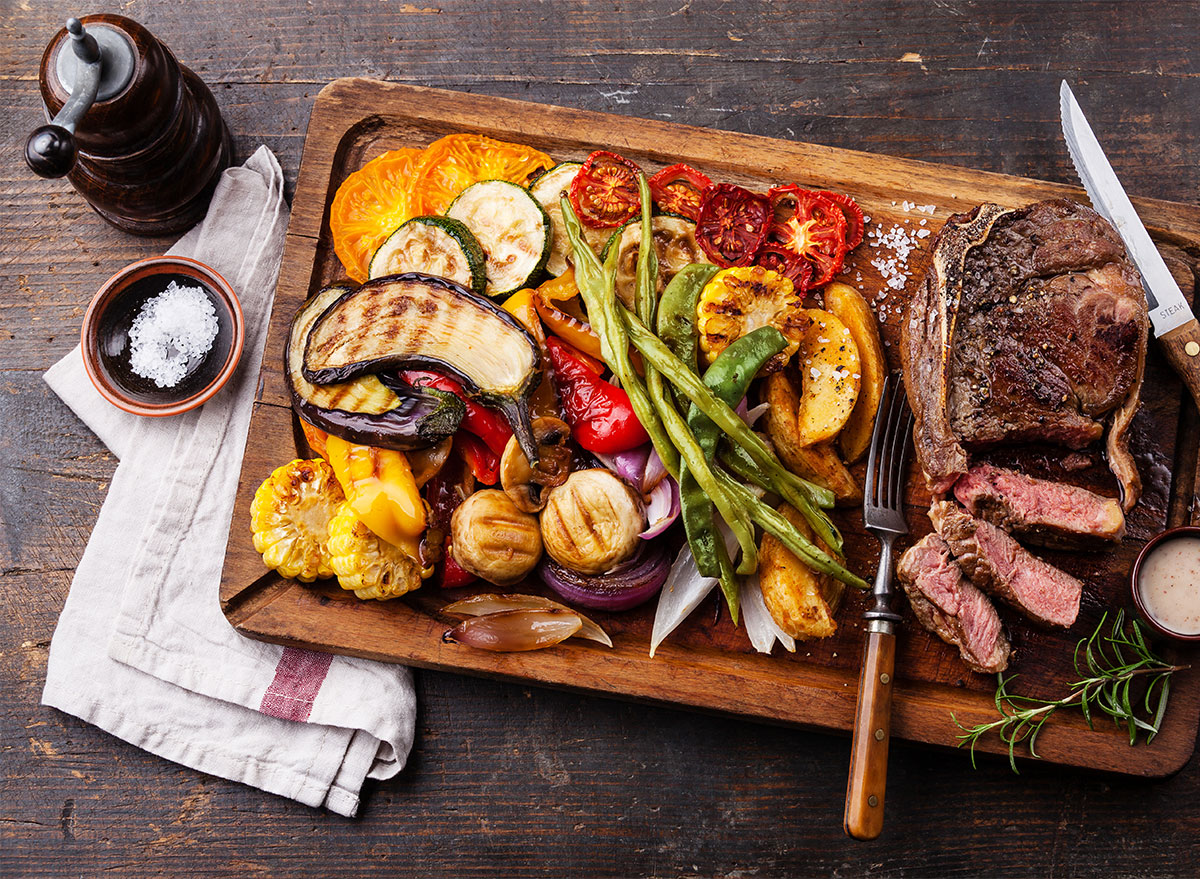 When working with a grill, particularly one with a large surface on which you may be cooking multiple items, Josh Evans, executive chef at LongHorn Steakhouse, advises establishing different "zones," especially if you're using your grill to cook multiple things. "Create cooking zones by keeping one section at a lower temperature," he says. "As your meat and vegetables start to cook through, you can move them to a cooler area to slow down the process."
Take it low and slow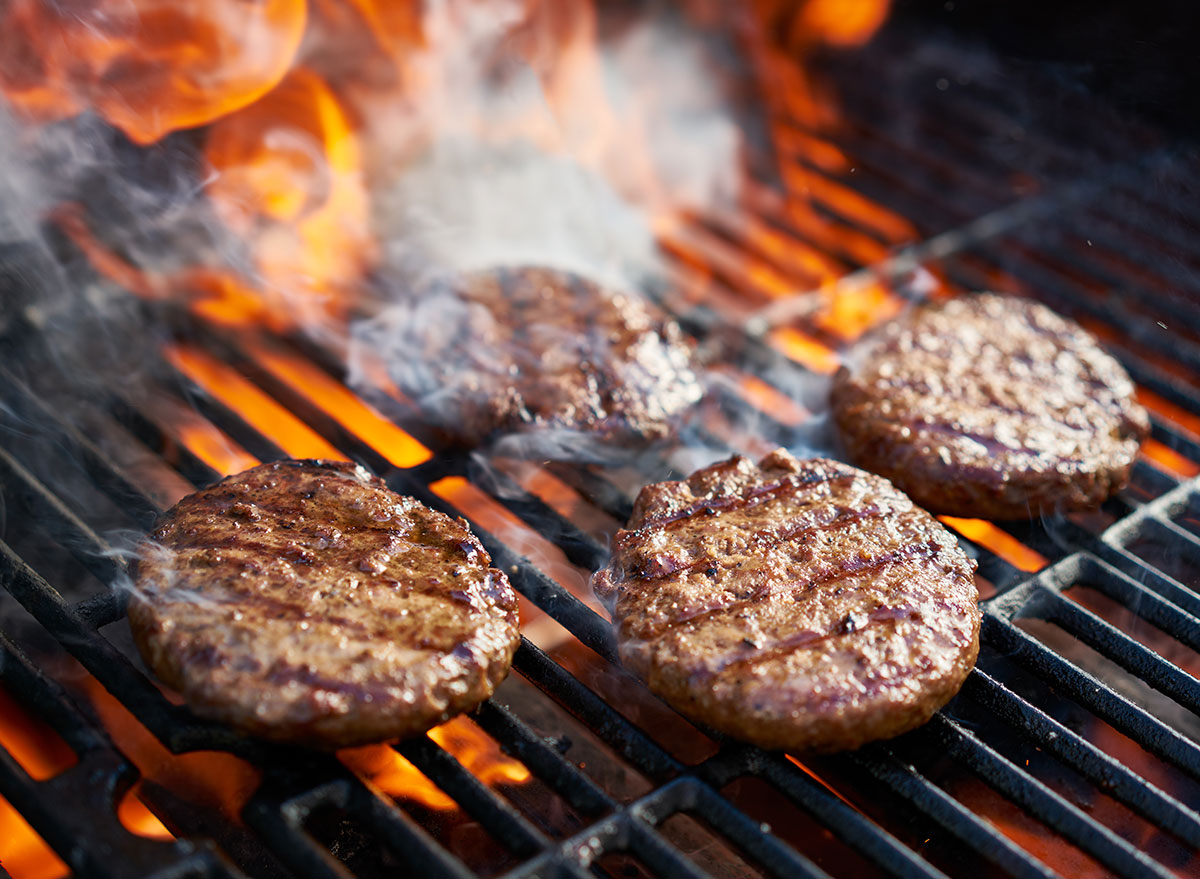 "A common mistake when folks are grilling is that they get the grill super hot and try to cook at extremely high temperatures," says Chef Michael Patria, an executive chef at the Four Seasons Hotel Atlanta and Bar Margot. Instead, Patria advises taking it slow and low. "Learn how the vents on your grill work, so you can better control the temperature," he says. "Research reverse searing, and explore other slow cooking techniques to achieve different flavor profiles."
Don't move your food around too much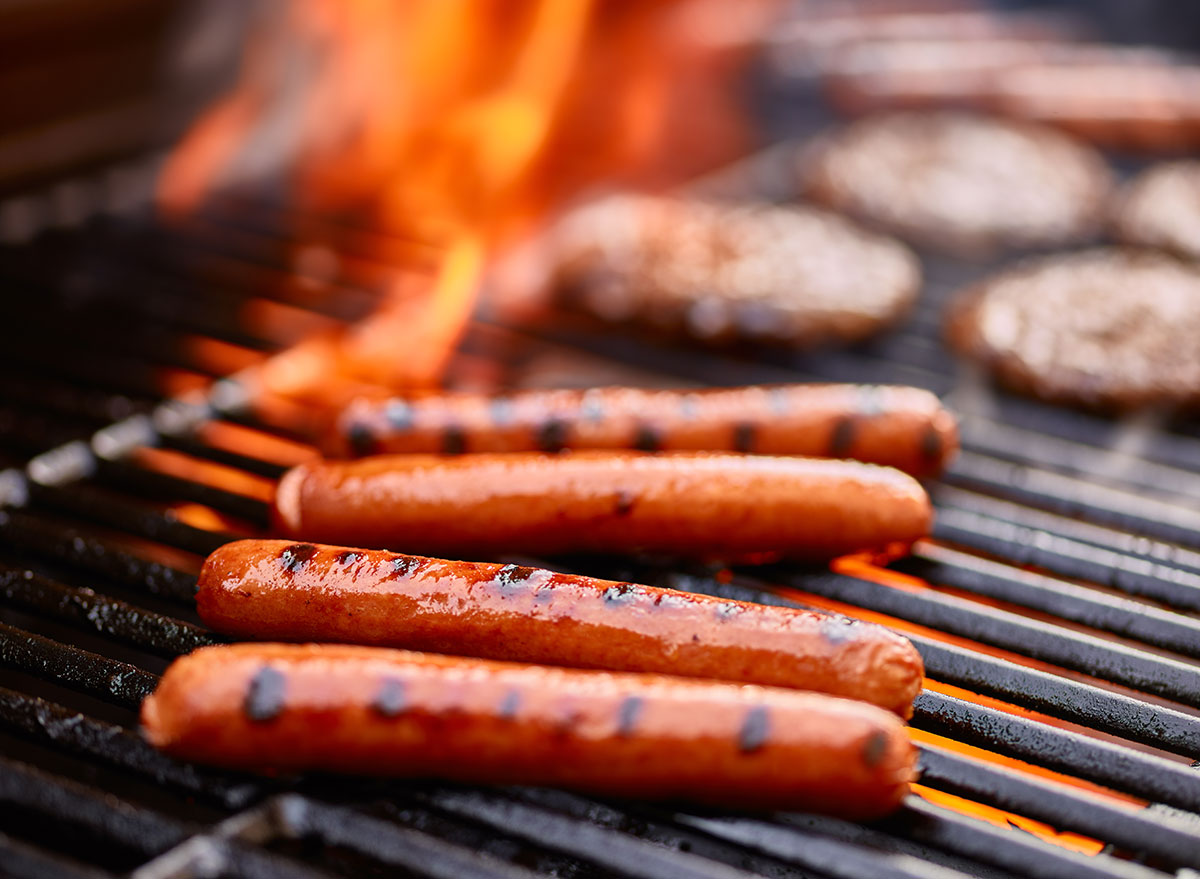 Although it's tempting to move your food around the grill as it cooks, Nate Hereford, a JUST chef and former executive chef at Niche in St. Louis, advises against it. "Avoid moving your food around on the grill too much. Let it sit on the grate as long as possible so that it cooks through evenly and gets nice grill marks."
Try the Robatayaki Method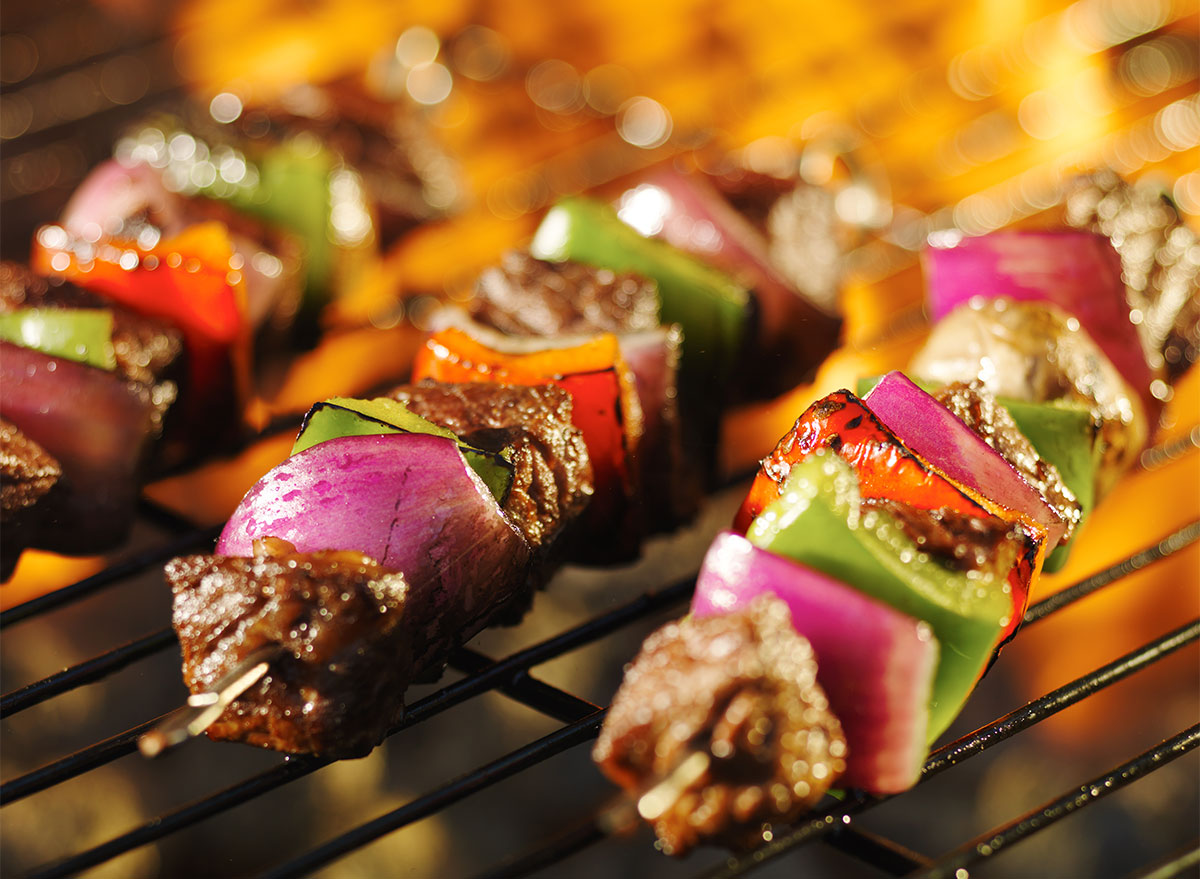 If you want to impress your guests, Chef Tomonori Takahashi at Robata JINYA in Los Angeles, suggests trying the Robatayaki method. "The Robatayaki—or Robata—grilling method is a traditional Japanese technique where skewered meats, vegetables, and fish are slowly grilled over charcoal to perfection," he says. "Slow grilling is a great way to build layers of flavor in simple meat and vegetable dishes."
Add BBQ sauce at the end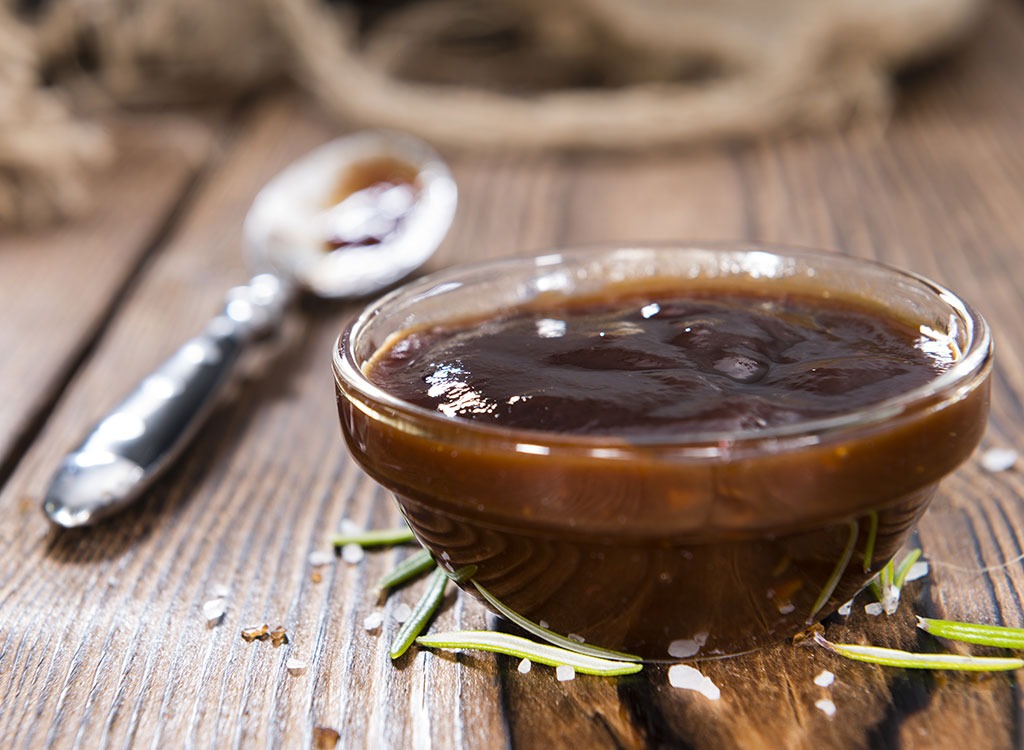 Rocky Stubblefield, barbecue expert and grandson of C.B. "Stubb" Stubblefield, who founded the Texas-based Stubb's Legendary BBQ sauce company, cautions not to put the BBQ sauce on the chicken until it reaches a certain temperature. "At 160 degrees, I baste the chicken with Sweet Honey & Spice BBQ sauce," he says. "You only want the sauce to cook on the grill for a few minutes. If it stays too long on the grill, it will burn."
Season with a dry rub in advance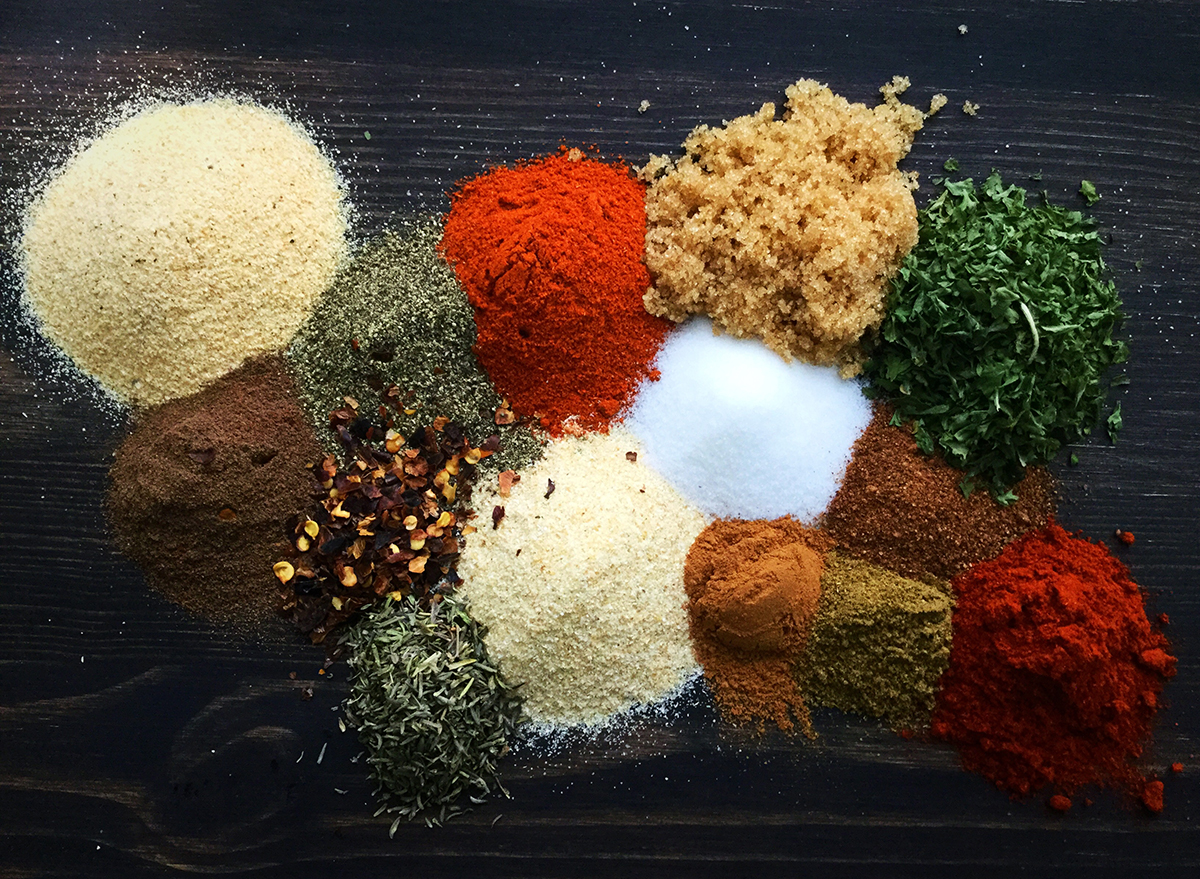 If you're not crazy about BBQ sauces or marinades, Isaac Toups, chef and owner of Toups Meatery in New Orleans, is a fan of a flavorful dry rub—as long as you plan your meal ahead of time. "Dry rubs are a great way to add a huge punch of flavor without adding a ton of calories and fat to your meats," he says.
One easy way to keep your meat extra flavorful? Add salt to your dry rub. This will help penetrate the meat and allow the rub to season the meat all the way through. "For a rub to do anything worthwhile, you need to rub your meats 12 to 24 hours in advance," Toups says.
Dip your meat to infuse flavor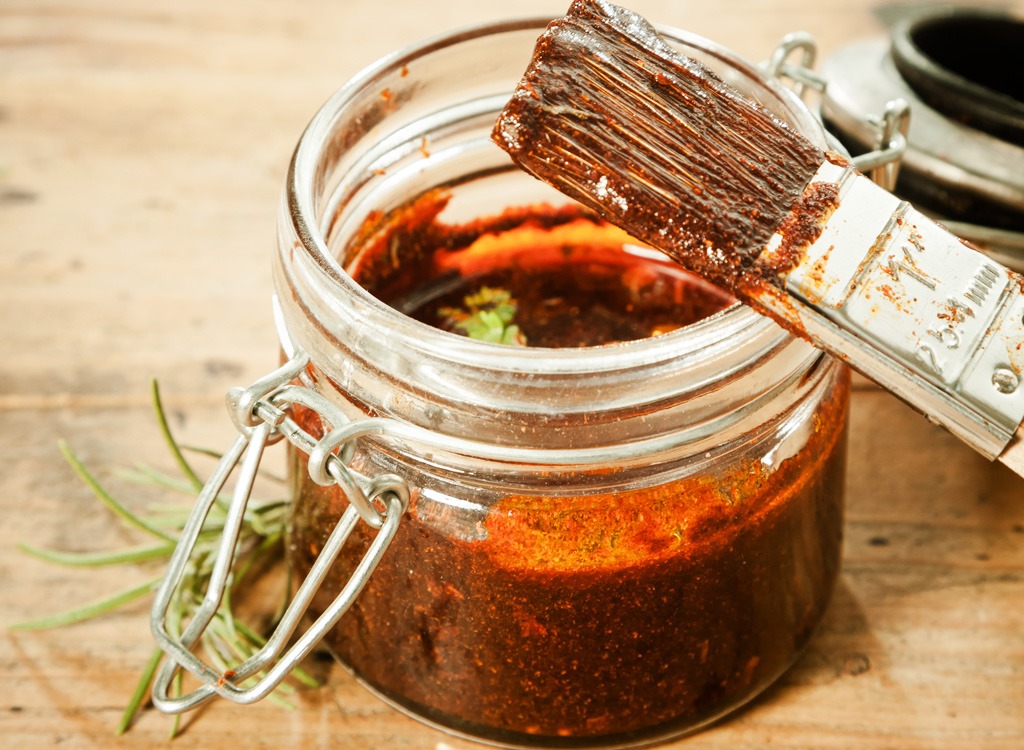 "Truth be told, I'm not a big proponent of marinades, but if you're into it, you should be dunking," says Joe Frietze, chef de cuisine at Chicago's Publican Quality Meats. Take your typical favorite marinade, and thin it out with water for a consistency similar to soy sauce. Dunk your meat in it, and start cooking it on the grill.
"For every couple of minutes, take your meat off the grill and dip it into the marinade. Then put it immediately back on the grill," Frietze says. Not only will this method reduce the calorie count of your marinade, but it will also give your meat a tasty boost. "This method adds the marinade in thin layers to the meat, so you get full flavor without the full amount of sugar," he says.
Cook for presentation
Is there anything better than seeing some fresh grill marks on a nice piece of meat? Courtney Rada, the host of Carnivorous on Genius Kitchen, loves the picture-perfect presentation, which is surprisingly easy to achieve. "I'm a fan of creating proper grill marks so that the meat looks as good as it tastes," she says. "To do this, the meat should be placed down at a 45-degree angle to the grill grate. If you want to create a crosshatch pattern, sear the meat at a 45-degree angle, then rotate the meat 90 degrees and sear it again."
Undercook fish on the grill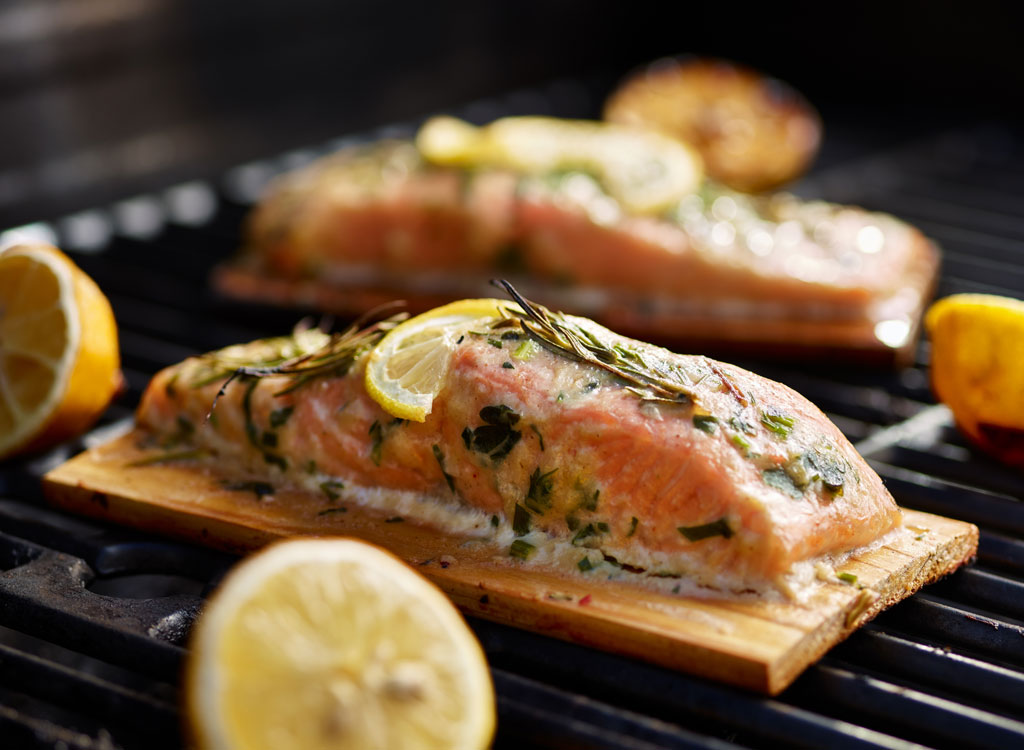 Ayesha Curry, chef of International Smoke in San Francisco, author of The Seasoned Life: Food, Family, Faith, and the Joy of Eating Well, and star of the Food Network show Ayesha's Home Kitchen, says that the residual heat from cooking is enough to cook fish when it's off of the grill. "Remove your salmon right before medium-rare. By the time it's ready to serve, it should be a perfect medium," she says.
Let the meat rest after grilling
As tempting as it may be to slice into your steak when it's fresh off the grill, it's crucial to let the meat rest for a few minutes. "After grilling a beautiful piece of meat, most people cut into it without letting it sit or rest," says Joseph Madzia, executive sous chef of Stickney's Restaurant at the Omni Mount Washington Resort in New Hampshire. "To taste the quality, you should always let the meat rest for about four minutes before cutting it."