The Tastiest Grilled Salmon With Ginger Soy Butter Recipe
Ginger soy butter brings all the tangy flavor to this tasty and still oh so healthy dish.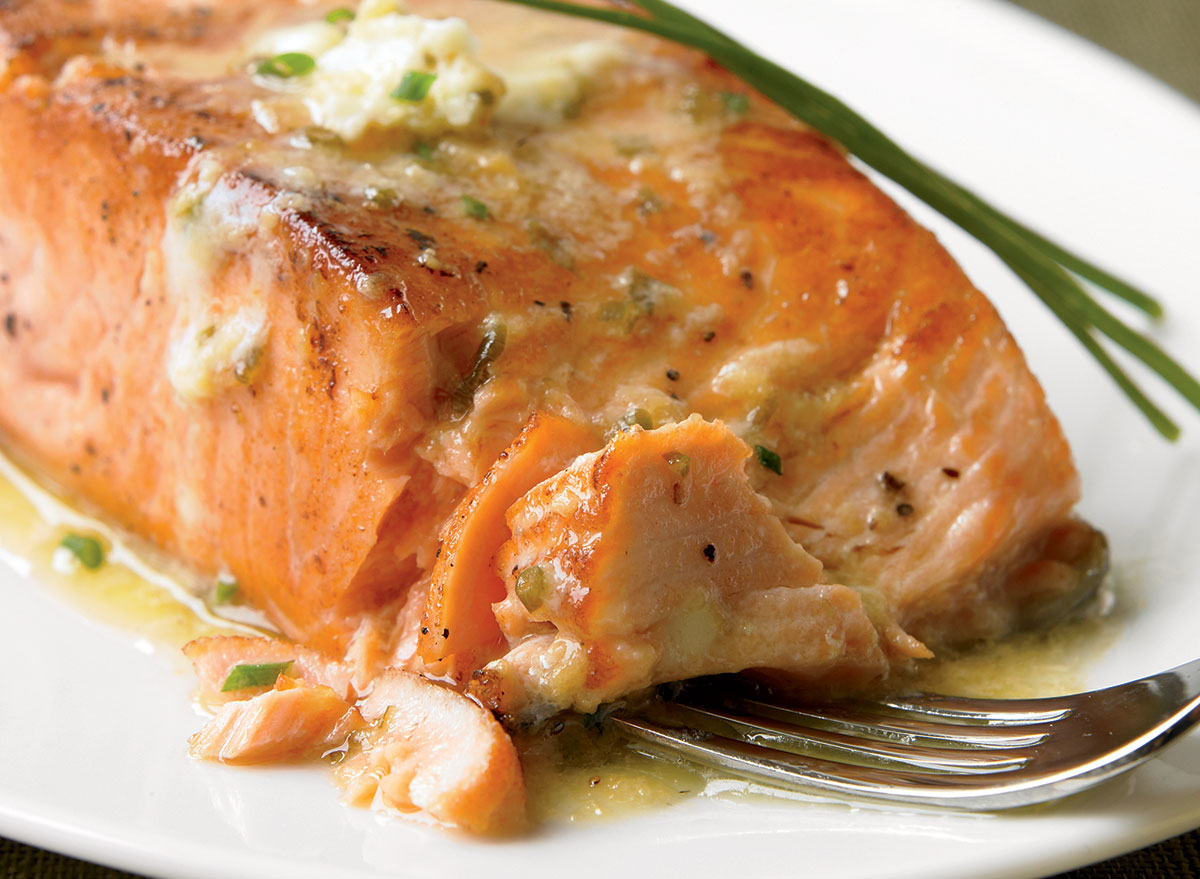 Yes, even grilled salmon can suffer at the hands of a restaurant chef who uses oil as a condiment and salt as a weapon. Whereas most of salmon's fat is of the heart-healthy monounsaturated variety, P.F. Chang's finds a way to cram nearly three-quarters of a day's worth of saturated fat into this otherwise superfood. This grilled salmon recipe uses soy butter and ginger to add a tangy taste and keep this superfood, super healthy and tasty too. Plus, you'll save almost 400 calories by being your own chef!
Nutrition: 390 calories, 26 g fat (7 g saturated), 710 mg sodium
Serves 4
You'll Need
2 Tbsp unsalted butter, softened
1⁄2 Tbsp minced chives
1⁄2 Tbsp grated fresh ginger
Juice of 1 lemon
1⁄2 Tbsp low-sodium soy sauce
4 salmon fillets (4–6 oz each)
Salt and black pepper to taste
1 Tbsp olive oil6254a4d1642c605c54bf1cab17d50f1e
How to Make It
Mix the butter, chives, ginger, lemon juice, and soy sauce. Set aside.
Preheat a grill or grill pan.
Season the salmon with salt and pepper and rub with the oil.
Wipe the grill grates clean and rub with a paper towel dipped in oil.
Add the salmon skin side down and cook for 4 to 5 minutes, until the skin is lightly charred and crisp.
Flip the fish and cook for another 2 to 3 minutes on the flesh side, until the flesh flakes with gentle pressure from your finger but is still slightly translucent in the middle. (We believe salmon is best served medium, but if you want yours completely cooked, leave it on for another 2 to 3 minutes.)
Serve the salmon with a generous spoonful of the flavored butter, which should begin to melt on contact.
Eat This Tip
Spiking softened butter with assertive flavors is a great way to add an instant "sauce" to your dinner. And adding coins of compound butters (which keep for weeks in your fridge) to high-carb foods like baked potatoes can actually work to lower the glycemic impact of the dish, making a gentler ride for your blood sugar. Try any of these combinations on meat, fish, or vegetables.
Crumbled blue cheese, chives, and black pepper
Reduced balsamic vinegar and caramelized onions
Minced sundried tomatoes and olives
This recipe (and hundreds more!) came from one of our Cook This, Not That! books. For more easy cooking ideas, you can also buy the book!