Expect These Major Changes at Grocery Stores in the Days Ahead
You're going to have to start getting used to these every time you shop.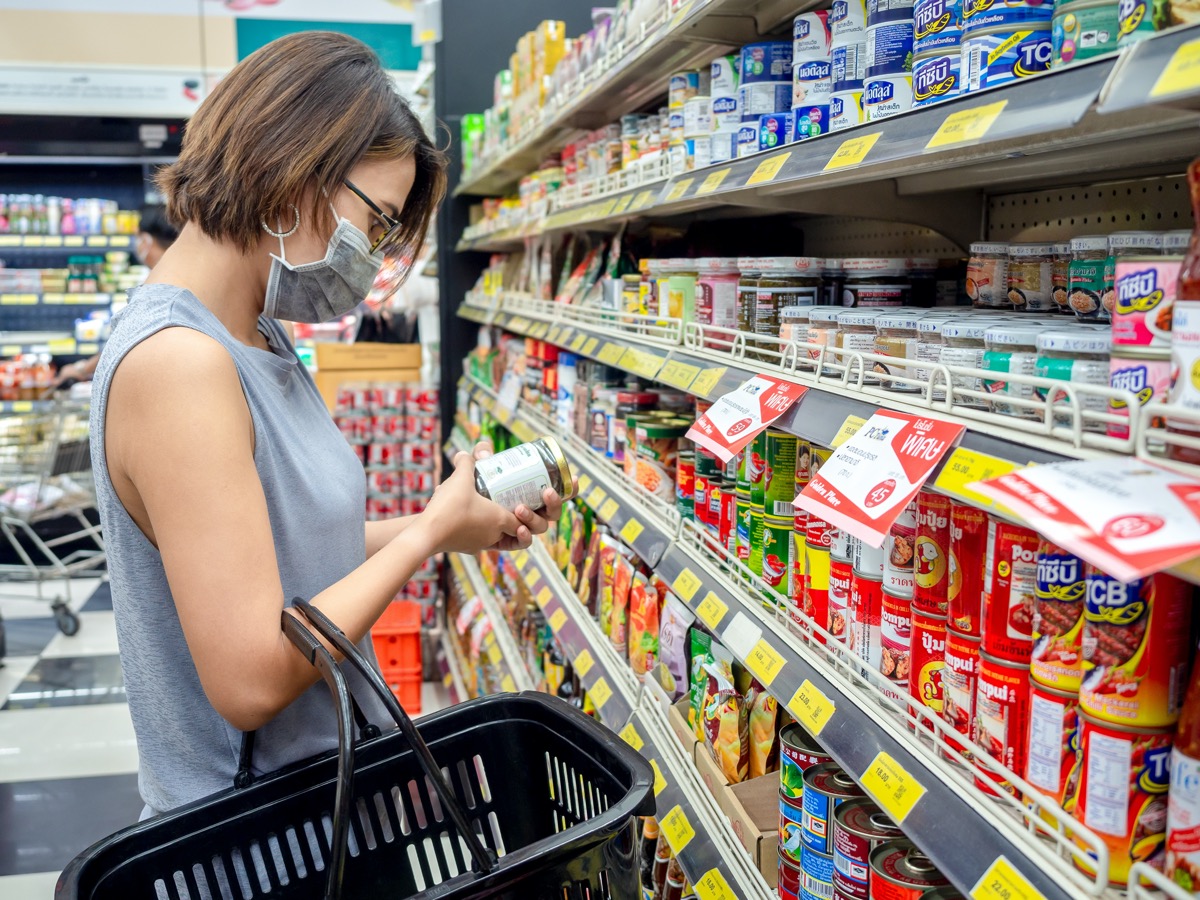 Even though some parts of the country have opened back up from stay-at-home mandates and are on their way back to normal life, a lot of the world has changed due to the coronavirus pandemic. And while some things will remain the same, places that tend to have a lot of people condensed in one area will likely see significant changes. Theaters, restaurants, and even grocery store changes will likely occur in order to keep customers and employees safe.
So as you continue to go out and shop for food, you may start to notice these grocery store changes. And while these changes may seem temporary, there are no signs of them slowing down any time soon. Who knows how long these guidelines will be in effect, but for now, here's what to expect at grocery stores moving forward.
Taped signs and spots for lines on the floor.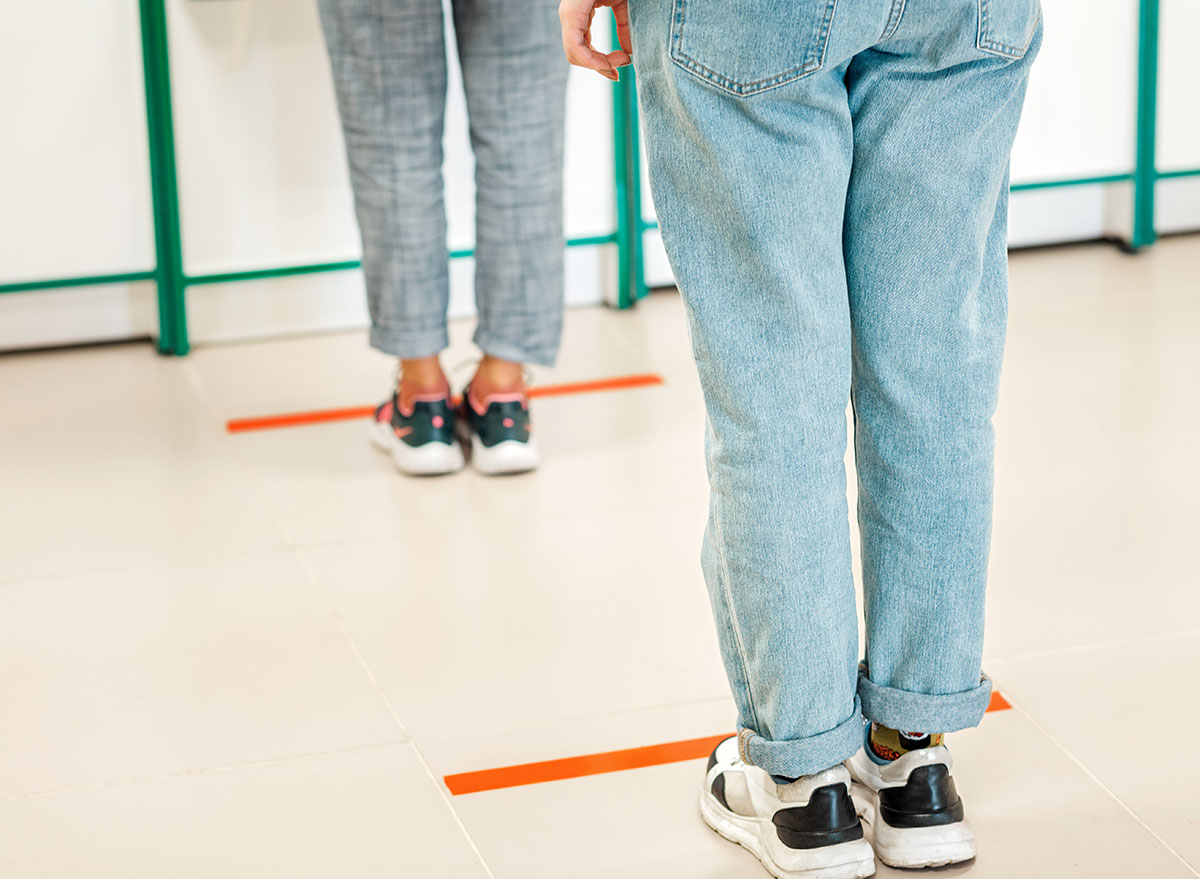 Even as cities start to open back up and stay-at-home restrictions start to loosen, numerous establishments that get a lot of foot traffic—like grocery stores—will likely continue to enforce social distancing to keep customers and employees safe and healthy. One way grocery stores are already doing this is taping directional signs and designated spots for waiting on lines on the floor. This way customers walk and stand in particular areas in order to keep social distancing while grocery shopping.
Contactless checkout (and bagging).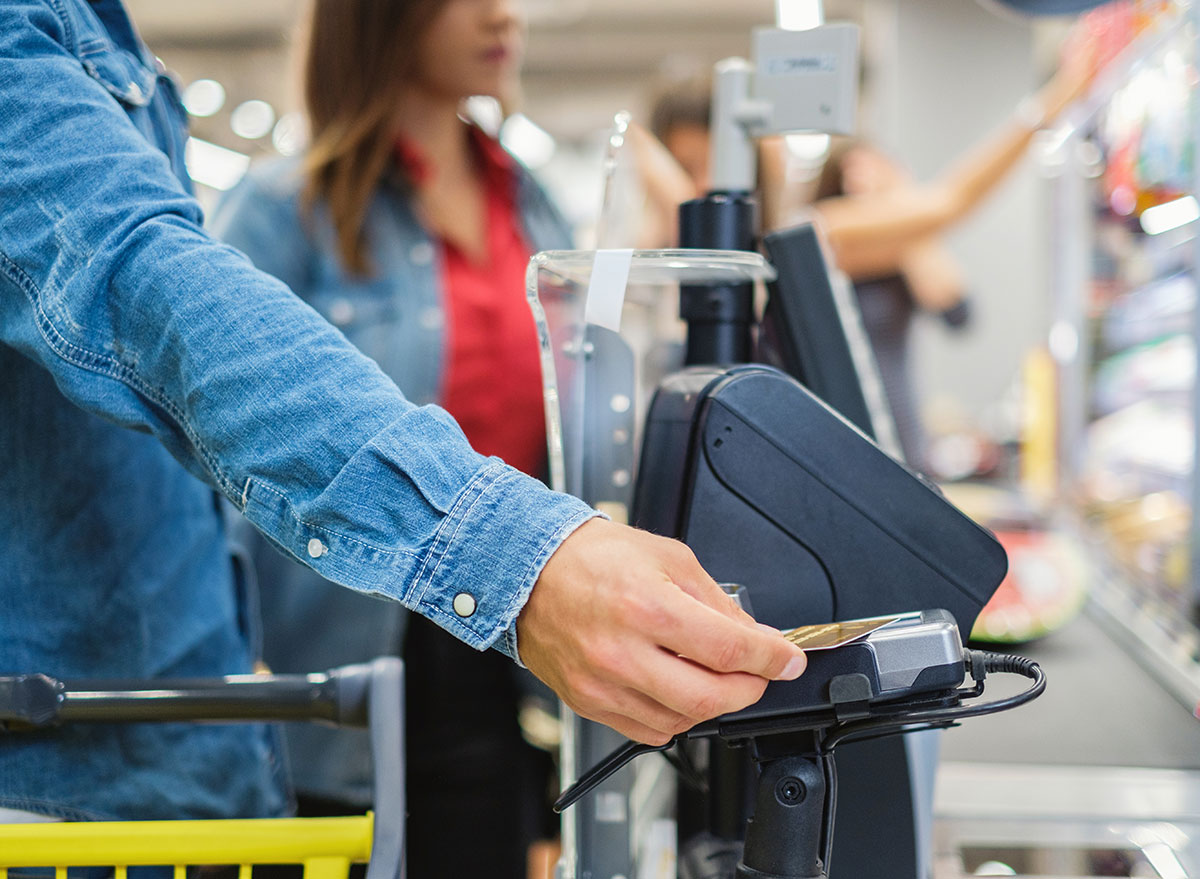 Along with the plexiglass between shoppers and employees at checkout staying put, customers will likely be encouraged to go through with a contactless checkout experience. This means using credit card machines more frequently and using less cash as studies have shown money can hold a myriad of diseases. Along with using credit card machines and avoiding contact with the checkout clerk, grocery stores are already enforcing the "bag your own" policy if customers bring reusable bags. That way employees can avoid touching bags that were just in contact with other humans. However, if customers opt-in for using plastic bags at the store, the clerk will likely still bag them. But if you are bringing your own bags, chances are they'll ask you to bag your own food.
More robots for inventory.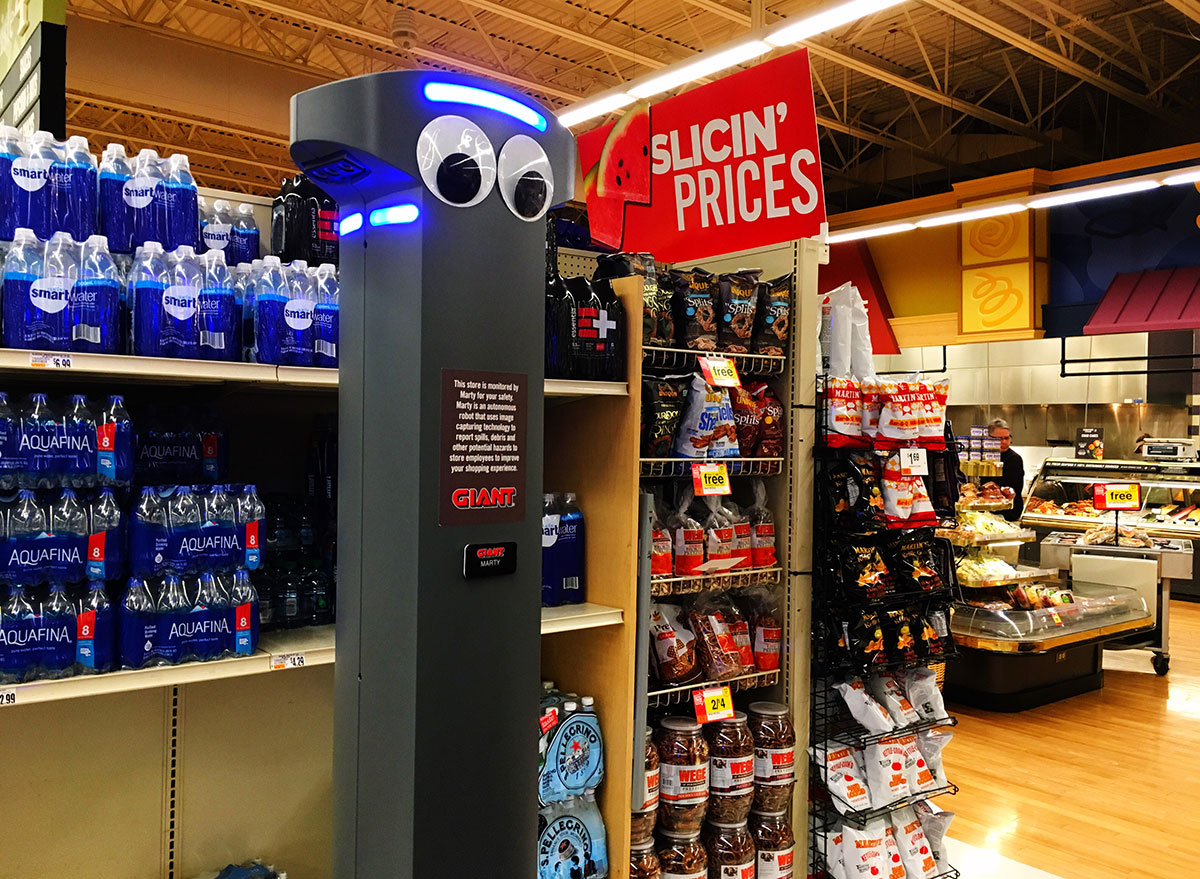 Having less foot-traffic in the store is an important way to decrease the risk of coronavirus spreading among customers and employees. This means having fewer employees actually in the aisles of the store may be wise. While the use of robots is already common in stores like Walmart and Stop & Shop, customers may start seeing more of these robots as a matter of safety. These robots scan the shelves of the store in order to evaluate food on the shelves and any that need restocking, so those handling inventory can get a proper count of the food they have, and what needs to be reordered.6254a4d1642c605c54bf1cab17d50f1e
STAY INFORMED: Sign up for our newsletter to get the latest coronavirus foods news delivered straight to your inbox.
Fewer self-serve stations (or maybe none at all).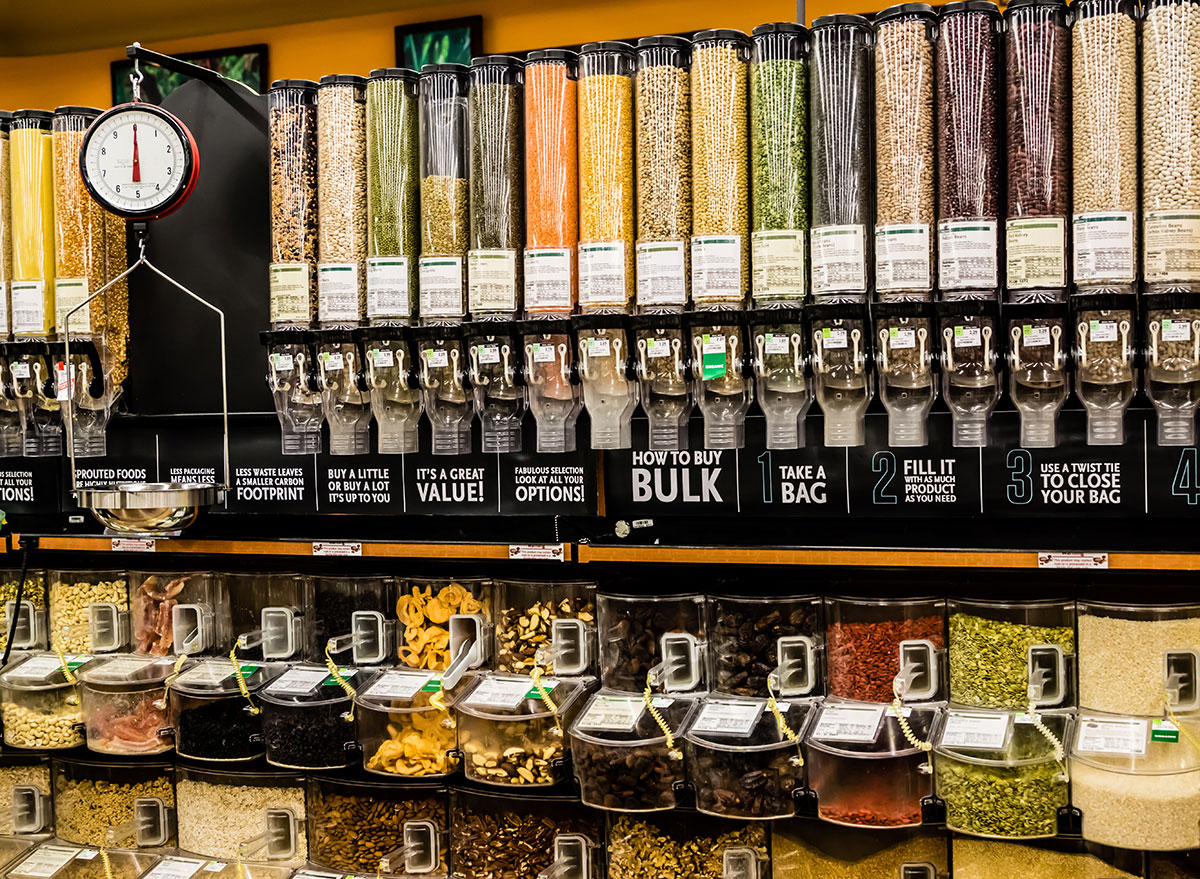 Sadly, self-serve stations are breeding places for bacteria. Between open food hanging out in large areas and shared appliances (such as serving spoons), self-serve stations are still a high-risk for catching any kind of disease, including COVID-19. As stores open back up, keep in mind that it may be a while until your favorite self-serve salad and hot food bar are open, or even those bulk bins. Or for some stores, it may be scrapped altogether while premade meals are sold prepackaged in refrigerators or warmers instead.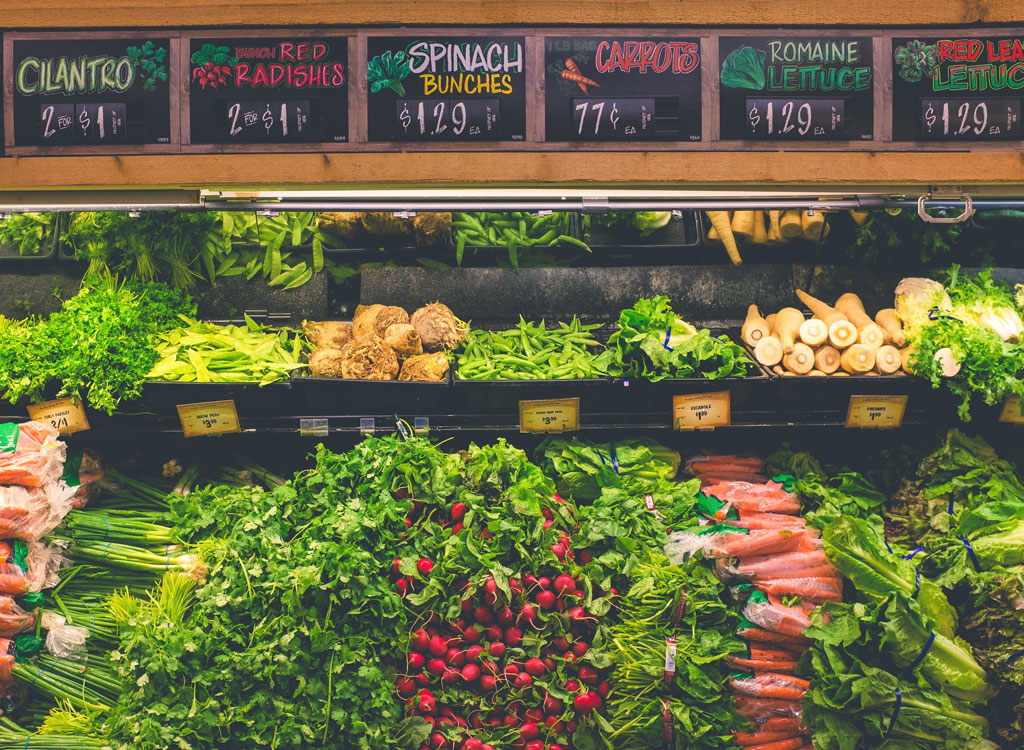 Even if you shop at major supermarkets, it's likely that the available shelves at the grocery store will shrink. Why? Because of the increased interest in ordering groceries online. According to data published by Rakuten Intelligence, online grocery ordering is up 150 percent year-over-year, which is a huge jump compared to Instacart's predicted 20 percent increase they estimated to happen over the next five years. With so many more customers experiencing the convenience and luxury of having groceries delivered to your doorstep, it's likely that stores will start to expand warehouses to fulfill online orders and offer less food in-store. While this is still a prediction, you may find yourselves facing smaller stores (and a smaller shelf selection) in the future.