HALO Sport Is the No-Added-Sugar Hydration Drink With a Surprising List of Good-For-You Ingredients
This organic sports drink is like nothing else on the market.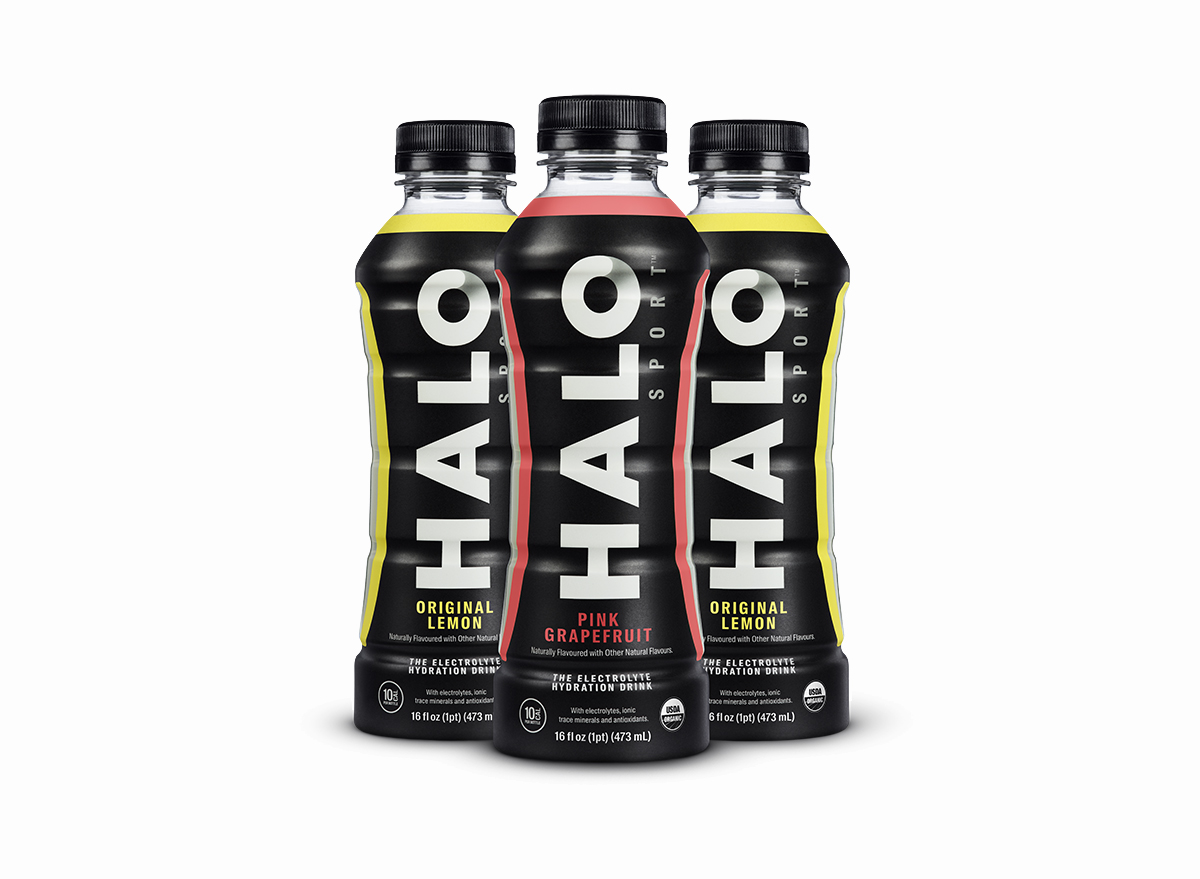 In partnership with HALO Sport
As we've all learned, many sports drinks on the market only sound healthy in theory. In reality, these radioactively-colored concoctions are often really bad for you. Though packed with electrolytes, they can also be loaded with added sugars, artificial dyes, calories, and additives.
It made us wonder: What if someone introduced a healthier, more effective drink that doubled-down on the good aspects of sports drinks and left out the bad?
Well, we'd like to introduce you to HALO Sport, a shockingly tasty new drink for wellness warriors developed by entrepreneurs Anshuman Vohra and Robin Shobin.
A few years ago, Vohra—the founder of the high-end spirits company called Bulldog Gin—competed professionally on the European tennis circuit, where he bemoaned the fact that there were no great-tasting, low-sugar sports drinks on the market. So, after selling Bulldog Gin in 2017, he teamed up with Shobin, the creator of the digital beauty and wellness site Charlotte's Book, to fill the void.
The pair worked on the patent-pending formula for two years, enlisting the help of an impressive roster of nutritionists and medical experts, including registered dietitian Keri Glassman, sports nutritionist Mitzi Dulan, integrative medicine doctor Amy Shah, Parsley Health founder Dr. Robin Berzin, professional athlete Brendan Harris, and heart specialist Dr. Jonathan Menachem.
The result is a bottled drink that is certified-organic, vegan-friendly, packed with electrolytes, and low in calories (it contains less than you'll find in a bottle of coconut water). Furthermore, each bottle contains exactly zero added sugars and artificial coloring, and comes packed with both antioxidants and trace minerals.
Intrigued? We were, too. We got our hands on a few bottles to give them a test run, and here's everything we learned.
6254a4d1642c605c54bf1cab17d50f1e
It has only two grams of sugar—and no added sugar
Typical sports drinks often get their unhealthy reputation from all the added sugar they consist of, but not HALO Sport. In one 16-ounce bottle, there are only two grams of sugar, which are derived from a combination of stevia (a plant-based sweetener) and organic lemon juice.
There are no added sugars—or artificial coloring—hiding here either. Added sugars can wreak havoc on your fitness goals, causing weight gain predominantly in the abdomen region, so that's something you don't have to worry about if you're replenishing after a workout with this drink.
It has just 10 calories per bottle
You can burn off the entirety of this bottle within just one minute (or less) of a single 10-minute HIIT workout. Of course, this varies from person to person, but you get the idea—it doesn't take a lot of effort to scorch off a mere 10 calories! Other sports drinks can get up to three-digit calories per bottle, so in comparison, 10 calories is a better bet for your body.
Antioxidants give it a big boost
Antioxidants are crucial for fending off oxidative damage to our cells. Antioxidants naturally occur in nutrient-dense food and beverages, and they are also found in this drink, along with vitamins A, C, and E.
Vitamin A is a fat-soluble vitamin that helps to support a healthy immune system and also aids your vision. Vitamin C is a water-soluble vitamin that also helps to boost immunity, whereas vitamin E, a fat-soluble vitamin, may help prevent the onset of coronary heart disease.
It harnesses the power of an ancient Ayurvedic ingredient
Perhaps the most powerful antioxidant HALO Sport has is amla berries, also known as Indian gooseberries. This berry is a popular fruit in Ayurvedic medicine, and studies have shown that the amla berry can help reduce inflammation in the body. It'll be exactly what you need after a long, tough workout.
It sources trace minerals from the Great Salt Lake of Utah
HALO Sport drinks also contain a large spectrum of trace minerals, all of which are harvested from the Great Salt Lake of Utah. We only need a small amount of trace minerals, which are elemental compounds found in food that provide your body with both long-and short-term health benefits.
For example, in the short run, sufficient calcium intake actually prevents muscles from cramping, which helps you to continue blasting through your workout with zero interruptions. Plus, over time, calcium works in conjunction with phosphorus and magnesium to maintain bone and cartilage health, so you can work on keeping your body strong for years to come.
You might not realize how much your body actually needs those trace minerals
Trace minerals are actually pretty important to our daily lives, and the ones you're probably most familiar with include copper, fluoride, manganese, iodine, selenium, iron, and zinc—all of which are vital for optimal health. You'll get these important trace minerals in a bottle of HALO Sport.
If you're used to sports and hydration drinks being flavored by color (how often have you said "My favorite flavor is the blue one?" without even knowing the specific flavor you actually like?), get ready for an intervention.
HALO Sport comes in original lemon, pink grapefruit, and lime flavors, so there's no guessing what you're drinking anymore. The light and refreshing taste won't overpower you either, so you can keep sipping to stay hydrated. We know water can get boring, so these three invigorating, fun flavors are a very welcome addition to our gym bags and our palates.
So, the next time you break a sweat and need to replenish, think of refueling your body with this 10-calorie electrolyte drink that's packed with antioxidants and trace minerals. Who knew a hydration drink could offer so much?