The Best & Worst Menu Items at Hardee's
We consulted a registered dietitian and found out which items you should steer clear of, as well as which ones you should order instead.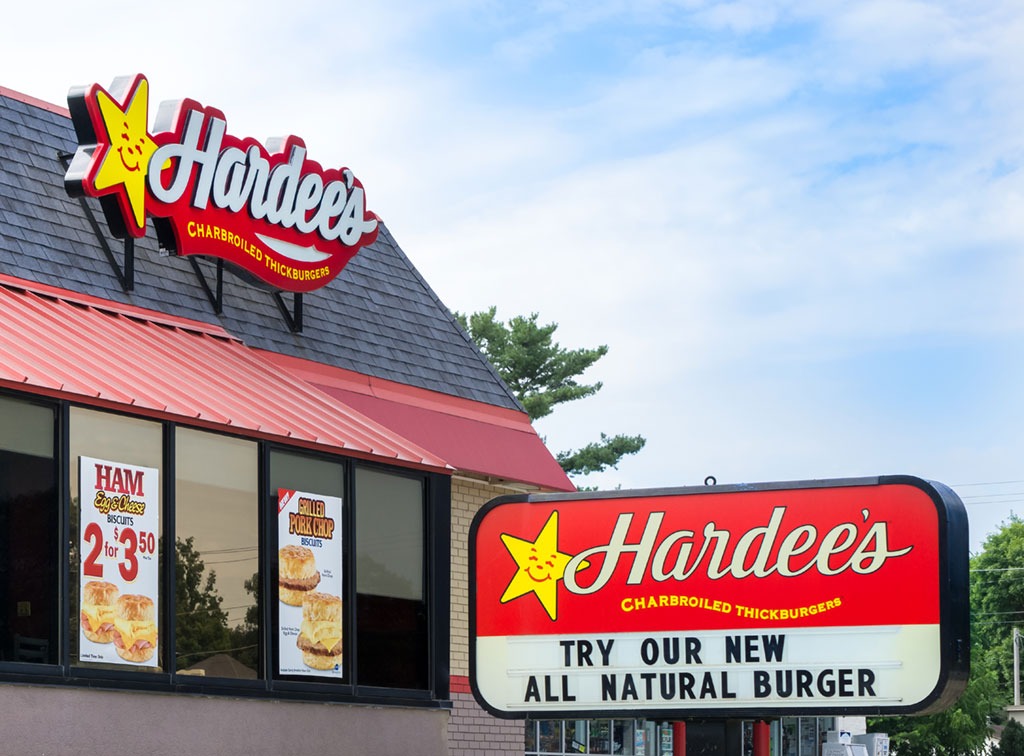 Hardee's is not your typical fast food restaurant because it offers anything from bacon-stacked Angus burgers to quesadillas to curly fries. With such an expansive menu, we chose to showcase just a few of the best and worst menu options you may order at the chain. With the help of Patricia Bannan, MS, RDN, and LA-based nutritionist and healthy cooking expert, we concluded some of the best and worst Hardee's menu options.
Here's a breakdown of the best and worst Hardee's menu items you should and shouldn't order.
Charbroiled Burgers
Worst: 2/3 LB. Monster Thickburger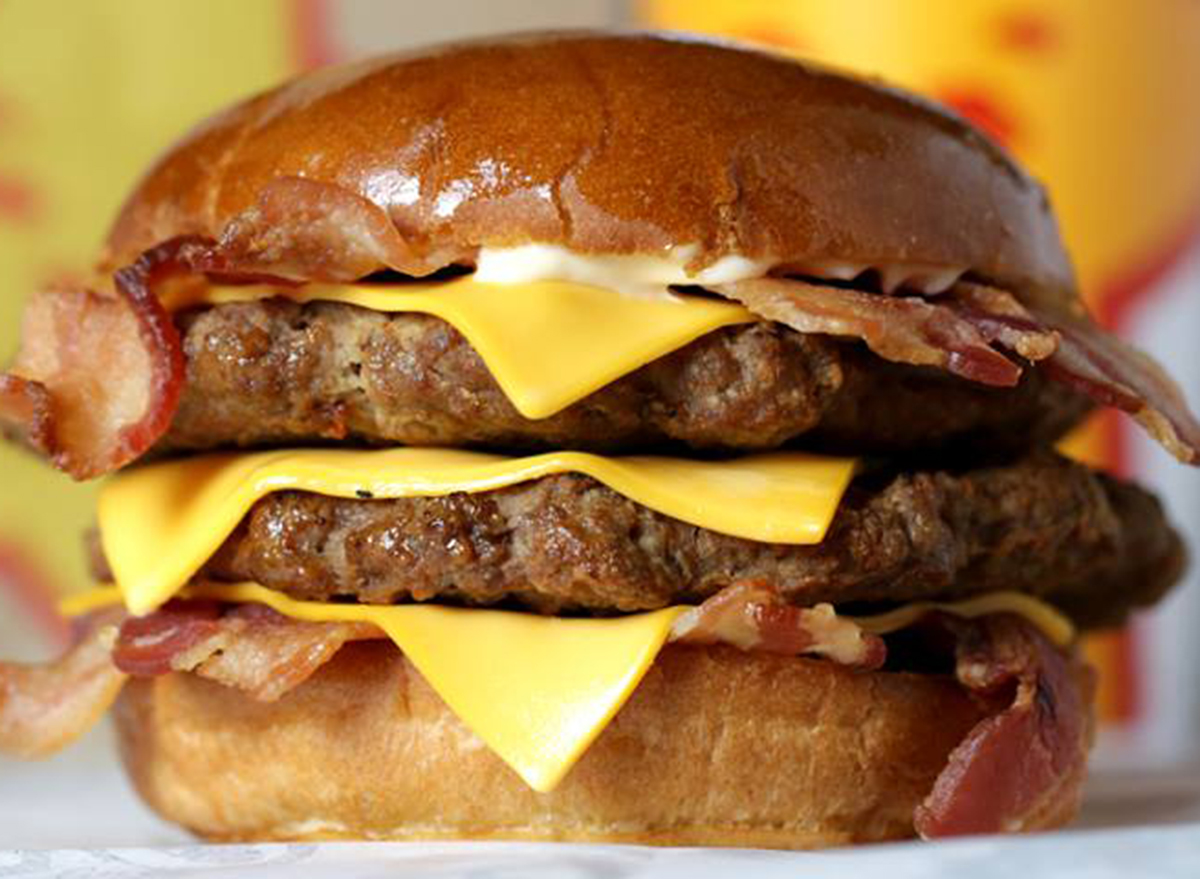 1,300 calories, 90 g fat (33 g saturated fat, 4 g trans fat), 3,140 mg sodium, 53 g carbs (2 g fiber, 13 g sugar), 76 g protein
Feast your eyes on this behemoth sandwich, which comprises two 1/2 lb. beef patties, which are layered with three slices of American cheese and four strips of bacon that are all sandwiched between a bun that's slathered with mayonnaise.
According to the Cleveland Clinic, if you abide by a 2,000-calorie-per-day diet, you shouldn't consume more than 22 grams of saturated fat per day, or about 10 percent of calories. However, for those who have high LDL cholesterol levels (the harmful kind), the daily intake drops to 7 percent or about 16 grams of saturated fat.
So if you strive to only devote 7 percent of your daily calories to saturated fat, "This burger contains over double the daily recommendation for saturated fat, and more than the daily recommendation for sodium," says Bannan. For perspective, the recommended daily allowance for sodium is 2,300 milligrams per day when following a 2,000-calorie-per-day diet, and this burger alone houses almost 1,000 milligrams over that figure.
Worst: Frisco Thickburger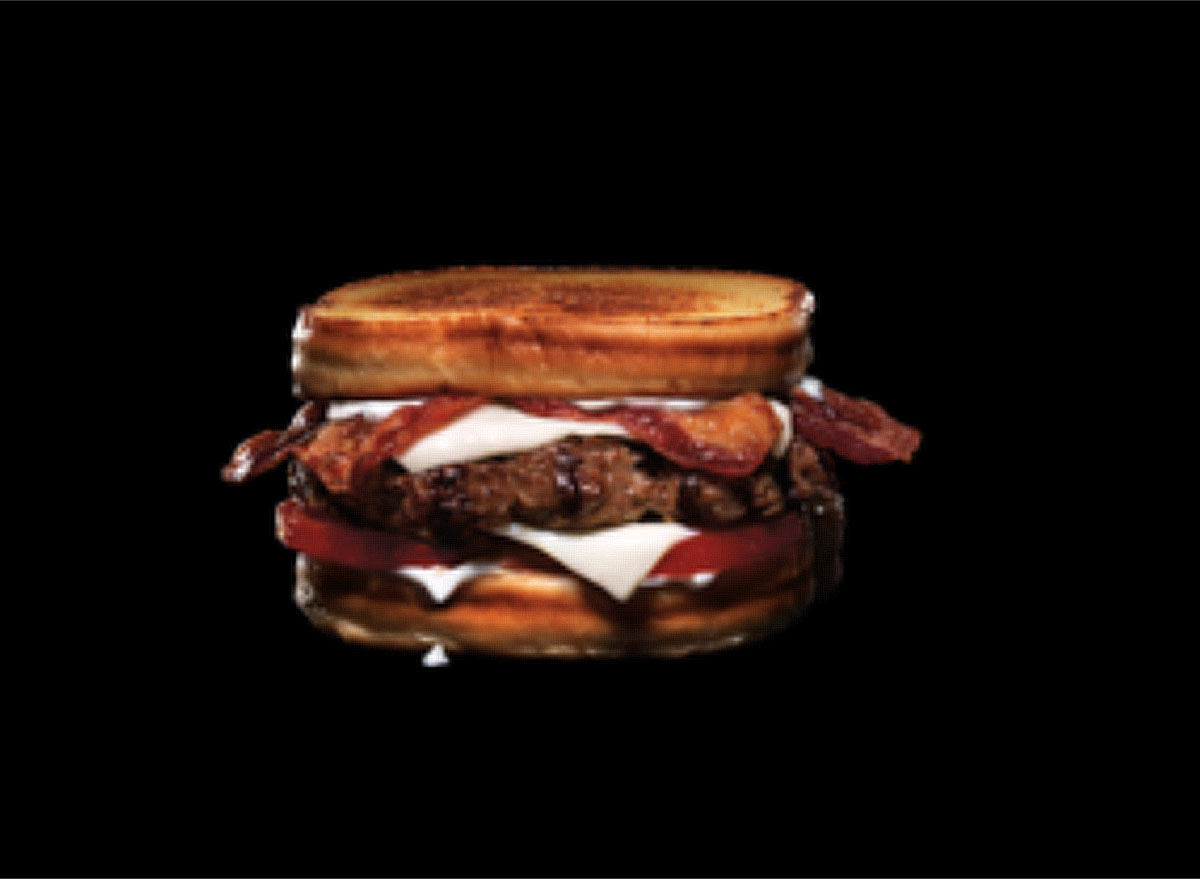 840 calories, 55 g fat (19 g saturated fat, 2 g trans fat), 2,140 mg sodium, 46 g carbs (3 g fiber, 7 g sugar), 43 g protein
While not as caloric as the monster Thickburger, this burger is still thick with animal protein. A beef patty is stacked with bacon, melted Swiss cheese, mayonnaise, and tomato, and smushed between toasted sourdough. Even though it contains half of the meat of its monster cousin, it still will wipe out nearly all of your day's worth of sodium and your entire allotment of saturated fat if 16 grams is your maximum.
Best: 1/4 LB. Cheeseburger
440 calories, 23 g fat (9 g saturated fat, 1 g trans fat), 1,320 mg sodium, 37 g carbs (2 g fiber, 12 g sugar), 23 g protein
This is definitely a healthier route to go, with only 1/4 pound of meat as opposed to 2/3 lb or even 1/3 lb. The sodium content is still high in this menu item, as is the sugar content. The main source of sugar in this meal is the ketchup. One tablespoon of Heinz ketchup, for example, contains 4 grams of sugar.
Best: Double Cheeseburger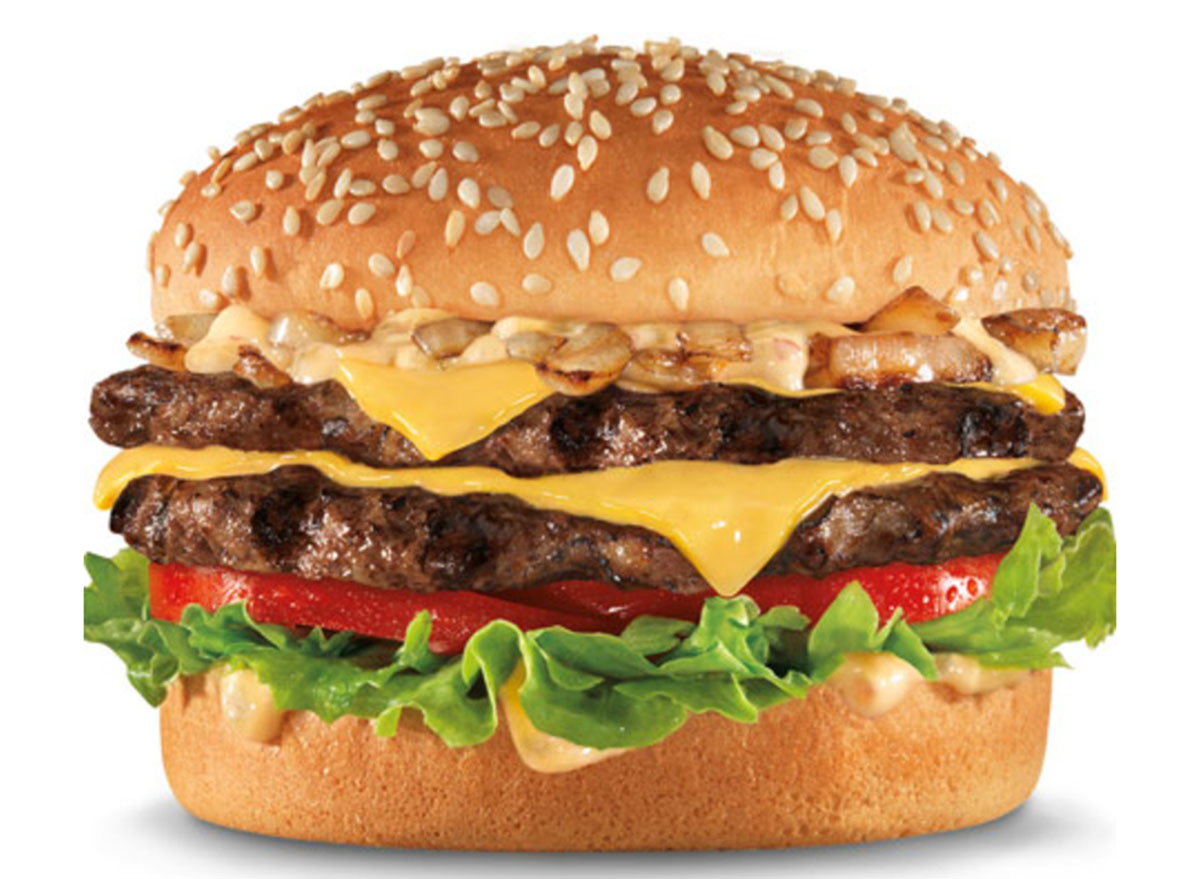 380 calories, 19 g fat (5 g saturated fat, 1 g trans fat), 810 mg sodium, 33 g carbs (1 g fiber, 5 g sugar), 18 g protein
Even better than the quarter-pounder is Hardee's double cheeseburger, not to be confused with the classic double cheeseburger, which clocks in at 610 calories.
"This option has less than half the saturated fat of the Monster Thickburger," says Bannan, which makes this burger a much more sensible choice. Even more impressive is the slash in sodium—with 500 milligrams less than the quarter pounder.
One teaspoon of salt is equivalent to 2,300 milligrams, so 500 milligrams is less than 1/4 teaspoon. While this doesn't sound like a lot, a little salt goes a long way and adds stress to the heart. The fact that the quarter pounder contains about a 1/4 teaspoon more sodium than the double cheeseburger for only 60 calories more is a bit jarring. This is the best burger you can get at Hardee's.
Chicken Options
Worst: Charbroiled Chicken Club Sandwich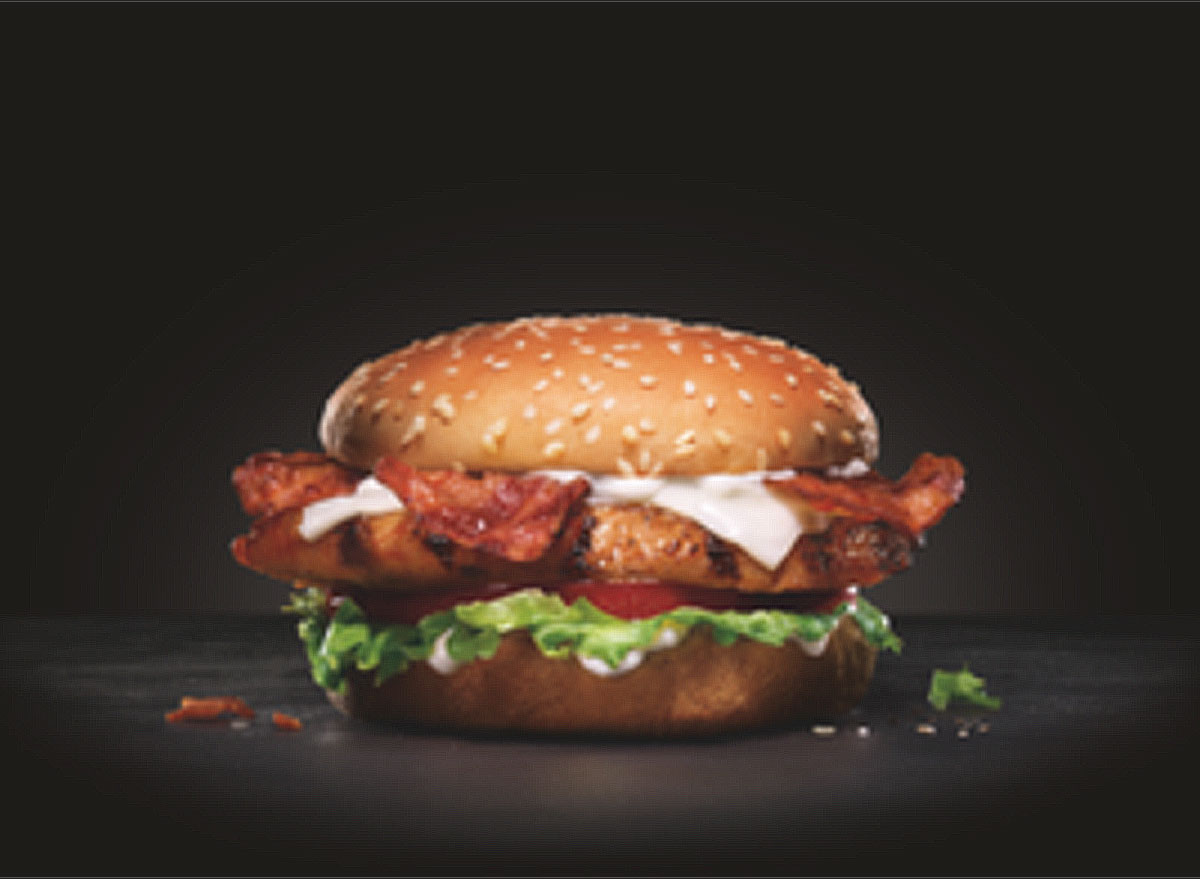 560 calories, 28 g fat (8 g saturated fat, 0 g trans fat), 1,680 mg sodium, 38 g carbs (2 g fiber, 13 g sugar), 37 g protein
"Surprisingly, this sandwich packs in a full tablespoon of sugar, and almost a day's worth of sodium," says Bannan. Between the marinade on the chicken and the honey-wheat bun, this seemingly unsweet burger packs 13 grams of sugar. If you want something that's actually sweet, but with fewer calories, fat, and sodium, you may want to consider ordering the BBQ sandwich below.
Best: Charbroiled BBQ Chicken Sandwich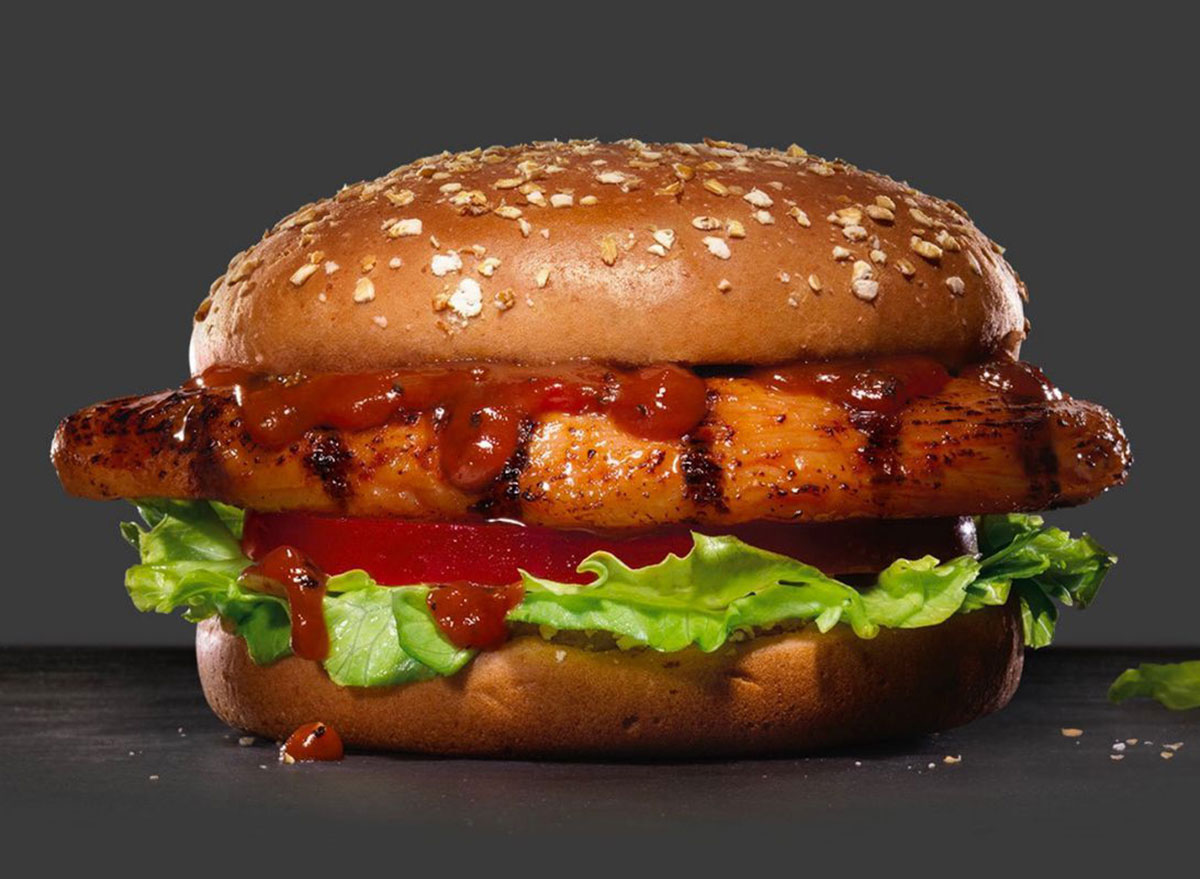 350 calories, 6 g fat (1 g saturated fat, 0 g trans fat), 1,210 mg sodium, 46 g carbs (2 g fiber, 19 g sugar), 27 g protein
While this burger includes as much sugar as the Original Filled Chocolate Kreme Doughnut from Krispy Kreme, it comprises less than half of the fat of the chicken club sandwich and virtually no saturated fat. Bannan likes how this chicken is low-in-fat but high in protein at 27 grams. This Hardee's menu item will help you stay full until dinner without costing you an inordinate amount of calories.
Best: 3-piece Hand-Breaded Chicken Tenders
260 calories, 13 g fat (2.5 g saturated fat, 0 g trans fat), 770 mg sodium, 13 g carbs (2 g fiber, 0 g sugar), 25 g protein
Not that we condone consuming fried foods on a regular basis, but this is interesting to point out. Three chicken tenders from Hardee's only comprise 770 milligrams of sodium (less than any menu item listed thus far) and offer 25 grams of protein. While it's high in fat for its small size, if you pair this meal with a side salad, you could make it into a light lunch. We all have cravings for fried food sometimes, right? Here's a healthier way to satisfy that hankering without derailing your diet.
Better For You Options
Worst: Low Carb It—1/3 LB Low Carb Thickburger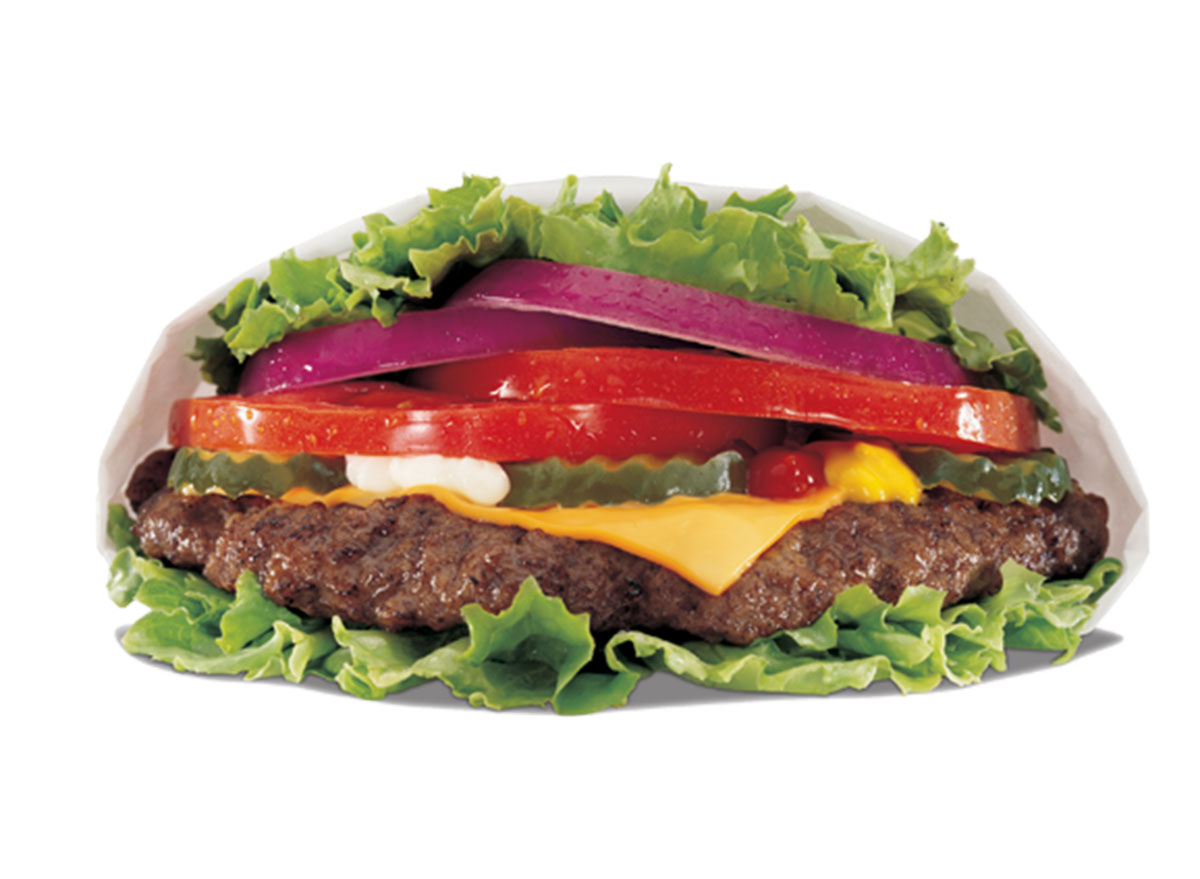 470 calories, 36 g fat (13 g saturated fat, N/A g trans fat), 1,170 mg sodium, 9 g carbs (1 g fiber, 5 g sugar), 22 g protein
For a supposed "better for you option," this menu item still contains 13 grams of saturated fat—which is nearly all of your daily allowance if you're aiming to consume just 16 grams a day maximum. You can pick a much more health-conscious selection than this one at Hardee's.
Best: Low Carb It—Charbroiled Chicken Club Sandwich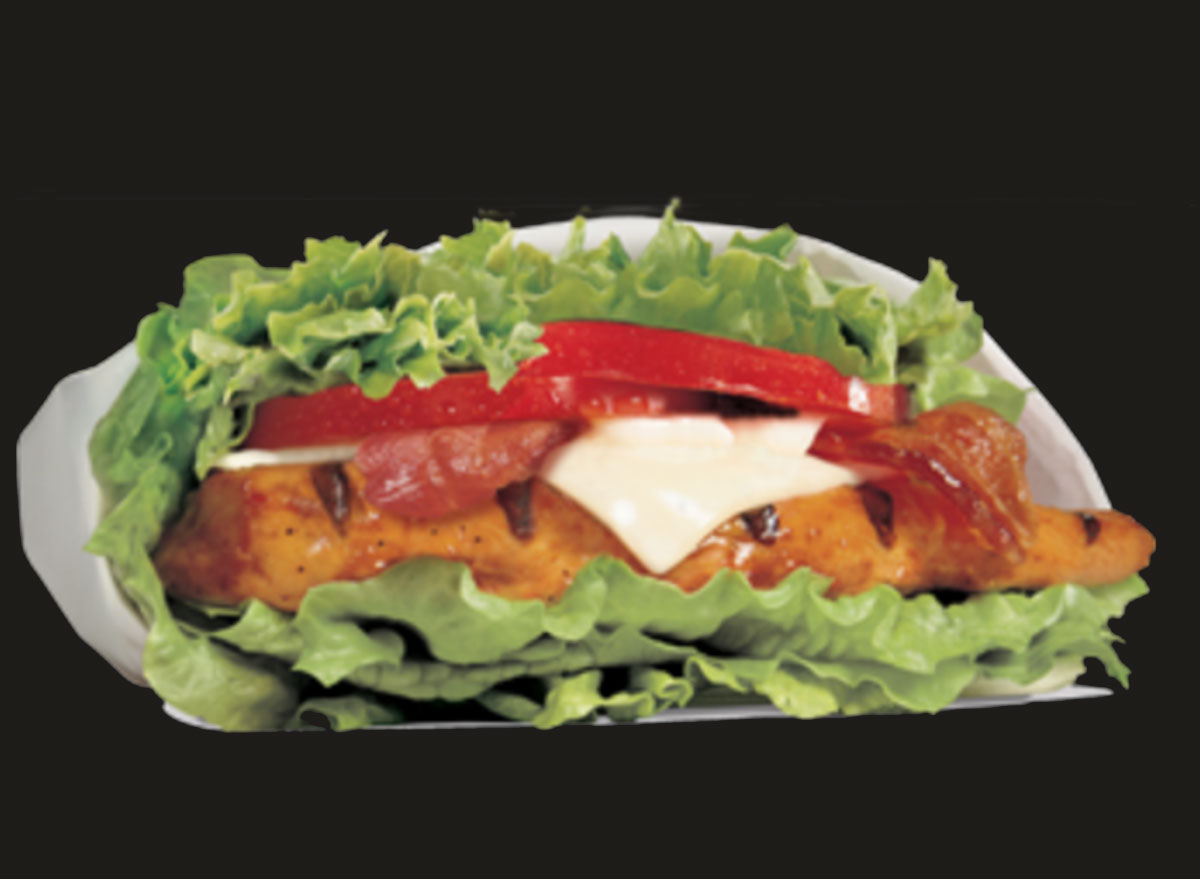 6254a4d1642c605c54bf1cab17d50f1e
340 calories, 22 g fat (7 g saturated fat, N/A g trans fat), 1,230 mg sodium, 13 g carbs (1 g fiber, 8 g sugar), 24 g protein
Now, this is what we're talking about. The only major pitfall to this menu item is its sodium content, but at least the saturated fat content is cut in half!
Best: Trim It. Charbroiled BBQ Chicken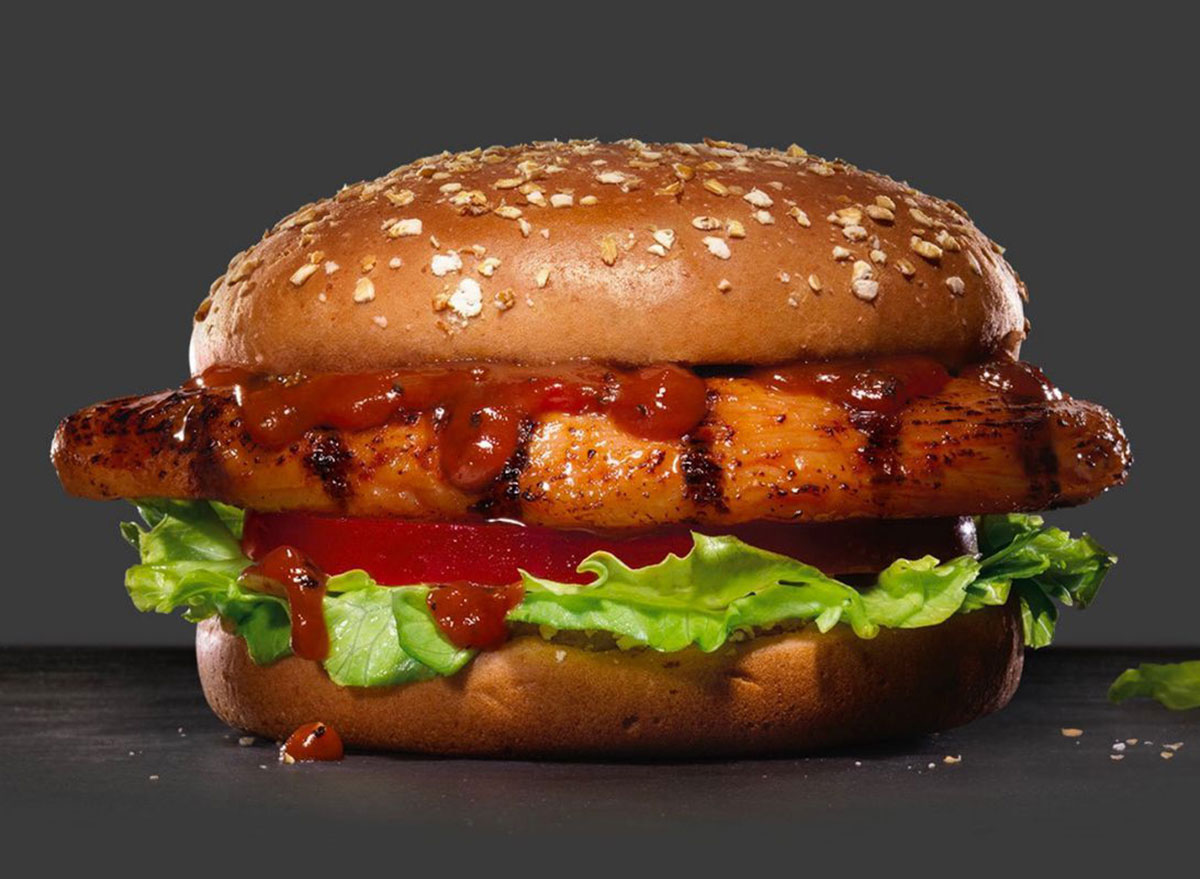 190 calories, 30 g fat (1 g saturated fat, N/A g trans fat), 910 mg sodium, 24 g carbs (1 g fiber, 11 g sugar), 18 g protein
Imagine this sandwich without the bun and instead wrapped in lettuce. Removing the bun cuts out 22 grams of carbs and 8 grams of sugar.
"This sandwich is a lower-calorie option that is also super low in saturated fat, and provides 18 grams of protein," says Bannan.
Red Burrito Options
Worst: Taco Salad—Chicken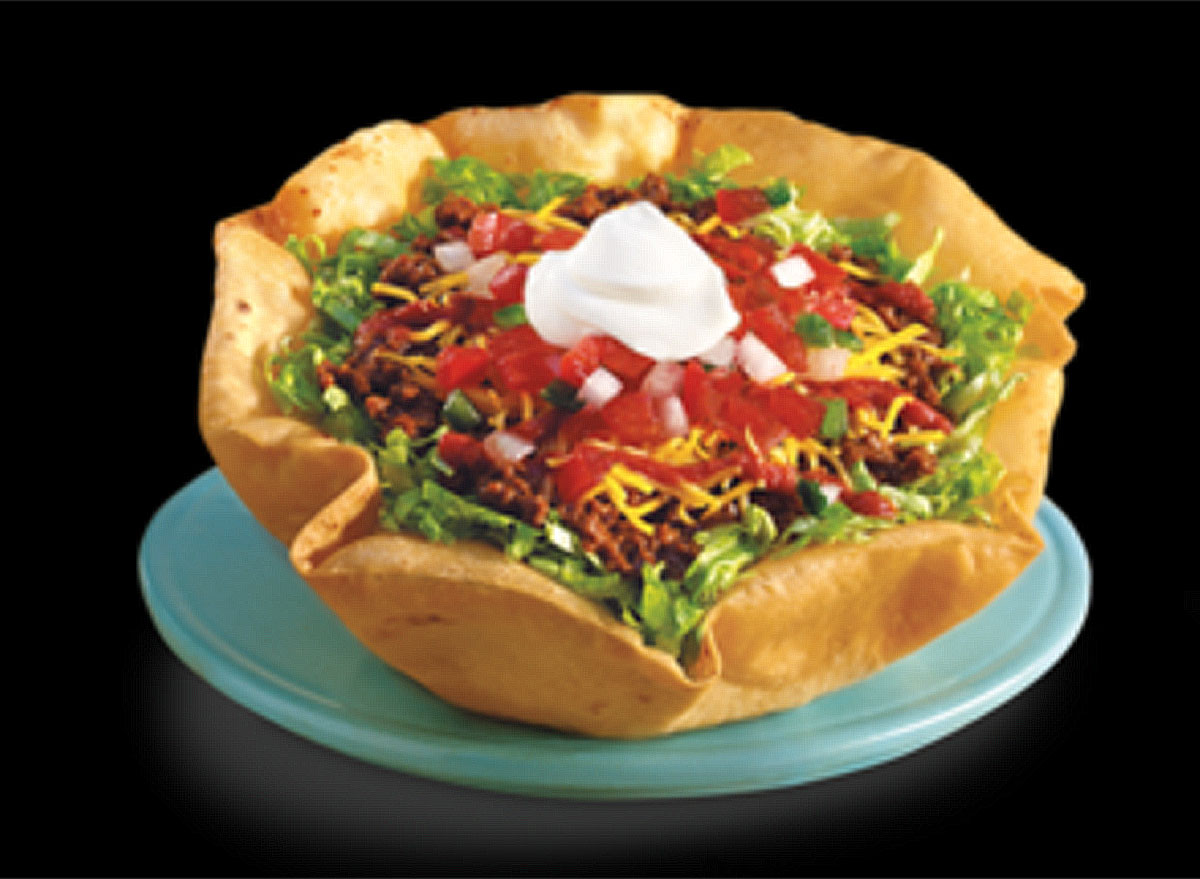 960 calories, 51 g fat (15 g saturated fat, 4.5 g trans fat), 2,080 mg sodium, 74 g carbs (7 g fiber, 5 g sugar), 50 g protein
One of the worst items on the entire Hardee's menu is the taco salad. The chicken variety is the most caloric and costs you 4.5 grams of trans fat, which is the most detrimental to your health.  With 15 grams of saturated fat and more than 2,000 milligrams of sodium, you might as well just order a burger instead.
"A salad may sound like a healthier option, but the fried tortilla bowl, cheddar cheese, and sour cream add nearly a day's worth of sodium, fat, and saturated fat all in one bowl," says Bannan.
Best: Red Burrito Chicken Bowl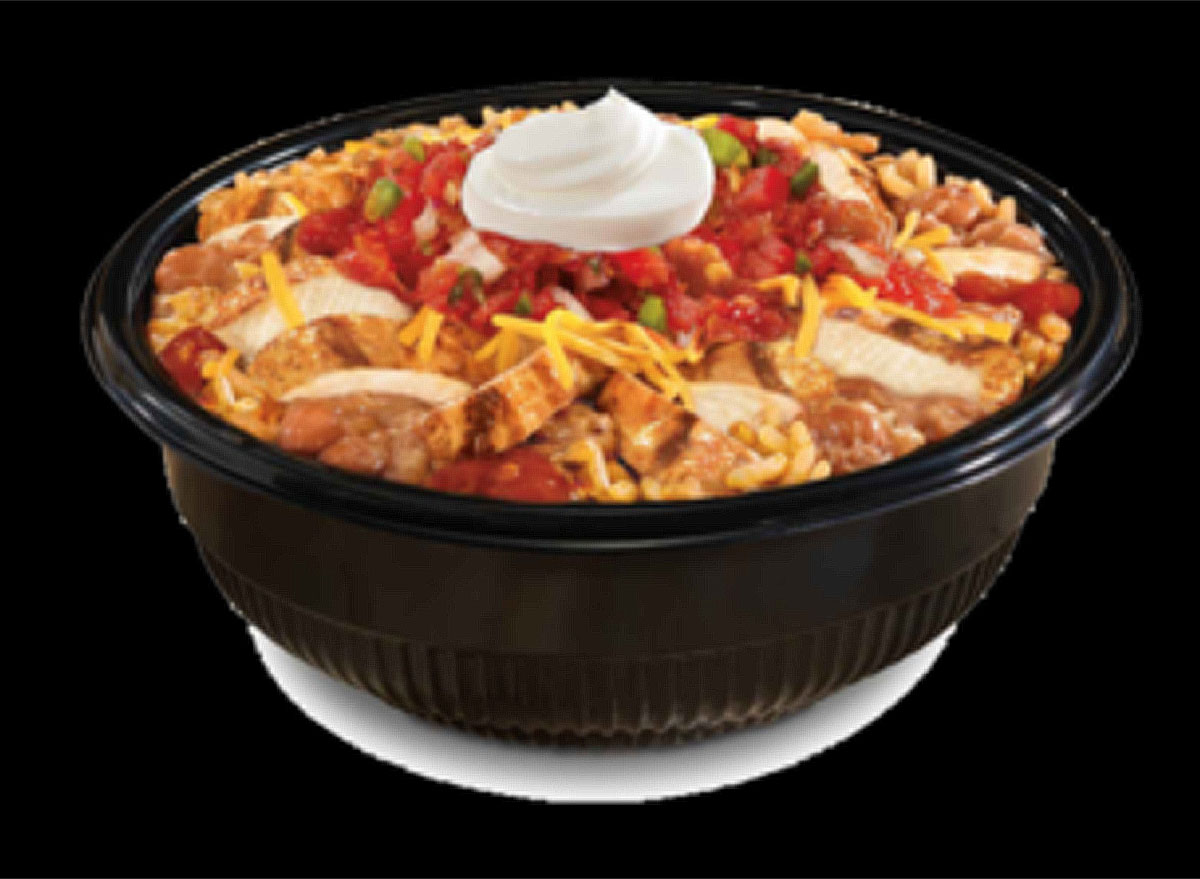 430 calories, 11 g fat (3 g saturated fat, N/A g trans fat), 1,370 mg sodium, 55 g carbs (5 g fiber, 4 g sugar), 27 g protein
"This bowl is low in saturated fat while offering fiber and protein for satiety," says Bannan. Just be wary of that sodium content! What would make this bowl better is a serving of vegetables, similar to what you would get in a burrito bowl from Chipotle.
Sides
Worst: Crispy Curls—Large
570 calories, 28 g fat (7 g saturated fat, 1 g trans fat), 1,420 mg sodium, 72 g carbs (6 g fiber, 0 g sugar), 7 g protein
The absolute worst side you could order off the Hardee's menu is without a doubt the large crispy curly fries. Bannan says, "A serving of these alone contains a quarter of your daily calorie needs, without factoring in your main entrée."
Best: Side Salad
120 calories, 7 g fat (4.5 g saturated fat, 0 g trans fat), 470 mg sodium, 45 g carbs (3 g fiber, 5 g sugar), 3 g protein
"Lower in calories and higher in fiber than most sides, the salad can help fill you up without adding much saturated fat or calories."
Order this with any of the "best" items above for a healthier meal! Think about it this way: if you're going to order a side, skip the fries and go for the lighter fare.