You've Got to Try the Festive Health-Ade Holiday Cheers Kombucha
It's fun, fizzy, and great for your gut.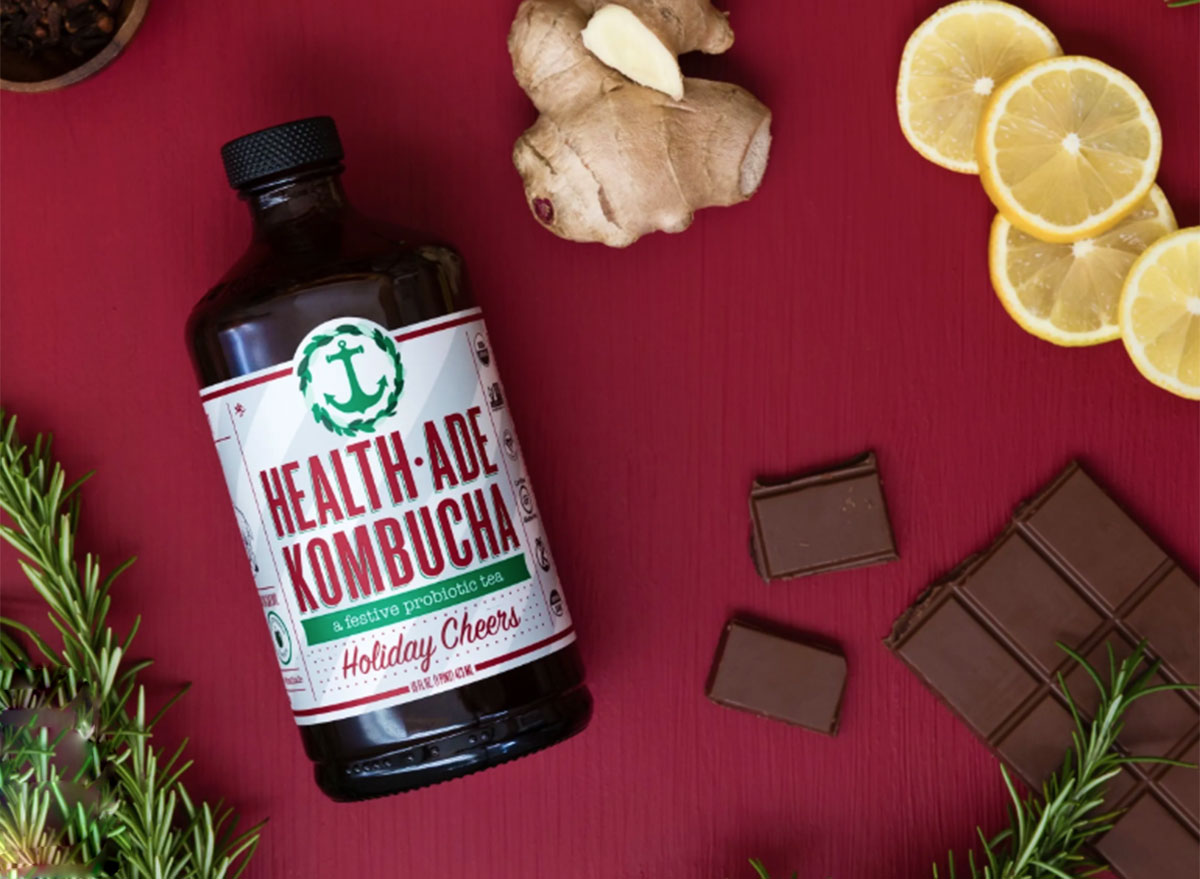 There's a lot to look forward to around the holiday season, like celebrating with loved ones, reveling in cozy sweater weather, and indulging in pumpkin- and peppermint-flavored everything. But why is it that we never associate celebration or indulgence with our health? Yes, you can still be festive and make smart decisions for your health over the holidays. The most fun way to get into the holiday spirit? Sipping on Health-Ade's new Holiday Cheers Kombucha.
We totally get that it's the time of year for holiday cookies, indulgent treats, hearty meals, and more holiday parties than you can count. After all, the most wonderful time of the year only comes around, well, once a year. However, being mindful of the treats we're feeding our bodies should be something we practice year-round, not something we push off until January, so why not start at the holiday table?
First off, what is kombucha?
Kombucha is definitely one of those buzzwords you've heard floating around recently, or you've probably seen it all over Instagram on foodie and wellness accounts. To the naked eye, the fizzy drink looks a lot like some sort of soda/alcohol hybrid, but kombucha is neither soda nor a cocktail. It is, however, a carbonated beverage, and it does contain a small percentage of alcohol (most brands have less than 0.5% ABV so they can still be sold on shelves as non-alcoholic drinks). Basically, 'booch is just as tasty as the other beverages you love, but with an added bonus: One serving is incredibly beneficial to your gut.6254a4d1642c605c54bf1cab17d50f1e
What are the health benefits of kombucha?
According to Grace Derocha, a registered dietitian, certified diabetes educator, and certified health coach at Blue Cross Blue Shield of Michigan, because kombucha is a fermented tea made with SCOBY, aka symbiotic cultures of bacteria and yeast, the beverage is swarming with healthy probiotics, plus antioxidants and polyphenols. "[Probiotics] help you control harmful bacteria, while increasing the production of certain vitamins and minerals, such as vitamin K, B12, B5, and biotin," she says. "As a result, probiotics can improve digestive health, decrease inflammation, boost immunity, and in some cases, may even aid in weight loss."
The newest Health-Ade kombucha flavor is perfect for the holidays
There's an array of brands and flavors of 'booch to choose from, but if you're looking to add a healthier twist to your celebratory sips, you'll want to try Health-Ade's Holiday Cheers limited-edition kombucha. It literally encompasses everything merry and bright. Not only is the seasonal brew good for you, but the brand has harmonized notes of ginger, cloves, allspice, and chocolate into their original base formula. The end result? A bottle that combines holiday flavors with your new year, healthier you resolutions. All the more reason to start early, right?
The Health-Ade Holiday Cheers Kombucha is available now nationally for a limited time through the holiday season. Bottles and cases are available at the Health-Ade site, and you can also search the site for a store that carries the brand near you.