17 Secrets Every Holiday Party Host Needs to Know
From food to drink to everything in between, these are the tricks to effortless holiday entertaining.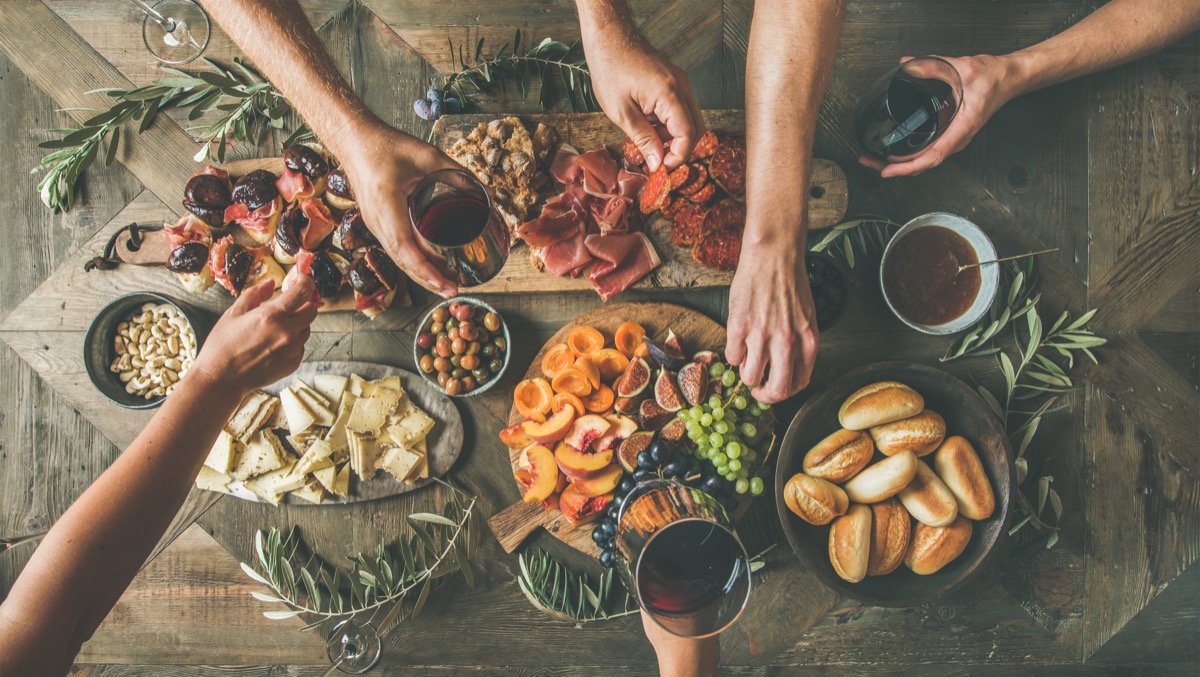 It's finally game time, holiday hosts. That's right, after 11 months, the snowy, celebratory holiday party season is here.
Unfortunately, a lot of stress comes along with it: 61 percent of people feel stressed often or sometimes over the holidays, while 68 percent of us feel irritable, according to a survey performed by the research group Greenberg Quinlan Rosner.
To help things go more smoothly this time around, we turned to two entertaining experts, Mindy Weiss, the owner of Mindy Weiss Party Consultants in Beverly Hills, California, and Edward Perotti, a global event designer in San Francisco, California, for their secrets to party success. From time-savers to showy table-topper ideas, consider this your complete guide to throwing your most memorable and festive fête ever.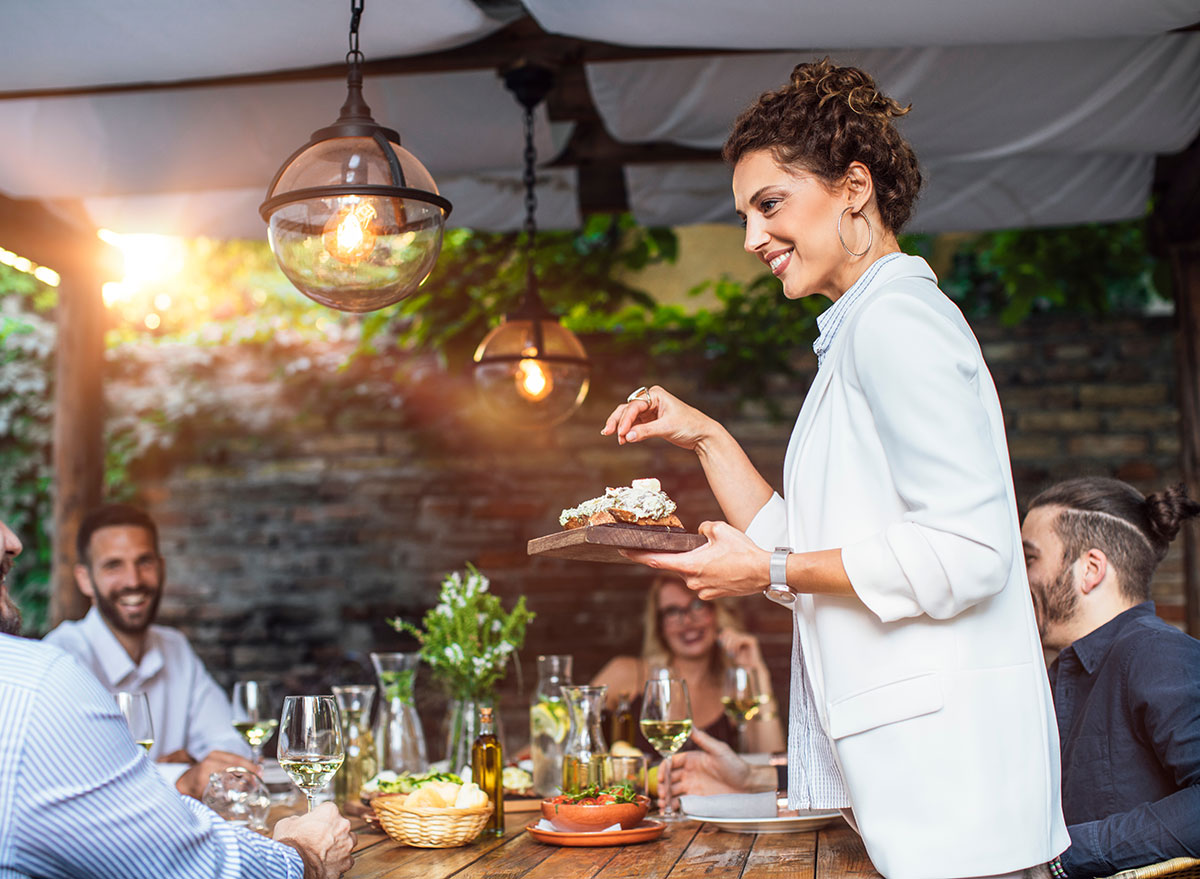 If this is your first time throwing a holiday party, you're crunched for time, or willing to share your vision with others, Perrotti suggests that you "ask for help if you need it! Why not co-host with a friend and divide up the prep work? Or ask guests to bring items for a modified potluck?"
Involve the guests in the preparation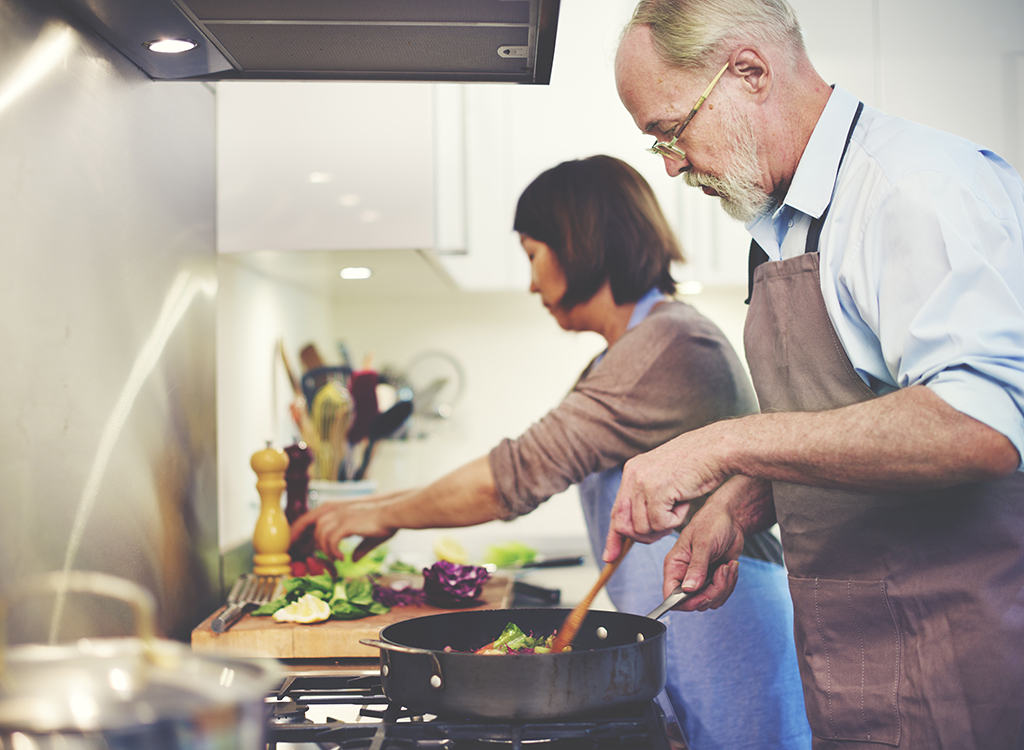 So your "world" is all arranged and friends and family are knocking at the door. Now what? Put them to work! Not only will you have extra sets of hands opening oysters or popping bottles, but you'll also subtly offer an icebreaker for those who don't know each other.
"There's nothing like a bunch of people in a kitchen to crank the energy up. If your guests are engaged with each other, you can't fail," Perotti says.
Because more action leads to more engagement, consider jotting that sangria recipe you found on a notecard and leaving it on the counter alongside the ingredients needed, or prepare a makeshift sushi station to keep the early-arriving guests busy. We can't think of a better (or more efficient!) icebreaker.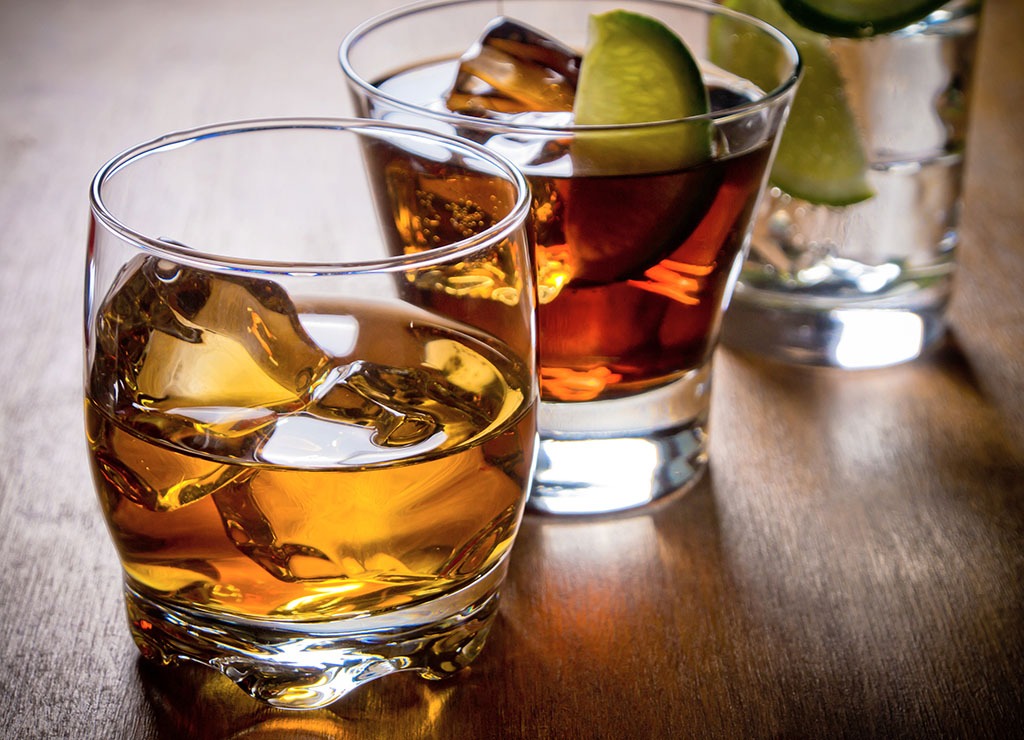 "People love what they love. Don't get too showy with the bar," Weiss says.
Instead, "stock your bar with fan favorites and seasonal garnishes, and let the guests guide their own choices," she says. You don't have to go all-in on an unusual mix-in or exotic spirit to have a good party. The trusty standbys below are sufficient for any party.
In addition to a full ice bucket, cocktail shaker, vegetable peeler, and strainer, fill your bar cart with these holiday party liquors and accoutrements:
Vodka
Gin
Rum
Tequila
Whiskey
Tonic
Club soda
Honey
Fresh lemons and limes
Fresh herbs (such as rosemary, sage, thyme, and mint)
Create one signature cocktail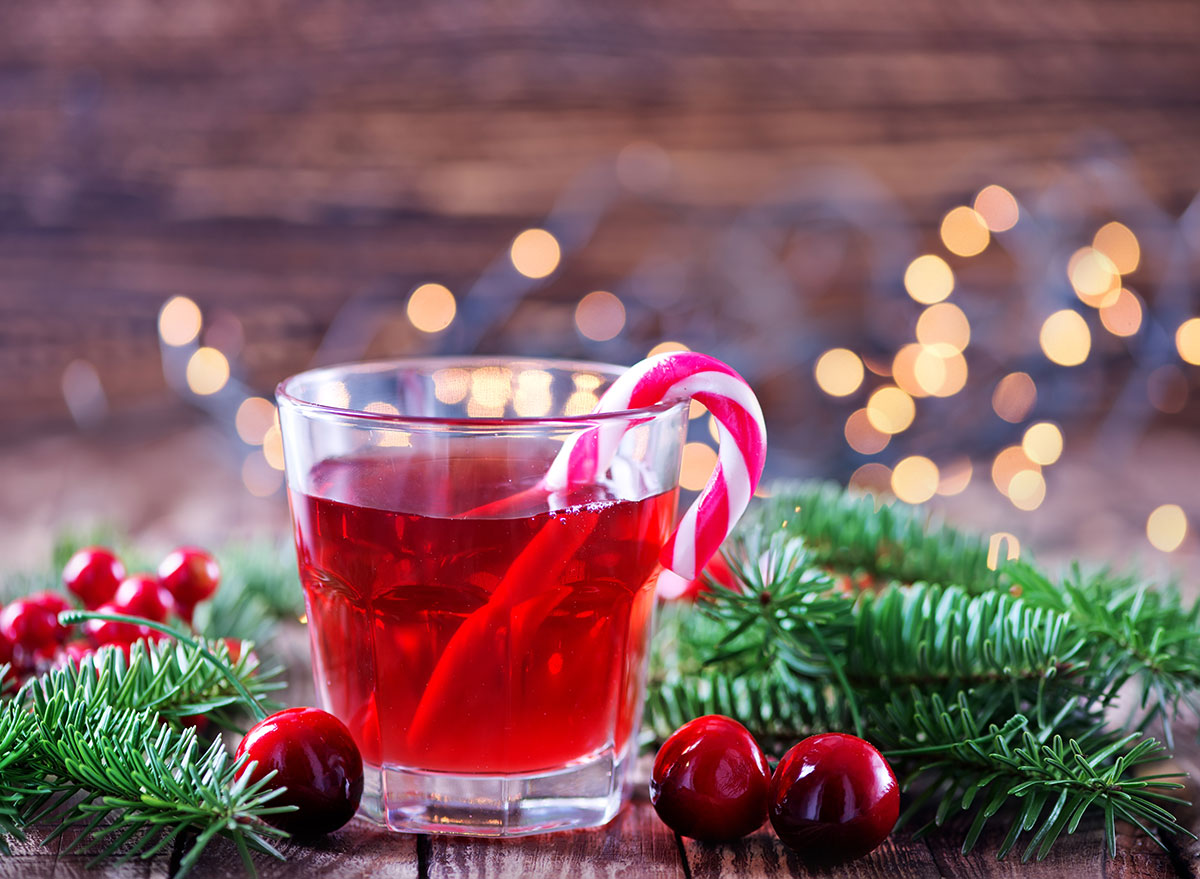 Rather than playing mixologist all night for the less hands-on guests who aren't comfortable shaking up their own mojito, mix up one (yes, just one!) signature drink for your holiday party.
"A specialty drink can be really festive. How about a peppermint bellini?" Perotti asks.
This is an especially smart choice since it can be served punch-style rather than individually. In a large bowl, mix a can of no-sugar-added peaches, pureed, with a bottle of sparkling wine and a handful of fresh mint. Or stir together one of these cozy winter cocktails! Either way, you'll keep things simple and streamlined.
Consider lower alcohol for the rest
You want to give your guests a good time—not a hangover. "Invest in some wine, beer, and sparkling wine. You can never go wrong with a good glass of bubbles," Weiss says, and the latter two are generally fairly low in alcohol by volume (look for ABV on the label).
For beers, steer clear of stouts and double IPAs and you should be safe. Then consider these wine varieties that are typically on the lighter end of the booze strength scale:
Riesling
Pinot Grigio
Gruner Veltliner
Albarino
Vinho Verde
Chianti
Bordeaux
Beaujolais
Cava
Prosecco
Champagne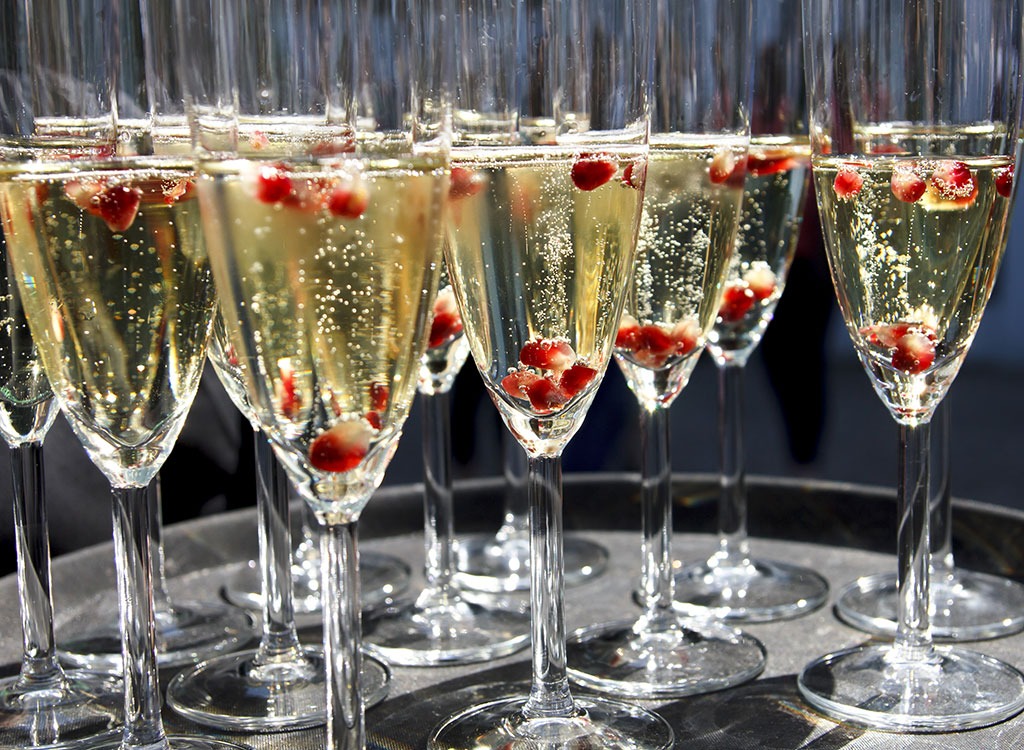 Speaking of Champagne (and all other sparkling wines), you'll look like a pro if you open it like a sommelier. Here's how:
Loosen the wire cage by twisting the rounded end six half-turns.
Keeping the cage on and placing one hand atop the cork, slowly twist the bottle at the base. (Make sure to point the bottle away from any faces in the crowd.)
Continue to gently twist the bottle until you hear a "sigh" from the bottle as the cork releases.
This strategy will preserve the most bubbles—and keep everyone safe from the approximately 80 pounds-per-square-inch of pressure inside the bottle.
6254a4d1642c605c54bf1cab17d50f1e
'Tis the season, so why not dress up your holiday party with the best you've got?
"Pull out your good china and items you wouldn't regularly use, such as wedding gifts, platters, and more formal pieces. Even if it's a casual party, using fine china and nice platters gives the party a luxury feeling immediately," Weiss says.
Calculate the ideal amount of eats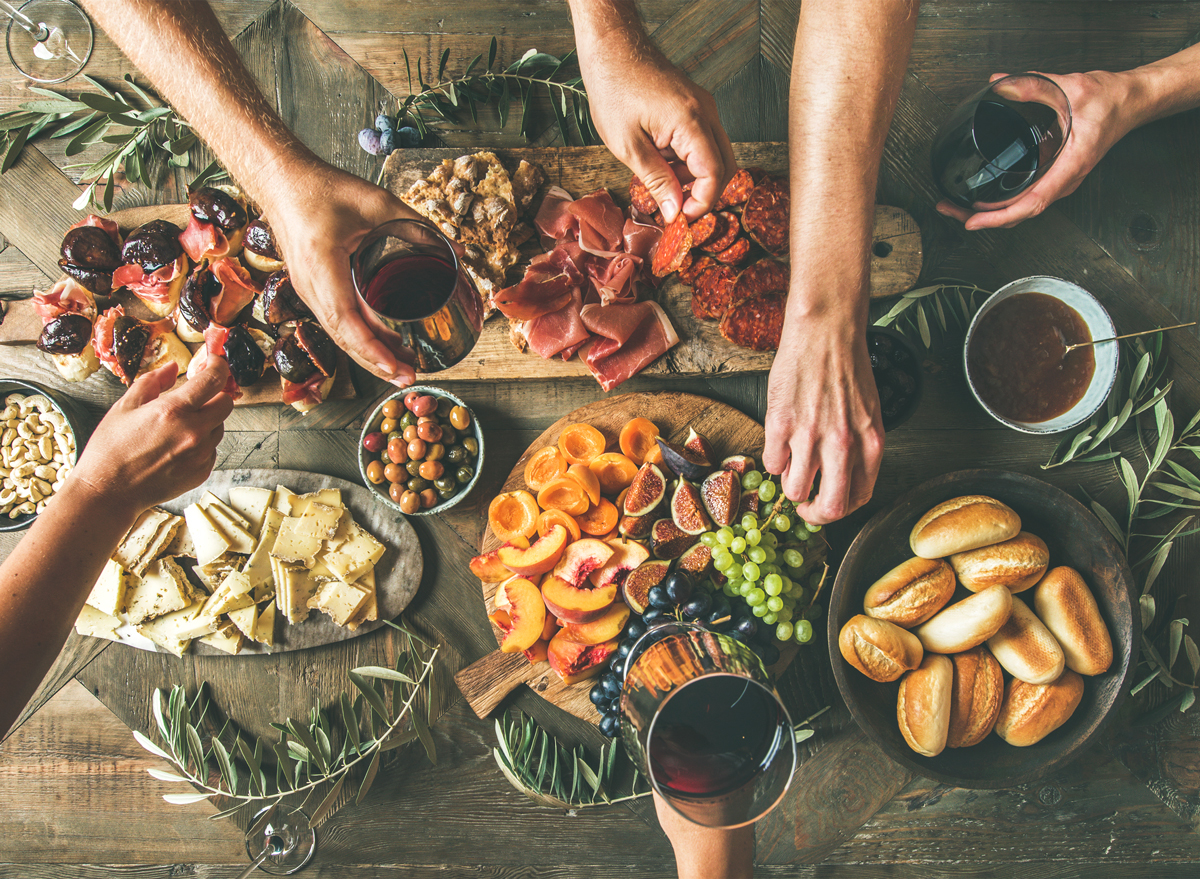 Never run out of food again by following this simple formula.
"Here's a rule of thumb: Each adult will consume one pound of food total," Perotti says. "The more options you have, the less you need of each. Decrease the main course portion sizes by one to two ounces if you're serving buffet-style. For appetizers, factor in three pieces per person per hour."
Don't feel like you need to bust out the sous vide scallops or DIY soup dumplings.
Instead, Weiss recommends you "focus on food people love to eat. Traditional and classic favorites are always a hit. Don't get too creative with the menu, serve what guests get excited about, and pay attention to quality instead."
Casual or comforting picks like pizza night, roast chicken with mashed potatoes, or a build-your-own taco bar will always be hits at a holiday party, and these straightforward meals make things easier on you, too.
If possible, opt for a theme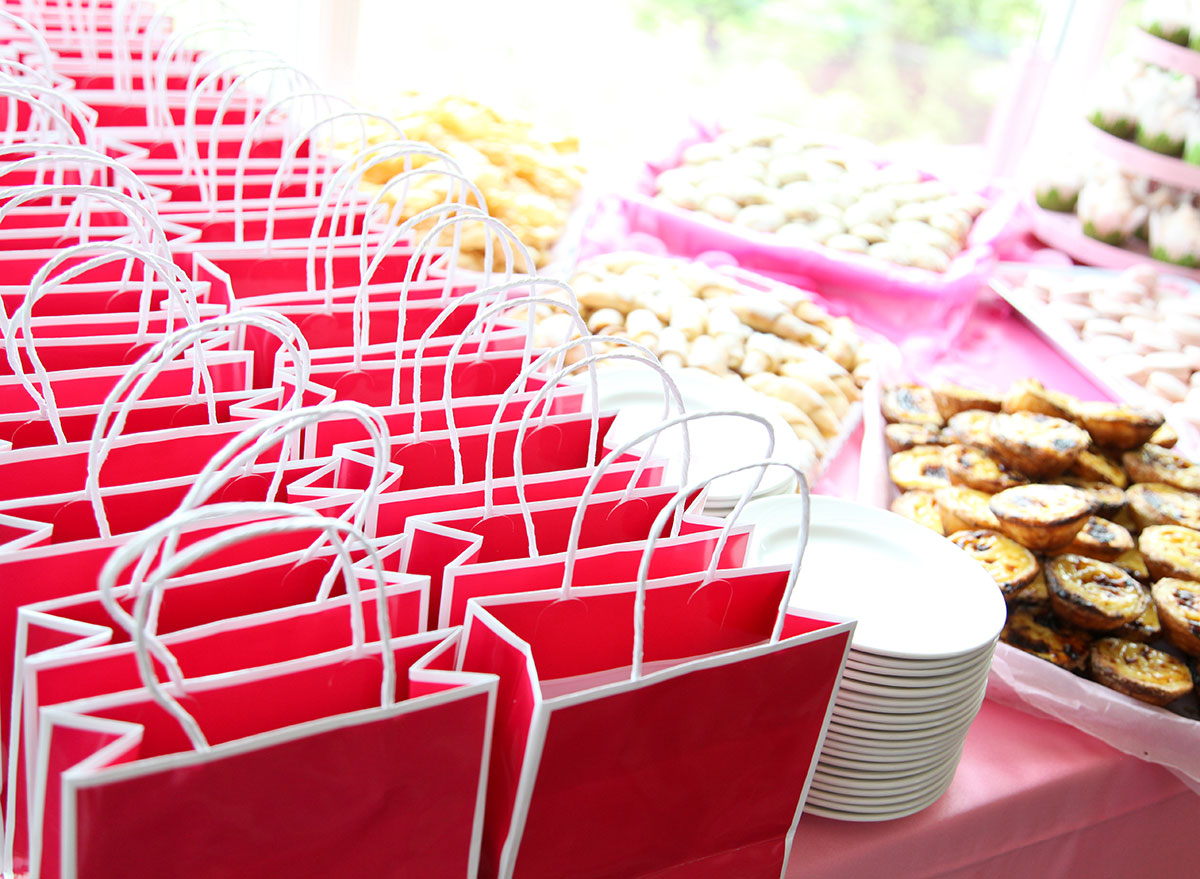 Use your food offerings as inspiration and dream up a theme to spice things up for a holiday party unlike any other. Trying tacos? Mix up a signature margarita and end the night with churros. Do you and your pals always catch up over pizza? Pair a spread of pies with Italian wines, then send guests home with mini bottles of limoncello.
"Being 100 percent authentic to who you are as a person and as a host will make the occasion memorable and unique. I like to reminisce a lot, so I like to find unique ways to bring memories forward," Perotti says.
For him, that means a "Boy's Brunch" with his best pals to catch up and snack on food from a specific country while seated at a table full of decor from the dream destination.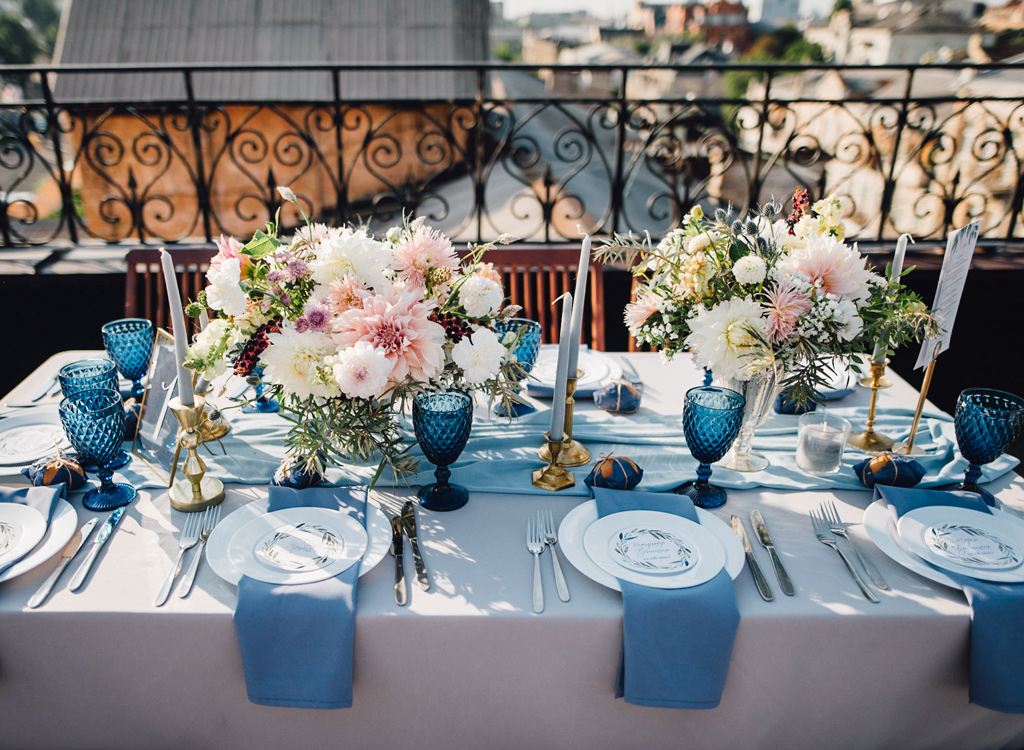 "If you are anything like me, I will obsess more about the table than the food. I have become infamous with my family for changing the tablescape two to three times before I settle on 'the one,' and that will happen over the course of a few weeks before the event," Weiss says.
Once you've settled on the accessories, here's how to stack on the serviceware properly, according to Emily Post herself. A basic setting should include:
A plate directly in front of the chair
A fork immediately to the left of the plate, followed by a napkin
Above the fork, place the small bread plate topped with a butter knife
A knife immediately to the right of the plate (serrated side facing the plate), followed by a spoon
Above the knife, place the water and wine glasses
Take advantage of all your tools
Anyone who has hosted or attended a holiday meal knows the struggle is real when it comes to stove and oven space. If you're preparing several dishes, keep in mind items that can be cooked or kept warm in other appliances such as your:
Slow cooker
Instant Pot
Air fryer
Toaster oven
Countertop grill
Microwave
From sides you can make in the microwave to slow cooker standbys that drastically cut down on prep time, there's no reason to not put these kitchen tools to use!
Preparing a oven-hogging entree like a large casserole of lasagna or hearty roast beef? Start with salad and end with sorbet.
"Time is precious for all of us, and spending an entire day in the kitchen is not really where I want to be. Think of a family-style meal that can be partially room temperature, mixed with hot dishes. Anything you can do and prep in advance over a few days will ease the stress and ensure that you have forgotten nothing," Perotti says.
One foolproof menu mix he swears by involves searing beef the day before, then refrigerating overnight before reheating and slicing to serve alongside roasted root vegetables.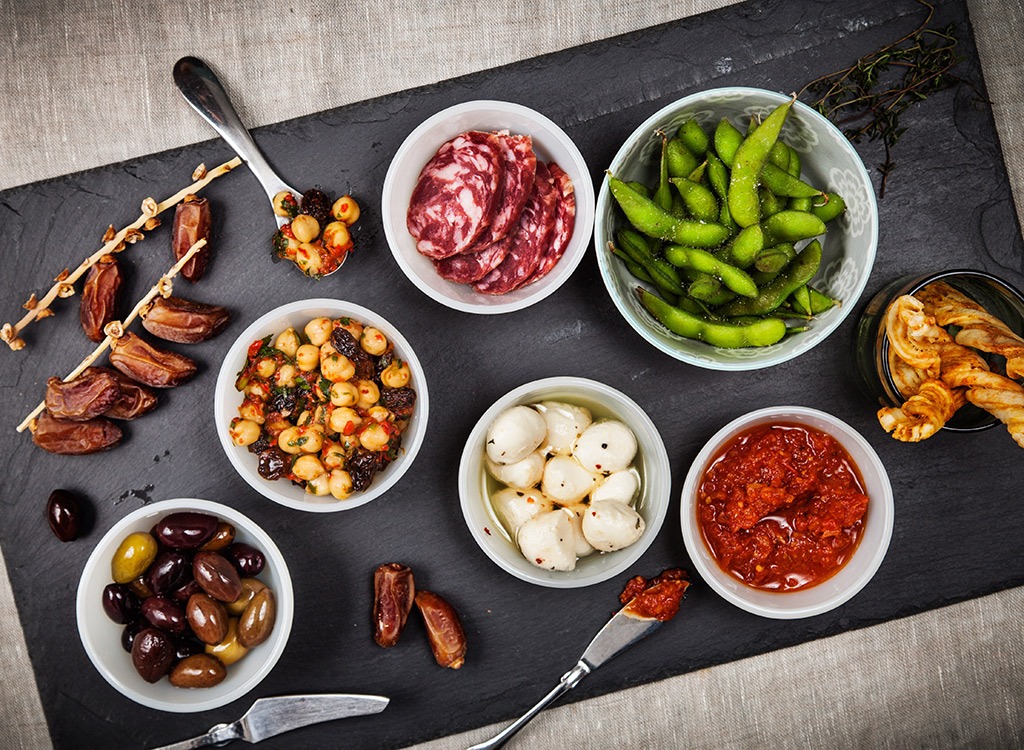 Intimidated by the entree? You don't need to resort to takeout. Instead, try tapas options. This way, you can offer dishes that accommodate every diet and can avoid the stress of a supersized turkey.
Take a prompt from The Feast of the Seven Fishes, a common holiday season celebration in Italian culture, and serve a spread of seafood small plates, such as:
Sauteed shrimp (gluten-free, Paleo, keto)
Sushi (low-calorie, gluten-free)
Mini crab cakes (gluten-free if mixed/breaded with gluten-free oats or panko)
Smoked salmon-avocado bruschetta (full of healthy fats)
Fish soup shooters (low-calorie, gluten-free, Paleo, keto)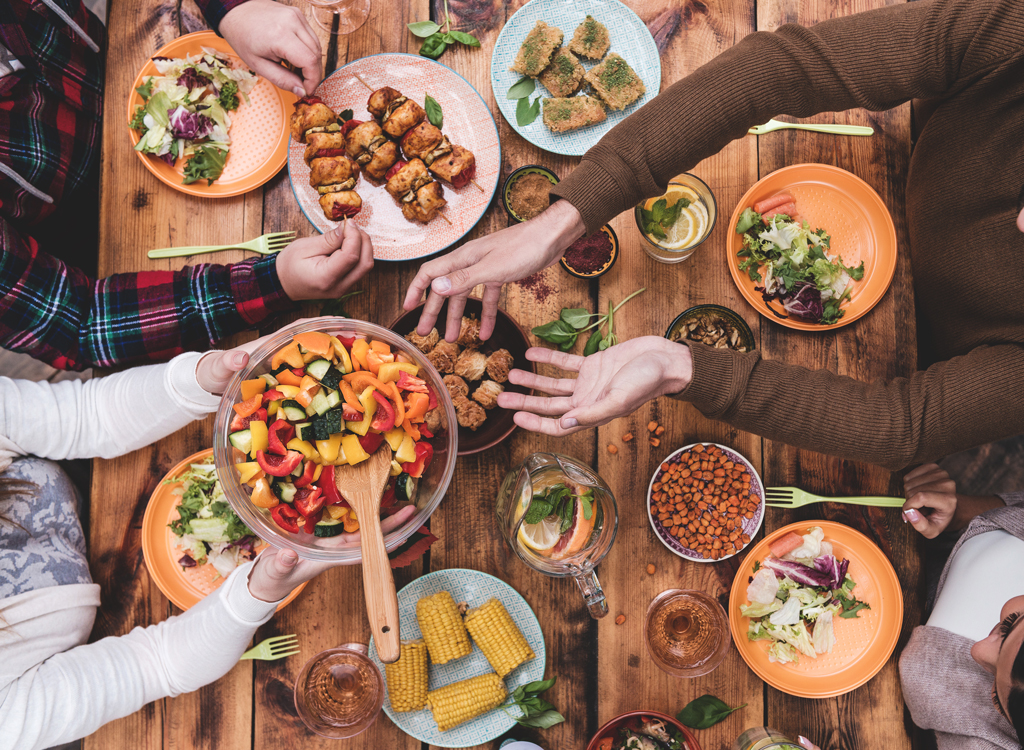 Stop sweating the Instagrammable plating.
"To keep the conversation going and make serving easier, I adore family-style," Perotti says. It's a nice medium-fancy (yet still homey) strategy that falls between plated and buffet. "The passing of platters naturally encourages more conversation, laughter, and interaction," he says.
Stock up on takeout containers
Everyone will also be happy to help you clean up—and keep your fridge with some free space—if you have a stack of to-go containers ready. Opt for recyclable study paper boxes or reusable plastic meal prep containers for eco-friendly options.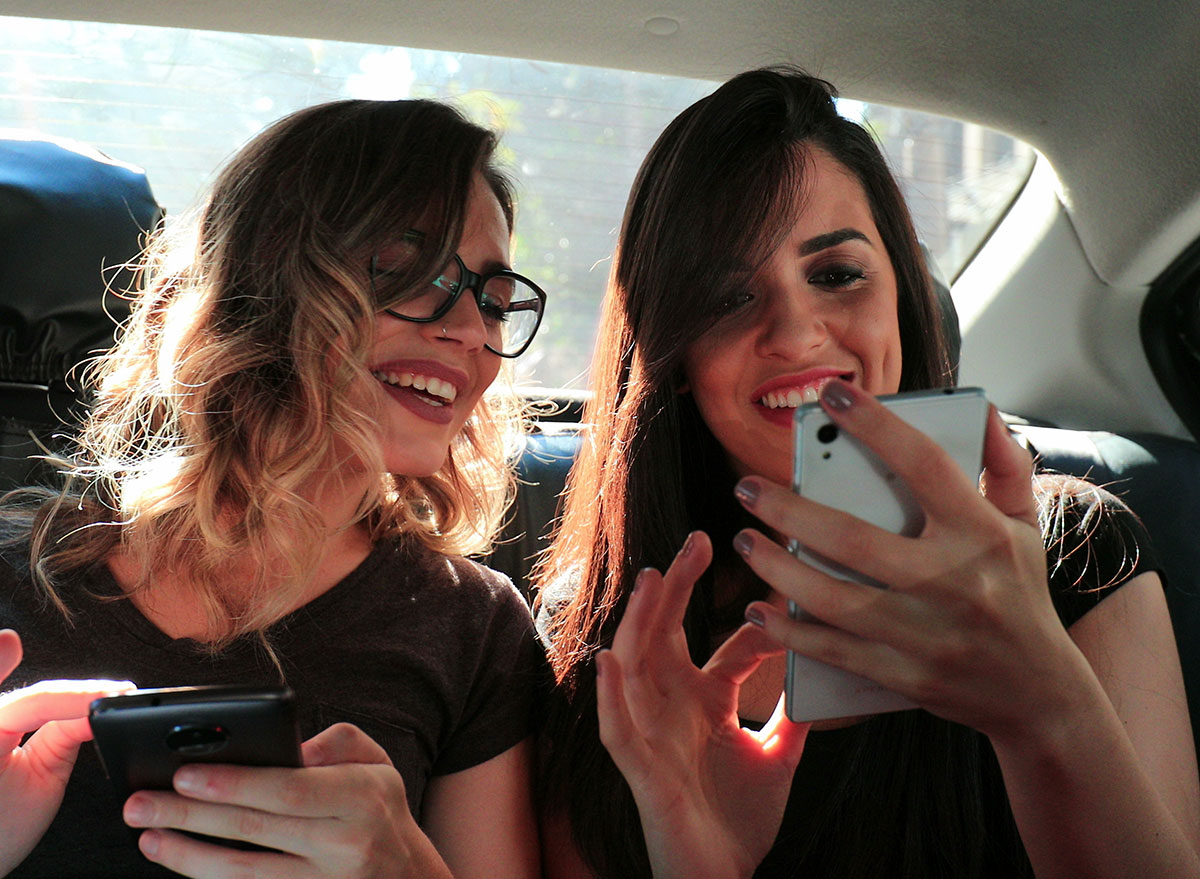 Send everyone home safely after their spirited evening by calling them a ride. Be prepared in advance by downloading at least one rideshare app (like Lyft, Uber, or Juno) so you're able to pick the quickest option come closing time.
Karla Walsh
Karla Walsh is a freelance writer, editor and restaurant brand manager based in Des Moines, Iowa, where she reports on fitness trends, wellness research, psychology, and healthy recipes.
Read more about Karla