5 Healthiest Burger King Breakfast Orders, According to a Dietitian
Is Burger King a total bust when it comes to healthy breakfast choices? A dietitian says no.
In our fast-paced world, grabbing breakfast on the go has become a way of life for many of us. And it's not just coffee and donut shops that are catering to those looking for a quick bite in the morning. Virtually all major fast-food restaurants—from Chick-fil-A and Hardee's, to Taco Bell and Burger King—serve delicious breakfast options. But finding nutritious options can often be a challenge, especially when it comes to fast-food chains. That's why we're here to help you choose the healthiest Burger King breakfast items the next time you decide to swing into the drive-thru.
As a registered dietitian, I understand the importance of starting your day off right with a balanced and nourishing first meal. Reams of research show that eating a balanced breakfast can help tamp down cravings and your appetite, so you'll be less likely to overeat later in the day. A review article published in Obesity Research & Clinical Practice found that skipping breakfast is associated with increased risk for being overweight or obese, and another study published in the Journal of the American College of Cardiology reported that breakfast skipping was associated with an increased risk for cardiovascular disease and death from cardiovascular disease.
How to choose healthier fast-food breakfasts
Here are some guidelines for helping you choose a healthier fast-food breakfast.
Look for wholesome carbs
Whole-grain carbohydrates, like oats and whole grain muffins or pancakes, are important to have as part of your first meal because whole grains are digested more slowly and help to keep blood sugar levels stable. This helps keep you satisfied and reduces cravings. Look for menu options that state whole grain on the ingredient list.
Minimize added sugars
Your goal for added sugars at breakfast time should be less than 10 grams (2 ½ teaspoons) per day if possible. It may seem obvious, but keeping added sugars to a minimum for your first meal is key to help ensure that you keep your added sugars to the recommended daily limit. The American Heart Association recommends that added sugars should be capped at 6 teaspoons (100 calories) per day for women and for men, no more than 9 teaspoons (150 calories).
Aim for enough protein.
Your goal when choosing a fast-food breakfast should be to aim for at least 8-10 grams of protein. Protein is an important part of a balanced first meal because it helps slow digestion to keep you fuller, longer. Studies show that having high-quality protein at breakfast can help with weight management and is associated with lower body weight and body fat.
Make sure there is fiber, too
And lastly, your fiber goal at breakfast should be around a minimum of 2 grams. Fiber not only helps you stay regular, but it also contributes to satiety, making you feel full for longer and assisting in weight management. Furthermore, fiber-rich diets have been associated with reduced risk of chronic diseases, including cardiovascular disease and type 2 diabetes.
One study published in the Journal of the American Board of Family Medicine found that when study participants ate breakfast and had fiber intake more than 25 grams per day, risk for death was significantly reduced, compared to those who skipped breakfast and had lower fiber intakes.
5 Healthiest Breakfast Items at Burger King
Here, we'll highlight the healthiest breakfast choices available at Burger King. We've poured over the breakfast menu and highlighted the choices that provide the best balance of essential nutrients while keeping calories and unhealthy ingredients in check. Here are the most nutritious options that you can feel good about choosing at Burger King to kickstart your day the right way.
PER BURRITO: 416 calories, 26 g total fat (9.7 g saturated fat), 1070 mg sodium, 28 g carbs, (2.8 g fiber, 2.7 g sugar), 16.5 g protein
Burger King offers two breakfast burritos, the Egg-Normous Burrito, and the Breakfast Burrito Jr. The Egg-Normous Burrito will set you back 805 calories and has about all the sodium you can have in a day, so we like choosing the Breakfast Burrito Jr. While it's not a nutritional all-star due to its high sodium, fat, and saturated fat counts, it does pack in 16.5 grams or protein, has nearly 3 grams of fiber, and is low in added sugars.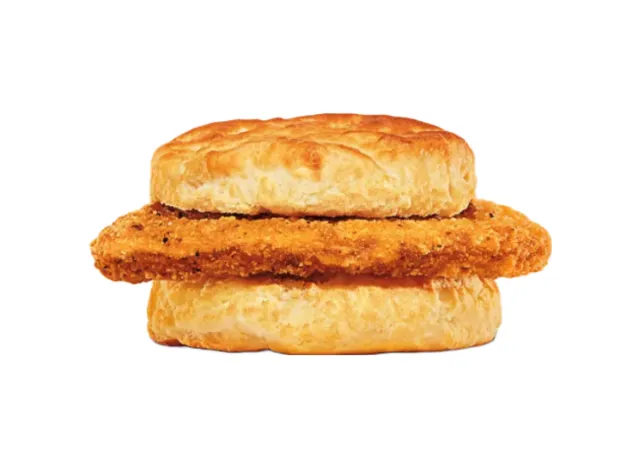 6254a4d1642c605c54bf1cab17d50f1e
PER BISCUIT: 410 calories, 22 g total fat (9 g saturated fat), 1,110 mg sodium, 42 g carbs, (2 g fiber, 2 g sugar), 12 g protein
While this is not a nutritional all-star, the Chicken Sandwich is one of the lower calorie options on the Burger King breakfast menu. For that reason, it made our list. Despite being carbohydrate-rich, this pick is low in added sugar and packs in 12 grams protein, the same as you'd get in two medium eggs. To improve this option, eat just half of the biscuit and you'll shave about half of the carbs from this choice.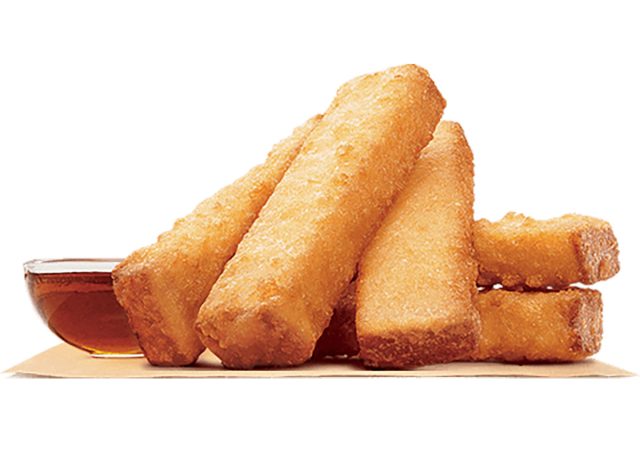 PER THREE TOAST STICKS: 230 calories, 10 g total fat (2 g saturated fat), 220 mg sodium, 32 g carbs, (2 g fiber, 9 g sugar), 4 g protein
This breakfast item makes our list due to it being calorie-controlled and having low saturated fat and sodium counts. While the protein is lower than recommended, you can order skim milk to complete the meal. To avoid additional added sugar, skip the syrup and order an applesauce to go with your French Toast Sticks. For a more substantial breakfast, you can also order the 5-piece French Toast Sticks for 380 calories and apply the same hacks to improve the nutritional quality of your first meal.
Sausage, Egg & Cheese Biscuit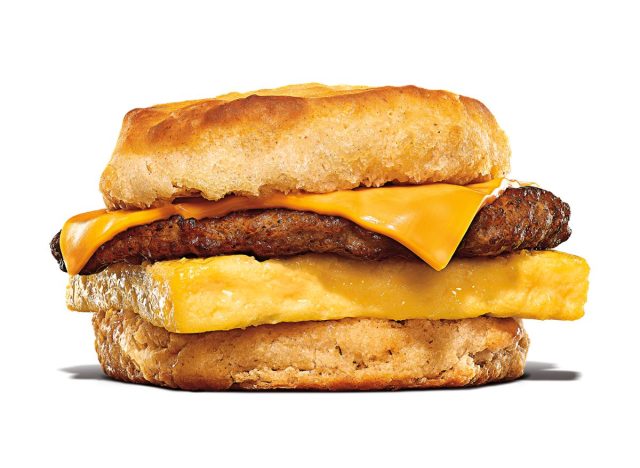 PER BISCUIT: 592 calories, 42 g total fat (19 g saturated fat), 1794 mg sodium, 33 g carbs, (1 g fiber, 9 g sugar), 22 g protein
If you're following a carb-controlled lifestyle, simply enjoy the Sausage, Egg & Cheese and skip the biscuit in this hearty Burger King meal. That will reduce the calories, carbs, and sugar. If you add applesauce on the side, you can get the total fiber up to 2 grams. Despite that, this meal is high in fat, saturated fat, and has the sodium that you should eat in an entire day, so it is by no means a "healthy" choice, but with a few tweaks, it's a menu item that can be enjoyed on occasion.
Ham, Egg & Cheese Croissan'Wich
PER ONE CROISSAN'WICH: 412 calories, 22.5 g total fat (11 g saturated fat), 1275 mg sodium, 32g carbs, (1.2 g fiber, 5.5g sugar), 21 g protein
This choice fails on fiber, but it makes our list because the calorie count is optimal for breakfast, and it has lower added sugar and 21 grams of protein. A smart hack to make this menu item a better bet is to eat only half of the flaky croissant to reduce the lower-quality carbohydrates. To up the fiber, order an applesauce.
With some planning and following these healthy hacks, there are several ways to order better options at Burger King. However, fast-food breakfasts are never as healthy as what you can prepare at home, so it's best to limit your on-the-fly first meals to only a few times a month if you can.
Julie Upton, MS, RD, CSSD
Julie Upton is an award-winning registered dietitian and communications specialist who has written thousands of articles for national media outlets, including The New York Times, US News & World Report, and USA Today.
Read more about Julie
Sources referenced in this article