6 Healthiest McDonald's Breakfast Items, According to a Dietitian
Here's the healthiest way to start your day at the golden arches.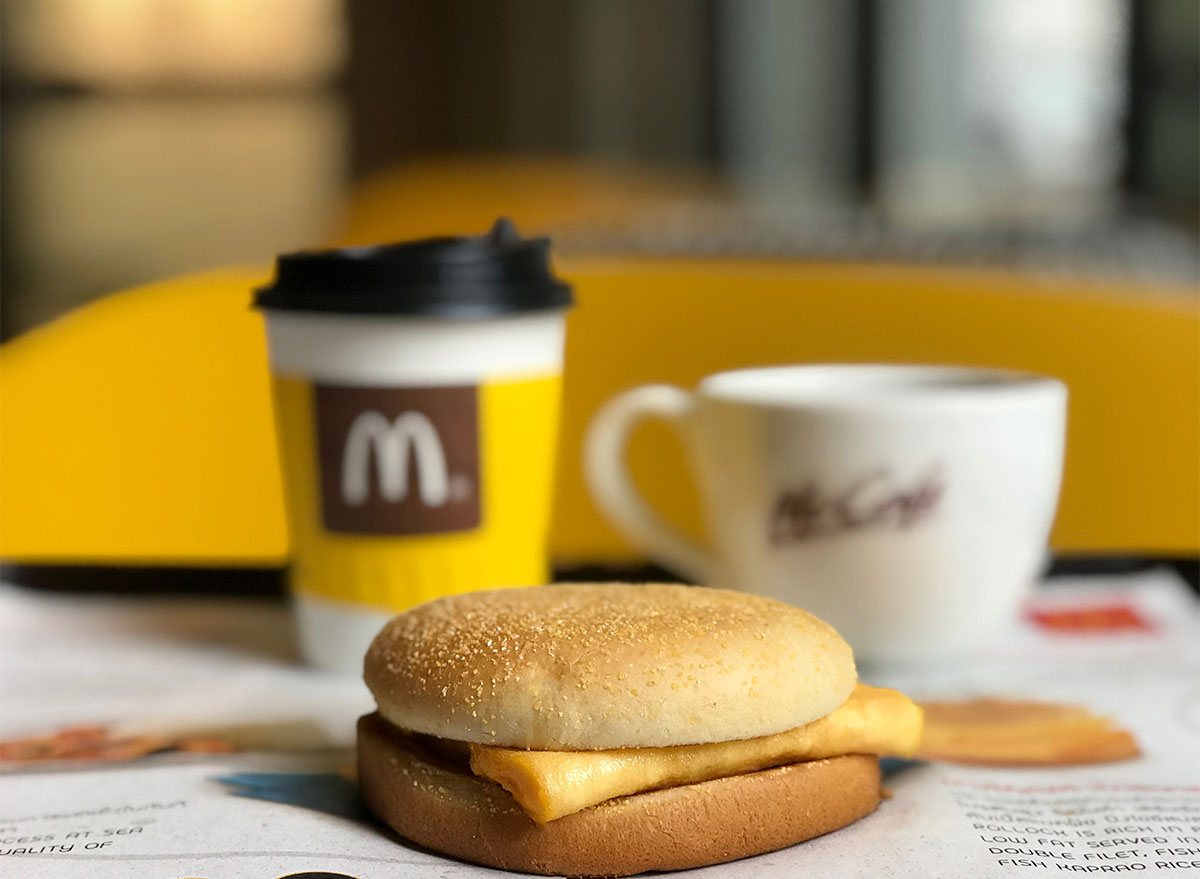 Though McDonald's has cultivated a stigma for being an unhealthy fast-food joint, not all their dishes are totally unhealthy. In fact, the Golden Arches has really stepped up its health and wellness game over the last decade or so, giving customers complete transparency about the nutrition content and the quality of the ingredients used across their menu. Now, does this mean they've discovered a miracle means to eliminate all fat and calories from a Big Mac and fries? No. But there are a few healthy McDonald's breakfast menu items that are perfectly good ways to start your day, and having more information about the order you're considering can enable more health-conscious decision-making.
Though making well-informed, nutritionally balanced eating decisions has significant health implications for every meal, this is especially important at breakfast. As the first meal of the day, breakfast helps jumpstart your metabolism, and for better or worse, the quality of this meal can impact the cadence of the rest of your day. If you find yourself circling the drive-thru of Mickey D's while in pursuit of an on-the-go brekkie, you may find yourself wondering which menu options are the healthiest McDonald's breakfast items you can get.
To get to the bottom of this, we spoke with a registered dietitian about the healthiest McDonald's breakfast items you can order the next time you need a quick breakfast. Amy Goodson, MS, RD, CSSD, LD, and author of The Sports Nutrition Playbook—a book that has an entire section on healthy eating tips—shares her advice on how to eat healthy at McDonald's. Here are the healthiest McDonald's breakfast items you can order—and for more breakfast-related healthy eating tips, be sure to check out our list of the Best High-Protein Fast Food Breakfast Orders.
Sausage Burrito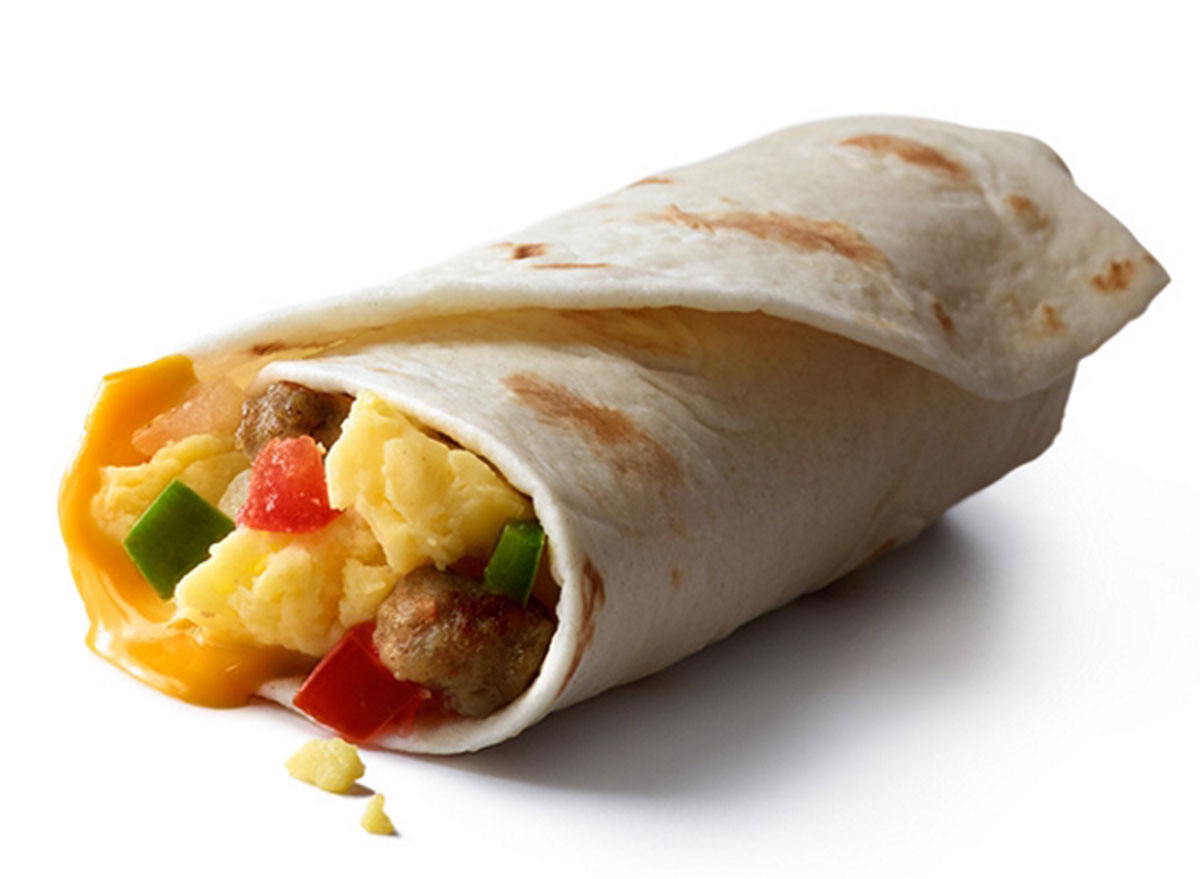 Per order
: 310 calories, 17 g fat (7 g saturated fat), 800 mg sodium, 25 g carbs (1 g fiber, 2 g sugar), 13 g protein
Surprisingly enough, one of the more nutritious options featured on Mickey D's breakfast menu is this high-protein, satiating burrito—which contains sausage, egg, cheese, and even a few green chilis and onions.
"The breakfast taco lovers will be excited that the sausage burrito is a top pick on the McDonald's breakfast menu," says Goodson. "It's calorie-conscious, with 310 calories, and it has 13 grams of protein and veggies. Paired with apples, this breakfast gets a little of a lot of food groups."
Egg McMuffin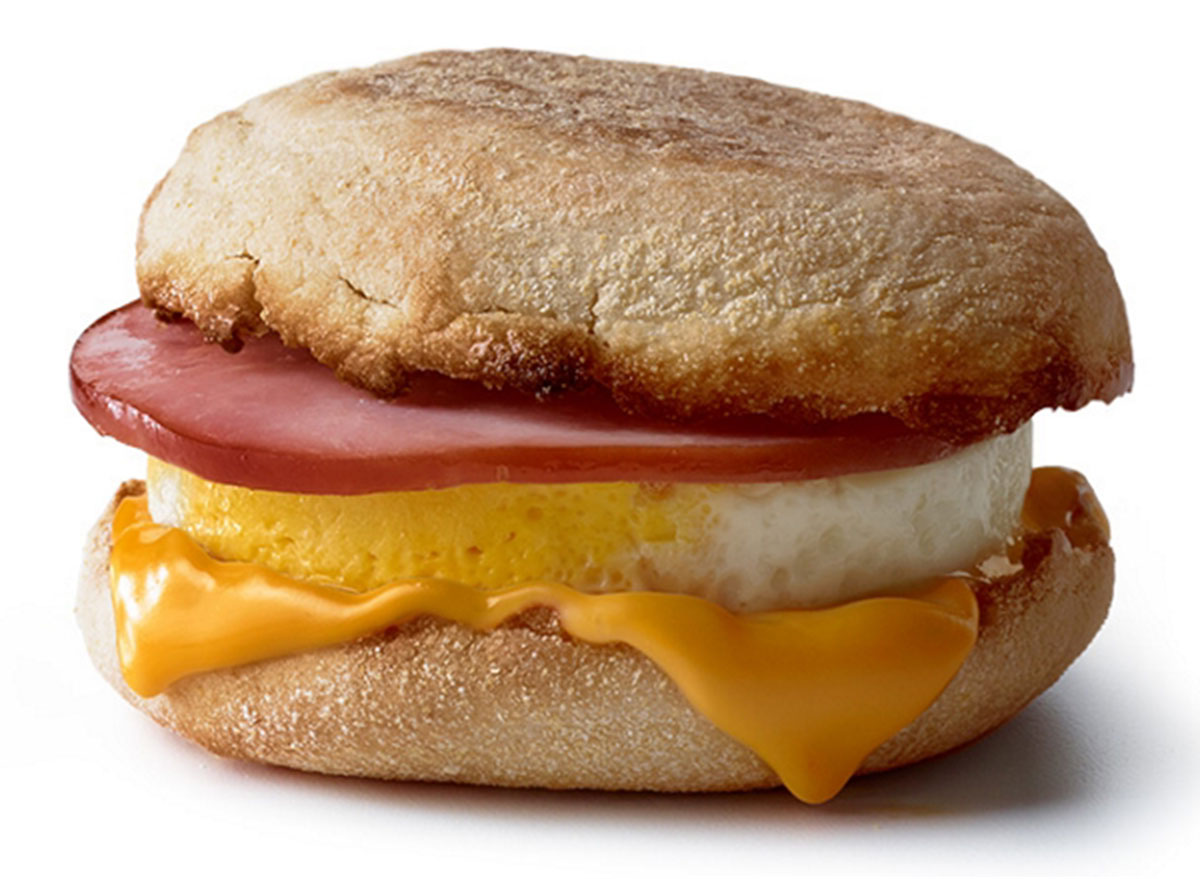 Per order
: 310 calories, 13 g fat (6 g saturated fat), 770 mg sodium, 30 g carbs (2 g fiber, 3 g sugar), 17 g protein
"With 310 calories and 17 grams of protein, the Egg McMuffin is one of the top breakfast choices at McDonald's," says Goodson. "Plus it's lower in saturated fat than other breakfast options. Paired with apples, this is a satisfying breakfast on the go."6254a4d1642c605c54bf1cab17d50f1e
Sausage McGriddle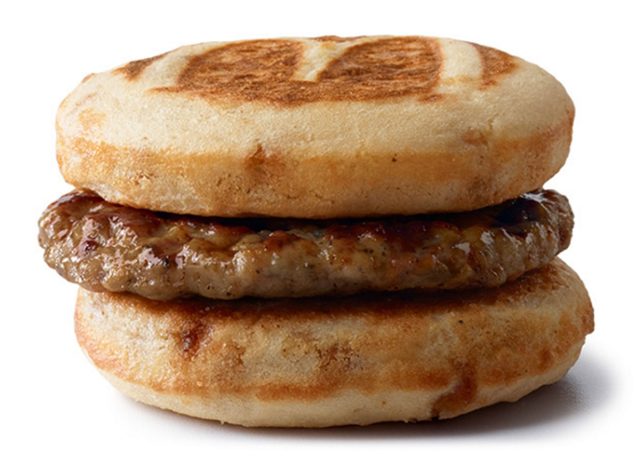 Per order
: 430 calories, 24 g fat (9 g saturated fat), 990 mg sodium, 41 g carbs (2 g fiber, 14 g sugar), 11 g protein
If you're a fan of McDonald's Hotcakes and Sausage, this breakfast sandwich essentially hits all the same flavor notes of that meal—but at nearly 400 calories less. Additionally, its hearty combination of protein and fiber amounts to a filling Mickey D's breakfast able to provide you with 15% of your daily iron intake and 4% of your daily potassium needs. Just be mindful of the added sugars and sodium in this one. Although this sandwich won't put you over your limit in either area, it accounts for 25% of your daily value for sugars and 43% of your daily value for sodium when adhering to a standard 2,000-calorie diet. For a boost of added nutrition, get a serving of fruit into the mix of this meal by opting for apple slices on the side.
Fruit & Maple Oatmeal & Milk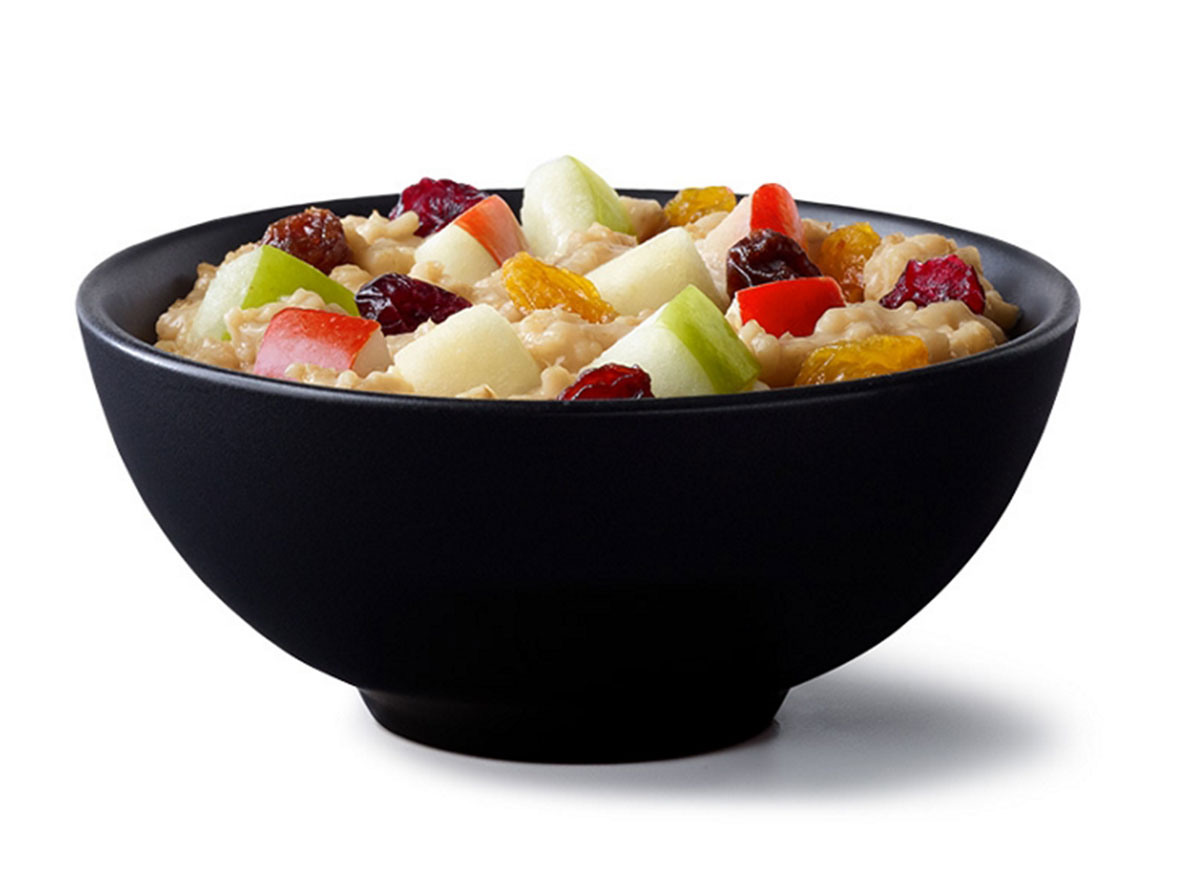 Per order
: 420 calories, 6.5 g fat (3 g saturated fat), 240 mg sodium, 76 g carbs (4 g fiber, 42 g sugar), 14 g protein
"With 4 grams of fiber, oats, and fruit, McDonald's Fruit and Maple Oatmeal is a heart-healthy choice," says Goodson. "Pairing milk bumps the protein from 6 to 14 grams, plus provides calcium and vitamin D. In the winter months, oatmeal is a nutrient-rich way to warm up!"
Sausage McMuffin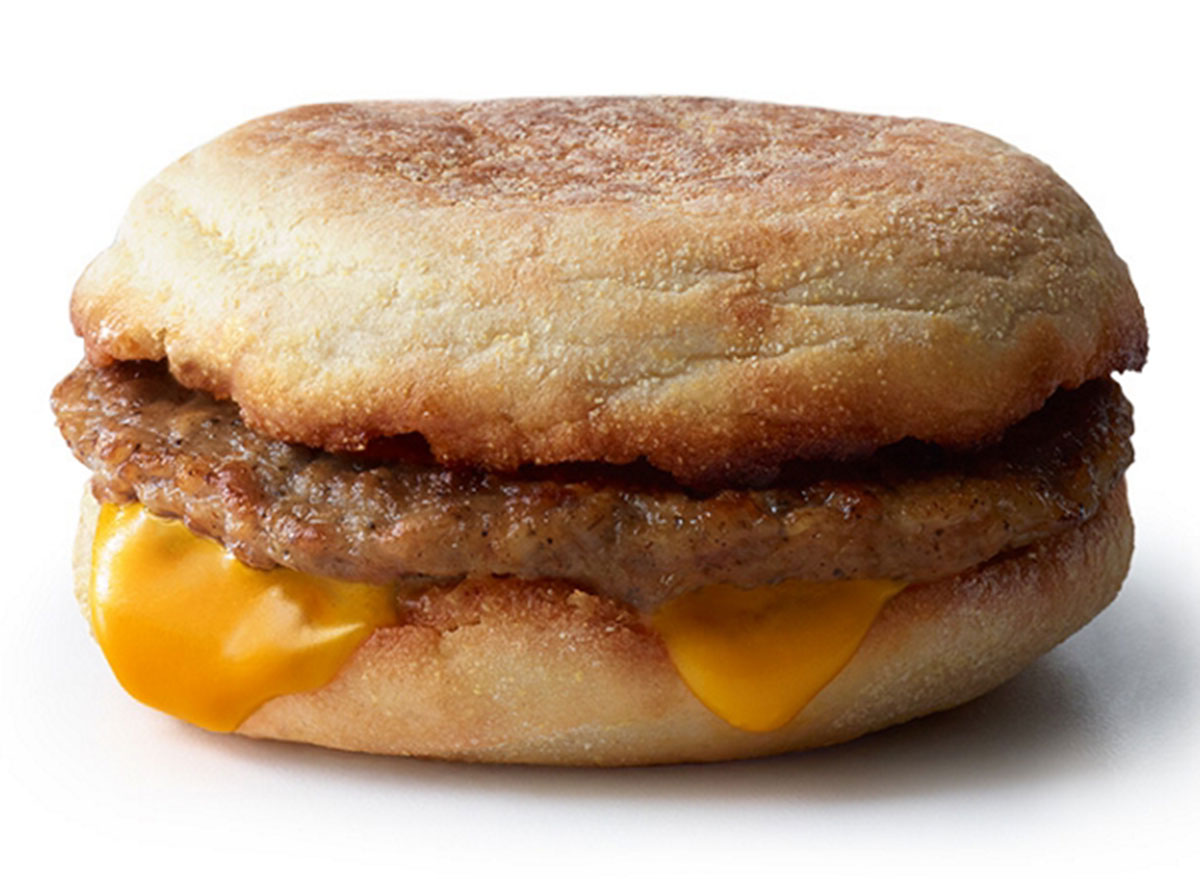 Per order
: 400 calories, 26 g fat (10 g saturated fat), 760 mg sodium, 29 g carbs (2 g fiber, 2 g sugar), 14 g protein
"If you are a meat lover, the Sausage McMuffin is for you! With 400 calories and 14 grams of protein, this can be a filling breakfast—plus it provides 15% of your iron needs," says Goodson
Sausage McMuffin With Egg
Per order
: 480 calories, 31 g fat (12 g saturated fat), 830 mg sodium, 30 g carbs (2 g fiber, 2 g sugar), 20 g protein
"A little high in calories at 480, this is served on an English muffin and can still be a good choice for those who need a hearty breakfast," says Goodson. "The Sausage McMuffin with Egg boasts 20 grams of protein. It's a little higher in fat, so be sure to balance your day accordingly."
A previous version of this story was published on November 17, 2020. It has been fact-checked and updated to include additional entries.