The #1 Healthiest Order at 9 Major Mexican Chains
A dietitian shares her picks for healthy Mexican fare at major restaurant chains—hold the sour cream!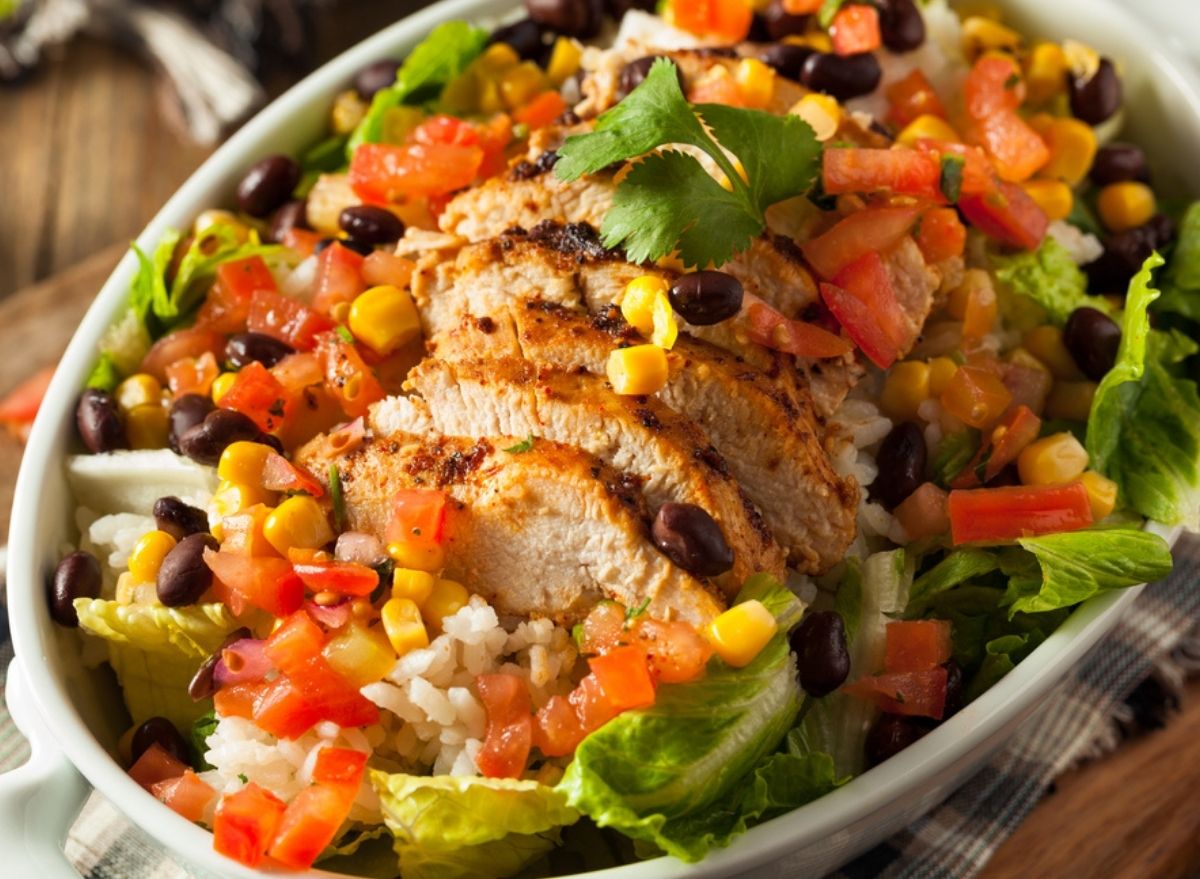 There are more times than we all care to admit when making meals at home just doesn't make sense with our busy schedules. Preparing a grocery list, assessing the current home inventory of foods, carving out time to grocery shop (or even receiving a food delivery from your favorite retailer), collecting said groceries, putting them away, and then preparing them in your own kitchen is a process.
Thankfully, some better-for-you choices abound on the menus of nearby Mexican fast food and casual dining establishments, giving you more time in your day for other things while you enjoy a fresh meal. Oftentimes these menu items are customizable if you need to tailor the menu item as written to align with a food allergy or intolerance, food preference, or health goal.
These top strategies can help you navigate the menu at your favorite Mexican restaurant for healthier fare:
Limit portions. The smaller your serving, the smaller the calorie contribution.
Seek out extra vegetables. Including more vegetables is a simple way to boost nutrition and bulk of a menu item.
Forgo added creams and oils when possible. Although added fats provide flavor, they come at a price: nine calories per gram, the most of any macronutrient. Creams often have a higher percentage of saturated fat than unsaturated (more desirable) fat.
Read on for our list of go-to menu items from nine major Mexican chains And next, check out The #1 Unhealthiest Order at 9 Major Fast-Food Mexican Chains.
Chipotle Plant Powered Lifestyle Bowl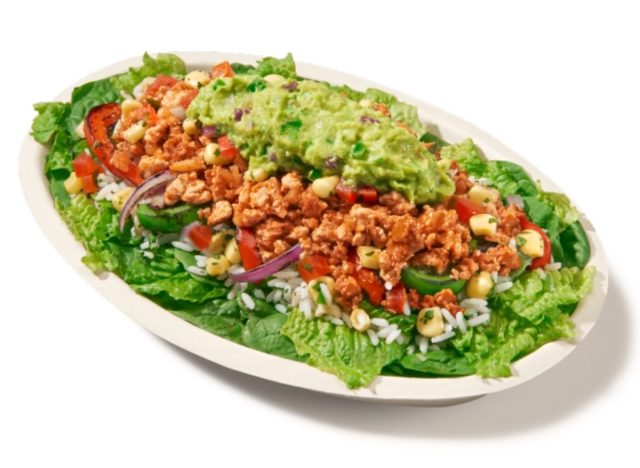 Per serving
: 720 calories, 38g total fat (6g saturated fat), 2310mg sodium, 83g carbs (16g fiber, 13g sugar), 18g protein
This "lifestyle" bowl includes all of the things we like seeing more of in a Mexican-style meal: lettuce, sofritas (tofu!), fajita veggies, salsa, and guacamole. It delivers a hearty 720 calories and 16g fiber. Beans (like soybeans) are recognized for their association with satiety and weight management, making them an ideal part of this meal.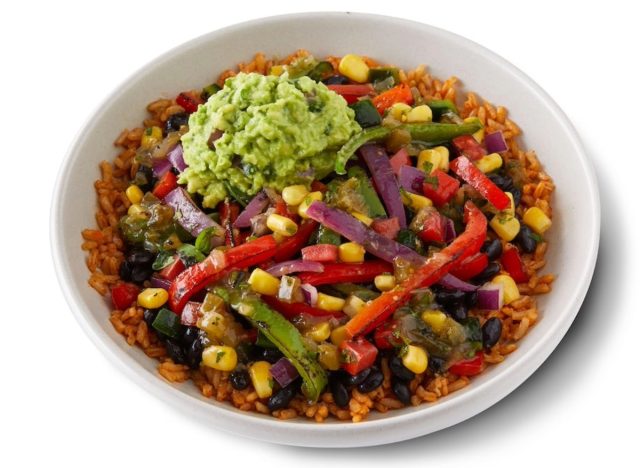 Per serving
: 530 calories, 17g total fat (2.5g saturated fat), 1350mg sodium, 79g carbs (22g fiber, 7g sugar), 17g protein
This menu item at Qdoba cuts right to the chase with seasoned rice and grilled vegetables piled high in a 22g-fiber-filled, plant-powered bowl. The reasonable 2.5g saturated fat is an appropriate restaurant choice to help control chronic conditions like diabetes.
Taco Bell Power Menu Bowl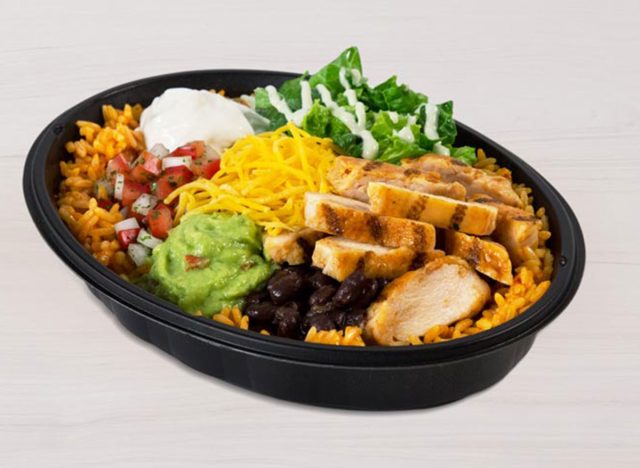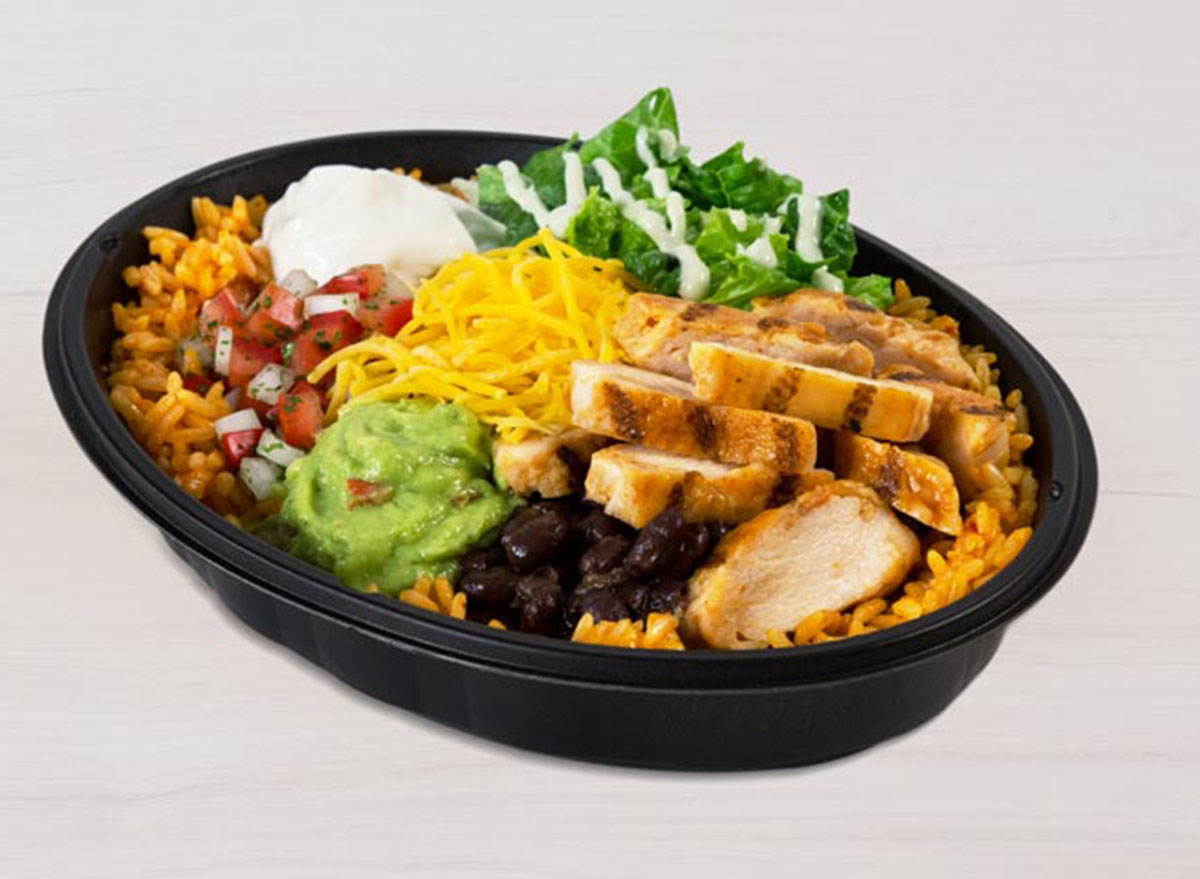 Per serving
: 460 calories, 21g total fat (6g saturated fat), 1250mg sodium, 41g carbs (8g fiber, 3g sugar), 26g protein
Not only does this bowl from Taco Bell contain nearly two servings of vegetables, but it is also a good source of calcium, iron, and potassium. Iron is an important mineral for blood and oxygen transfer, as well as neurological development and cellular functioning.
On the Border Grilled Portobello Bolder Border Bowl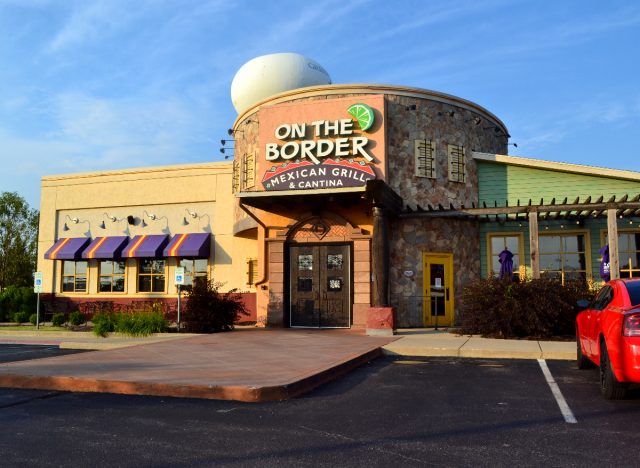 Per serving
: 580 calories, 15g total fat (3.5g saturated fat), 1730mg sodium, 94g carbs (19g fiber, 10g sugar), 20g protein
This version of a rice bowl lends its flavor to cilantro and lime, along with great toppings like black beans, pickled red onions, toasted corn, pico de gallo, and sliced avocado. It comes out to 580 calories, which is a very appropriate calorie range for a solid meal to support weight goals, with 19g of fiber to boot.
Moe's Southwest Grill Junior Homewrecker
Per serving
: 337 calories, 16g total fat (6g saturated fat), 768mg sodium, 45g carbs (8g fiber, 7g sugar), 22g protein
Moe's offers a choice when you select a burrito of a 12-inch regular tortilla or a 10-inch junior tortilla. Go with the slightly smaller junior and you save 110 calories. Build your recipe with fish, southwest slaw, grilled mushrooms, pickled jalapenos, diced cucumber, shredded lettuce, pico de gallo, and guacamole for a very reasonable 337 calories.
Taco John's The Chicken Boss Bowl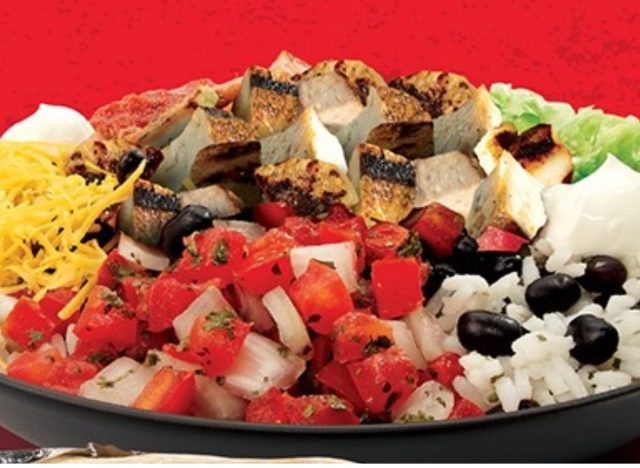 Per serving
: 610 calories, 20g total fat (9g saturated fat), 2120mg sodium, 78g carbs (11g fiber, 7g sugar), 36g protein
This bowl will keep you full between the tasty mound of cilantro-lime rice and black beans, along with chicken and a sensible amount of cheese and sour cream. The 36g of protein contained in this meal is plenty to support lean muscle and keep cravings at bay.
Baja Fresh Impossible Chili Lime Salad
Per serving
: 480 calories, 26g total fat (10.5g saturated fat), 730mg sodium, 41g carbs (16g fiber, 8g sugar), 27g protein
This customized salad starts with a fun, unique base including kale, bell pepper, jicama, tortilla strips, cotija cheese, avocado, and chili lime dressing. Your protein topping pick of Impossible plant-based "meat" adds protein and brings it all together at under 1,000mg of sodium. (The one pictured here features shrimp, but go for plant-based protein instead!)
Del Taco 8 Layer Veggie Burrito
Per serving
: 520 calories, 17g total fat (7g saturated fat), 1310mg sodium, 70g carbs (9g fiber, 3g sugar), 16g protein
This vegetable-centric burrito contains the usuals like cheese, sour cream, tomatoes, lettuce, and guacamole, but also with a generous amount of slow-cooked beans. Beans deliver excellent amounts of fiber and are often associated with improved health outcomes in chronic diseases like hypertension.6254a4d1642c605c54bf1cab17d50f1e
El Pollo Loco The World's First Keto Burrito
Per serving
: 550 calories, 34g total fat (7g saturated fat), 1570mg sodium, 30g carbs (21g fiber, 3g sugar), 52g protein
This menu item provides just 9g net carbs and is appropriate for someone following a ketogenic ("keto") diet. Keep in mind that keto-friendly products will often register high on fat, so be sure to factor this into the rest of your food choices throughout the day. Otherwise, this menu item is a good selection given the use of non-starchy vegetables and the keto tortilla.
Molly Hembree, MS, RD, LD
Sources referenced in this article