The #1 Unhealthiest Order at 9 Major Fast-Food Mexican Chains
Plus: What registered dietitians recommend you order instead.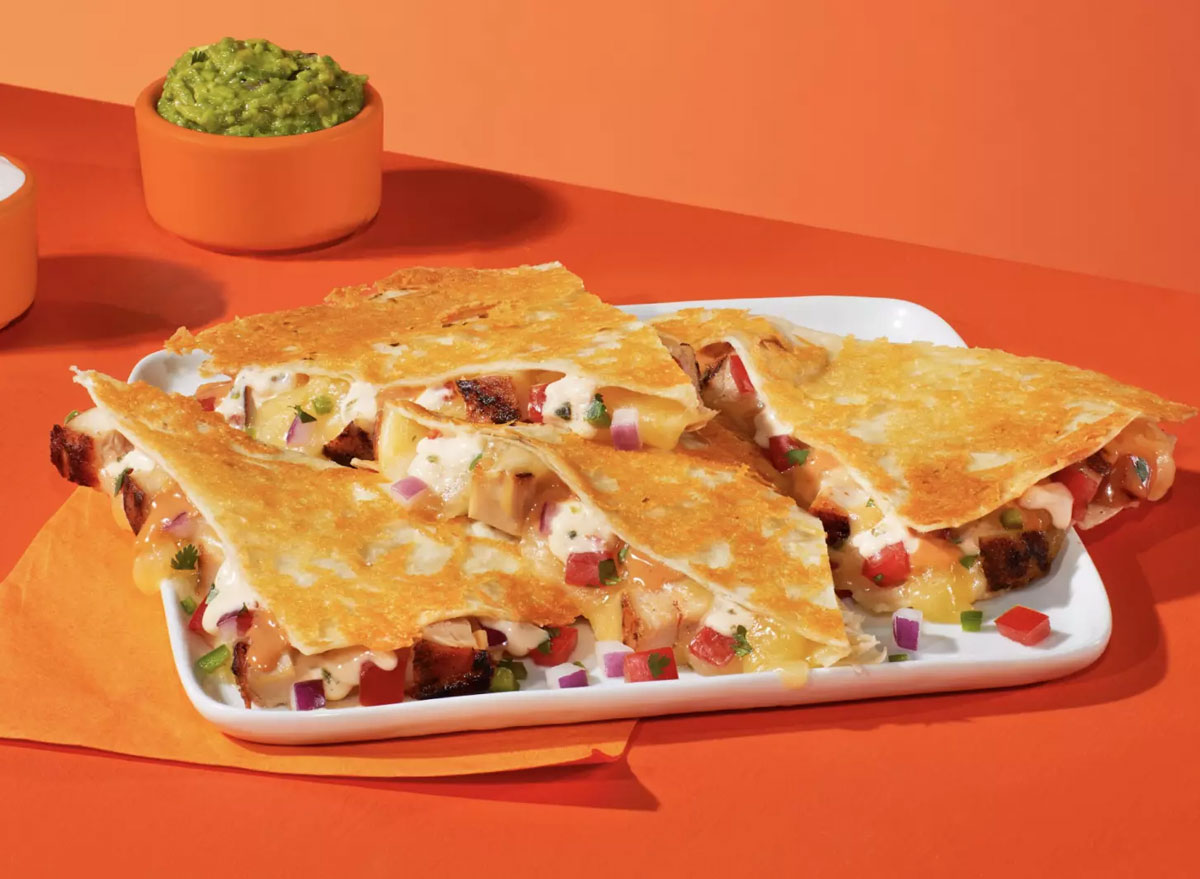 Fast food can make feeding a family full of various food preferences a little easier. However, pulling through the drive-thru can be synonymous with unhealthy eating. Known for meals, drinks, and desserts that are packed with fat, saturated fat, sodium, and sugar, many fast-food menus are full of unhealthy options. Unfortunately, this holds true for your favorite fast-food Mexican chains, too.
There is no single definition for what constitutes an unhealthy order; rather, there are several factors to take into account. The number of calories plays the biggest role in addition to certain nutrients. Food and drinks high in saturated fat, trans fat, sodium, and sugar are considered to be unhealthy as each of these nutrients may contribute negatively to your health, according to recent research. While you may not have to drive longer than a few minutes to get to your favorite fast-food chain, this convenience could be at the expense of your health.
How to make healthy choices at a fast-food Mexican restaurant.
The good news is many fast-food menus have healthier options. If you are looking to make a better choice the next time you head to the drive-thru of your favorite Mexican restaurant, consider these tips.
Limit your fried items. A single crispy taco can fit into a healthy diet, but multiple tacos with a side of chips may contribute more sodium than you need in an entire day.
Choose grilled or fajita chicken when available: as it can be lower in fat than beef.
Keep your portion reasonable. Choosing a kid's item for your meal or splitting an adult order across a couple of meals are ways to keep calories and nutrients appropriate for a given meal.
The 9 unhealthiest fast-food Mexican chain menu items you should never order.
When in doubt, avoid these unhealthiest orders at major fast-food Mexican chains. Read on, and for more, don't miss The #1 Unhealthiest Burger at 13 Major Restaurant Chains.
Chipotle: Carnitas Burrito
Per burrito: 1,050 calories, 45 g fat (21 g saturated fat), 2,010 mg sodium, 112 g carb (7 g fiber, 7 g sugar), 45 g protein
This fast-food restaurant may not have a drive-thru, but you can still get a quick meal with options for the whole family. While known for their burritos, this menu item can pack some serious sodium. A burrito that includes carnitas meat, white rice, corn salsa, sour cream and queso blanco all inside of a 300-calorie tortilla has nearly a day's worth of sodium. The 2020-2025 Dietary Guidelines for Americans suggest capping your daily sodium intake at 2,300mg, and this meal hovers just below that at 2,010mg. A high sodium diet can contribute to high blood pressure, stroke and heart attacks.
Eat This Instead: For a healthier option, go with one of Chipotle's Lifestyle Bowls. These options are lower in calories and sodium, making for a healthier meal.
QDOBA: Cheese Crusted Quesadilla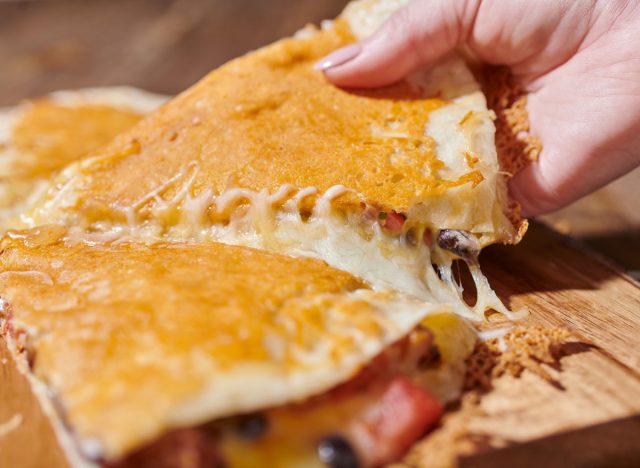 Another Mexican fast-food option with customizable options, QDOBA's Cheese Crusted Quesadilla includes a tortilla, cheese, guacamole, and sour cream starts at 940 calories and can climb up to 970 calories (the full customizable nutritional information is not available from QDOBA). This doesn't include any additional fillings, like the Cholula Hot & Sweet Chicken, which provides another 170 calories along with 8 grams of added sugar, beans, or additional queso cheese that could easily push this meal over 1,000 calories with more than ideal amounts of sodium, fat and saturated fat.
Eat This Instead: Instead, try the Citrus Lime Chicken Salad that is under 550 calories and only contains 4 grams of saturated fat. Eating too much of this type of fat can raise cholesterol levels, increasing your risk for heart disease and stroke.
Taco Bell: Deluxe Build Your Own Craving Box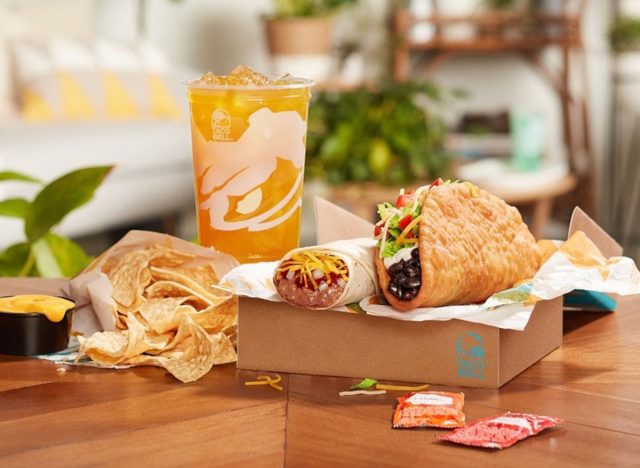 Per meal: 2,600 calories, 111 g fat (39.5 g saturated fat), 4,280 mg sodium, 339 g carb (15 g fiber, 130 g sugar), 69 g protein
The Deluxe Build Your Own Craving Box from Taco Bell allows for customization of your meal which could add up as many as 2600 calories. This is more calories than most people need in a single day! A combination of the Grilled Cheese Burrito, two Beefy Melt Burritos, a side of Chips and Nacho Cheese Sauce and large MTN Dew® Baja Blast™ results in this worrisome calorie amount.
On its own, the large soda provides 111 grams of sugar, a nutrient if consumed in large amounts could increase your risk of diabetes, CVD, certain cancers, and other chronic diseases. Not to mention, the single grilled cheese burrito contains 720 calories and half the daily value of fat.
Eat This Instead: To keep it lighter, go with the Power Menu Bowls that contain fewer than 500 calories and provide less than 30% of the daily value of fat.6254a4d1642c605c54bf1cab17d50f1e
On the Border: Big Borduritto® with Fajita Steak
Per meal: 2,010 calories, 120 g fat (33 g saturated fat), 5,250 mg sodium, 166 g carb (16 g fiber, 13 g sugar), 66 g protein
This monster burrito meal from On The Border is one of the single most unhealthy menu items of any Mexican fast-food restaurant. This option includes a tortilla, steak, rice, cheese, black beans, caramelized onions and peppers, pico de gallo and smoky queso, along with sides of refried beans and rice. Providing well over twice the recommended amount of daily sodium and a whopping 120 grams of fat, this meal is not friendly to heart health or weight goals. Although it does provide 16 grams of fiber, a nutrient that can positively influence health, this meal can do more harm than good.
Eat This Instead: A cup of chicken tortilla soup is a much healthier item at only 340 calories. This allows room for a few chips with guac or salsa and still results in a reasonable number of calories and fat for a meal.
Moes: Build Your Own Nachos
Per meal: 1,377 calories, 90 g fat (38 g saturated fat), 2,358 mg sodium, 108 g carb (12 g fiber, 7 g sugar), 52 g protein
With a base of chips topped with ground beef, shredded cheese, queso, bacon and sour cream, this meal serves up over 1300 calories and 90 grams of fat. Not to mention, the meal comes with a free side of chips and salsa that add another 400 calories to the meal. The American Heart Association recommends consuming no more than 13 grams of saturated fat per day, based on a 2000 calorie diet. This meal provides nearly triple that amount.
Eat This Instead: Next time you visit Moe's, build a bowl with fish, black beans, veggies of choice and guacamole for a meal that can land in the 300-400 calories range and provides a much healthier amount of saturated fat.
Taco John's: Potato Olés® Scrambler with Sausage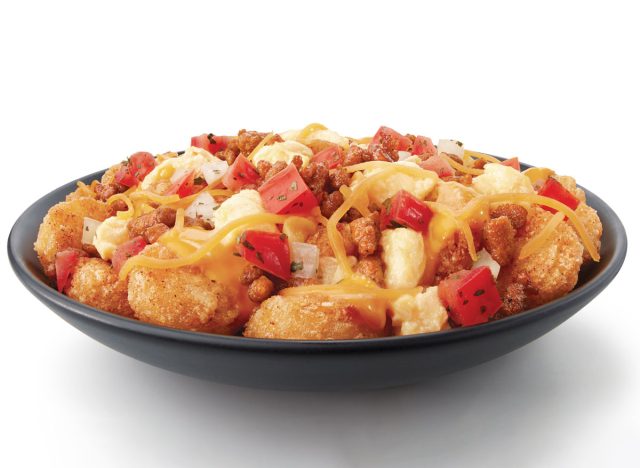 Per meal: 1,140 calories, 79 g fat (20 g saturated fat), 2,650 mg sodium, 75 g carb (12 g fiber, 3 g sugar), 30 g protein
You may be surprised to see the unhealthiest option at Taco John's is a breakfast item. This scrambler combines fried potatoes with eggs, veggies, cheese, and sausage to reach over 1,000 calories. You'll also get more than your daily need of sodium and saturated fat, all before you even get to lunch!
Eat This Instead: For a lighter option, go with the Jr. Breakfast Burrito with steak, which only provides 250 calories and 3.5 grams of saturated fat. Add a serving of fruit from home for a healthier breakfast. And, if you want a healthier lunch or dinner item, go with the Bean Burrito. This item has 400 calories and 9 grams of satiating fiber to keep you full until your next meal.
Per meal: 1,430 calories, 87 g fat (38 g saturated fat), 1,490 mg sodium, 113 g carb (25 g fiber, 3 g sugar), 46 g protein
A meal that starts with a base of chips is destined to fall into the unhealthy category. Providing a high number of calories and fat grams, it's hard to turn a plate of nachos into a healthy item. This one in particular is made up of chips, cheese, guac, beans, pico de gallo, and sour cream, and you can add a protein, too. Although this option provides way more fiber than Moe's nacho meal, it contains a similar number of calories and fat grams.
Eat This Instead: For a healthier item, go with the Baja Ensalada and add chicken or shrimp for a lean protein.
Del Taco: Epic Cali Bacon Burrito with Carne Asada Steak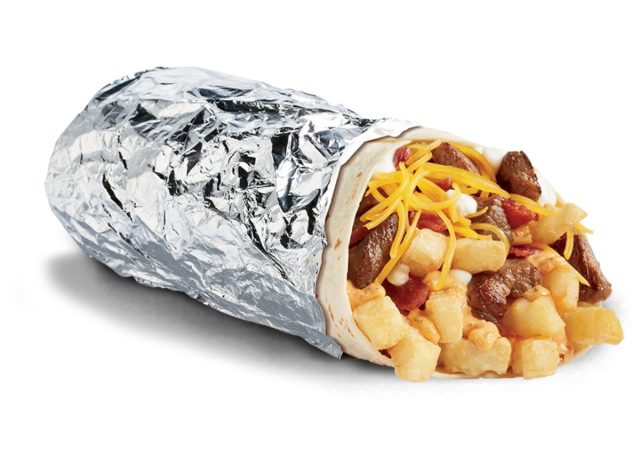 Per burrito: 1,050 calories, 60 g fat (22 g saturated fat), 2,600 mg sodium, 73 g carb (4 g fiber, 4 g sugar), 51 g protein
Another burrito option that contains excessive amounts of fat, saturated fat, and sodium is the Epic Cali Bacon Burrito with Carne Asada Steak from Del Taco. This option packs steak, bacon, cheese, fries, chipotle sauce, and sour cream into a flour tortilla. You read that right, there are crinkle-cut fries inside of this burrito! Another factor making this option the most unhealthy at Del Taco is that it contains trans fat, a nutrient you should limit as much as possible as it is linked to cardiovascular disease (CVD), diabetes, and weight gain.
El Pollo Loco: Double Tostado Salad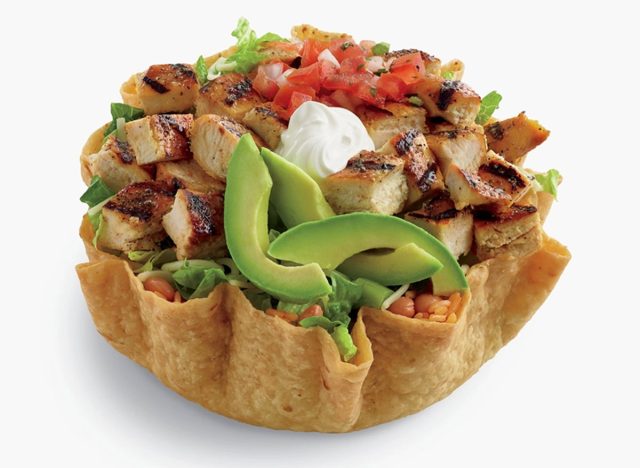 Per salad: 990 calories, 46 g fat (13 g saturated fat), 1,790 mg sodium, 82 g carbs (8 g fiber, 6 g sugar), 64 g protein
That's right, the unhealthiest item at El Pollo Loco is a salad. That is because chicken, lettuce, veggies, cheese, beans, sour cream, rice, and avocado are packed into a fried tostada shell. Although lower in sodium than many other items on this list, nearly 1,800 milligrams make up this meal, along with nearly 1,000 calories.
Eat This Instead: Luckily, if you skip the Tostado in this meal, and get the Chicken Avocado salad, you can bring the salad down to just 350 calories and 840 milligrams of sodium.
Melissa Rifkin, MS, RDN, CDN
Melissa is a Connecticut-based registered dietitian with over 15 years of experience, including clinical and outpatient settings, and runs the popular nutrition education Instagram account, Confessionofadietitian.
Read more about Melissa
Sources referenced in this article