13 Delicious Recipes That Prove Cauliflower Is the Greatest Thing Ever
If you haven't started reinventing your favorite classic dishes with cauliflower, these recipes will change your mind.
Cauliflower has quickly become one of those foods that has skyrocketed to the top of everyone's healthy eating list, and it's easy to see why. It's a simple way to lower the carb count in any meal, without sacrificing flavor. It's the cruciferous veggie that packs tons of health benefits, including getting you a fix of vitamins C, B, and K and even bringing some folate in the mix, too. If you happen to use cauliflower as a substitute for, say, rice or potatoes, don't think things are going to taste all that different. The texture of the veggie when it's cooked in all these different states proves how versatile it is.
Here are 13 cauliflower recipes that prove the veggie is truly unparalleled and makes every dish that much better.
Cauliflower Rice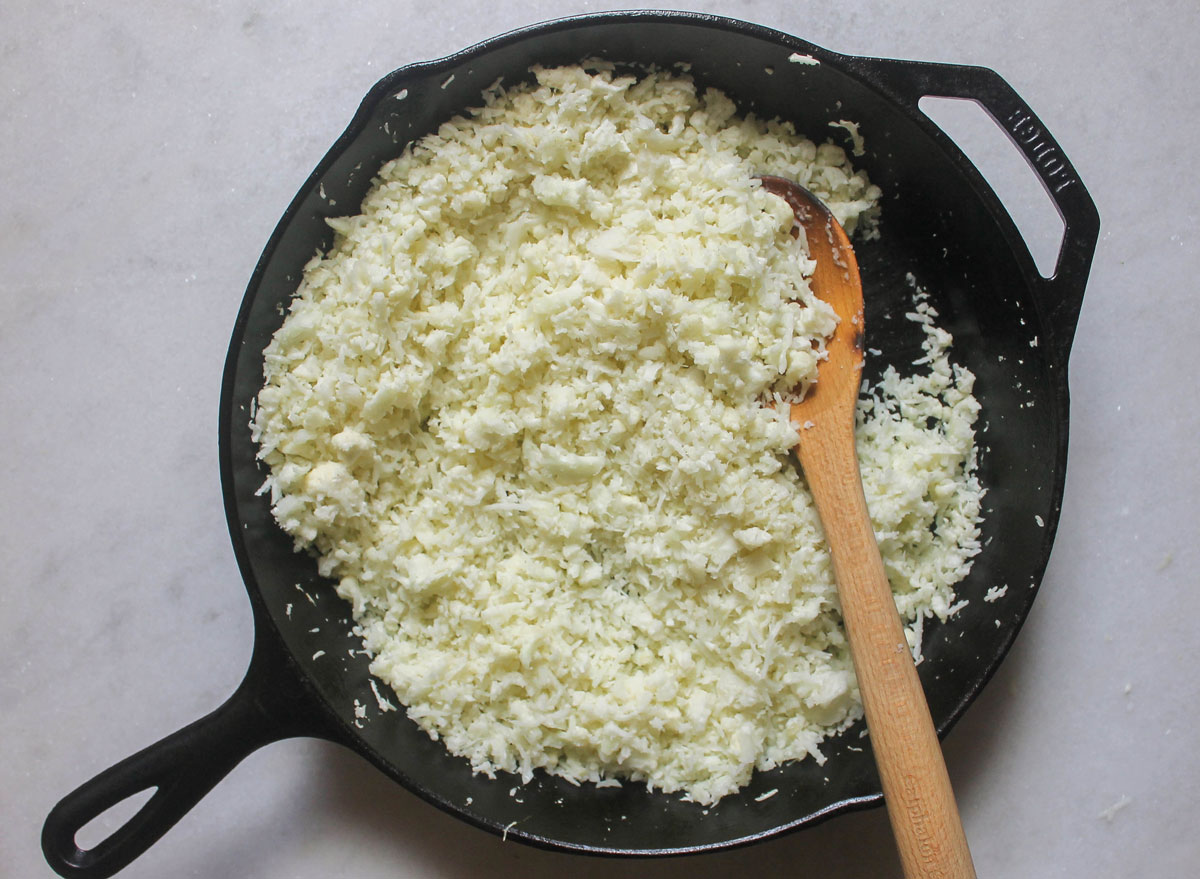 It seems like it's becoming harder to find recipes that call for actual rice instead of this alternative! Cauliflower rice can be eaten on its own or incorporated into tons of dishes. And while it's easy to make if you have a food processor, don't think you're out of the cauliflower game if you don't have one in your kitchen. You can use a grater instead! It might take a bit longer and require some serious elbow grease, but it still gets the job done.
Get our recipe for Cauliflower Rice.
Mashed Cauliflower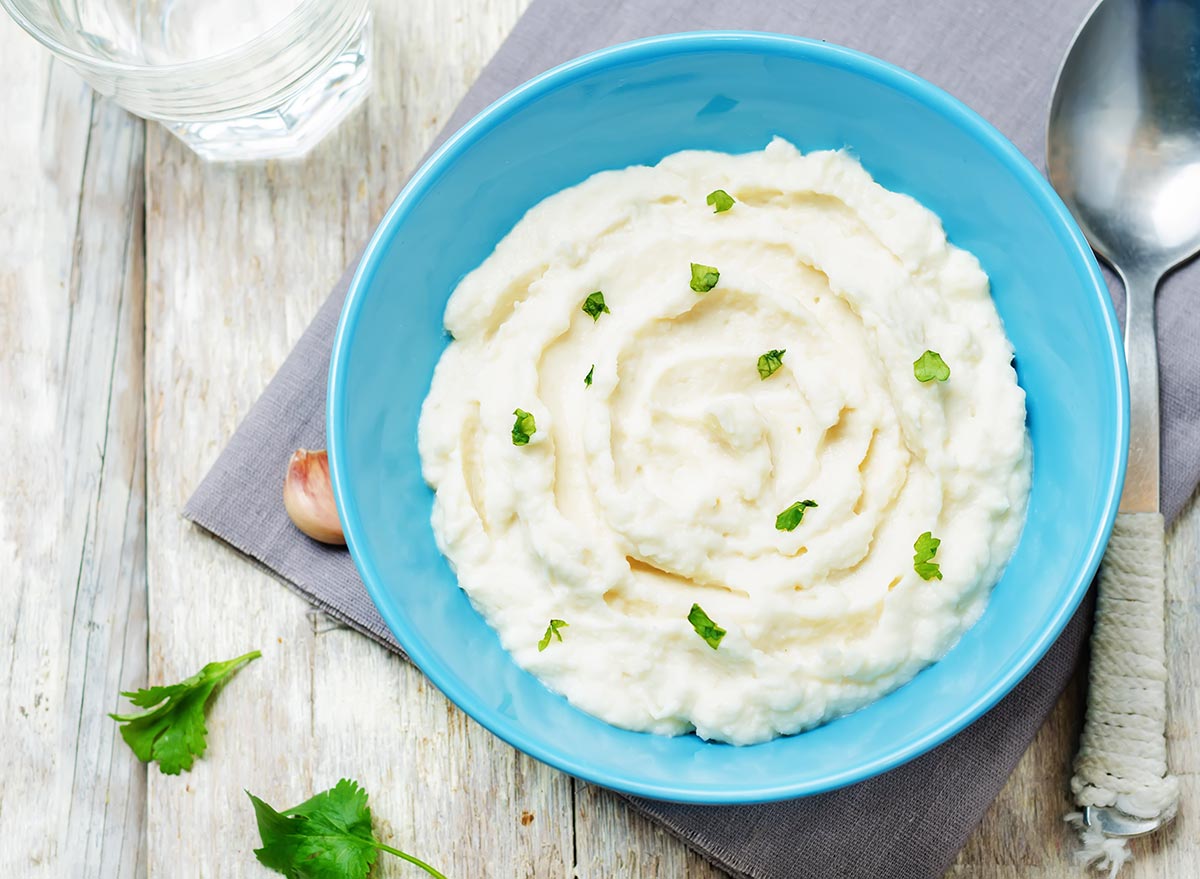 We have a feeling you're not going to return to basic potatoes ever again. What makes mashed cauliflower stand out is that while it is less carb-heavy and caloric and an overall lighter choice than potatoes, you're really not going to notice the difference, as you still end up with a creamy bowl of mash.
Get our recipe for Mashed Cauliflower.
Curry with Cauliflower and Butternut Squash Stir Fry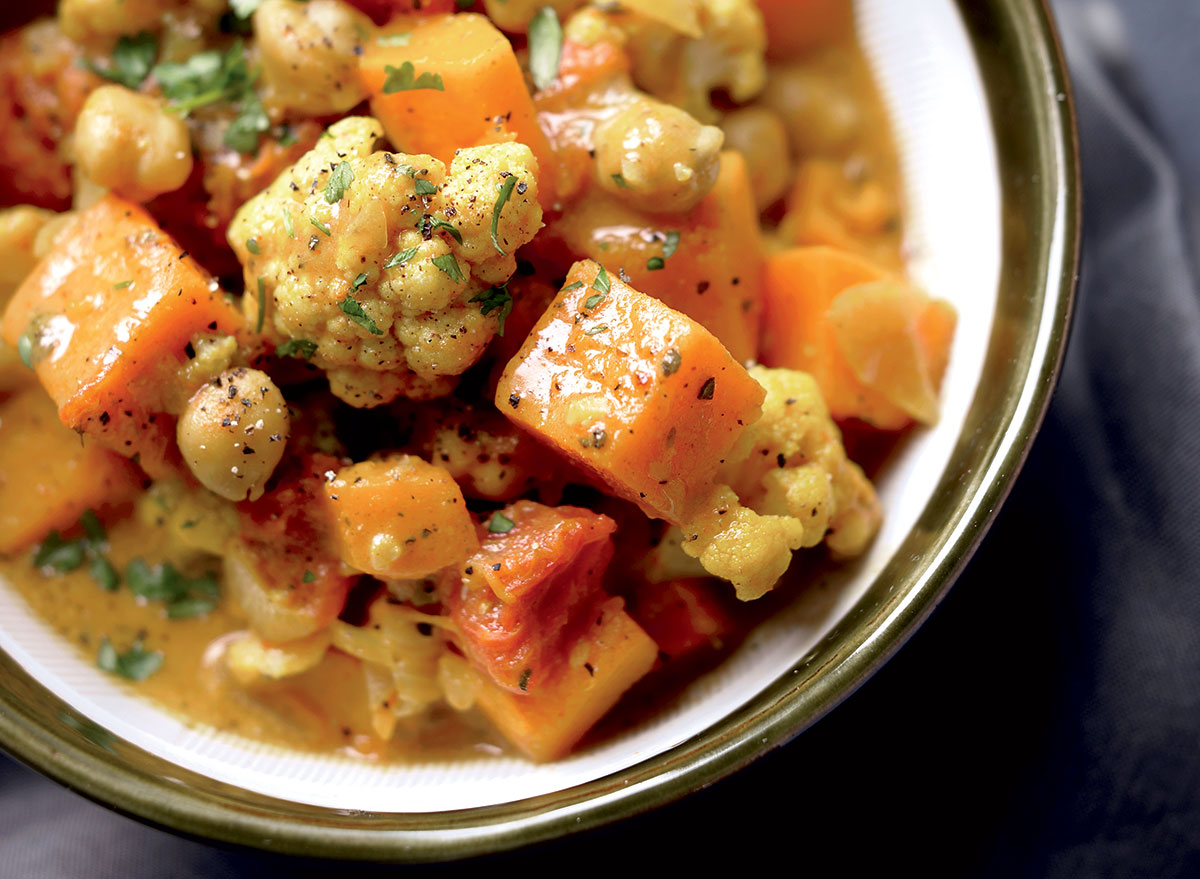 If you're in the market for a veggie-based stir-fry, this is the recipe for you. This Indian-style curry takes center stage, jazzing up the butternut squash cubes and cauliflower for a dish that brings the heat and can make anyone forget they're simply eating veggies!
Get our recipe for a Curry with Cauliflower and Butternut Squash Stir Fry.
Lamb Chops and Cauliflower Mash
If you happen to be following the keto diet, then you know potatoes are a no-go. But if you're whipping up some lamb chops you need the perfect side dish! And that's where this Swiss cheese cauliflower mash comes in. Trust us when we say it's oh so creamy and decadent and won't have you missing potatoes in the slightest.
Get our recipe for Lamb Chops and Cauliflower Mash.
Thai Beef Stir-Fry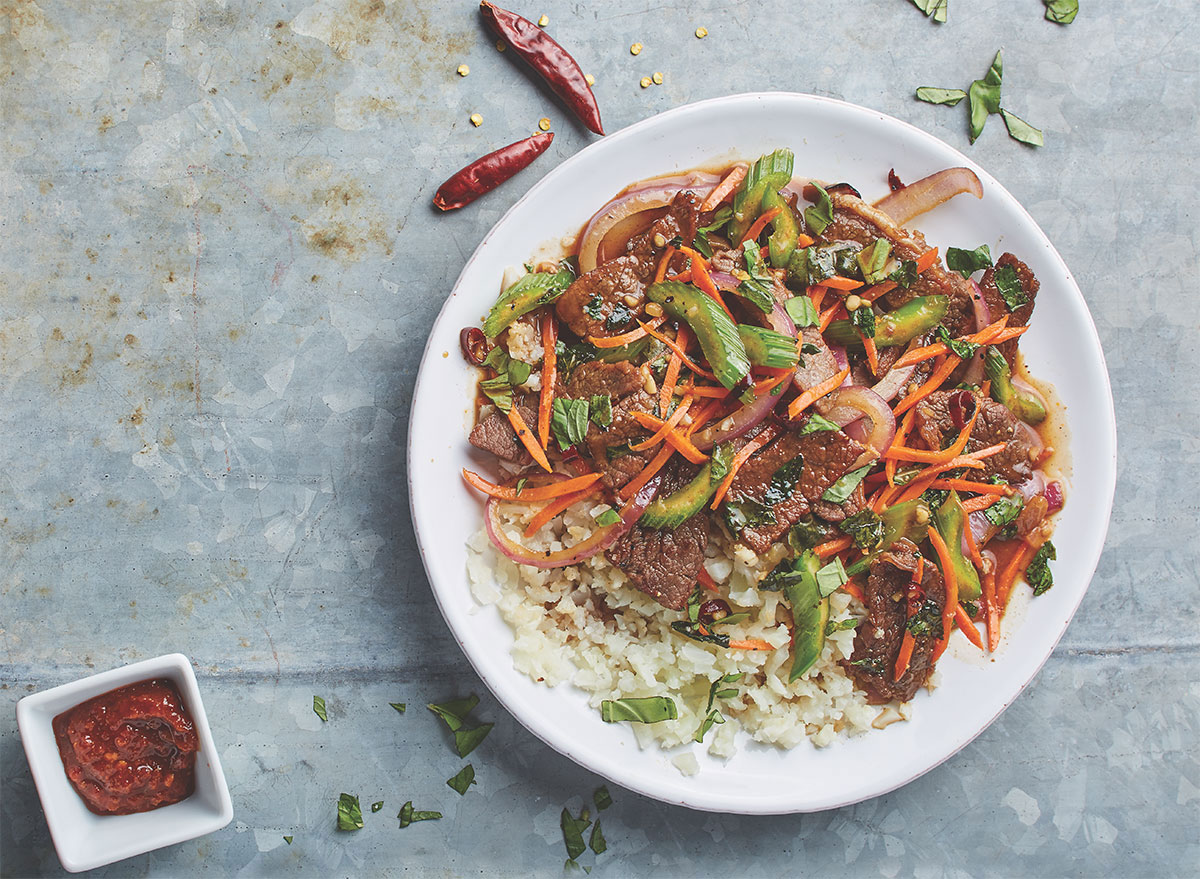 This beef stir-fry will only take you a little more than a half-hour to make. And with coconut aminos taking center stage as the base of the sauce that pulls together all the ingredients, this is yet another way to spice up cauliflower rice. It happens to be a paleo-friendly meal, too.
Get our recipe for Thai Beef Stir-Fry.
Tomato Chicken Curry With Cauliflower Rice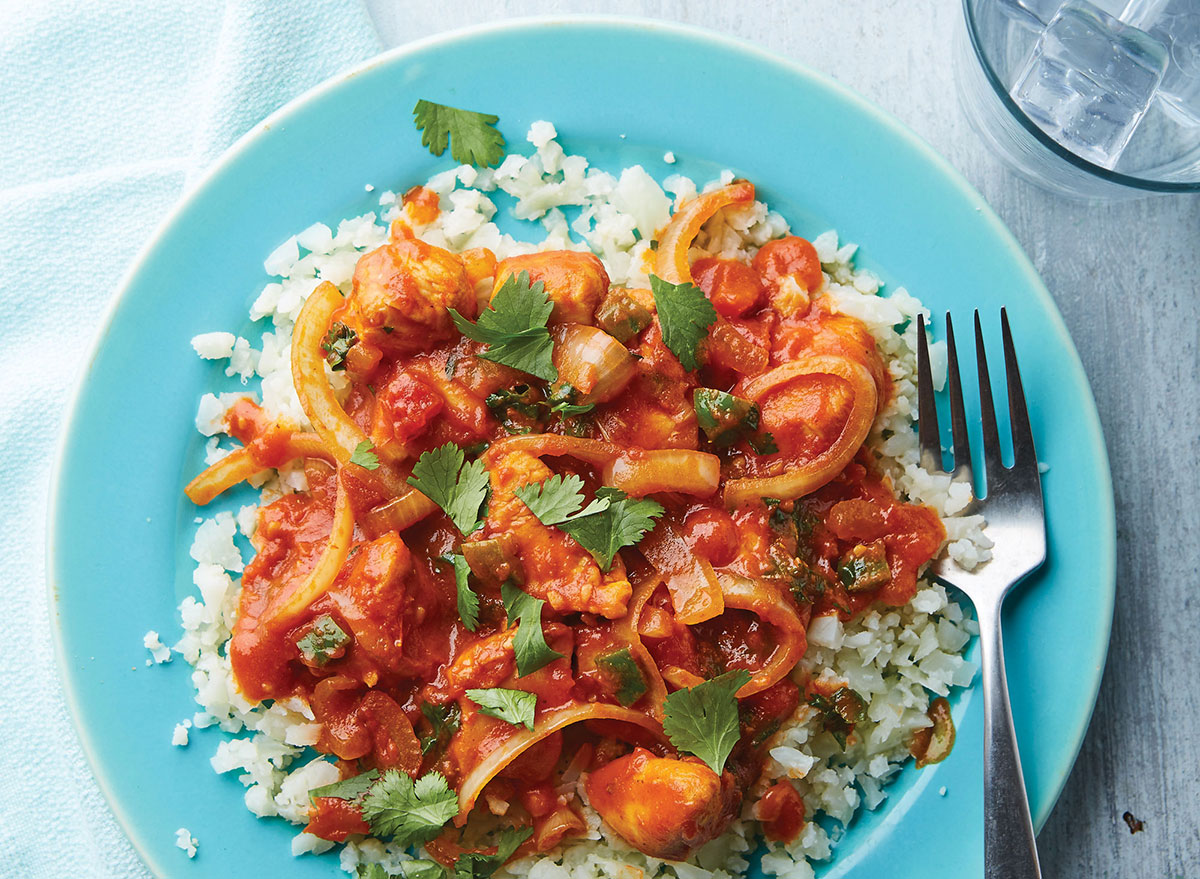 Looking for a meal that brings the spice? This chicken curry dish is for you, as a jalapeño is a necessary ingredient in the recipe. Between the sweet coconut and the acidity of the crushed tomatoes, this cauliflower rice-based dish is one that certainly has a kick.
Get our recipe for Tomato Chicken Curry With Cauliflower Rice.
Spicy Roasted Cauliflower Veggie Burrito
Take a bite of this burrito and you won't find any meat. Instead, you'll be treated to spicy roasted cauliflower, onions, peppers, corn, rice, beans, and melted cheese. We know—there's a good chance your mouth is already watering at the thought of it all!
Get the recipe for a Spicy Roasted Cauliflower Veggie Burrito from Inspired Taste.
Cashew-Crusted Cauliflower Steak
Nope, there isn't any actual steak here! Steamed cauliflower serves as the "steak," as it's coated in this cashew crust that is also made up of sea salt, garlic powder, smoked paprika, cayenne, and curry powder.
Get the recipe for a Cashew-Crusted Cauliflower Steak from Minimalist Baker.
Creamy Roasted Cauliflower Soup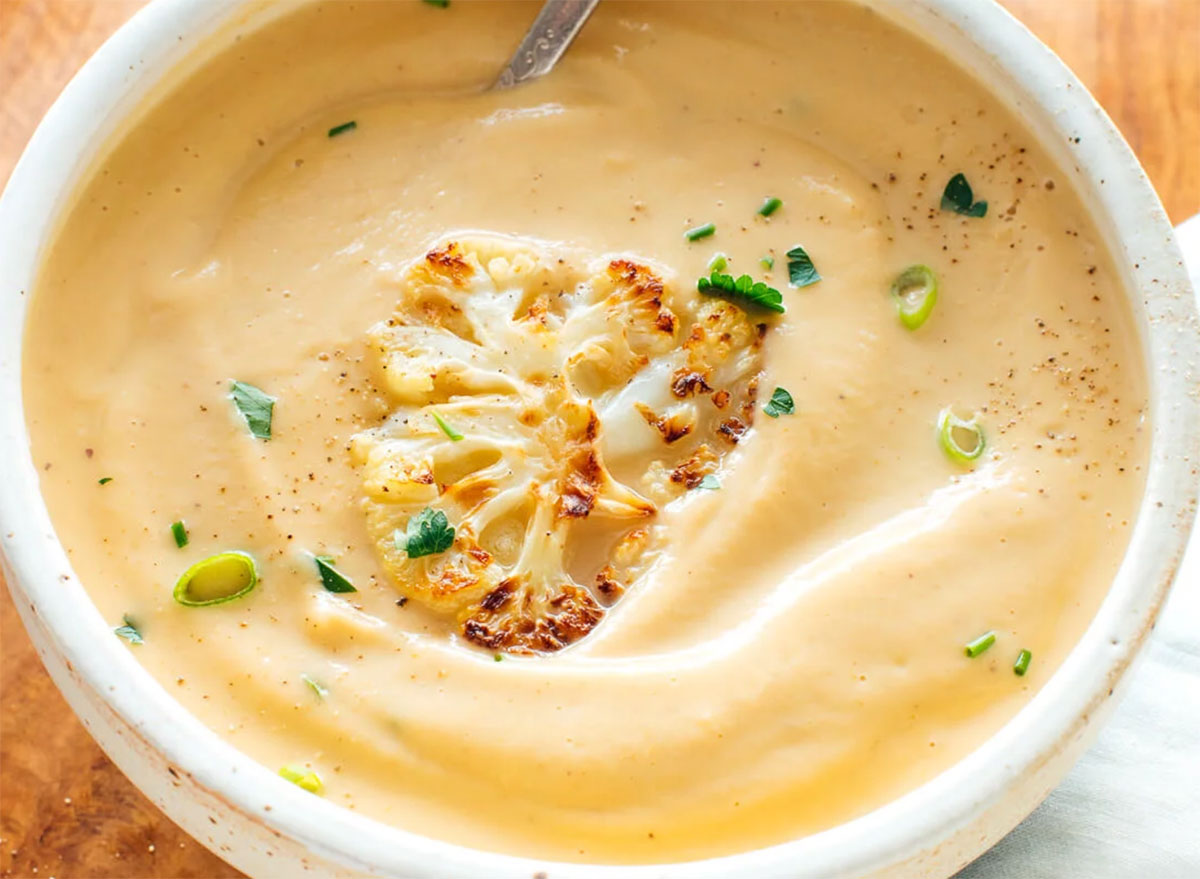 When you're in the mood for a warm bowl of soup, allow this recipe to be the one you turn to. This soup not only freezes well, which means you can make a ton and portion it out to last, but it surprisingly doesn't have any cheese in it. That's right: You can have a hearty, perfectly creamy soup without any cheese. Cauliflower and butter are an impressive combo in this dish, that's for sure.6254a4d1642c605c54bf1cab17d50f1e
Get the recipe for a Creamy Roasted Cauliflower Soup from Cookie and Kate.
Roasted Cauliflower Enchiladas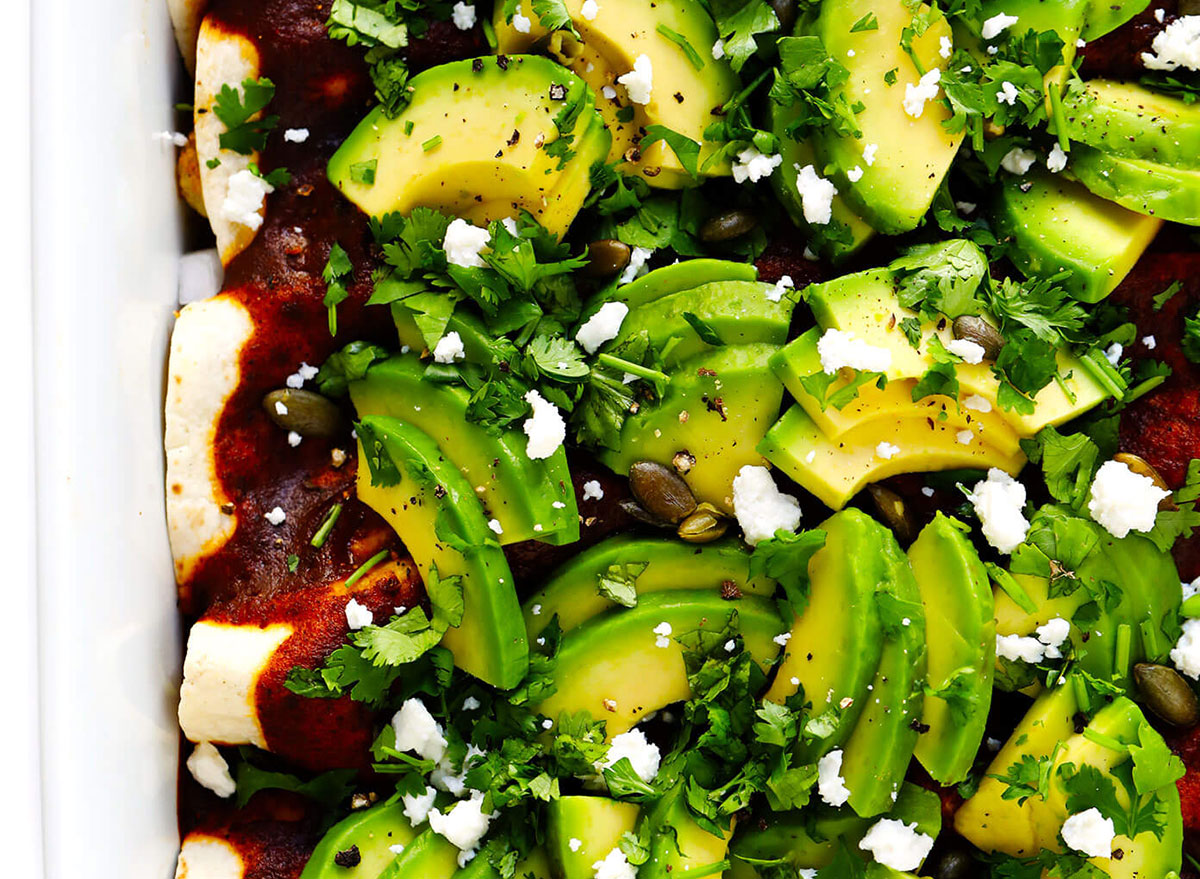 This vegetarian-friendly dish is one that is just an explosion of flavor. The key to these enchiladas is the way the caramelized cauliflower pairs with the savory enchilada sauce, which along with the beans and melted cheese inside the filling, is pure perfection.
Get the recipe for Roasted Cauliflower Enchiladas from Gimme Some Oven.
Cauliflower Pasta
If you've been looking for a way to change-up a basic pasta dish, this is the recipe you've been looking for. Here, cauliflower florets are sautéed in garlic until they're golden in hue, then tossed with peas, lemon zest, and Parmesan cheese. You can even add in some crispy bacon Parmesan breadcrumbs to add some big texture and flavor. The best part about this meal though is that it's all cooked in one pot, and yes, that includes the noodles.
Get the recipe for Cauliflower Pasta from Well Plated.
Crispy Cauliflower Tacos With Mango Salsa
These cauliflower tacos take inspiration from a fish taco, as each taco is filled with mango salsa, freshly shredded red cabbage, creamy avocado, and a Mexican crema sauce, all which perfectly complement the pan-fried cauliflower.
Get the recipe for Crispy Cauliflower Tacos with Mango Salsa from Love and Olive Oil.
Cauliflower Alfredo Spinach Artichoke Lasagna
There's a good chance you haven't had a lasagna quite like this before! The cauliflower comes into play in the sauce, as the layers of pasta, spinach, and artichoke are covered in a cauliflower Alfredo sauce.
Get the recipe for Cauliflower Alfredo Spinach Artichoke Lasagna from Vegan Richa.
Jennifer Maldonado
Jennifer Maldonado is a senior editor at Eat This, Not That!, specializing in food and health content.
Read more about Jennifer