40 Healthy Dinners For People Over 40
What you eat for dinner will have an impact on your long-term health as you age.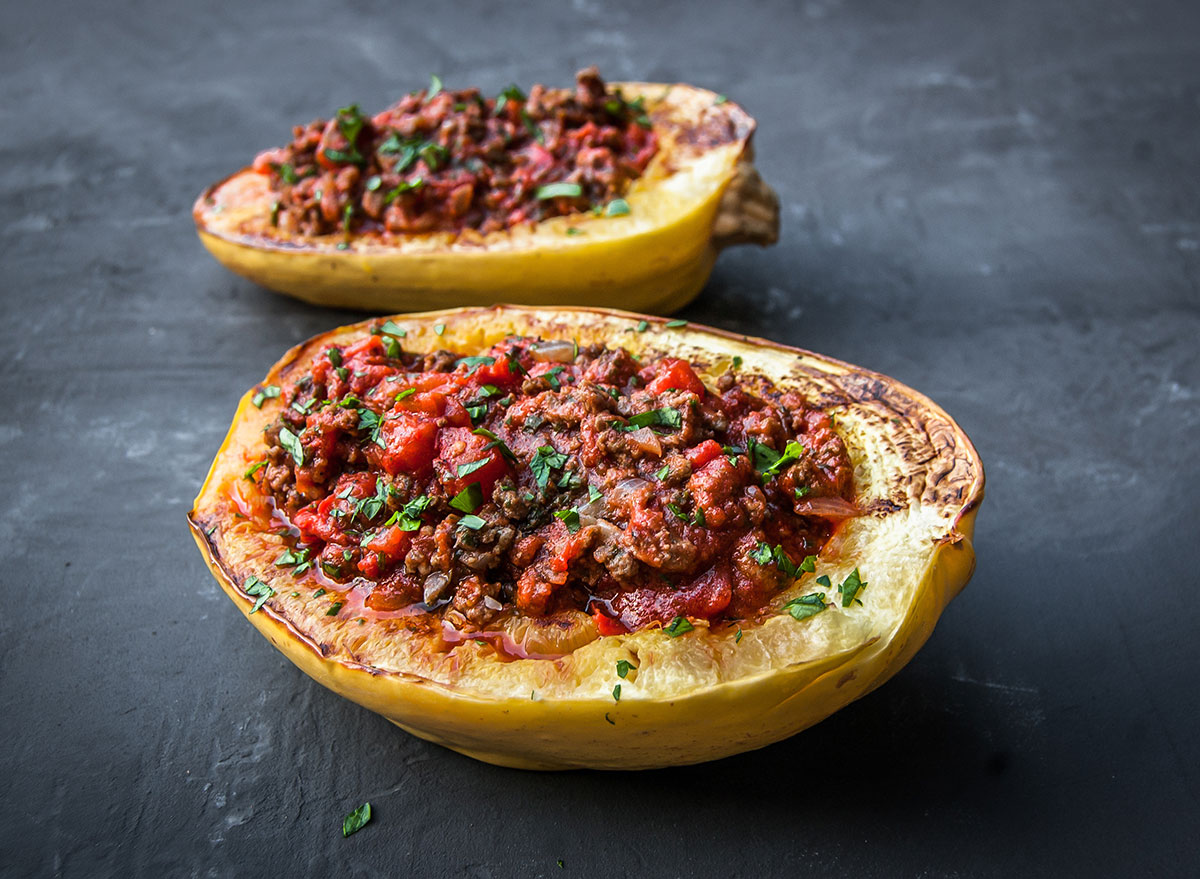 People say breakfast is the most important meal of the day, but dinner is pretty important, too. Sure, the first thing you fill your body with fuels you through everything on your to-do list. But what no one thinks about is that the last meal is what will nourish your body through the night. Plus, choosing from the right healthy dinner ideas will also determine how good you feel when you wake up in the morning tomorrow—and for years to come.
That's right. What you eat for dinner doesn't just affect you in the moment, but it will also have an impact on your long-term health. It's another opportunity to fit anti-aging foods into your diet that will make you feel your best and give you everything you need to live a long, happy life. (Plus: you're probably sick of feeling just as bad when you eat a cheese-loaded pizza as when you're recovering from a hangover.)
By filling your plate with plenty of vibrantly-colored veggies and skipping out on the foods that—quite literally!—weigh you down, you'll be feeling better in your 40s than you ever did in your 20s. Seriously. And these 40 options are a great place to start.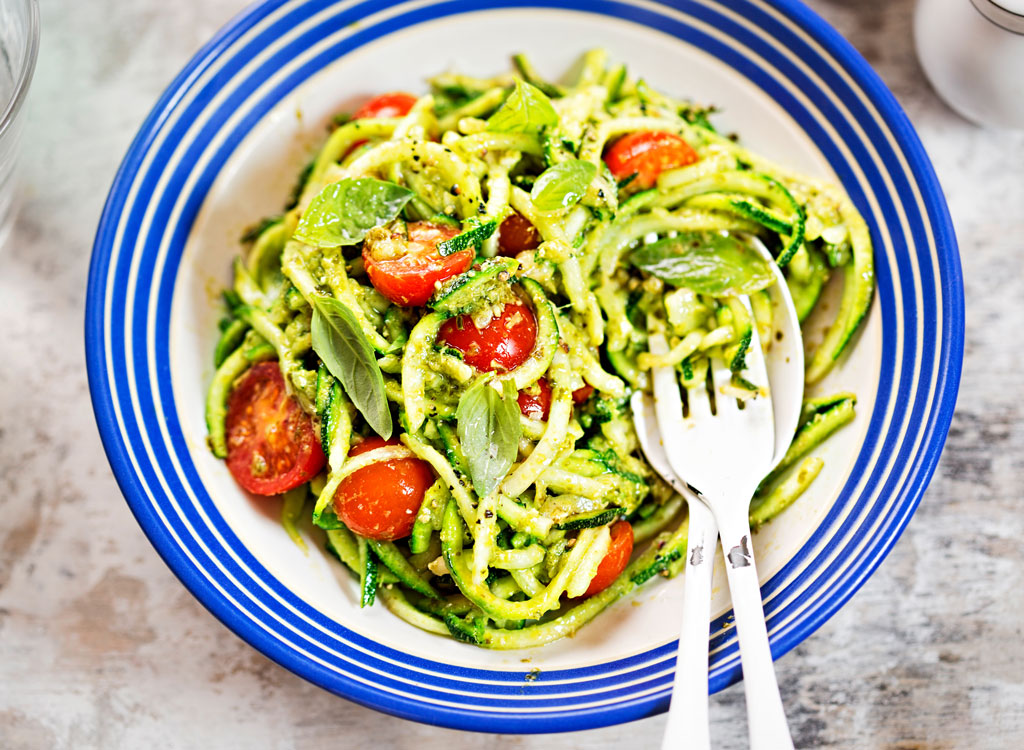 Yeah, yeah, there's nothing more delicious than white pasta slathered with marinara sauce, but refined grains wreak havoc on your body. Not only are they less nutritious, but they can also cause a major spike in your blood sugar, according to Harvard School of Public Health. Instead, either stick to whole grain noodles or sub in some zoodles—aka zucchini noodles—for a lower-carb, body-friendly option.
Cashew Fettuccine Alfredo
The last thing you want as you get older is to be dealing with inflammation—and dairy is a major cause of it, as well as bloating, gas, and constipation, explains the Cleveland Clinic. Don't worry, though: you can still enjoy your favorite dishes by subbing in some wholesome, plant-based ingredients—and make 'em healthier in the process. By soaking some raw, unsalted cashews overnight in hot water, you can blend them into the perfect fettuccine Alfredo sauce, like in this recipe from The Vegan 8.
The best way to warm up during cold weather is grabbing a hearty cup of soup. And one of the most body-benefiting combos? Carrots and ginger. While carrots are packed with antioxidants and have been shown to help fight off different types of cancer, help keep your eyes healthy, and lower your blood cholesterol, ginger has been used for centuries to help treat everything from joint pain to lower cholesterol levels.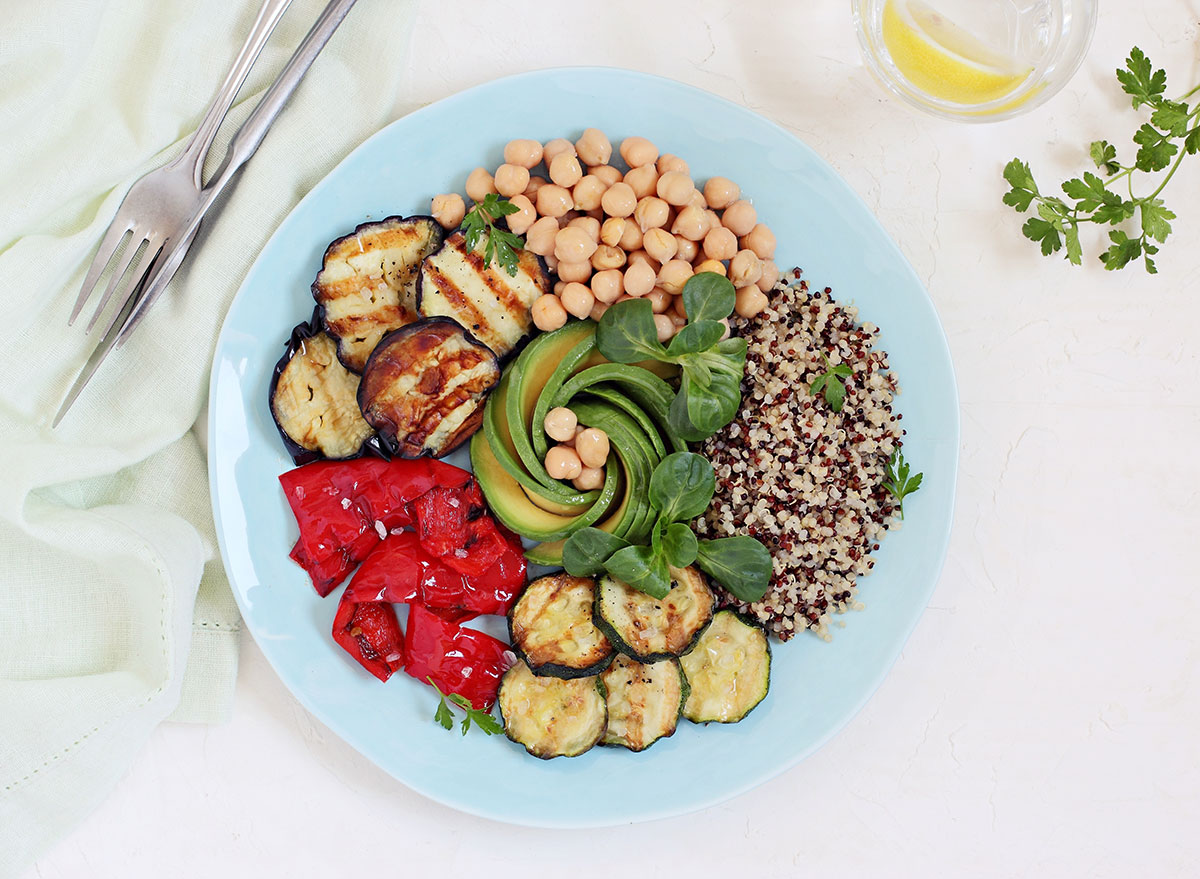 Buddha bowls are filled with all sorts of wholesome goodness, and they always make for a healthy dinner option. To create the perfect mix, choose plenty of veggies, some leafy greens, a hearty carb—like brown rice or quinoa—and a heart-healthy protein, like lentils or tempeh. It's warm, cozy, and will leave you feeling full and satisfied.
Veggie-Loaded Quesadillas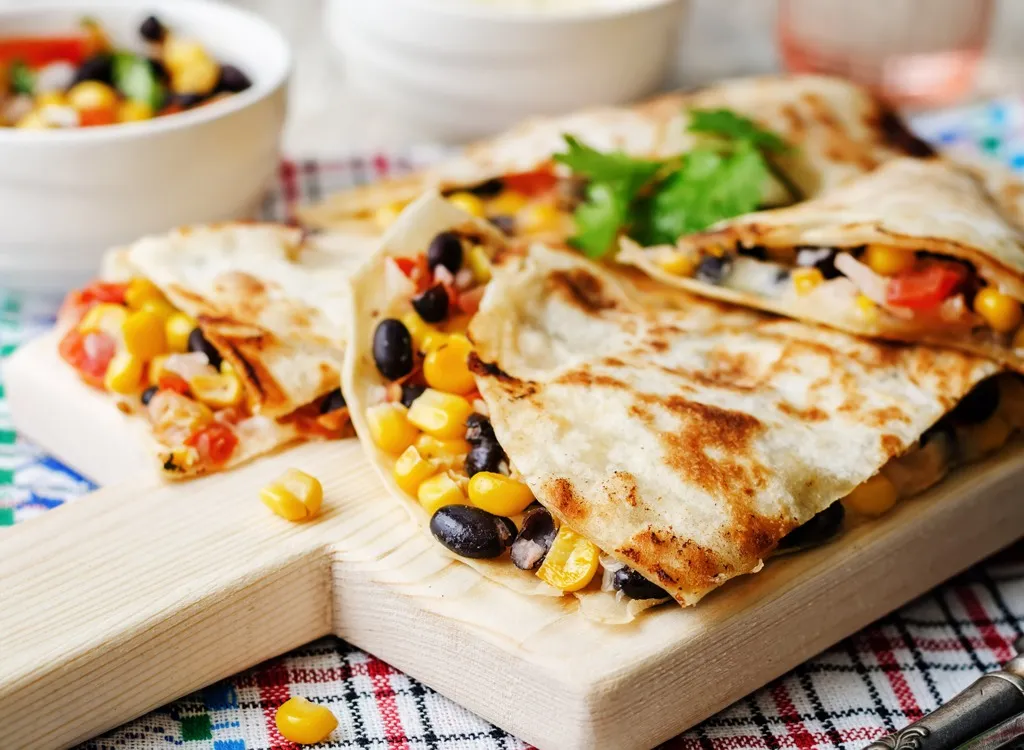 Typically, cheese-filled quesadillas are only going to leave you with a stomach ache for the rest of the night. Instead, healthify the comfort food by loading some whole grain tortillas with black beans and mashed sweet potatoes. Or, use another creamy option to hold everything together, like avocado or hummus. When it comes to this dish, it's easy to think outside the box.
Whole-Roasted Cauliflower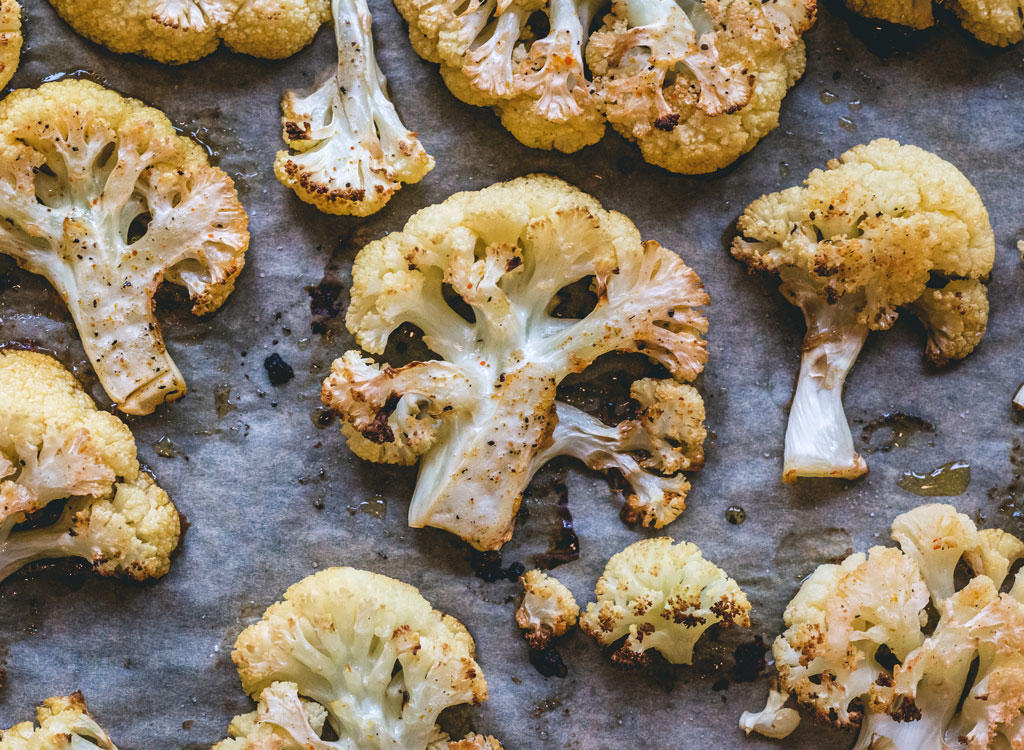 If it's hard to imagine making a vegetable the star of your plate, it's time to change that: Eating a plant-based diet has been shown to help decrease the risk of heart disease, obesity, diabetes, strokes, and other issues that can hurt your health as you age. One dish that might just change your mind is a whole-roasted cauliflower, like in this recipe from Karissa's Vegan Kitchen. It's basically like a pot roast, except totally meat-free.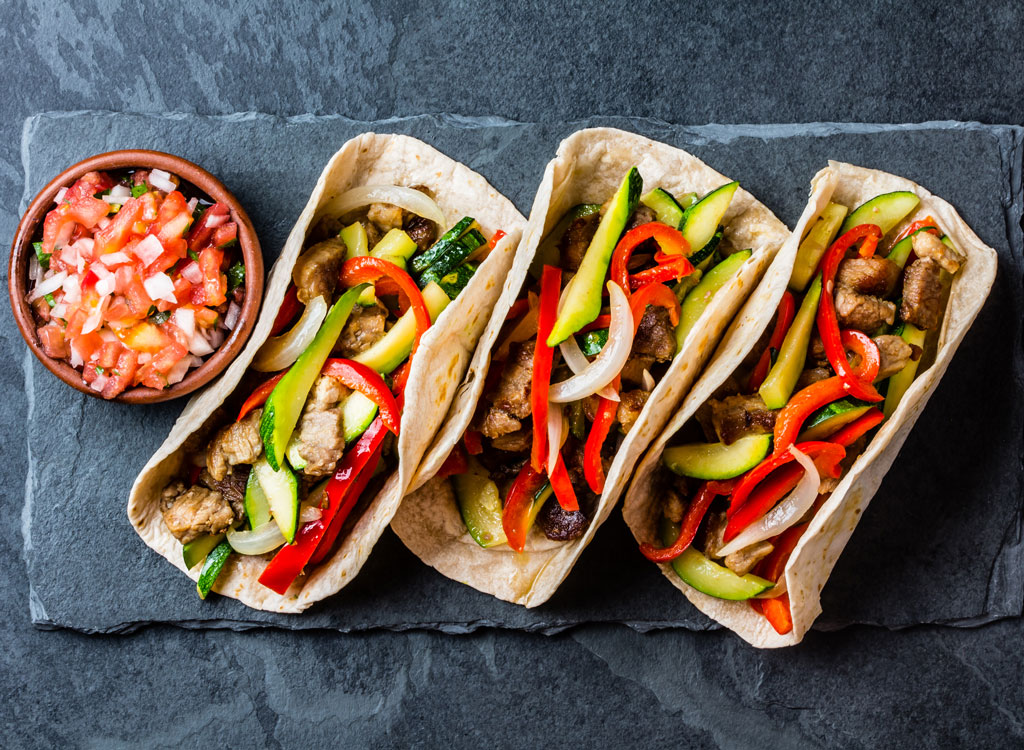 Everyone loves taco night, no matter their age. Create a healthy spread featuring a rainbow of different body-boosting veggies to toss into your whole grain tortillas, like fire-roasted bell peppers, black beans, shredded lettuce, corn, tomatoes, and onion. Then, for a heart-healthy substitute for red meat—which has been linked to heart disease—create a flavorful mix out of quinoa, like in this recipe from Minimalist Baker.
6254a4d1642c605c54bf1cab17d50f1e
Bibimbap is a Korean dish that's typically loaded with fresh ingredients, and you can easily make your own version at home. When assembling your bowl, focus on adding a wide variety of healthy, colorful veggies—like mushrooms, carrot strips, spinach, bean sprouts, cucumber, and red cabbage—and serve it with brown rice.
Tomatoes are packed with lycopene, an antioxidant that's been shown to do everything from reducing your risk of heart disease to fighting off cancer. Because of all the fruit's stellar qualities, why not enjoy it in some soothing soup? Instead of buying it in can-form at the store—which is usually packed with sodium—make your own using freshly-roasted tomatoes.
There are so many different things you can do with cauliflower. And one of the tastiest? Turning it into wings. While traditional fried chicken wings are filled with saturated fat and cholesterol that can harm your health, you can make a healthier version by baking up some cauli and coating it with your favorite sauce to keep your heart healthy for years to come.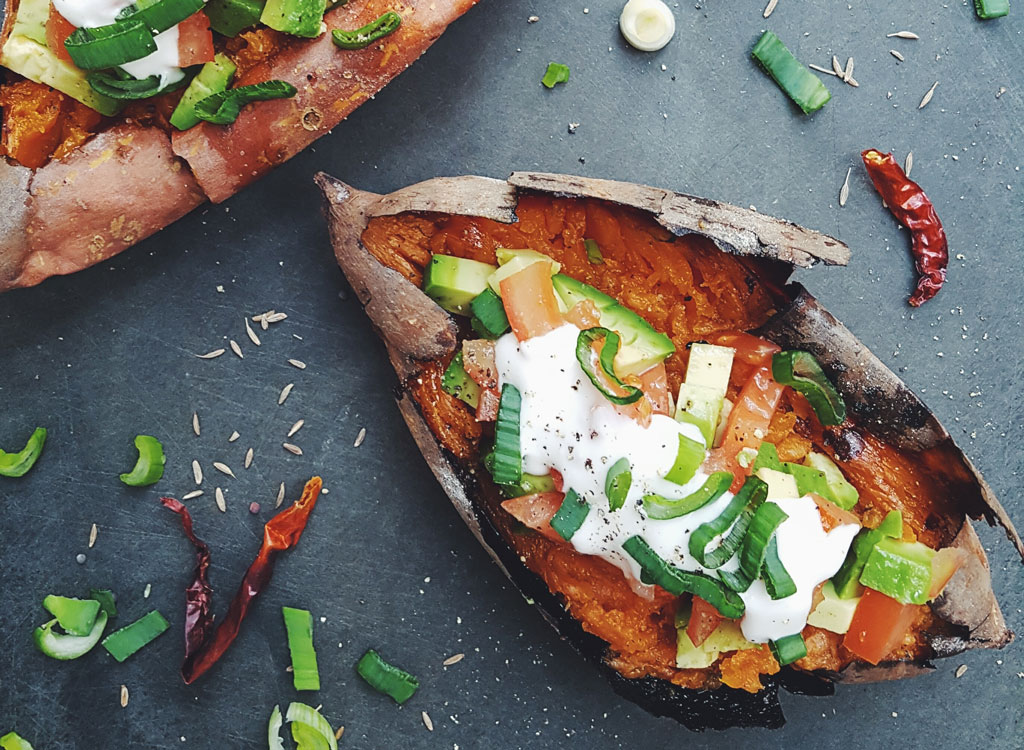 The next time you want a warm, comforting meal, bake up some sweet potatoes. Not only will you be taking in plenty of eye health-boosting vitamin A, but you can top them with black beans for protein, avocado for some healthy fat, and cheesy-flavored nutritional yeast for some totally mood-boosting vitamin B12.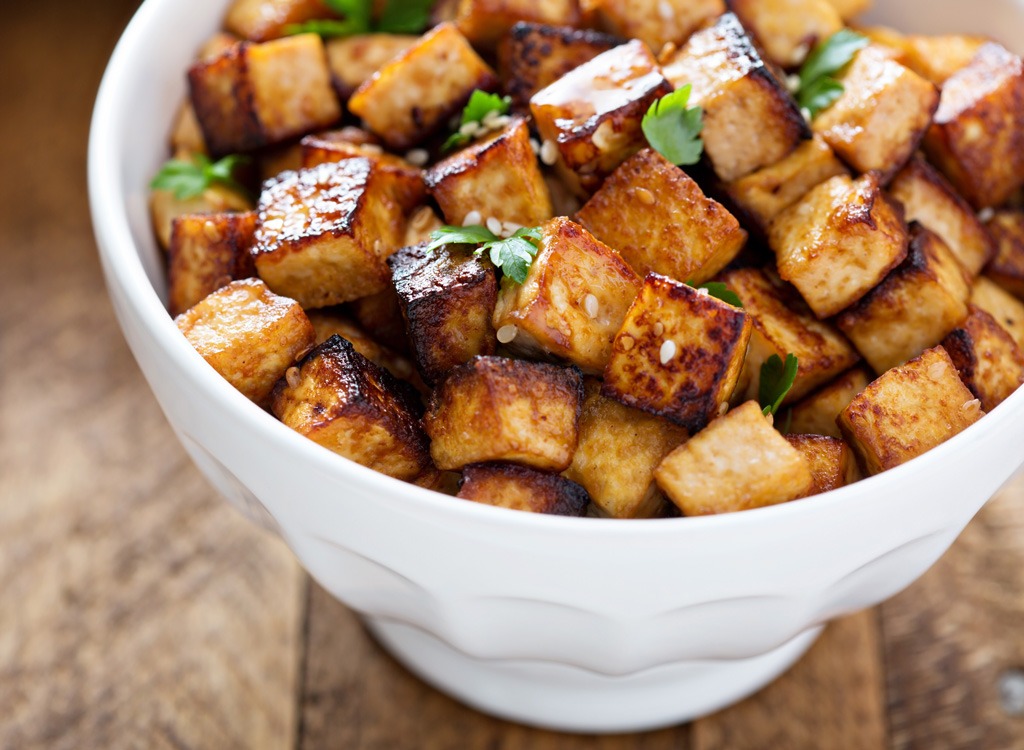 If you're a big fan of BBQ, you can still get your fix—just in a much-healthier way. Tofu is low in calories but high in calcium and protein—two things that will keep you feeling great as you age. And it goes hand-in-hand with any sort of sauce, acting like a sponge and sucking it up so it's practically bursting with flavor. By pressing out the water, baking it, then slathering it in your favorite mix, you'll get to enjoy a crispy favorite any day of the week.
Cheesy goodness without the cheese is totally possible if you have some butternut squash on hand. By using the high-antioxidant fall staple instead—like in this recipe from Mallory Maddox—you can create a creamy sauce to slather your elbow noodles with that's full of benefits, from giving your immune system a boost to keeping your bones strong due to the high levels of potassium.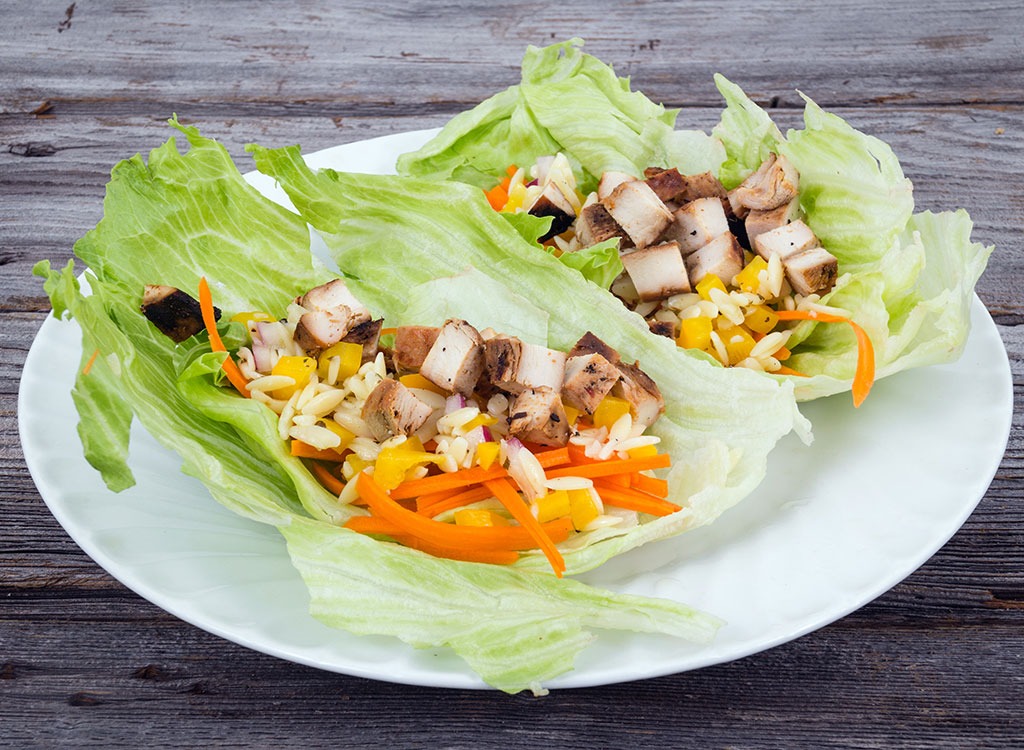 Who needs grain wraps when you have a fresh head of butter lettuce? While whole grain tortillas are always a solid choice, switching things up by piling lettuce cups high with a colorful assortment of vegetables—including carrots, radishes, and purple cabbage—is a great alternative. Plus, the combo is benficial as you get older—especially since both carrots and purple cabbage better your eye health, according to a review published in Clinical Interventions in Aging. (Aka you can push those reading glasses aside a little longer.)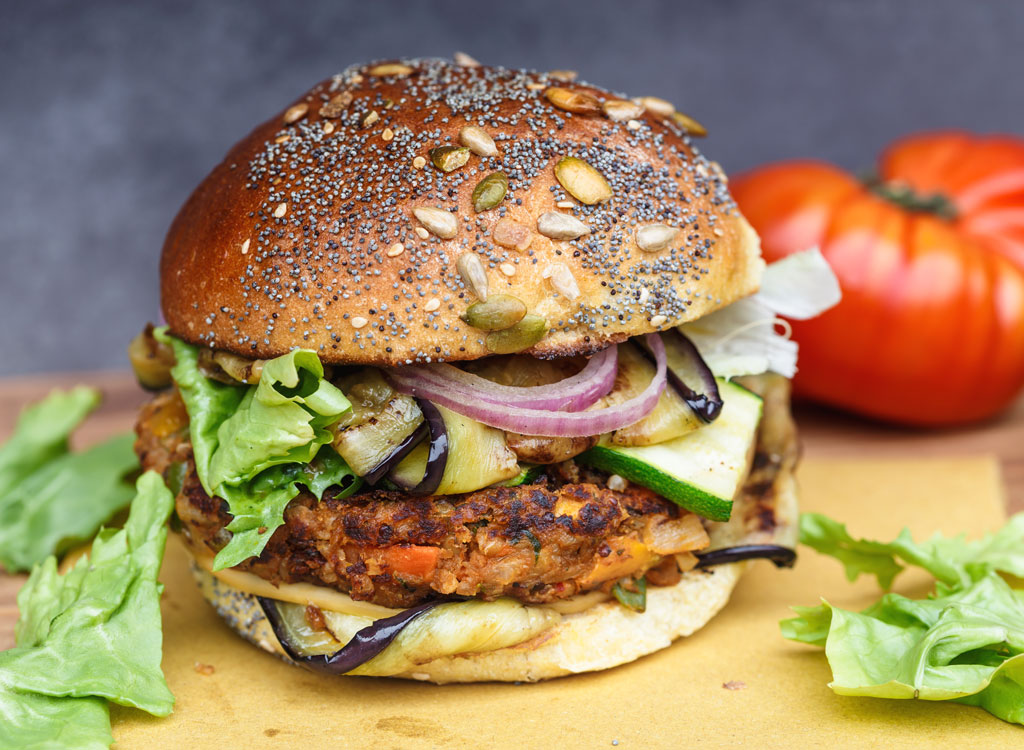 Red meat has been linked to cancer time and time again, so burgers might not be the best choice to eat on the regular. One workaround, though? Making a patty out of plant-based foods that are bursting with vitamins and minerals. Whether it's protein-packed black beans or mushrooms—which have a meaty texture and flavor—you'll get to enjoy your beloved dish in a way that will benefit your health, not hurt it.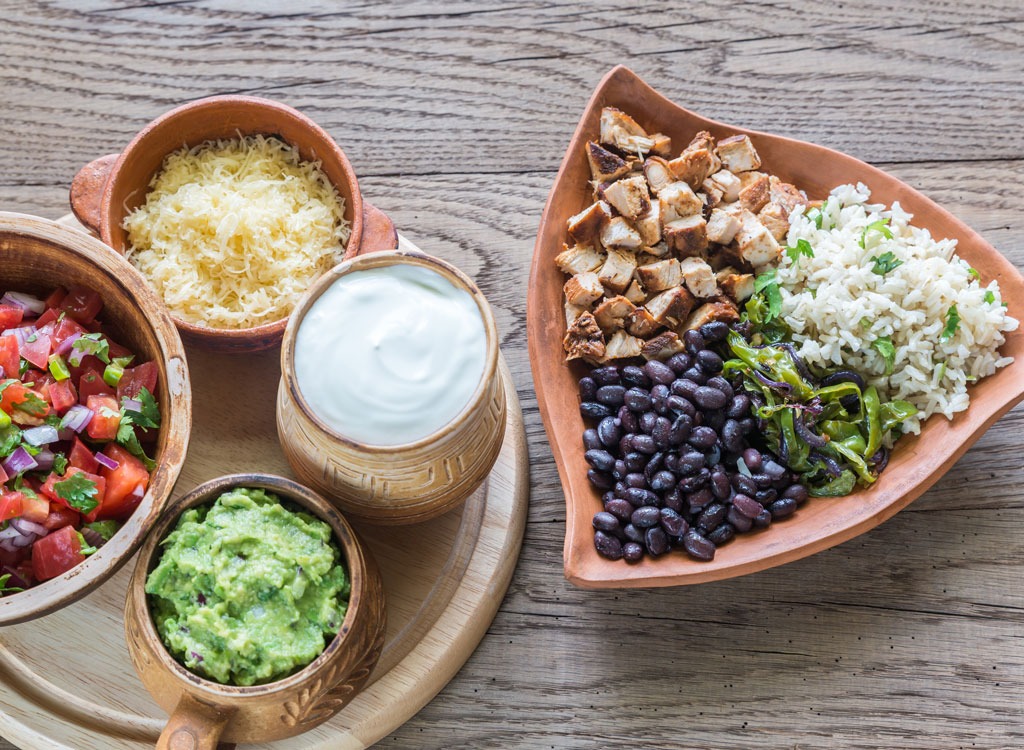 On those nights you're tired and feeling a little lazy (hey, it happens!), there's no better option than a burrito bowl. In fact, you can create your own healthified take on Chipotle's beloved ingredients list by eating a mix of brown rice and lettuce topped with taco-seasoned tofu crumbles, plenty of low-sodium beans, tomatoes, onion, green peppers, and hot sauce to give your metabolism a boost.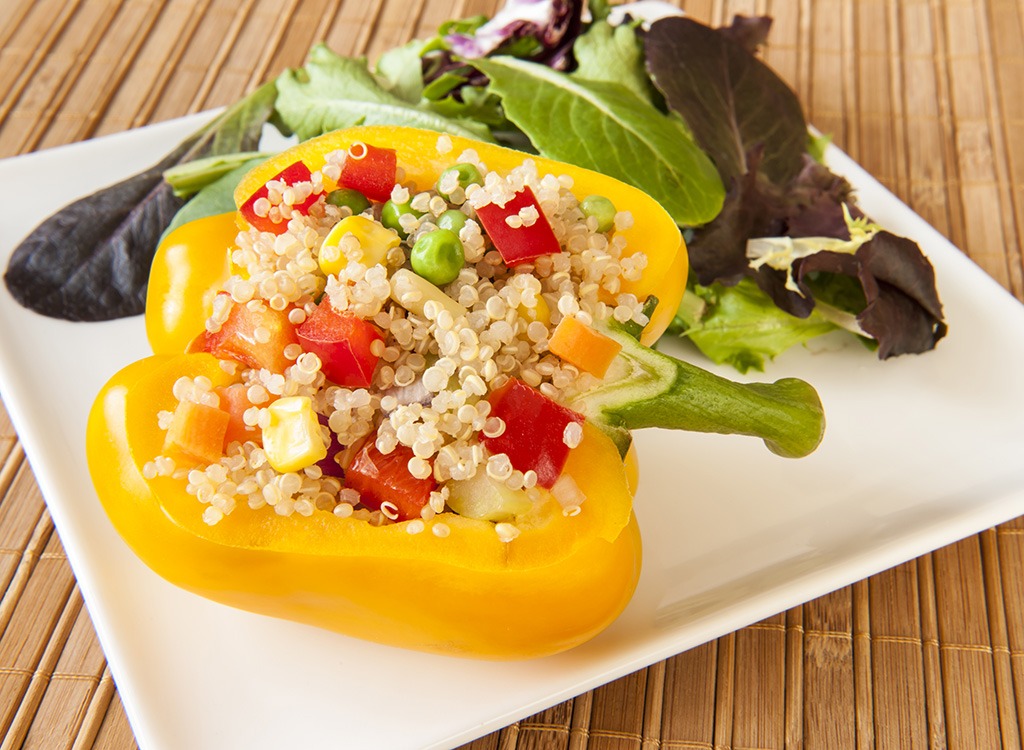 Stuffed peppers are so easy to make there's no excuse not to. All you need to do is cut some bell peppers in half—which have three times more vitamin C than an orange per cup—and bake them in the oven, then load them up with a hearty mix of quinoa, black beans, mushrooms, and whichever spices you love.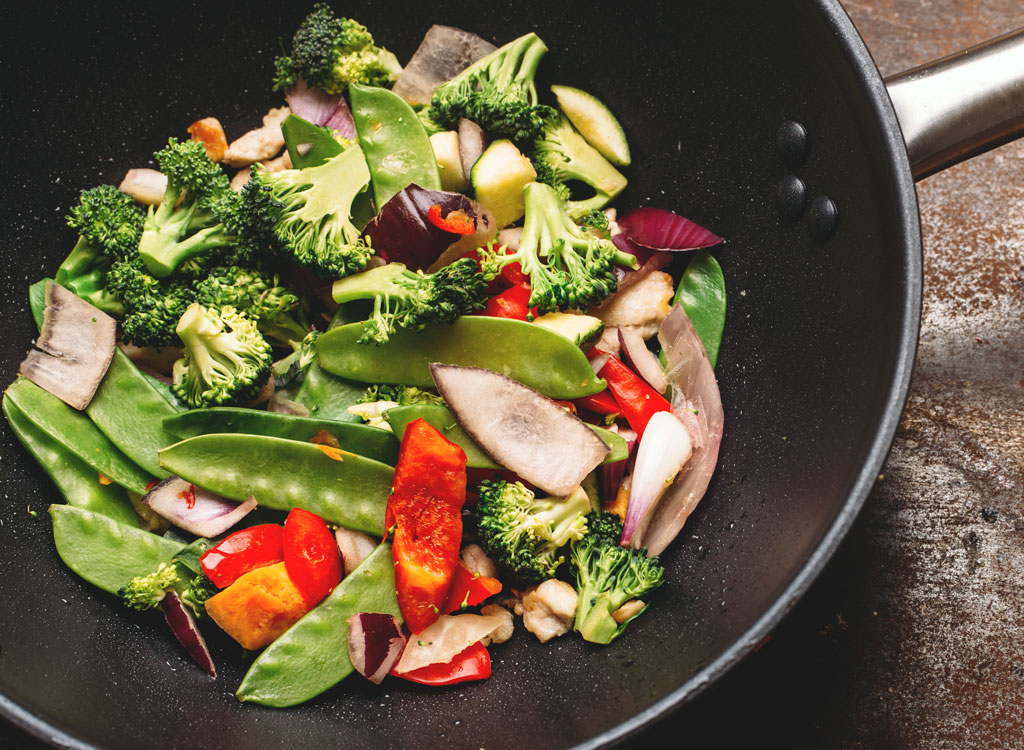 The Chinese takeout you order from your favorite restaurant is probably loaded with sugar and oil, so why not prepare your own version at home? To create a healthy stir-fry, round up your favorite veggies—like broccoli, carrots, mushrooms, and snap peas—and sauté them, then add in your favorite sauce and serve the mix with brown rice or lo mein noodles. It won't take more than 10 minutes… and you'll definitely want seconds.
Enchilada-Stuffed Portobellos
There are so many things you can do with portobellos. The mushrooms have been shown to help fend off cancer and cut down inflammation, and they even have anti-aging potential, according to Penn State researchers. One of the tastiest dinners you can make is turning them into enchiladas. By filling them with black beans, corn, and some enchilada sauce—like in this recipe from Sweet Peas and Saffron—then baking them up, you'll be left with a hearty dinner the entire family will enjoy.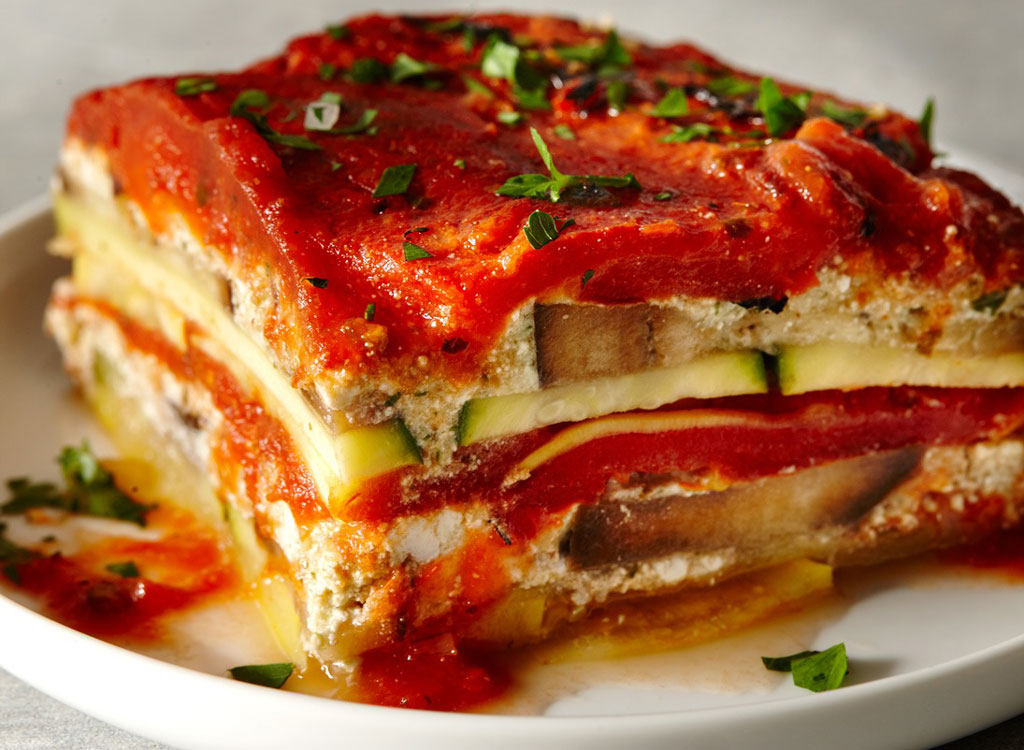 Everyone loves lasagna. The only issue? Because it's typically packed with loads of cheese, it's also packed with a whole lot of saturated fat, which can raise your cholesterol and cause problems with your heart. To avoid the issue, swap in super-creamy, protein-filled hummus instead. Either use veggies like eggplant and zucchini or swap in whole grain noodles—like in this recipe from Hummusapien—and you'll have a dish that won't disappoint.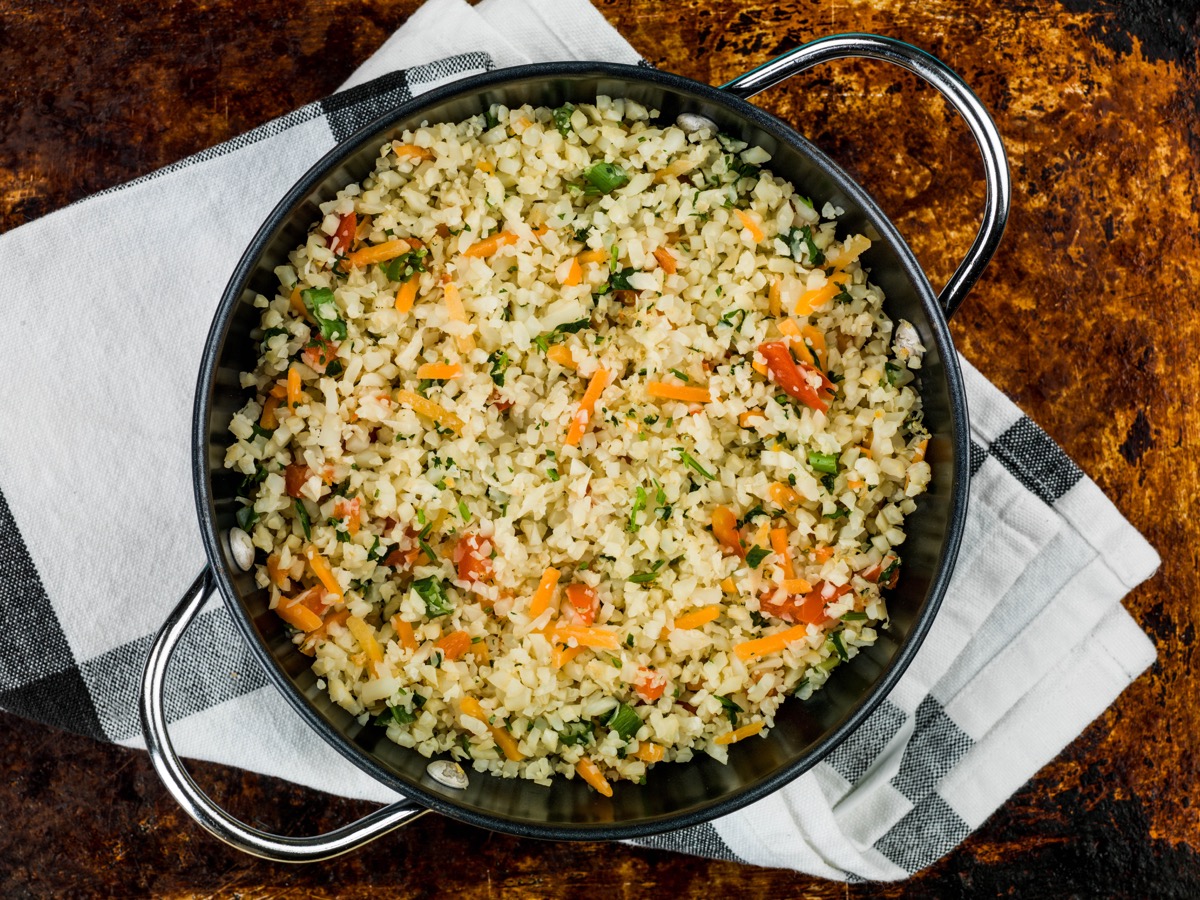 Fried rice isn't always the healthiest choice since it's typically white rice cooked in oil. One way to make it healthier, though? Swap in cauliflower rice. When you also add in some hearty veggies—like peas and carrots—it'll become an easy staple on those nights you're craving takeout.
As the weather gets colder, nothing hits the spot like a big bowl of chili. The next time you make it, swap ground beef for lentils: Just one cup contains 50 grams of protein, 59 grams of fiber, and plenty of iron, calcium, and vitamin C. Aka a total dinner win.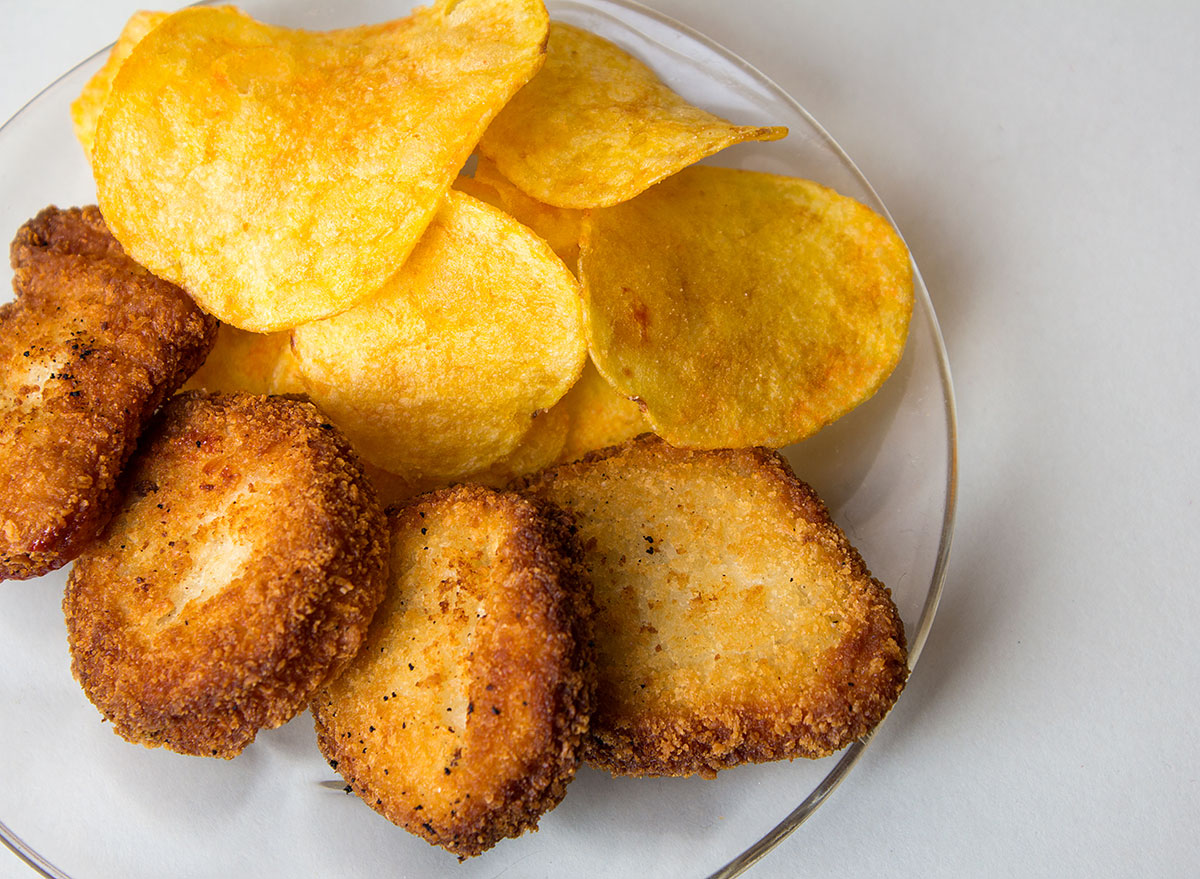 It doesn't matter what age you age—chicken nuggets will always be a dinner favorite. Unfortunately, a study published in BMJ found eating these nugs and other super-processed foods could increase your risk of developing cancer. Instead, cut your chances as you age and instead stick to a healthier alternative: nuggets made from legumes. Filled with cooked chickpeas and coated in crispy breadcrumbs, this recipe from My Plant-Based Family is sure to hit the spot.
Sure, spaghetti is delicious. But when you want a lightened-up version of the Italian staple, look to veggies. If you cut a spaghetti squash in half, scoop out the seeds, then pop it in the oven, you'll be able to scrape out the stringy noodles and pour on your favorite marinara sauce for a healthy low-carb meal option.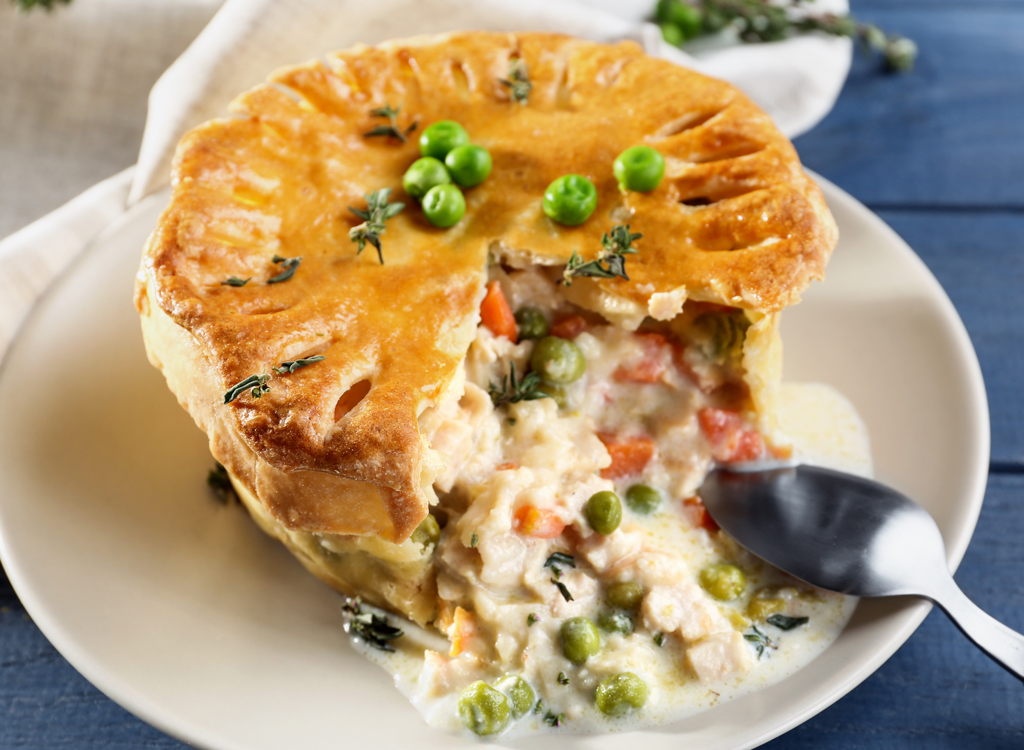 On the nights all you want is an ultra-savory pot pie, there's a way to enjoy one without grabbing it from the frozen food section. For a heart-healthy version that's filled with wholesome ingredients—and not loaded with sodium and saturated fat like store-bought options—try a shiitake mushroom filling. They're full of important vitamins and minerals, can help keep your blood pressure under control, and have been shown to help keep the immune system strong as you age.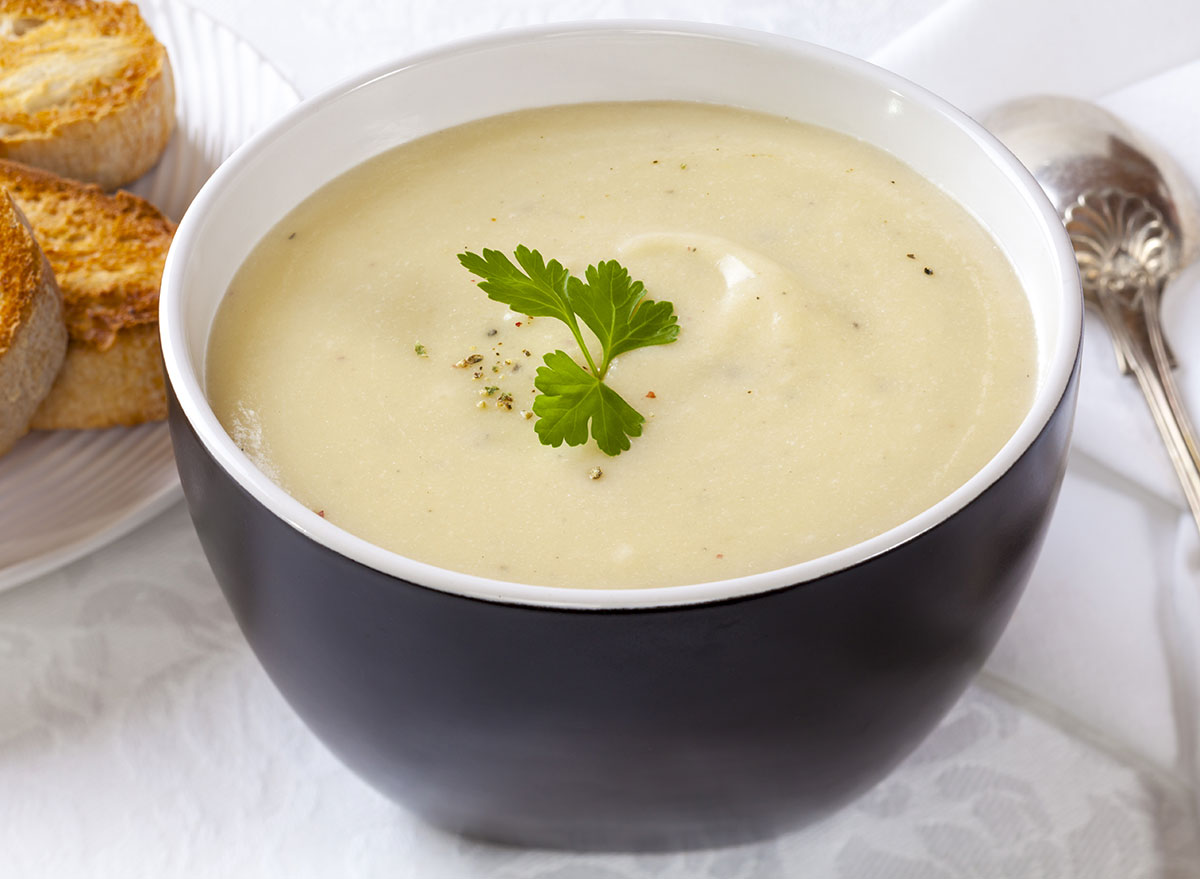 It's hard to find a soup that's more soothing and satisfying as one packed with potatoes. Even though the starchy staple is filled with fiber and protein, eating too much can feel a little, well, heavy. So why not add cauliflower into the mix? By going 50/50, you'll majorly up your immune-boosting vitamin C content and make the soup a little easier on your stomach overall.
Why have popcorn chicken when you can have popcorn broccoli? Alright, alright… it might not sound as good, but just wait. While popcorn chicken is typically fried and full of empty calories, covering some broccoli florets with bread crumbs and baking them into crispy perfection—like in this recipe from Rabbit and Wolves—will let you devour the not-so-junky junk food via one of the most nutrient-dense veggies on the planet. And one that has cancer-fighting properties, at that.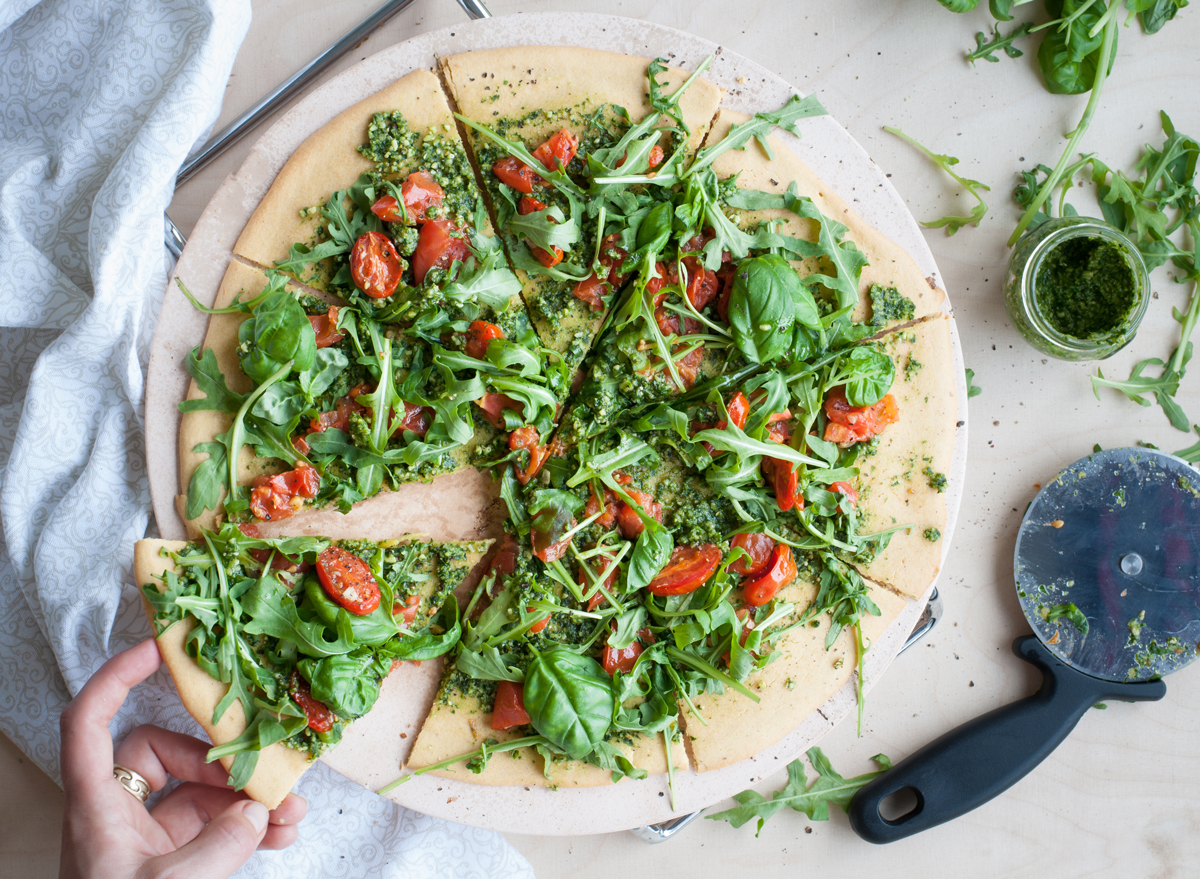 It might be hard to imagine pizza without cheese, but if you want to keep your health in check as you age, you might want to leave it off your plate. While it's fine to have in your diet in small doses—after all, cheese is high in protein and calcium—it is also high in saturated fat and calories, which can harm your health down the line if you go overboard. A great replacement to top your pie with, though? Pesto. It's creamy, satisfying, and contains a whole lot of basil—a great source of antioxidants—and pine nuts, which are loaded with healthy fats.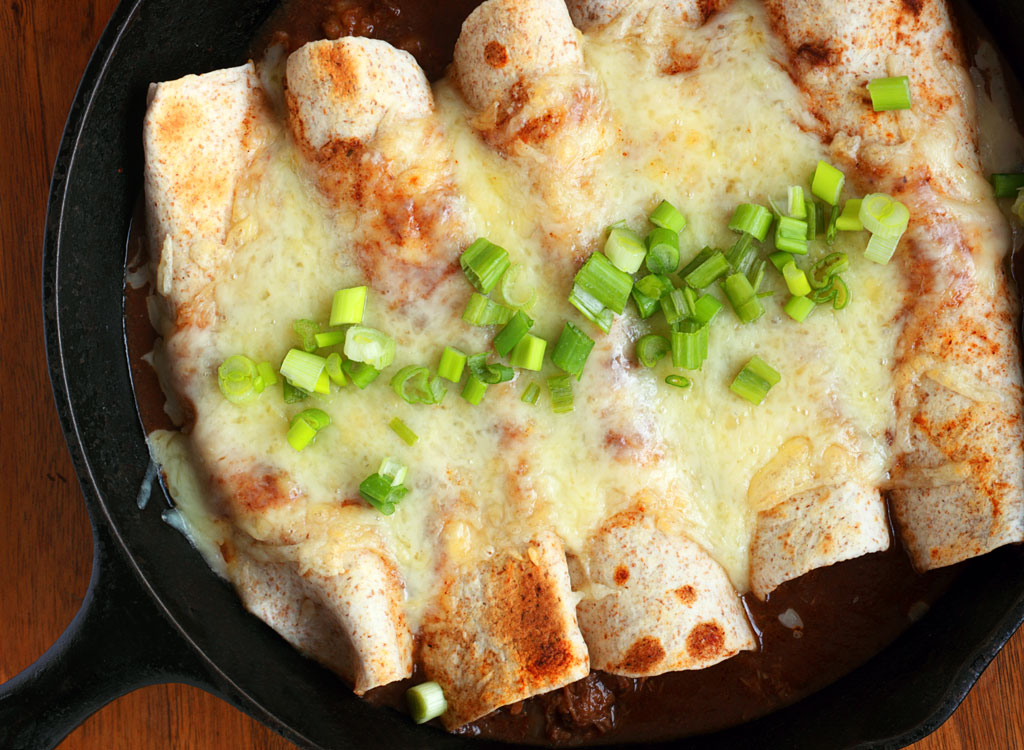 Traditionally, enchiladas are filled with loads of cheese, sodium-packed shredded meat, and oil—all things that can mess with your digestion. Instead, make a delicious enchilada dinner by filling whole grain tortillas with black beans a mixture of veggies, like quinoa, red peppers, and cauliflower. You won't believe how delicious it still tastes drowned in some of your beloved red sauce.
Lentils aren't just great in chili—they're also delicious in sloppy joes. While the traditional sandwich is filled with ground beef or pork—two meats the World Health Organization has linked to increased risk of cancer—subbing in the legume instead for that great taste and texture can give your health a boost. Lentils have been shown to lower the risk of heart disease, can improve digestion, and an Advances in Nutrition review suggests they can also aid in weight loss.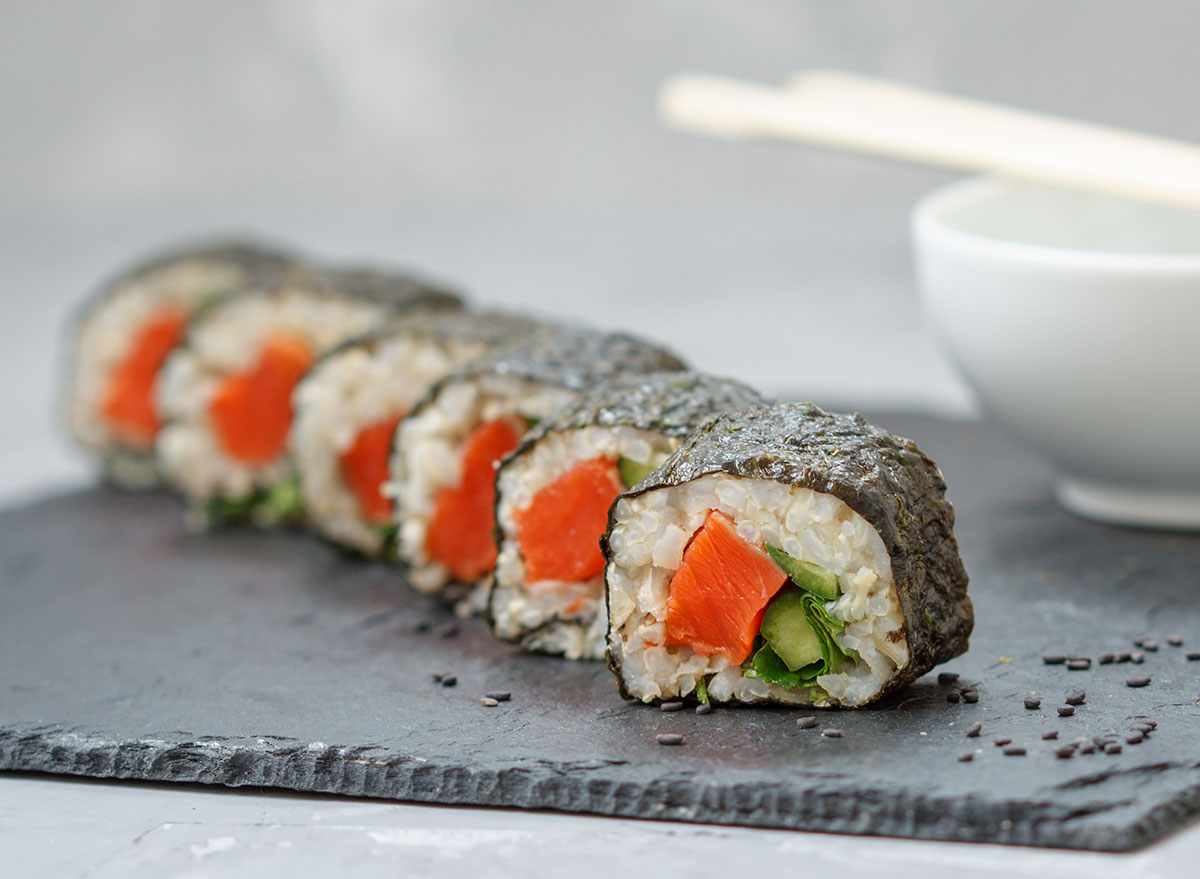 The next time you want to go out to eat, choose sushi. Instead of ordering the fried rolls with white rice, choose a veggie-loaded roll with brown rice. Then if you want to get extra healthy, make sure there's some seaweed on your roll: it's rich in vitamins, protein, fiber, and has plenty of antioxidants that can help fight off disease.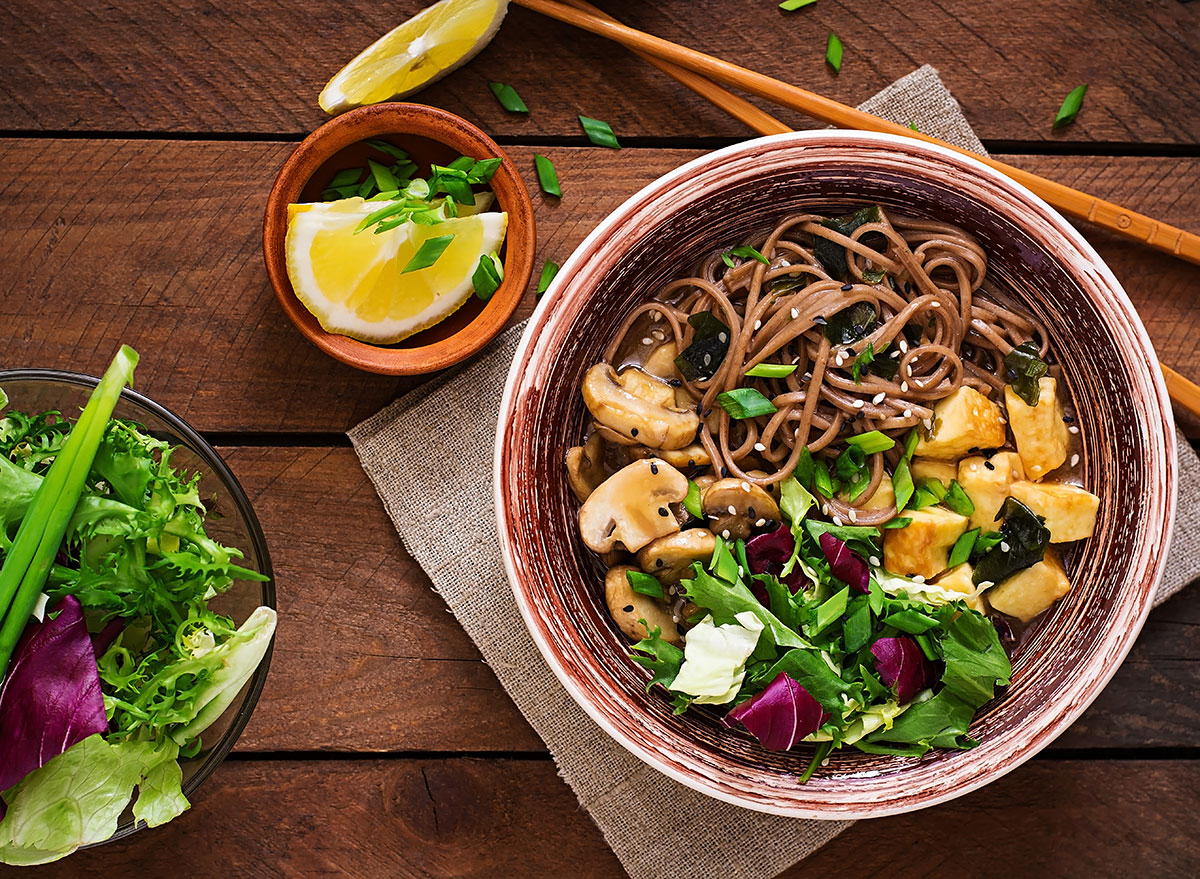 Made from buckwheat, soba noodles are high in protein and lower in calories than your traditional pasta would be. Plus, they're really good. Cook some up, then toss in some veggies—like edamame, broccoli, and shredded carrots—and stir in a tasty sauce for a quick and easy dinner.
Spaghetti Squash Burrito Bowls
Spaghetti squash isn't just great for, well, spaghetti. It also makes for a hearty base for a burrito bowl. After roasting them, fill the insides with black beans, bell pepper, onion, avocado, and salsa, like in this recipe from Cookie + Kate. If you're trying to cut down on grains, it lets you enjoy a lightened-up version of the Mexican staple.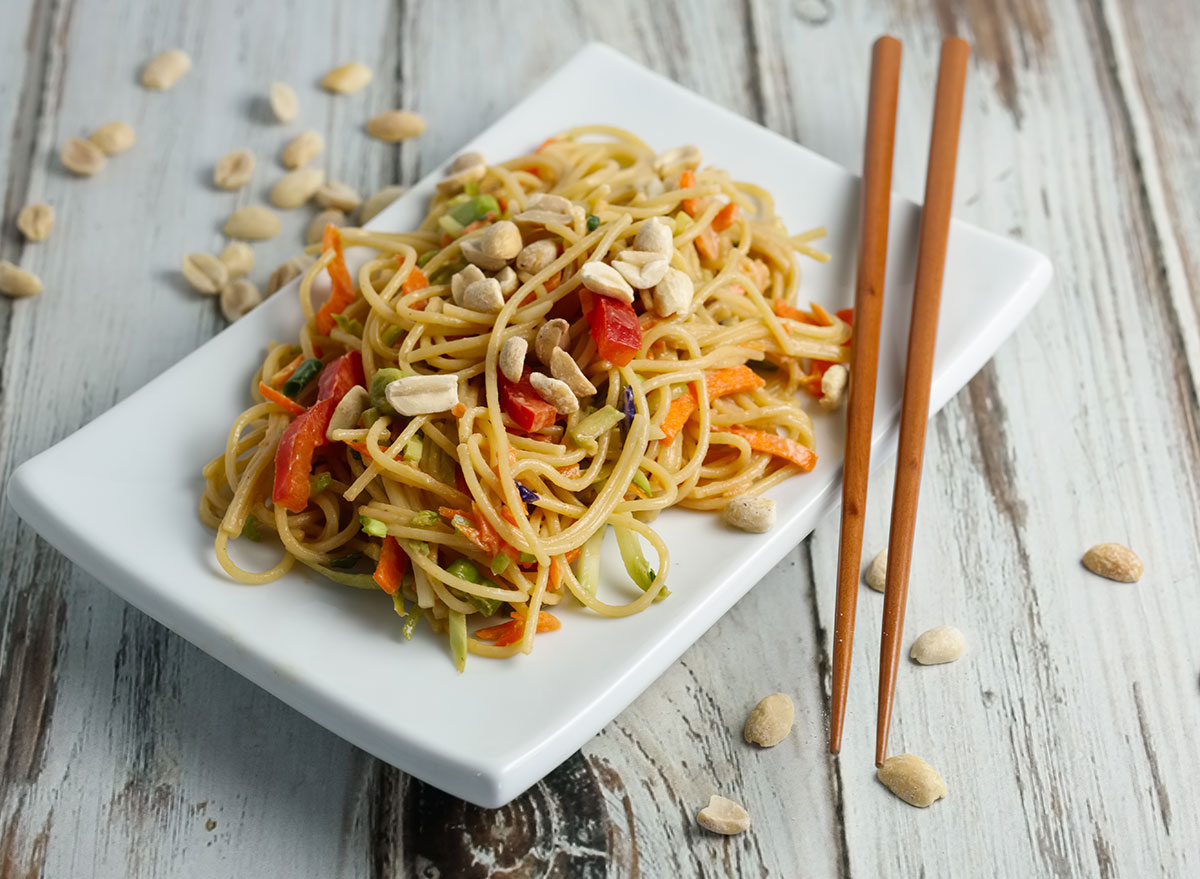 Thai food always hits the spot, and this salad is a must-try—especially if you love all things savory and crunchy. To create the perfect mix, toss shredded cabbage, carrots, radish, and any other veggies you like into a bowl, then add in some peanut sauce, like the one in this recipe from Feasting at Home. The light mix will make you feel good, and you'll also get some protein and vitamin E from the peanuts.
Nope, these aren't the greasy and fried spring rolls you can order from your favorite takeout spot. This kind is loaded with vitamin-packed ingredients like carrots, bell peppers, and cucumber, then wrapped in rice paper. What results is a light dinner you can devour on the regular.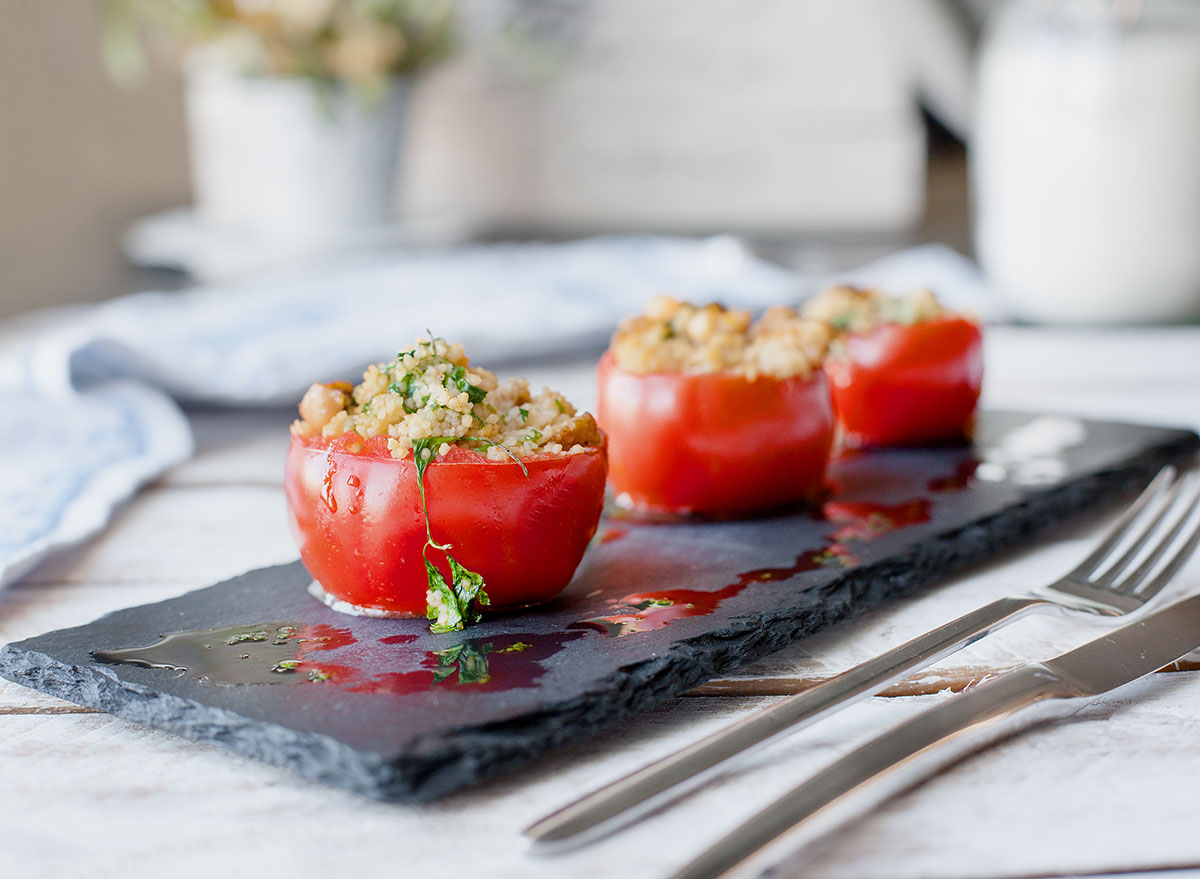 While stuffed peppers are a nutritious dinner choice, heart-healthy tomatoes make for the perfect hearty base, too. Load them up with quinoa, bell peppers, onions, and all of your favorite spices, then bake them in the oven. Everyone who takes a bite will surely be asking for seconds.
Yep, cauliflower steak is a thing—and it's really good. To add more veggies into your diet—and cut down your risk of cancer—swap some cauli in for meat. All you have to do is cut thick slices, bake them up, and enjoy. You can even eat them salisbury-style with this recipe from Rabbit and Wolves.
Pizza is the ultimate comfort food. And there's a way to eat an entire pie all by yourself without an ounce of guilt—or a major stomach ache: by using a pita. The flatbread—which is much lower in calories than your typical pizza crust—can be loaded up with some marinara, greens, and all your favorite toppings for a healthier twist on the Italian dish.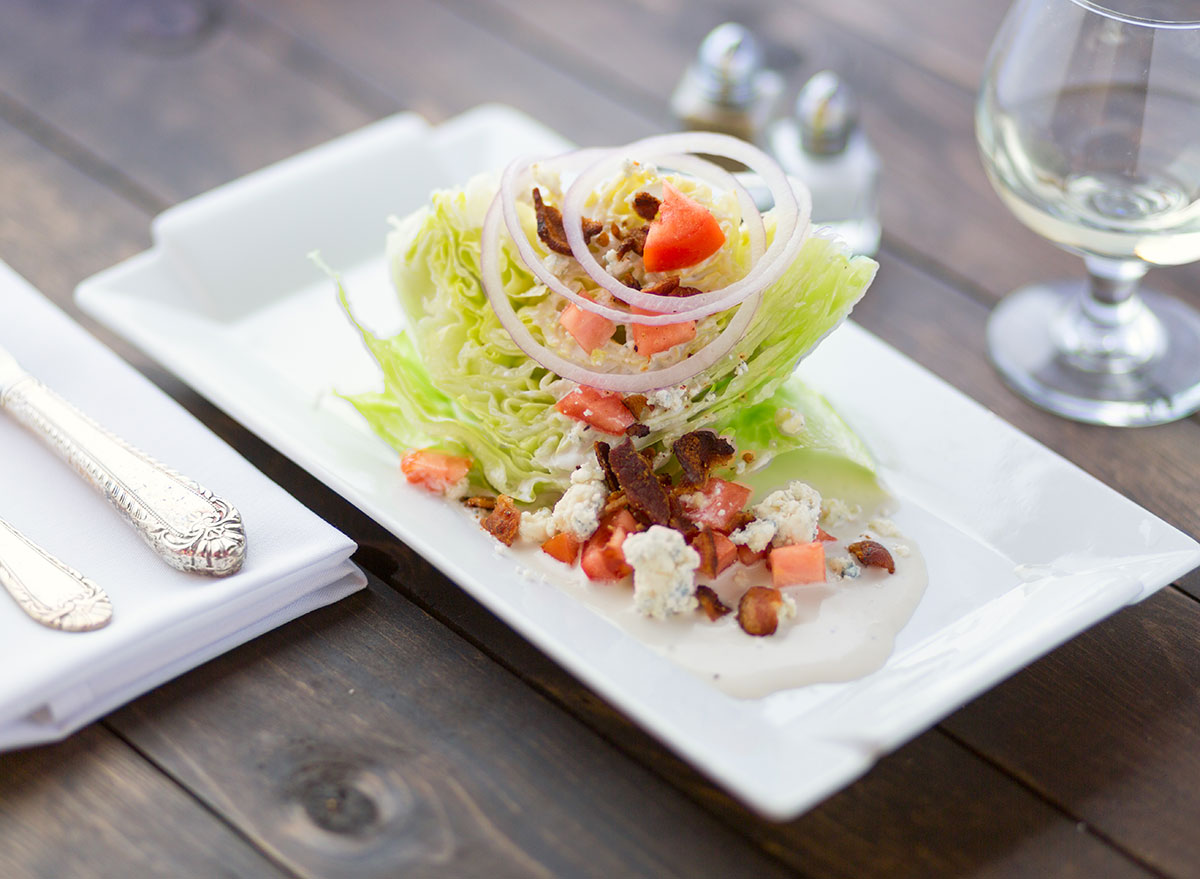 When it comes to salads, wedges are the way to go. Chop off a chunk of iceberg lettuce and toss on some crunchy seasoned chickpeas, like in this recipe from How Sweet Eats. And don't forget the dressing: To get a dose of healthy fat, Ranch made from avocados is the way to go. Plus it's all sorts of creamy.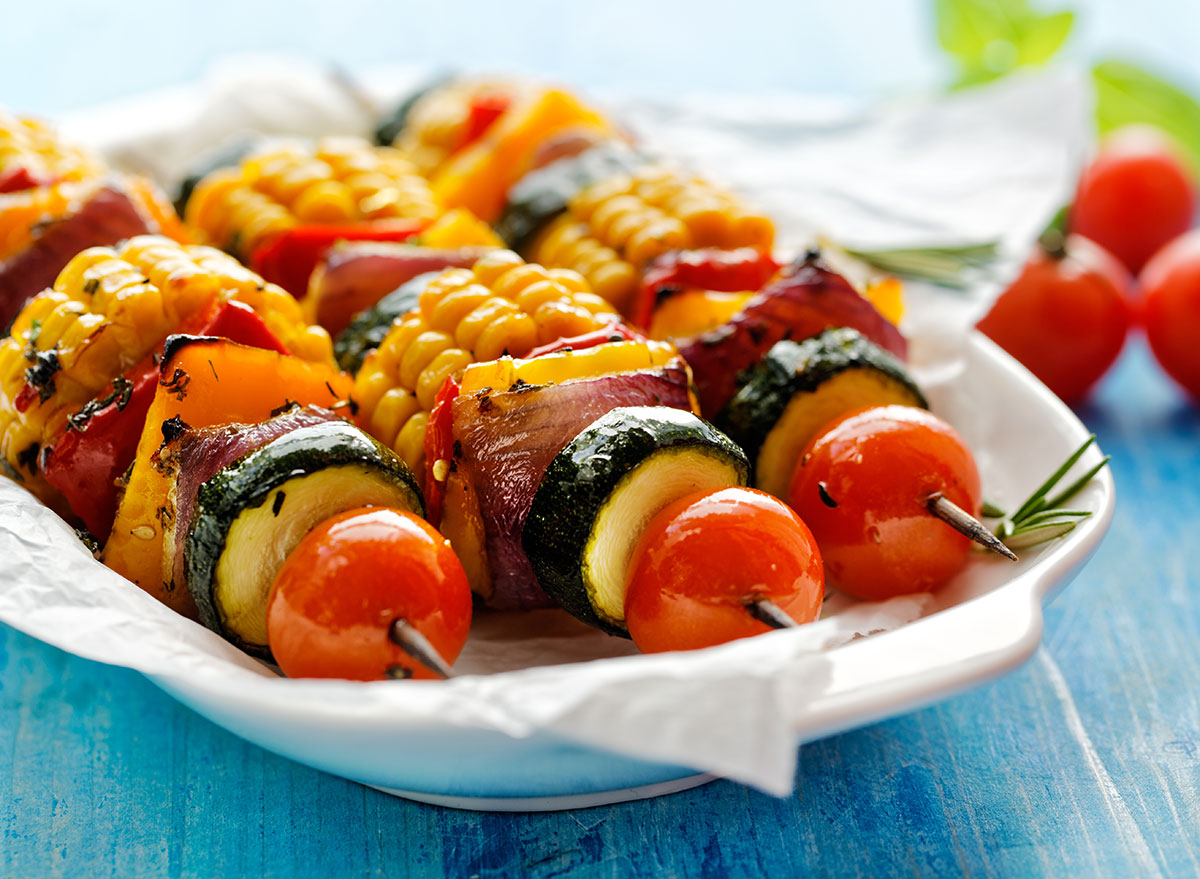 It doesn't just have to be summer to enjoy kebabs—you can eat them year-round. While some recipes call for versions that are primarily meat, switch things up by loading your skewers with protein-packed veggies and fruit to sweeten things up. And one of the best combos for your delicious rainbow of dinner? Mushrooms, pineapple, zucchini, tomatoes, strawberries, and bell peppers. It couldn't possibly get any more fresh.