Healthy Fast Food Smoothies
Keys? Check. Phone? Check. Smoothie? Check.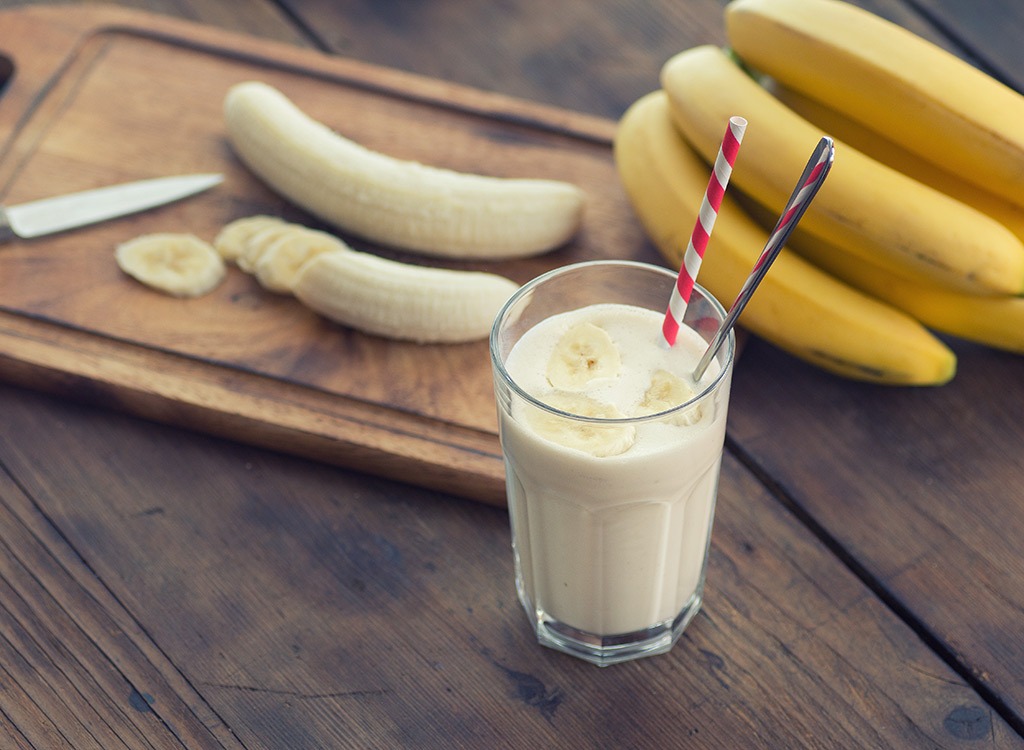 Sipable snacks and meals are almost a necessity in the modern world. You're answering email and talking on the phone while walking to work, so how else are you going to eat? There's only one problem: figuring out if that smoothie is going to help you sip your way to a flat stomach or a saggy one. Eat This, Not That! combed through the fast-food menus to find you diet-friendly drinks that are made with wholesome ingredients instead of sherbets and frozen yogurts masquerading as healthy. These smoothies all clock in under 300 calories each, and some boast more than seven grams of protein!
Burger King, Strawberry Banana Smoothie, 12 Oz
190 calories, 0.5 g fat, 0 g sat fat, 35 mg sodium, 44 g carbs, 2 g fiber, 31 g sugar, 2 g protein
What does it mean to "have it your way" in the age of juice cleanses and superfoods? A revised Burger King menu that now includes smoothies. The selection is small, but that just makes it easier to find the sip most likely to whittle your middle and burn fat: the strawberry banana. It's made to order with strawberries, bananas and low-fat yogurt. At a place where bucket-sized sodas regularly get passed through the drive-thru window, 190 calories for a smoothie is darn good. Your skinny jeans will think so, too.6254a4d1642c605c54bf1cab17d50f1e
Smoothie King, Lean Strawberry Smoothie, 20 Oz
275 calories, 6 g fat, 1 g sat fat, 317 mg sodium, 35 g carbs, 5 g fiber, 28 g sugar, 20 g protein
The simpler, the better when it comes to smoothies. This shake has only two ingredients: protein and strawberries. It may seem a little bare, but the hefty 20-gram dose of protein sure doesn't make it feel that way. Something with protein is one of the best post-workout snacks as it will help repair muscle and keep hunger at bay all day long. This slimming benefit combination makes it an excellent choice for anyone trying to slim down.
Starbucks, Small Evolution Fresh Sweet Greens Smoothie, 16 Oz
170 calories, 0.5 g fat, 0 g sat fat, 140 mg sodium, 36 g carbs, 2 g fiber, 32 g sugar, 7 g protein
After conquering our morning caffeine needs, this coffee giant is expanding their blended drink game beyond fattening Frappuccinos. In collaboration with Evolution Fresh, the brand of those cold-pressed juices you can buy in the store, Starbucks already added several fruit- and veggie-based smoothies to their menu. This particular one is a mix of green vegetable juices, mango, banana, and nonfat Greek yogurt. Thanks to the yogurt, this shake packs a solid seven grams of protein (more than a Kind bar!), which will help fuel your muscles and burn fat.
Related: 8 Ways to Slim Down Your Starbucks Order
Jamba Juice, Caribbean Passion Make It Light Smoothie, 16 Oz
150 calories, 0 g fat, 0 g sat fat, 95 mg sodium, 34 g carbs, 2 g fiber, 30 g sugar, 4 g protein
It's like vacation in a cup—without those extra ten pounds you inevitably come home with. Thanks to the "Make It Light" option, this tropical smoothie is a mere 150 calories. The tangy passion-fruit, mango, peach and strawberry blend will help satisfy your sweet cravings without all the calories most sweet indulgences carry. Most commercial smoothies top the charts at 50 or more grams of sugar, which messes with your metabolism and blood sugar levels; this order clocks in at 30 grams—a much better option when you're trying to stay fit.
Related: What Personal Trainers Order at Jamba Juice
Panera Bread, Superfruit Power Smoothie with Ginseng, Small
210 calories, 0 g fat, 0 g sat fat, 75 mg sodium, 34 g carbs, 2 g fiber, 30 g sugar, 14 g protein
Panera may be reinventing their menu, adding trendy dishes like ramen and it ingredients like quinoa, but they're still Panera Bread Company, and with that titles comes a lot of carbs and sugar. But only if you don't order right. For a moderate 210 calories, this superfood smoothie boasts an impressive 14 grams of protein. Foods higher in protein take longer to digest, which means your body works harder (read: burns more calories) trying to process them. With fruits like blackberries, cherries, pomegranate and acai juice, this smoothie will also provide your body with a healthy dose of antioxidants, which fight signs of aging and help your body run more efficiently.
Smoothie King, Lean Chocolate Smoothie, 20 Oz
293 Calories, 11 g fat, 1 g sat fat, 317 mg sodium, 28 g carbs, 7 g fiber, 18 g sugar, 22 g protein
Smoothie King has got some monster-sized cups, but there are some safe grab-and-go options as long as you steer clear of cups that resemble buckets. Save calories and sugar while still satisfying your chocolate craving by ordering the 20-ounce Lean Chocolate smoothie, which is still fewer than 300 calories and a whopping 22 grams of protein. This shake will help fill you up, not out.
Related: The Best Smoothie Ingredients for Weight Loss
Juice Generation, Green Guardian Smoothie, 20 Oz
175 calories, 8 g fat, 0 g sat fat, 276 mg sodium, 22 g carbs, 7 g fiber, 11 g sugar, 6 g protein
If you're lucky enough to live near a location of this nutritious New York joint, guard your waistline with this smoothie. It's not only a great option on the go, but also an ideal choice if you're trying to get lean. Juice Generation packs spinach, swiss chard, avocado, hemp seeds, chia seeds, flaxseeds and strawberries into a snack-sized 175 calories that can increase your fat burning and feelings of satiety thanks to healthy fats from the avocado and seeds. So, don't let the fact that it sounds like a salad in a glass scare you away. The strawberries add a little sweetness and the avocado makes it feel like a creamy indulgence.