22 Foods That Are Healthier When Eaten Together
Eating certain foods at the same time affects the way your body absorbs their nutrients.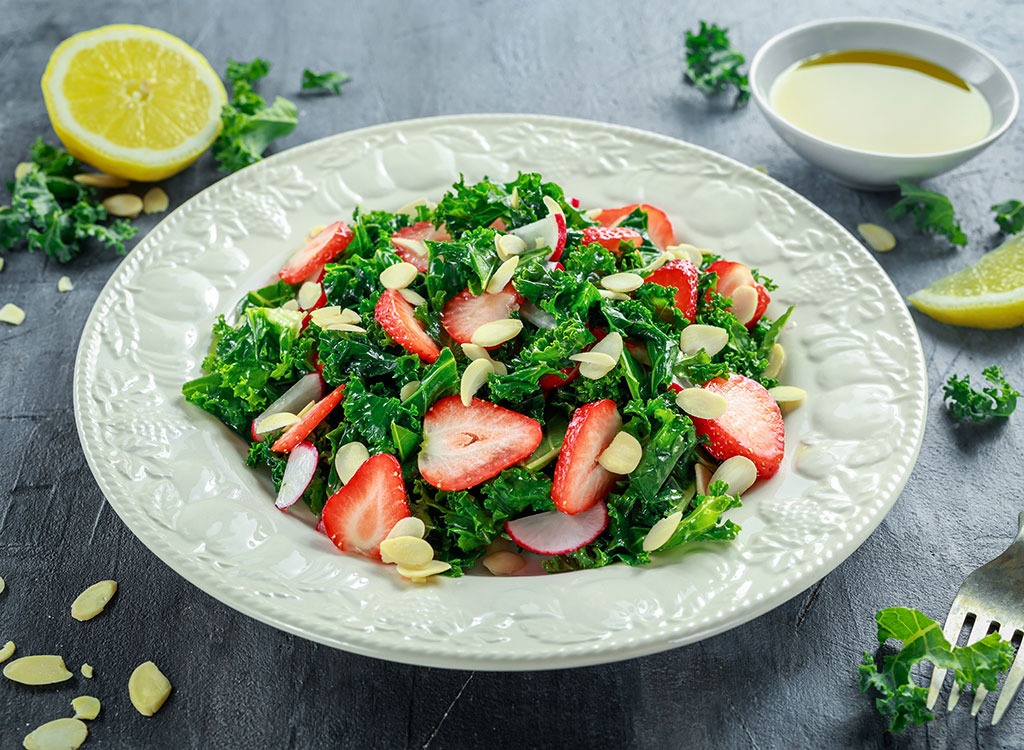 Here's something to keep in mind next time you're writing a grocery list or doing meal prep. Eating certain foods at the same time won't only affect your taste buds, but will affect the way you absorb their nutrients. So if you're trying to get the best benefits from each bite, don't forget about these perfect partners.
"There are certain foods that have synergistic relationships with another," says Bonnie Taub-Dix, RDN, health influencer and blogger for Better Than Dieting. Although superfoods like kale and berries are great on their own, they could be even stronger with a little teamwork, she says, which is why we've asked nutrition experts for their favorite dynamic duos. You can get creative in the kitchen with the pairs they recommend or simply throw both ingredients into any of the 56 Smoothies For Weight Loss.
Green Tea + Kiwi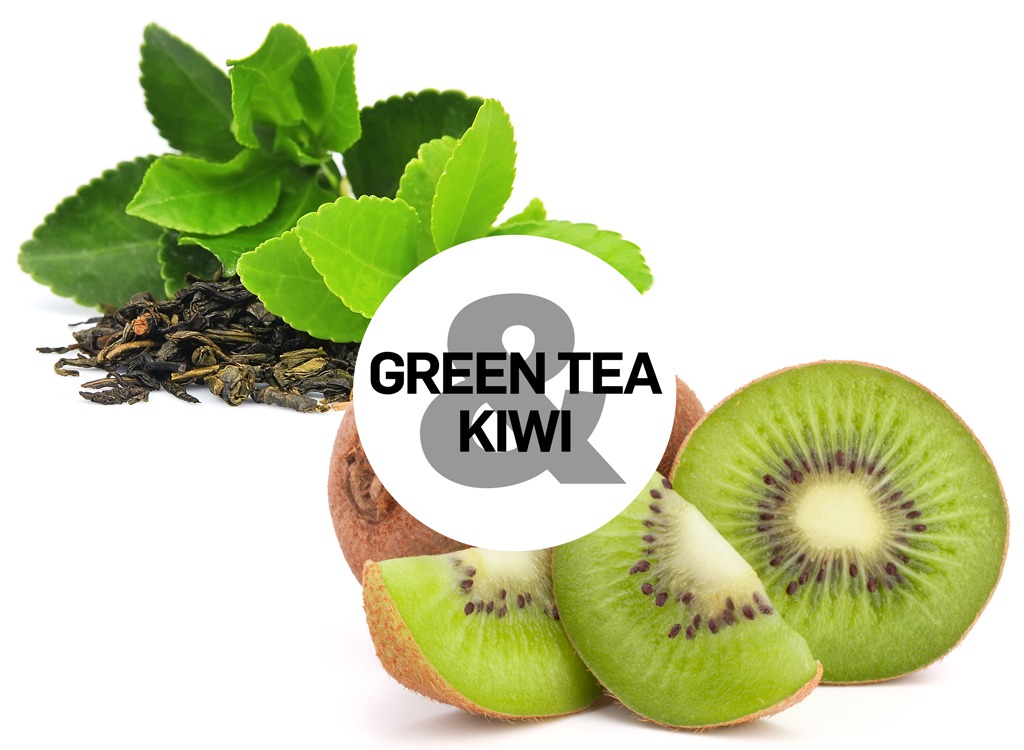 Next time you brew a mug of green tea, have some of your favorite green fruit on the side. Although the catechins in the tea convert fat into energy no matter what, they're absorbed even better when vitamin C joins the party, according to Erin Palinski-Wade, RD, CDE, author of Belly Fat Diet For Dummies. Believe it or not, kiwi is actually so full of the stuff that it has a higher concentration than an orange! So cut one of these fuzzy fruits in half and grab a spoon if you feel like boosting your metabolism while you drink.
Cottage Cheese + Blueberries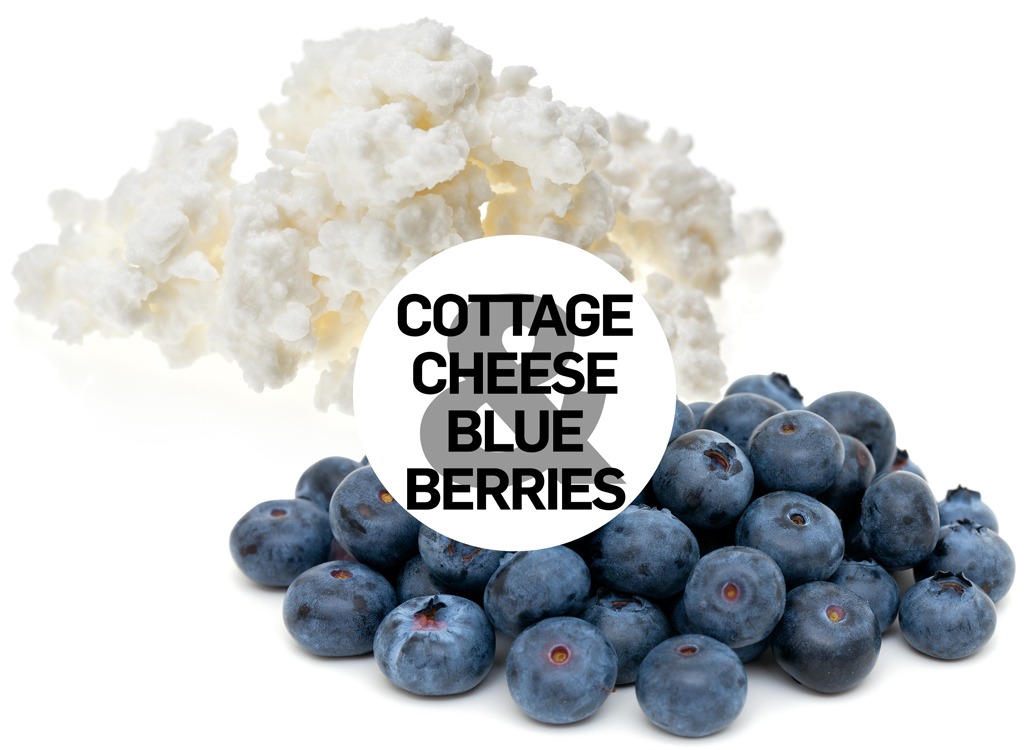 For a snack that will prevent you from future snacking, Erin recommends mixing a handful of blueberries into a bowl of cottage cheese. Because the fruit is high in fiber and the cheese lumps are rich in slow-releasing casein protein, this is a combo that will keep you satiated until your next meal. Do yourself a favor and don't keep these apart.
Blackberries + Tofu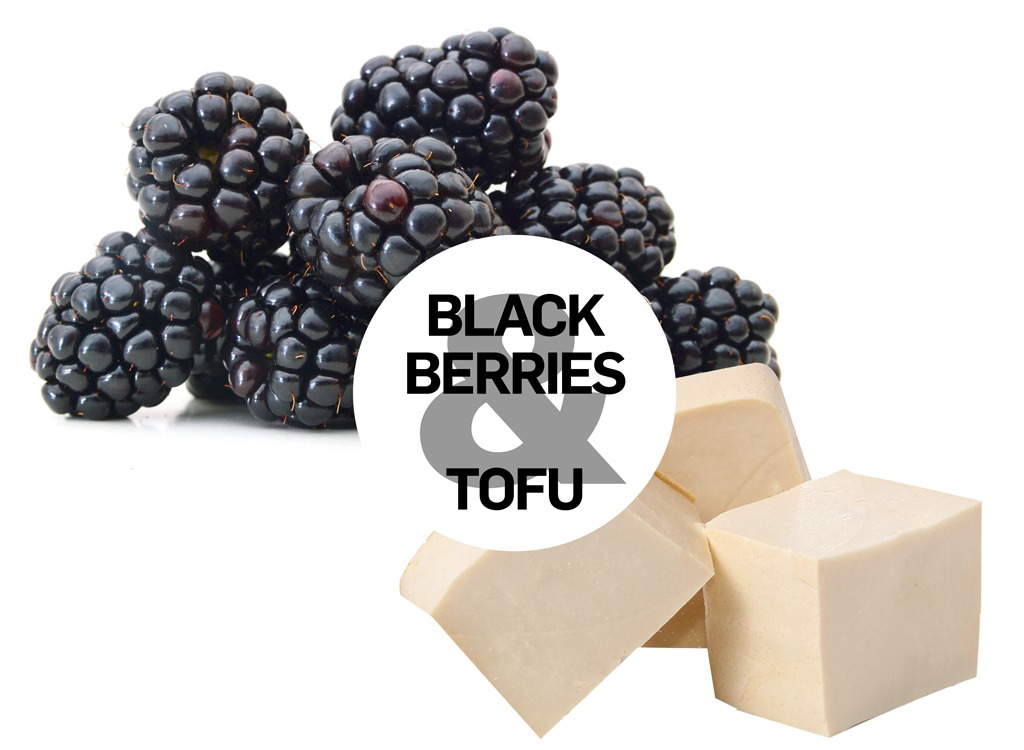 We know blackberries taste delicious on their own, but if you haven't been eating them with cubes of tofu, you've been missing out. Besides being full of protein, Erin tells us that tofu's rich vitamin D content can help your body absorb more of the fruit's calcium. Throw these two ingredients into a salad bowl or a blender and your bones will thank you.
Strawberries + Kale
Even a superfood like kale needs a partner in crime, so if you're a vegetarian struggling to squeeze enough iron into your diet, pay close attention to this one. According to Taub-Dix, the iron found in kale is better absorbed when strawberries add their vitamin C into the mix. Looks like you've got a fruit salad in your future!
Avocados + Spinach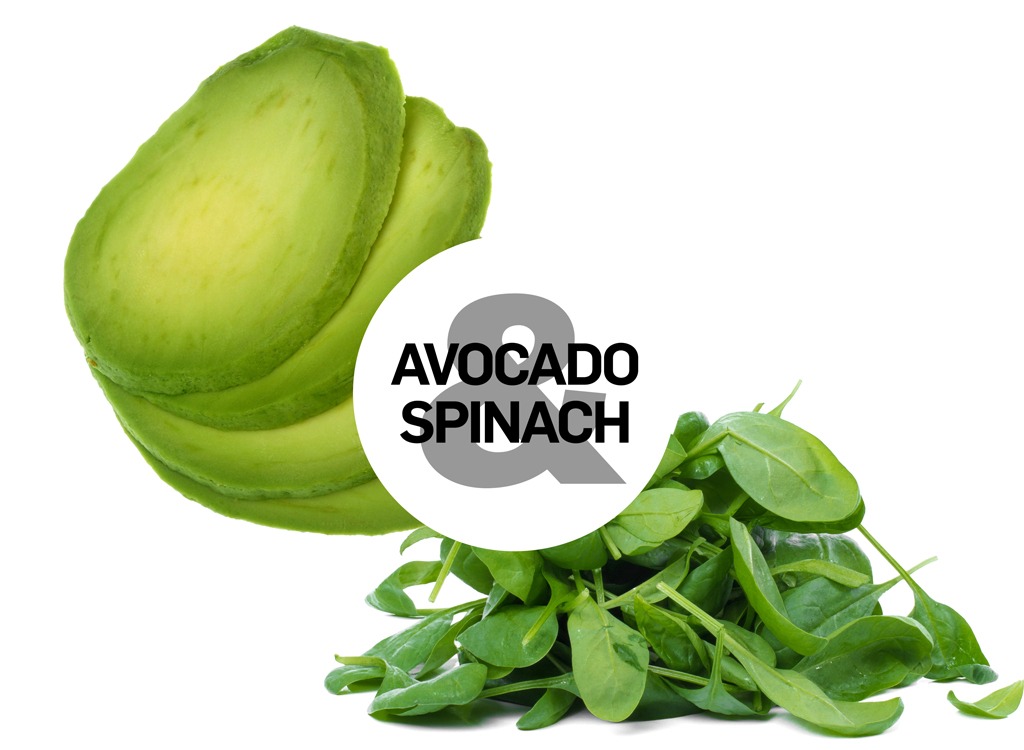 Just because you don't like carrots doesn't mean you have to give up on improving your eye health. By incorporating avocado and spinach combos into your diet, you can prevent the age-related macular degeneration and cataracts that the American Optometric Association says can lead to impaired vision and blindness. The healthy fats in avocado and the lutein antioxidant in spinach work together to boost eye health, so add these to your next meal if you want to help your food help you.
Almond Butter + Banana
Whether you're mixing them into your overnight oats, whipping up a smoothie, or alternating between bites, only good things can come from combining almond butter and bananas. The fiber and protein in the nut butter works against the sugar in the fruit, keeping you from an unpleasant crash. Sounds nuts, we know, but as the almonds slow down the rate at which your body absorbs the sugar, your glucose levels remain more stable. You'd be bananas not to try this trick out.
Hemp Seeds + Coconut Oil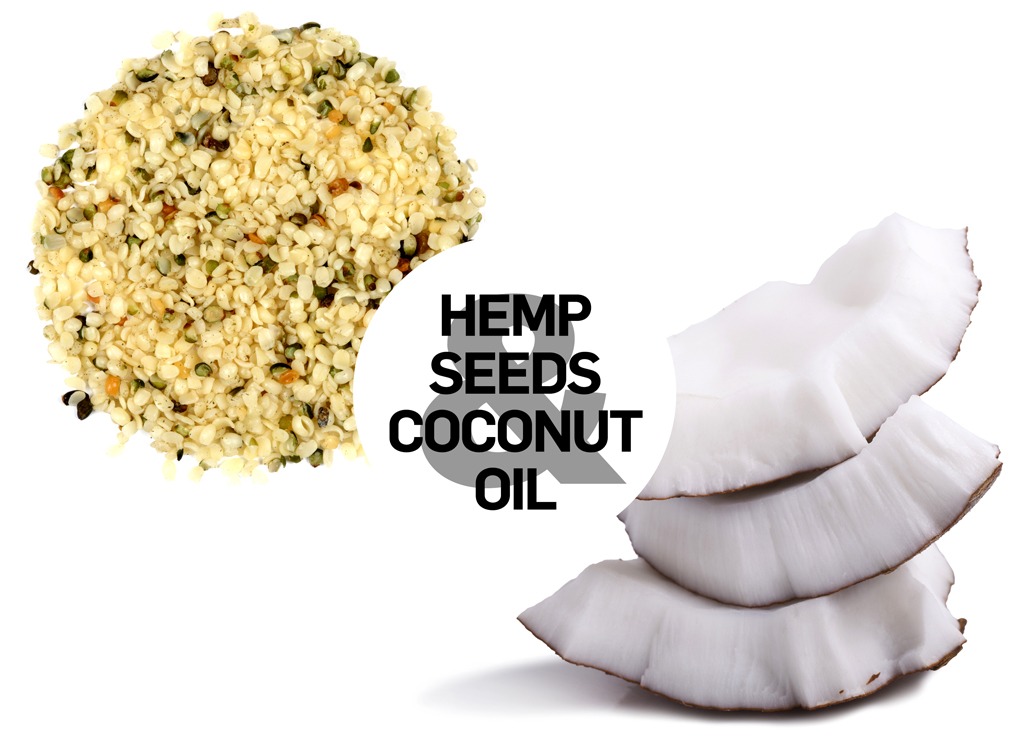 We know coconut oil works wonders for your hair and skin, but don't get so caught up in slathering it on your body that you forget to put it in — especially if you've got hemp seeds lying around. Angela Onsgard, RDN, nutritionist at Miraval Resorts explains that the magnesium in the seeds, which help with sleep issues, bone density, and hypertension prevention, are much better absorbed when joined by the medium-chain triglycerides in coconut oil. Wondering how to incorporate these ingredients into your diet? Consider adding them to homemade protein bars or granola, but if you're stressed for time, they work as an overnight-oats topper as well.
Avocado + Sweet Potato
We probably won't have to try too hard to convince you to pencil this pair onto your grocery list. Both are yummy additions to salads, loaded toast slices, and egg dishes, but they've got even more going for them than their great taste. Sweet potatoes are full of vitamin A that helps protect vision and support cell growth, which is helped along by the monounsaturated fats in avocados.
Almond Butter + Kale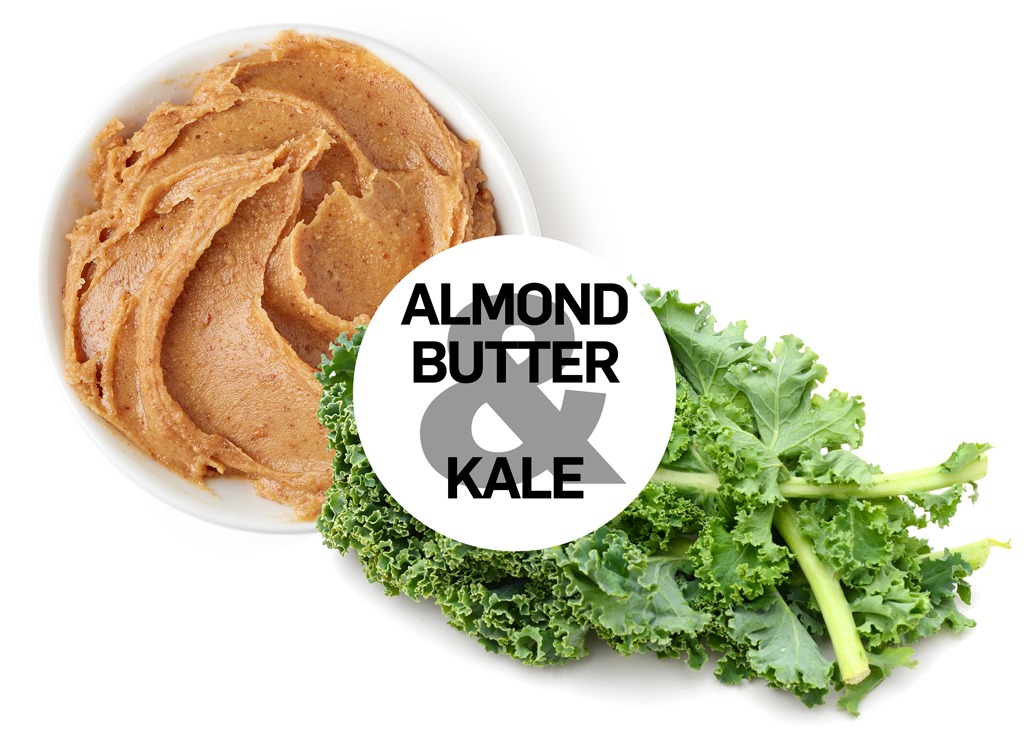 6254a4d1642c605c54bf1cab17d50f1e
Kale has been labeled a superfood for a reason. The veggie is so full of vitamin A and K that it can knock out your recommended daily dose of both nutrients — and then some! With the nut butter's monounsaturated fats to speed things up, these vitamins can be absorbed even faster. But don't stop there; there are 10 Superfoods Better Than Kale just waiting for a spot in your kitchen.
Walnuts + Baby Spinach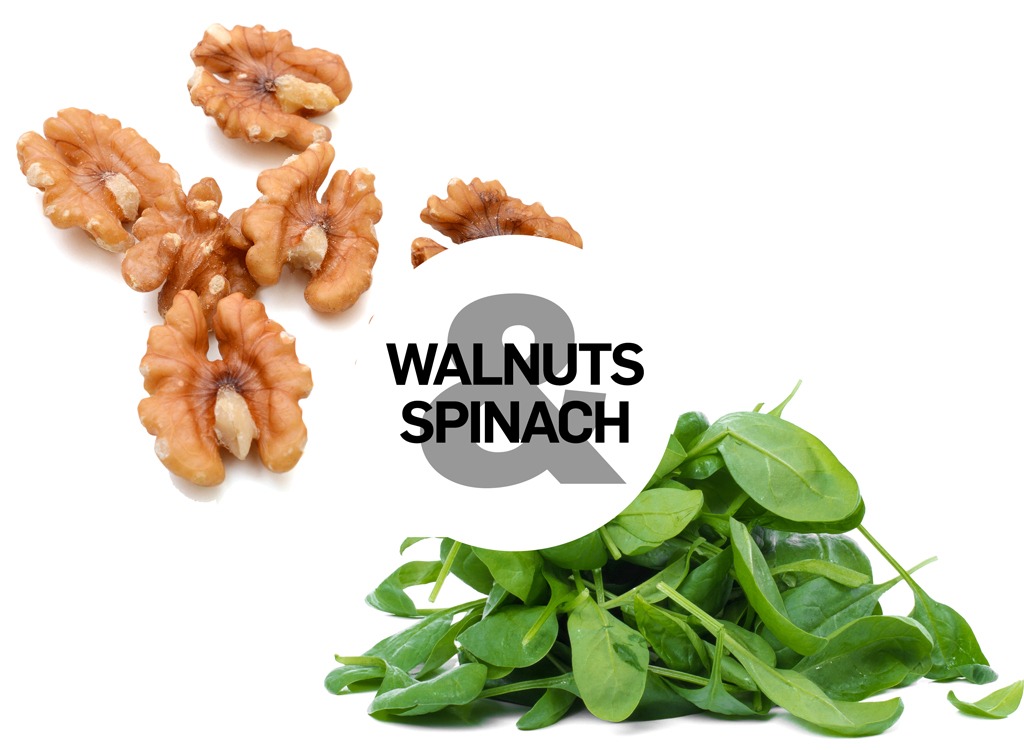 Your salad just got a whole lot healthier. Even though baby spinach can do amazing things on its own thanks to its vitamin K content, those benefits are no match for what happens when walnuts enter the scene. The omega-3 fatty acids in the nuts boost the vitamin's absorption, which means boosting cell growth, blood circulation, and bone strength, according to Nancy Teeter, RDN. If you aren't adding walnuts to your salads already, go nuts and sprinkle a handful over your bowl next time around.
Cayenne + Cocoa Powder
It's time to give your hot chocolate a makeover with this sweet and spicy combo. Pair metabolism-boosting cayenne peppers with antioxidant-rich cocoa powder in a steaming mug in the winter, and then mix the ingredients into a bowl of stove-popped popcorn instead when temps rise. If keeping your taste buds happy with this healthy snack isn't a win-win, we don't know what is!