Healthy Lunch Ideas at KFC
Craving some good old fashioned KFC chicken? Go for it! There's no need to avoid the poultry chain just because you're trying to keep that summer figure in shape.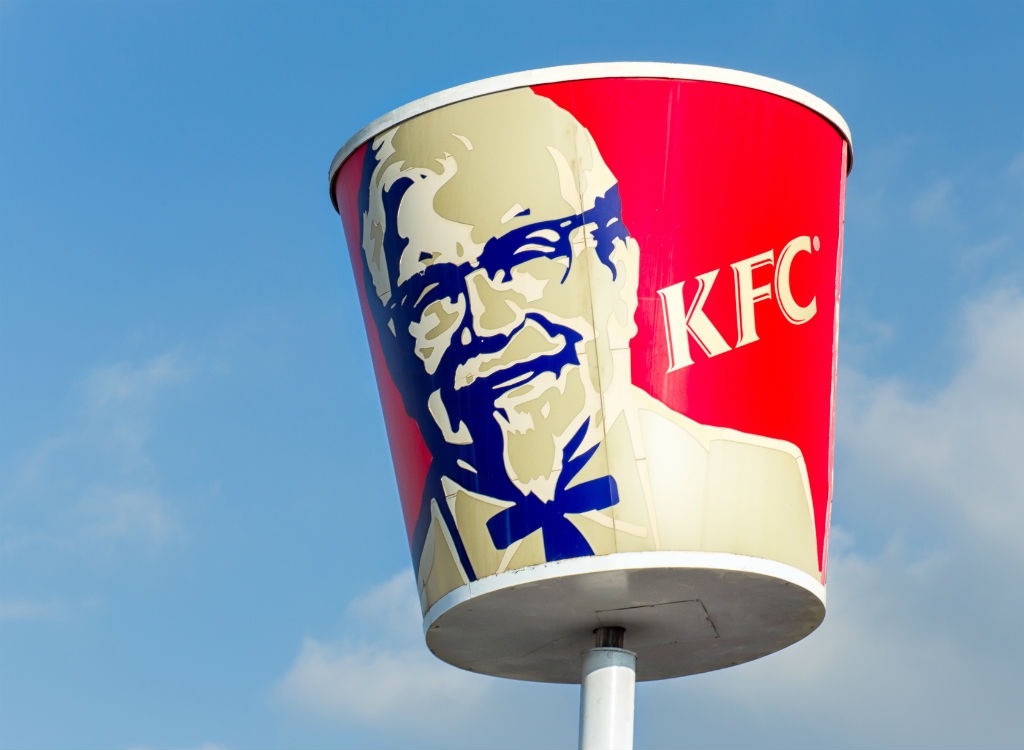 Instead of white-knuckling it through every craving, simply be discerning about what you order–there are a number of lunch options that will keep your belly full and you hips slim. These five lunches may be lighter—a necessary side effect of making sure all healthy orders are also low sodium fast food meals that come in under 1,000 milligrams of sodium—but they'll get you that fast-food fix you crave and free up room for a healthy snack mid-afternoon.
KFC Famous Bowl (Snack Size) + House Side Salad
280 calories, 12 g fat (3.5 g sat fat), 850 mg sodium, 31 g carbs, 4 g fiber, 3 g sugar, 12 g protein
We've been told for so long that foods are either "good" or "bad" for our diet, so it's no wonder if you saw this bowl overloaded with fried chicken, mashed potatoes and corn, and simply assumed it was off-limits. But wait–that's why they make a snack size. Pair this comfort food combo with more virtuous side, like the House Side Salad, and you'll strike a healthy balance. Even better, the 12 grams of satiating protein will make sure you stay focused and energized through your long afternoon without resorting to the office vending machine.
Chicken Littles Sandwich + House Side Salad
330 calories, 18 g fat (3 g sat fat), 590 mg sodium, 26 g carbs, 3 g fiber, 6 g sugar, 15 g protein
The Chicken Littles Sandwich at KFC provides the best of two worlds: Chicken tenders and sandwiches. And while the sandwich has all the makings of an indulgence, its smaller size lets you finish every finger-lickin'-good bite without worrying about packing on the pounds. Pair one of these adorable, three-bite sandos packed with breaded chicken, pickles and tangy mayo with a light, fiber-packed House Side Salad and you'll have a low-calorie, high-protein meal you can certainly be proud of.6254a4d1642c605c54bf1cab17d50f1e
Kentucky Grilled Chicken Thigh + House Side Salad + Green Beans
210 calories, 11 g fat (3 g sat fat), 800 mg sodium, 7 g carbs, 4 g fiber, 3 g sugar, 22 g protein
You came to KFC for the chicken, and chicken you shall eat. Opting for an item from the grilled menu instead of the heavier, deep-fried options will keep your calorie count in check and your energy levels even keel throughout the rest of the day. For a lunch that will keep the 3 pm slump at bay, indulge in one Kentucky Grilled Chicken Thigh with a House Side Salad and an individual order of green beans–it all clocks in at a mere 210 calories and has a whopping 21 grams of protein, making it an ideal midday pick-me-up. Indulge in one of these healthy snacks if your stomach starts growling in the afternoon instead of increasing your lunch order; more salt will just make you feel puffy.
Kentucky Grilled Chicken Breast + House Side Salad + Corn on the Cob
300 calories, 7 g fat (2 g sat fat), 740 mg sodium, 19 g carbs, 4 g fiber, 5 g sugar, 43 g protein
Much like it's thigh brethren, a Kentucky Grilled Chicken Breast is a solid option to turn to anytime you find yourself at KFC. Enjoy a House Side Salad and summer-appropriate corn on the cob alongside the poultry for a light, 300-calorie lunch that'll keep you full and focused all afternoon, without destroying all you've worked for in the gym.
Original Recipe Chicken Breast (w/o skin or breading) + House Side Salad + Corn on the Cob
225 calories, 3 g fat (0.5 g sat fat), 530 mg sodium, 19 g carbs, 4 g fiber, 5 g sugar, 32 g protein
Every now and then, fried chicken will beckon to each of us. Don't panic–like everything in your healthy lifestyle, it's all about compromise. If you're yearning for a piece of the classic chicken, go for KFC's Original Recipe Chicken Breast without the calorie-packed skin or carb-loaded breading to keep it as light as possible. One piece of this chicken along with a veggie-packed House Side Salad and corn on the cob will only cost you 215 calories and three grams of fat, making it a waistline-friendly lunch. Even more, this lunch will power you up with 32 grams of protein, so your PM trip to the gym will be that much more successful.