Eat This, Not That! for Mexican Lovers
Whether you're at your local cantina, in your kitchen, or at the supermarket, here's what to eat and what to skip whenever you crave a Mexican fiesta in your mouth!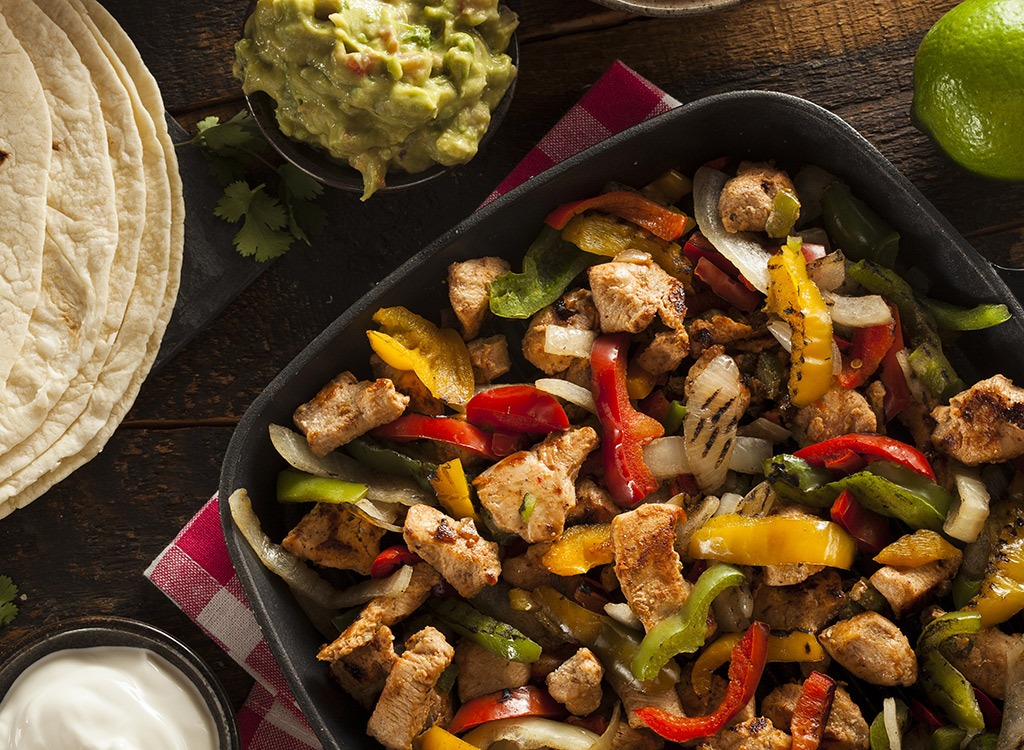 There's no denying it: America is a nation filled with folks who are obsessed with Mexican food. From guac and tacos to burritos and Coronas, it seems everyone from the Unidos de América can't get enough—even Trump is a rumored fan of the grub, which is saying a lot! (Yes, we totally made that up.)
But like most fare that makes its way into our fine country, Mexican food has been thoroughly Americanized, which is really just a nice way of saying it's been pumped with fat, calories, sodium and chemicals. Not only is that bad news for Tex-Mex lovers looking to stay healthy and lose weight, it's also a bit of a diss to the traditional wholesome dishes they were modeled after.
There is a bit of good news, though. If you're careful, it's totally possible to indulge in some delicious Mexican dishes without packing on the pounds—and we're here to help you do just that! Read on to discover what to eat and what to skip whenever you get a craving for a Mexican fiesta in your mouth.
AT THE LOCAL MEXICAN CANTINA
Guacamole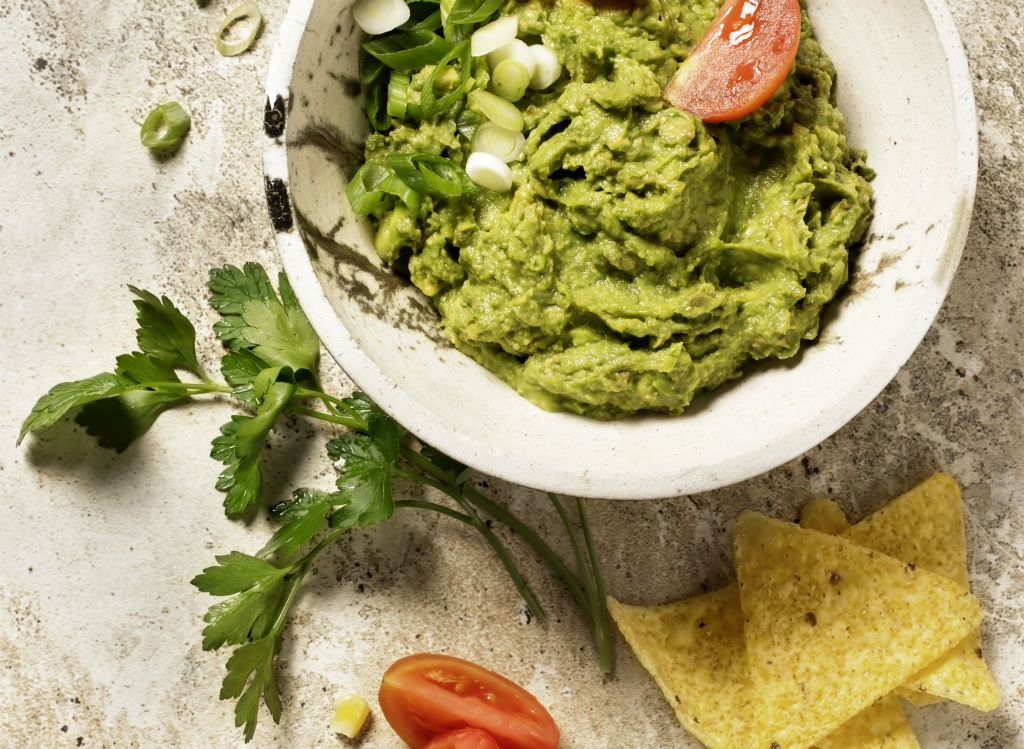 Eat This
Avocados are high in fat, but it's the monounsaturated kind, so (like olive oil) it's good for your heart. Guac also contains vitamin E, a disease-fighting antioxidant. (No wonder it costs extra!) For even more ways to keep your ticker in tip-top shape, be sure to steer clear of these 30 Foods That Can Cause Heart Disease.
Bean Burrito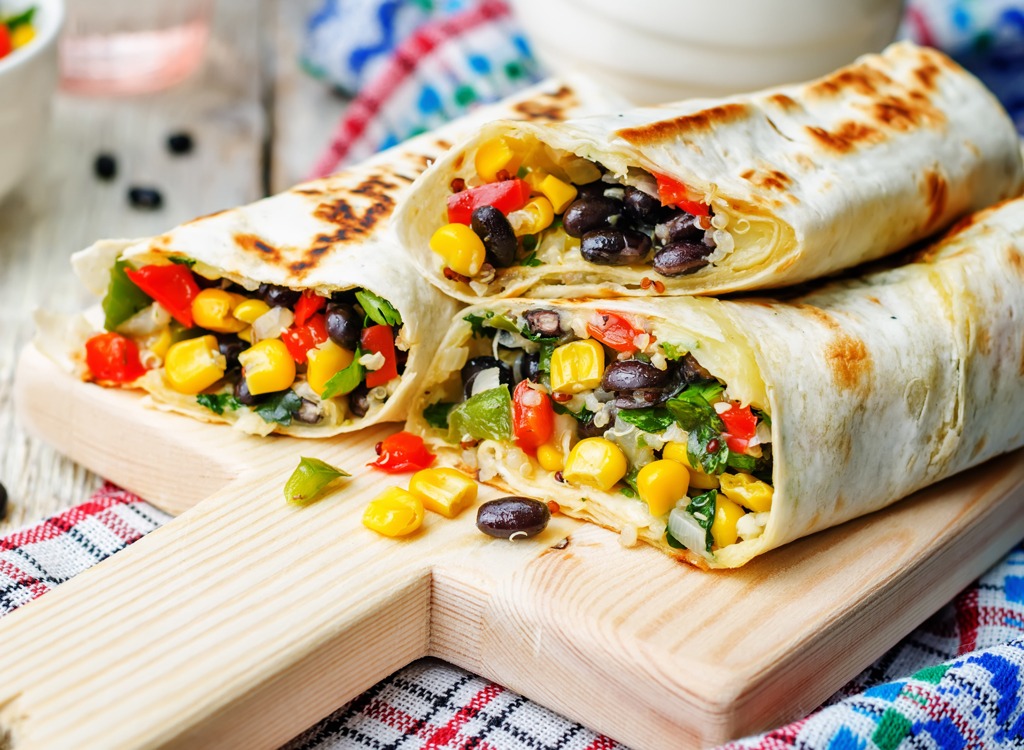 Eat This
When you order at a Mexican restaurant, ask your waiter which type of beans they serve. If they're the whole variety, a bean burrito could be the healthiest thing on the menu. The fiber in beans lowers cholesterol and helps make you feel full—which is just one of the reasons they're one of these 30 Best Foods for 6-Pack Abs. However, if they're the refried kind (that means they're mashed and cooked in lard) you're better off with the chicken burrito.
Chicken Fajitas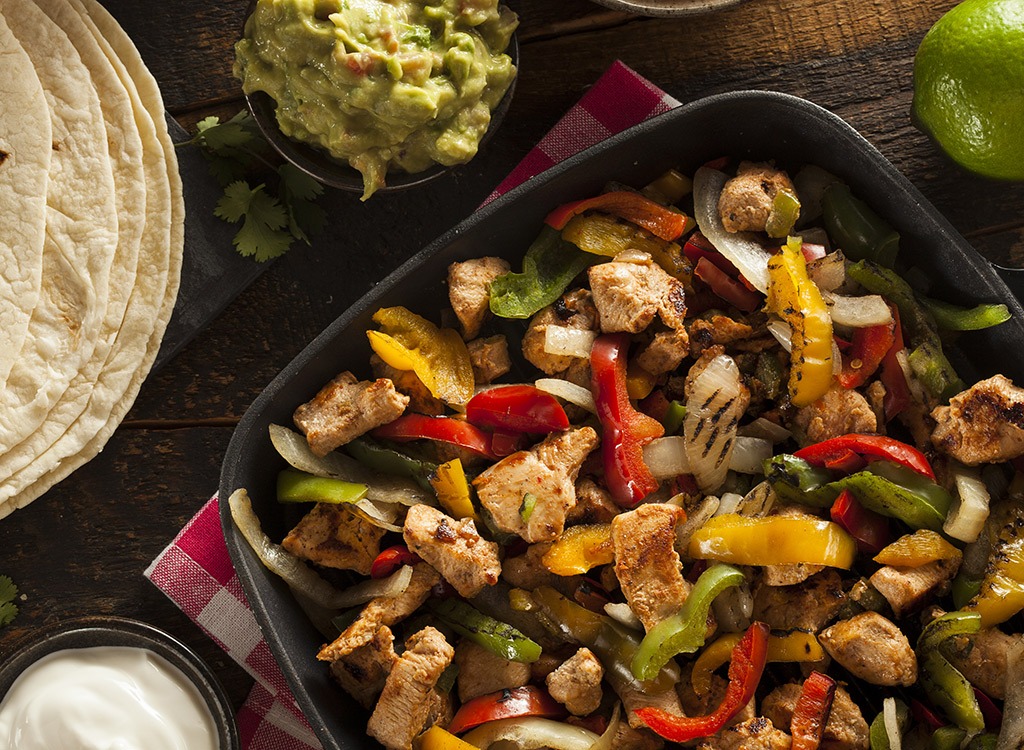 Eat This
A heap of onions and peppers is a plus, but to keep this sizzling skillet from breaking the caloric bank, skip the cheese and the sour cream—it will save you 300 calories and 15 grams of fat. To slice additional calories, ask for just one tortilla and stuff it full or skip the carb blanket all together and just stick with the fillings and low-cal toppings.
Soft Tacos
Eat This
Real Mexican tacos are served on soft corn tortillas, and you should embrace the authenticity; made with just whole grains (i.e. corn) and water, they'll save you 100 calories per taco over the flour variety. For even more calorie-saving hacks, check out these 25 Ways to Cut 250 Calories.
Mole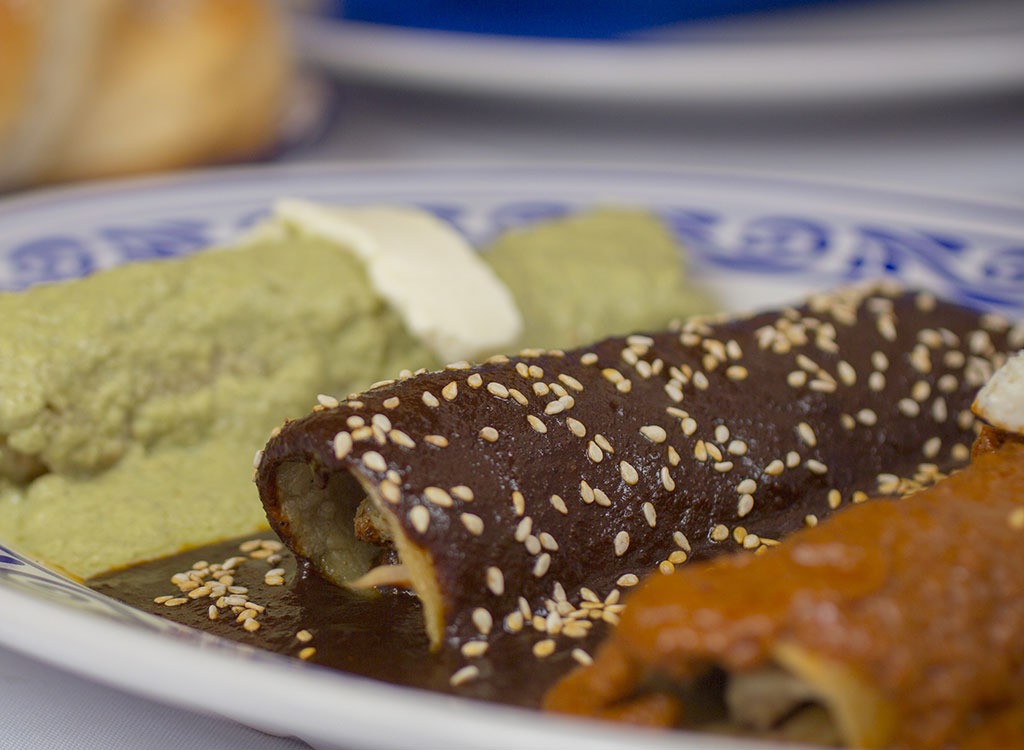 6254a4d1642c605c54bf1cab17d50f1e
Eat This
No matter how you look at it, opting for mole over melted cheese and sour cream is a healthy choice. Hop on board with this swap to keep your arteries clear and your waistline lean.
Chips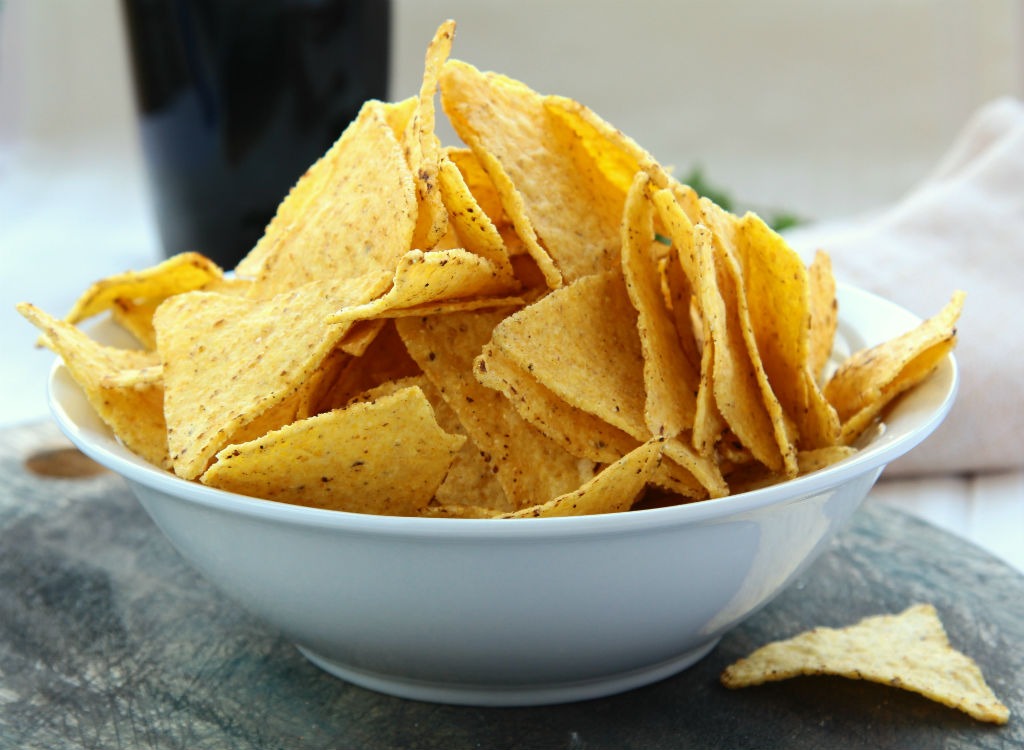 Not That!
Want to cut 200 calories or more out of every Mexican meal? El Pass-o on the tortilla chips. They do nothing but make you thirsty and get you to order more beer. The guacamole is just as healthy and delicious if you eat it with a fork. Some restaurants may even have some raw peppers and carrots they can give you for dipping. Obsessed with avocados? Don't miss these 10 Avocado Recipes for Weight Loss!
Burrito Mojado
Not That!
Mojado means "wet" in Spanish, and normally denotes a burrito that is shrouded in melted cheese and then drowned in a rich, salty tomato- and chili-based sauce. Skip it if you want to stay slim.
Taco Salad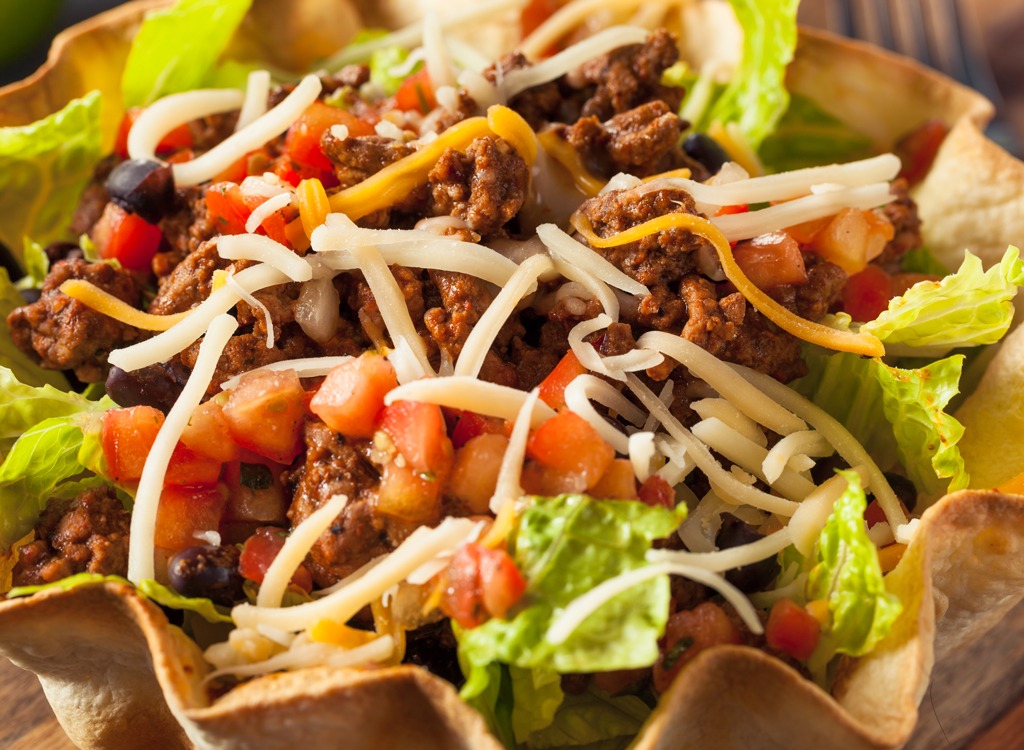 Not That!
Sure, they call it a salad, but in reality, it's just a huge fried tortilla shell filled with ground beef, cheese, sour cream, and a few token shreds of iceberg lettuce. The result: 900 calories, 55 grams of fat, and perhaps the most liberal use of the word "salad" ever. For salads that are actually healthy, check out these 20 Awesome Recipes for Mason Jar Salads!
Enchiladas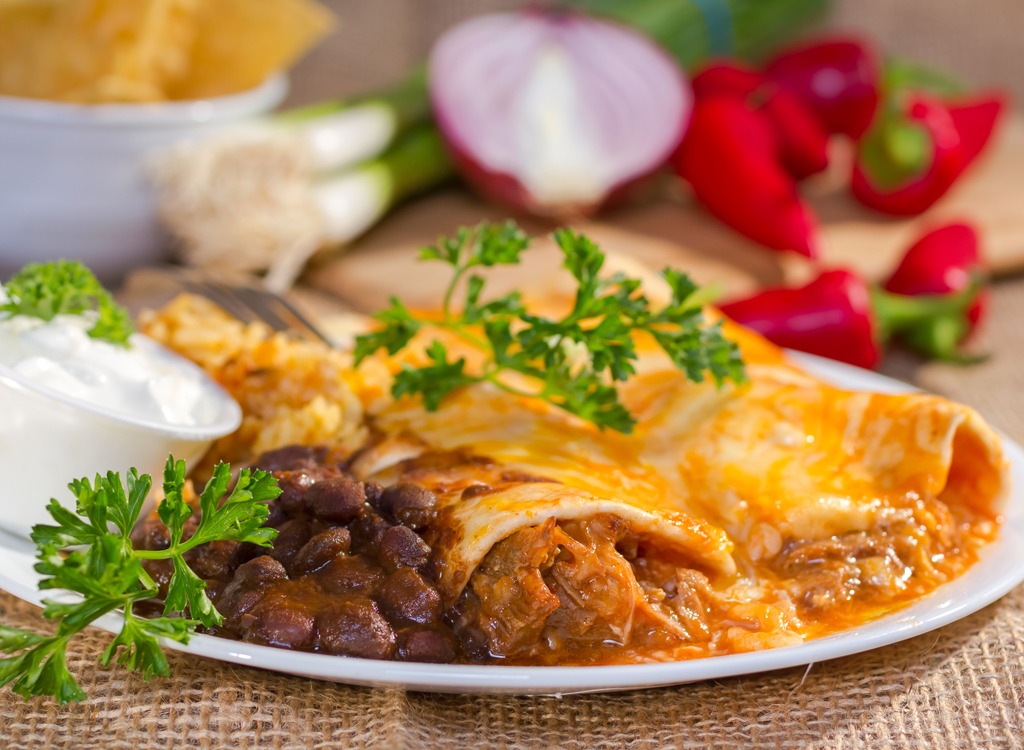 Not That!
You know you like them, but what exactly is an enchilada? Tortillas dipped in fat, stuffed, rolled, covered with cheese, and baked, that's what! Topped with sour cream, two of them carry 748 calories, 55 percent of which is from fat.
Rice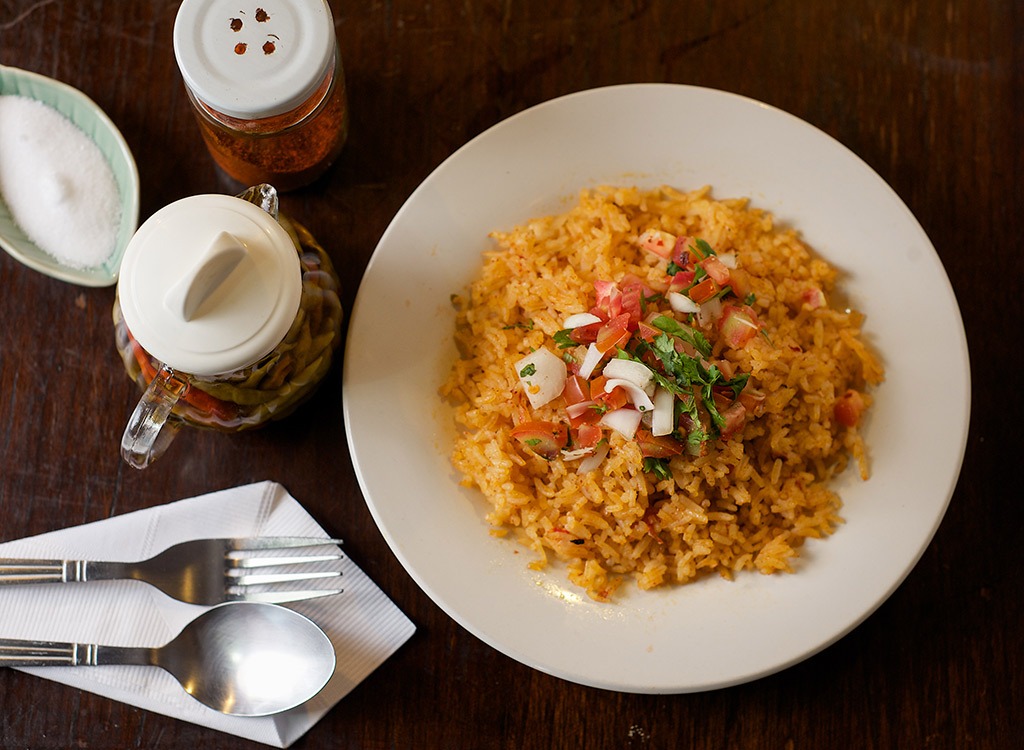 Not That!
In most Mexican restaurants, the rice is fried in oil. The result: a cup of the stuff packs 380 calories and nearly 11 grams of fat—and no, we're not talking about healthy fats. So just say no!
AT CHAIN RESTAURANTS
Taco Bell Chipotle Chicken Loaded Griller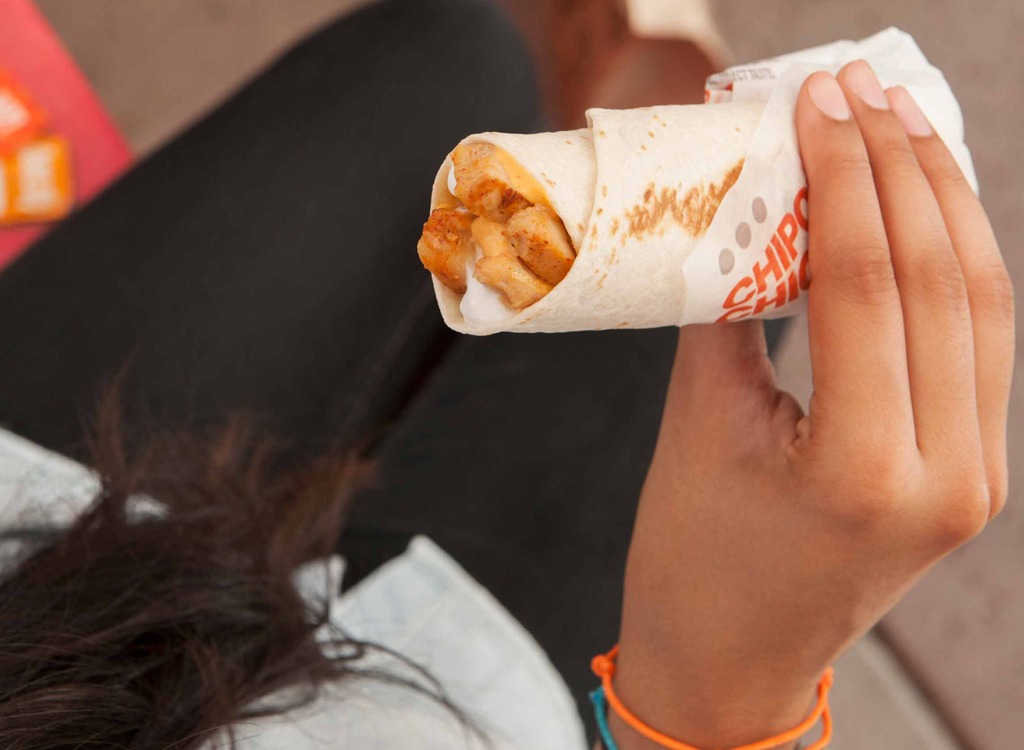 350 calories, 16 g fat, 4 g saturated fat, 810 mg sodium, 37 g carbs, 2 g fiber, 3 g sugars, 15 g protein
Eat This
Next time you're at the Bell, pick up this Loaded Griller. Carrying the lowest calorie, carbohydrate, and salt count, plus 15 grams of protein, it's the best burrito at the Tex-Mex chain.
Chipotle Barbacoa Bowl
770 calories, 34 g fat, 6.5 g saturated fat, 2,230 mg sodium, 77 g carbs, 22 g fiber, 5 g sugar, 37.5 g protein (calculated with cilantro-lime rice base, black beans, barbacoa meat, fajita vegetables, tomato salsa and guacamole)
Eat This
"Chipotle is my 'fast food' go-to! It's actually one of a few takeout places I feel good about picking up dinner from in a pinch," says registered dietitian Cassie Bjork. "My go-to barbacoa bowl (outlined above) is an entirely dairy-free entree for those with food sensitivities or allergies. Don't forget to add some fresh guac to your plate! It's a good source fiber and healthy fat, which promotes absorption of all the nutrients from your meal."
Chili's Pasilla Chile Chicken
410 calories, 11 g fat, 2 g saturated fat, 1,750 mg sodium, 43 g carbs, 9 g fiber, 11 g sugar, 40 g protein
Eat This
Considering Chili's has appetizers for more than double the calories as this dish, it's safe to say the Pasilla Chile Chicken is one of the safest bets for your belly. To keep the dish low-cal, without sacrificing protein or fiber, the chain tops the grilled chicken with a corn and black bean salsa and then pairs it with a quinoa and wheatberry blend and steamed broccoli, one of the 30 Best Foods for 6-Pack Abs.
On The Border Smart Grilled Chicken Fajitas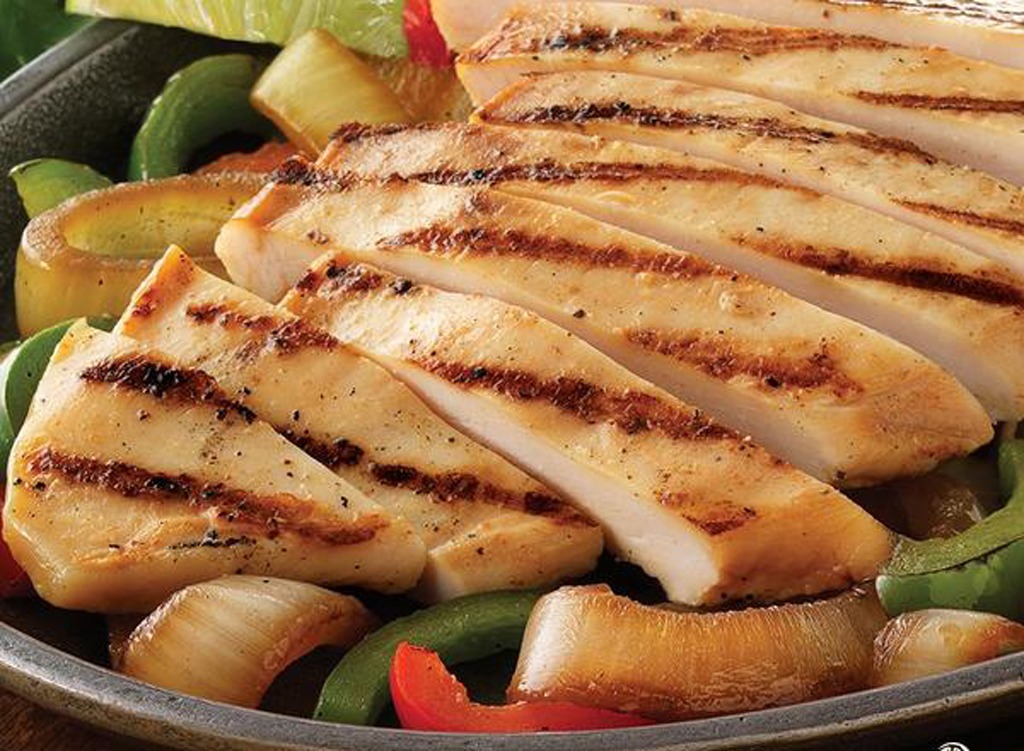 550 calories, 10 g fat, 0 g saturated fat, 1,480 mg sodium, 65 g carbs, 50 g protein,11 g fiber, N/A sugar
Eat This
By simply holding the sour cream and swapping out flour tortillas for the corn variety, On The Border manages to keep their "smart" poultry-based fajitas surprisingly low in calories and fat. To ensure the flavor isn't lacking, they serve the dish with black beans, shredded lettuce, pico de gallo, and guac. The best part? They don't even charge you extra for the green creamy stuff!
Taco Bell XXL Grilled Stuft Burrito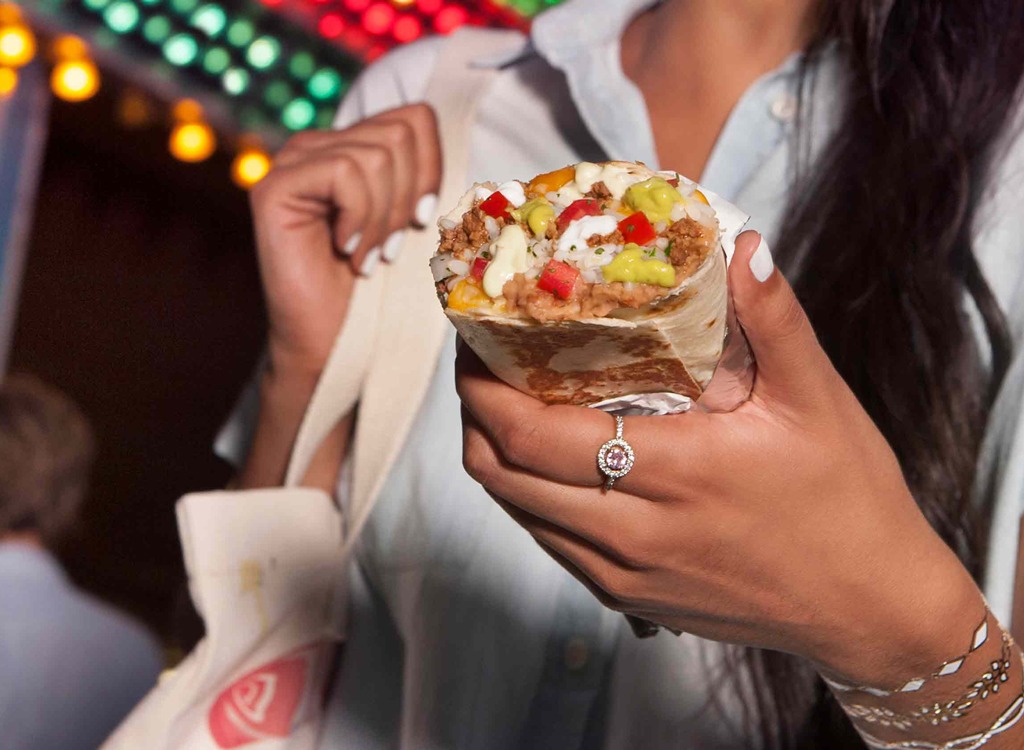 860 calories, 41 g fat, 14 g saturated fat, 2,200 mg sodium, 91 g carbs, 12 g fiber, 6 g sugars, 32 g protein
Not That!
It's safe to assume that any dish with "XXL" or "Stuft" in the title is gonna be a doozy for your gut. It's hefty 32 grams of protein aside, this meathead contains a whopping 91 grams of carbs, 41 grams of fat, and 860 calories! With avocado ranch sauce, cheddar, pico de gallo, guac, sour cream, refried beans, seasoned beef and a shredded three cheese blend wrapped in a flour tortilla, just about the only thing "reduced-fat" about this burrito is the sour cream—and you're holding a whole day's worth of salt in one hand. To burn that off, you'd need these 33 Ways to Flatten Your Belly—Fast!.
Chipotle Burrito with Steak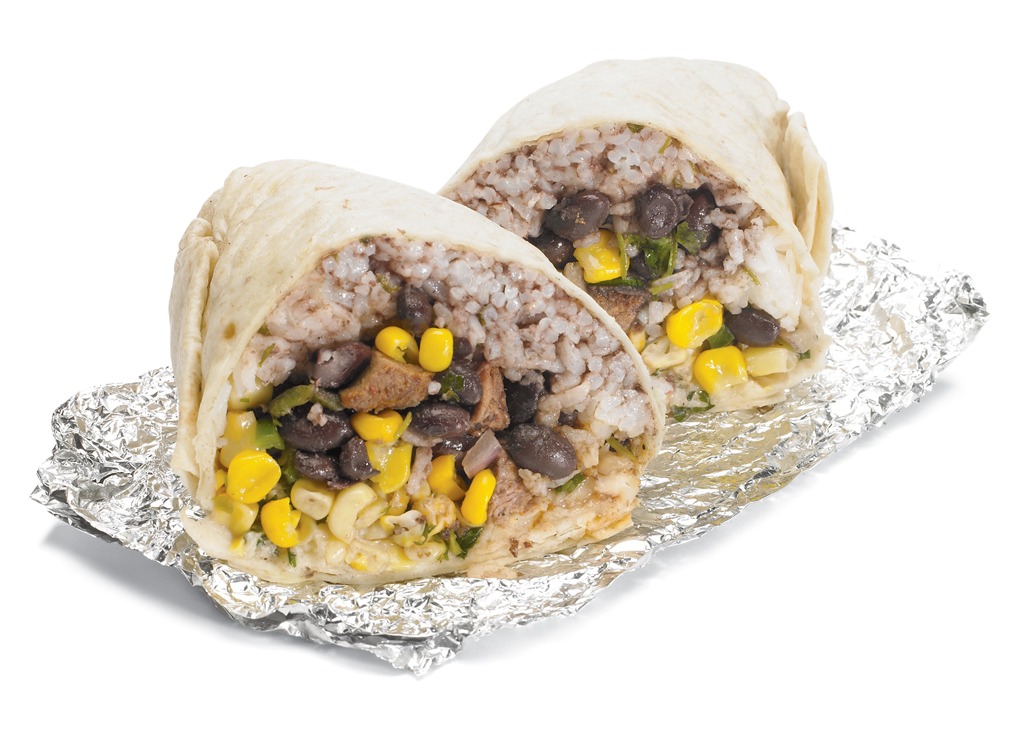 1,115 calories, 39.5 g fat, 15.5 g saturated fat,2,165 mg sodium, 129 g carbs 19 g fiber, 8 g sugar, 58.5 g protein (calculated with black beans, white rice, cheese, sour cream, and roasted chili-corn salsa)
Not That!
Chipotle prides itself on serving "food with integrity." We appreciate the chain's commitment to high-quality ingredients, but all the integrity in the world won't make this burrito any less fattening or caloric. This over-stuffed burrito is definitely a no-go.
Chili's Quesadilla Explosion Salad with Grilled Chicken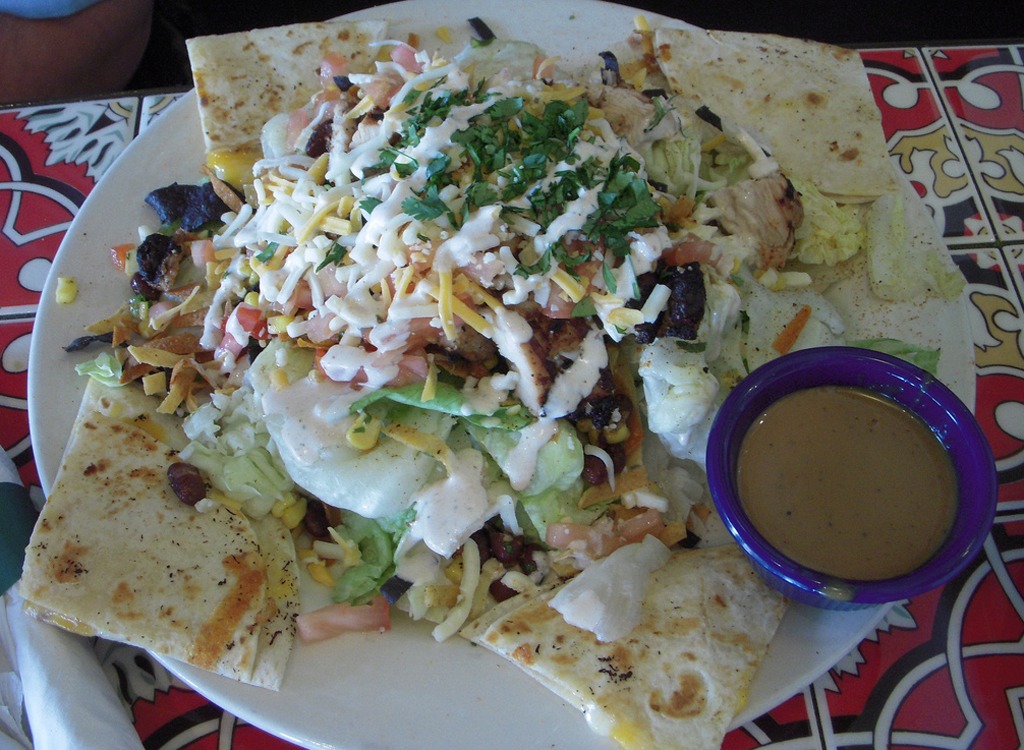 1,430 calories 96 g fat, 28 g saturated fat, 0.5 g trans fat, 2,420 mg sodium, 84 g carbs, 9 g fiber, 18 g sugar, 64 g protein
Not That!
I'm embarrassed to admit it, but—before calorie counts were so readily available—this was my go-to order at Chili's. It seemed like the best of both worlds: You could get a solid serving of veggies, all while indulging in some quesadillas. But let this be a lesson for all: If a dish seems too good to be true, it probably is. Not only does this salad pack in more than the recommended daily intake of salt and more than half the day's calories, but it also carries traces of dangerous trans-fats. To learn about more scary stuff lurking in your dinner, check out these 40 Most Horrifying Things Found in Food—and stay far, far away!
On the Border Monterey Ranch Chicken Fajitas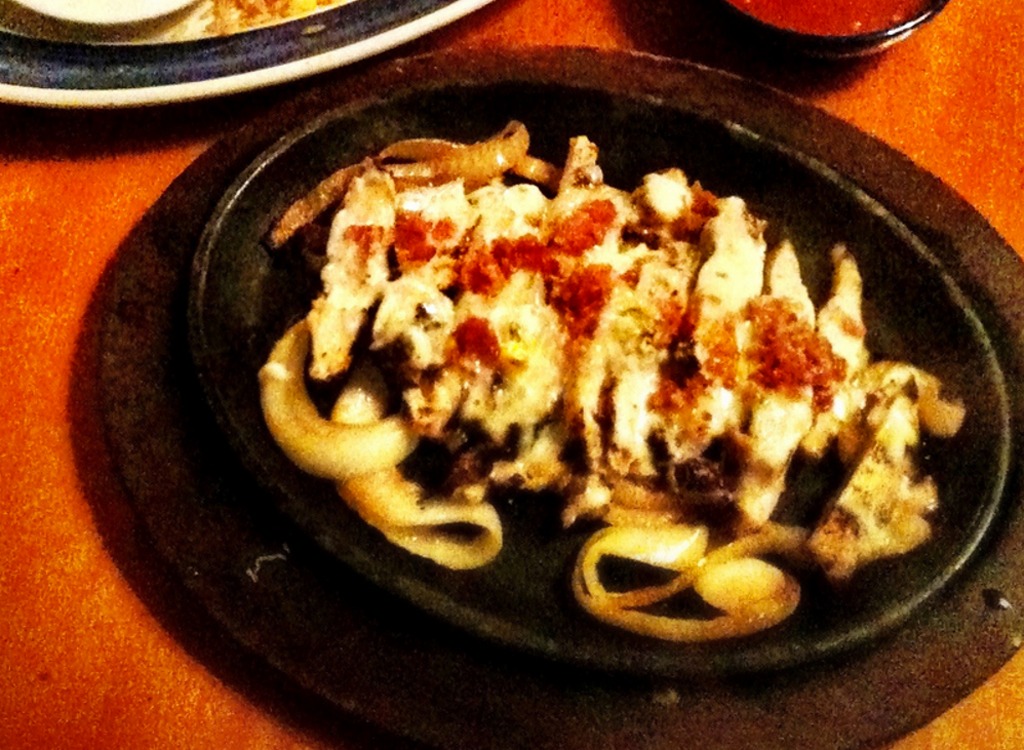 1,630 calories, 65 g fat, 19 g saturated fat, 184 g carbs, 4,170 mg sodium, 85 g protein, 15 g fiber, N/A sugar (calculated with flour tortillas, rice, guac, and black beans)
Not That!
Warning: When you drown grilled chicken and veggies in a pool of bacon, Jack cheese, and ranch dressing you majorly up the calorie and fat count. Stick with the chain's Smart Grilled Chicken Fajitas to save 1,080 calories and 55 grams of artery-clogging fat.
FROM THE GROCERY STORE
Red's Natural Food Steak & Cheese Burrito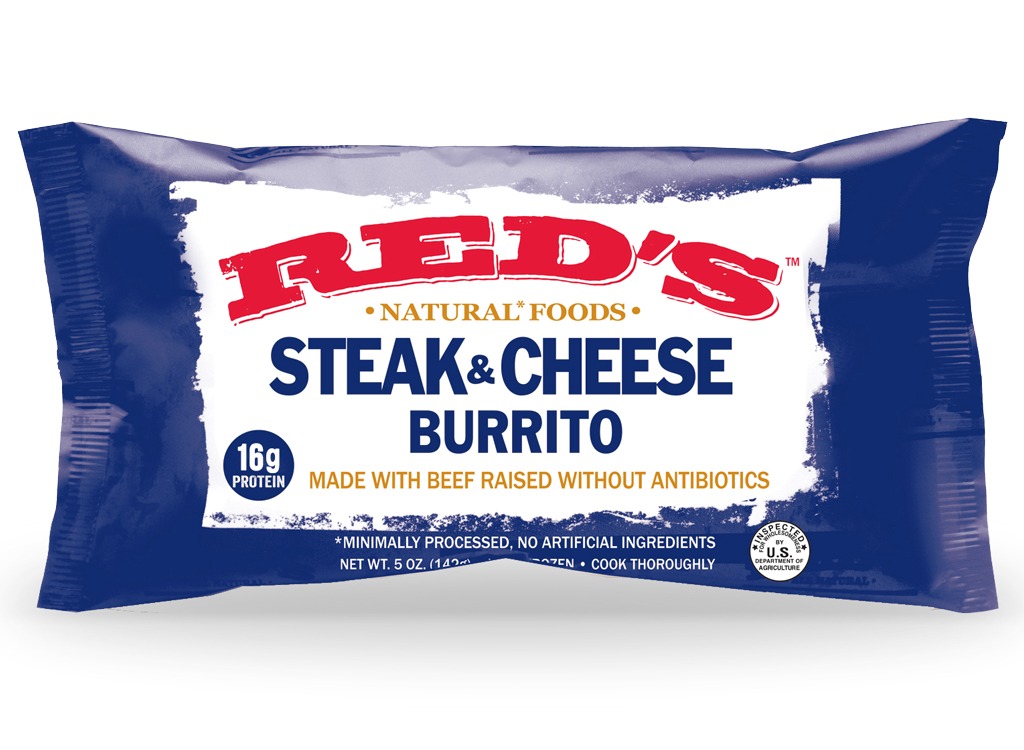 310 calories, 10 g fat, 3.5 g saturated fat, 650 mg sodium, 40 g carbs, 2 g fiber, 2 g sugar, 16 g protein
Eat This
Free of chemicals and excess calories and salt, this protein-packed burrito is perfect for a healthy-ish dinner in a pinch. To sneak in some extra nutrients, pair this frozen dish with a side salad topped with pico de gallo and black beans.
Kashi Frozen Entrees Chicken Enchilada
280 calories, 9 g fat, 2.5 g saturated fat, 620 mg sodium, 38 g carbs, 6 g fiber, 5 g sugar, 12 g protein
Eat This
Kashi's blend of whole grains makes this chicken and veggies dish surprisingly healthy. Its high fiber content and lower sodium content is an added bonus, too! For more frozen fare that won't derail your weight loss efforts, check out these 46 Best Frozen Foods in America!
Red's Natural Foods Veggie Burrito Bowl
270 calories, 7 g fat, 2 g saturated fat, 570 mg sodium, 47 g carbs, 6 g fiber, 4 g sugar, 7 g protein
Eat This
Free of chemicals and filled with brown rice, roasted corn, black beans, lime juice, onions, cheddar cheese, chili pepper, and a host of other yummy, flavorful ingredients, this is a vegetarian Tex-Mex meal that gets our stamp of approval. These 6 Americanized "Mexican" Dishes They Won't Eat in Mexico, however, not so much!
Newman's Own Mild Salsa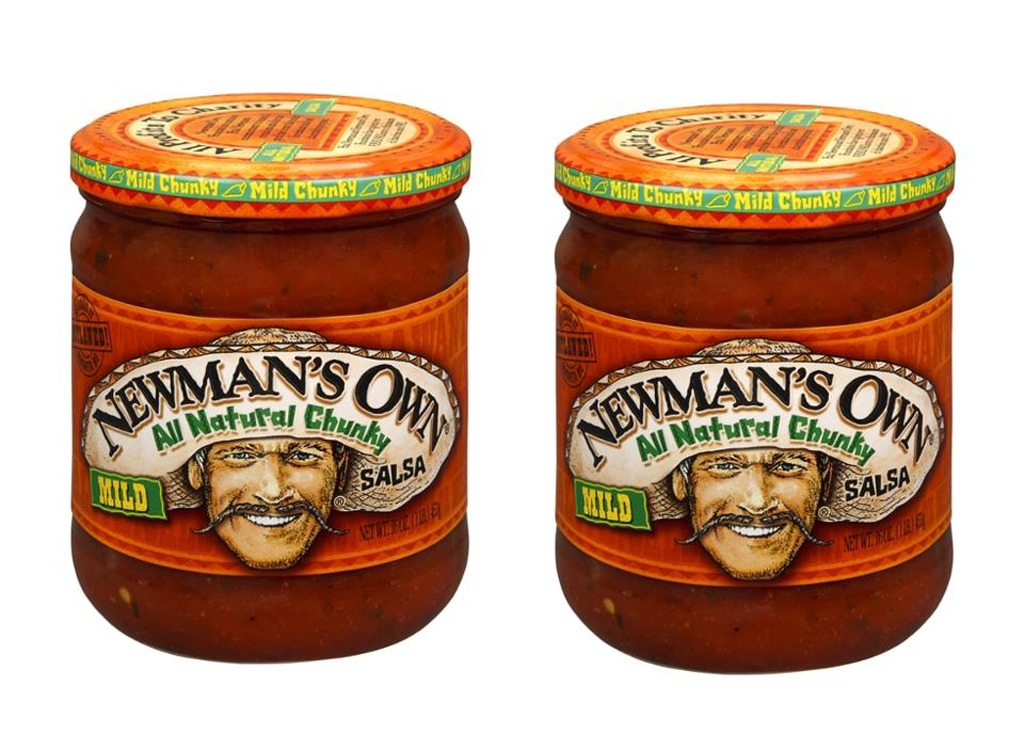 2 tbsp: 10 calories, 0 g fat, 0 g saturated fat, 65 mg sodium, 3 g carbs, <1 g fiber, 1 g sugar, 0 g protein
Eat This
Not only is Newman's classic dip filled with a delicious savory flavor, it's one of the lowest sodium salsas on supermarket shelves! Speaking of salt, discover all there is to know about the mineral in our exclusive report, 17 Things You Need to Know About Salt.
Tostitos Oven Baked Scoops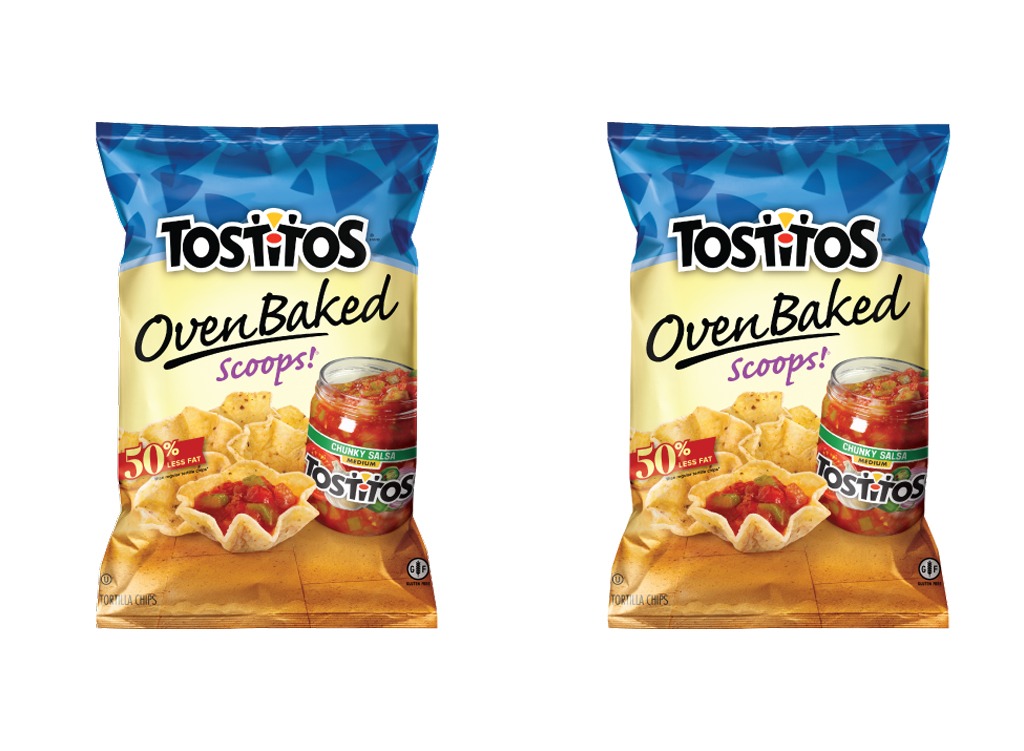 1 oz: 120 calories, 3 g fat, 0.5 g saturated fat, 140 mg sodium, 22 g carbs, 2 g fiber, 0 g sugar, 2 g protein
Eat This
At 120 calories and just three grams of fat, consider this the healthiest salsa scooper in the supermarket. We love that these crunchy crisps are made with only three ingredients: corn, vegetable oil, and salt. Any tortilla chip made with more than that doesn't deserve a place in your shopping cart. For more healthy chip picks, check out these 35 Best-Selling Chips—Ranked!
Carta Blanca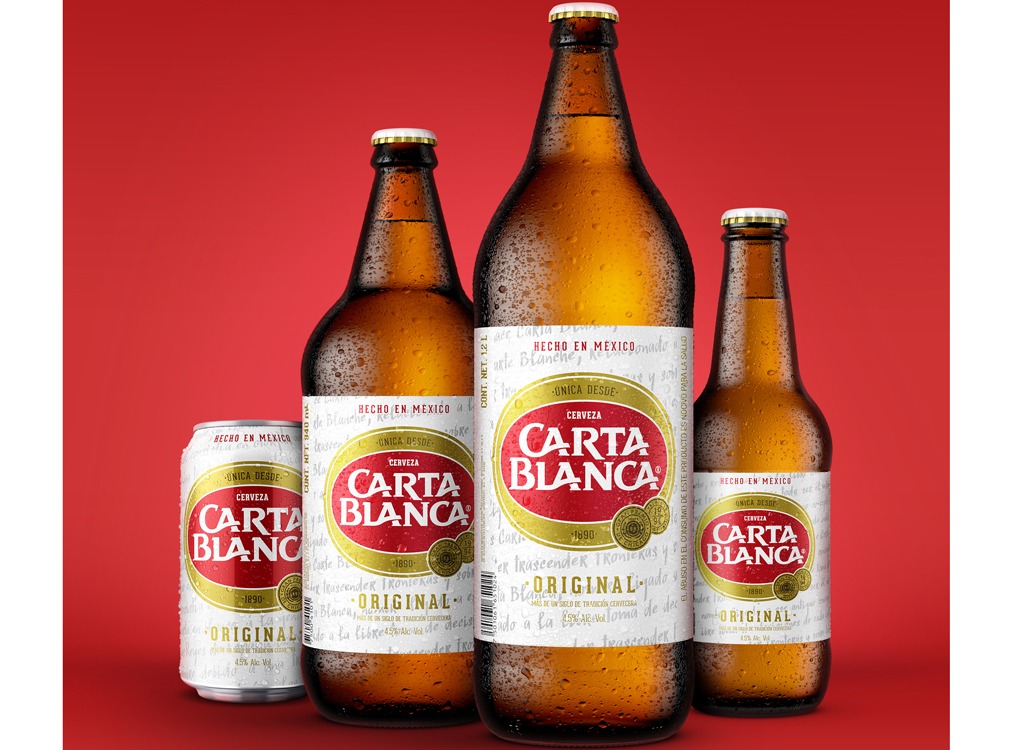 Per 12 fl oz: 128 calories, 11 g carbs, 4% alcohol
Drink This
Not only is this beer lower in calories than the oh-so-popular Corona Extra, it's the perfect base for a Michelada, one of Mexico's most popular drinks. To whip one up, mix the beer with a squeeze of lime, a dash of Worcestershire, and a few hits of fiery hot sauce. Oh, and if you love setting your taste buds on fire, don't miss these 20 Hurts-So-Good Ways to Eat Hot Sauce!
El Monterey Beef Steak & Cheese Burrito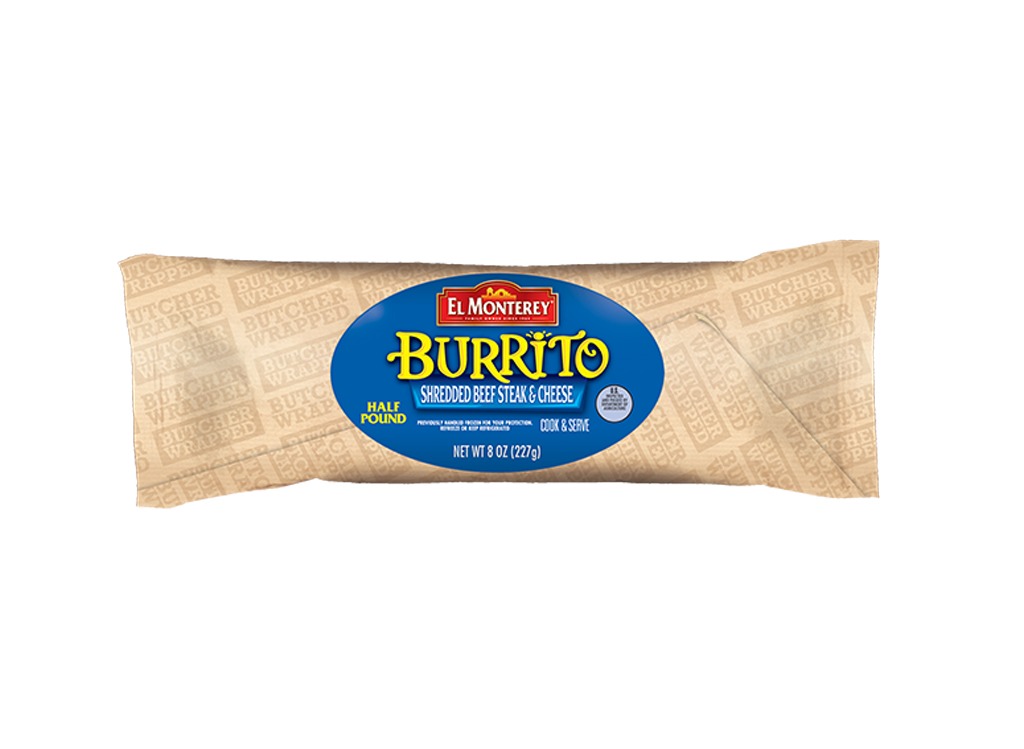 450 calories, 15 g fat, 5 g saturated fat, 740 mg sodium, 56 g carbs, 3 g fiber, 3 g sugar, 25 g protein
Not That!
Not only does this tiny burrito carry 31 percent of the day's sodium and 25 percent of the day's fat, it's also spiked with partially hydrogenated soybean oil which has been linked repeatedly to heart disease. Its artery-clogging effects extend beyond your heart, however; reduced blood flow can impact everything from brain function to sexual function. Yikes!
El Charrito Beef Enchilada Dinner
420 calories, 16 g fat, 6 g saturated fat, 1,190 mg sodium, 62 g carbs, 10 g fiber, 14 g protein
Not That!
El Charrito refers to this as "a delicious Mexican restaurant classic." However, we highly doubt that those making this dish in Mexico are adding in caramel color (a dye that's been linked to cancer), BHT (a preservative banned in other parts of the world because it's thought to be carcinogenic) or dimethylpolysiloxane (an aquarium sealant chemical). If you don't want to eat those chemicals either keep this frozen health food imposter our of your shopping cart. And for even more frozen dietary no-nos, check out these The 48 Worst Frozen Foods in America.
Kraft Velveeta Cheesy Bowls Bean & Rice Burrito Bowl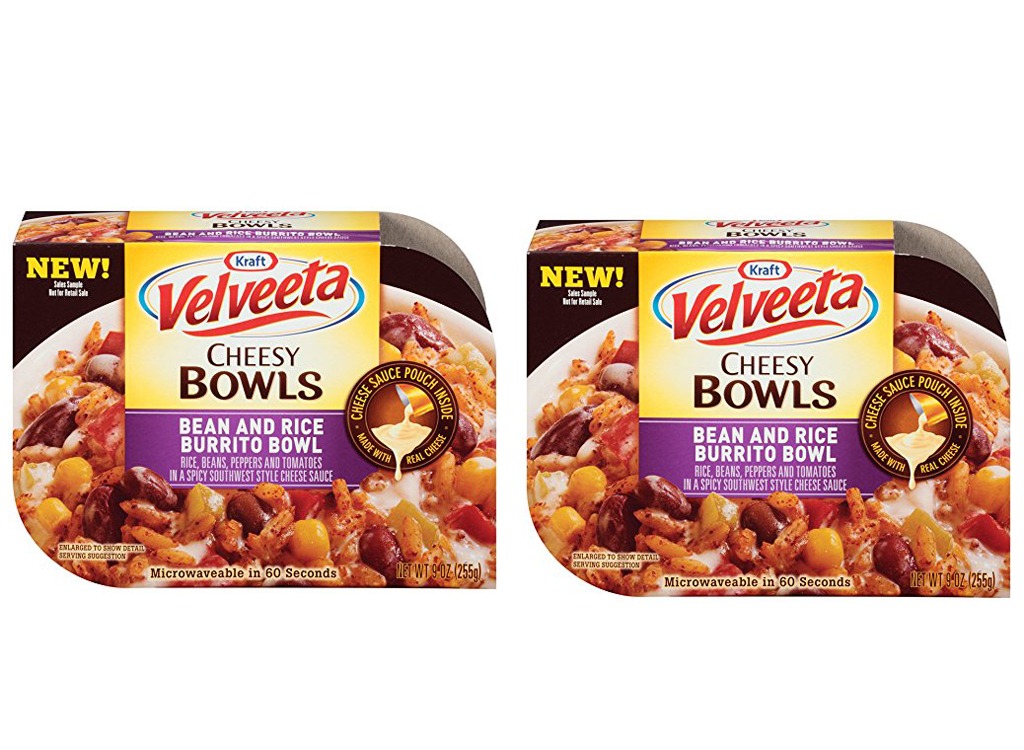 350 calories, 9 g fat, 1.5 g saturated fat, 960 mg sodium, 60 g carbs, 6 g fiber, 7 g sugar, 10 g protein
Not That!
Though it contains some elements of cheese like milk and cheese culture, Velveeta isn't real cheese. It's a cheese product made up of a host of chemicals and random ingredients. If that's not enough to keep you away, we're not sure what is.
Herdez Salsa Casera Mild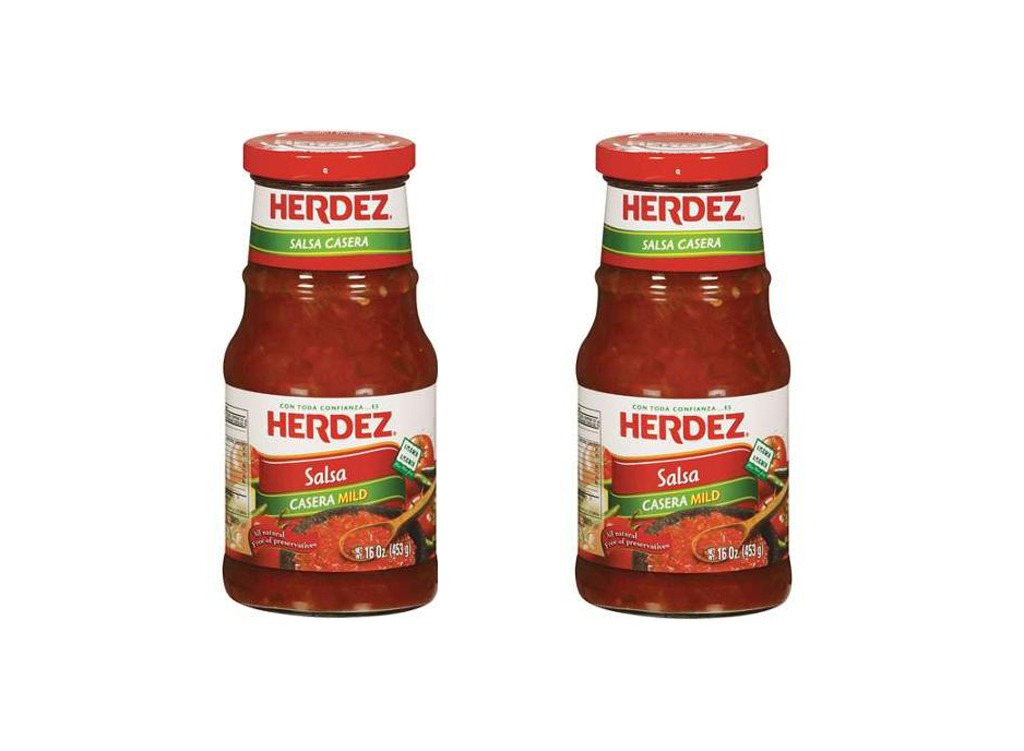 2 tbsp: 10 calories, 0 g fat, 270 mg sodium, 1 g carbs, 0 g fiber, 1 g sugar, 0 g protein
Not That!
Though the ingredients in this dip are "clean" (tomatoes, onions, serrano peppers, iodized salt, and cilantro), combined with some salty chips, one serving could easily dish out half the day's sodium. And considering new research has linked obesity and sodium intake, that's no bueno!
Tostitos Multigrain Chips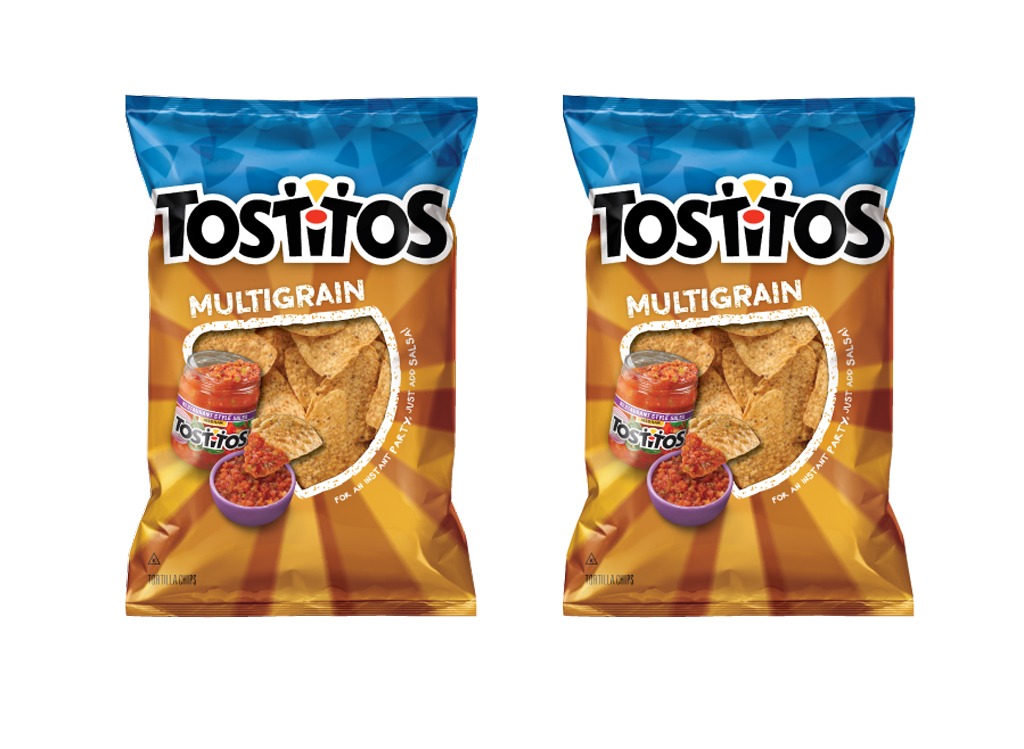 1 oz: 150 calories, 7 g fat, 1 g saturated fat, 110 g sodium, 19 g carbs, 2 g fiber, <1 g sugar, 2 g protein
Not That!
Despite its healthy-sounding name, these chips are primarily made up of corn—not a mix of multiple grains.
Corona Extra
Per 12 fl oz: 148 calories, 14 g carbs, 4.6 % alcohol
Not That!
For a beer that doesn't taste like much, it sure does come with plenty of calories. Stick with the Carta Blanca to stay on the straight and narrow toward weight loss success.
FROM YOUR OWN KITCHEN
Skillet Chicken Tortilla Pie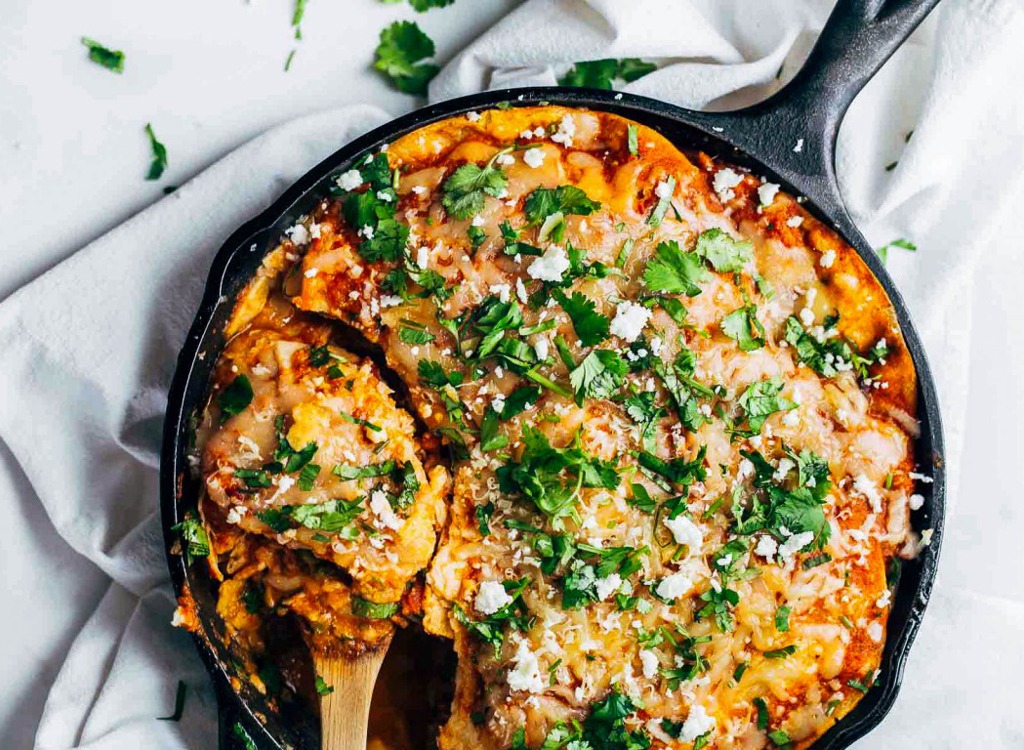 Serves: 12
Nutrition: 356 calories, 15.3 g fat (6.7 g sat fat), 586.9 mg sodium, 4.6 g fiber, 4.5 g sugar, 28.5 g protein
Cook This
This comforting skillet proves that, if done right, you can have a cheesy dinner without undoing a day's worth of healthy eating. Pair it with a side salad to boost your fiber and veggie intake so you're less tempted to dive back in for seconds.
Get the recipe from Pinch of Yum.
Slow Cooker Mexican Quinoa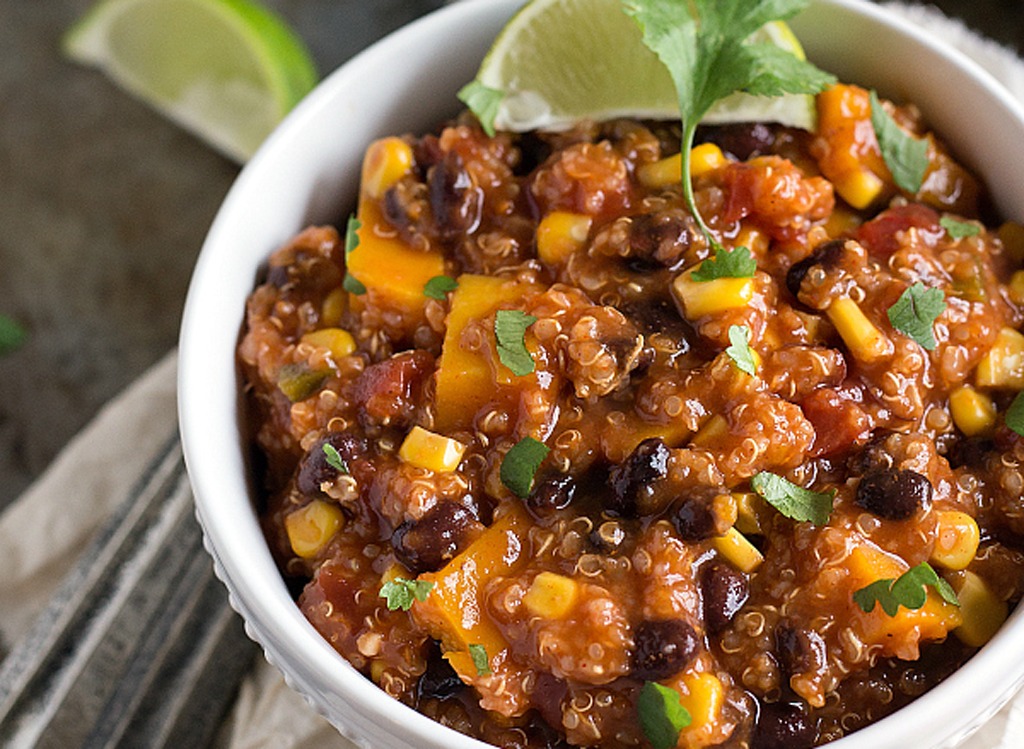 Serves: 8
Nutrition: 362 calories, 2.3 g fat (0 g saturated), 757 mg sodium, 69.2 g carbs, 12.4 g fiber, 5.9 g sugar, 16.9 g protein (calculated with low sodium broth, low salt taco seasoning, and 19 ounces of enchilada sauce)
Cook This
Quinoa is one trendy health food that has earned its praise. Plus, it's super versatile and can be used in place of pasta and rice in dishes like this Slow Cooker Mexican Quinoa. Not only is it packed with hunger-squashing fiber (12.4 grams per serving in this dish!), but the super grain contains all eight essential amino acids, making it one of the only grains considered to be a complete protein.
Get the recipe from Chelsea's Messy Apron.
Crunchy Taco Cups
Serves: 12 cups
Nutrition: 178 calories, 7.3 g fat (3.9 g saturated fat), 284 mg sodium, 10.4 g carbs, 0.6 g sugar, 16.8 g protein
Cook This
Holy tacos! These taco cups are making our mouths water. Pair two or three with a side salad for a wholesome, balanced meal. Wanna eat tacos for breakfast? Check out this delicious ETNT recipe for Breakfast Tacos with Bacon and Spinach!
Get the recipe from Kevin and Amanda.
Chicken Avocado & Lime Soup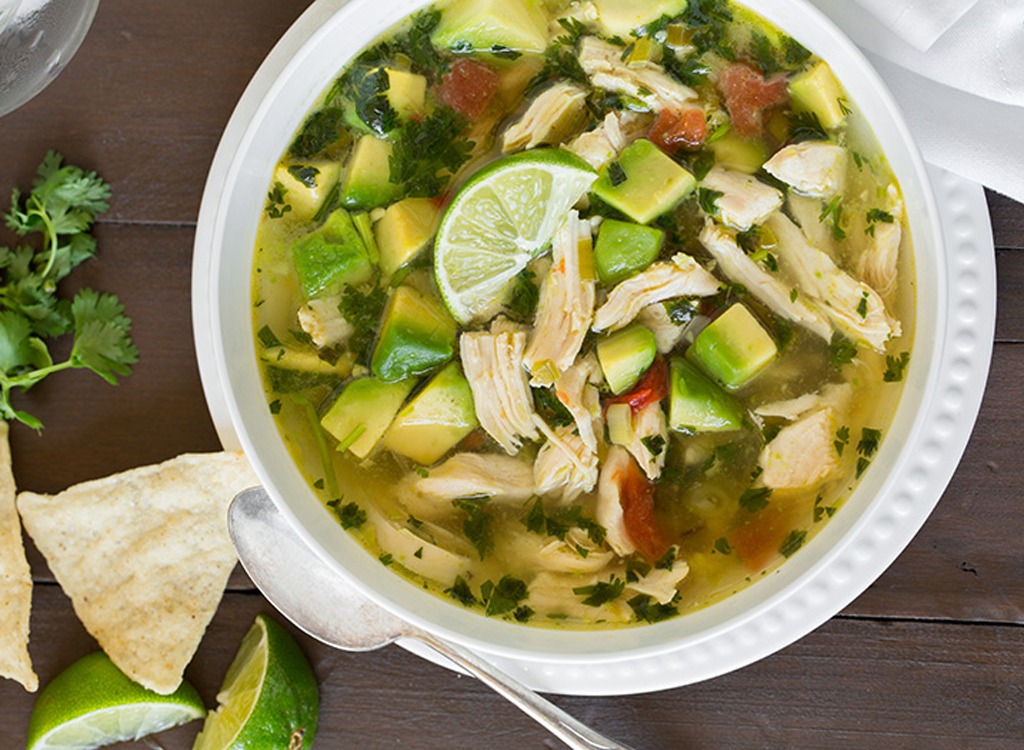 Serves: 6
Nutrition: 473 calories, 30.5 g fat (6.8 g sat fat), 189 mg sodium, 7.8 g fiber, 2.2 g sugar, 37.8 g protein
Cook This
How do you get rich, comforting soup without fattening roux and cream? Add avocado. This warmed-up cousin to the classic taco keeps it light without sacrificing flavor or satisfaction. This sky-high protein count is sure to keep you full until bedtime.
Get the recipe from Cooking Classy