Healthy Salad Recipes and Tips
There's a catchy little phrase about what happens when you assume something. You know the one. But we still continue to make generalizations about life, including food, like this common one: All salads are healthy.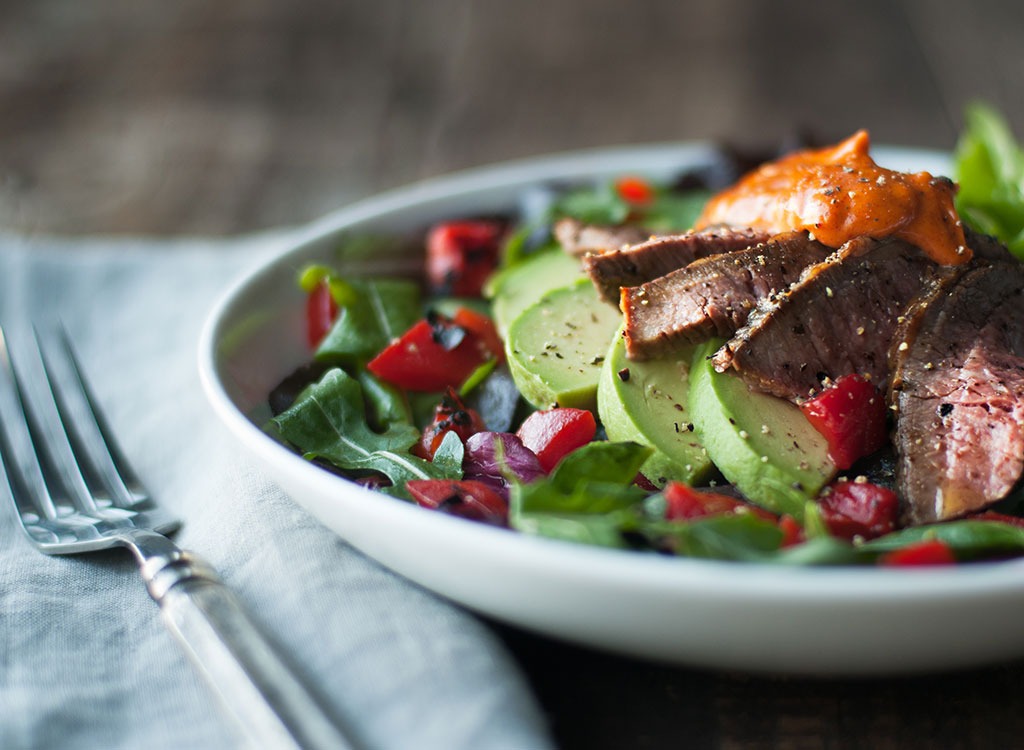 And while this assumption won't make one out of you (or me), it might make yours grow. Just because it's called a salad doesn't mean it's full of the optimal, fat-burning foods and nutrients you want to fit into your everyday diet. Check out our advice below so that next time you mix up a veggie-packed meal, you'll include the best combo of lean protein, leafy greens and toppings to keep your weight loss plans on track.
Always Include a Lean Protein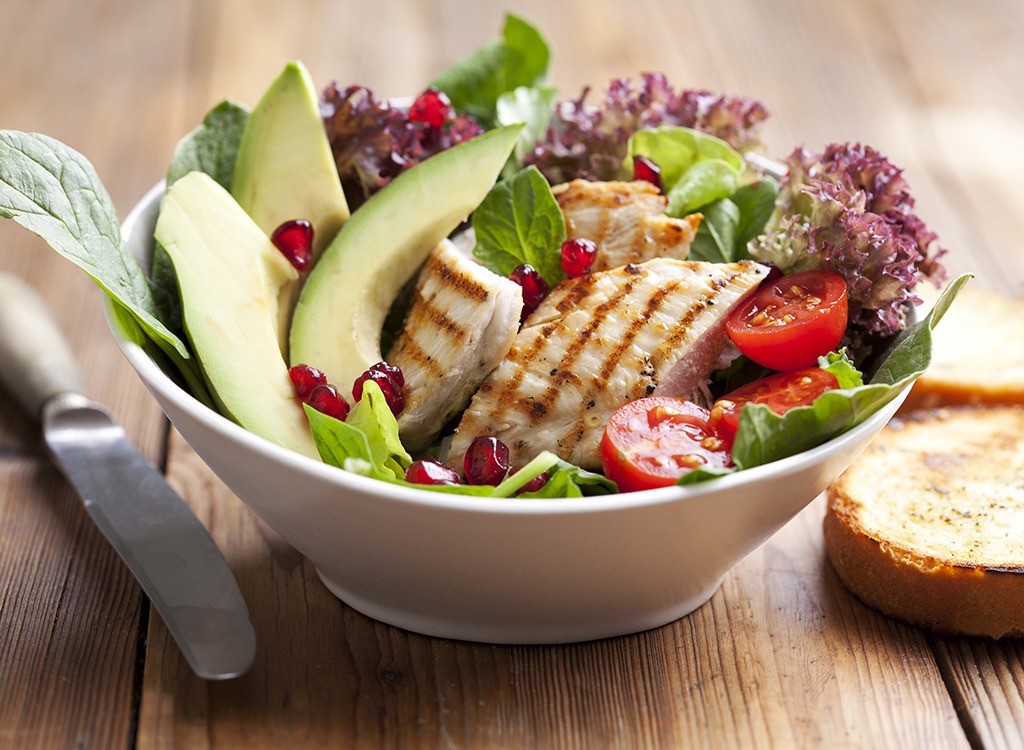 If you're a meat eater, that could be grilled chicken breast, canned tuna or even (on occasion) a lean cut of steak. But there are also plenty of veggie sources of protein that make excellent additions to your favorite salads. One of our favorites is chickpeas, which help keep you full long after you're done eating thanks to their high amount of soluble fiber, which is one of the many reasons we've included chickpeas in our list of weight loss foods that should be staples in your kitchen. And they're loaded with protein—1 cup has about 12 grams of protein, to be exact.
Eat This! Tip: Other tasty vegetarian sources of protein that are great in salads include baked, grilled or sautéed tofu, black beans, edamame, lentils, nuts and quinoa. Change up your go-to protein (or combine a couple of different options) from day to day and week to week to keep your palate happy and your waistline in check.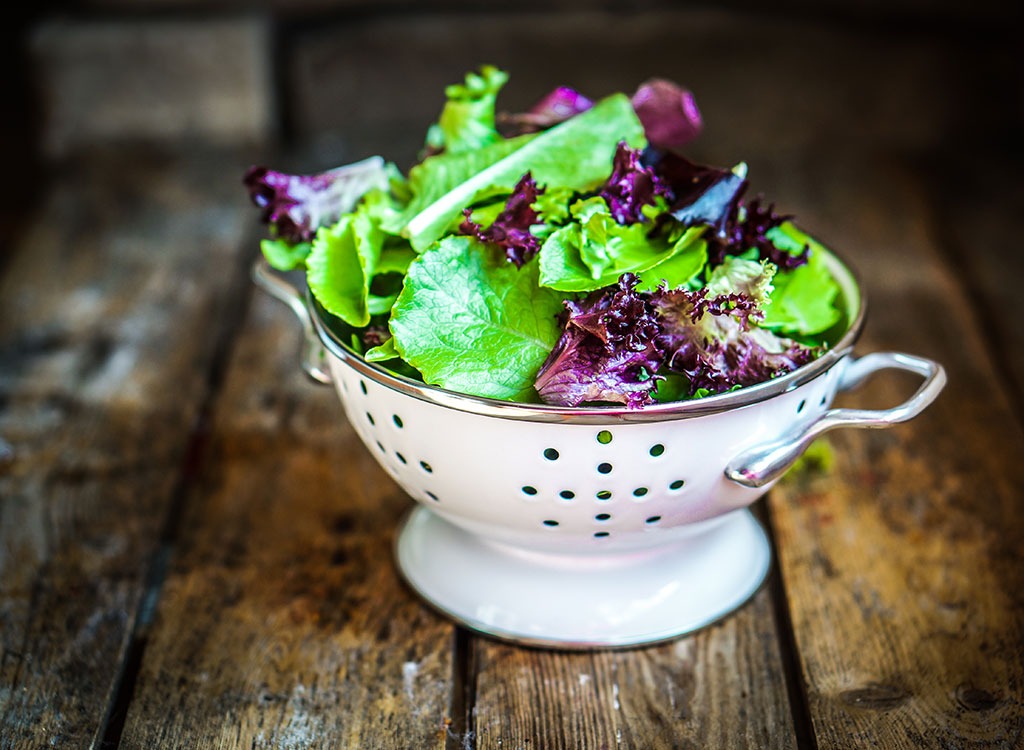 If your go-to green for salads is spinach or romaine, that's great—they're both packed with tons of nutrients. But a varied diet is a healthy diet, and there are tons of other greens out there that are equally delicious. If you like lighter leafy vegetables, try swapping your spinach for some arugula, leaf lettuce, watercress or parsley, or combine a few different greens to get an incredible mixture of vital nutrients that will power you through the rest of your day. If you prefer heartier greens or like to go with seasonal options throughout the colder winter months, look for toothsome leafy vegetables like kale, chard, cabbage or Chinese cabbage, beet greens, or even collards. Tougher greens can be lightly blanched in boiling water to give them a more pleasing texture—and will warm you up on especially frigid days.
Eat This! Tip: "Once you've got a good, leafy base, my favorite thing to add into the lettuce for added crunch and nutrients is purple cabbage," says Amy Shapiro, MS, RDN, CDN and founder of Real Nutrition NYC. "Purple veggies are especially high in protective antioxidants, plus raw cabbage adds tons of texture and satisfying crunch—so you can lay off the croutons, pita chips and other carb-heavy toppings," she explains. The cabbage's purple color is also a clue that it contains anthocyanins, phytochemicals that can help steady blood sugar levels, as well as high levels of antioxidants, which can keep you from running to the vending machine mid-afternoon.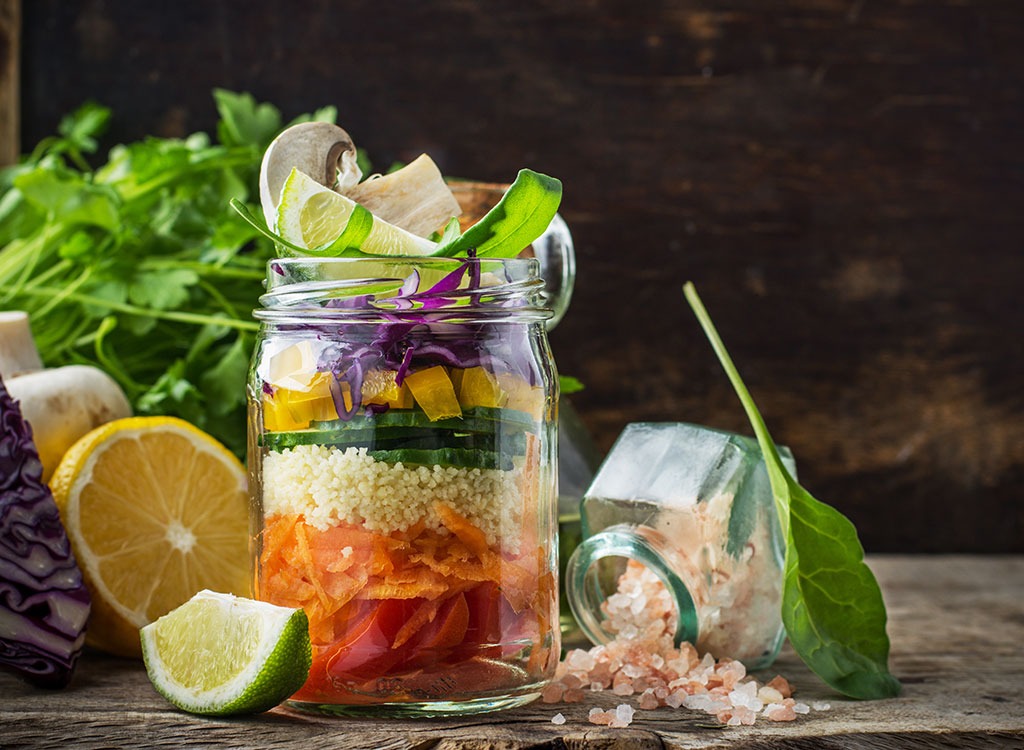 As usual, Mom was right. The more colorful your salad, the better — it means you're getting a more diverse mix of vitamins, minerals and antioxidants. And don't let your typical topping choices block your creativity. "You can add any kind of vegetables to salads," says Shapiro. "Any fresh vegetables you've recently picked up from the market are great to use, too. In the summer, I like to shave fresh, raw kernels of corn off the cob—they're naturally sweet, have a nice texture, and don't even need to be cooked!" she adds.6254a4d1642c605c54bf1cab17d50f1e
Eat This! Tip: Like stir-frys, salads are an easy way to use up leftovers and quickly ageing produce. Don't be afraid of combining cooked and raw veggies in the same salad, either. Shapiro agrees, adding, "If you have leftover cooked vegetables from dinner the night before, go ahead and throw those in. Mushrooms, peppers, asparagus—whatever veggies are in your fridge and need to be eaten are a great addition to your salad." You'll cut down on food waste and slim down doing it.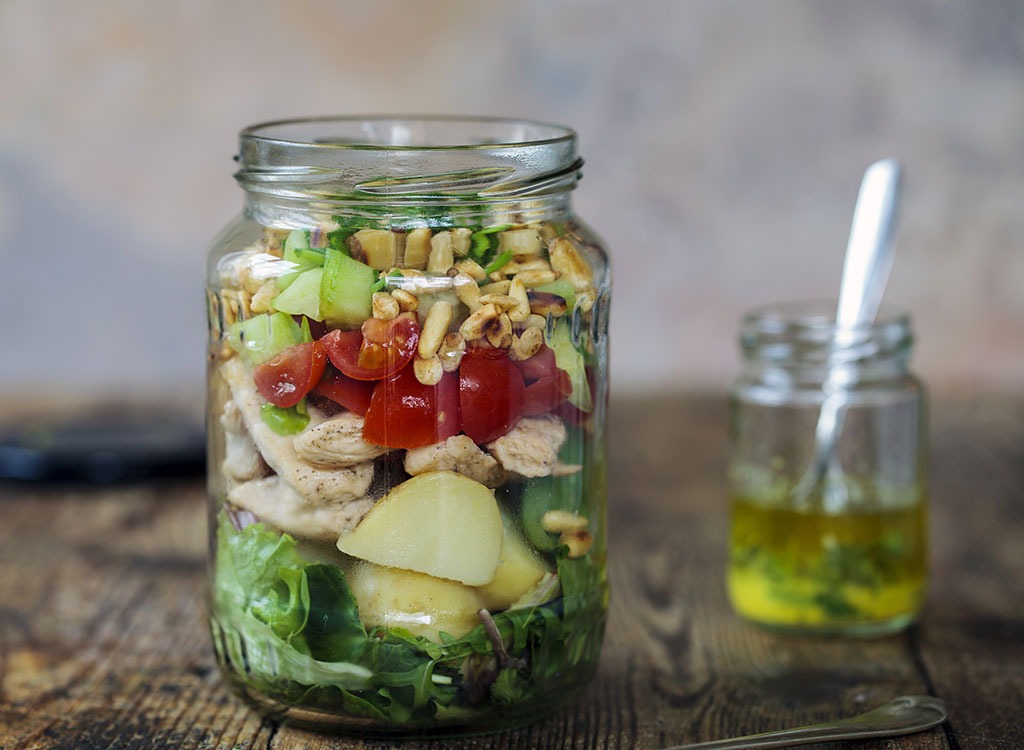 Make the main ingredient and base of your salad lots and lots of leafy greens—you can never have too many! But after that, it's important to keep the additions and toppings in check. Shapiro advises sticking to just one source of healthy fats in your salad (so either avocados or olives, not both) and limiting the amount of nuts or seeds, if you're adding them. They're both good sources of protein, but they're also high in fat.
Eat This! Tip: Stick to a two-tablespoon serving of nuts or seeds if you're using another protein like chicken or tofu, or up to ¼ cup — max — if they're your salad's only source of the muscle-builder.
Make Your Dressing at Home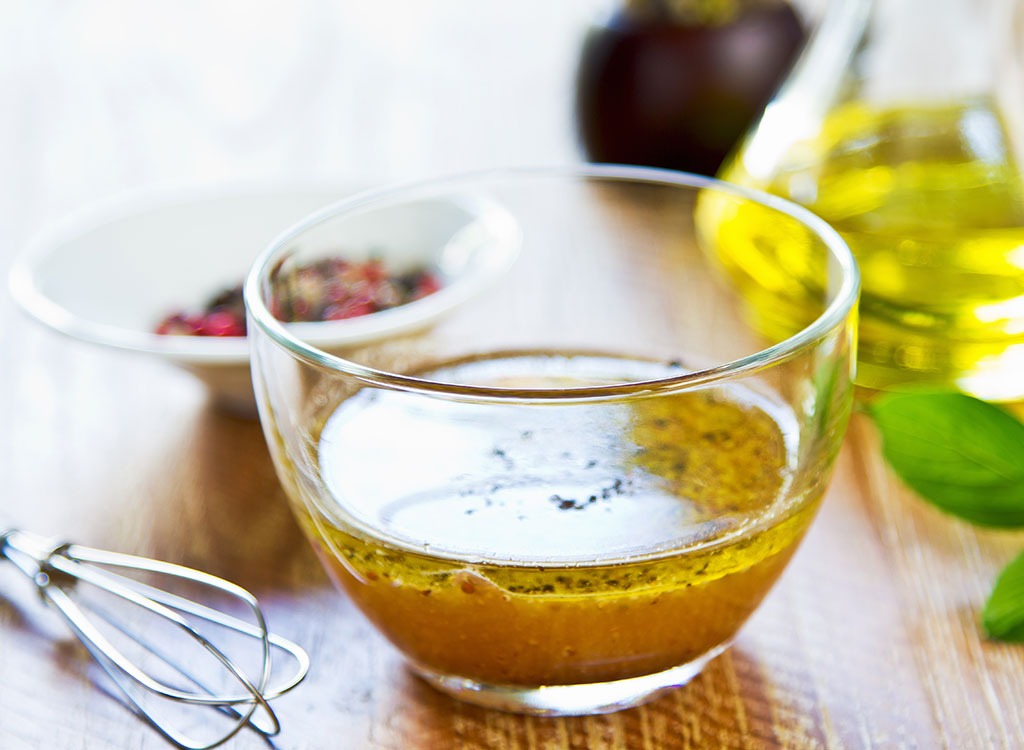 "What makes a salad at home is homemade salad dressing," says Shapiro. And we agree—plus, staying away from store-bought varieties means you can control exactly what's in it, and that you can avoid unwanted additives and preservatives. "Mix up a favorite flavor combination or two and keep them in the fridge—they'll keep for a week or two, as long as they're kept in an airtight container. One of my go-tos is olive oil with balsamic, Dijon mustard, salt, pepper and a little honey, but I'll often make other delicious vegetarian vinaigrettes, like carrot-ginger or honey-Dijon."
Eat This! Tip: If you're short on time, or don't eat salads often enough to use up homemade versions, turn to these healthy salad dressing options that you can pick up at any supermarket.
Stay Far Away from These Add-ins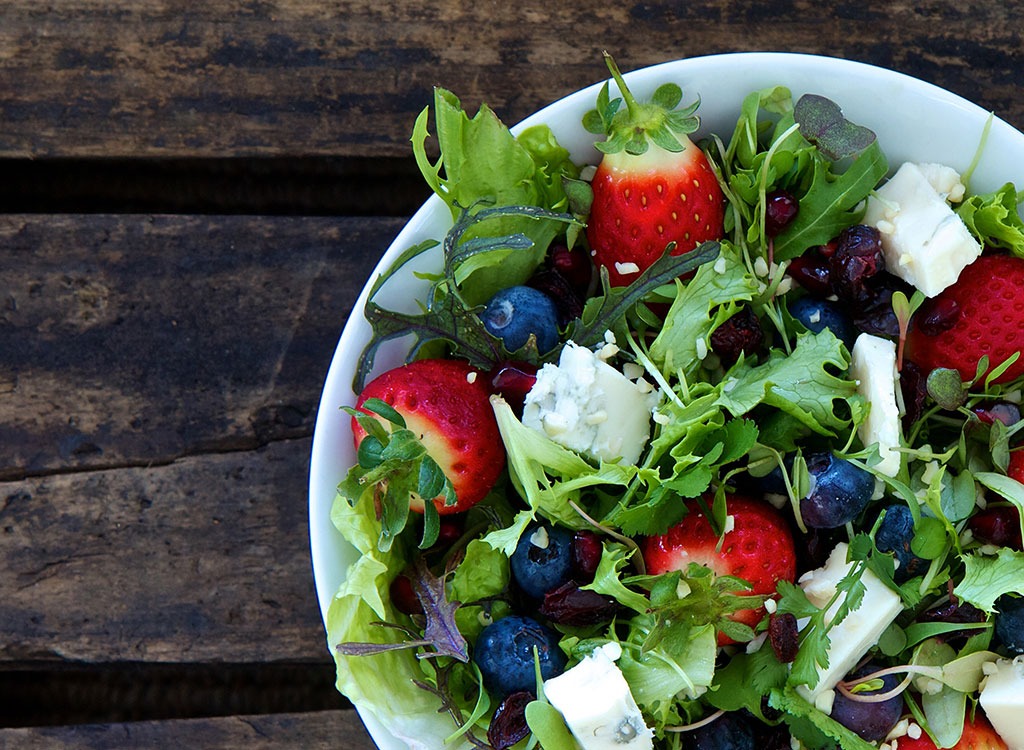 Says Shapiro, "I usually tell my clients not to add any fruit or cheese to their salads—when you already have a protein, healthy fat and other good stuff in your salad, fruit is just adding unnecessary sugar (especially Craisins!). Cheese can quickly add up to 100-200 extra calories and 16 additional grams of fat on top of the avocado or dressing that you're already using—for all those calories, you might as well just go and have a hamburger! So avoid the cheese and stick to other, healthier sources of fat and protein."
Eat This! Tip: If you really can't keep away from fruit on your salad, always choose fresh over dried. Dried fruits like Craisins are doused with added sugar, spiking your blood sugar levels and leading to that dreaded 3 pm crash. Rely on these healthy fruits that actually help you lose weight, or save one of them for your afternoon snack instead of piling it on your salad.