9 Healthy Whole Foods Salad Bar Lunches For Weight Loss, Made By a Nutritionist
It's possible to eat out for lunch and stick to your diet at the same time: just hit up the Whole Foods salad bar.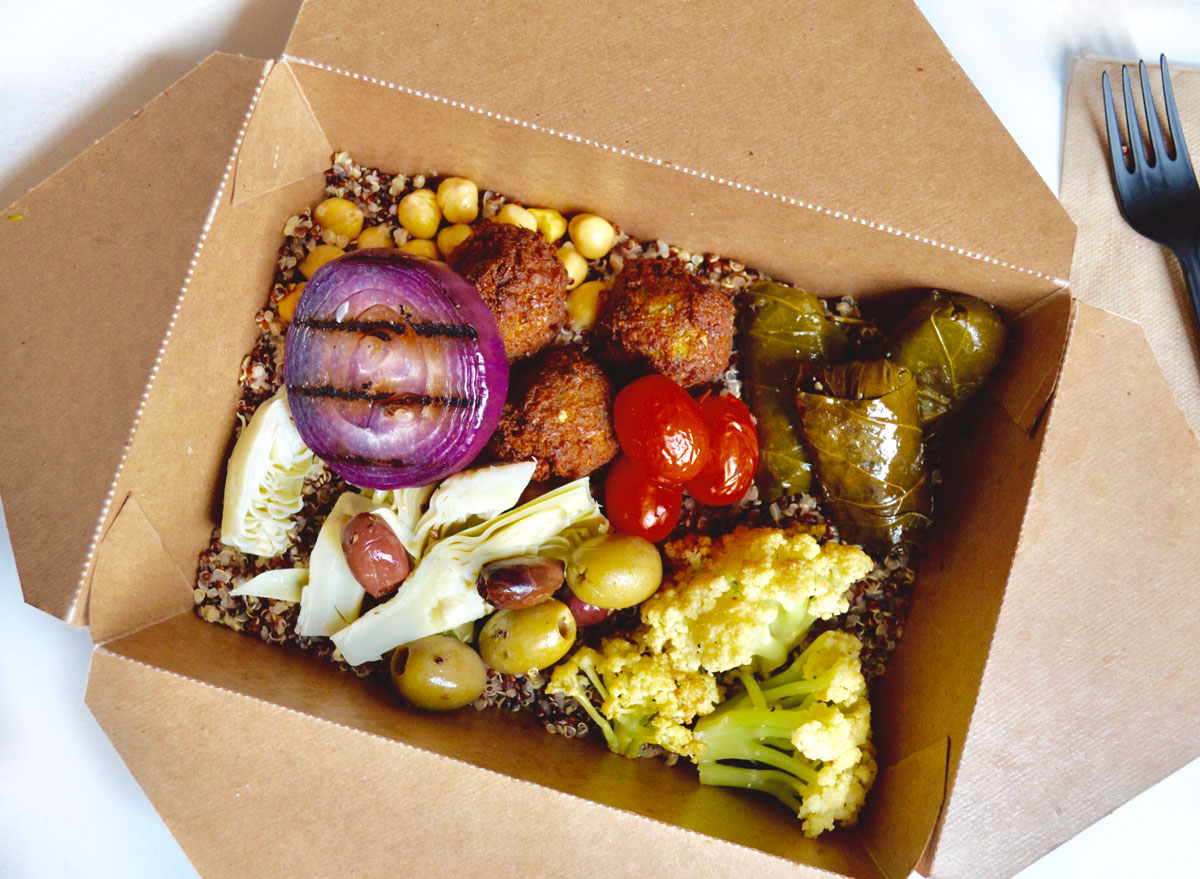 The Whole Foods salad bar is a busy person's dream come true. Where else can you enjoy seafood chowder, vegan chicken nuggets, sautéed kale, curried cauliflower, and tabbouleh all at the same meal? Ok, maybe that is a little too many interesting foods on one plate. While having variety and choices is a wonderful thing, sometimes it can be overwhelming and challenging to put together a well-balanced and satisfying meal with flavors that actually go together.
Things can get dicier if you're following a diet like keto or Whole30. How do you go about picking a lunch that makes sense, will fill you up, and falls under your diet's umbrella? With a little finesse (and help from a registered dietitian) you can put together the perfect meal at the Whole Foods salad bar.
To help you strategize your next Whole Foods run, I created eight lunches that are compliant with eight popular diets and are chock-full of appropriate macronutrients to keep a busy person fueled.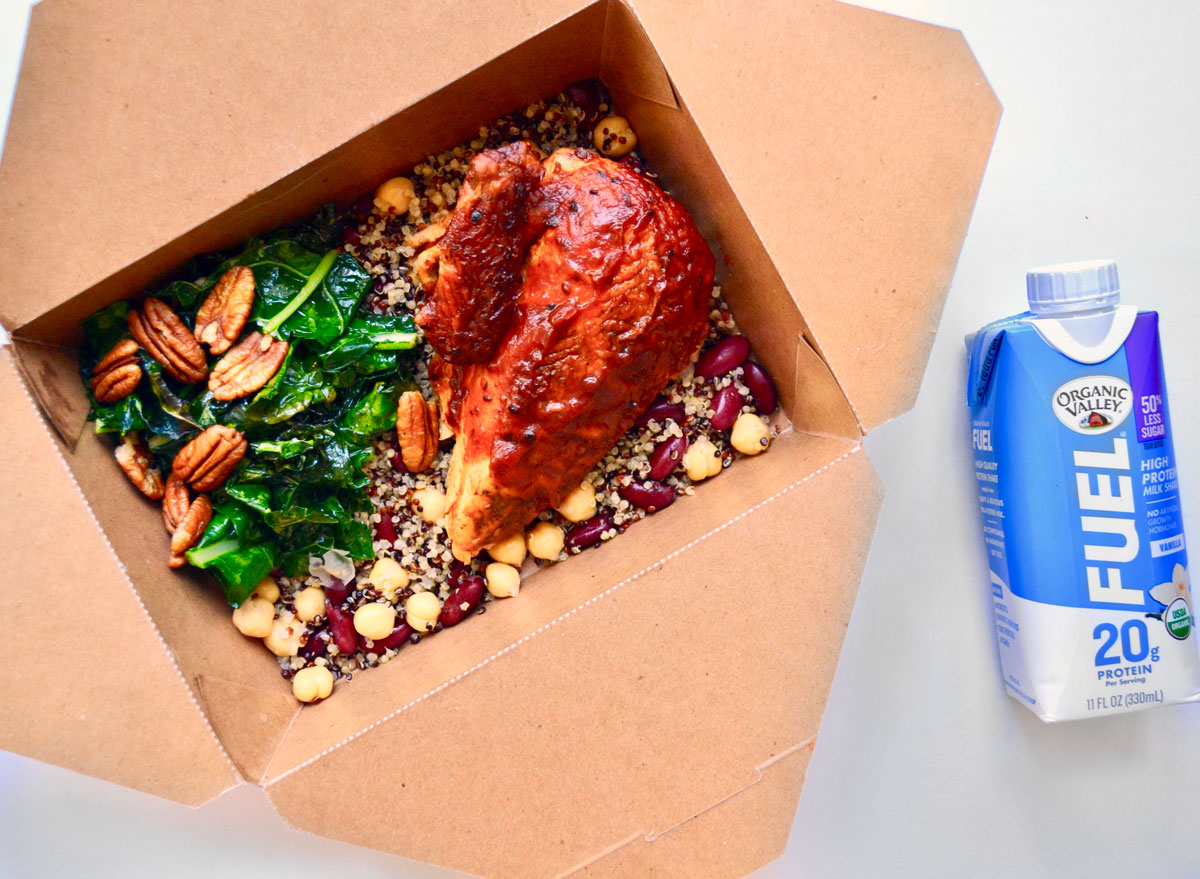 Roasted chicken on a quinoa, chickpea, and kidney bean base with a side of sauteed kale, walnuts, and a high-protein shake
For a high-protein lunch, I started with a base of quinoa mixed with chickpeas and kidney beans to boost the protein content while providing fiber and antioxidants. The quinoa is topped with a large piece of BBQ roasted chicken and plain sautéed kale cooked in olive oil. The kale is topped with pecans for some crunch and even more protein along with healthy fats. This lunch gives a nice combination of amino acids and, while it is high in protein, it also provides carb and healthy fats to balance out the dish.
Finally, the beverage-of-choice is a dairy-based protein shake found in the chilled beverage case next to the salad bar. An ultra-filtered organic milk shake provides an additional 20 grams of protein with no added sugars, artificial flavors, or GMOs.
South-of-the-border salad with romaine, onions, peppers, chicken, pico de gallo, and guacamole
Low carb doesn't mean carb-free, so I choose to include some veggies that provide a small amount of carb. Random ingredients were found in different areas of the salad bar and brought together made a perfect South-of-the-border salad.
For this low-carb salad, top crunchy romaine lettuce with chilled grilled onions and sautéed tri-colored peppers. Lime-seasoned, pulled chicken is a perfect protein addition to this satisfying salad that packs a punch in the flavor department. Dress with an oil-based dressing and serve with sides of fresh pico de gallo and guacamole.
If you're limiting carbs, it is important to get in a balance of healthy fat and protein to keep you fueled throughout the day. Adding the guacamole provides a boost of healthy fats that will help keep a busy person satisfied and avoid that dreaded 3 PM crash.
Pulled-pork, roasted sweet potato, and sautéed broccoli
A Whole30-friendly lunch is simple to round up at Whole Foods thanks to the grocery chain's options of foods made with minimal ingredients and real whole foods. Pulled-pork, roasted sweet potato, and sautéed broccoli cooked with olive oil and red pepper flakes is a well-balanced lunch that is whole-30 compliant.
It is important to pay attention to ingredients found in sauces that are used in foods when following a whole-30 diet. Thankfully, Whole Foods lists all ingredients on their labels on the salad bar and hot bar, so it is simple to know if the sweet potatoes are just roasted with olive oil and pepper, or a sauce loaded with "no-no" ingredients like honey or butter.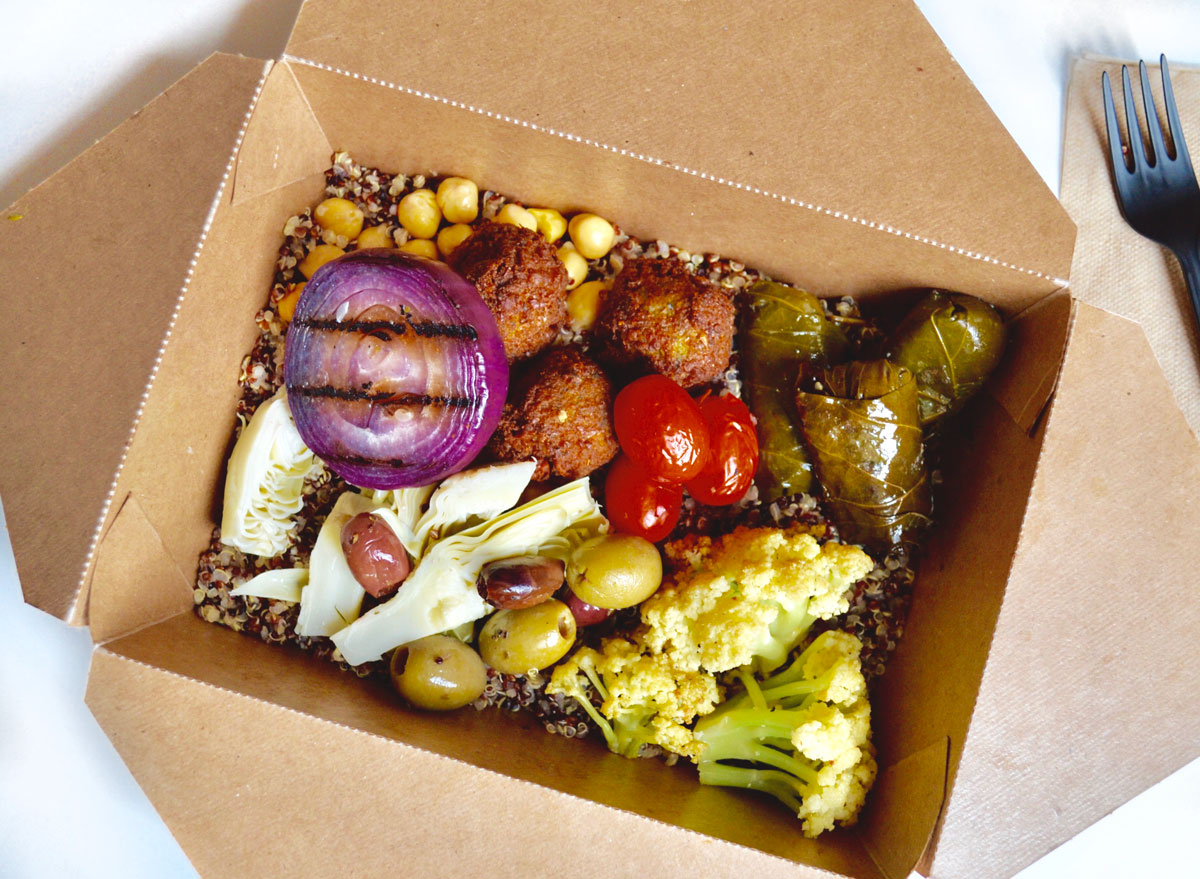 Quinoa topped with falafel, chickpeas, olives, grilled onion, caulilini, artichoke hearts, tomatoes, and dolma6254a4d1642c605c54bf1cab17d50f1e
The Mediterranean diet consists of fish, monounsaturated fats from olive oil, fruits, vegetables, whole grains, legumes, nuts, and moderate alcohol consumption. The Mediterranean diet has been shown to reduce the burden, or even prevent the development, of cardiovascular disease, breast cancer, depression, colorectal cancer, diabetes, obesity, asthma, erectile dysfunction, and cognitive decline according to the American Journal of Medicine.
I opted for a vegetarian lunch loaded with veggies, whole-grains, and healthy fats. Use quinoa as the base and top it with chilled falafel and chickpeas for plant-based protein and fiber. Olives are included to provide some healthy fats, and grilled onion, roasted caulilini (baby cauliflower), artichoke hearts, and tomatoes add more fiber, vitamins, and antioxidants. Stuffed grape leaves are a yummy addition that makes this lunch more interesting and satisfying.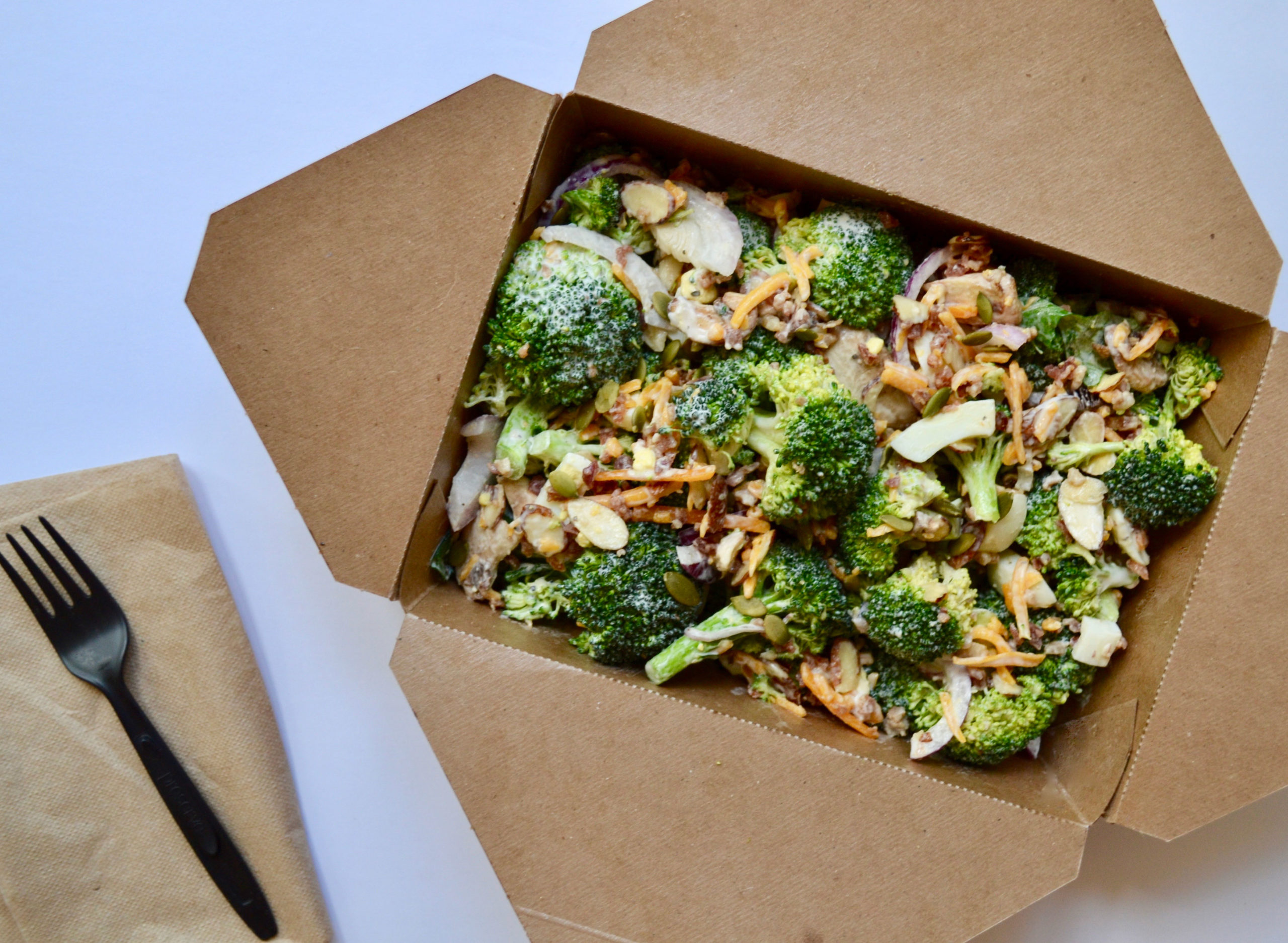 Broccoli salad with hard-boiled egg, bacon bits, cheddar cheese, and creamy dressing
A keto-friendly lunch requires a significant amount of fat, but a heavy meal mid-day may make you feel sluggish and ready for a nap shortly after eating it. I chose a salad for a keto-compliant lunch to provide some fiber-rich veggies that have a low net carb content while also including some higher-fat foods for the correct balance of macros.
Mix raw broccoli, chopped hard-boiled egg, bacon bits, raw onion, and cheddar cheese with some creamy high-fat dressing from the salad bar to create this simple and super-satisfying lunch.
I like to find ways to include dairy when creating a keto meal when possible. Since traditional milk is not permitted on this diet due to the carb content, cheese is an excellent addition to a keto meal to provide calcium that may be otherwise missing.
Vegetarian/Flexitarian/Plant-Based
Spinach, feta, slivered almonds, strawberry salad with grilled portobello mushrooms and dark chocolate-covered cherries for dessert
A plant-based, flexitarian, and vegetarian lunch should have a bulk of its calories from plants—not animals. While people have their own interpretations of each of these diets, often some animal-based foods are consumed in moderation to complement the plant-based foods and fill in some potential nutrition gaps.
The salad bar offers pre-made spinach, cow's milk feta cheese, slivered almonds, and strawberry salad. I added more cow's milk feta cheese to include more protein and nutrients like vitamin b12 to my lunch. Cheese provides high-quality protein and contributes other essential nutrients such as calcium, phosphorus and vitamin A to the diet. The salad was finally sprinkled with pickled onions because, who doesn't love pickled onions?!
I added some grilled portobello mushroom caps to add some "meatiness" to the lunch and paired it with an oil-based dressing. Finally, some dark chocolate covered cherries were included for dessert to end the meal with a boost of antioxidants.
Kale pomegranate seed salad, quinoa, blueberries, butternut squash, peanuts, curried cauliflower, fresh cucumbers, and pickled onions
The Whole Foods salad bar and hot bar have some amazing vegan-friendly options. Some people following a vegan diet and lifestyle are challenged with getting in adequate protein to help them feel fueled and satisfied, so I tried to get in enough of this macronutrient into this meal.
I started with a pre-made kale and pomegranate seed salad that was offered already dressed with an oil-based dressing. I added some quinoa to add some heartiness and a little bit of protein to the salad and topped it with some fresh blueberries to add extra nutrients like vitamin C, vitamin K, manganese, and potassium.
Spicy butternut squash and peanut salad is another hearty option pre-made on the salad bar that supplies plant-based protein. Note that this salad is sometimes made with honey, an ingredient that is avoided when following a vegan lifestyle. Again, thankfully the ingredients of dishes are provided above each food offered so it is simple to verify whether any restricted ingredients are used on a particular day.
The lunch is balanced with some curried chilled cauliflower and fresh cucumbers topped with pickled onions to make a nourishing and satisfying lunch!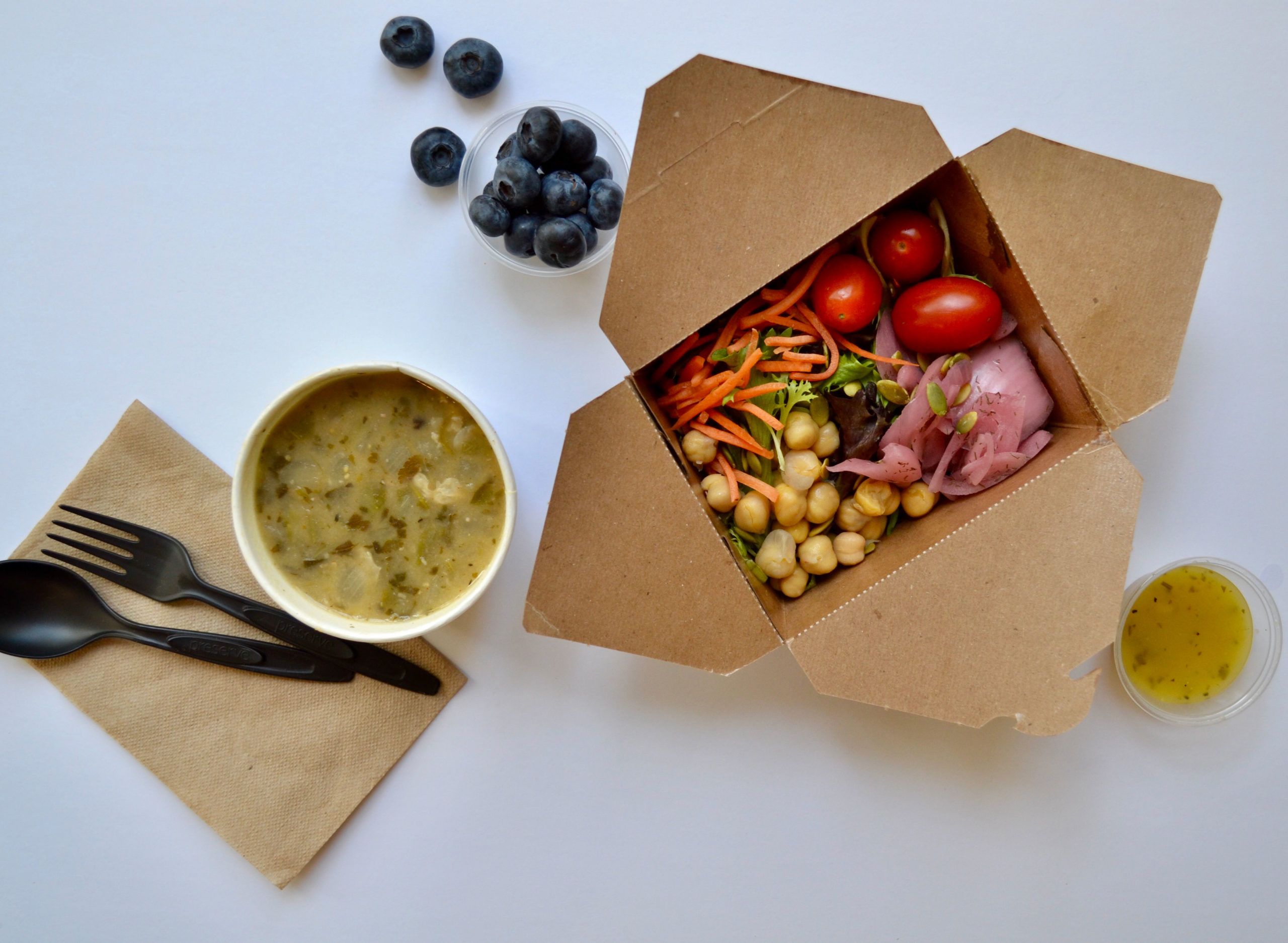 Turkey chili, spring greens salad (carrots, tomatoes, pickled onions, chickpeas, and pumpkin seeds), and blueberries
For a heart-healthy lunch, a soup and salad combo fit the bill. Start lunch with a small cup of turkey chili. Packed with heart-healthy beans to provide fiber and antioxidants, chicken for low-fat protein, and a broth that is lower in sodium and saturated fat, this soup is a hearty compliment to a light salad.
Make a salad with a base of spring greens.
Topping it with veggies like carrots, tomatoes, and pickled onions loads the lunch up with vitamins, minerals, fiber, and heart-healthy antioxidants.
Add some chickpeas to provide extra potassium, a mineral that is important for managing blood pressure, according to the American Heart Association.
Sprinkle pumpkin seeds on top for some healthy fats.
Pour an olive oil-based lemon parsley dressing on the side, to drizzle as you please. In a large review of studies, results suggest that olive oil intake is associated with a reduced risk of stroke and heart disease.
For dessert, blueberries are a sweet and satisfying heart-healthy treat that can be part of eating patterns to improve cardiovascular health, especially as part of an overall healthy lifestyle. By adding one serving (a handful or a cup) of blueberries to you diet every day, a study found that individuals with metabolic syndrome may improve their heart health by increasing HDL (the "good" cholesterol) levels.
Lauren Manaker MS, RDN, LD, CLEC
Lauren Manaker is an award-winning registered dietitian, book author, and recipe developer who has been in practice for almost 20 years.
Read more about Lauren