10 Tasty Whole Food Lunches to Get You Through Whole30
These Whole30 lunch ideas will go beyond your usual boring salad and reinvigorate your Whole30 diet.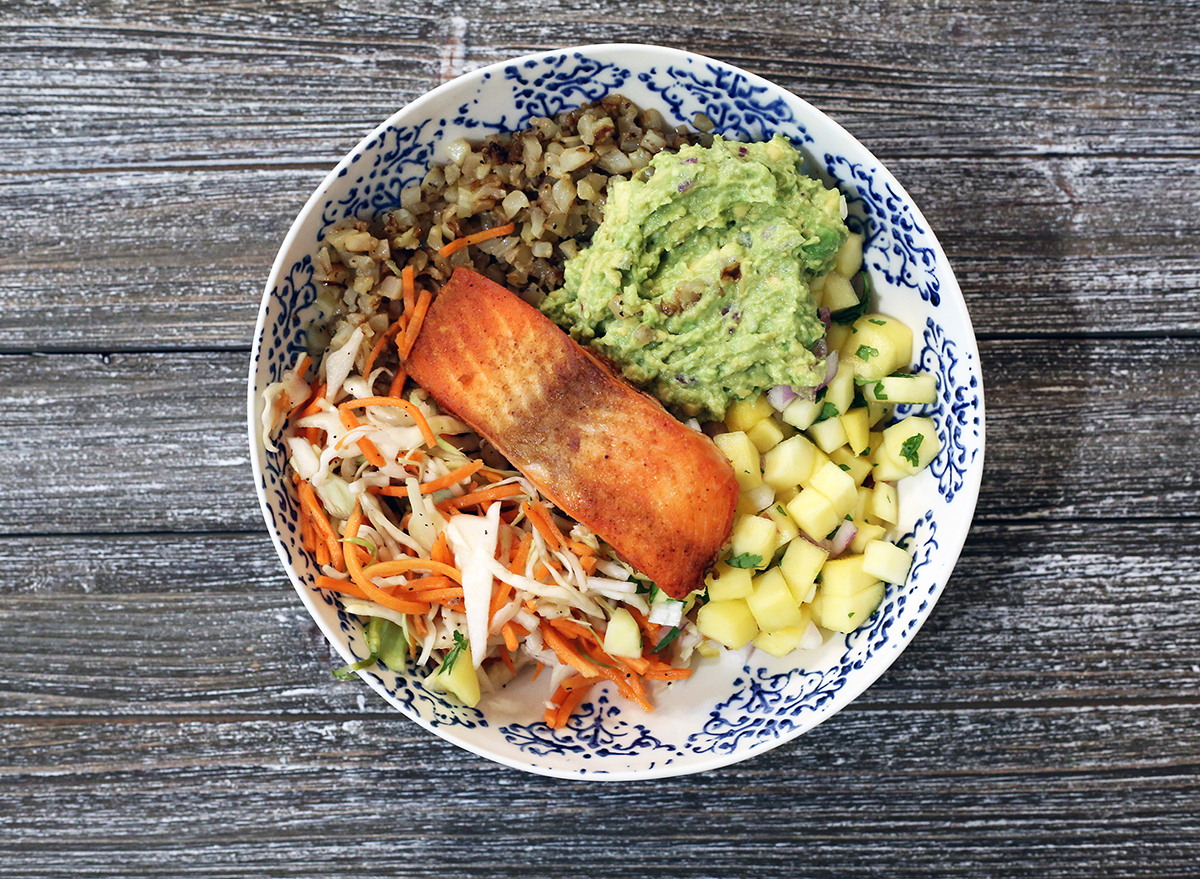 Vegetables are a huge staple when following the Whole30 diet. Anyone following the Whole30 is allowed an unlimited amount of veggies, which is why having a salad stuffed with vegetables is a pretty common lunch to make. But while a salad with fresh veggies and some grilled chicken may sound good at first, it can get boring pretty quickly. That's why we put together a list of delicious Whole30 lunch ideas that you can prep and bring with you to work.
Whole30 lunch ingredients
The Whole30 guidelines are pretty strict compared to most popular diets. While losing weight is an added benefit of following the Whole30 diet, most people partake in this endeavor in order to learn about the foods that your body reacts poorly to. This is why common inflammatory foods—like added sugars, grains, alcohol, and even dairy—are cut out for 30 days. Even legumes are not allowed because they are harder to digest.
The types of ingredients that are allowed include vegetables, fruit, nuts, seeds, cooking oils (including ghee), meat, and yes, even coffee. Whole30 focuses on eating whole and unprocessed foods, which is where this list derives from. For the best results, choosing meat sourced from the best places will help you in understanding your body's inflammatory issues even further.
So if you plan on attempting the Whole30, or you're simply looking for some healthy meals to prep for your lunches, here are 10 of our favorite Whole30 lunch ideas to get you through the next 30 days.
Chicken Kababs with Celeriac Rice
Instead of serving this chicken kabab with rice, this recipe swaps it out with celeriac rice. It's made with finely chopped celeriac, dried thyme, tarragon, olive oil, salt, and pepper. The chicken is seasoned with smoked paprika to up the flavor for this Whole30 lunch. Swapping rice with celeriac is an easy low-carb swap to make while on the Whole30.
Get our recipe for Whole30 Chicken Kababs with Celeriac Rice.
Beef Burrito Bowls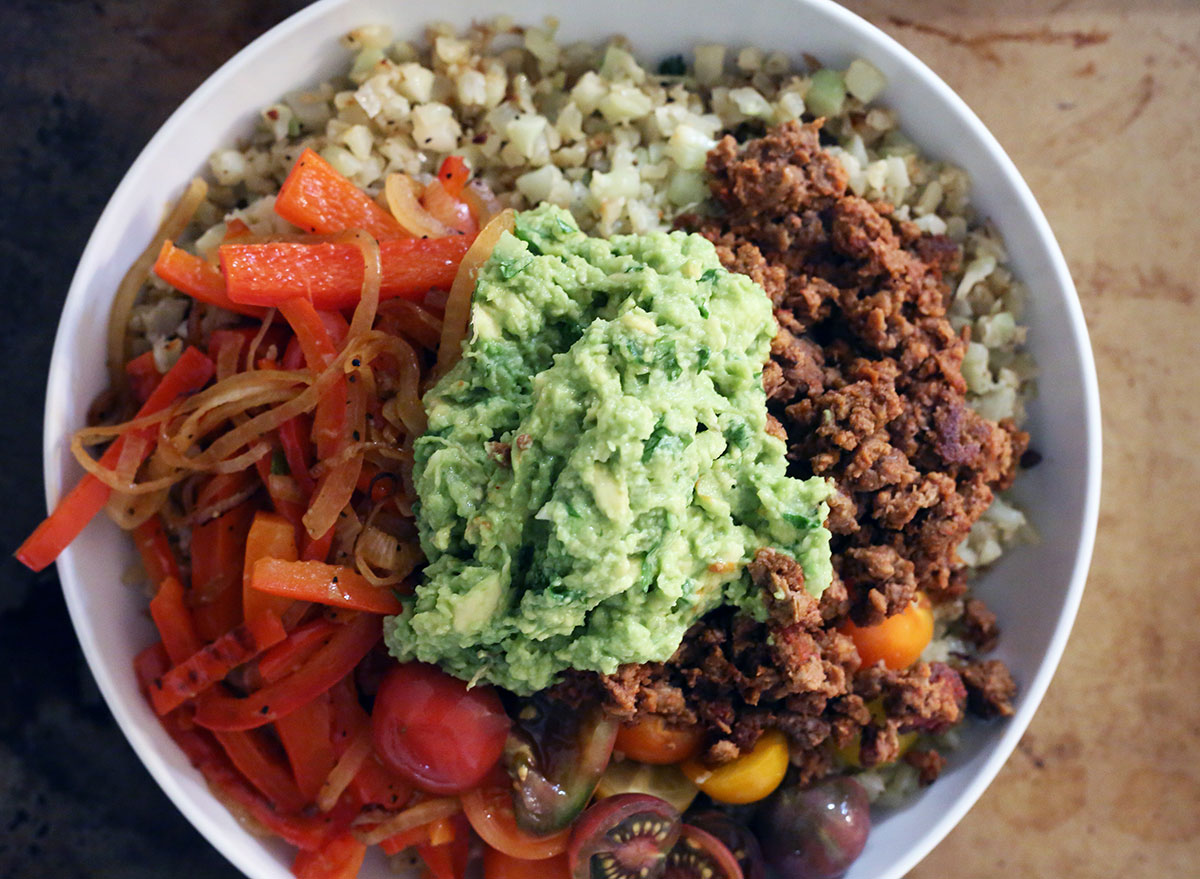 When you have a huge batch of homemade cauliflower rice, you may as well throw together a few burrito bowls! This burrito bowl is stuffed with vegetables, ground beef, and satiating avocado to round out your meal.
Get our recipe for Whole30 Beef Burrito Bowls.
Spicy Turkey Meatballs with Sweet Potato Fries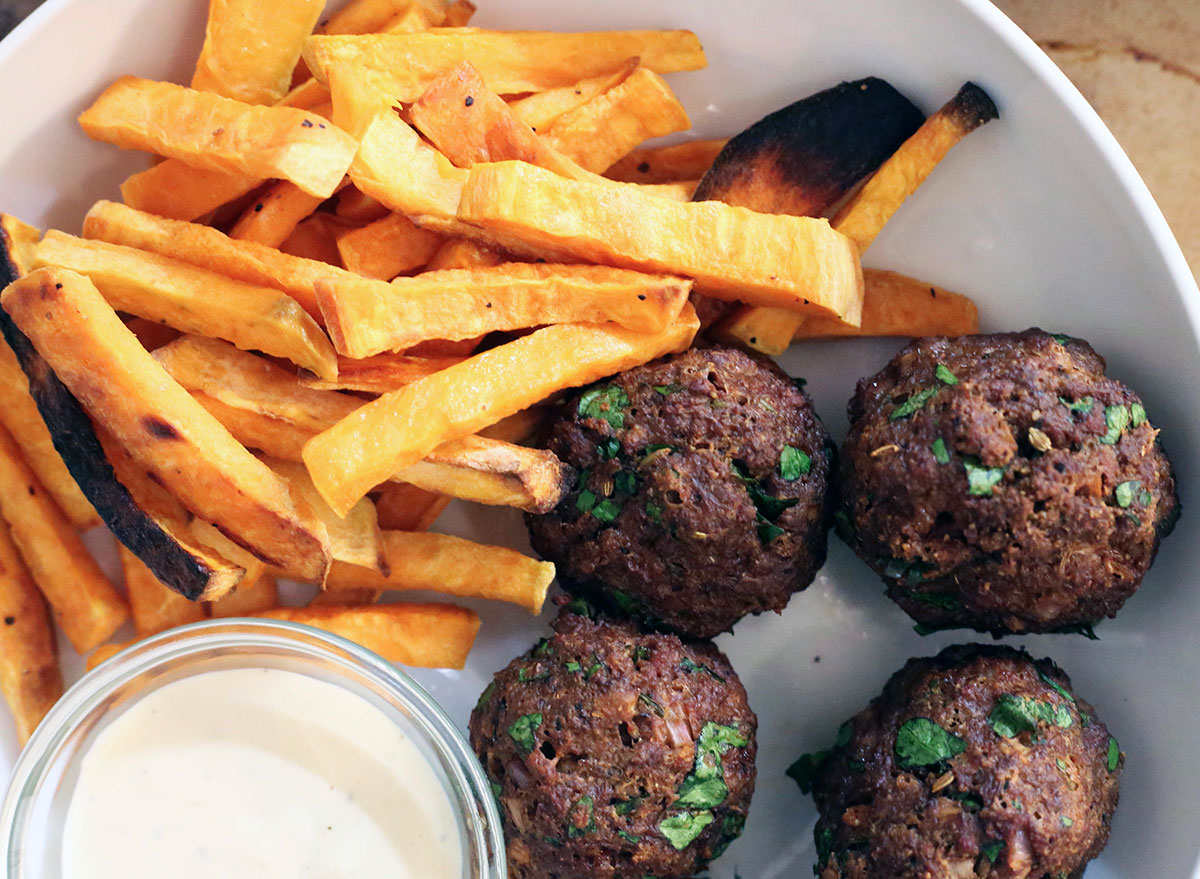 Typically meatballs are made with some kind of breading—whether it be breadcrumbs or slices of bread. In order to make these turkey meatballs Whole30-compliant, this recipe uses almond meal. Almond meal is derived from a nut, making it acceptable for this diet.6254a4d1642c605c54bf1cab17d50f1e
Get our recipe for Whole30 Spicy Turkey Meatballs with Sweet Potato Fries.
Roasted Veggie Salad with Tahini Dressing
Think of this as your salad 2.0. Between the roasted vegetables, fresh greens, and creamy tahini dressing, this salad is anything but boring. Tahini comes from sesame seeds, making it the perfect creamy sauce to have with any of your Whole30 lunch ideas.
Get our recipe for Whole30 Roasted Veggie Salad with Tahini Dressing.
Fish Taco Bowls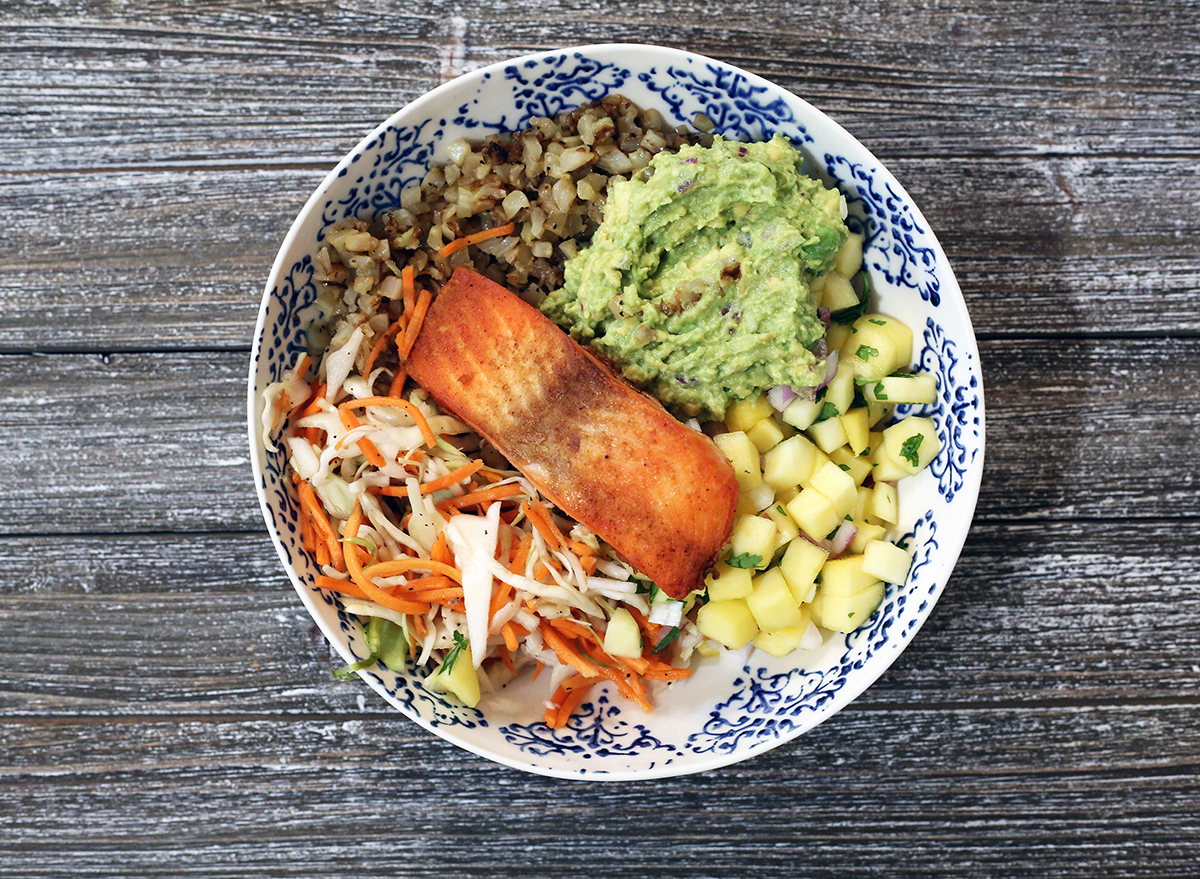 You may not be allowed to have tortillas on Whole30, but when you bite into this flavorful fish taco bowl, you probably won't miss those tortillas as much as you thought. This bowl is made with mango salsa, cauliflower rice, slaw, and, of course, a fresh salmon fillet.
Get our recipe for Whole30 Fish Taco Bowls.
Rosemary Butternut Squash Soup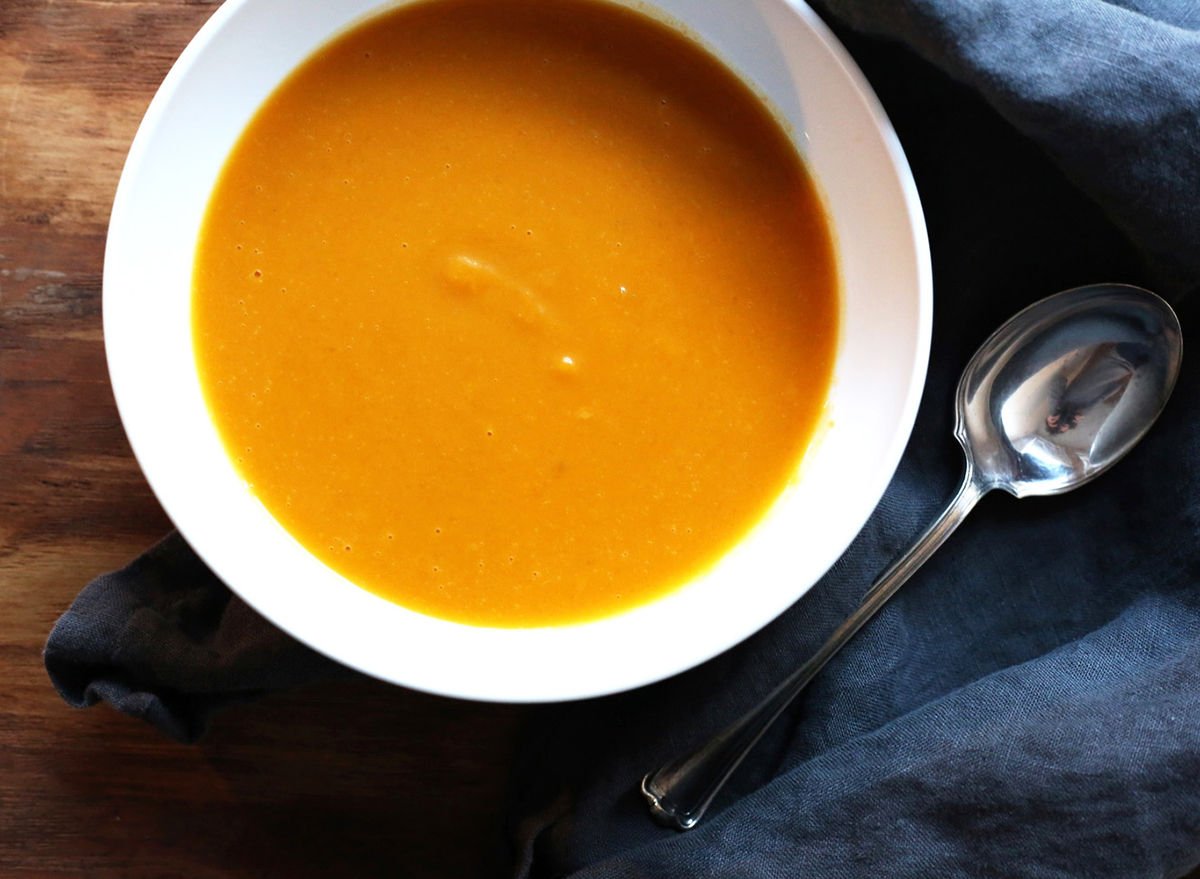 Most people try to complete the Whole30 diet in January, which means soup is a warm and comforting meal to enjoy during those colder days. Instead of using a dairy base, this soup becomes creamy with a can of coconut milk. If you're craving a little crunch to go with this soup, sprinkle in some pumpkin seeds or shaved almonds for some added healthy fat.
Get our recipe for Whole30 Butternut Squash Soup.
Chicken Salad with Creamy Dressing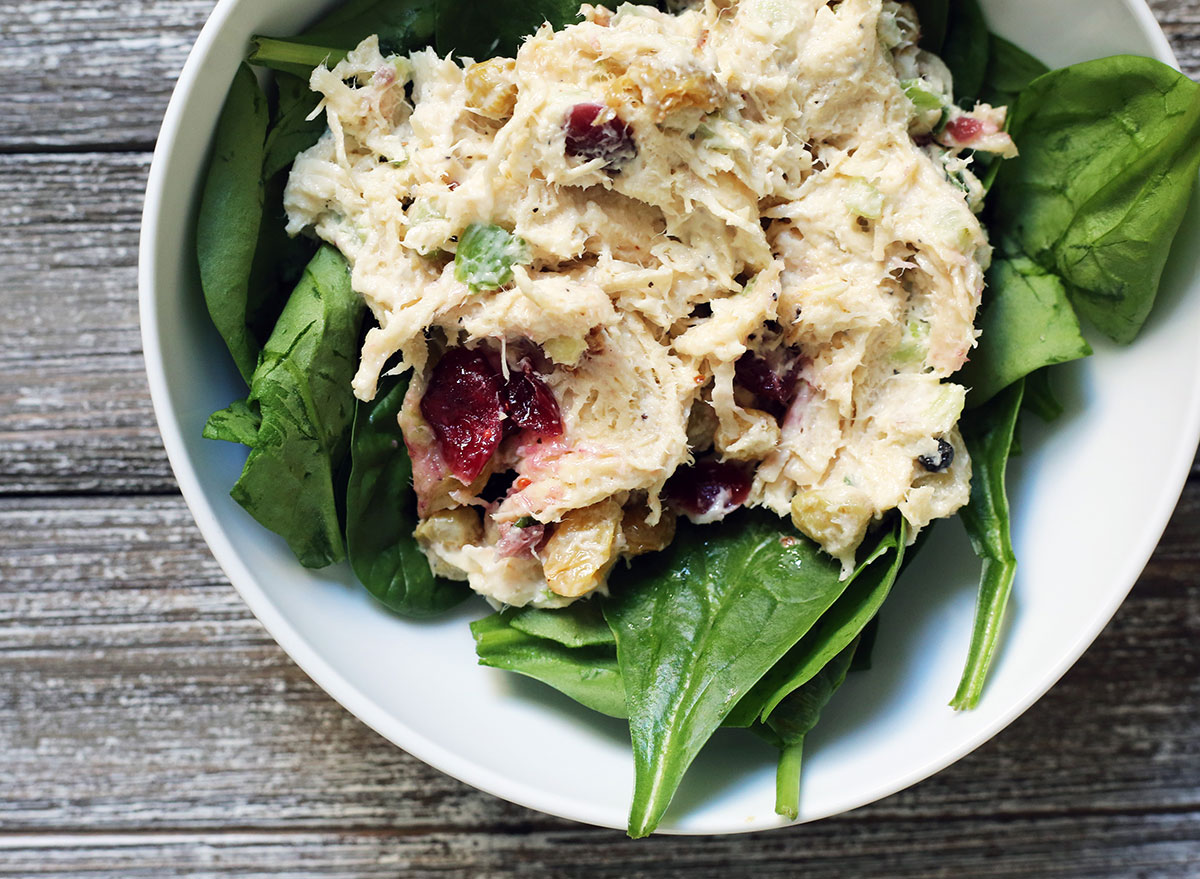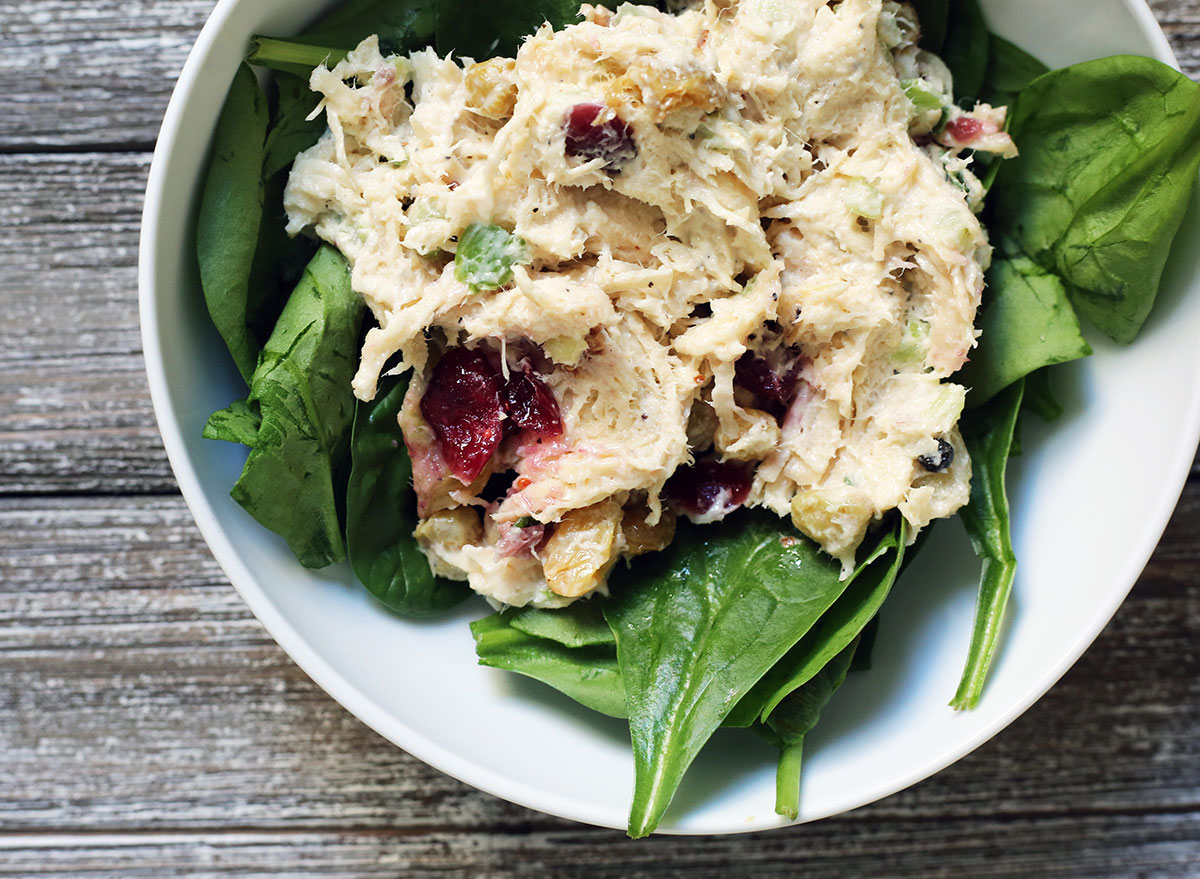 What makes this chicken salad creamy? This Whole30 lunch idea is made with creamy tahini, lemon, olive oil, and grated garlic. The chopped apples and cranberries give this lunch a touch of sweetness that will leave you feeling satisfied with your meal. This is an easy lunch idea you'll want to make long after your Whole30 journey is over.
Get our recipe for Whole30 Chicken Salad with Creamy Dressing.
Creamy Mushroom Soup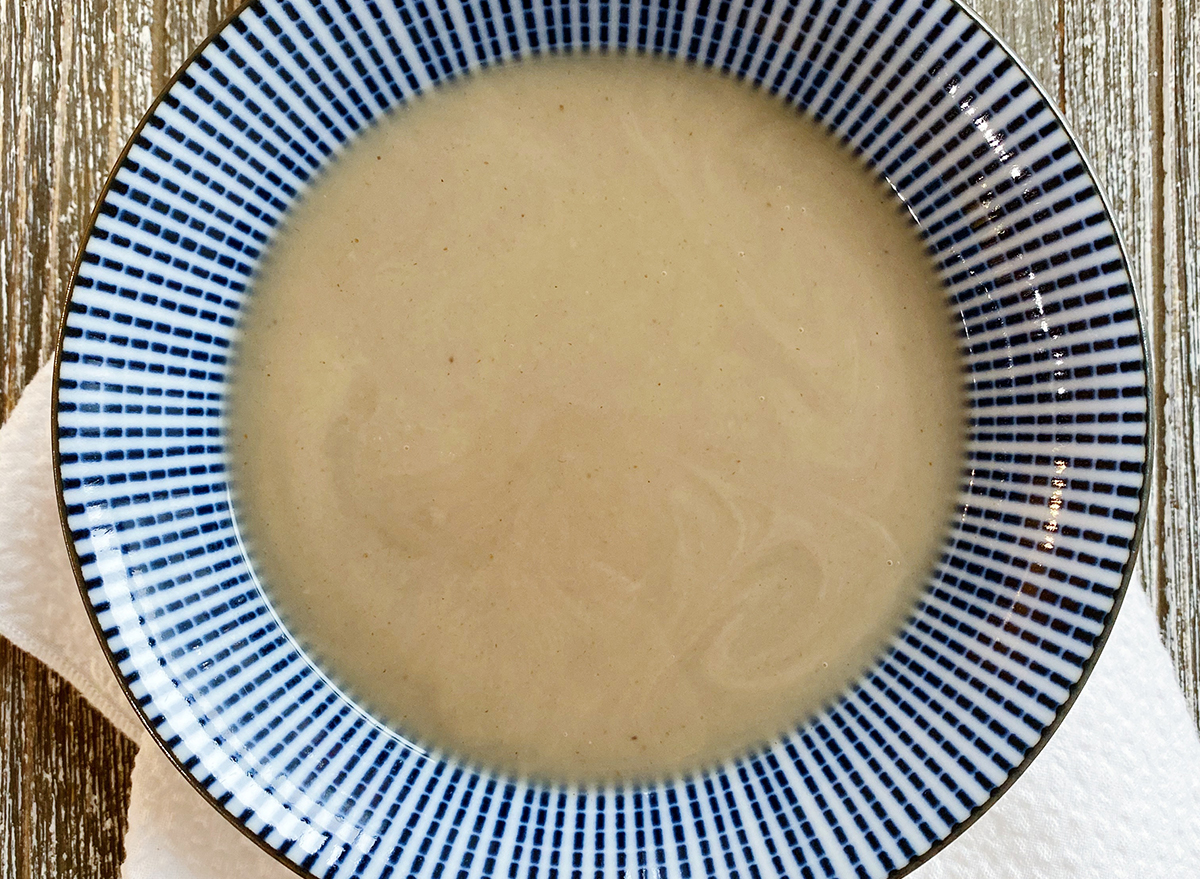 Here's another soup for you to enjoy during those colder winter days! This creamy mushroom soup is also made with coconut milk to make it creamier, and it also has some added tapioca starch and miso paste to thicken it. If you're not familiar, tapioca starch is derived from the cassava plant, making it acceptable for the Whole30 diet.
Get our recipe for Creamy Whole30 Mushroom Soup.
Shepherd's Pie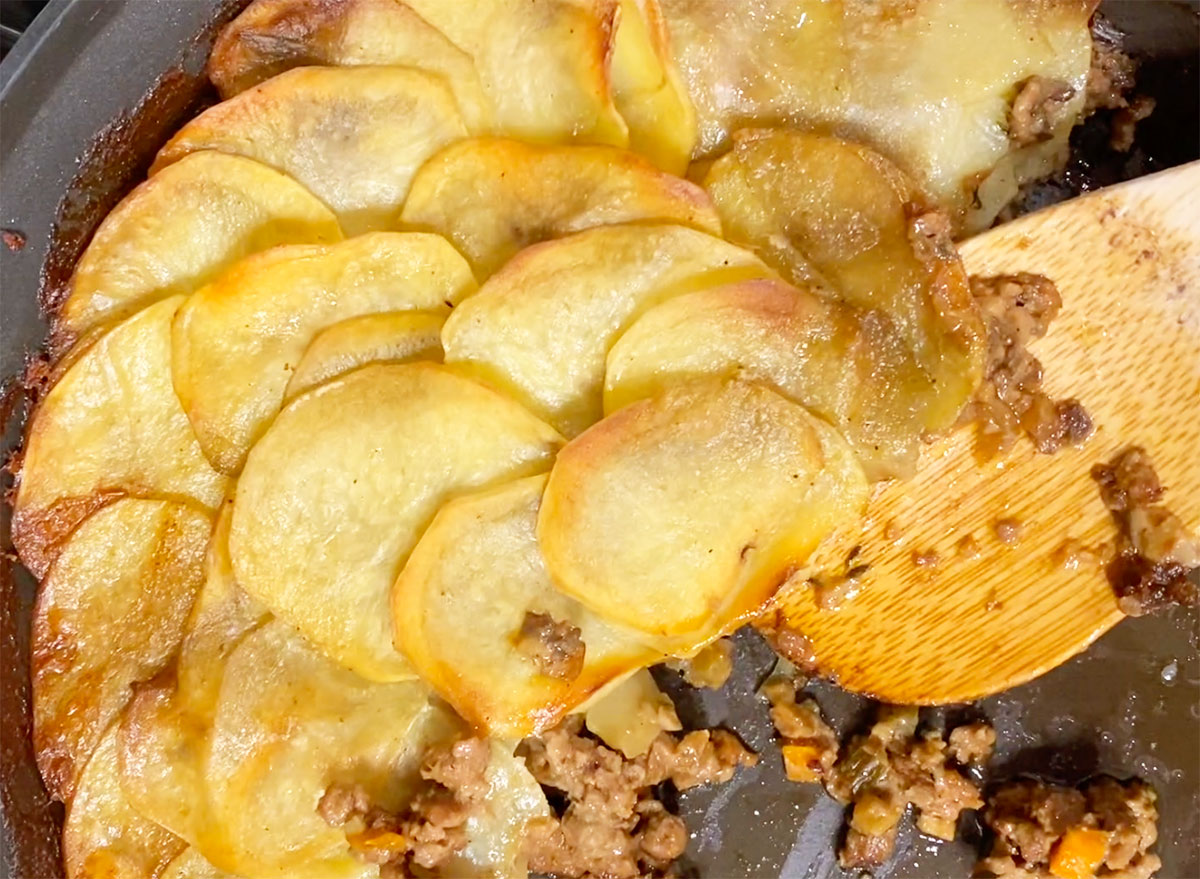 You may not be able to have creamy mashed potatoes on top of this shepherd's pie, but thinly sliced potatoes give this dish a satisfying crunch that you would otherwise not have while enjoying a traditional shepherd's pie. To make the meat mixture thick and creamy, you'll whisk together coconut milk, nutritional yeast, and tapioca flour. So if you're looking for heartier Whole30 lunch ideas, this recipe will certainly fill your belly and satisfy your comfort food craving.
Get our recipe for Whole30 Shepherd's Pie.
Instant Pot Chicken Zoodle Soup
Chicken noodle soup is a winter staple, but when you're on the Whole30 diet, having a soup full of noodles is obviously not on the list of approved foods. Instead, swap out the noodles for zoodles! Zoodles are made from zucchini that has been spiralized. Plus, this recipe can easily be made in an Instant Pot and prepped in just 25 minutes.
Get our recipe for Whole30 Chicken Zoodle Soup.