9 Best Store-Bought Protein Shakes, According to a Dietitian
Grab one of these high-protein shakes when you're running out the door but need a boost.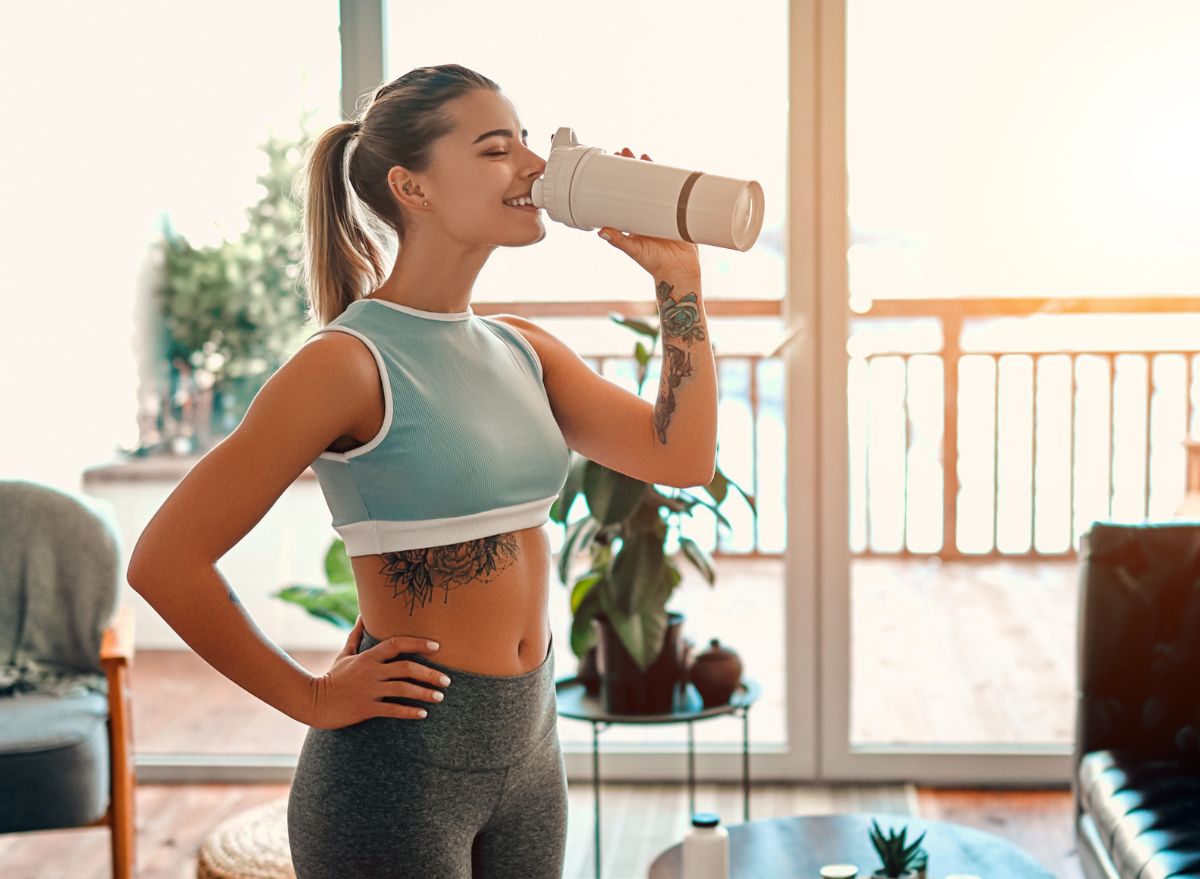 The product recommendations in this post are recommendations by the writer and/or expert(s) interviewed and do not contain affiliate links. Meaning: If you use these links to buy something, we will not earn a commission.
As a registered dietitian, I always advise clients to focus on food first and supplements second. Protein shakes, however, play a unique role for athletes, the elderly, and many people recovering from surgery or an illness. For these individuals, protein shakes are one of the most practical ways for them to meet their individual protein, calorie, or essential micronutrient requirements.
Protein shakes are designed to provide the 9 essential amino acids that are required for building and maintaining protein. They are usually rich in the most important aminos for muscle-building, which include leucine, isoleucine, and valine. Decades worth of studies reveal that high-quality protein helps build and maintain muscle, control appetite, increase metabolism.
While you can plan meals and snacks that provide similar macronutrient profile that protein shakes provide, doing so will require a lot of time and expertise compared to the convenience of buying a ready-to-drink protein shake online or at your local food retailer. Protein shakes are usually also fortified with essential micronutrients, including B-vitamins, antioxidants, vitamins A and D, and many other nutrients that are often under consumed.
That said, the healthiest diets are those that are primarily plant-based and include a wide variety of natural, whole foods. Ready-to-drink protein shakes should be enjoyed as a complement to a wholesome eating plan, not to make up for a poor diet.
How Much Protein Do You Need?
The recommended daily intake of protein for sedentary consumers is a minimum of 0.8 grams of protein per kilogram of body weight, or 0.36 grams per pound.  However, most experts recommend well over these numbers to optimize protein intake to help build and maintain lean body mass and for improved health and well-being. For those who are moderately active, a good goal is 1.3 grams of protein per kilogram body weight.
According to the International Society of Sports Nutrition, active individuals should strive for 1.4 to 2.0 grams of protein per kilogram of body weight or 0.6 to 1 gram per pound. A study published in the International Journal of Sports Nutrition and Exercise Metabolism reported that for athletes attempting to lose body fat, protein recommendations are 1.6-2.4 grams per kilogram of body weight or 0.7 to 1.1 grams per pound.
Lastly, protein shakes are often enjoyed as a meal replacement if you're traveling or are on a tight deadline and can't stop working to eat a balanced meal. However, it is noted that chronic intake of protein greater than 2 grams per kilogram body weight may cause GI or renal and vascular abnormalities, so there is still such thing as too much protein.
If you're older, protein shakes are also an easy way to get high-quality protein and other essential nutrients in your diet, at a time when it's likely that you aren't getting enough protein or essential amino acids, and your daily calorie intake may be low. At the same time, for those trying to lose body fat and improve their lean muscle mass, protein shakes can play an essential role in maintaining lean tissue while you shed fat mass. A general goal of 20 to 30 grams of protein per main meal is a good rule of thumb for most individuals.
A protein shake can is a convenient way to get a high-quality dose of 15 to 30 grams of protein per ready-to-drink bottle. And, since it's fortified, it's like taking high-quality protein with a multivitamin. There are dozens of ready-to-drink protein shakes available at your local supermarket, ranging from milk-based to plant-based options. The dairy-based shakes are rich in whey, casein, or a combination of both, while plant-based shakes are often made with soy milk, almond milk, or pea protein.
Keep these guidelines in mind when choosing a healthier ready-to-drink protein shake:
Calories: Choose protein shakes that have up to 250 calories. If you are trying to lose body fat, stick with protein shakes with lower calorie counts and fewer carbohydrates.
Protein: A protein shake should have 15-30 grams of protein per bottle. More than 30 grams of protein in a single eating occasion provides no additional benefits.
Carbs: Unless you're an athlete looking for protein shakes as a recovery aid, look for shakes that keep added sugars to less than 10 grams.
Plant-based: For plant-based protein shake, look for those made with more complete proteins like soy or pea protein.
Here are some great protein shakes readily available at supermarkets and other retailers for you to try today.
OWYN Vanilla Meal Replacement Shake
Per bottle (11.5 oz)
: 250 calories, 8 g fat (1 g saturated fat), 250 mg sodium, 30 g carbs (3 g fiber, 4 g sugar), 20 g protein
OWYN Protein Shakes are 100% vegetarian and the protein in this shake is from a blend of pea protein, flaxseed, oat, and pumpkin seeds. This shake is also low in saturated fat and sodium, while providing 20 to 25% of the Daily Value for more than 25 essential nutrients, including calcium, vitamin D, folate, and other B-vitamins.
Quest Chocolate Protein Shake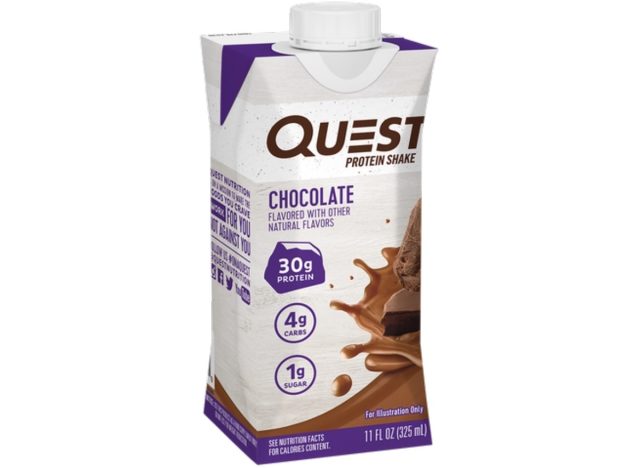 Per bottle (11 oz)
: 160 calories, 3.5 g fat (.5 g saturated fat), 230 mg sodium, 4 g carbs (1 g fiber, 1 g sugar), 30 g protein
Quest makes a variety of protein-rich, low carb and low-sugar shakes that are great for athletes who seek to maximize protein intake while keeping their carb and sugar intake in check. With 30 grams of dairy-based protein, this shake has enough high-quality protein to provide the essential aminos needed to help with muscle rebuilding and post-exercise recovery. Quest is great for anyone trying to optimize their body composition, as it has a great protein to calorie ratio. The shakes keep total carbs to just 4 grams and sugar to 1 gram.6254a4d1642c605c54bf1cab17d50f1e
Soylent Chocolate Complete Protein Shake
Per bottle (11 oz)250 calories,13 g fat (1.5 g saturated fat), 280 mg sodium, 10 g carbs (3 g fiber, 0 g sugar), 30 g protein
Soylent Complete Protein Shakes are plant-based and made with soy protein to keep saturated fat low. The shakes are also supplemented to provide more than 30 essential vitamins and minerals. With 30 grams of protein per 250-calorie bottle, making them a great choice for those who want a shake to enjoy as a meal replacement or to help maintain lean muscle mass while losing weight loss. With no added sugar, the shakes are sweetened with a zero-calorie sweetener to keep calorie and carbohydrates in check.
Orgain 20g Vanilla Bean Clean Protein Shake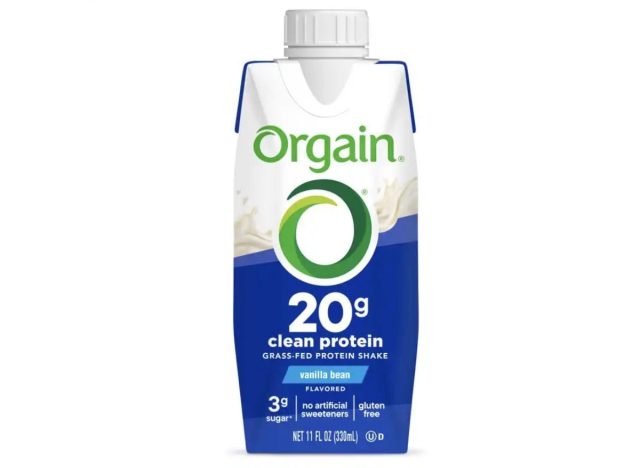 Per bottle (11 oz)
: 130 calories, 2 g fat (0 g saturated fat), 170 mg sodium, 9 g carbs (1 g fiber, 3 g sugar), 20 g protein
Orgain Shakes are made with grass-fed milk protein and are a recommended option due to the moderate calories and low sugar content, compared to many other delicious, ready-to-drink shakes. Enjoy this post-workout if you want to keep calories and sugar down while getting sufficient protein for recovery or to maintain lean body tissue while losing weight.  Due to a lower calorie count, these shakes may be best for those seeking to trim down or lose body fat as opposed to individuals recovering from illness or those who need protein shakes to boost their energy intake.
Atkins Vanilla Latte Iced Coffee Protein Shake
Per bottle (11 oz)
: 170 calories,9 g fat (1.5 g saturated fat), 230 mg sodium, 7 g carbs (3 g fiber, 1 g sugar), 15 g protein
This shake is a great option as a meal replacement or as a nutritional boost for anyone who follows a low-carb lifestyle or is trying to reduce carbs to help shed body fat. The Atkins Shakes keep carbs and sugar low but pack in three grams of fiber and 15 grams of protein to help keep you satisfied.  This shake is fortified with more than 20 essential nutrients and the protein is a blend of milk and soy protein. Carbs are limited to seven grams and just one gram of sugar. The coffee flavor has as much caffeine as a cup of coffee, so it can be a great option to start your day off right.
Fairlife Chocolate Core Power High Protein Milk Shake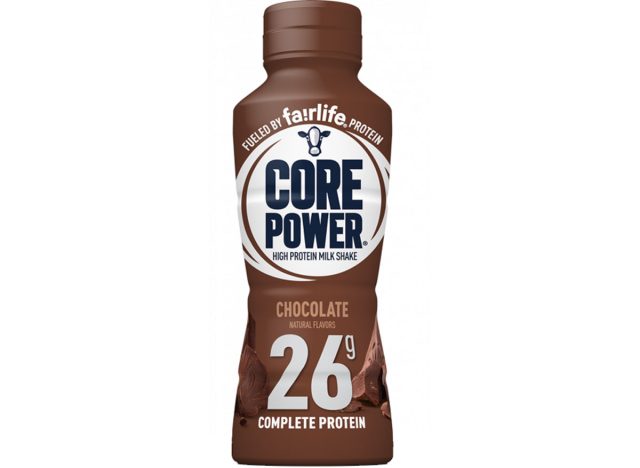 Per bottle (14 oz)
: 170 calories, 4.5 g fat (3 g saturated fat), 260 mg sodium, 8 g carbs (2g fiber, 7 g sugar), 26 g protein
Fairlife makes a variety of high-protein, dairy-based shakes. The brand is based on ultra-filtered milk, which has about twice the protein and half the sugar of regular milk as well as more calcium. The Core Power line of shakes comes in three flavors, and all provide 26 grams of protein from milk. The shakes are sweetened with stevia leaf extract and other calorie-free sweeteners. For those who have problems digesting lactose, these shakes also have lactase enzyme in the product so it should be well tolerated for those with lactose intolerance. The shakes also have added fiber to enhance satiety.
Premier Protein Vanilla with Immune Health Support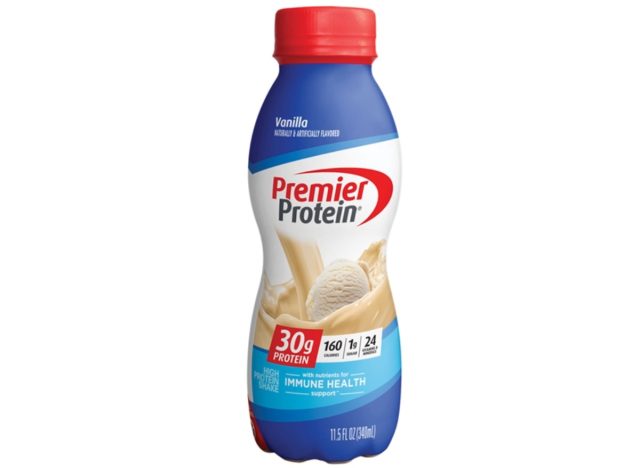 Per bottle (11.5 oz)
: 160 calories, 3 g fat (.5 g saturated fat), 230 mg sodium, 4 g carbs (1g fiber, 1 g sugar), 30 g protein
Premier Protein shakes have 160 calories, 30 grams of protein, and pack in 24 vitamins and minerals. Due to the fortification of this shake, it's a great option for anyone recovering from an illness or elderly individuals who may have little appetite or desire to make balanced meals. Carbohydrates and sugars are low, and the ingredients list may be scary but it's primarily because it includes all the scientific names for the vitamins and minerals like pyridoxine hydrochloride (AKA vitamin B6).
Aloha Iced Coffee Protein Shake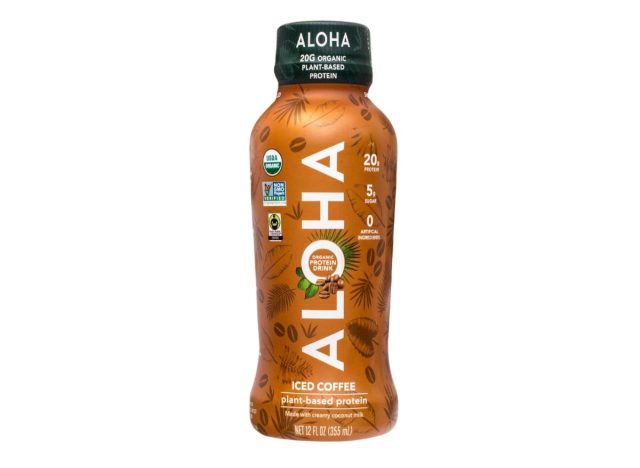 Per bottle (12 oz)
: 170 calories, 5 g fat (3.5 g saturated fat), 250 mg sodium, 11 g carbs (3 g fiber, 5 g sugar), 20 g protein
Great for vegans or anyone who can't tolerate dairy products, Aloha is a beloved choice among plant-based fitness enthusiasts. Aloha shakes are 100% organic, the protein in their shakes comes from a blend of pea and brown rice protein, and the first ingredient is coconut milk. Carbohydrates and sugars are kept low by using monk fruit. The five grams of sugar come from coconut, which is thought to be a more natural sugar. The addition of three grams fiber from inulin can help enhance satiety, and the Iced Coffee flavor provides 95 milligrams of caffeine for an additional energy booster.
Muscle Milk Zero Chocolate Non-Dairy Protein Shake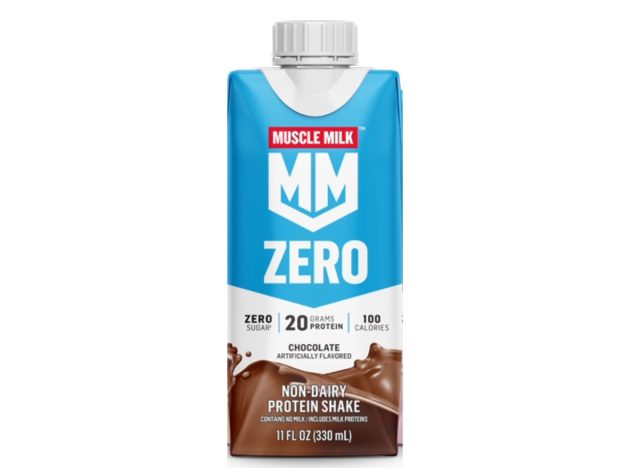 Per bottle (11 oz)
: 100 calories, 1 g fat (0 g saturated fat), 210 mg sodium, 7 g carbs (4 g fiber, 0 g sugar), 20 g protein
Muscle Milk has been developing protein products for active individuals for decades. This new offering from the brand is great because it's lower in calories, so it's a perfect option for those seeking to lose fat without losing muscle mass. The protein in this shake comes from isolated milk proteins, but it doesn't contain milk. That means if you have lactose intolerance, you'll be able to consume this product because it does not contain lactose. It's also fortified with six essential nutrients including vitamin D, calcium, iron, and potassium.
Julie Upton, MS, RD, CSSD
Julie Upton is an award-winning registered dietitian and communications specialist who has written thousands of articles for national media outlets, including The New York Times, US News & World Report, and USA Today.
Read more about Julie
Sources referenced in this article